Check out 25+ Latest Princess Cut Blouse Design Images Handpicked For You
Princess cut blouse designs add oomph to your blouse & cholis. This is why we have curated a list of princess cut blouse designs for your inspiration. Read on for more!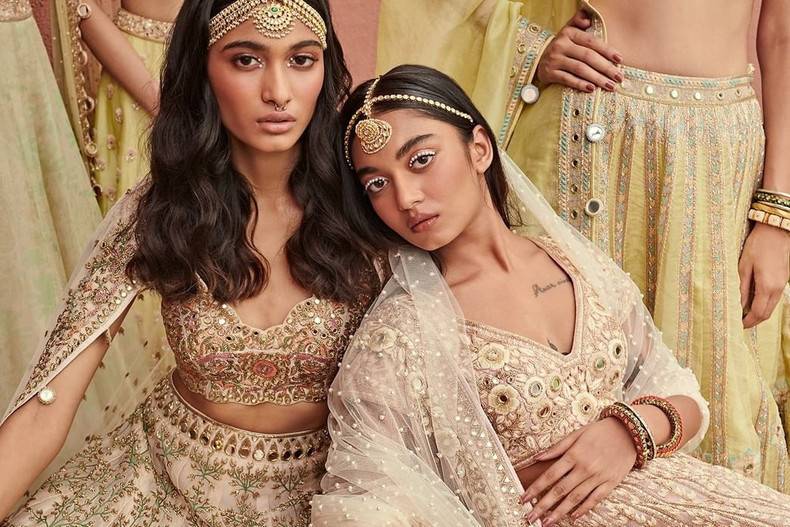 The modern blouse designs picked by the brides of today have left us all awestruck! From the traditional silhouettes to ones that flaunt a modern style, blouse designs have amped the bridal look and how! While the surface styling and embroidery designs have a variety of options to pick from, you can even pick the type of stitch that you want your blouse to be designed in. Stitches play a significant role in creating the perfect fit for a blouse and to make your blouse fit you like a glove, you will need to pick an appropriate stitch for your saree blouse or your lehenga blouse design.
There is one particular blouse cut design that suits every body type and accentuates the beauty of the outfit you pair it with and it is one of our favourites - the princess cut blouse design. Wondering what that is? Well, a princess cut blouse design involves a curved line of stitch that moves from the centre of the sleeve to downwards. The curvature makes the blouse fit much better than any other type of blouse and also makes it easy to wear for the bride. It also gives a nice shape to the blouse with the lining and the beauty of the embroideries are augmented. It is one of the oldest types of blouse cut design but it has now come back with a modern twist and our girls are going gaga over it.
Here are some princess cut blouse design images for your inspiration. You can refer to the images, bookmark them and show them to your designer to get one customised for yourself or you can pick one from these ready-to-wear princess cut blouse designs right now! Scroll on to take a look at some stunning pictures of blouses with the princess cut design that we have specially handpicked for you.
Mirror-work Princess Cut Blouse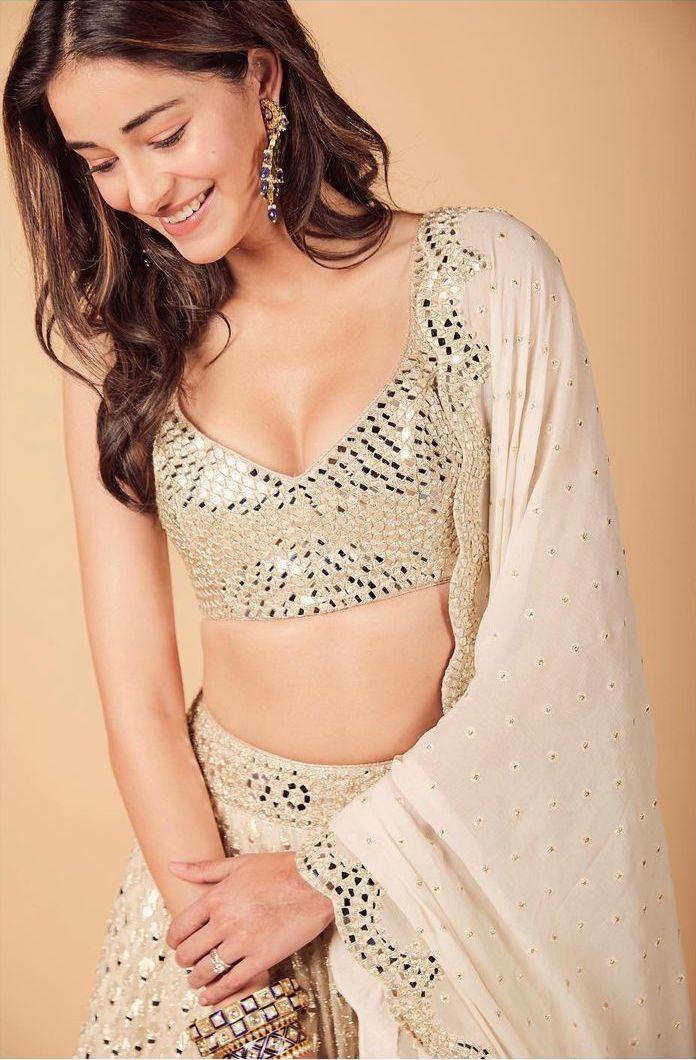 Image Courtesy: Abhinav Mishra
The lined mirror-work embroidery in this princess cut blouse design holds the key to giving a great look to the blouse, while the cut makes it incredibly comfortable for the ladies to twirl in and break a leg on their Sangeet night. This golden blouse design with sequins on it make it a charmer you cannot miss. Showcasing Abhinav Mishra's signature work, this princess cut blouse design is a hoot!
Also Read: Pin-worthy Mirror Work Blouse Designs for Brides & Her Tribe
Simple Pink Princess Cut Blouse
A beautiful princess cut blouse design that will uphold the beauty of your pink lehenga design created by none other than Anita Dongre. The vertical contrasting lines in silver on the pink blouse run along the princess cut blouse design and makes the blouse look amazing! Pair it with a heavy bridal necklace to complete the look.
Red Aari Work Princess Cut Blouse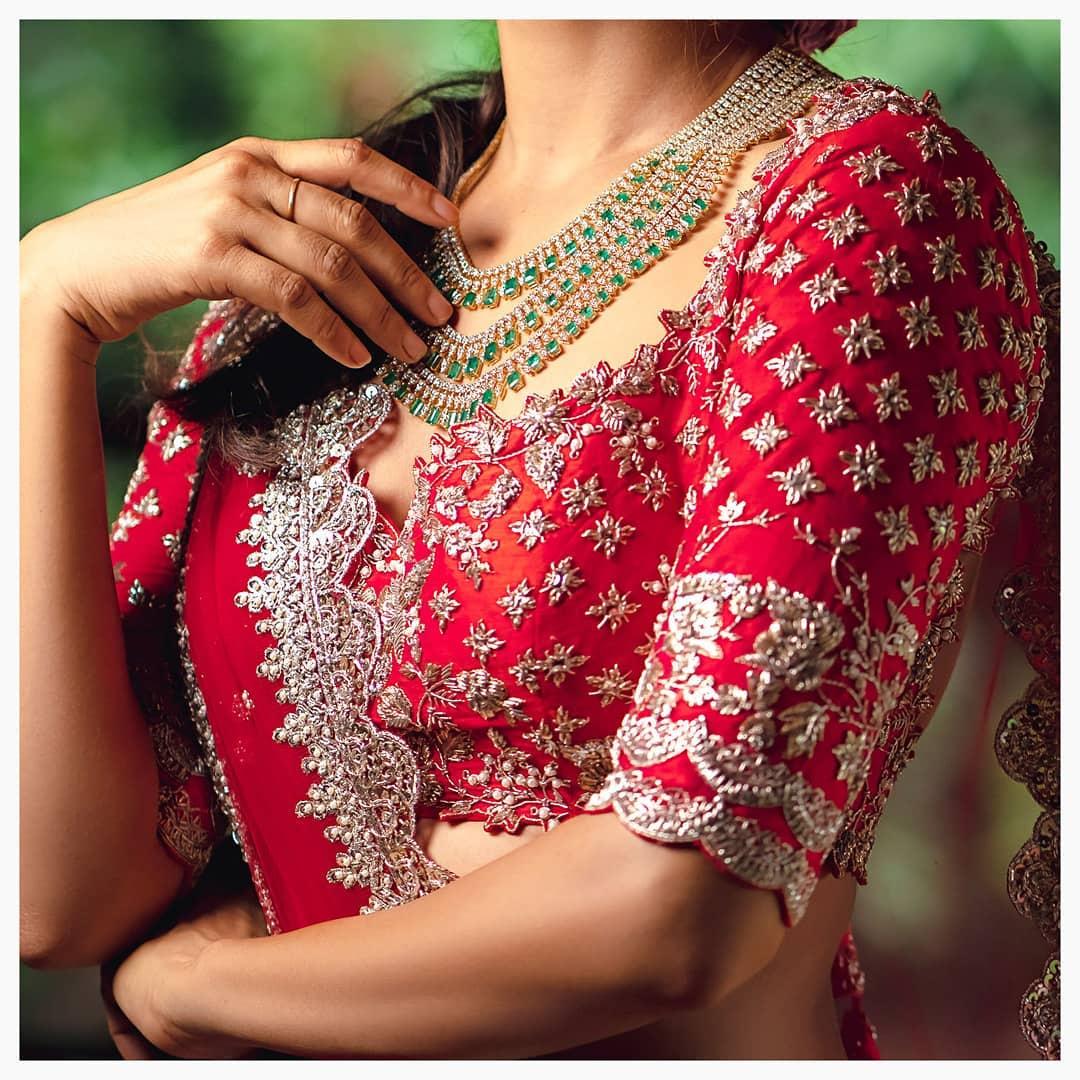 This princess cut blouse design has a different look than other blouses you may have seen. The heavy work of Aari embroidery in silver thread on the blouse that flaunts a pious red base makes this princess cut blouse one of a kind. The detailing on the sweetheart neckline of the princess cut blouse blends perfectly and looks regal, thus giving a subtle yet royal look.
Simple Brocade Work Princess Cut Blouse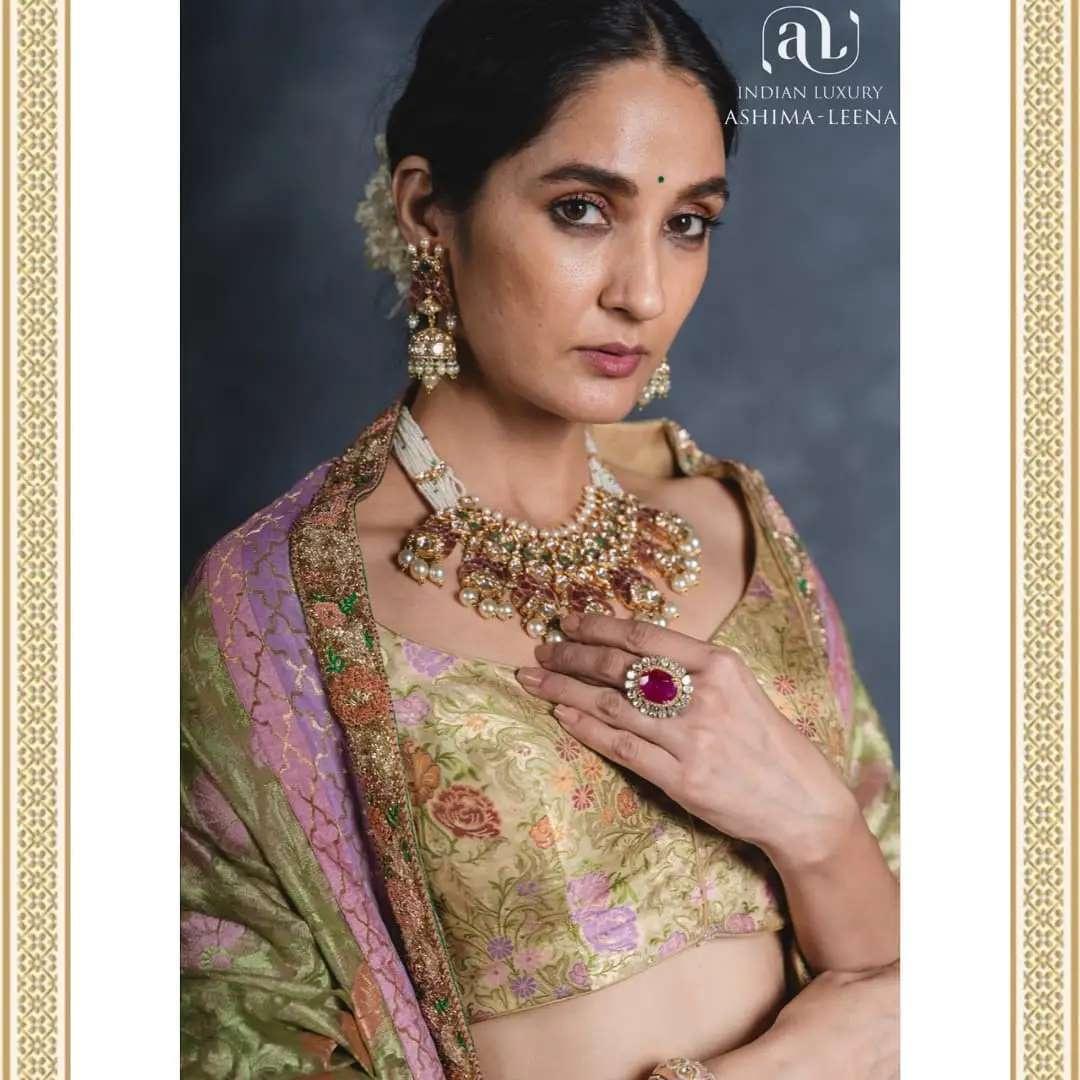 Unlike other green colours, this delicate green coloured princess cut blouse with hints of subtle pink floral work in brocade is a charmer. Be it for the bride herself or for the bride's mother, this green princess cut blouse is an evergreen piece that will not only complement your green lehenga but will also work for your bridal saree. The piping that runs along the hems adds to the beauty.
Also Read: Here Are the Top 49+ Blouse Back Neck Designs for the New Age Brides
Angrakha Princess Cut Blouse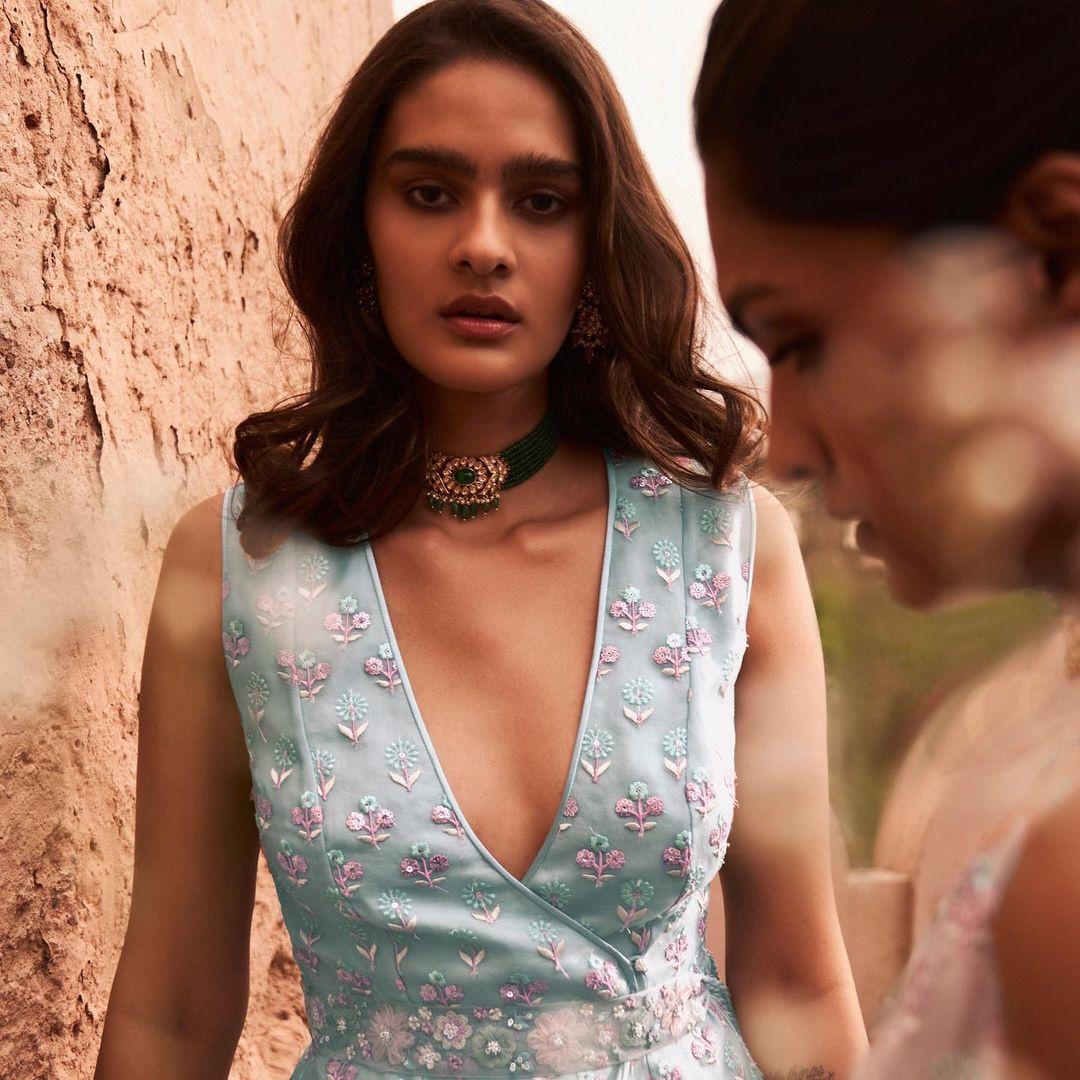 Powder blue has been one of the most popular colours among millennial brides, especially for their day wedding ceremony outfits. With dainty floral embroidery throughout the blouse design and the overlapping closure in Angrakha style, this princess cut sleeveless blouse design is a perfect addition to your wedding wardrobe.
Also Read: Latest Collar Neck Blouse Designs
Full Sleeve Princess Cut Blouse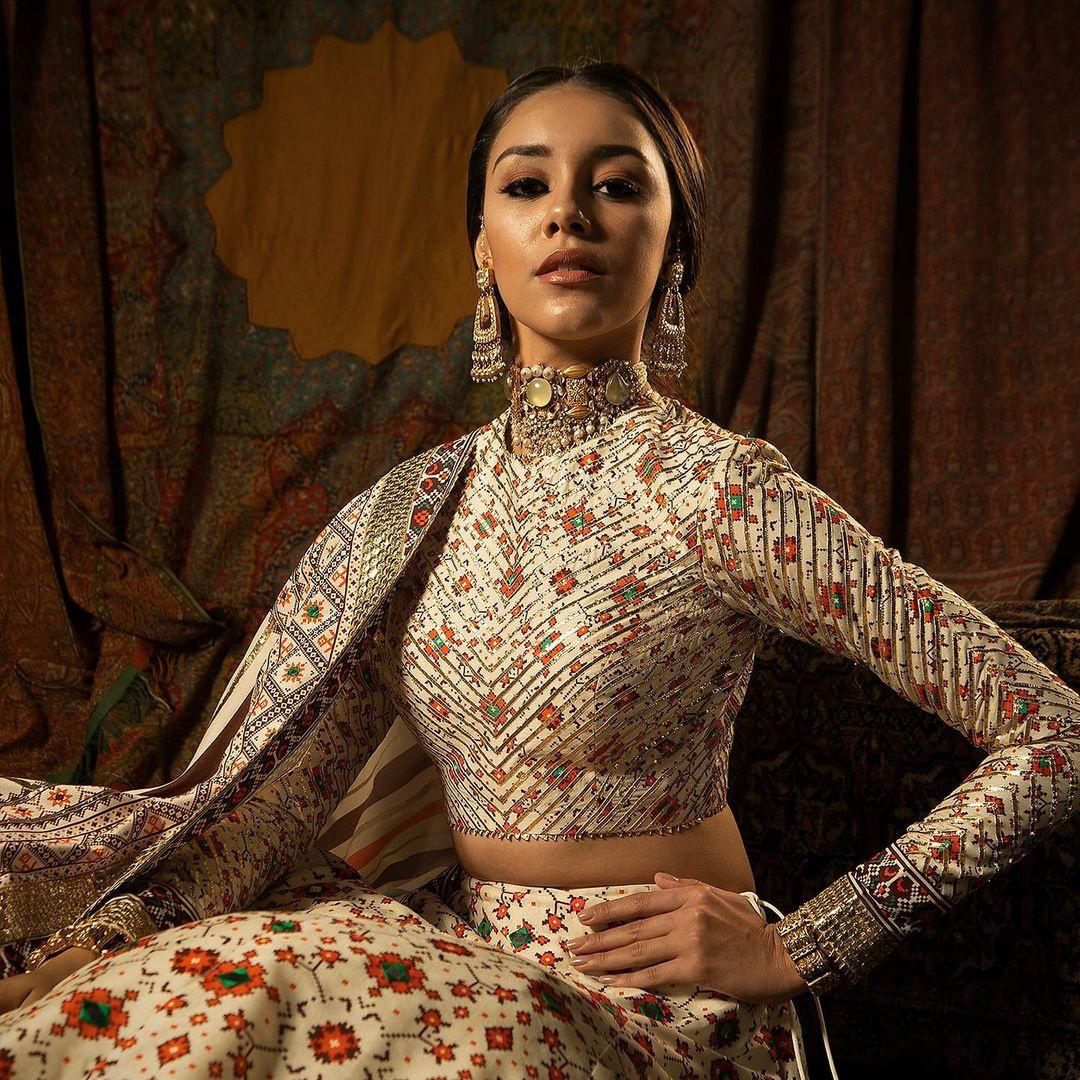 With this beautiful princess cut blouse design, you will look nothing short of a descendant of a royal family. This full sleeve blouse design has incredibly heavy work on it but the cut of the blouse with the golden Gota Patti detailing steals the show. The beautiful curves fit the bride perfectly and a Rajasthani Aad necklace adds to the oomph.
Also Read: 25+ Stunning Backless Blouse Designs for the Divas
Heavy Embroidery Princess Cut Blouse Design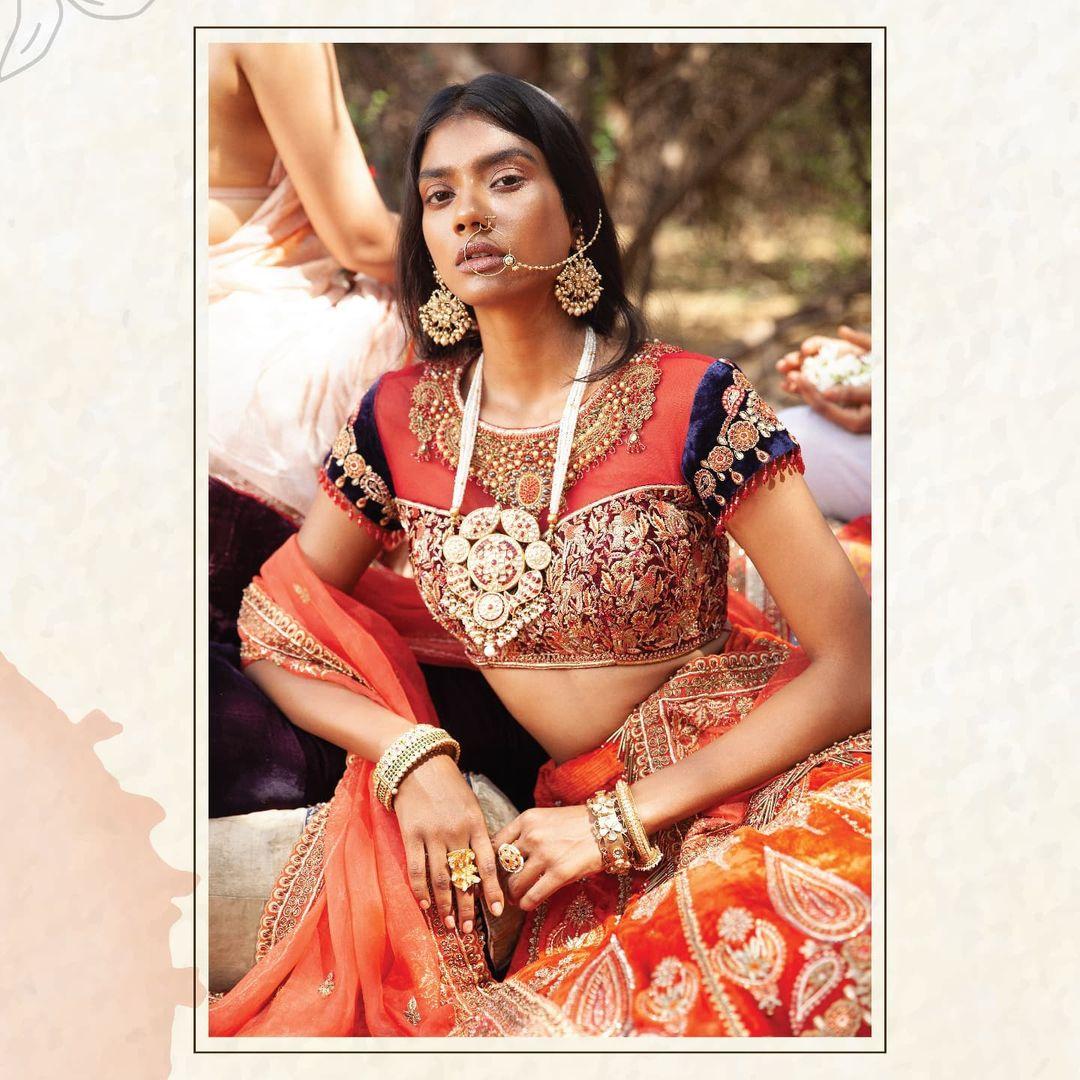 This crimson red number with golden floral motifs and a tulle neckline that flaunts a necklace-like design is a bridal beauty. The curves at the centre of the blouse make it look perfect. The padded blouse provides added shape and structure to the garment. With this princess cut blouse, you should not wear a double dupatta to cover it, but instead, use only one dupatta over the arms or to cover the head like a veil!
Also Read: 15+ Blouse Neck Designs With Interesting Patch Works
Red Dramatic Princess Cut Blouse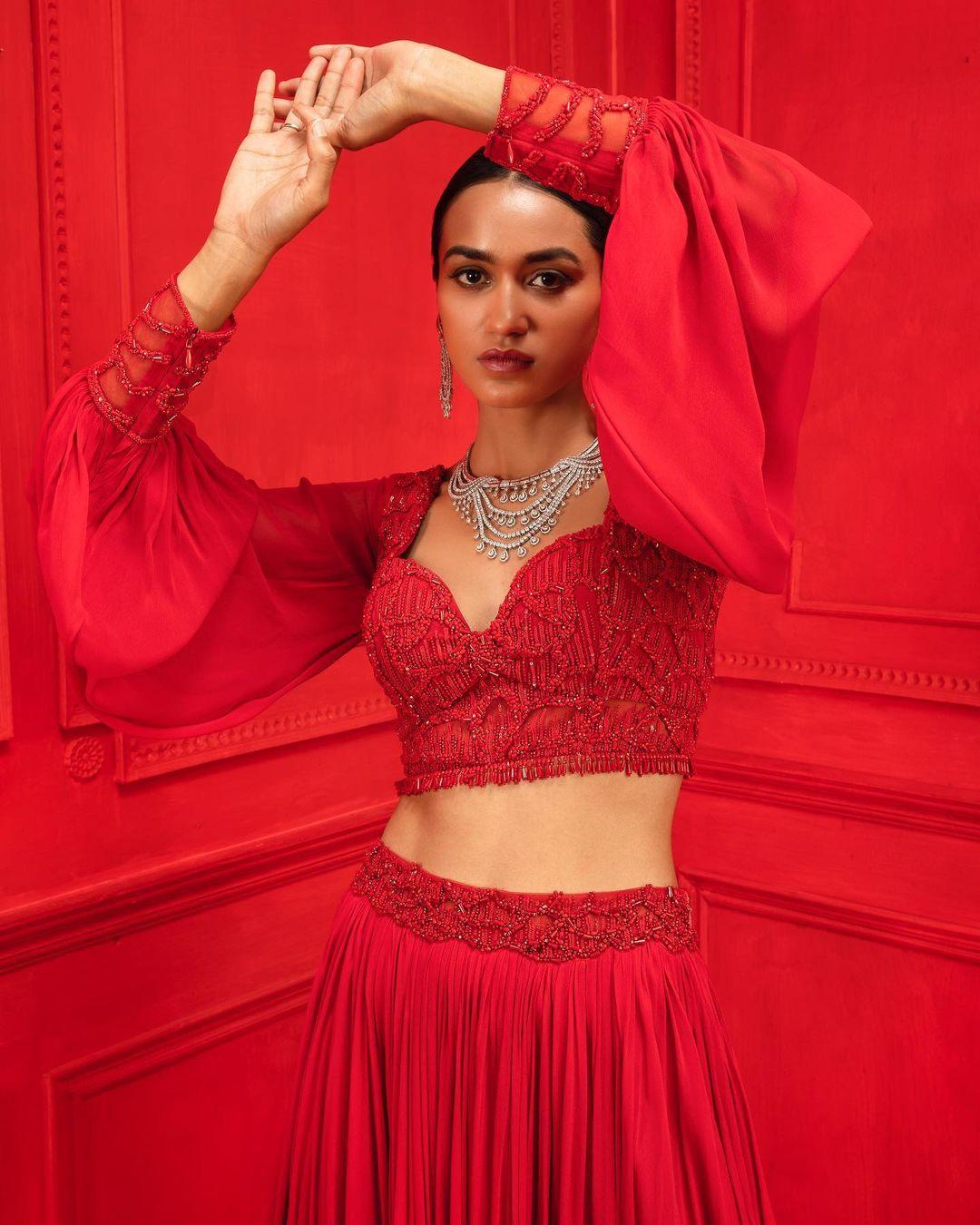 Sure red is the colour for brides, but when red is blended with drama you have a masterpiece in your closet! This Mahima Mahajan full-sleeve blouse design in red flaunts mesmerising bishop sleeves. In fact, the fit of this princess cut blouse design is aped up by the sweetheart neckline and it will surely turn heads as you walk by.
White Lace Princess Cut Blouse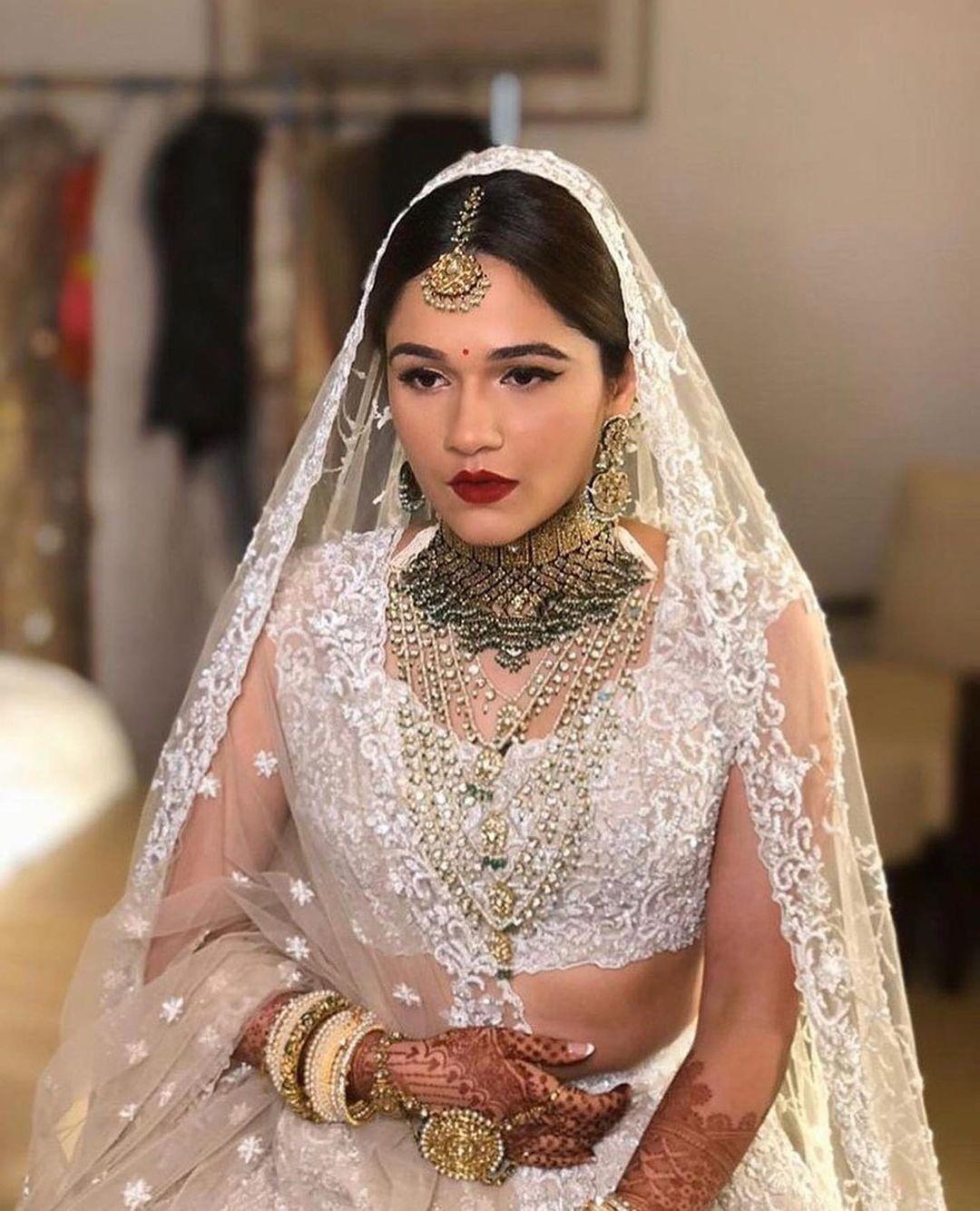 Image Courtesy: Kresha Bajaj
In this beautiful ivory blouse, the embellished detailing and intricate embroideries add to the shape and structure of the princess cut blouse design. If you are celebrating a Kerala Christian wedding or an Indian Christian wedding in general, then this white princess cut blouse design is your IT with the white lehenga or white saree!
Heavy Bridal Princess Cut Blouse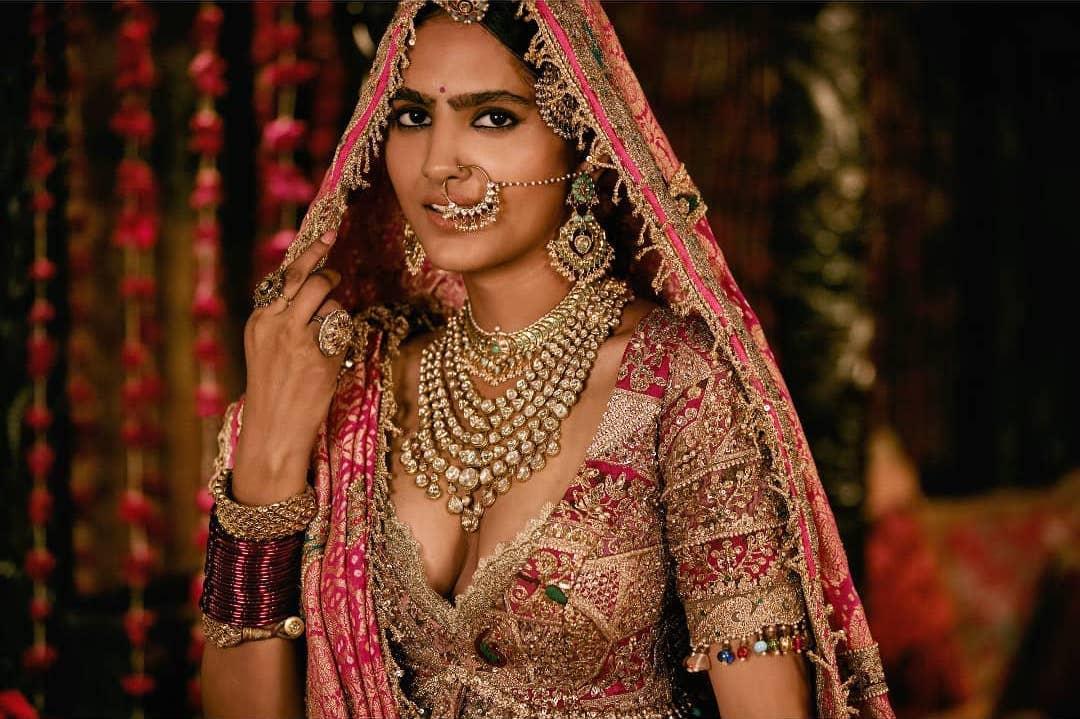 If you are planning to flaunt a traditional blouse that will uphold your culture and at the same time make you look gorgeous then this princess cut blouse design by Rimple and Harpreet is your bet. The Gota Patti and Zari work on this blouse design is a work of art you cannot miss.
Deep V-neck Princess Cut Blouse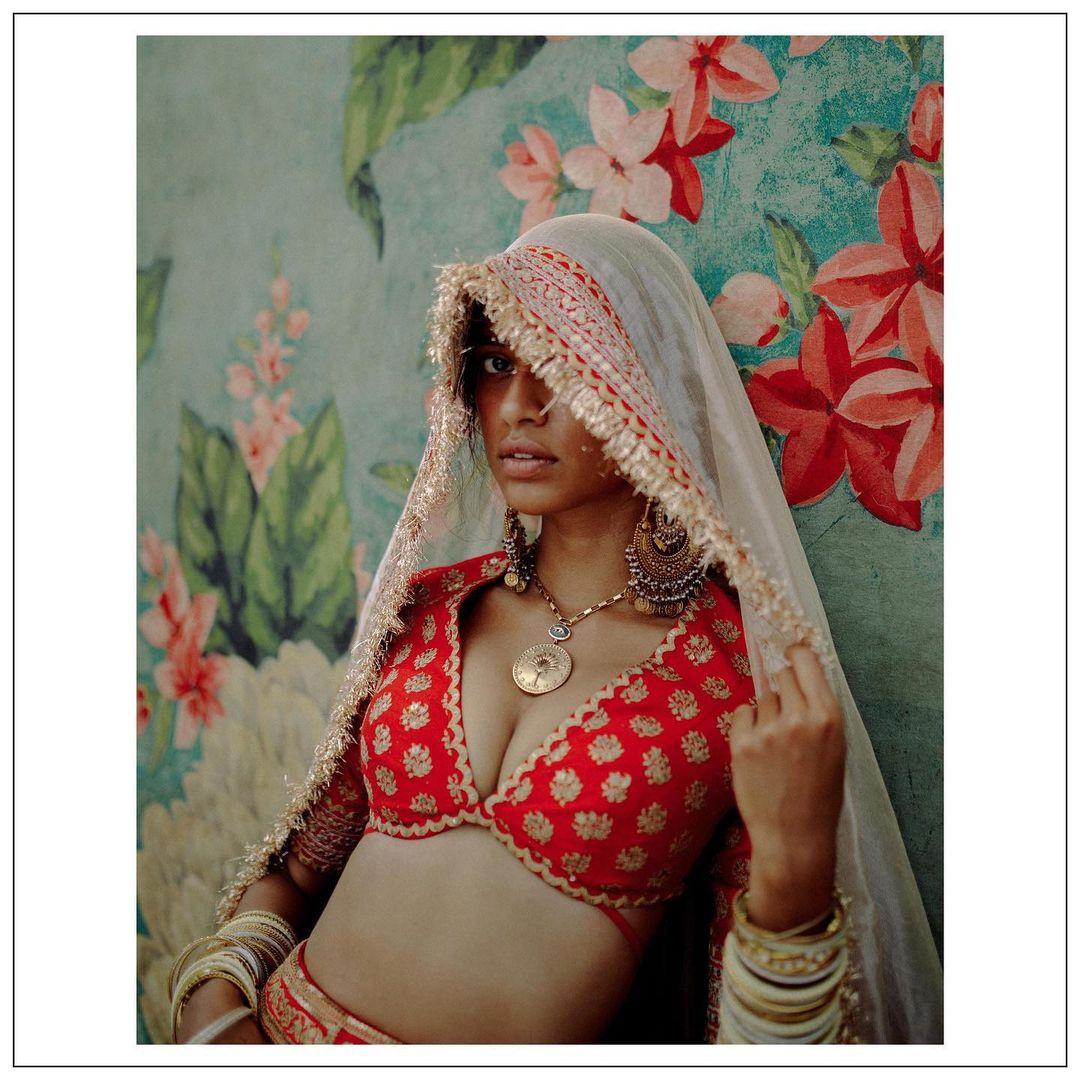 Image Courtesy: Sabyasachi
Taking the beauty of deep V-neck designs to another level, this Sabyasachi V-neck blouse design is an alluring piece and the princess cut blouse stitch on the blouse gives it a sultry fit that will wow the beholders! If you pick a red lehenga for your wedding, then this is your go-to.
Plunging Neck Princess Cut Blouse in Green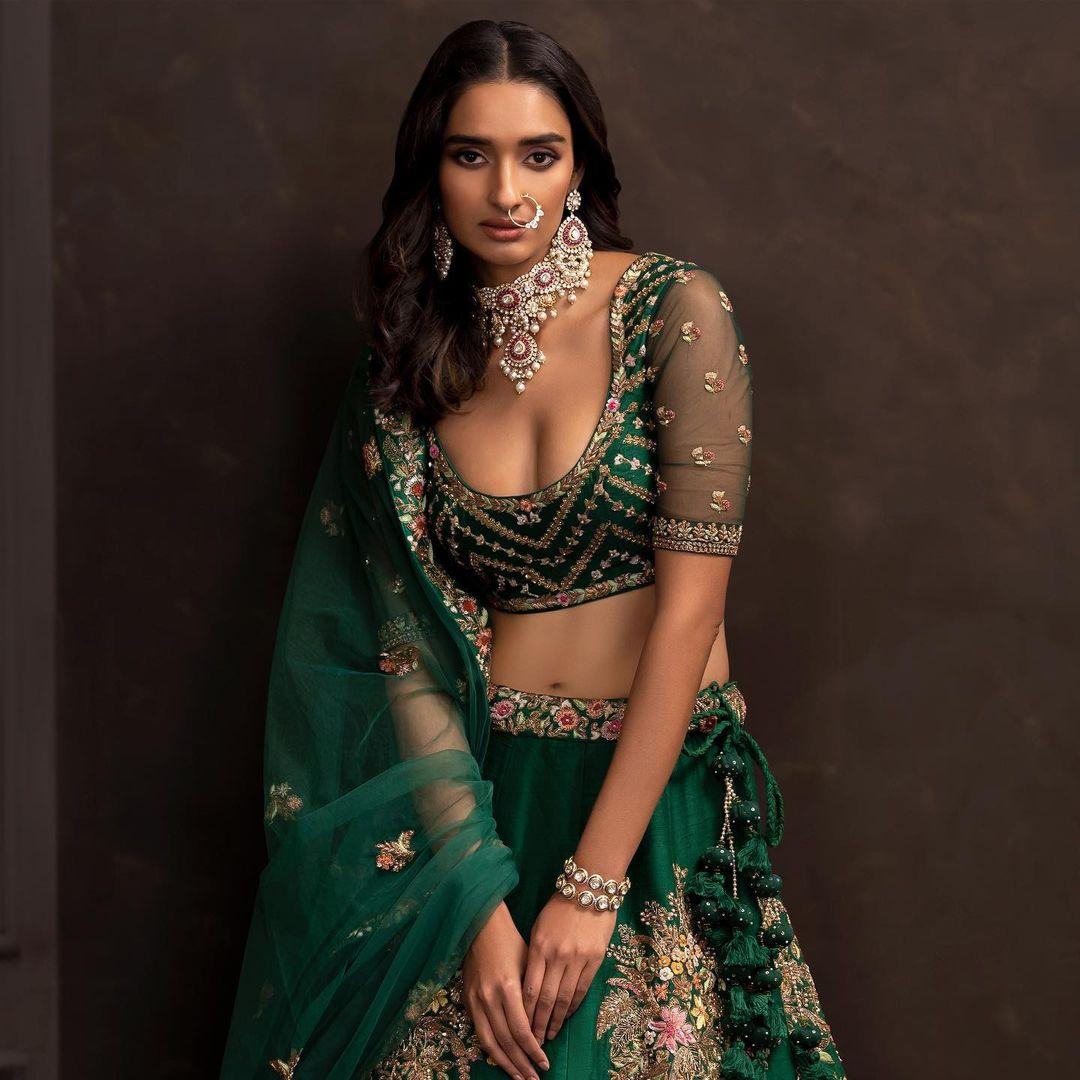 Emerald green is a colour that speaks of royalty in every form and this emerald green princess cut blouse with a plunging neckline is no exception. The tulle sleeves with booti work add to the charm of this emerald blouse design.
Full Sleeves Red Princess Cut Blouse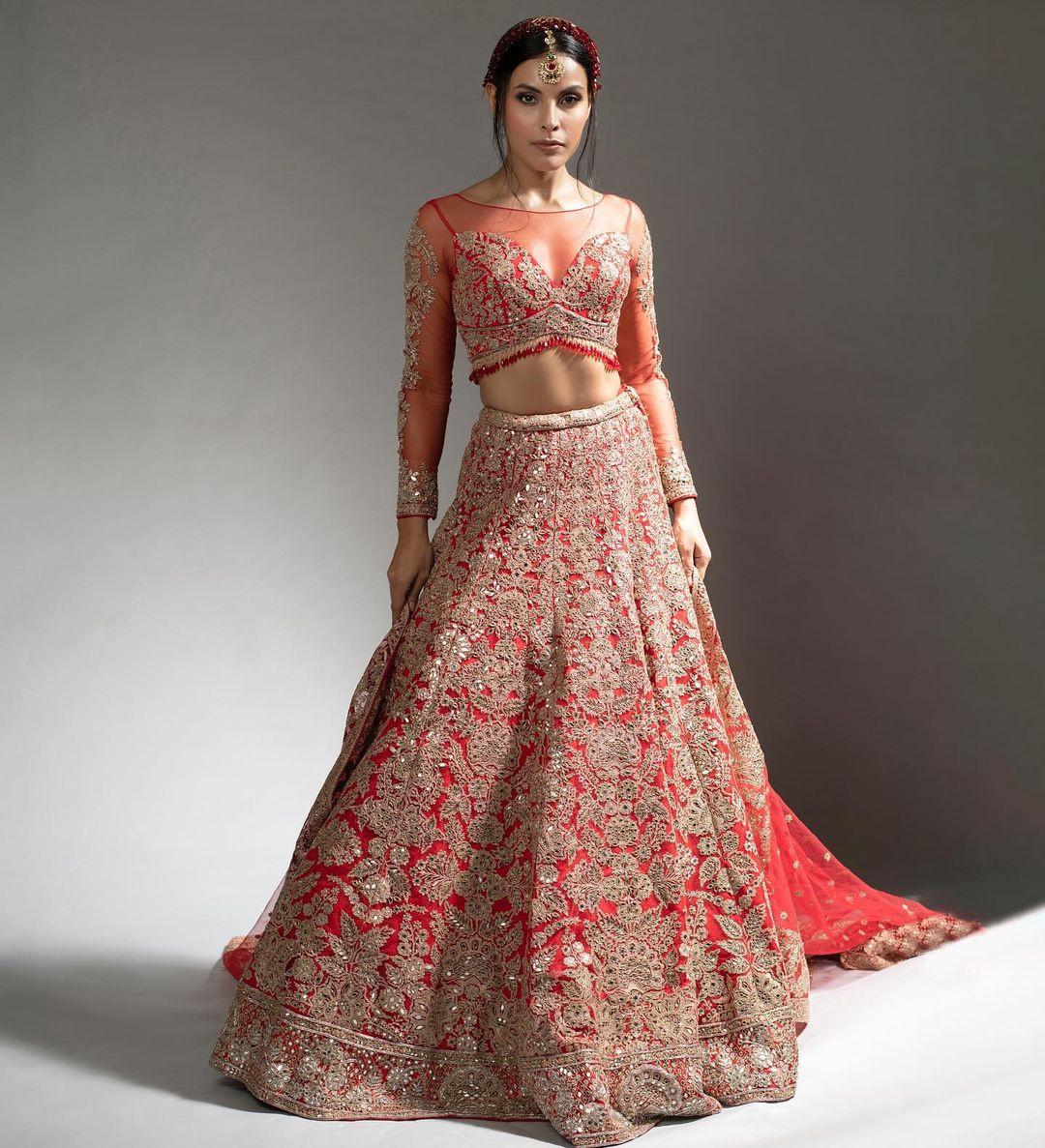 Full sleeve blouse designs are a must-have for your winter wedding wardrobe. This red full-sleeve blouse design with intricate embroidery and the zero neck illusion with tulle on it is a show-stopper. The beaded detailing on the hem makes it worth the hype!
Pastel Princess Cut Blouse with Embroidery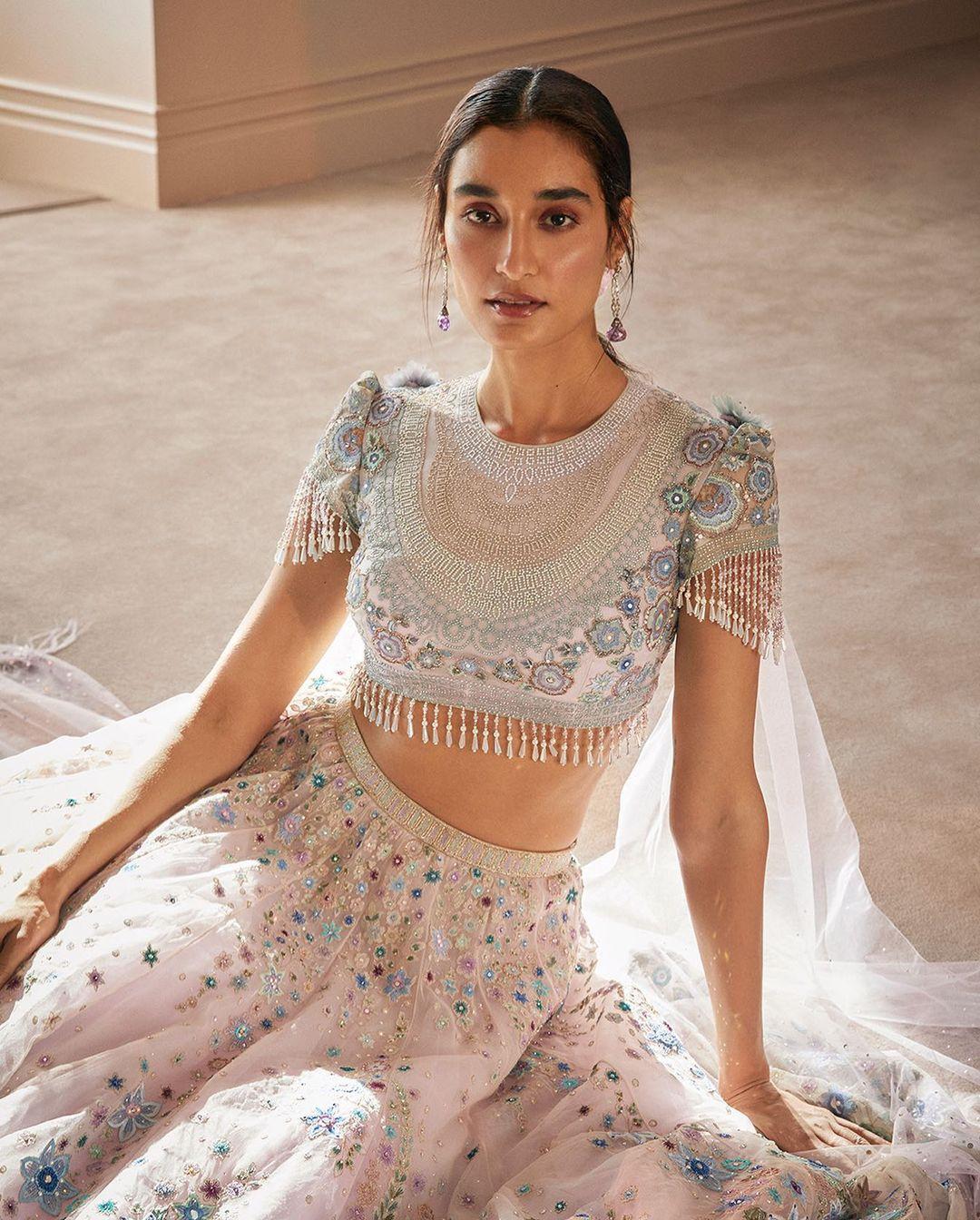 Floral embroidery makes for a significant part of a wedding wardrobe. This pastel blouse with floral embroidery and tassel detailing will be the perfect addition to your floral lehenga or to your pastel lehenga for the day wedding ceremony. The embroidered neckline gives the illusion of a heavy necklace and the princess cut stitch makes it sit perfectly on your silhouette.
Also Read: 13+ Trendy Blouse Embroidery Designs
Velvet Princess Cut Blouse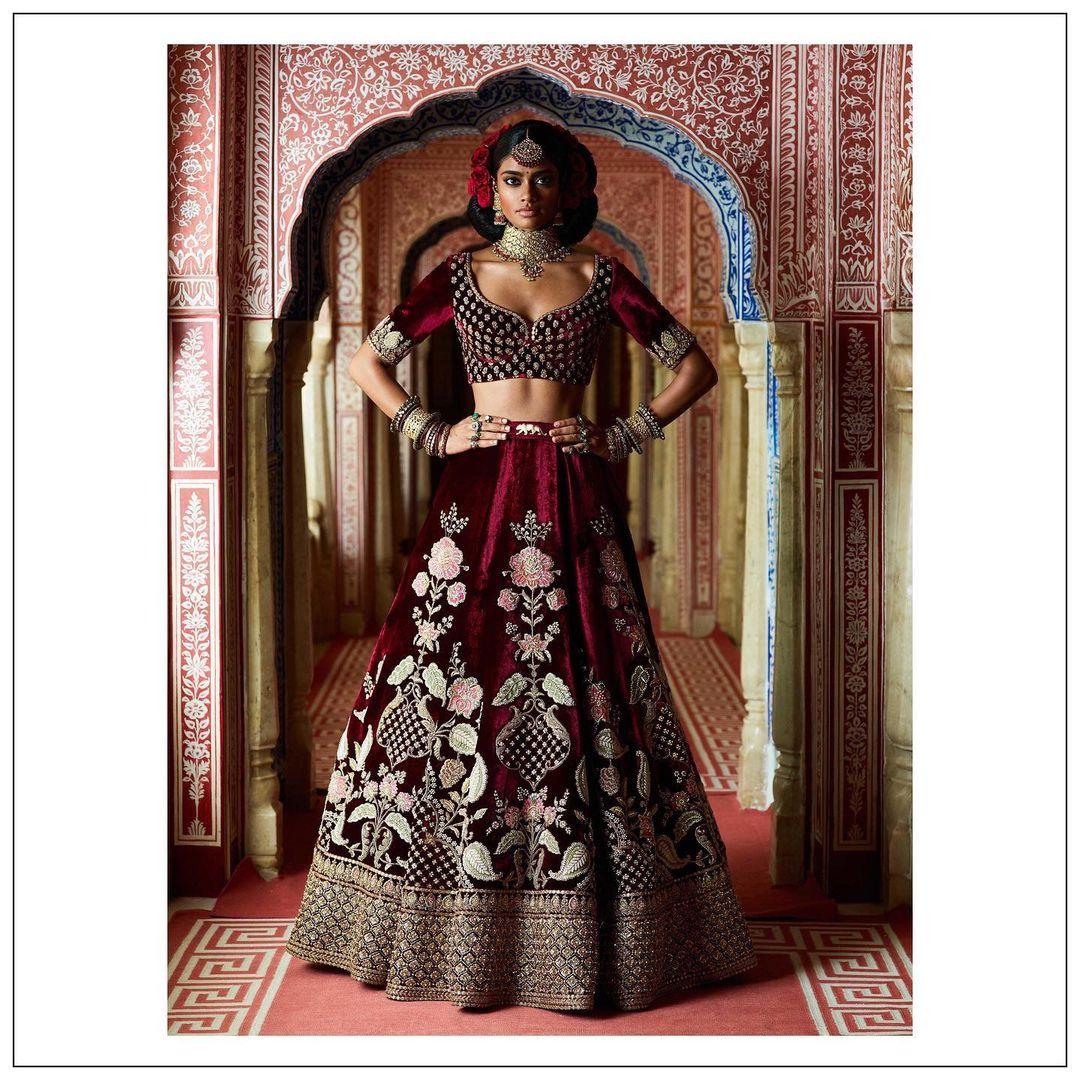 Image Courtesy: Sabyasachi
Maroon and velvet is a combination that is very popular especially during the winter wedding calendar dates. The maroon shade is regal and the sheen of the velvet fabric is quite an eye-catching one. The concoction of both when met with the princess cut stitch on the blouse, creates a masterpiece of a blouse design. The sweetheart neckline is alluring - the cherry on top!
Also Read: 11 Trending Velvet Blouse Designs for the Stunning Brides of Today
Aari Work Princess Cut Blouse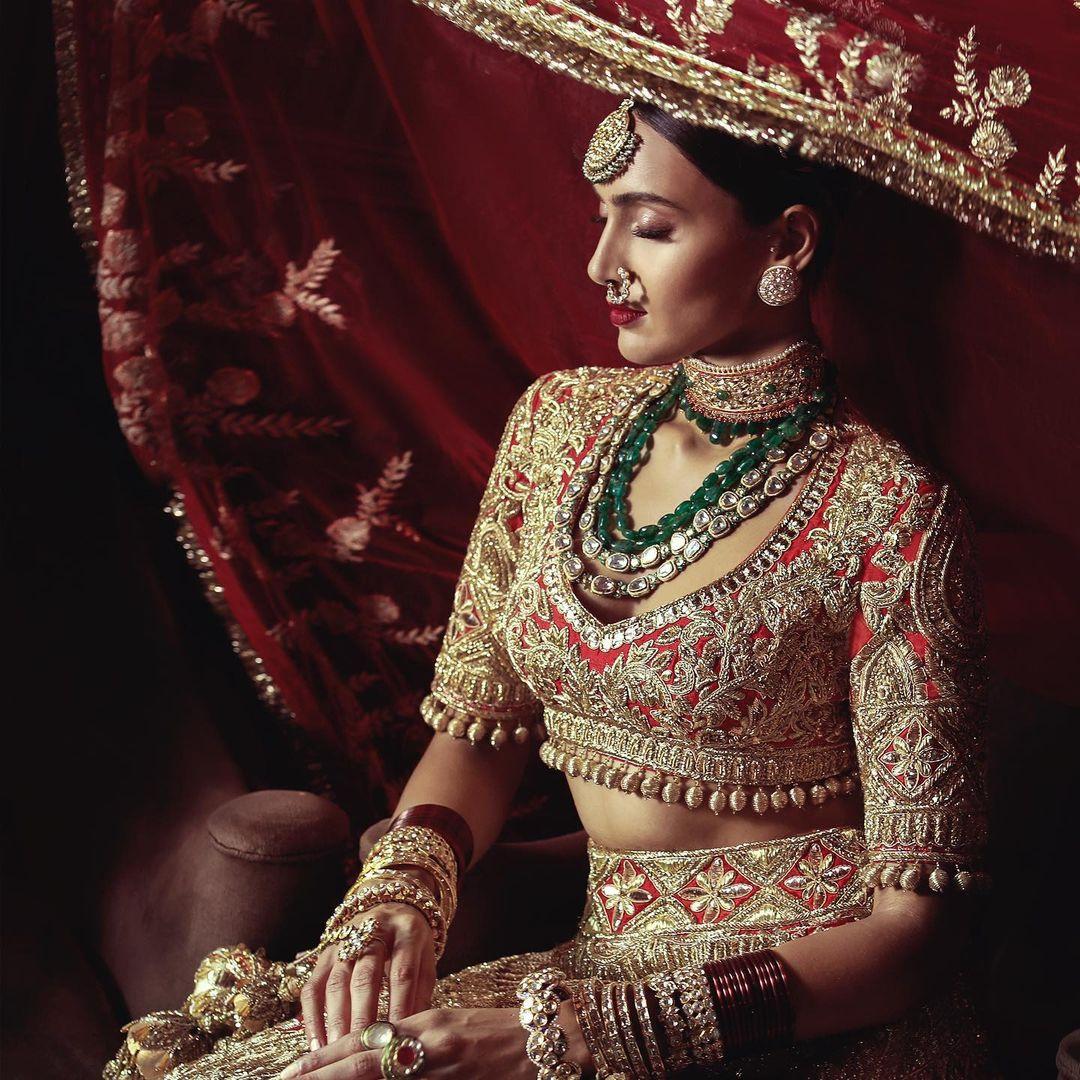 Image Courtesy: Manish Malhotra
From the archives of the veteran designer Manish Malhotra, this red blouse design with Aari embroidery makes it a gorgeous piece. This heavy blouse design with the golden tassel detailing on the hem and Gota Patti on the neckline add to the allure.
Front Open Princess Cut Blouse Design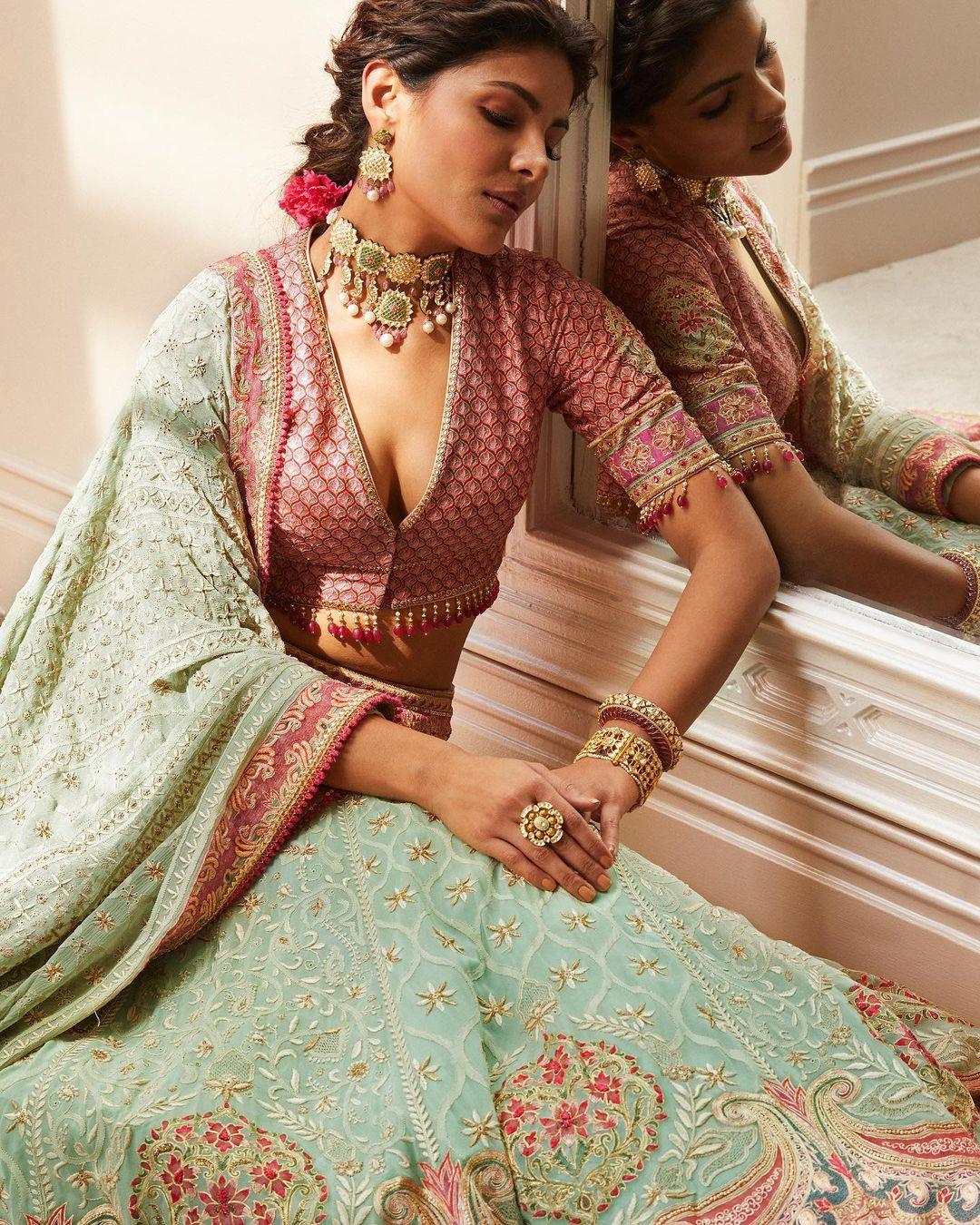 Front-open blouse designs are a hoot and this peach coloured front-open blouse design with beaded detailing on the brocade designs is a vision. The Pair it with a turquoise lehenga to look stellar at your wedding ceremony.
Halter Neck Princess Cut Blouse Design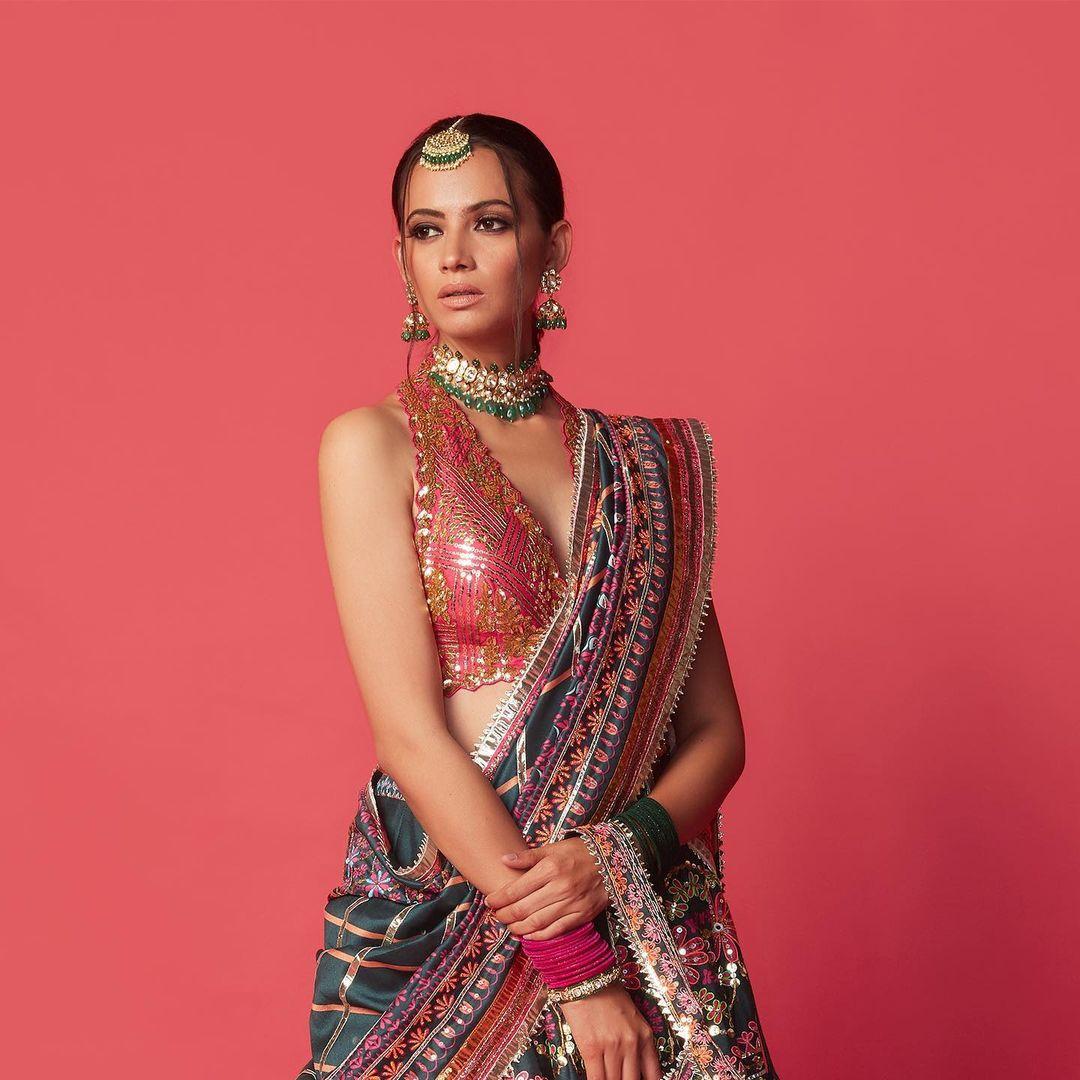 Brides and bridesmaids have made heads turn in halter neck blouse designs. This sequin halter neck blouse design with a deep V-neck and scallop hem with golden thread embroidery is a gorgeous princess cut blouse design that will make your outfit look a class apart!
Cape Sleeve Princess Blouse Design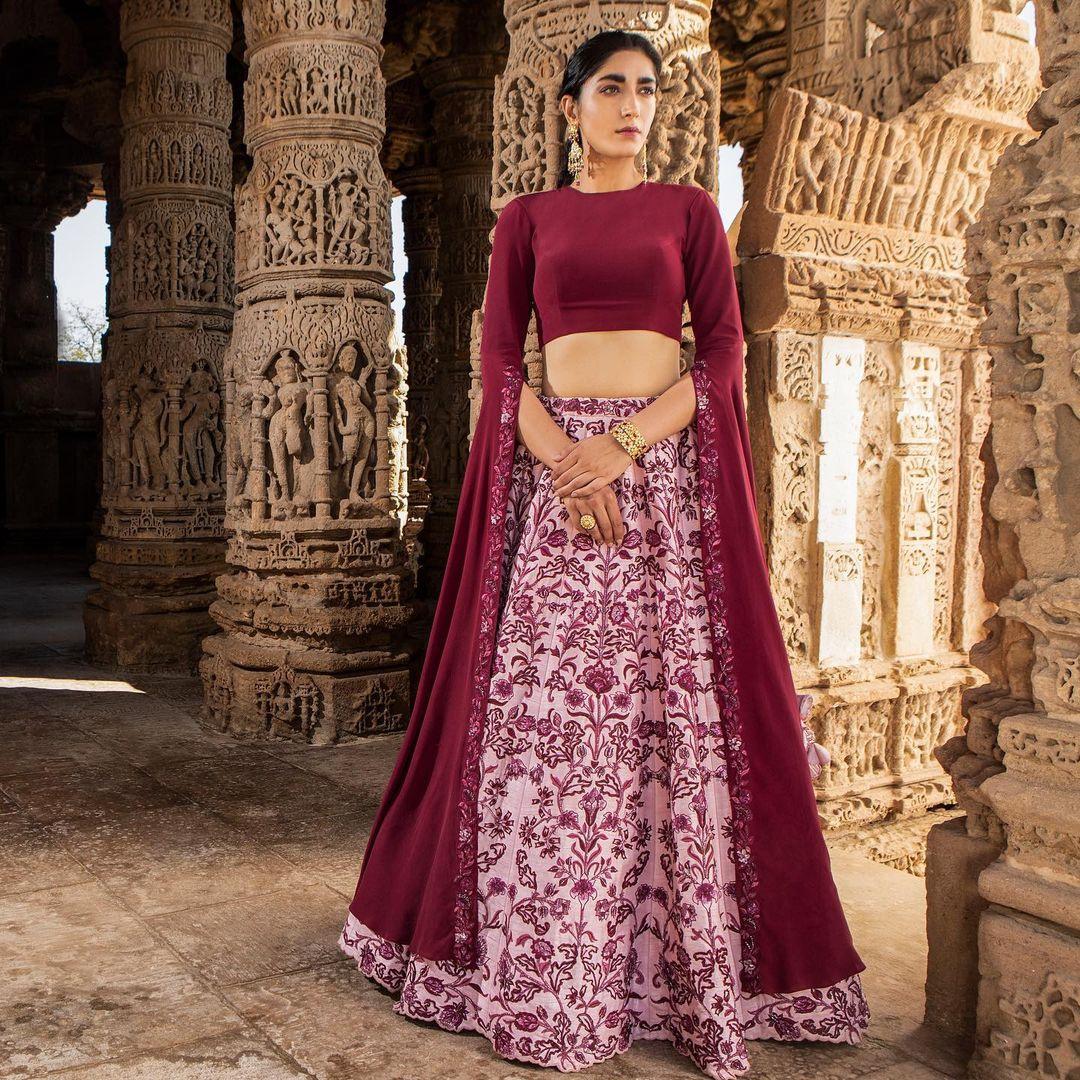 Long flowy cape sleeves on a simple blouse design are going to be a mesmerising addition to your wedding couture. Embrace the beauty of this princess cut blouse design in a gorgeous maroon shade by pairing it with a pink lehenga.
Mirrorwork Simple Princess Cut Blouse Design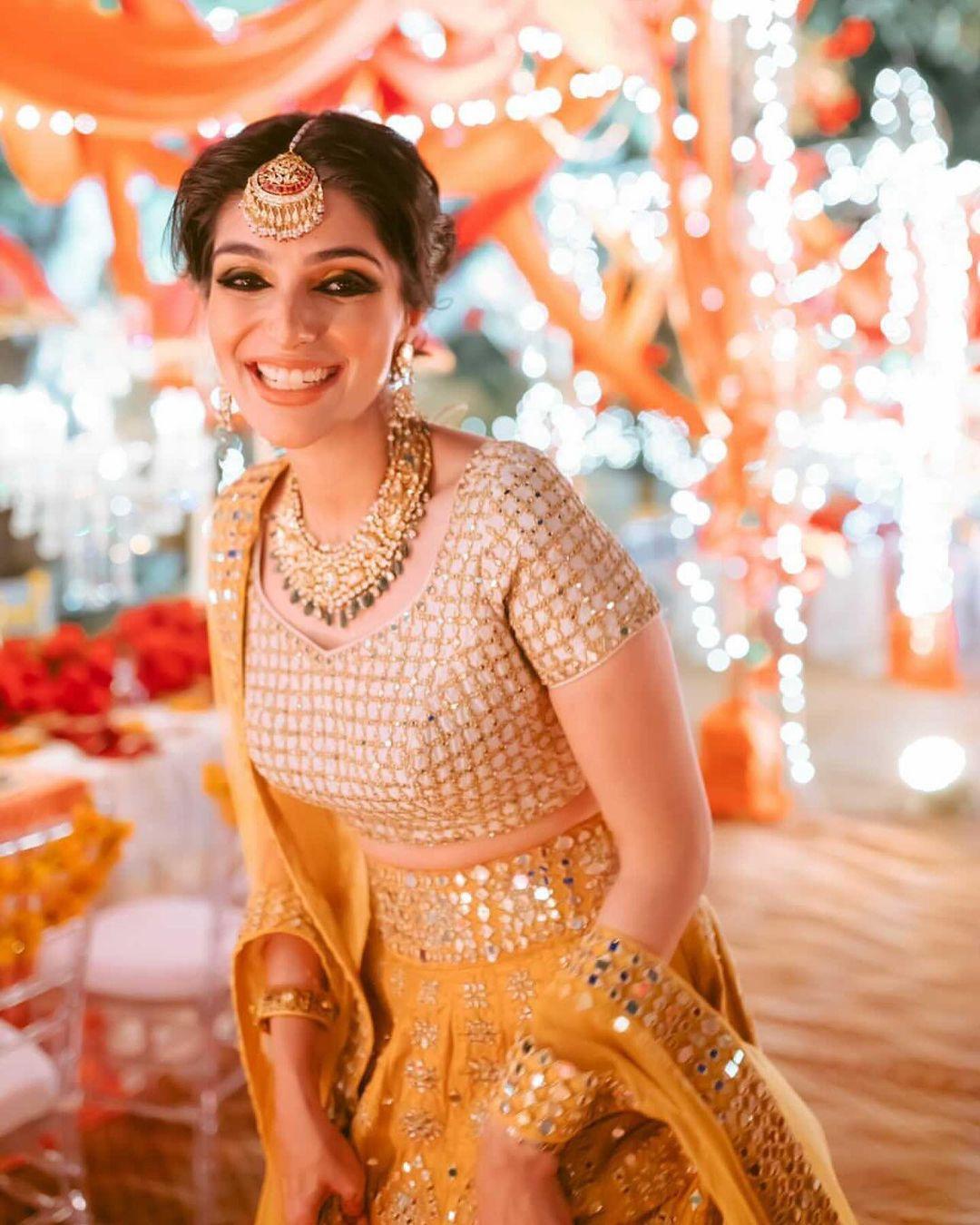 Image Courtesy: Abhinav Mishra
Mirror work blouse with a yellow mirror work lehenga - nothing gets better for your Haldi outfit. This yellow mirror work blouse design with a princess cut design makes it a perfect outfit inspiration for your Haldi ceremony.
Yellow Halter Neck Princess Cut Choli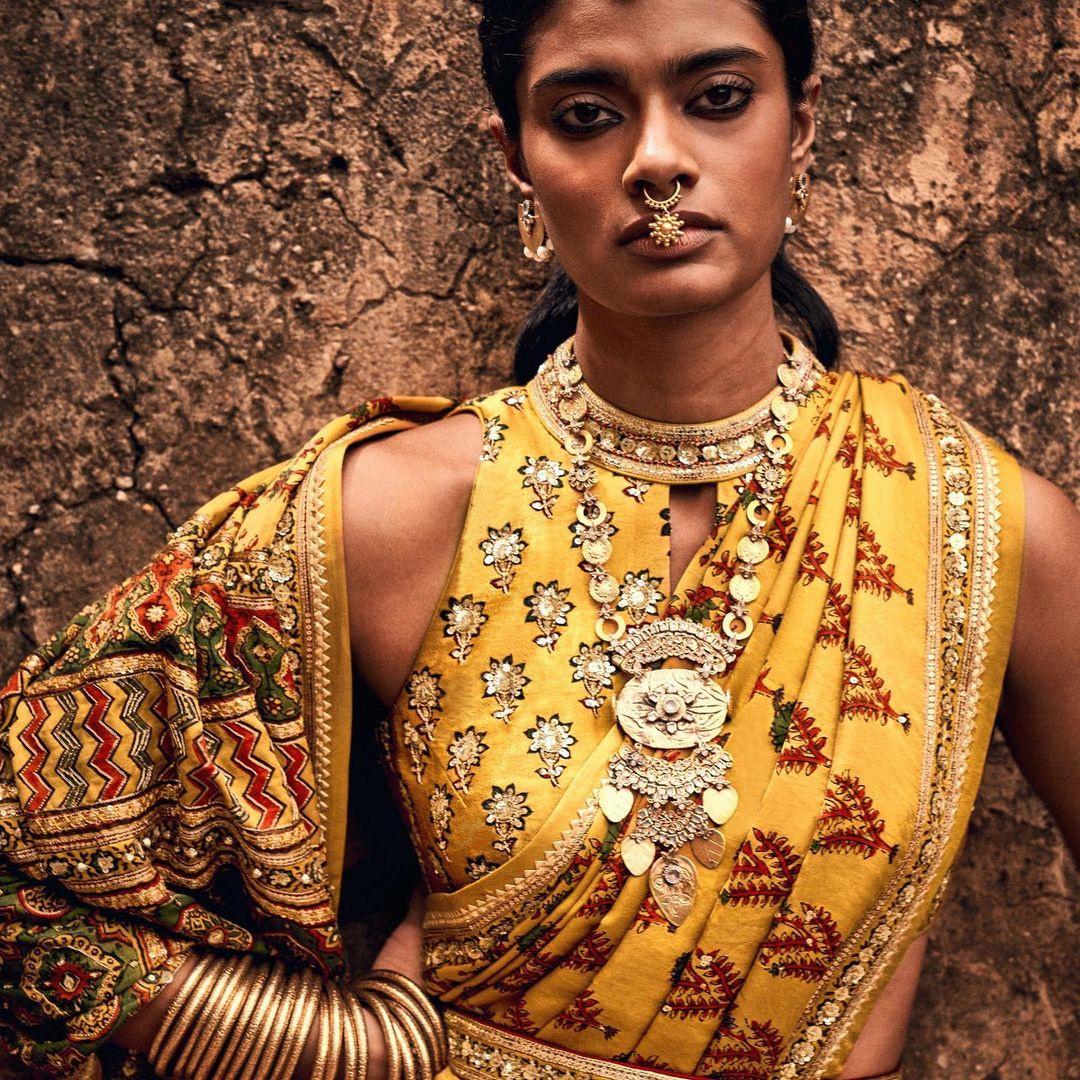 Halter neck blouses accentuate your neckline and collarbone making you look sensual. This yellow halter neck blouse fits like a glove owing to the perfect princess cut blouse stitch.
Black Princess Cut Blouse with Puff Sleeves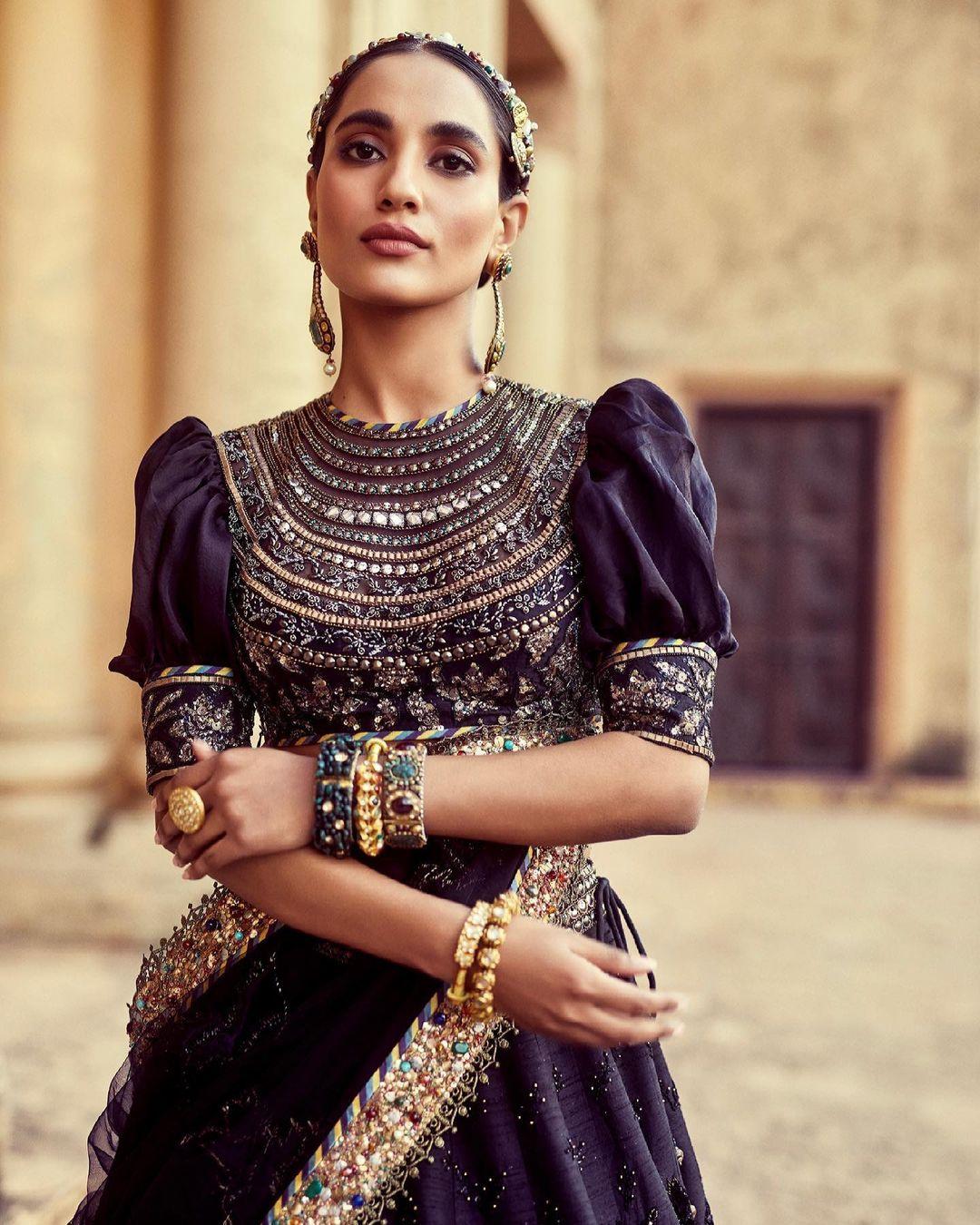 Blouses with dramatic sleeves are much loved by the brides of today. To make your reception look unforgettable there is this JJ Valaya black blouse design with puff sleeves and cuffed elbow. The beautiful golden embroidery makes it all the more alluring to look at and flaunt for your post-wedding.
Off-Shoulder Princess Cut Blouse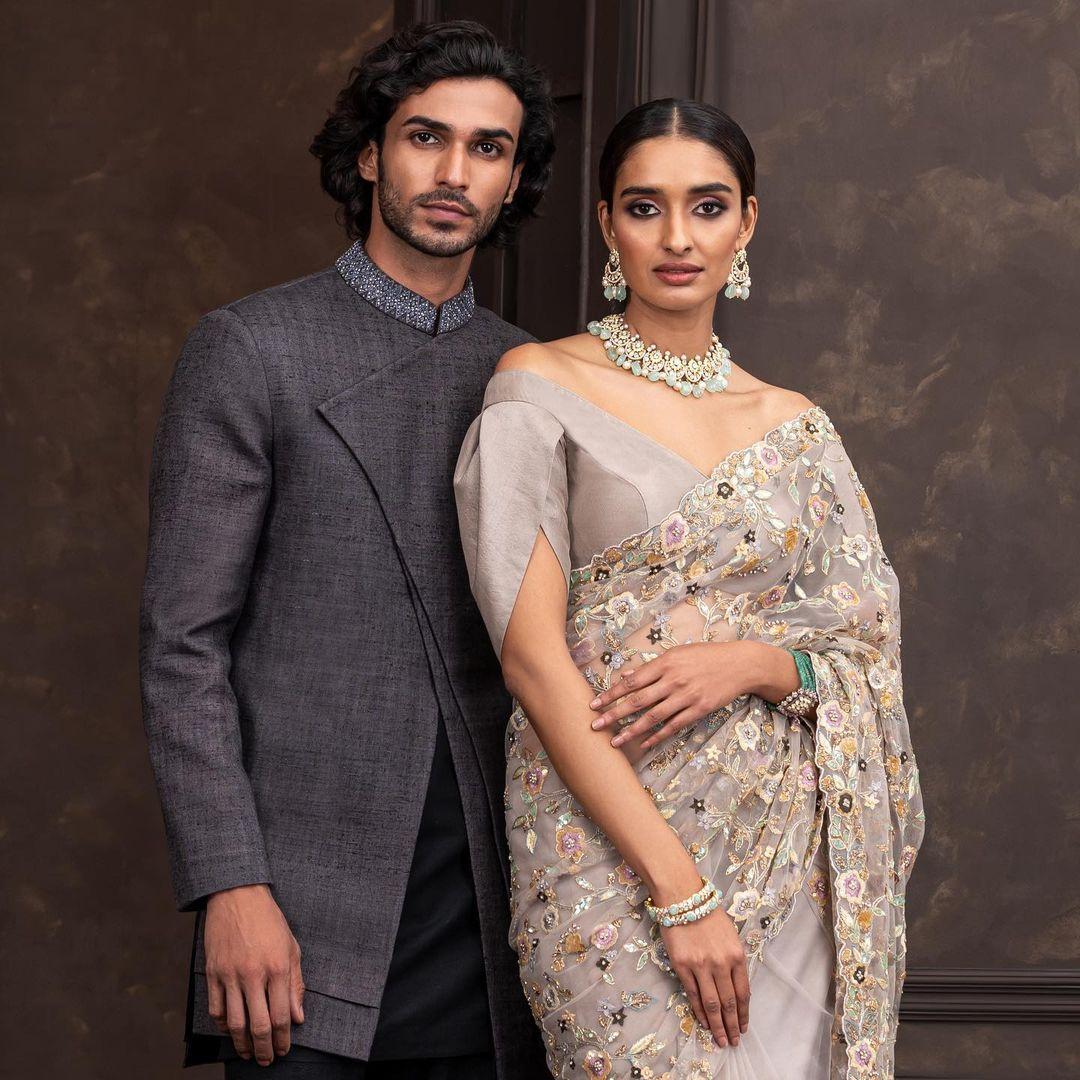 If you want your off-shoulder blouse to fit you perfectly, then pick an off-shoulder blouse with a princess cut design like this one in the image above. Stays in place without fear of a wardrobe malfunction while you dance your hears out! Pair with a diamond jewellery set to bring out the best.
Ivory Princess Cut Blouse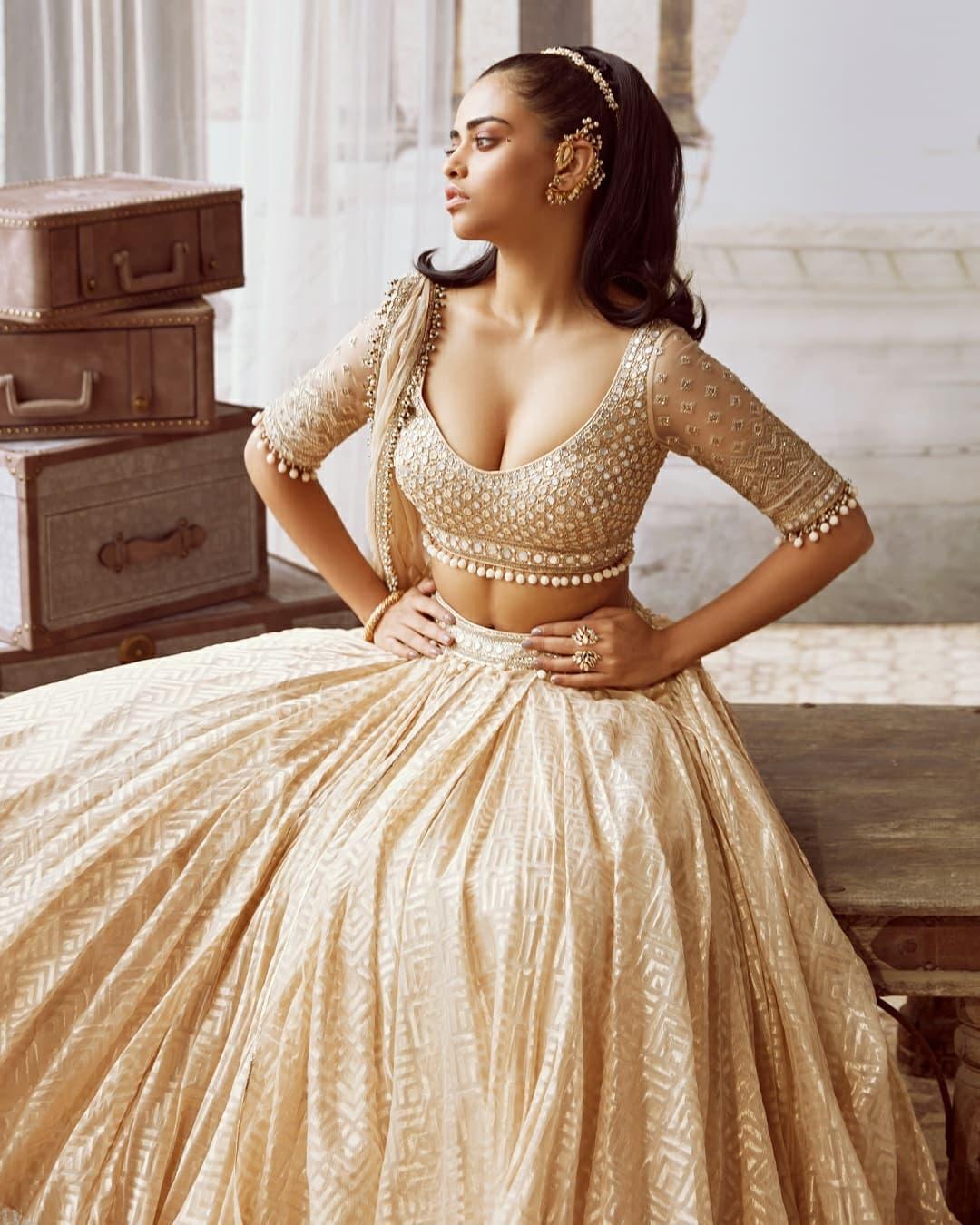 Ivory is the colour of purity and beauty and the amalgamation of the ivory fabric with mirror work and faux pearl detailing in this princess cut blouse design makes the blouse look gorgeous for any ceremony. You can even pair it with a golden lehenga for a subtle contrast.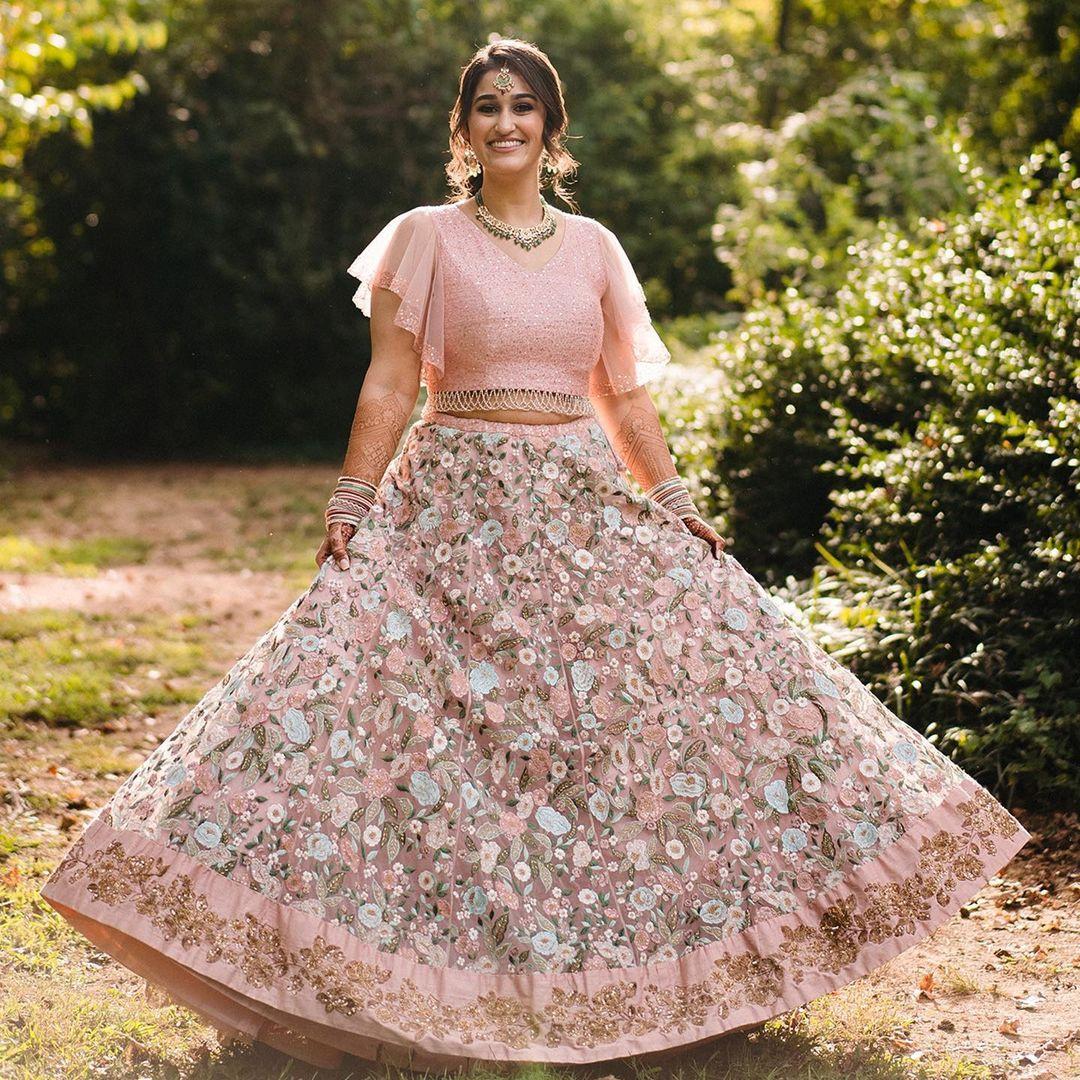 Picking a blouse design has never been an easy task, TBH. However, these princess cut blouse designs that we have hand picked for you will make your choice much easier and brilliant! Make sure that your jewellery highlights the cut of the blouse instead of covering it up!
Take a look at the lehenga designers available on board to get your hands on the latest and trending princess cut blouse designs for your big day!