Outstanding Mirror Work Designs With Embroidery for a Unique Looks
Mirrors and embroidery together make the perfect combination for a gorgeous outfit. Take a look at these stunning mirror work designs with embroidery to shine on!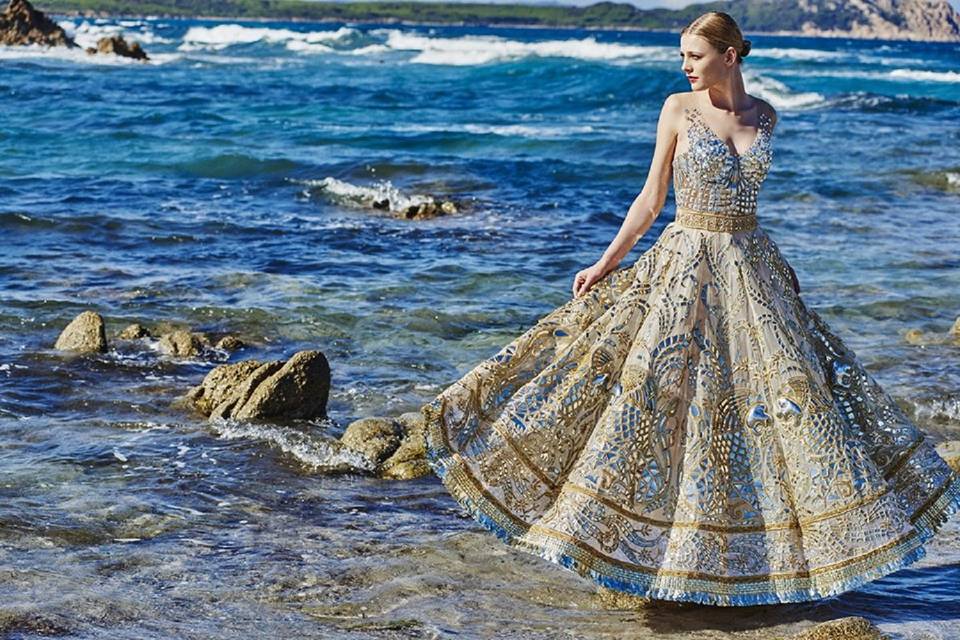 Who would think that a small piece of a mirror could actually give such a beautiful and luxurious look to any fabric? But it certainly does! Apart from that when it is embroidered with a mix and match of colourful threads it can look even more elegant and beautiful.
Mirror work designs with embroidery can brighten up and make even the dullest of fabric very appealing to the human eye. We all know that a little shimmer and shine on any attire makes it the number one choice for functions, occasions, weddings and parties.
So, if you're confused about your attire this wedding season, mirror work designs with embroidery would definitely give you a unique and stunning look. So whether it's those sarees or lehengas, glam them up with stunning mirror work and embroidery designs for the best look.
Right from blouses to sarees and even skirts, mirror work along with embroidery can work wonders!
You could even use mirrors to brighten up a dull looking outfit within no time and all. You don't need to be a professional to get that mirror look on your outfits. A few mirrors and a hot glue gun and your DIY will be done instantly within no time at all!
So, if you're wondering how to make an old salwar or blouse shimmer and shine for a party, try out the mirror way to glam up those old outfits that you once wanted to throw right out of the window.
To help you out with this, we have searched and put together the most unique mirror work designs with embroidery outfits so that you can be inspired and get shopping for your next big occasion!
Neon Dreams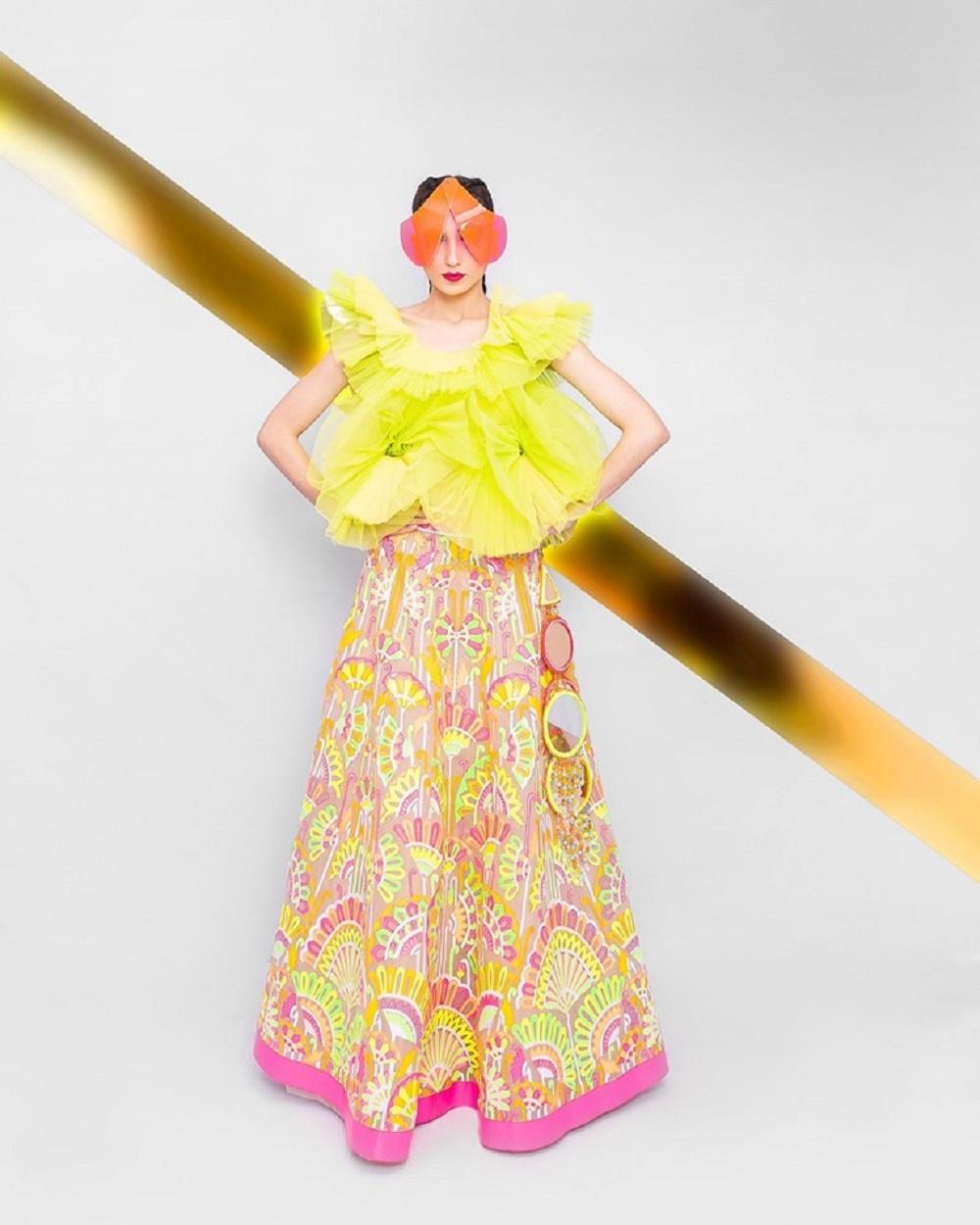 This is the first amazing mirror work design we've found for you. As you can see the mirror work designs with embroidery is put together in the most creative way on this fabric. The circular skirt in organza and tulle features a burst of beautiful hand embroidered fan type motifs in neon and Abla silk.
The circular tassels in the gold mirror and bead embroidery provide a very stunning look. The lovely skirt is paired with a neon yellow and green pleated tulle crop top that is just stunning. Perfect for a party or fun occasion!
You could also mix and match a different blouse to make it seem brand new every single time you plan to wear this gorgeous lehenga skirt.
Electric Blue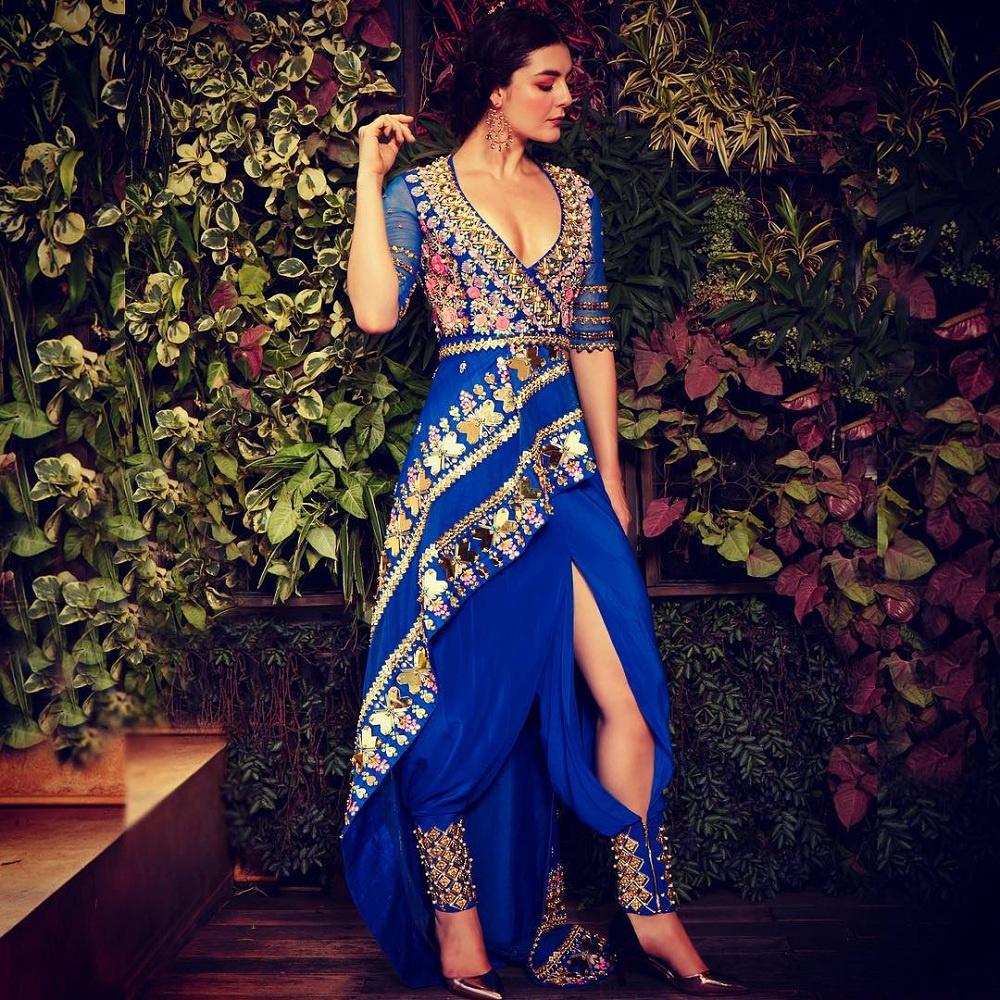 This is another fab outfit that's quite modern and trendy. It's a one side short peplum top in electric blue that's striking and gorgeous. It has the most stunning and fabulous mirror and embroidery work in gold done all over the outfit.
The dhoti pants are also electric blue with embroidery work done to perfection at the ends of the pants. This mirror work all around the outfit has a very playful look and is perfect for any function or occasion.
Flaunt this around and watch the compliments flow in the minute you step into the room. Wear this outfit with a pointy pair of pumps and a nice set of gold earrings. Make sure to wear fewer accessories to balance out the beautiful work on your outfit.
You could even go with a nice gold shining Kada to complete the look.
Stunning Blue
Hot as can be! This is a rich blue lehenga set that is simply stunning. It's a lovely combination of blue and gold. The beautiful lehenga is packed with a gorgeous design of elephants, leaves and flowers. To top this up, there's a mix of amazing embroidery along with mirror work all around.
The mirrors used are cut out and placed to perfection, bringing out the best in the outfit. When it comes to the gold blouse, it's packed with different sized mirrors. The neckline also has a lot of strings with mirrors hanging down, making it a very unique outfit for all your grand functions.
The dupatta is again the same rich blue shade with lovely mirror work designs with embroidery at the borders. An outfit like this can be worn for a wedding or even those grand party nights.
With a look like this, you could choose to go for a pair of beautiful mirrored earrings or even those beautiful traditional ones. A Potli in hand and a pair of lovely heels would complete this look.
Multi-coloured Magic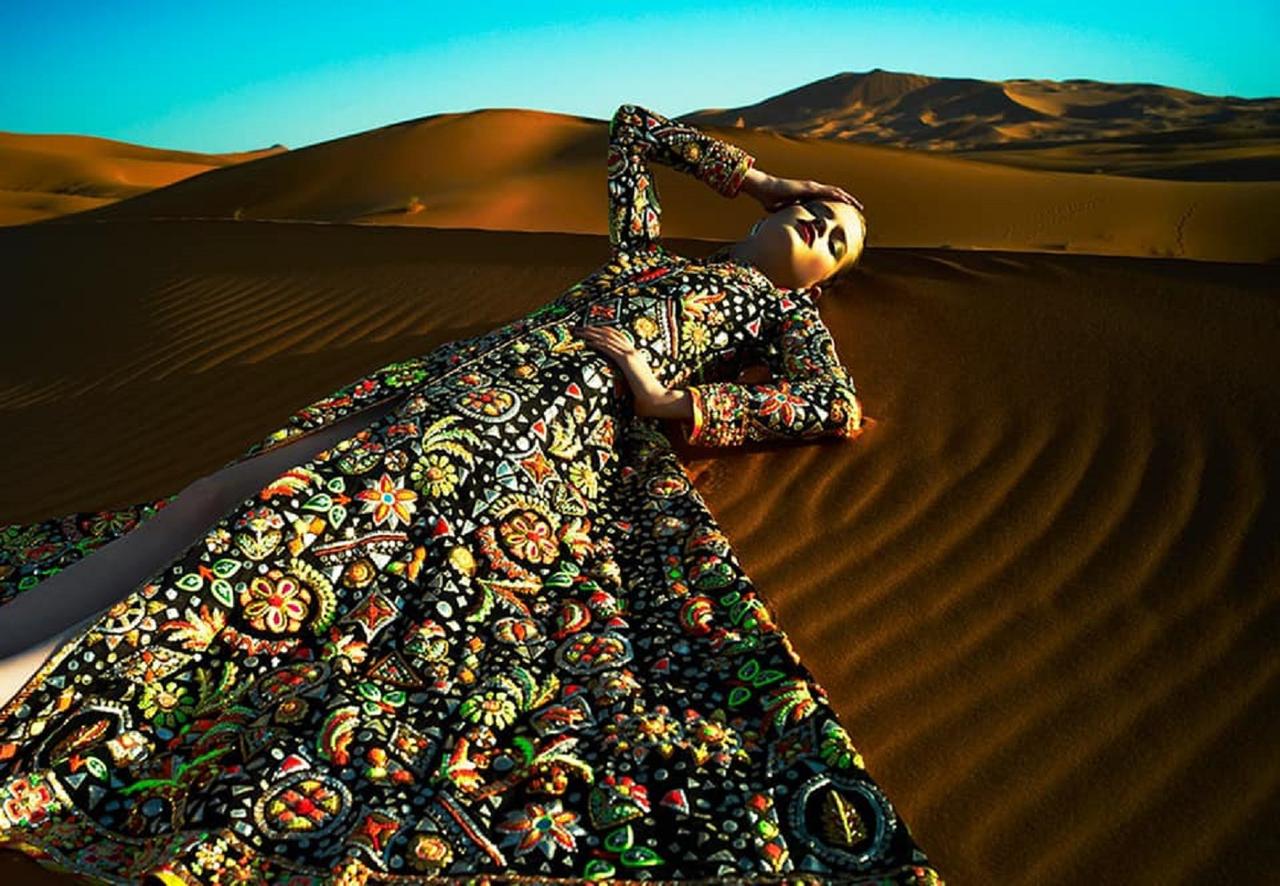 This is one of the best ones on this list of mirror work designs with embroidery. Black is black, and you could always look stylish with a black outfit like this. The beautiful, bright multi-coloured threads used on this outfit is a burst of colours.
Right from shades of blue, green, orange, yellow and red, there's so much when you look at this outfit. A very rich piece that's perfect for a wedding or any occasion. The lovely little mirrors placed all around just adds on to the whole look.
Pair this awesome outfit with a pair of stunning earrings and classy heels and you're ready to rock the party in style!
Traditional Red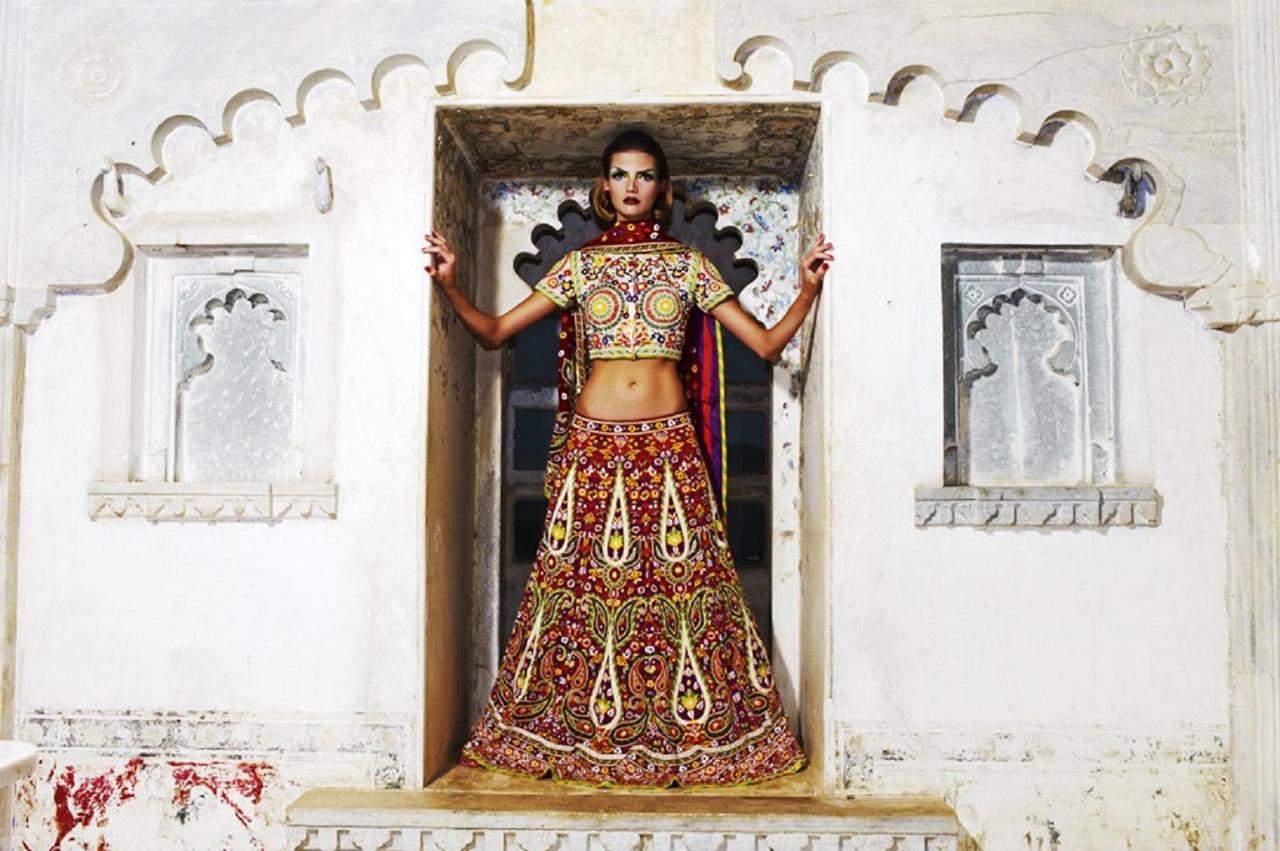 Are you looking out for something traditional to wear this festive season? How about going in for mirror work designs with embroidery? Mirror work and embroidery always go hand-in-hand and choosing a combination of both when it comes to your lehengas and skirts is always a good idea.
This is a gorgeous traditional lehenga set that comes with beautifully embroidered threats of blue, purple, yellow, green, red and orange. The gorgeous designs running through the maroon skirt just give this whole outfit a very ethnic display.
The blouse is equally stunning and is done to perfection. The dupatta is again a mix of different patterns and colours, making it stand out beautifully.
Choose a pair of Jhumkas or any other traditional earrings to pair up with this lehenga set. A Potli, along with Mojaris or heels would complete this look perfectly.
Gorgeous Turquoise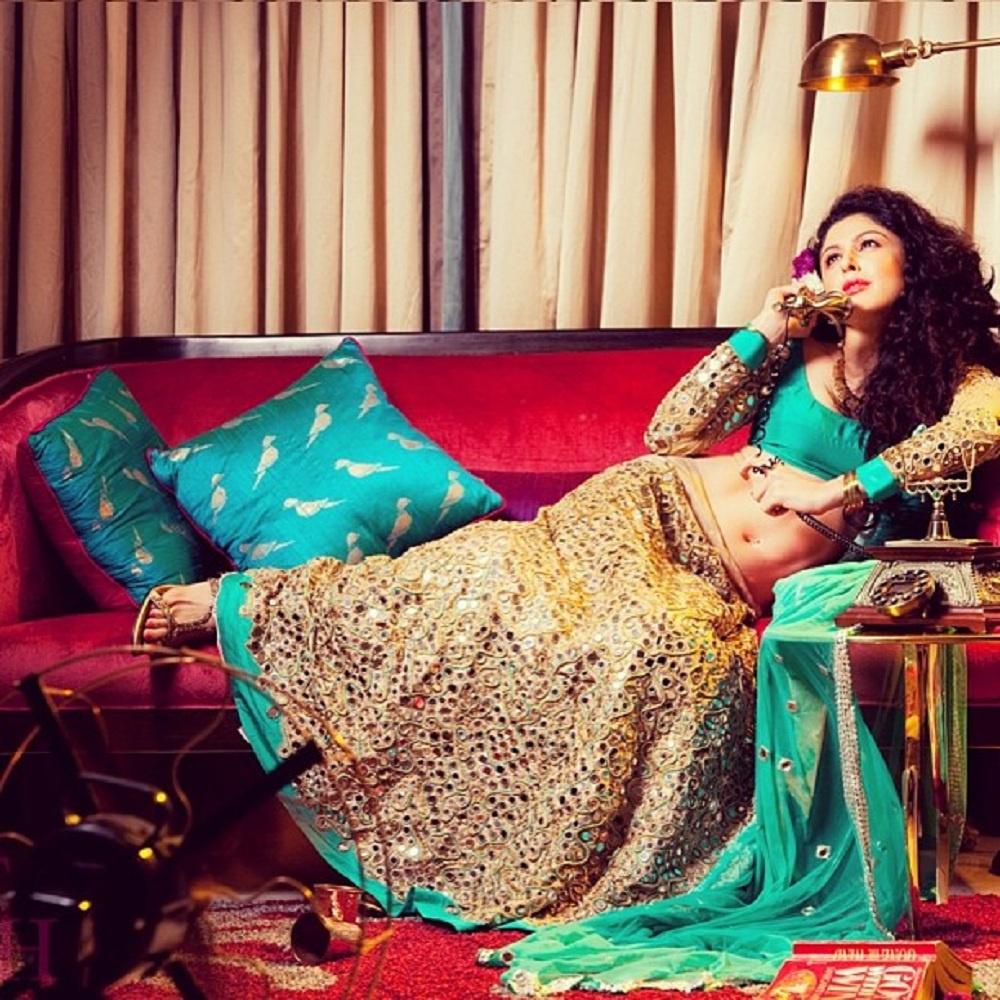 Turquoise is the new black and this turquoise lehenga proves just that! The heavy work of gold embroidery along with the stunning mirror work is a sight to see. This traditional piece is smart and classy to wear for weddings, occasions or festivals.
A cute little turquoise short blouse with heavy mirror work on the sleeves is also fabulous. The dupatta in turquoise with small pieces of mirror placed here and there completes this ethnic wear. You can wear classy neckpiece or even a pair of beautiful earrings and you're ready to go!
Mirror work designs with embroidery can look very ravishing on any material or colour. The bling effect that the mirror gives makes it very catchy, pretty, fashionable and stylish at the same time.
Everyone wants to enhance their fashion trend to look fab and picking out a mirror work design outfit is the best decision ever! You will have a complete and satisfying attire when you go in for mirror and embroidery work on your outfits. We have brought to you the best options and hope you find your favourite one today!
Lime Green Mirrors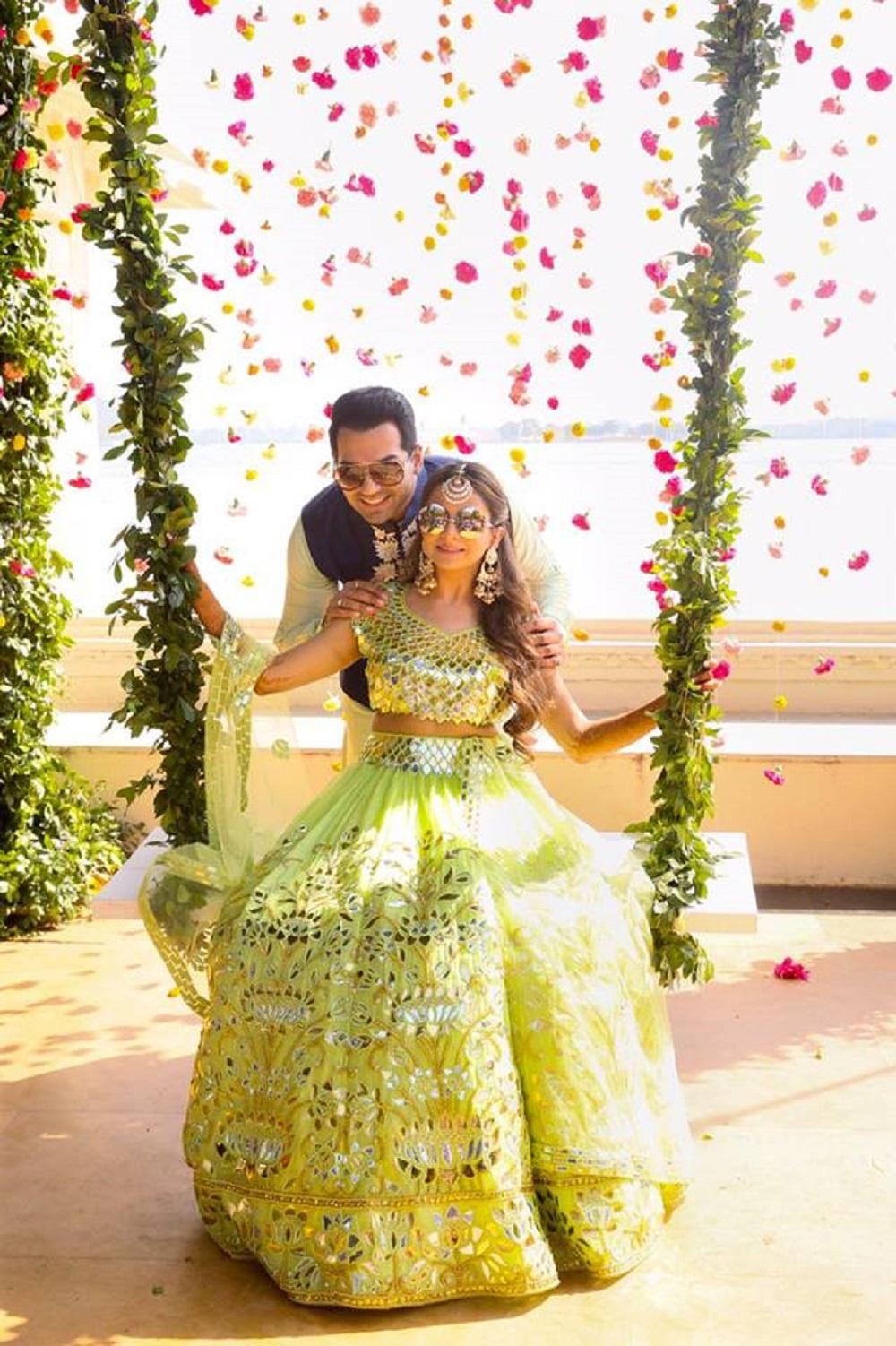 This is a stunning lemon green lehenga set that's gorgeous in every way. The bride is enchanting in her green organza ghagra that's embroidered in gold and silver Abla and Resham. The blouse is perfect with all the mirror work, while the ghagra skirt is designed with all the right pieces of mirrors.
With mirror work and embroidery you can achieve a traditional look within no time at all. Add on a pair of beautiful long earrings and a Maang Tikka to complete this look.
These were some of the best mirror work designs with embroidery that we found for you. When it comes to mirror work with embroidery any outfit can be transformed beautifully. Whether it's a lehenga or even a saree blouse, you can work in a number of ways with mirrors to create the best design ever!
Mirrors are available in various sizes and patterns, so go ahead and be creative when it comes to mirror work and embroidery. If you're getting married anytime soon and are looking out for the latest lehenga designs, then think about going in for a stunning mirror work with embroidery design because bling is the way to go on your wedding day.
Would you like similar designs for your wedding day too? If you do, then contact our bridal lehenga vendors, who will advise you on the best designs and latest styles of wedding attire for the day.