Traditional Jhumkas With a Modern Twist for Every Bride-to-be
An ideal pair of earrings are those that are a blend of traditional as well as contemporary. Well, check out our list of traditional jhumkas with a twist.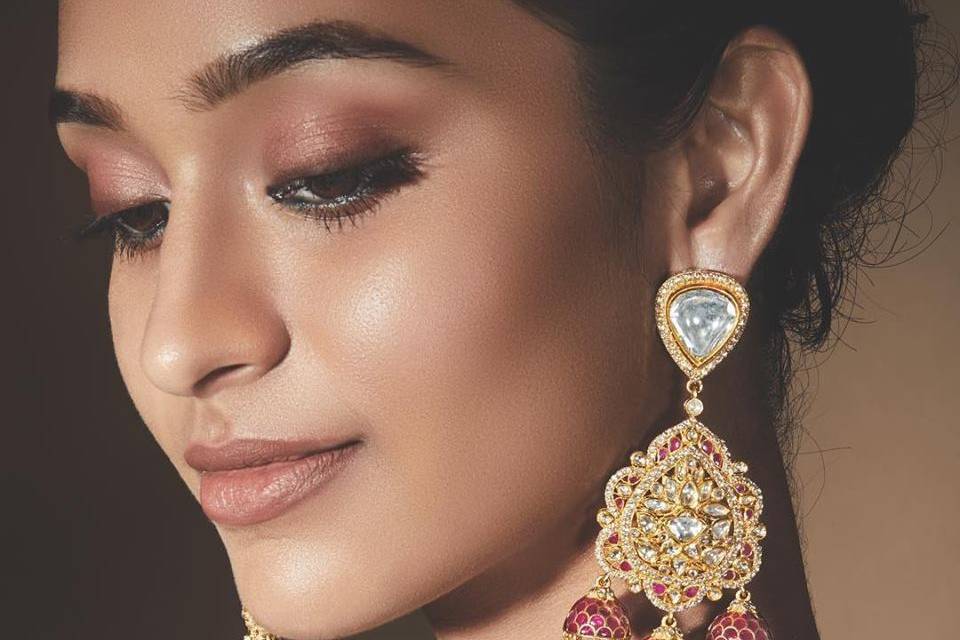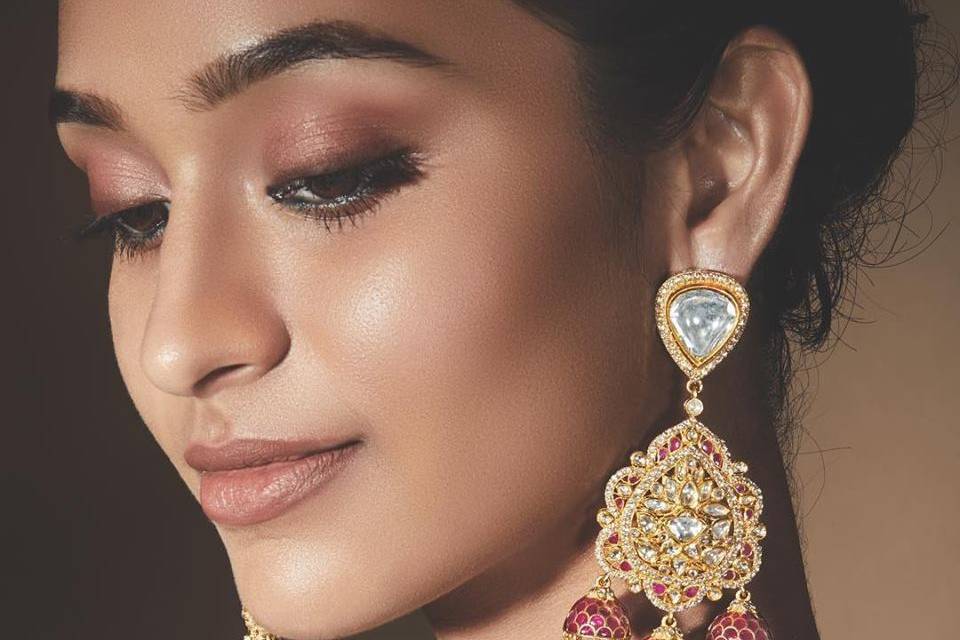 Image Courtesy: Khanna Jewellers
A pair of statement earrings, big or small, is what millennial brides and girls prefer investing in. Apart from the fact that they go with everything, be it your Indian wear or Indo-western, traditional Jhumkas come with a variety of designs and styles that we call as the perfect twist to it.
So if you're looking for these traditional Jhumkas with a twist that can be mixed and matched with a lot of your outfits, then we have some choices for you. While they not maybe the typical traditional Jhumkas that everyone has, but who wants something so common anyway, right?
Go through our list of ace choices in traditional Jhumkas with a twist and pair them with almost anything you want, and wear them to all the special occasions without having them go unnoticed even once.
Crescent Motif Traditional Jhumkas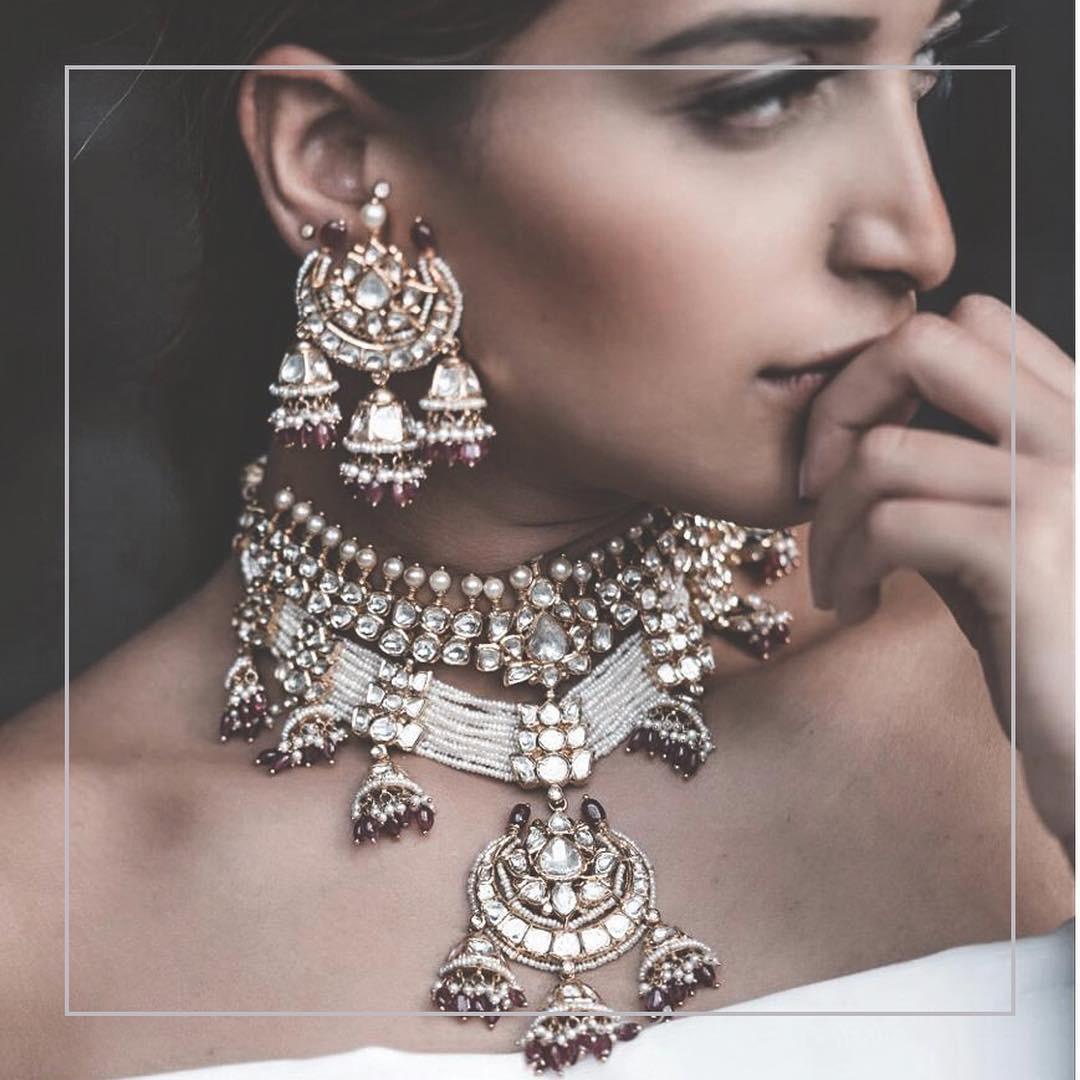 Image Courtesy: Khanna Jewellers
Let's start with one of our favourite choices from the list. This stunning piece of earring with crescent motif and Jhumkis is what you can all as the perfect traditional Jhumka with a twist. The twist, of course, is the seamless blend of the traditional Jhumkas with the style of a Chandbali that has diamonds and rubies to add extra glamour and oomph in it.
What to pair it with - While they are called as traditional Jhumkas with a twist, we'd say they'll look amazing with an Indo-western combination of skirt and shirt or a crop top and skirt.
Where to buy it from - While the entire jewellery market seems to go online, these are traditional Jhumkas that you will find at Khanna Jewellers in Delhi.
Chandelier Ruby Diamond Traditional Jhumkas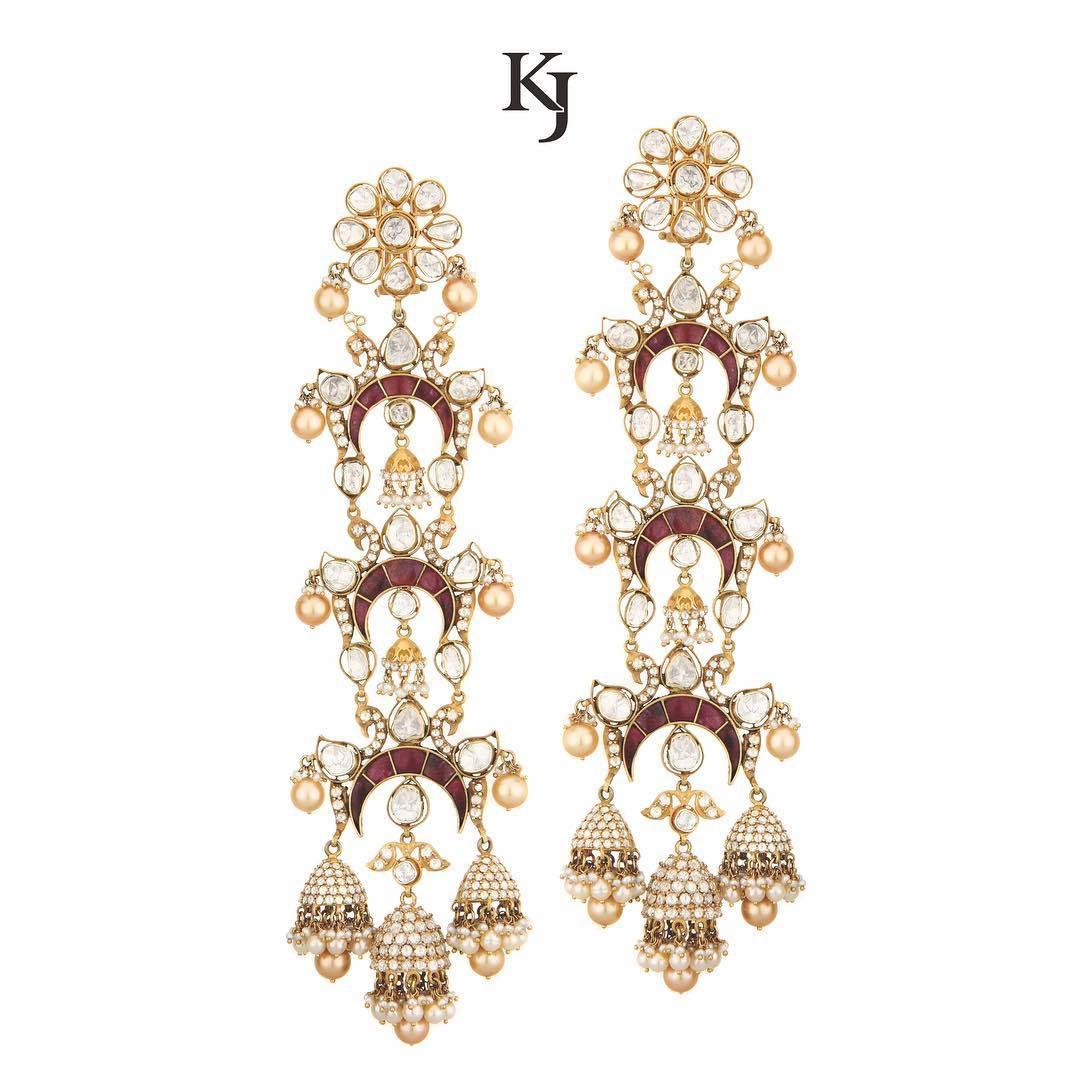 Image Courtesy: Khanna Jewellers
What makes this traditional Jhumka different from the usual ones? Well, the first point of distinction has to be how long it is, and then its unique design that blends chandelier earrings with crescent designs. The ruby and diamonds only add to this exquisite pair of earrings.
What to pair it with - While the traditional Jhumkas on our list are sure to go with anything and everything, these particularly would look lovely when paired with a traditional silk saree.
Where to buy it from - Designs like these are exclusive and available at every other store. However, Curio Cottage Jewellery in Colaba, Mumbai is one place that you must check out before placing your order anywhere else.
Inverted Chandbali in Antique Gold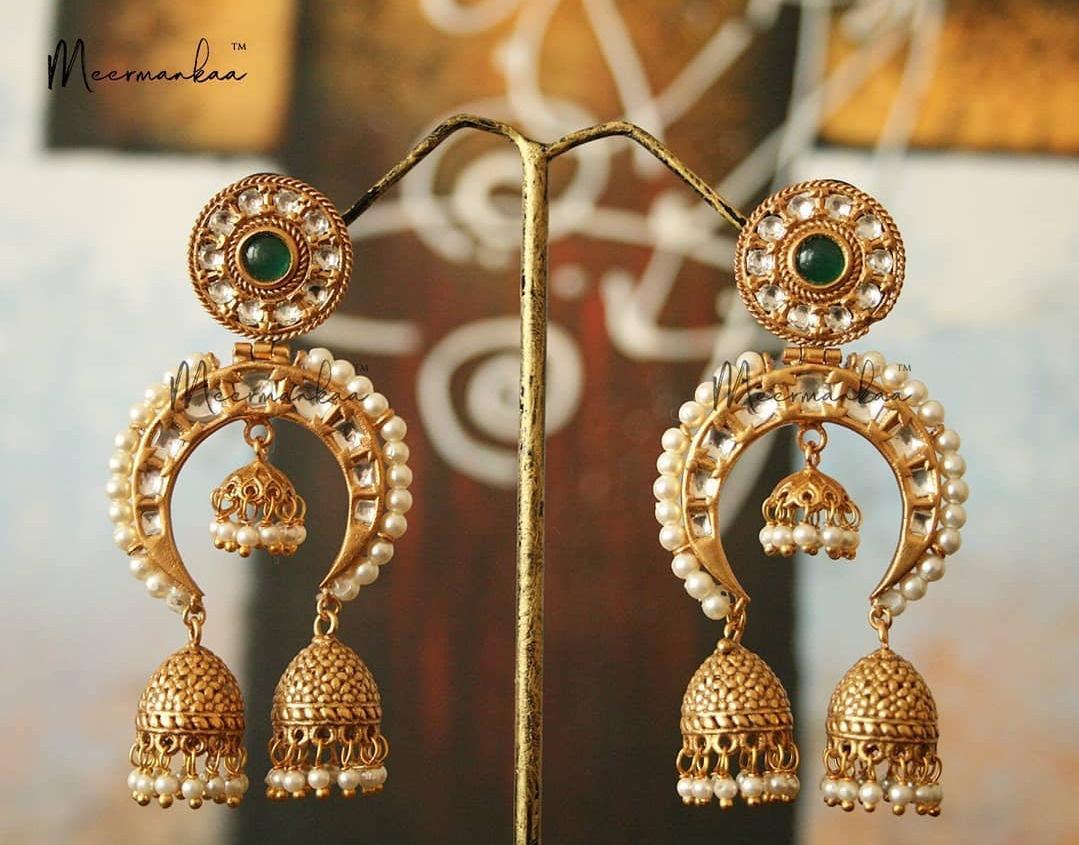 Image Courtesy: Meermankaa
While we have been talking about traditional Jhumkas with a twist, we love the twist in this one. One of the most classic choices, this one is an inverted Chandbali design made to look like an antique gold piece with Jhumkis at the bottom.
What to pair it with - These could be your go-to traditional Jhumkas for anything Indian. So if you're planning on wearing an Anarkali or a heavy suit to your BFF's wedding, this is the perfect choice for you.
Where to buy it from - If designs like these are what you're looking for, then you'd be happy to know that Meermankaa Designs have a variety of such designs and you can buy them online.
Gold Lotus Traditional Jhumkas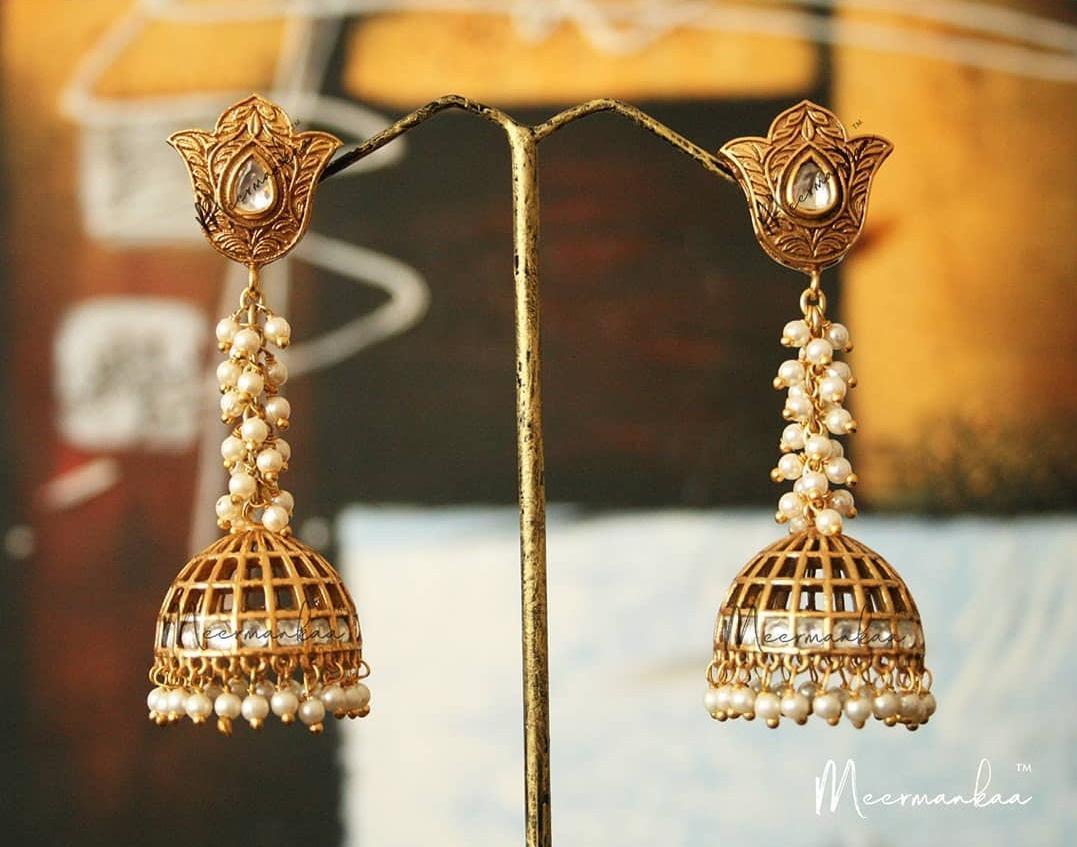 Image Courtesy: Meermankaa
Who doesn't like a touch of traditional motifs in their Jhumka? This gold lotus Jhumka is what attracts most millennial brides as it has a quirky design while being an all in all traditional choice. The Jhumkis with the pearl hangings at the bottom approves them to be a classic option too.
What to pair it with - For brides going crazy with their trousseau shopping, this are the kind of traditional Jhumkas you need to invest in and pair it with all your kurtas to work or anywhere else you do not want to be over dresses for.
Where to buy it from - Unniyarcha Jewels in Bangalore is known to keep quirky yet traditional designs in Jhumkas like these that you can wear on an everyday basis to work as well.
The Mughal Inspired Traditional Jhumkas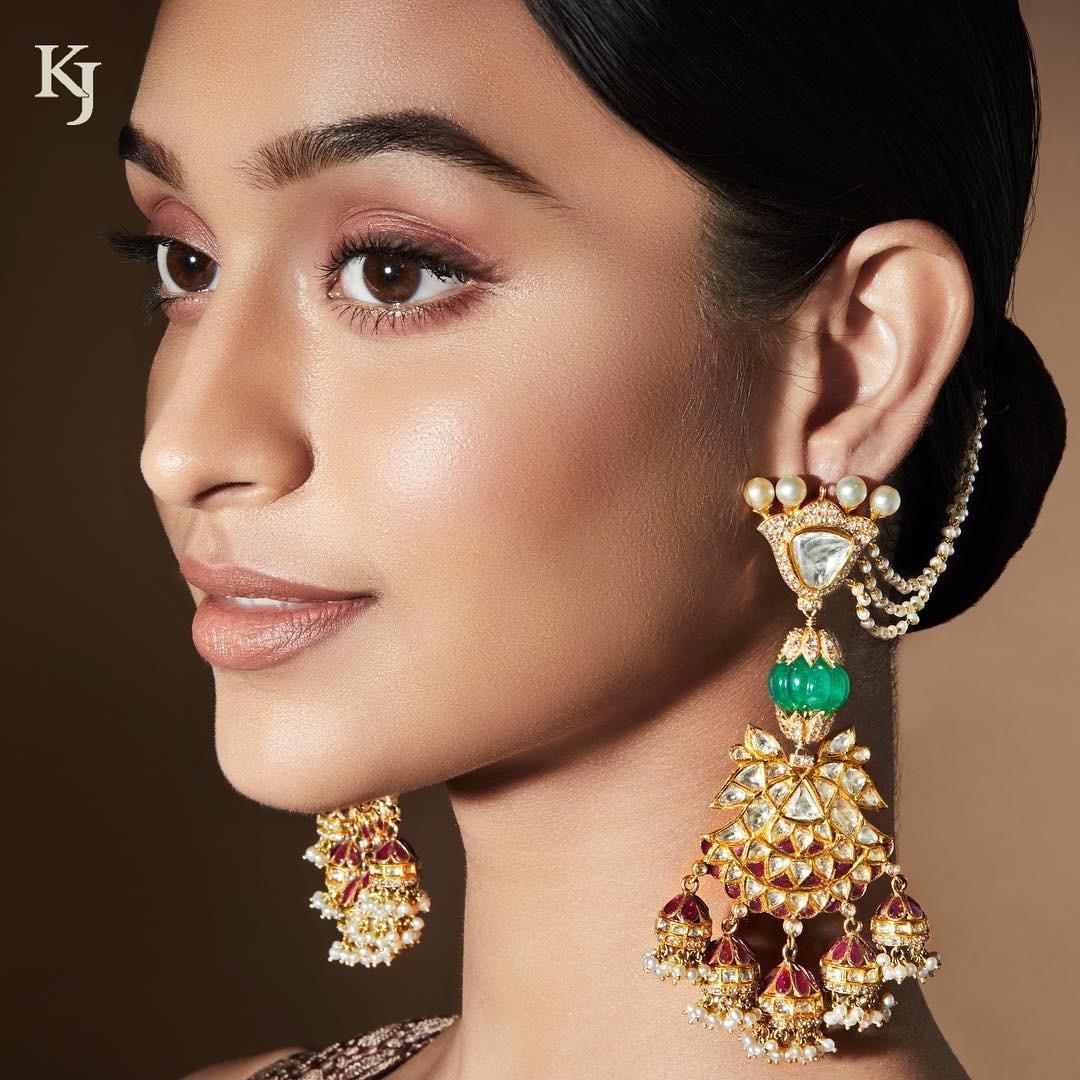 Image Courtesy: Khanna Jewellers
This Mughal inspired Devasena earrings is for the millennial brides that love a traditional touch in their jewellery for the more formal occasions. The touch of emeralds and rubies to it just makes the design richer and apart from being one of kind jewellery piece, this one is for the aficionados of heritage craft that understand and appreciate jewellery designs like these.
What to pair it with - If you're the bride, it goes without saying that you must pair this beautiful Jhumka with your bridal lehenga for your big day or any other function of your wedding.
Where to buy it from - While it's a rarity to find traditional Jhumkas like these, well-established brands like Tribhovandas Bhimji Zaveri and Tanishq are stores that you can check out to find similar designs.
A Modern yet Traditional Jadau Treasure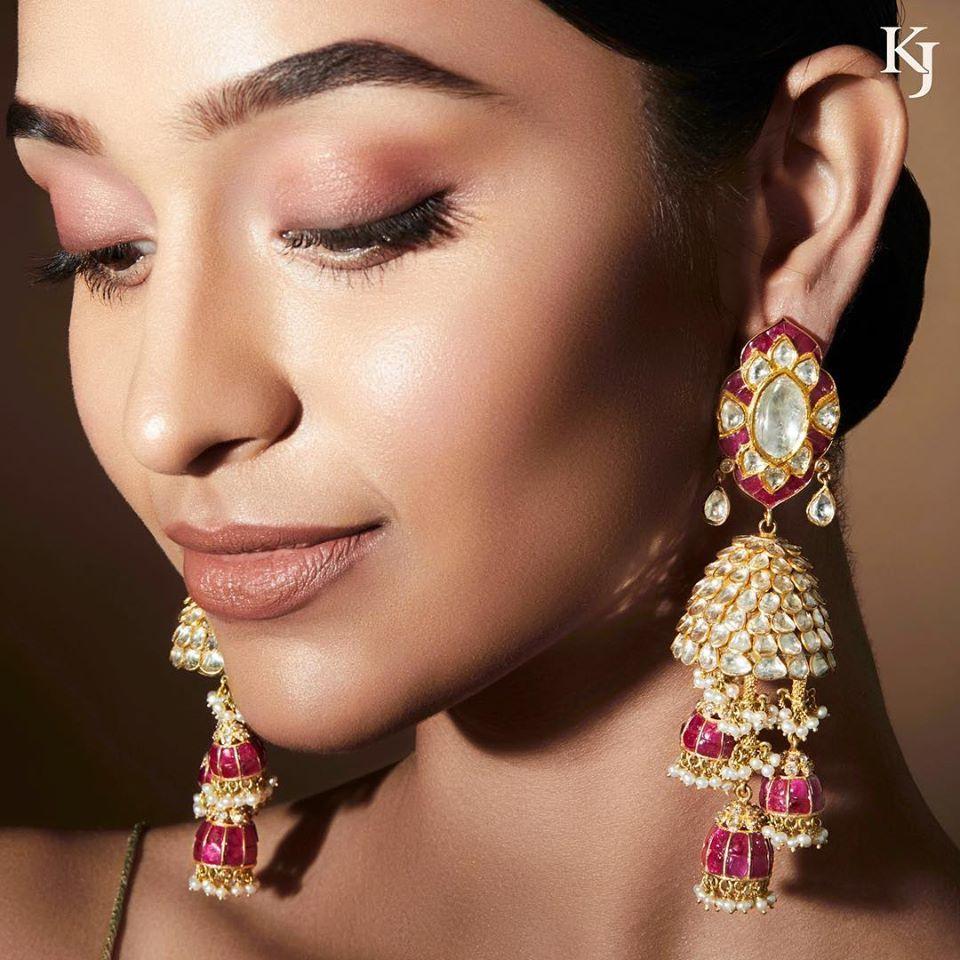 Image Courtesy: Khanna Jewellers
Jadau is one of the most preferred choices of millennials when it comes to traditional Jhumkas. They do not just look very traditional but also have a modern charm about it. This beautiful pair of earring that has a slight resemblance to the body of a peacock is what we'd suggest every millennial bride to buy for her trousseau, and every millennial woman to wear to her BFF's wedding.
What to pair it with - This deadly combination of Jadau with rubies will go with almost everything but pair it with a light lehenga and let these earrings take care of the rest.
Where to buy it from - A fine jewellery boutique by the name Vaidehi Patel has some stunning traditional Jhumkas that you can look at if you wish to buy something like these modern but traditional Jadau Jhumkas.
One by Two Polki Jhumkas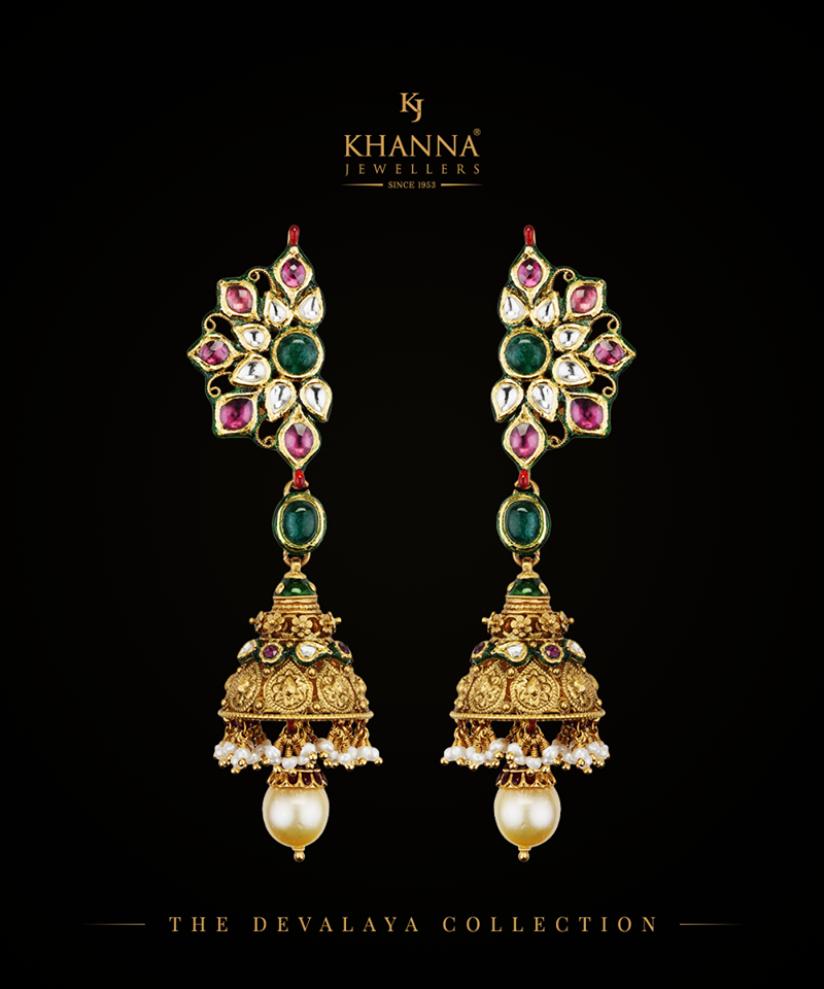 Image Courtesy: Khanna Jewellers
Wondering why we call these ones by two? Well, it is because when you put these together they seem to complete a full design. This gem of design is for millennial that like the antique gold touch with Polkis in their traditional Jhumkas. Emeralds and rubies give it a pop of colour and make this earring beyond perfect.
What to pair it with - Pair these with something traditional like a saree or a lehenga suit and wear it during the festivals to cash out its maximum benefits while also collecting the maximum praises.
Where to buy it from - Check out Gems n Jewels in Delhi for many such antique yet modern designs in traditional Jhumkas that adds the missing oomph factor to your outfit.
Geometric Jhumki with Kaanchain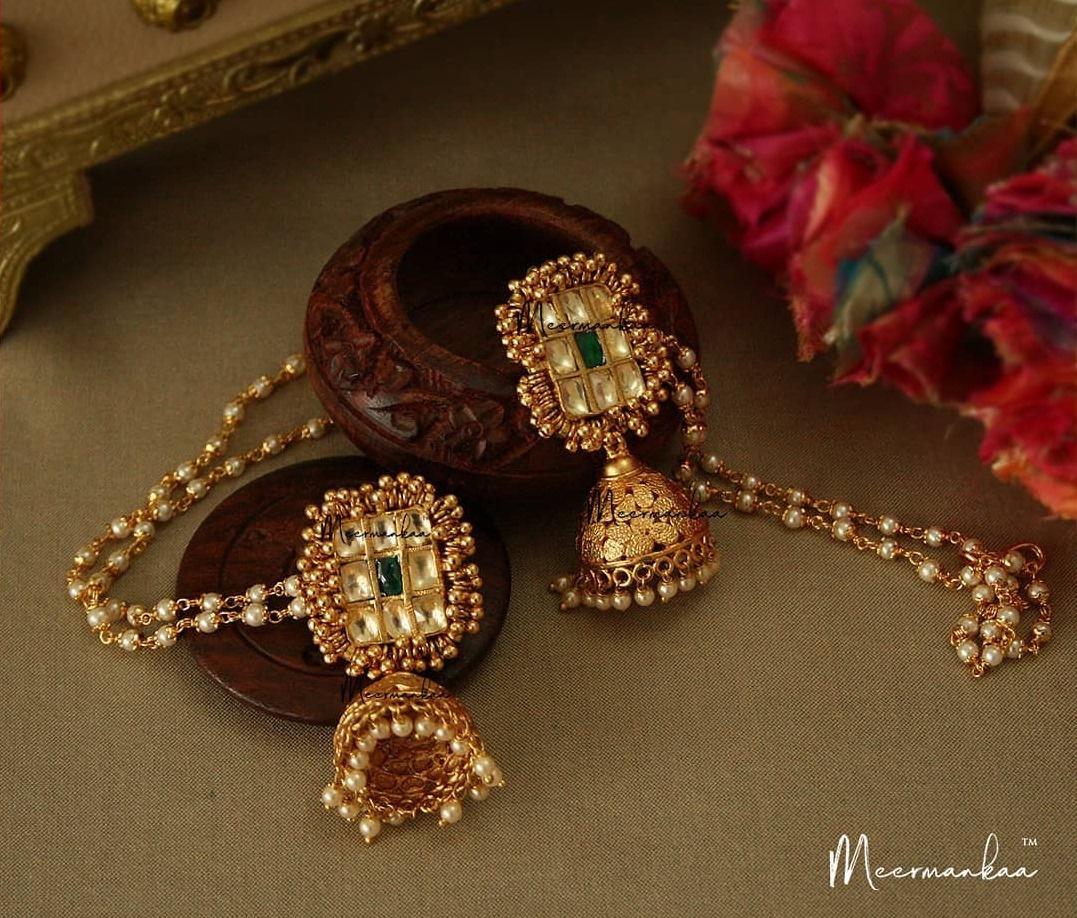 Image Courtesy: Meermankaa
Sometimes we go too far looking for one of a kind designs, while all we need is a little twist to the regular design to make a piece of jewellery unique. This gold Jhumki with a geometric twist is the biggest example for you. However, the Kaanchain does make it even fancier for the millennial brides to wear it to wedding functions or other big events. The touch of emerald in the centre is what we call the masterstroke for traditional Jhumkas like these.
What to pair it with - While you can almost wear it with anything you like, we'd want to believe that the geometric twist in traditional Jhumka will go really well with Indian gowns or semi-Indian skirt and blouse outfits for girls.
Where to buy it from - Amrapali Jewellery store in Mumbai is the first place that comes to our mind when we see anything that is so interestingly simple in traditional Jhumka designs. If you love designs like these, visiting the store is a must-do on your visit to Mumbai.
Investing in traditional Jhumkas is like investing in a classic black dress, they just never get out-dated. But these traditional Jhumkas with a twist are a blend of classic taste with modern choices that make it irresistible to not have in your wardrobe or your trousseau. By listing out the various different styles and designs, we hope you make a more informed choice of traditional Jhumkas that work best with your outfits and your style. So whether you're a bride-to-be or the bridesmaid, our list of traditional Jhumka choices are sure to help you pick your favourite and rock this wedding season like a pro.
Which of the above traditional Jhumkas is the closest to your personal style? Tell us in comments if you found the pair you were looking for and where did you find it.