Oxidised Earrings You Can Gift Your Bridesmaids & Thank Them
Your girlfriends do a lot for you during your wedding. Get them a gorgeous gift that embodies who they really are. A pair of oxidised earrings will do the trick!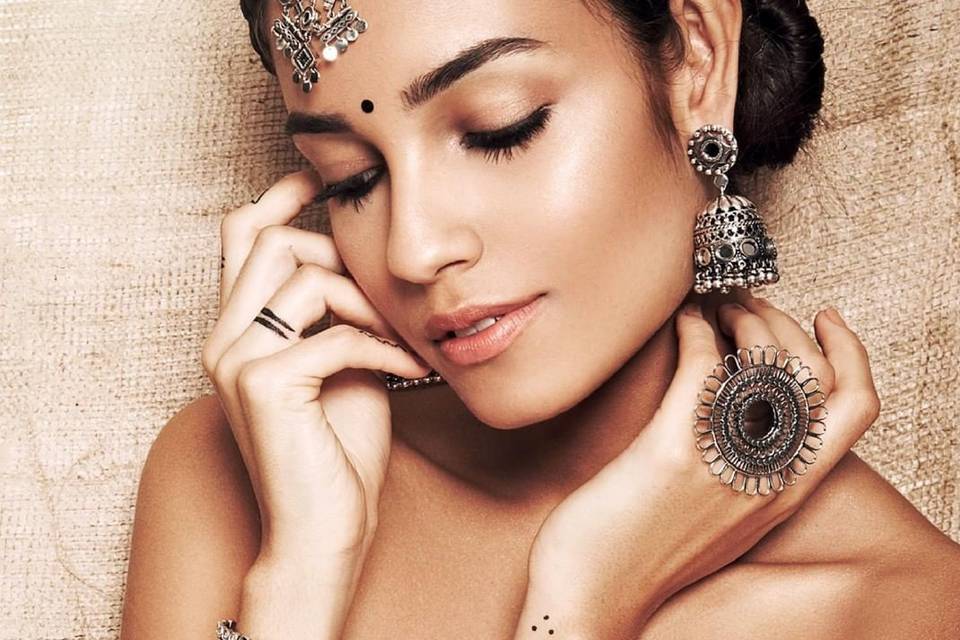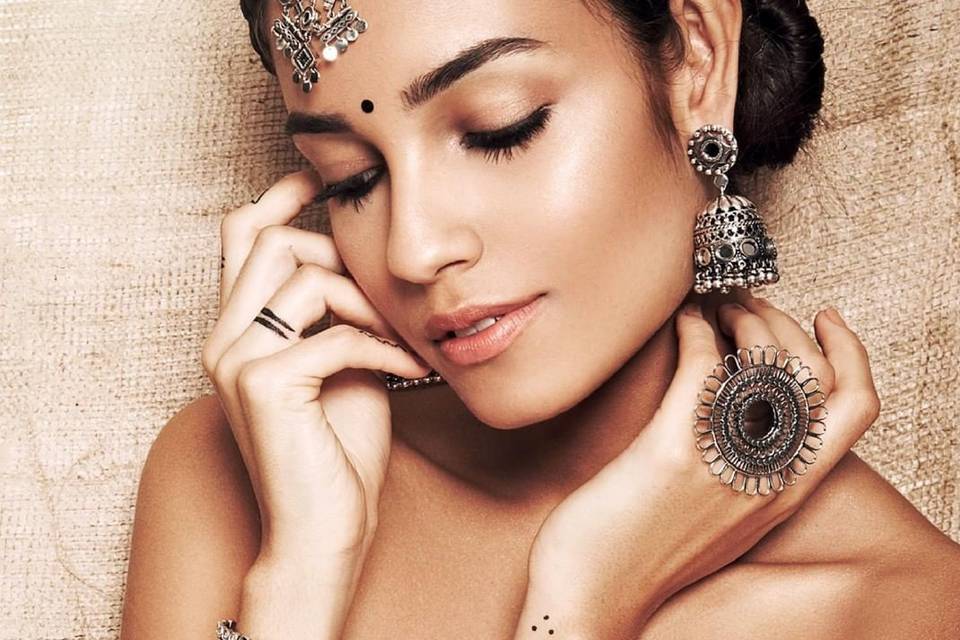 Image Courtesy: Tribe by Amrapali
Can you ever imagine your life without your girlfriends? We know we cannot! We women live for the gossip sessions, the sound of giggles, shopping sprees and sharing clothes with their friends. Even thinking about a world where they do not exist scares us, especially when we picture getting married without them around every second. We cannot be a bridezilla without our favourite people around us!
From going shopping hundreds of times to handling the tantrums of a bride, the bridesmaid is literally 'a bride's maid'. Every bride realises this after the wedding and probably just thanks them with words. Why not stir up things up a little and get your friends a special gift that they would personally buy for themselves. After all, you are her friend and you know her intimately, sometimes better than she herself does!
Finalising a single item that suits each one of them is a task in itself. We put forward oxidised earrings as the perfect gift option. You can go for either silver or gold if the budget allows! We are going with silver oxidised earrings, as they are affordable for everyone and you can choose unique ones personalised for every bridesmaid, as thousands of options are available.
Amrapali is one of our favourite jewellery brands, along with almost every celebrity. Check out these 10 designs, each perfect for a different type of friend!
Drop Earrings for the Extrovert Friend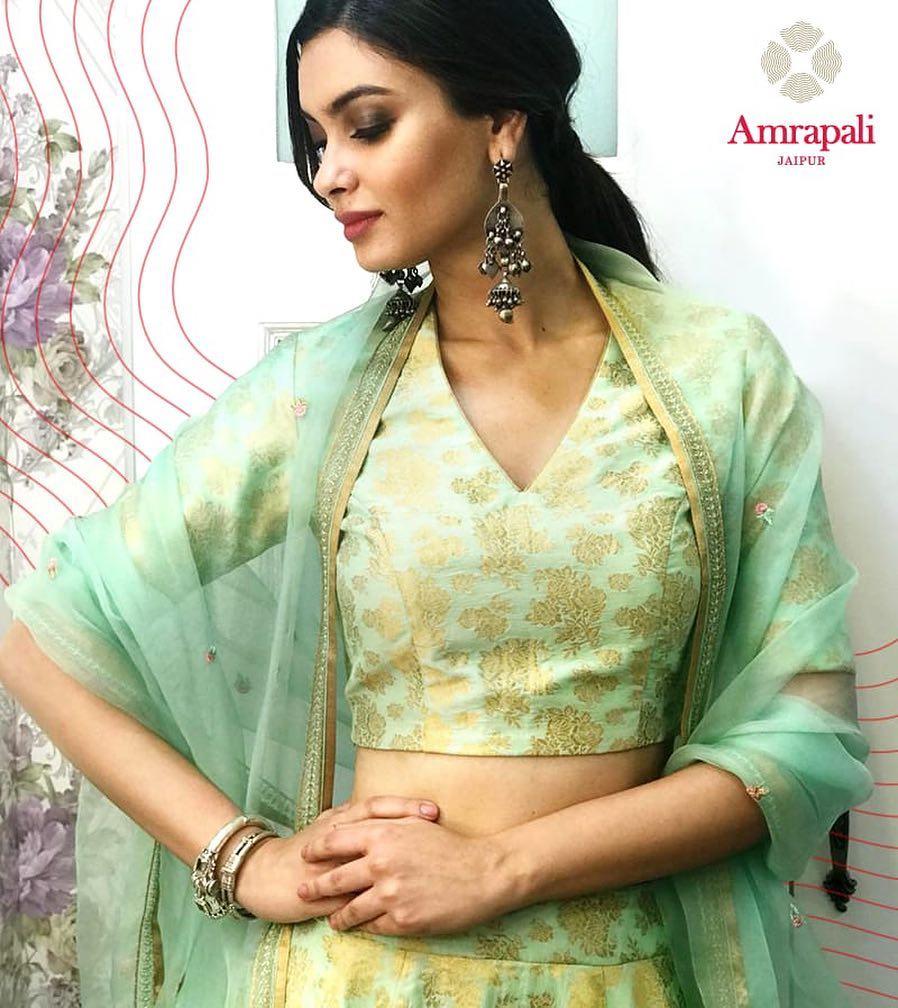 The first pair of oxidised earrings is a statement piece in itself. This is perfect for every bridesmaid who loves to be around people. The best thing about extroverts is that they make everyone comfortable around them and connect with them instantly, even if they do not meet again.
When it comes to their fashion choices, they pick elaborate earring designs that are going to make their look stand out.
Oxidised Jhumkis for the Friend Who Always Go the Extra Mile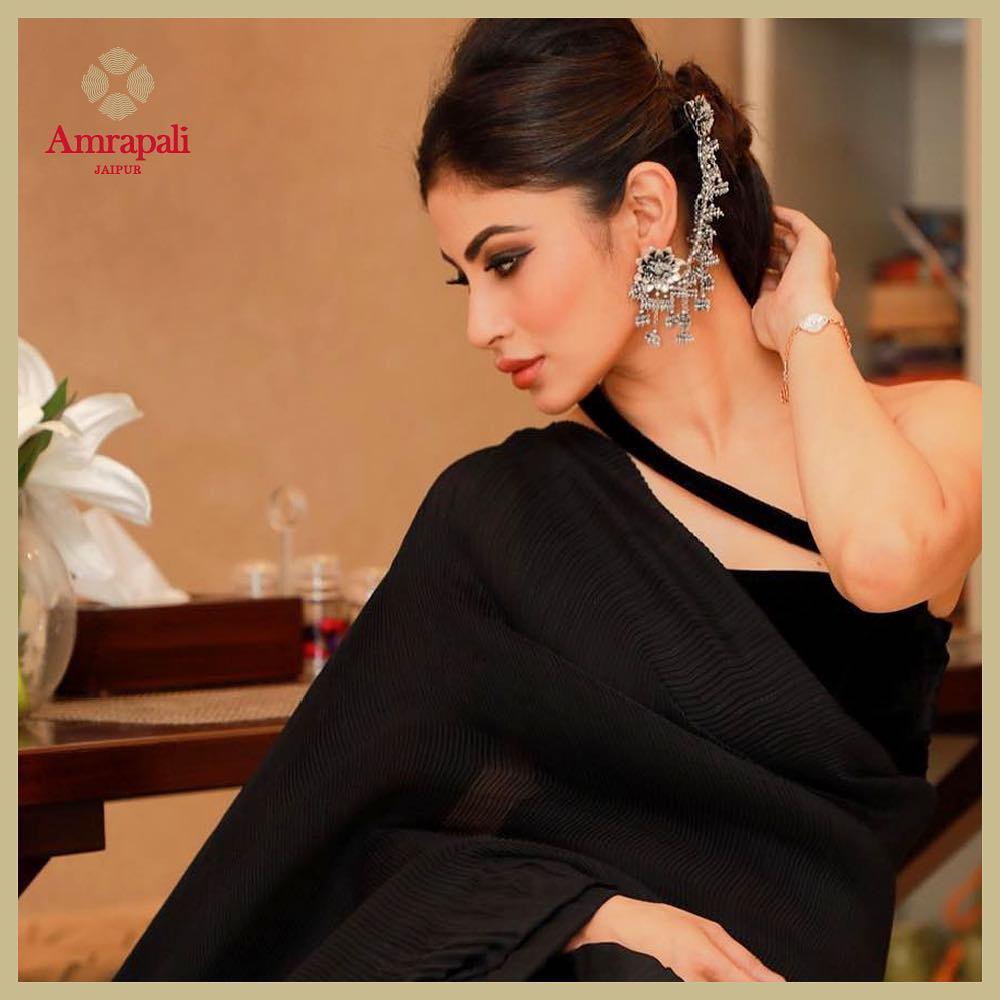 We all need a bridesmaid who is ready to go the extra mile for us. If you have a bridesmaid like this, she is the first one at your place and the last to go, always making herself useful and doing things without anyone asking her.
The same goes for her fashion style. She will always put in extra effort, looking close to perfection. This pair of oxidised Jhumkis with stylish ear chains will take her to look to the next level, whenever she chooses to wear them!
Stunning Earrings for the Fun-loving Friend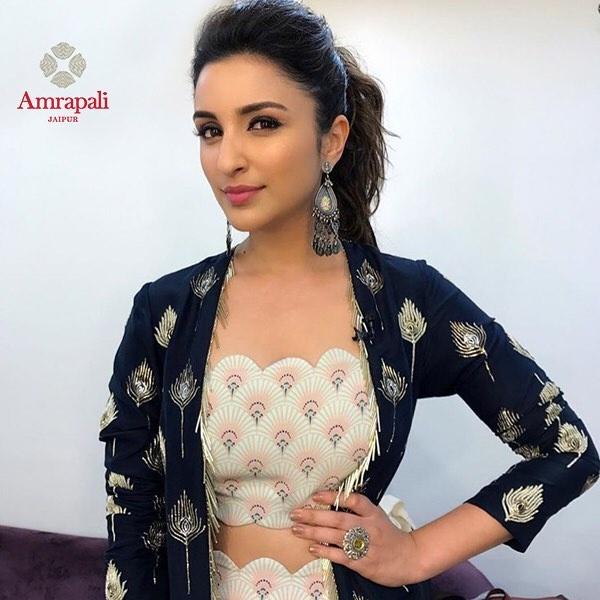 Every group has one friend who just wants to have fun. Her life motto – 'why should boys have all the fun'! She is the life of the party and her laughter is her best accessory. A woman like this stands out on her own. She can rock even the simplest designs with her bigger than the world personality.
Jhumkis for the Girl Next Door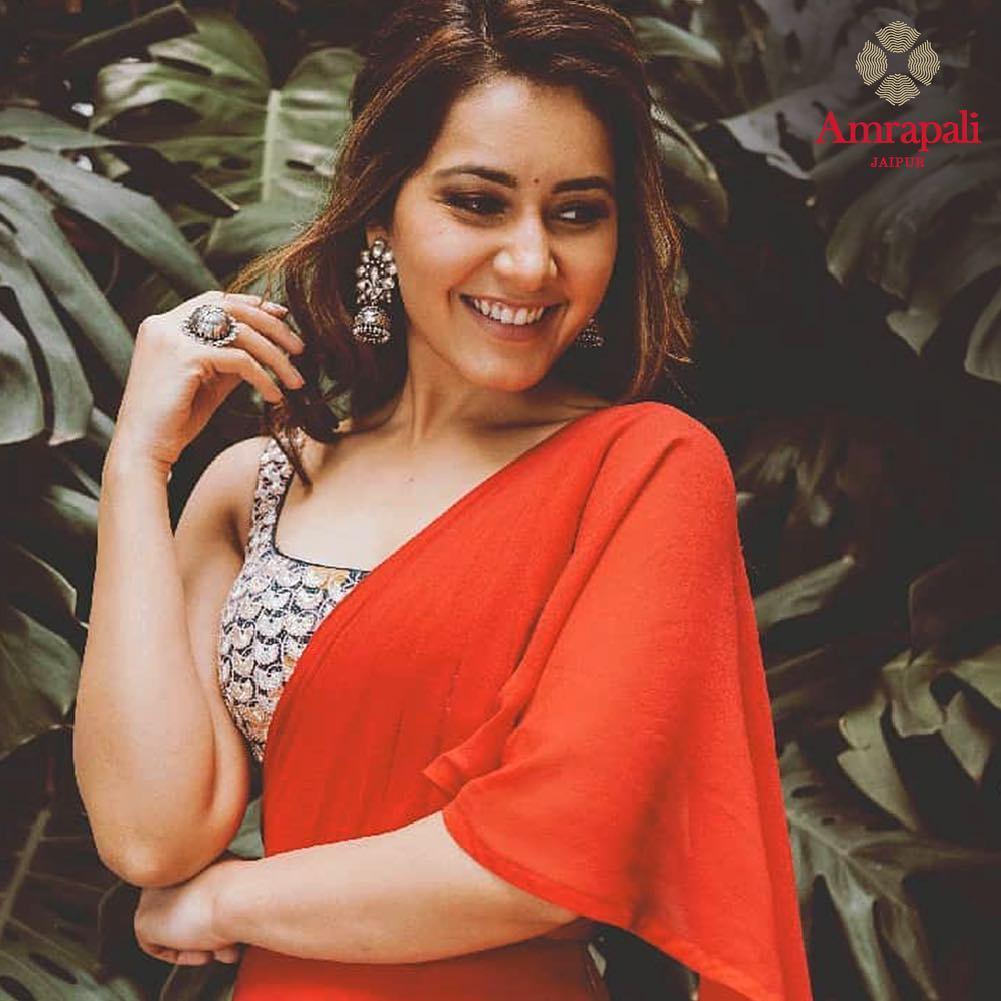 What is the first word that pops in your mind when you read 'the girl next door'? For us, it is our best friend! She is everyone's friend. You can rely on her for everything, whether you need help picking up bangles from the market or helping you get ready. For her, standing out is not important. An elegant pair of oxidised Jhumkis is perfect for her – that is not too loud and not too simple!
3 Oxidised Pair of Earrings for the Deist Friend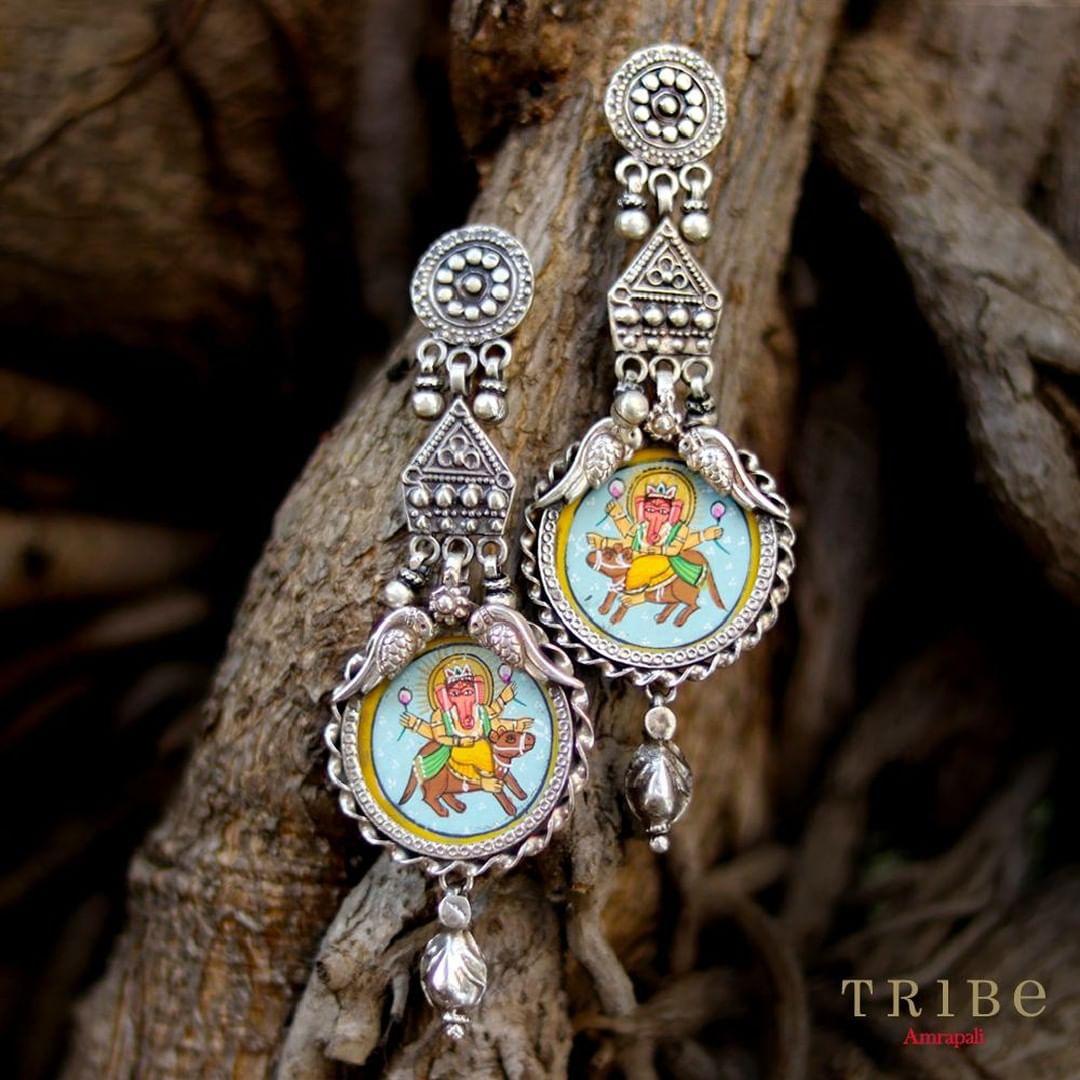 Image Courtesy: Tribe by Amrapali
We all have friends who believe in Gods and consider them their best friends. A fun getaway weekend for them is going to Vrindavan! If you have a bridesmaid in your squad that is the same, we believe these oxidised earrings with pictures of different Gods and Goddesses are perfect. The images are just examples; you should gift them the earrings with the picture of god she most believes in!
These earrings with lord Ganesha are so cute, just like him!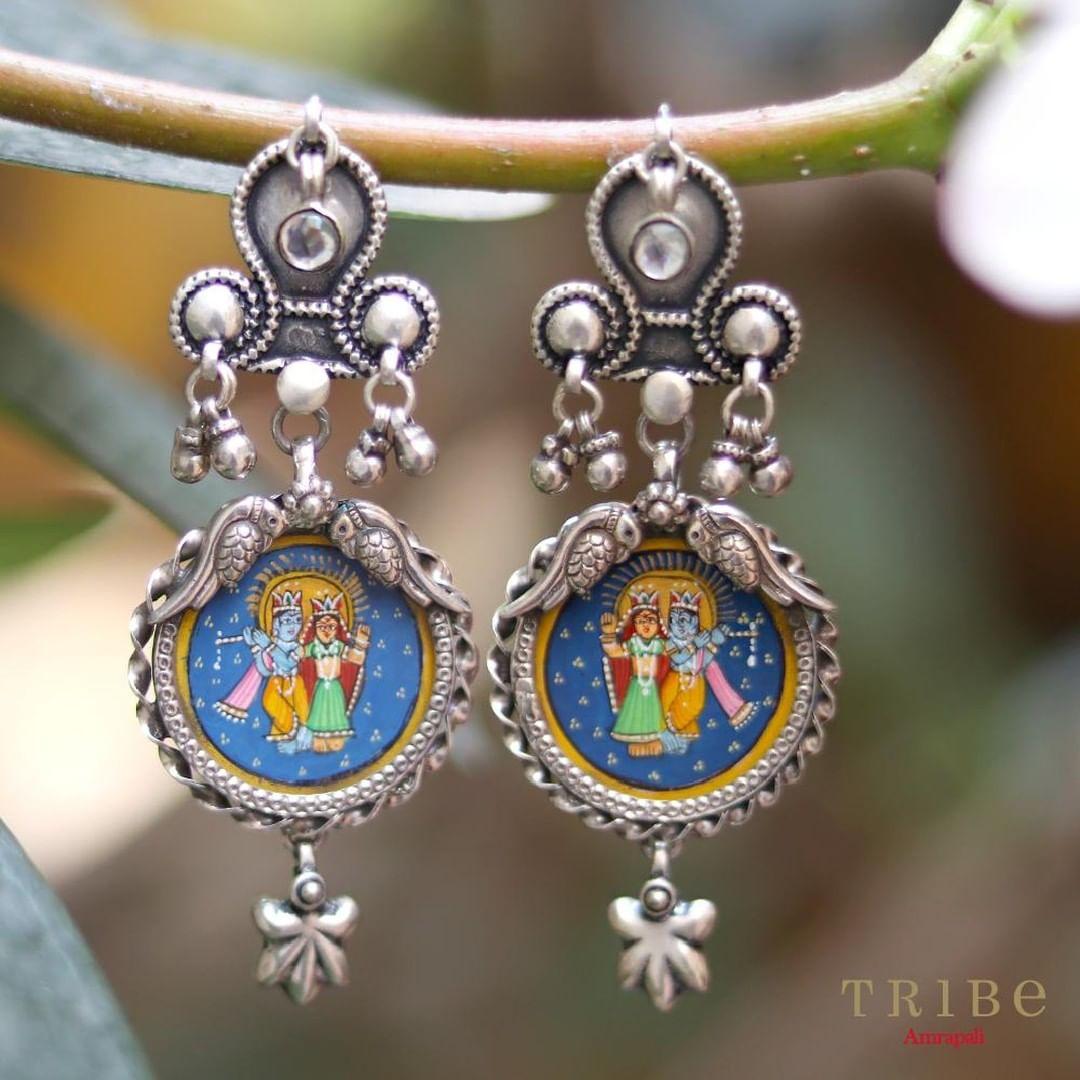 Image Courtesy: Tribe by Amrapali
If she wants a love story just like Radha Krishna, these earrings are made for her!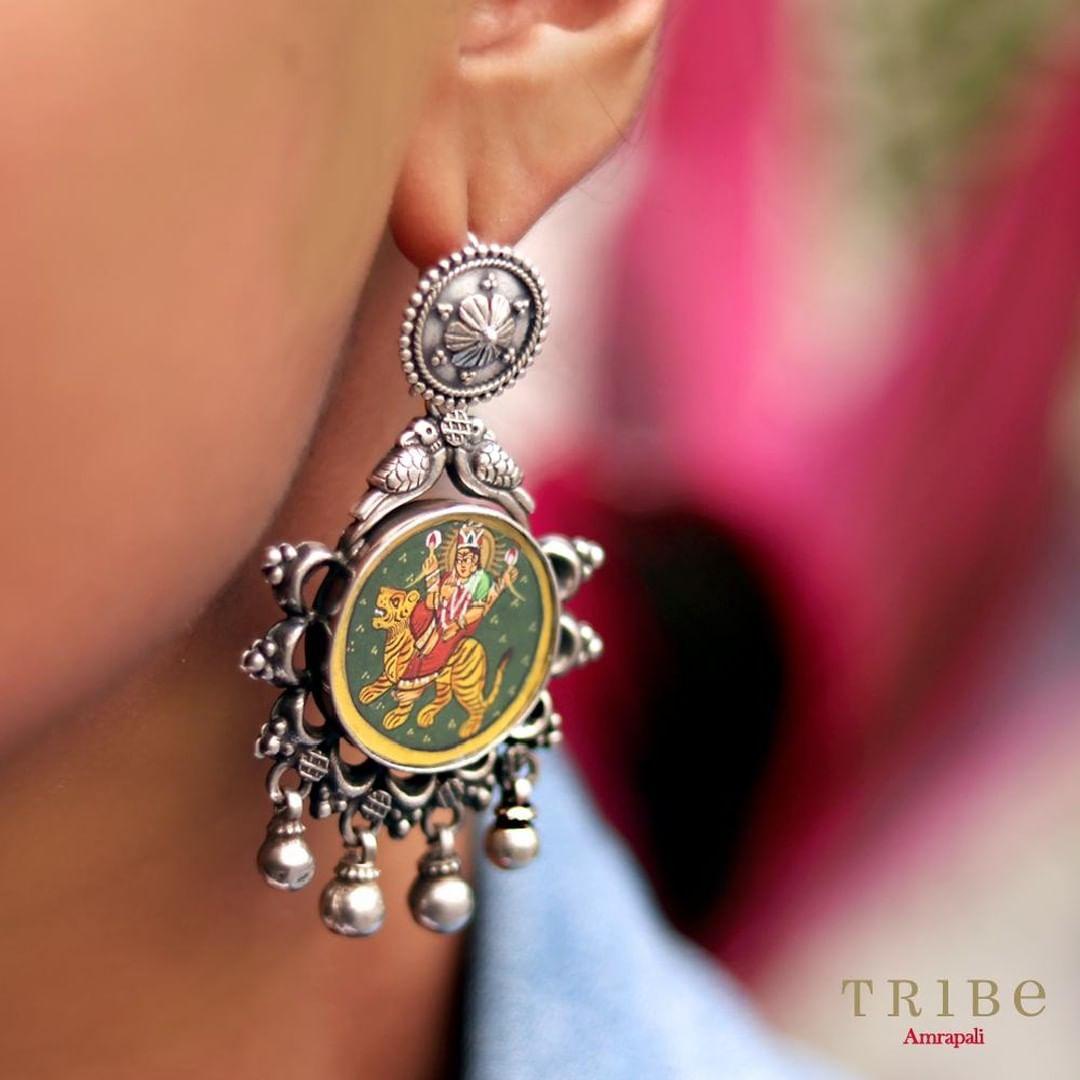 Image Courtesy: Tribe by Amrapali
The same goes for these earrings as well. If your friend puts all her faith in this Wonder Woman, these are perfect!
Multi-coloured Earrings for the Eccentric Friend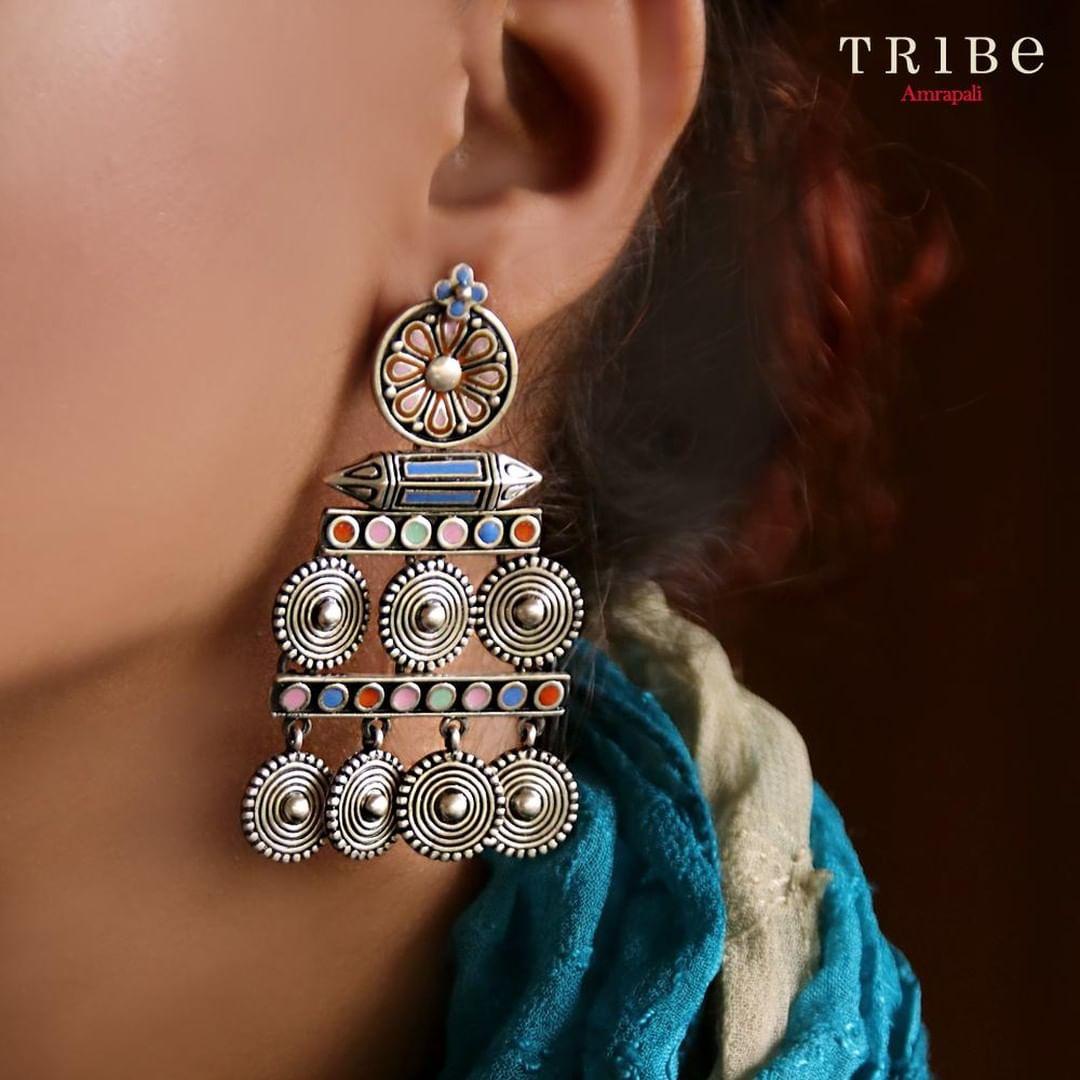 Image Courtesy: Tribe by Amrapali
The colourful oxidised earrings are perfect for the bridesmaid who is different from everyone else. If she wears the most quirky outfits, these will look the best with her unique look.
Earrings With a Pop of Colour for the Optimist Friend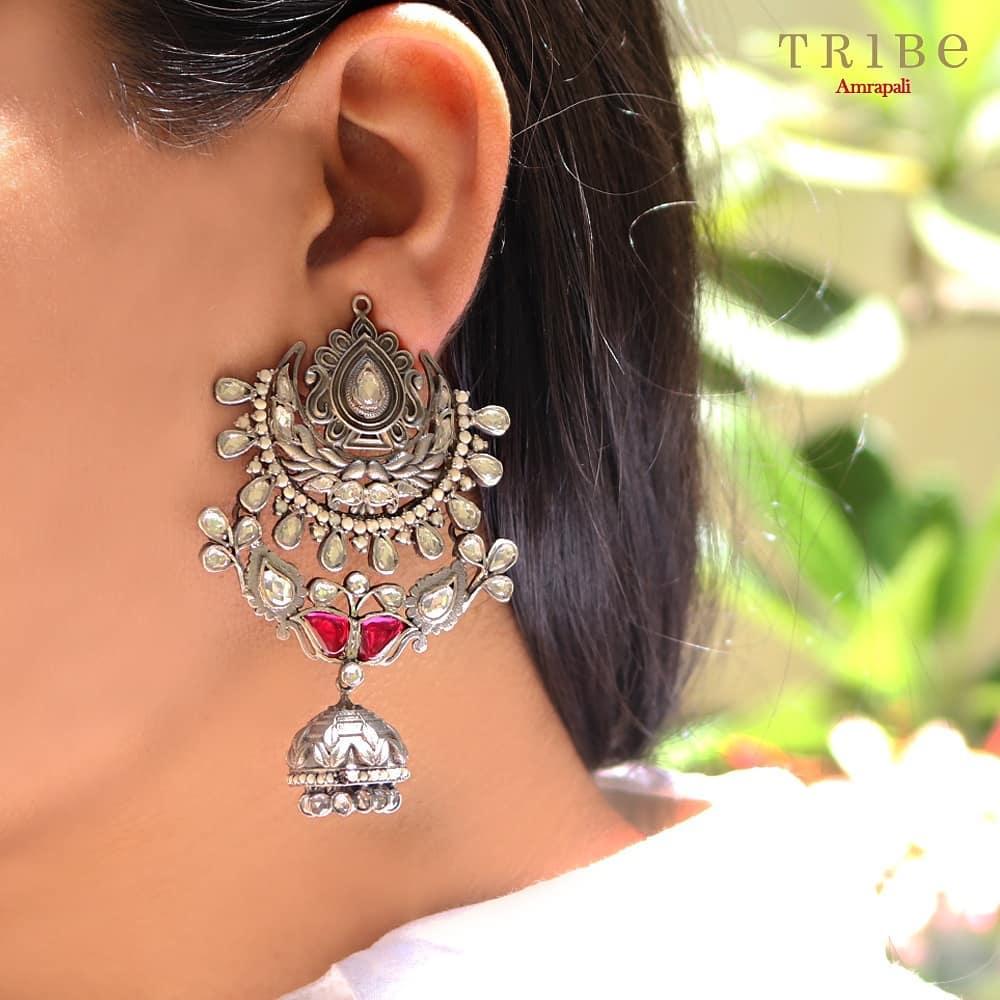 Image Courtesy: Tribe by Amrapali
We all need one friend who sees the silver lining in every situation and does not let our spirits go down. For the always optimistic friend, we have these oxidised earrings capture her essence the best. She will own these earrings like a boss!
Circular Earrings for the Friend Who Believes in 'slow and Steady Wins the Race'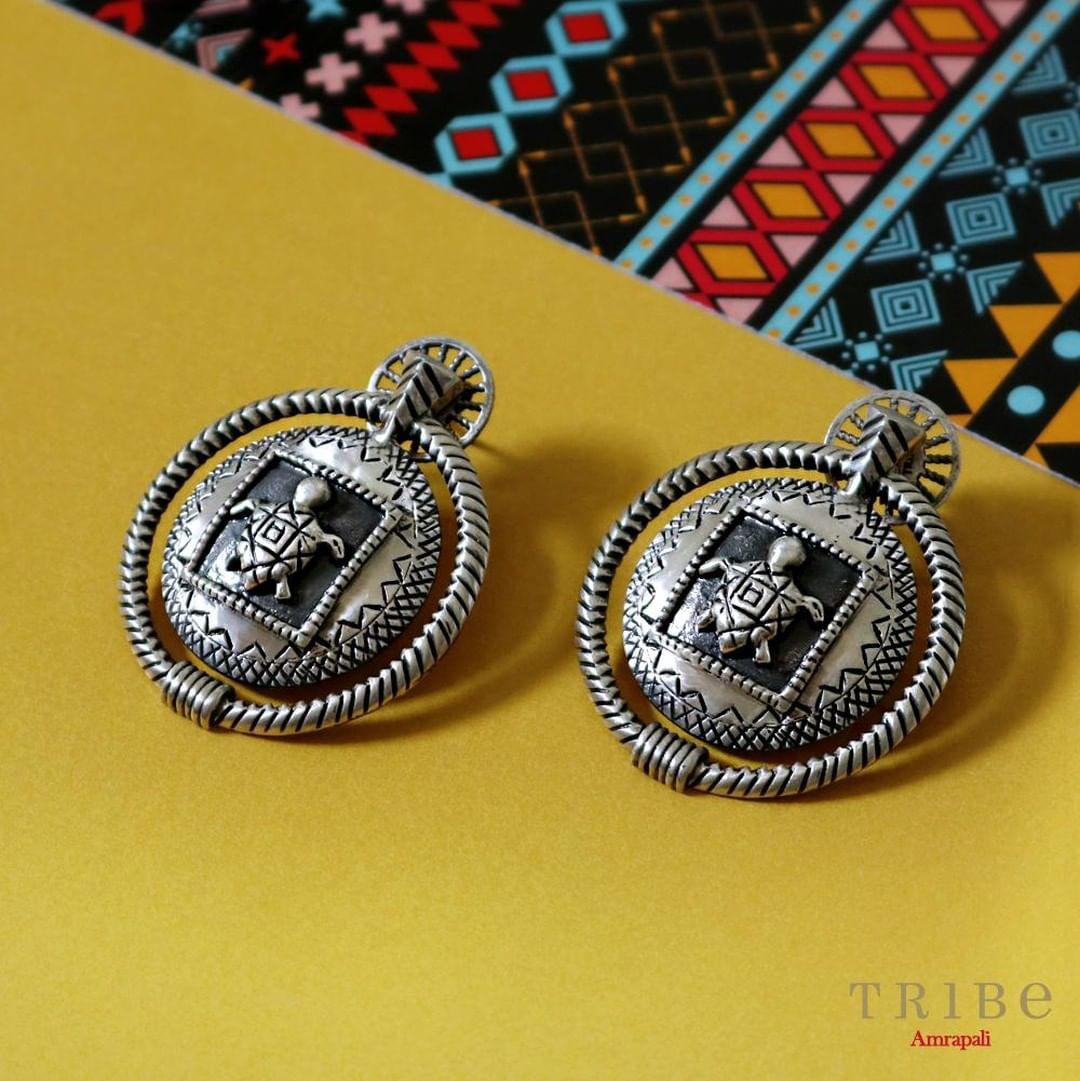 Image Courtesy: Tribe by Amrapali
This last pair of earrings is one of our favourites. Each one of us loved the story of the turtle winning the race against the rabbit. If you have a friend who lives in this life lesson, these circular oxidised earrings are it!
If you are gifting someone something, it should have a thought and meaning behind it. Anyone can buy earrings and gift them but taking the time and finding a pair of oxidised earrings that represents their personality, matters more.
Want to buy these for your besties? Its time to head to these jewellery stores near you!