15+ Trendy Plunging Neck Blouse Designs for You to Turn Heads
Ready to add a bit of sass & edge to your traditional look? Here are some trendy plunging neck blouse designs for the millennials out there. Scroll for inspo!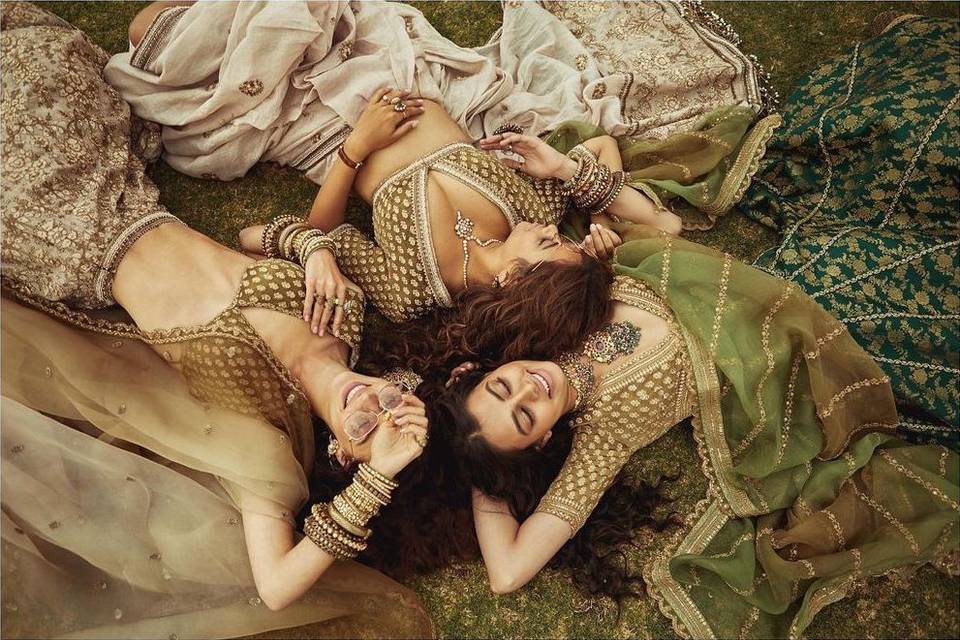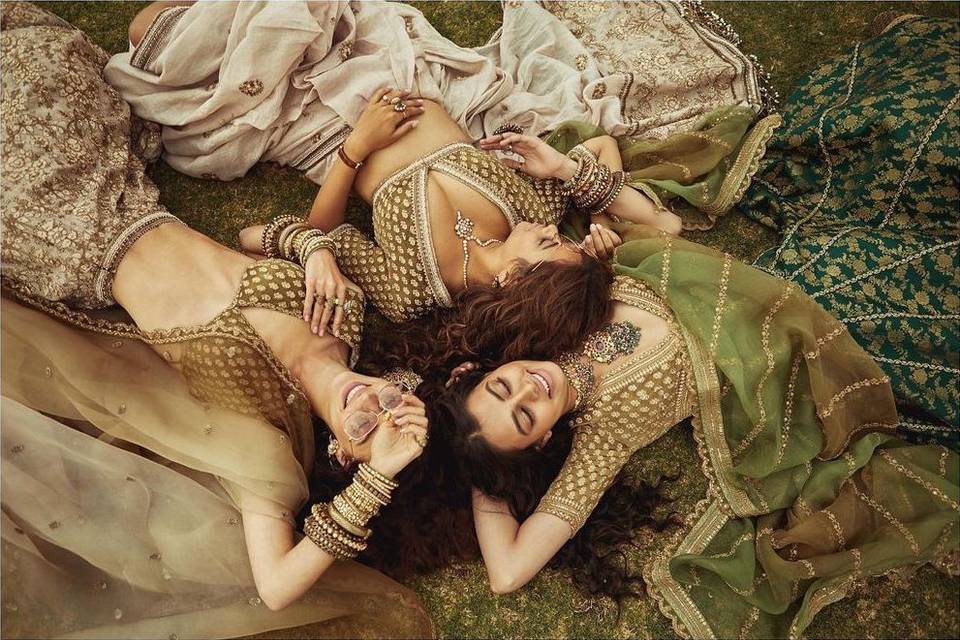 Image Courtesy: Sabyasachi
Fancy blouse designs have swept the ladies off their feet. The classy yet sassy look that the latest blouse designs serve at every wedding ceremony is indeed swoon-worthy. Right from the Zero neck designs to full-sleeve blouse designs - the options are endless for the brides and her bridesmaids to choose from.
There is a blouse design for every personality of women out there and the sea of options might even be too vast to make an easy pick. That being said, plunging neck blouse designs have been quite the rage among the millennials and how! Plunging neck blouse designs are a fine balance between classy and sensual. The deep neckline of a plunging neck blouse design is an art that will immediately enhance your entire outfit with grace and add a touch of sultry to complement the look in panache.
While many brides are still confused about which neckline will suit them best, many others have already pictured them flaunting heavy Rani Haar designs with their plunging neck blouse designs on the wedding. Read on to know about the different plunging neck blouse designs before you make your final pick!
Embroidered Plunging V-Neck Blouse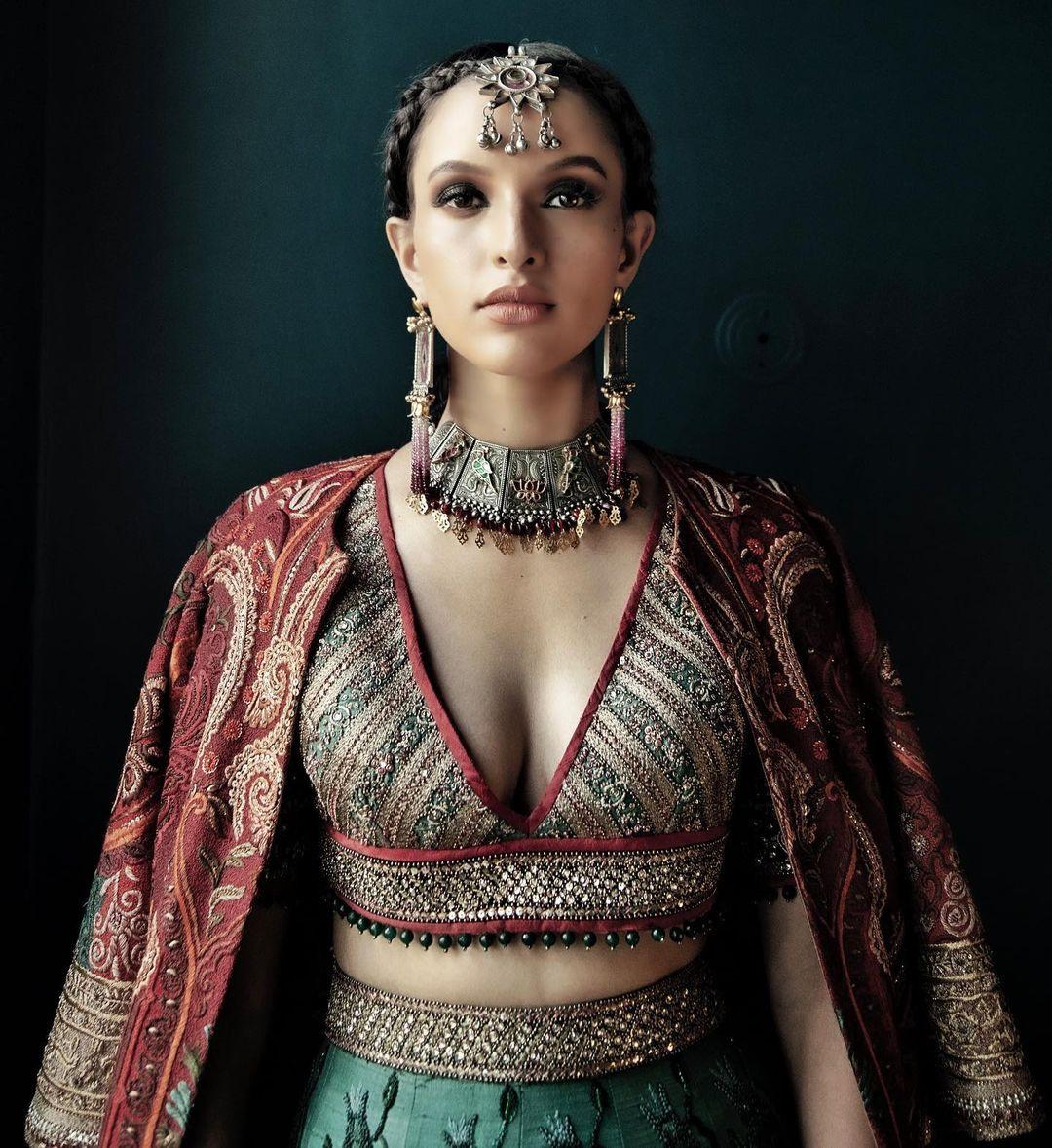 Image Courtesy: Tripti Dimri in JJ Valaya
This plunging V-neck blouse design by JJ Valaya as seen on Tripti Dimri is an absolute beaut. The intricate embroidery all over the blouse in antique gold with beaded detailing and a neat red border finish makes this plunging neck blouse design a regal pick for your D-day. Accessorise the look with a Rajasthani Aad necklace and layer it with a Satlada haar to add to the magnificence.
Plunging Split Sweetheart Neck Design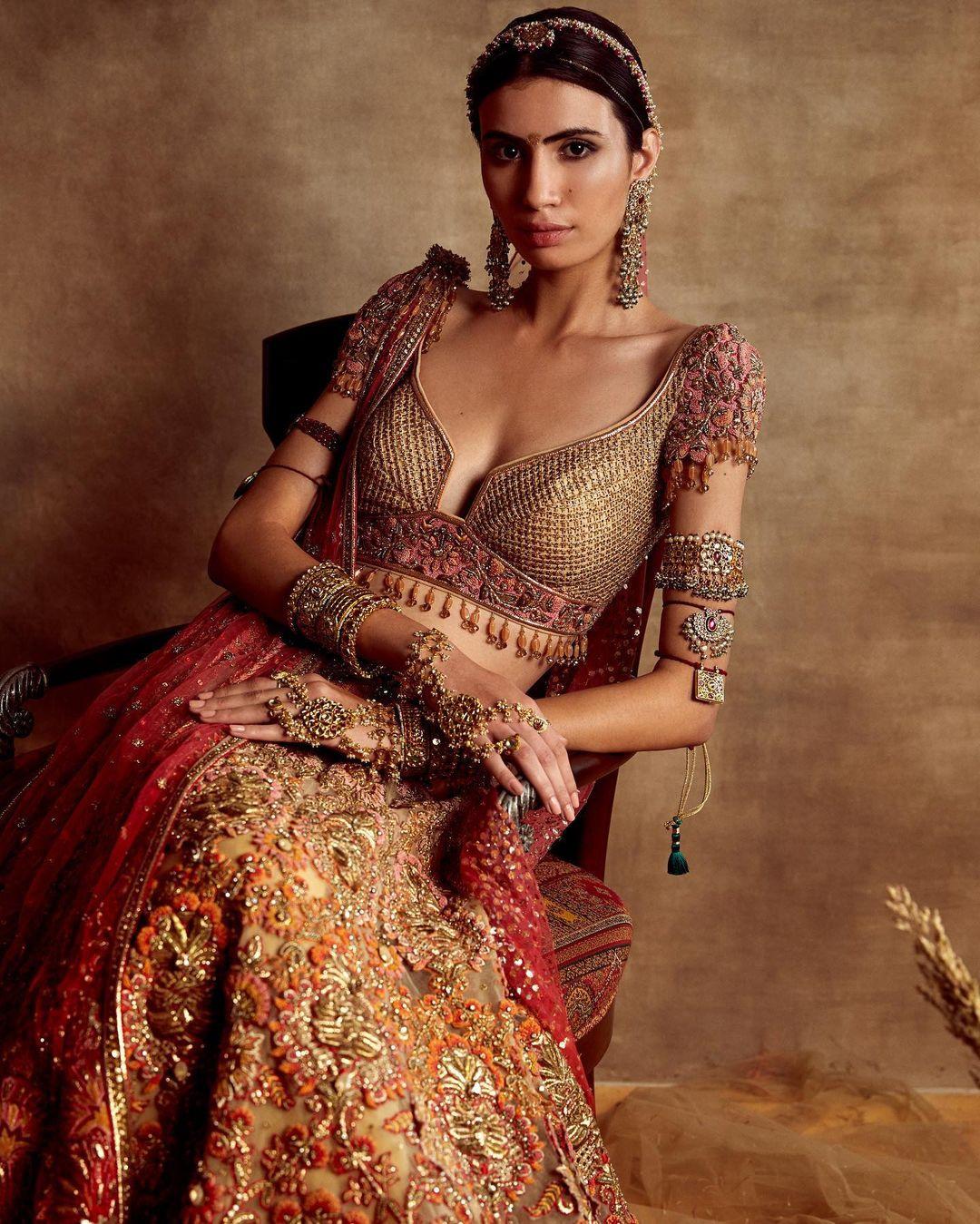 This blouse with a plunging neck design by Tarun Tahiliani modifies the traditional sweetheart neckline with finesse. The standard sweetheart neckline is given a broad split that gives this neck design a modern twist and an alluring one without a doubt. The intricate trellis, Gota and crystal pave with shaded French knots and embroidery makes this blouse one of a kind. The use of crystals and shaded embroidered wings are the cherry on top.
Gathered Tulle Plunging Neck Blouse Design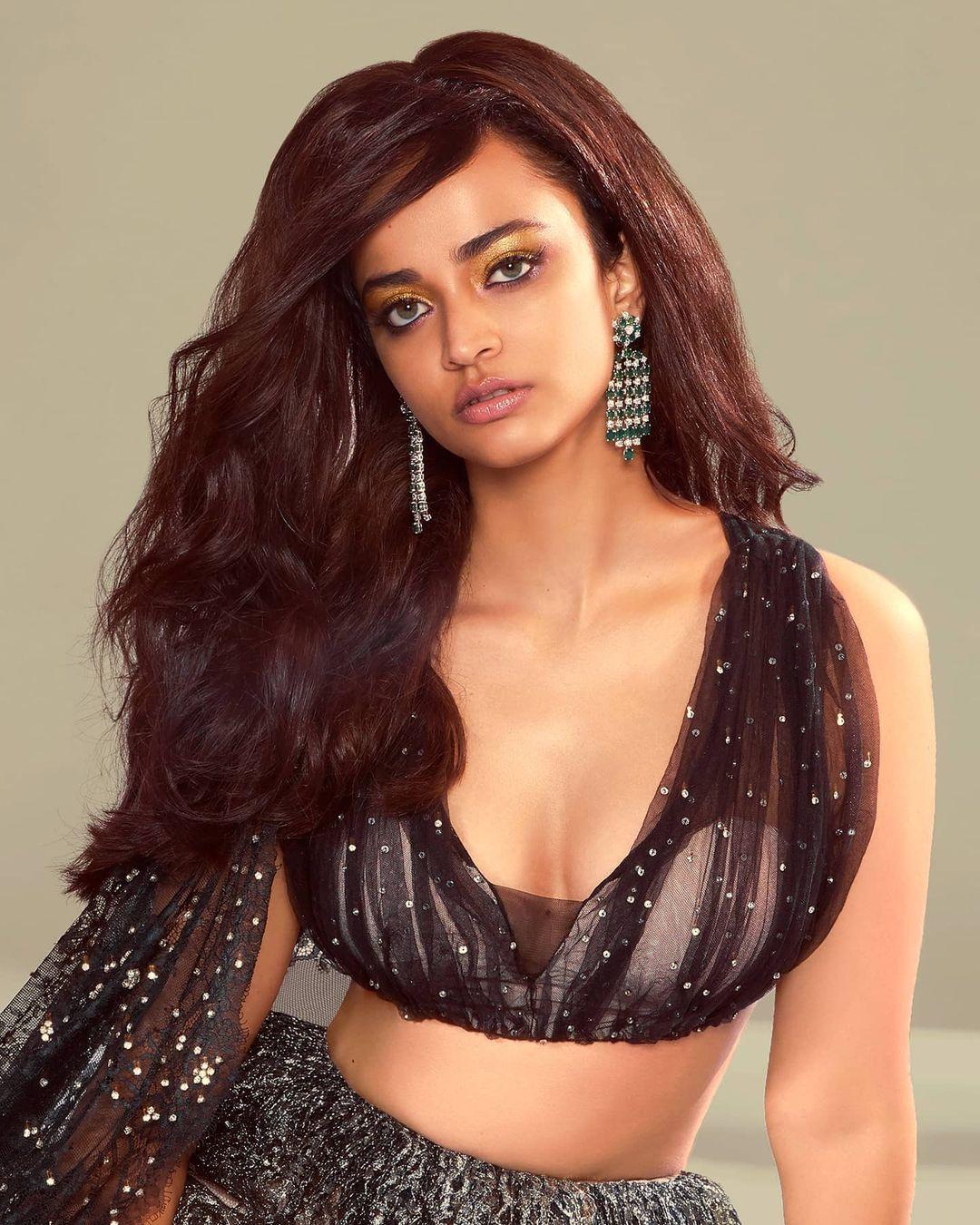 Gathered and pleated detailing in tulle or net blouse designs have a certain touch of grace that they add to an outfit. This tulle blouse by Shehla Khan has a plunging neck design with gathered and pleated detailing. The black and nude ruched blouse adds a glam factor to your overall look and can be perfect for your Sangeet or Cocktail look. Pair a heavy diamond jewellery piece to bring out the best in this look.
Simple Deep V Plunging Neck Design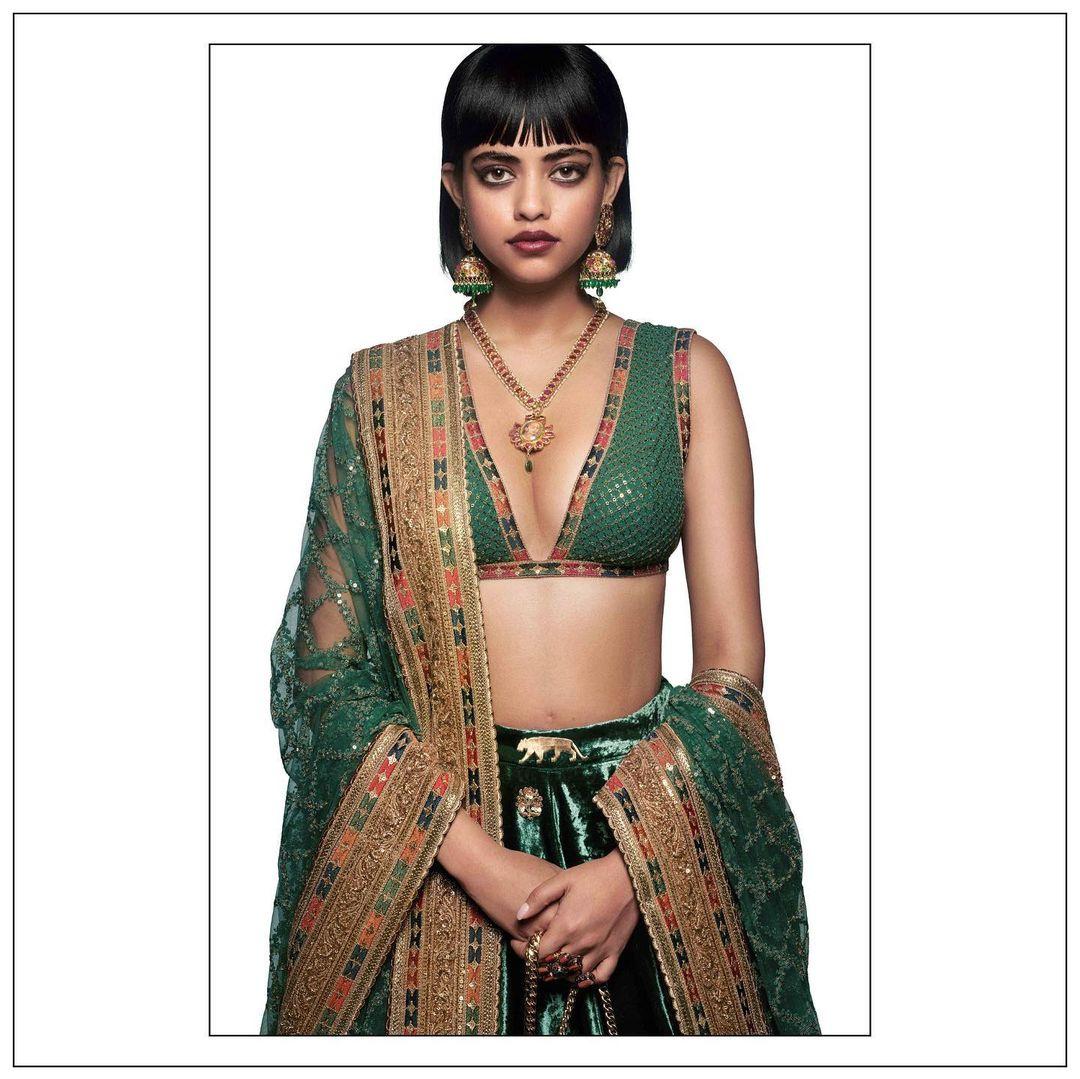 Image Courtesy: Sabyasachi
This simple and subtle emerald green coloured sleeveless blouse design is a charmer. Balancing the grace and the simple yet sensual appeal finely, this Sabyasachi Chaand blouse is sure to make you look enchanting as ever. Pick some Temple jewellery pieces or heavy gold jewellery sets to enhance the neckline with the best of necklaces and look ravishing as ever when paired with a green velvet lehenga.
Embroidered Sweetheart Neckline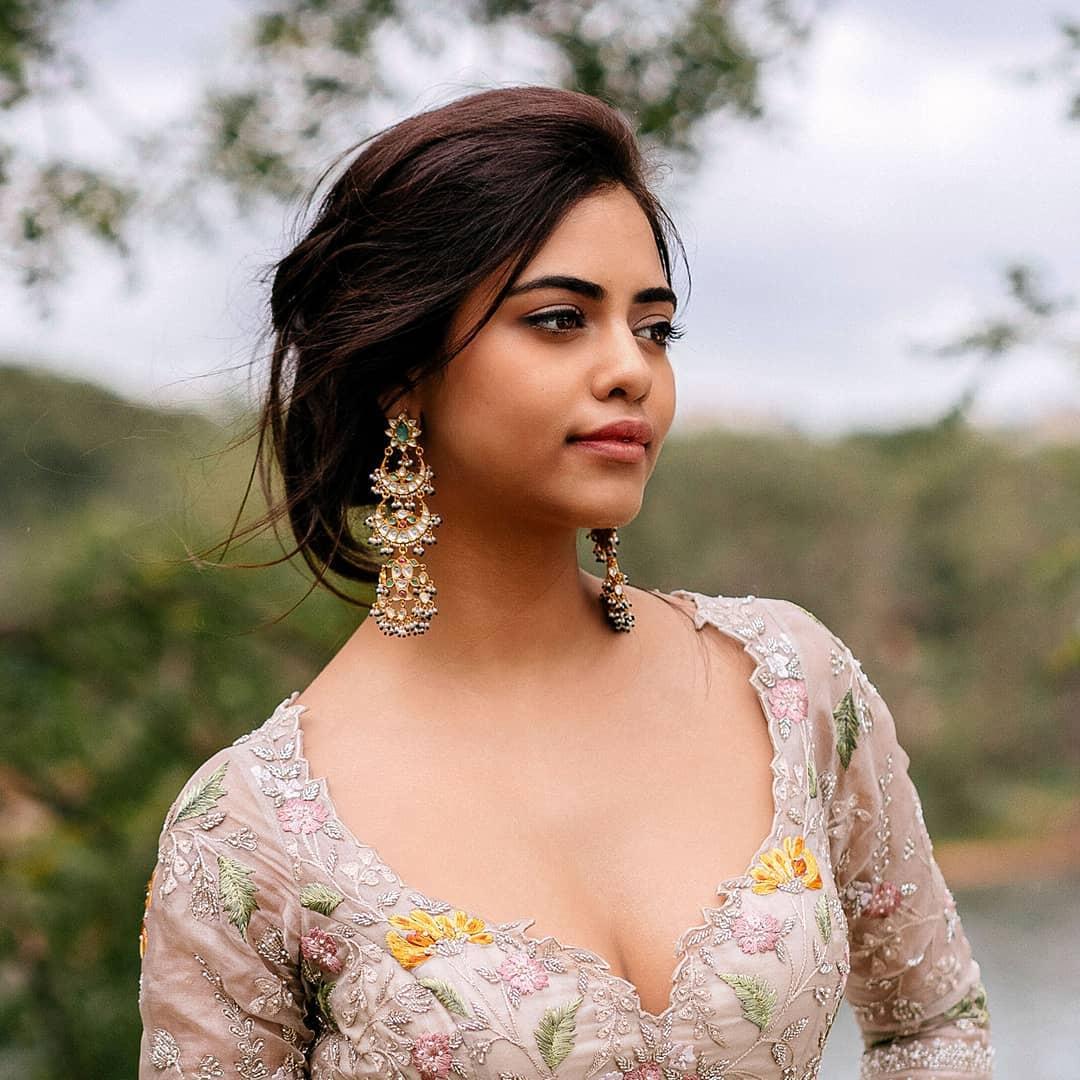 Keeping the sweetheart neckline simple yet elegant, Anushree Reddy has created a fine plunging neck blouse design by allowing the leaves and flowers of the floral embroidered blouse run free. The edges give an untrimmed illusion adding to the feminine grace of the blouse design. Flaunt some statement earrings and maybe avoid any baubles on your neck to let this plunging neck blouse design be the showstopper.
Plunging V Neck with Beaded Detailing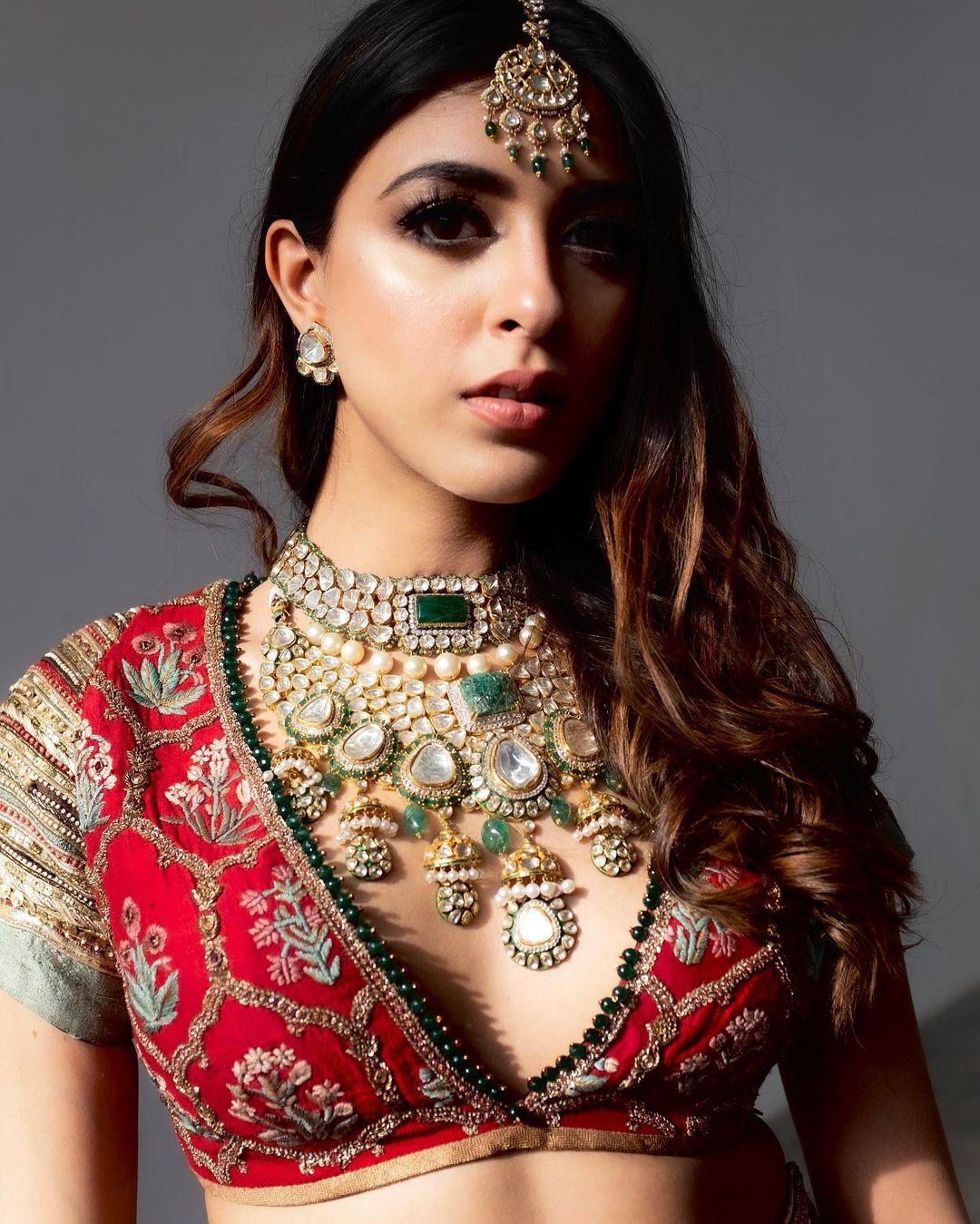 This plunging neck blouse design flaunts a simple deep V-neck, but what makes it stand out and turn heads is the gorgeous emerald green beaded detailing that runs throughout the neckline and ends in an overlapping fabric. The gotta and zari work along with the antique gold embroidery on the blouse makes this regal blouse perfect for your D-day. Pair a heavy Polki necklace to complete the look with grace.
Off-Shoulder Sweetheart with Sheer Illusion Neckline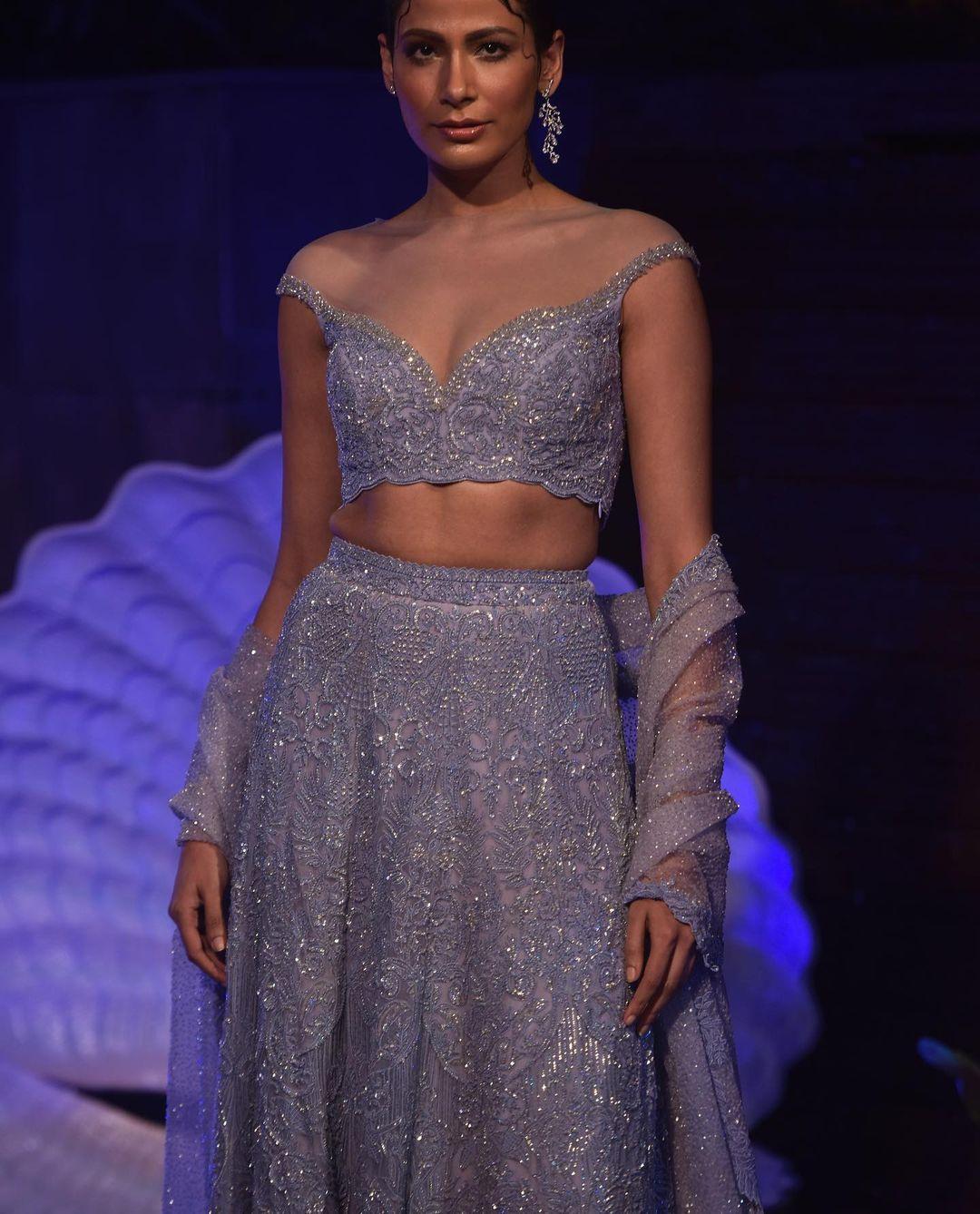 Image Courtesy: Kresha Bajaj
While the yoke of the blouse gives a plunging illusion with off-shoulder sleeves, there is a sheer neckline that runs straight up to the zero neckline design of the blouse. The big scallop-shaped fabric near the neck is lined with intricate stonework that adds to the beauty of this stunning blouse design by Kresha Bajaj.
Plunging Neck Design for Blouse with Ruffle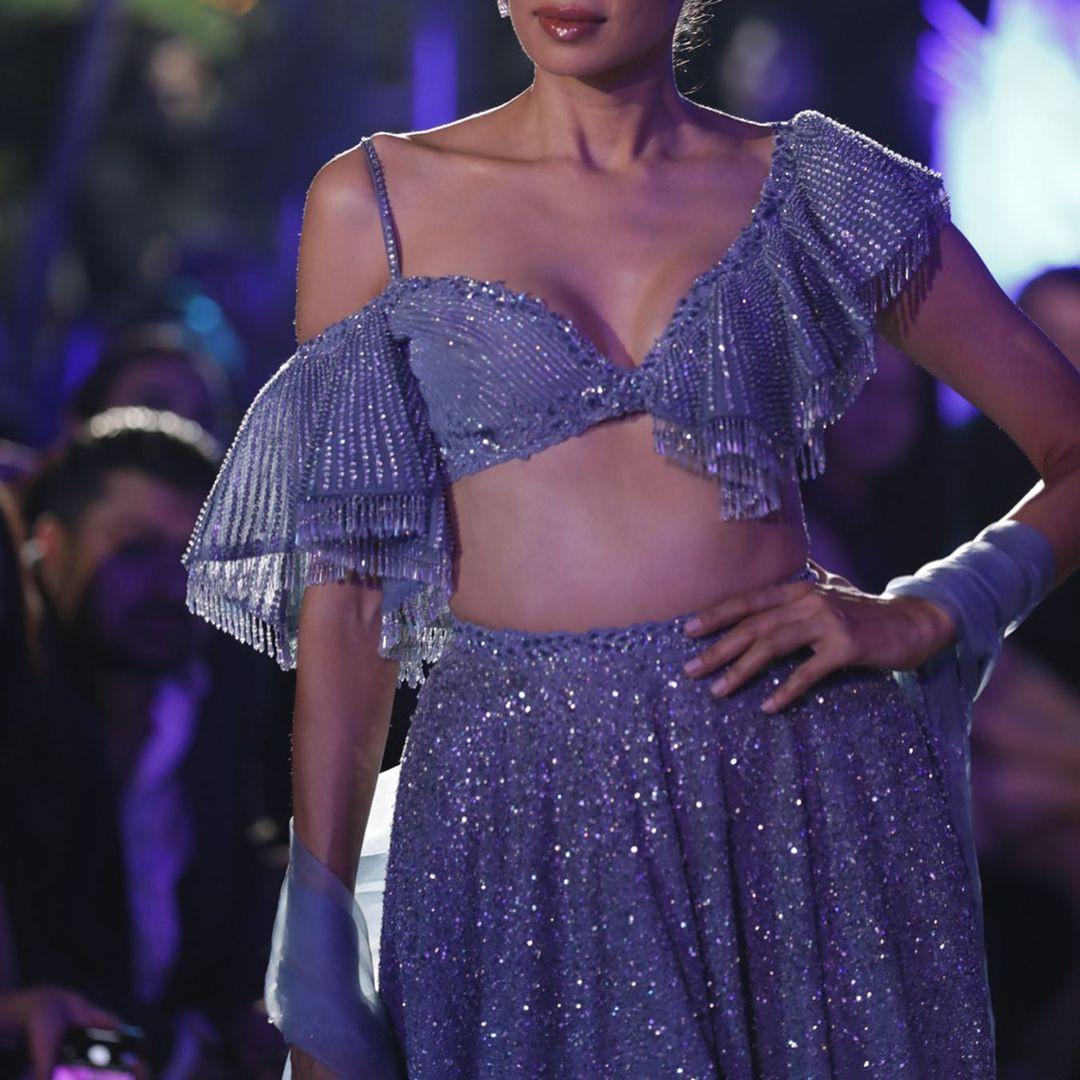 Image Courtesy: Kresha Bajaj
Another fine plunging neck blouse design by Kresha Bajaj is this bralette paired with a lehenga with a simple sweetheart neckline and noodle straps with ruffle detailing - cold-shoulder ruffle detailing on one side and ruffles on the shoulder on one. The dramatic sleeve design of this blouse is a showstopper without a doubt. Only diamond jewellery sets will complement the look to the T.
Overlapping Deep V-Neck Design with Ruffles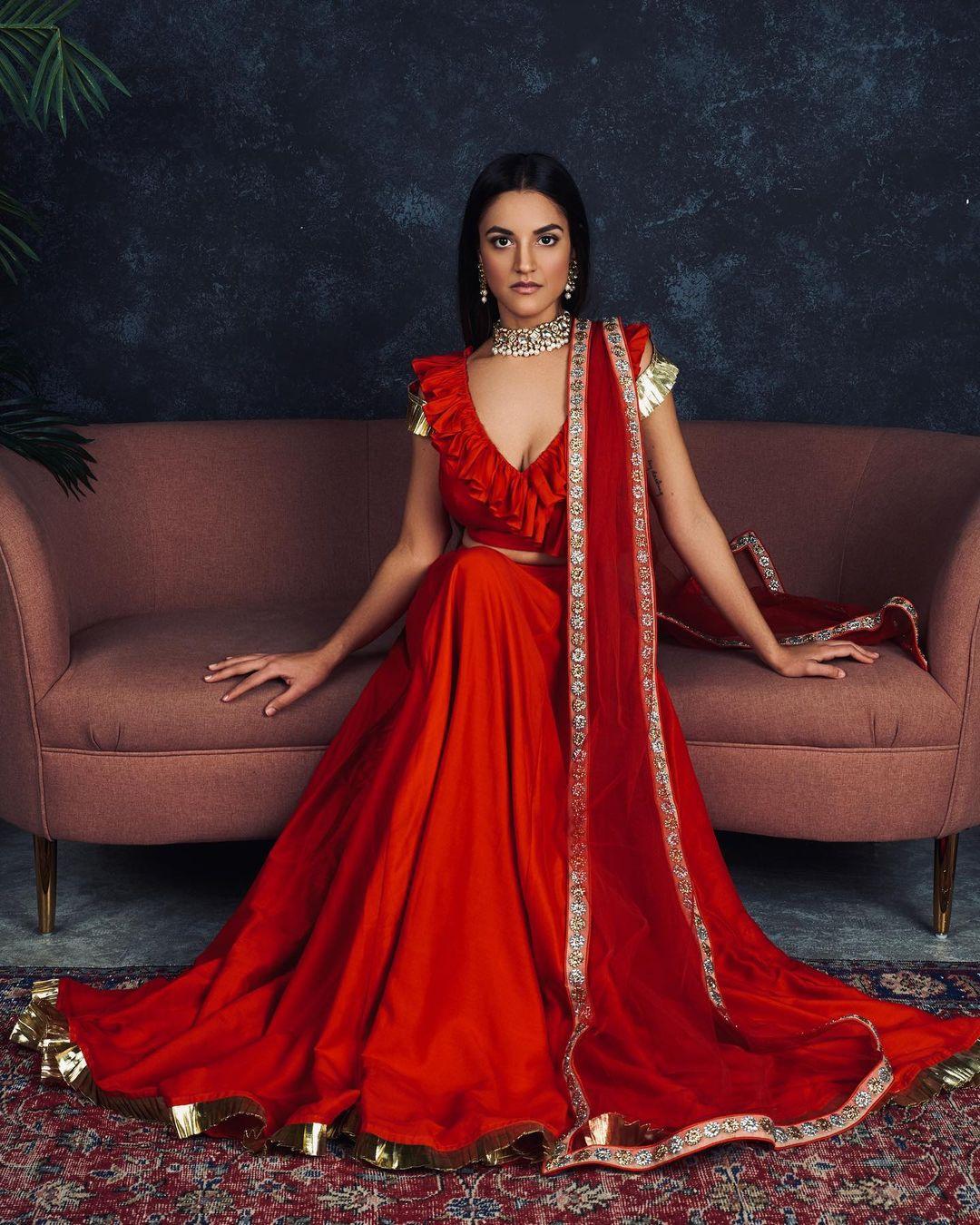 Image Courtesy: Mani K Jassal
Creating an overlapping illusion like an Achkan or Angrakha design, this plunging neck blouse design in red by Mani K Jassal is an amazing one. The gathered/pleated ruffle detailing that runs along the neck creating an overlapping deep V neck makes this blouse a swoon-worthy piece for the millennial brides. To add to the charm the sleeves of the blouse also have a cold-shoulder detailing in gold to match with the hem of the lehenga.
Layered Plunging Neck Blouse Design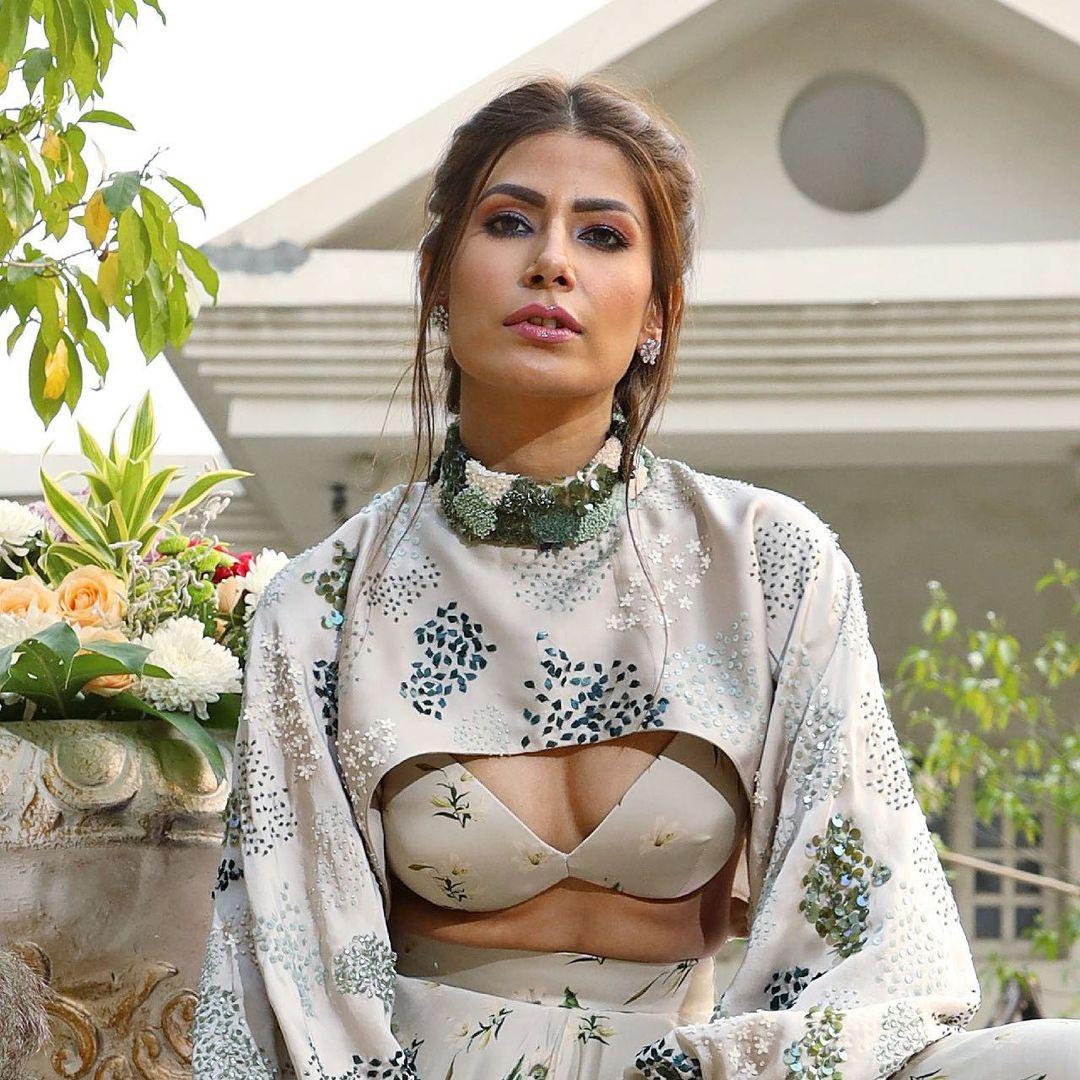 What adds to the fashion element of this simple floral printed bralette blouse by Mahima Mahajan is the cropped cape layer on top. This bikini blouse with a modal satin embroidered pullover that flaunts bishop sleeves gives the plunging neck design of the bralette an extended keyhole or a cutout design look. Pair it with a matching palazzo or a pastel lehenga to make a lasting impression on your Mehndi ceremony or your sangeet.
Plunging Neck blouse design with Tie-Up Detailing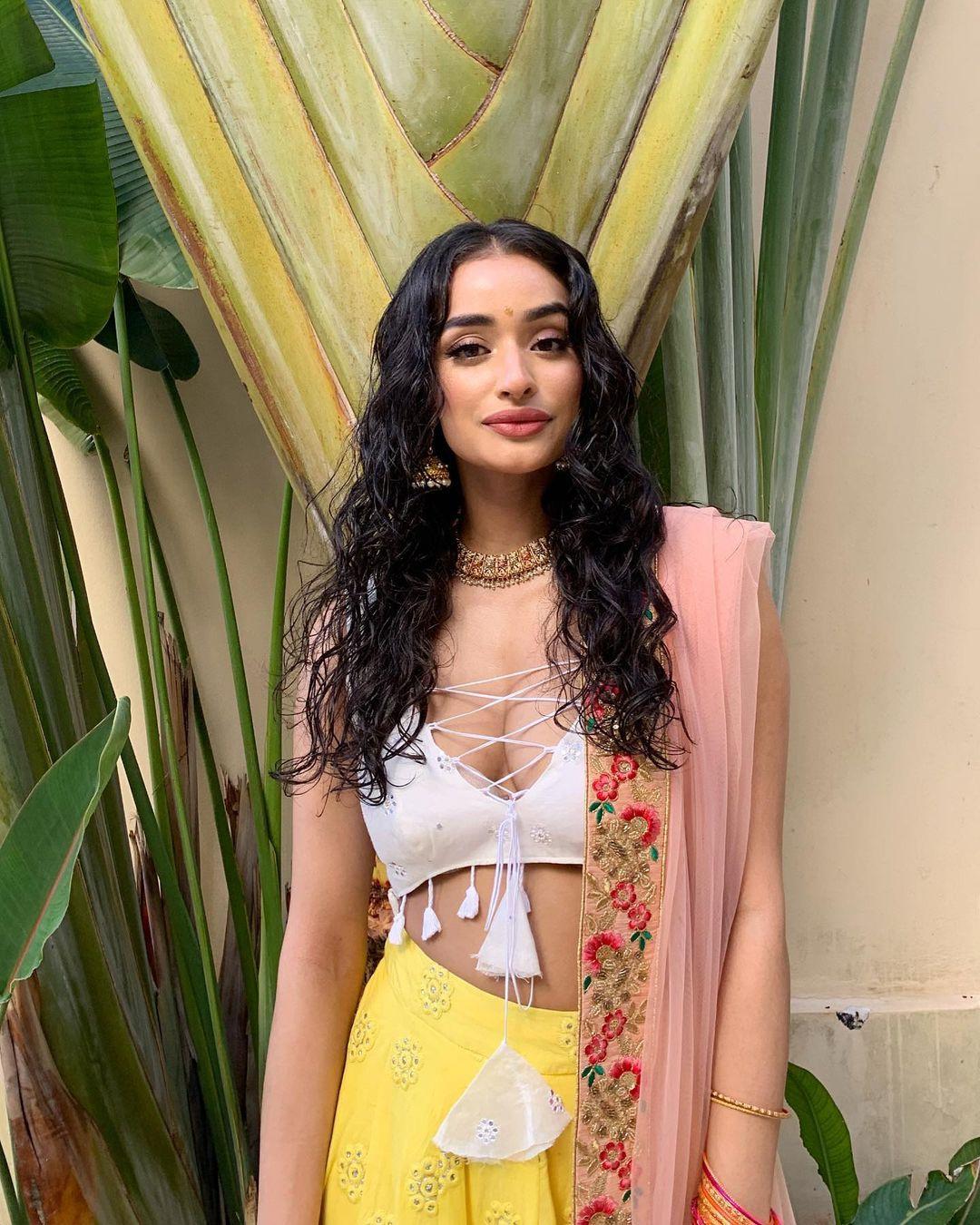 Image Courtesy: Mani K Jassal
While Latkans are a huge hit among the brides for blouse back neck designs, this front tie-up detailing makes this plunging neckline blouse design by Mani K Jassal a huge hit. The simple sleeveless white blouse with minimal mirror work and tassel detailing is given a dramatic twist with the oversized tassel tie detailing in the deep U neckline of the blouse.
Plunging Butterfly Blouse Neck Design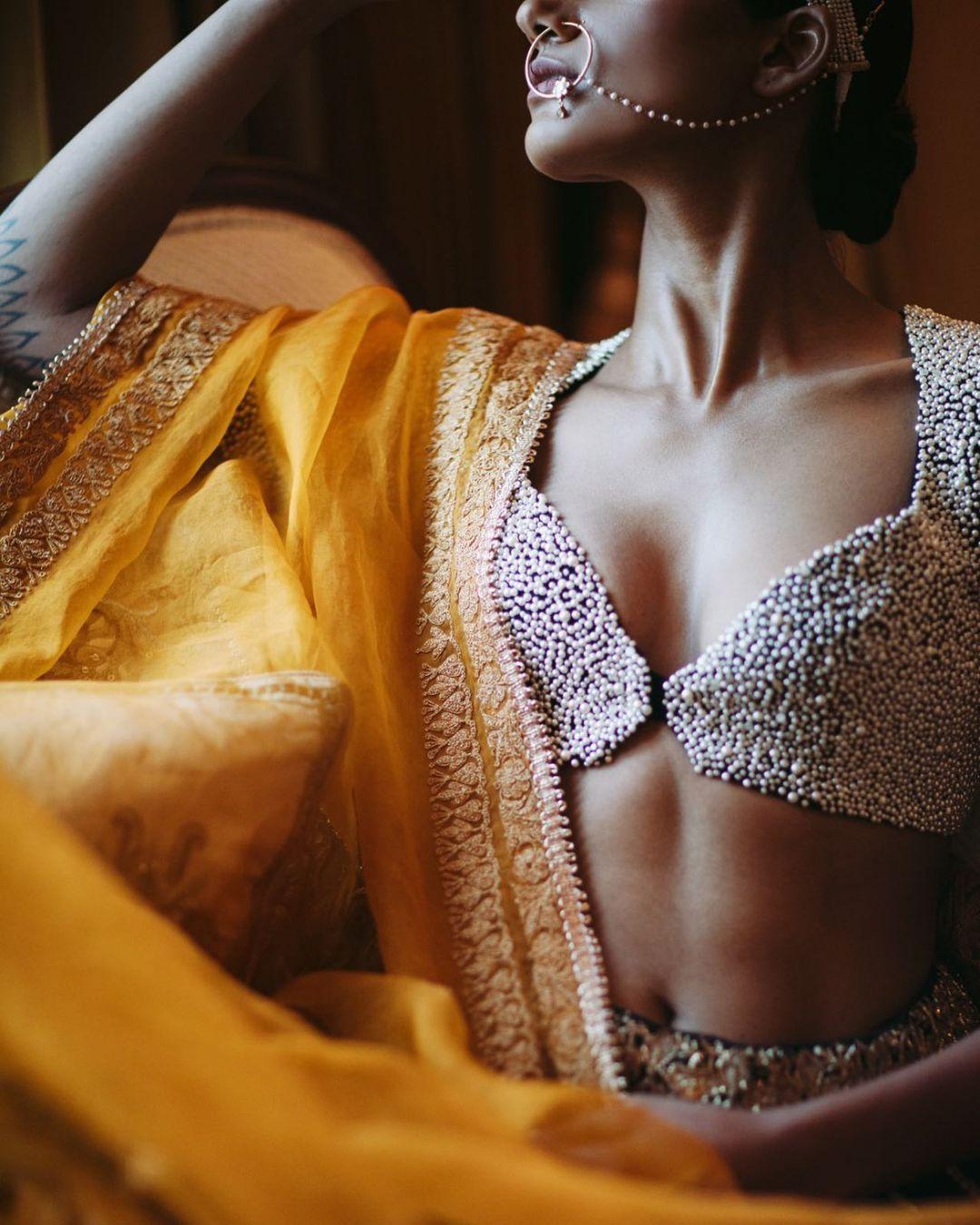 Image Courtesy: Manish Malhotra
The plunging pentagon-shaped beaded blouse by Manish Malhotra is fit for a fun Sangeet ceremony. The butterfly-shaped neckline of the blouse enhances the beauty of this hand-embroidered blouse design by the ace couturier. Add to the gorgeous by picking a beautiful pearl necklace to pair with it.
Plunging Neckline for Blouse with Tulle Illusion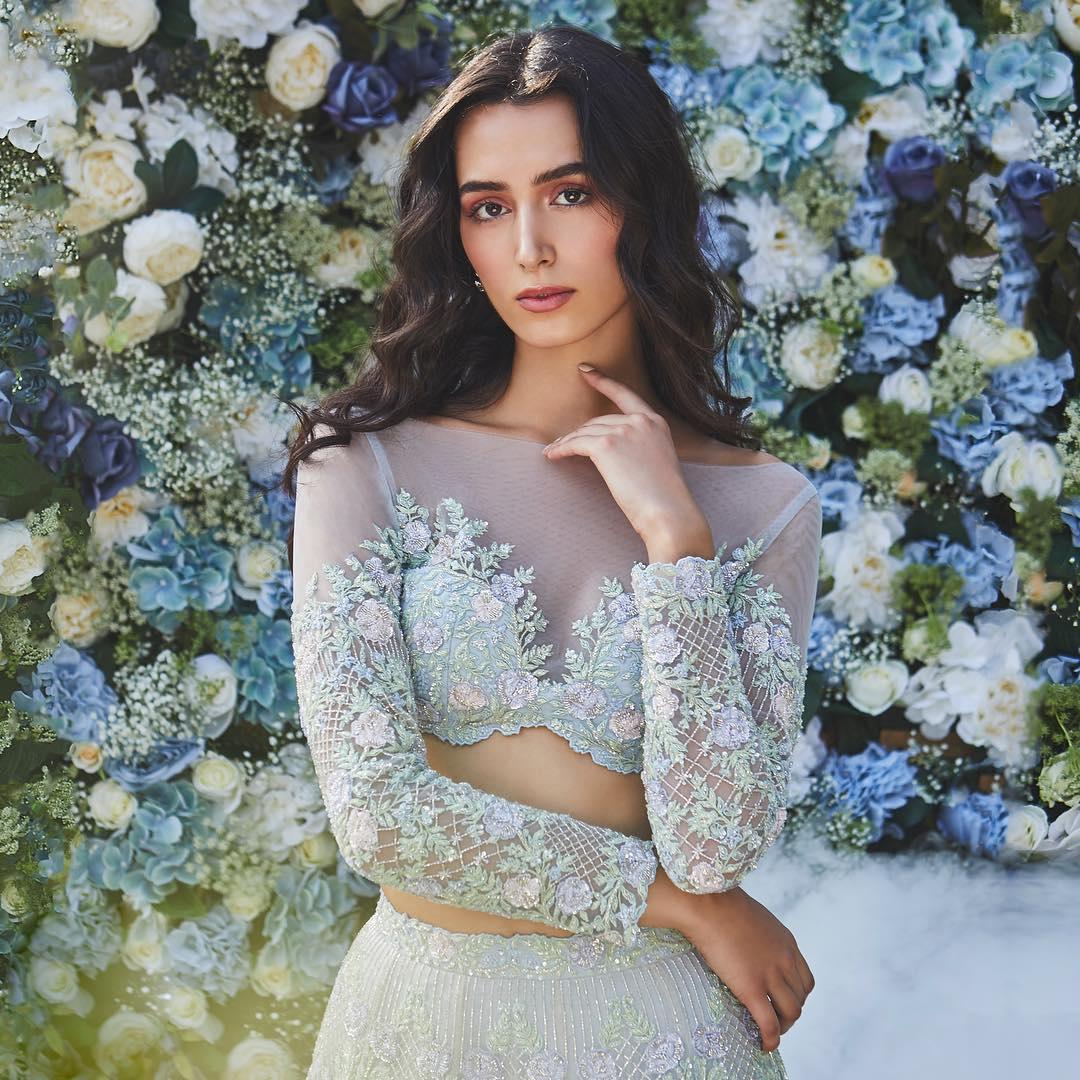 Image Courtesy: Kresha Bajaj
Illusion necklines are a huge hit among the millennials who like to keep it edgy but also balance it with a fine line of subtle. While the neckline creates a mirage of an off-shoulder lace embroidered blouse with floral accents, the original design of the blouse is a boat neck due to the use of tulle. This full-sleeve blouse design by Kresha Bajaj looks dreamy and perfect for a pastel lehenga that you can wear at a beach wedding.
Lace Scallop Hem Plunging Blouse Neckline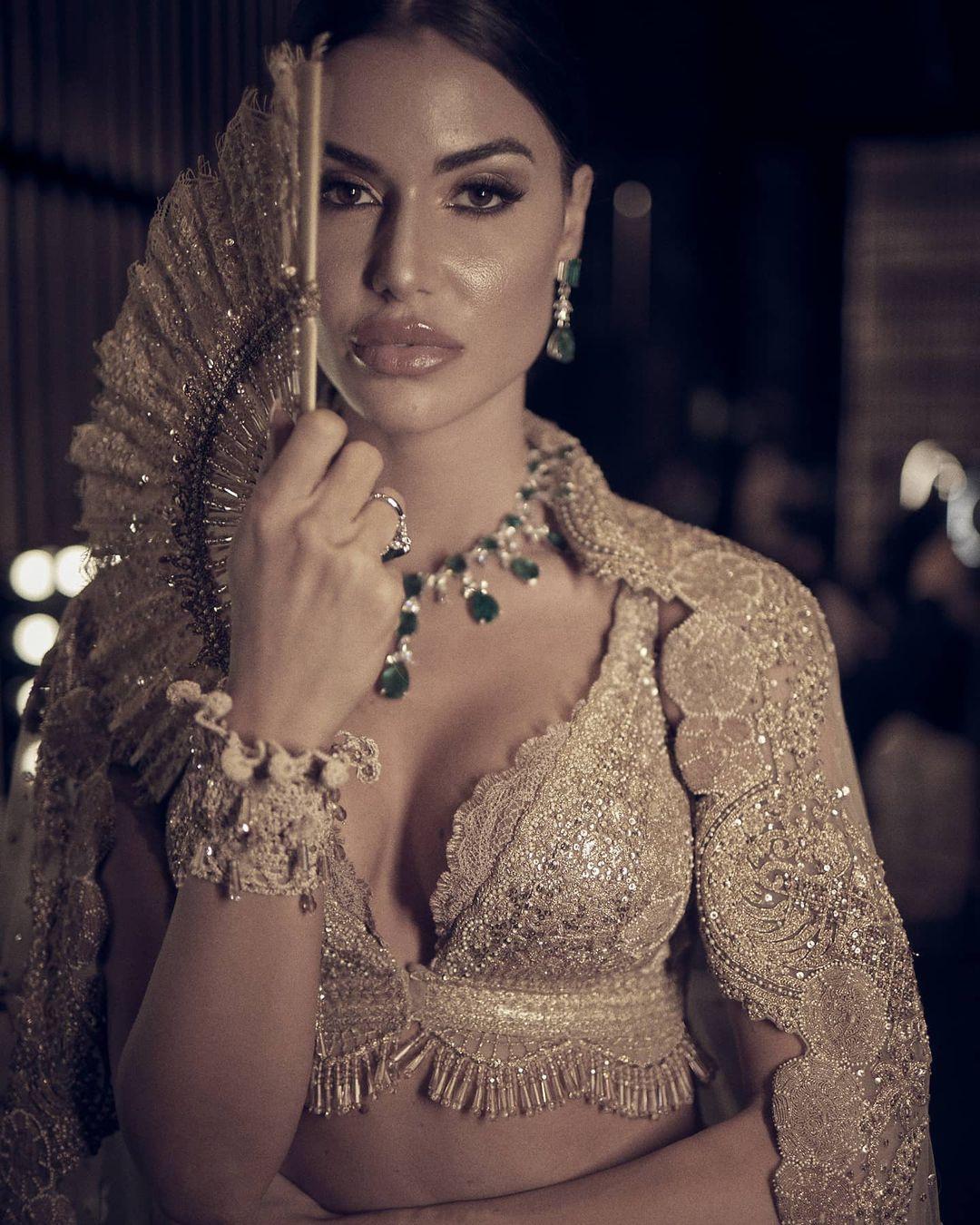 This dainty yet regal plunging neck blouse design by Rimple & Harpreet is sure to add to your glamour. The lace detailing on the deep V-neck blouse design gives it a scallop hem appearance that works wonders when paired with the beaded scallop hem detailing on the hem of the blouse. This golden blouse with a plunging neckline suits perfect for your Sangeet ceremony and try adding a pop of colour to this outfit by pairing emerald jewellery.
Deep U-Shaped Plunging Blouse Neck Design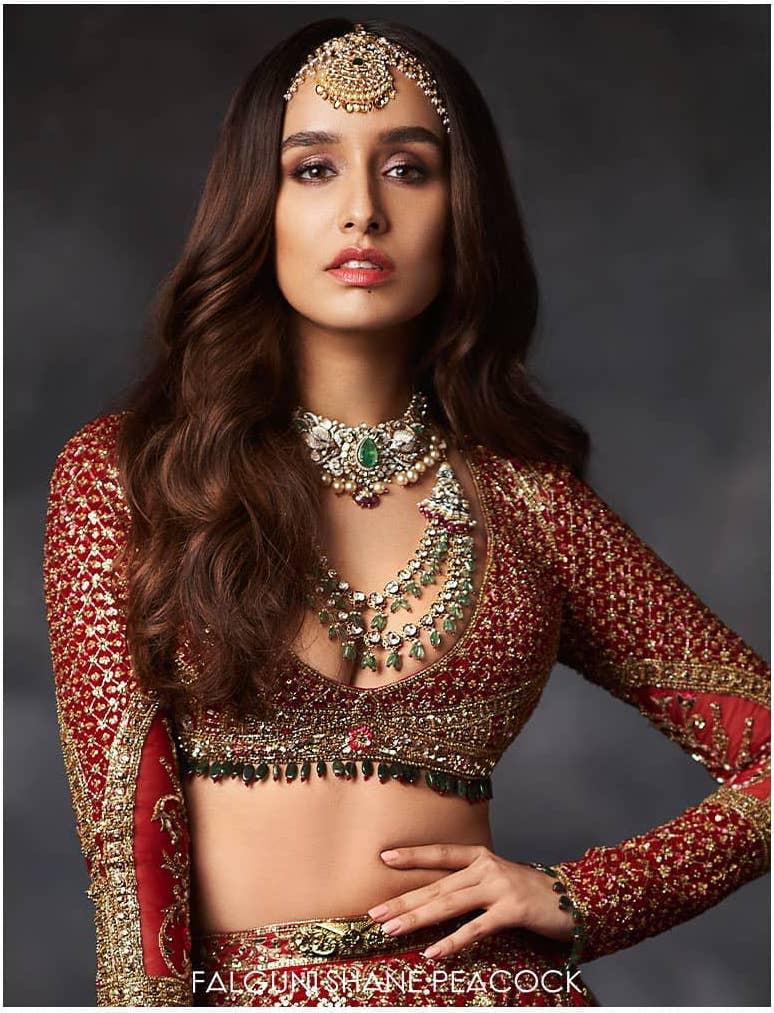 Image Courtesy: Shraddha Kapoor in Falguni Shane Peacock
Shraddha Kapoor is flaunting this alluring deep U plunging neck blouse design by Falguni Shane Peacock's latest FDCI ICW collection "Marry Me in Jaipur." The full-sleeve embroidered sleeve of this blouse in red makes for a perfect bridal blouse design. The intricate golden thread embroidery in Jaali patterns and the perfectly symmetrical neck design of the blouse is sure to make you look majestic. The neckline leaves perfect place for you to flaunt your layered necklaces.
Off-Shoulder Sweetheart Plunging Neck for Blouse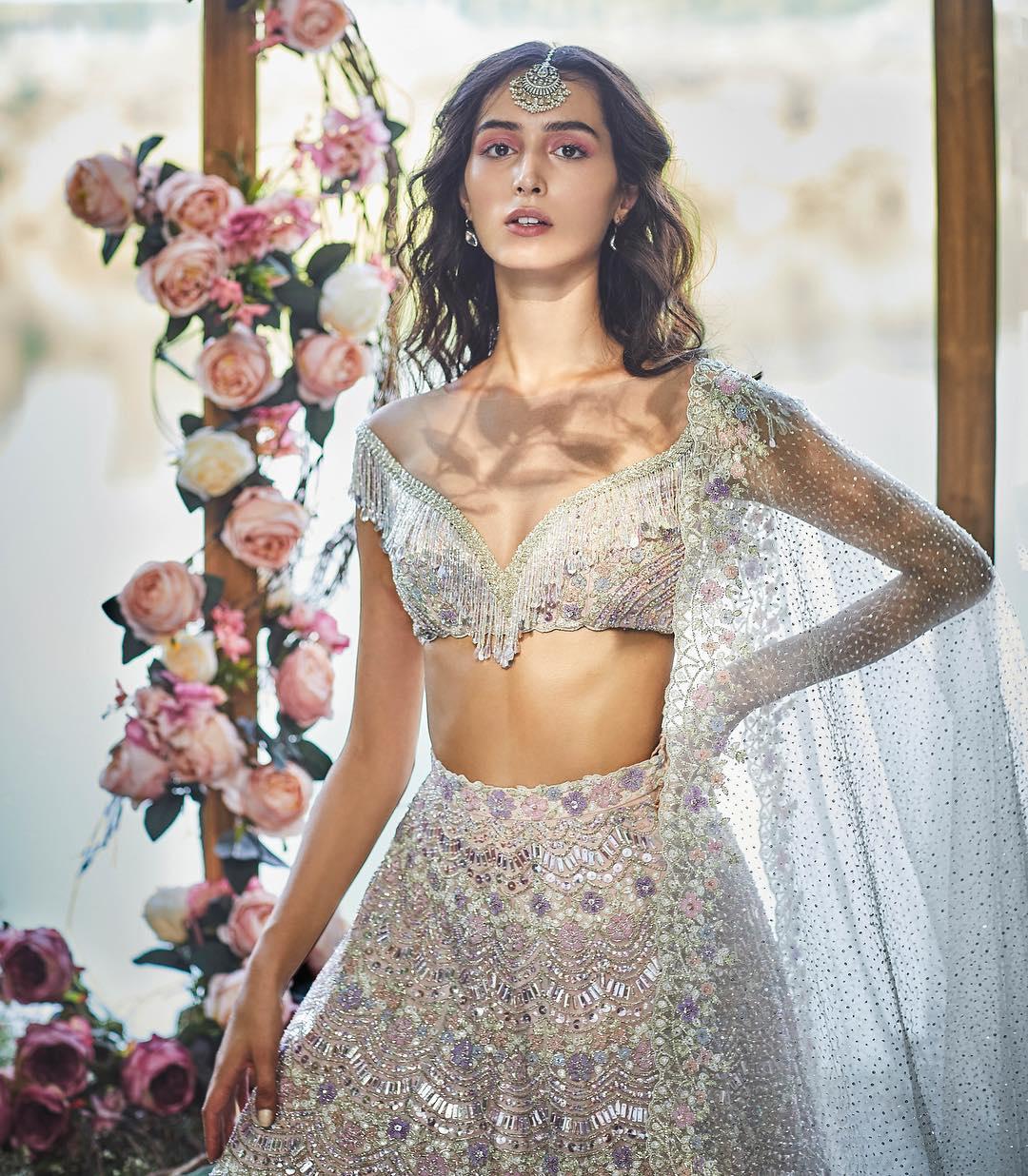 Image Courtesy: Kresha Bajaj
Last but not the least, this off-shoulder lehenga blouse design by Kresha Bajaj stole our hearts and how! This blouse sure gives us the dreamy princess feels. The beaded frill detailing that fall like tassels all around the neckline with intricate sequin and crystal-studded detailing makes this outfit perfect for your Sangeet ceremony or a mesmerising Mehndi ceremony or even a beach wedding.
Plunging neck blouse designs have been much loved by the millennial brides and you know now! These designer plunging neck blouse designs are sure to serve some ravishing looks. Style it your way and accessorise it right to make your D-day outfit an unforgettable one.
Did you find your favourite plunging neck blouse design yet? Lets us know in the comments below!