The Elusive Off-Shoulder Lehenga for the Glamorous Bride-To-Be
Every little detail on your bridal lehenga, no matter how insignificant or small at first, will go a long way in creating the complete look and making you look glamorous. Pick an off-shoulder lehengas on your wedding to further this vibe!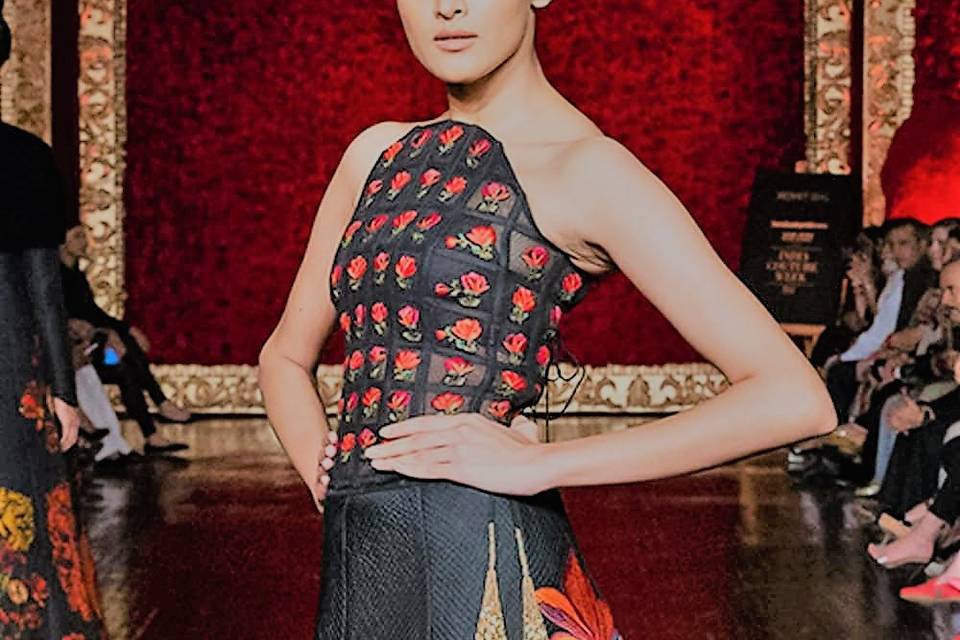 While off-shoulder blouse designs are very popular, one does not see them as often on the bride on her wedding day as we should! An off-shoulder lehenga does a great job of boosting the glamour quotient in an outfit. So, with your wedding being one of the most glamorous days of your life, it certainly makes sense to wear an off-shoulder lehenga for your bridal attire!
If you are not entirely sure about the right way to wear this outfit, keep reading to know what tips we have in store for you!
1. Pick neutral shades for an extra glamorous look!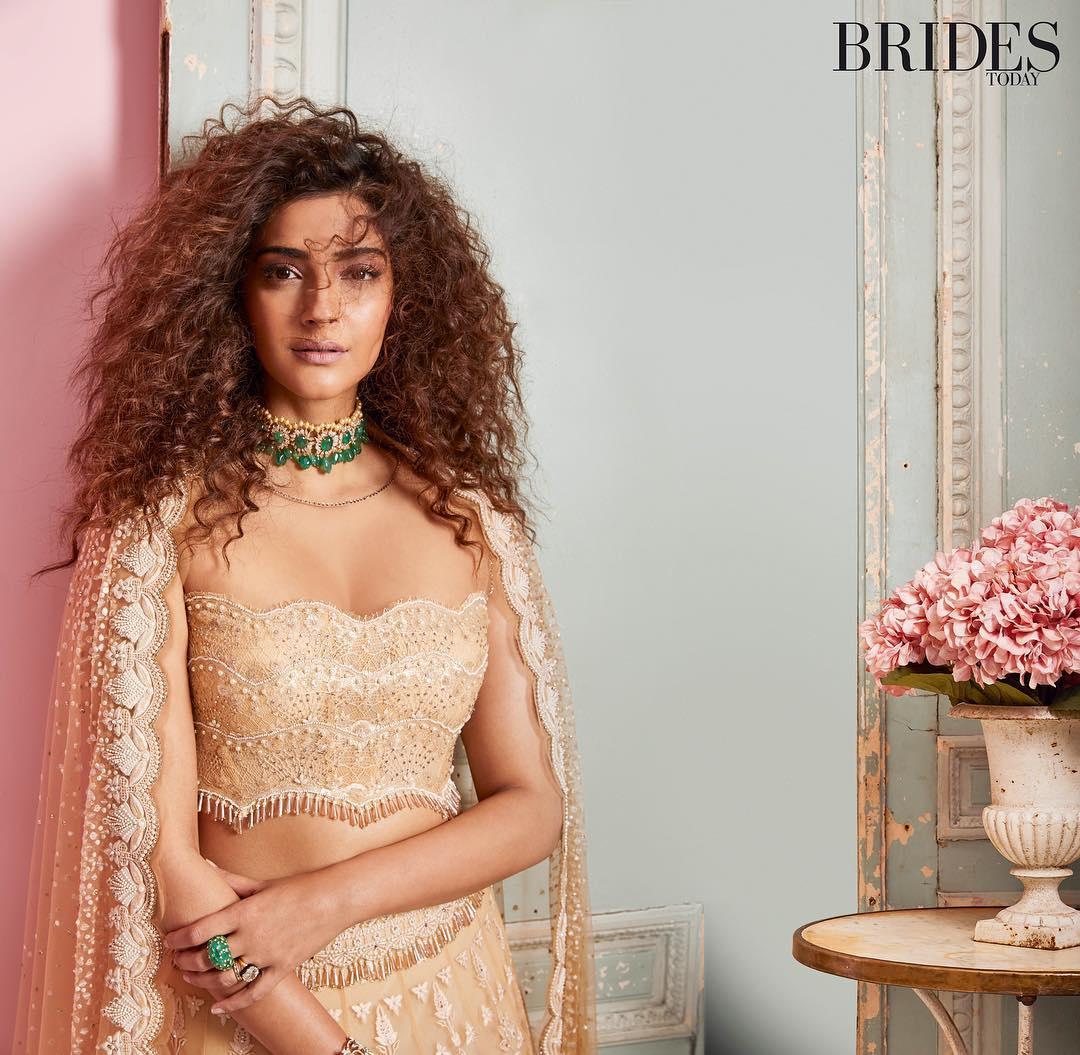 A few years ago, glamour was synonymous with solid colours like black and deep red. Now, that definition has evolved to keep up with the times. When someone wants a very high-end look, they gravitate towards neutrals (and black too – this colour will never, ever be outdated). This is because neutral shades like cream, beige, rose gold, and black help in creating a very timeless look. Moreover, outfits in these shades are really easy to style.
Styling tip: If you want to wear a neutral beige off-shoulder lehenga, then pick Kundan jewellery because the look of the uncut diamonds compliments this shade very well. Solid gold south Indian jewellery can also look great.
2. Use design elements to add character to the look!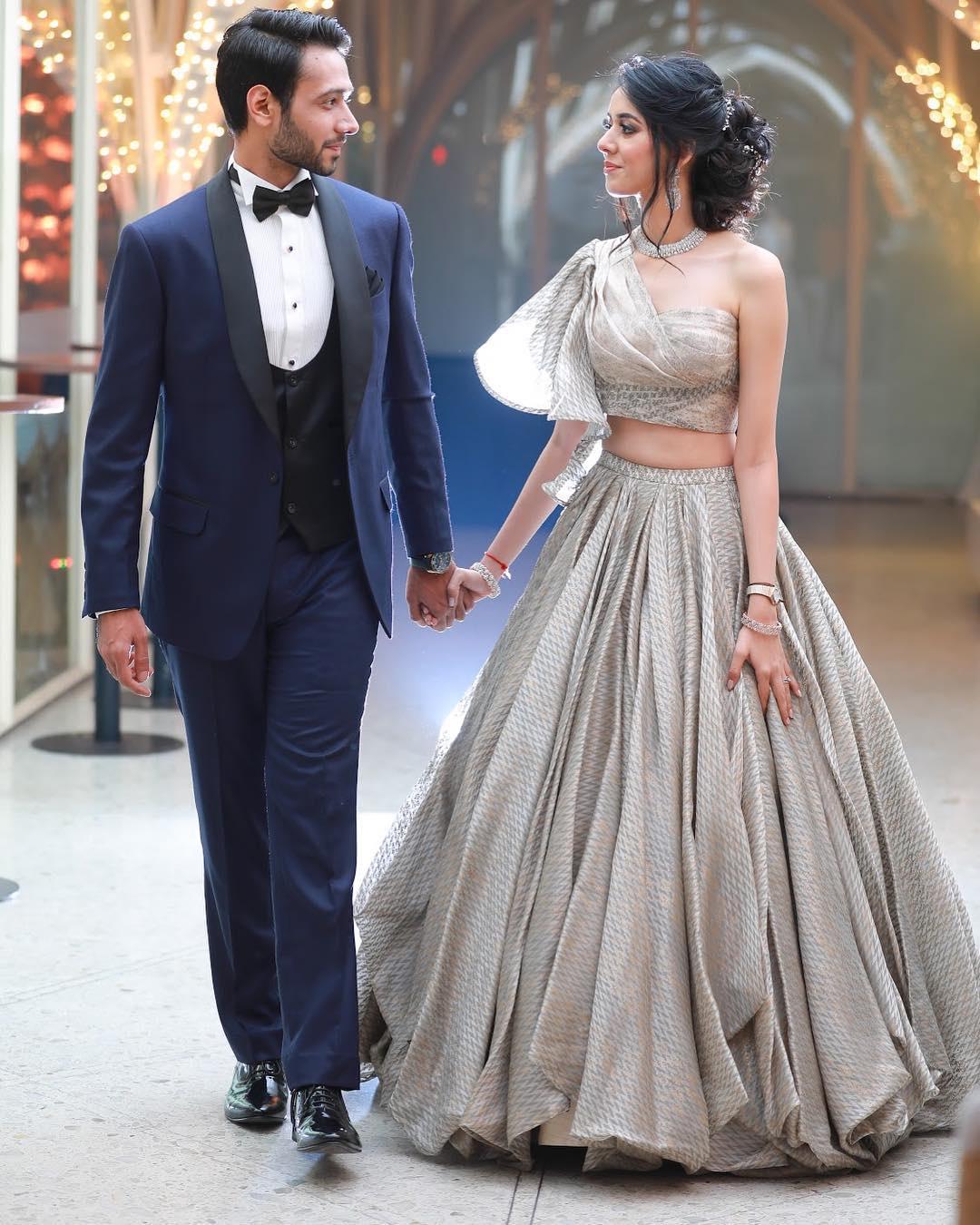 Brides who want statement blouses with their off-shoulder lehenga may prefer tops that have a little more character than an embellished corset. In this case, design elements like ruffles can really help elevate the blouse into one that makes the right statement. Ensure that the ruffles are only on one side because you don't want to totally hide the off shoulder look.
Styling tip: Wearing a choker necklace with this type of off-shoulder lehenga is the ideal way to style the garment. This is because a choker will put your clavicle in the limelight. If you use a gold shimmery highlight on your collar bones, you'll look stunning. Also, remember to keep your hair in a top knot so that it does not hide the blouse!
3. Wear contemporary styles for a fresh update on the off-shoulder lehenga!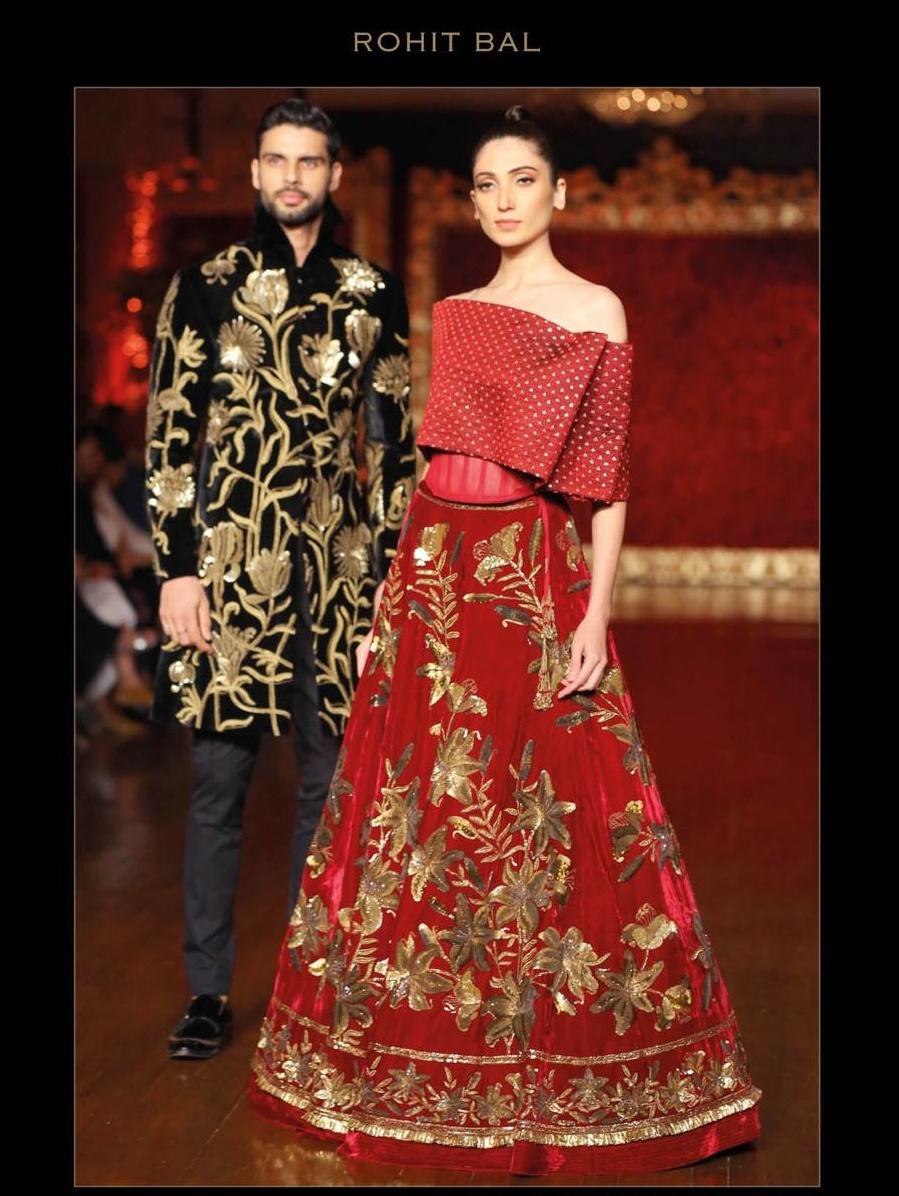 Corset tops are one way to update an off-shoulder lehenga. Another great way to do so is by wearing a top that emulates the look of a Dupatta wrapped around your shoulders. If you love being ahead of the fashion curve, then this is the style that you need to pick because it's quite different from anything else out there! This style is also available in the popular high waist lehenga crop top variant!
Styling tip: When you wear a contemporary blouse like this, it totally steals the show. So, it's best to go bare in terms of the jewellery on the neck. Stick with heavy statement earrings and ethnic Kangan designs instead.
4. Wear unique colour combinations with an otherwise plain body!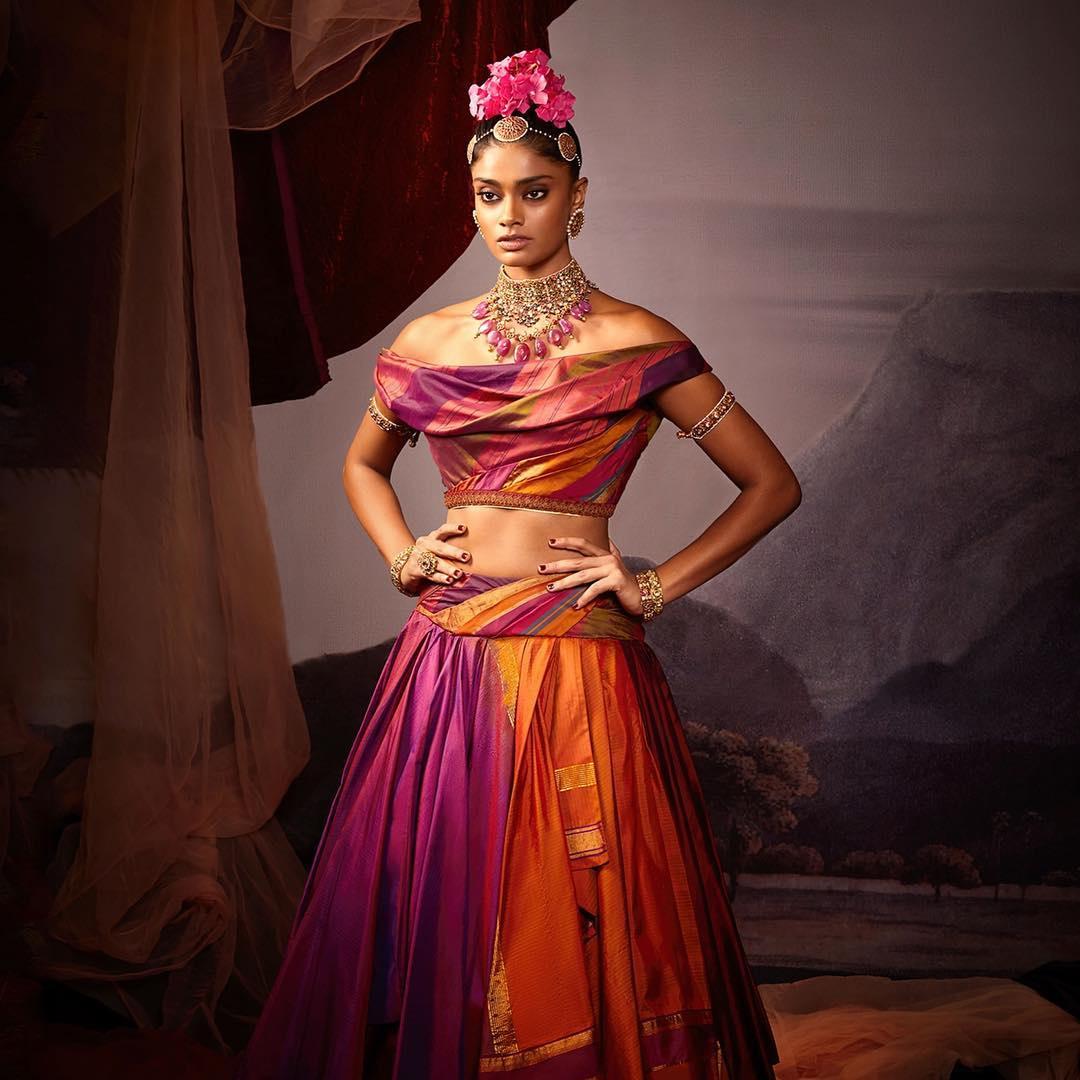 Another way to wear a cool off-shoulder lehenga is by picking a garment that uses colour blocking. As this is a huge trend, you can wear colours that normally may seem like they clash on a fabric like Silk that will help mute the effect. Silk generally has its own sheen. Think of that sheen as an Instagram filter – it adds the same effect on two clashing colours, making them look totally cohesive. Of course, the undertones of the colour should be the same too.
Styling Tip: If your outfit is visually loud, like the example we've shared, then it makes sense to go with neutral makeup. You don't want the overall effect to be super garish. However, if you like the kinds of makeup styles that are shown on the runway, smear a dramatic shade of eyeshadow on both lids, and across the nose like a mask if you're edgy!
5. Wear a barely-there blouse for an ultra-glam vibe!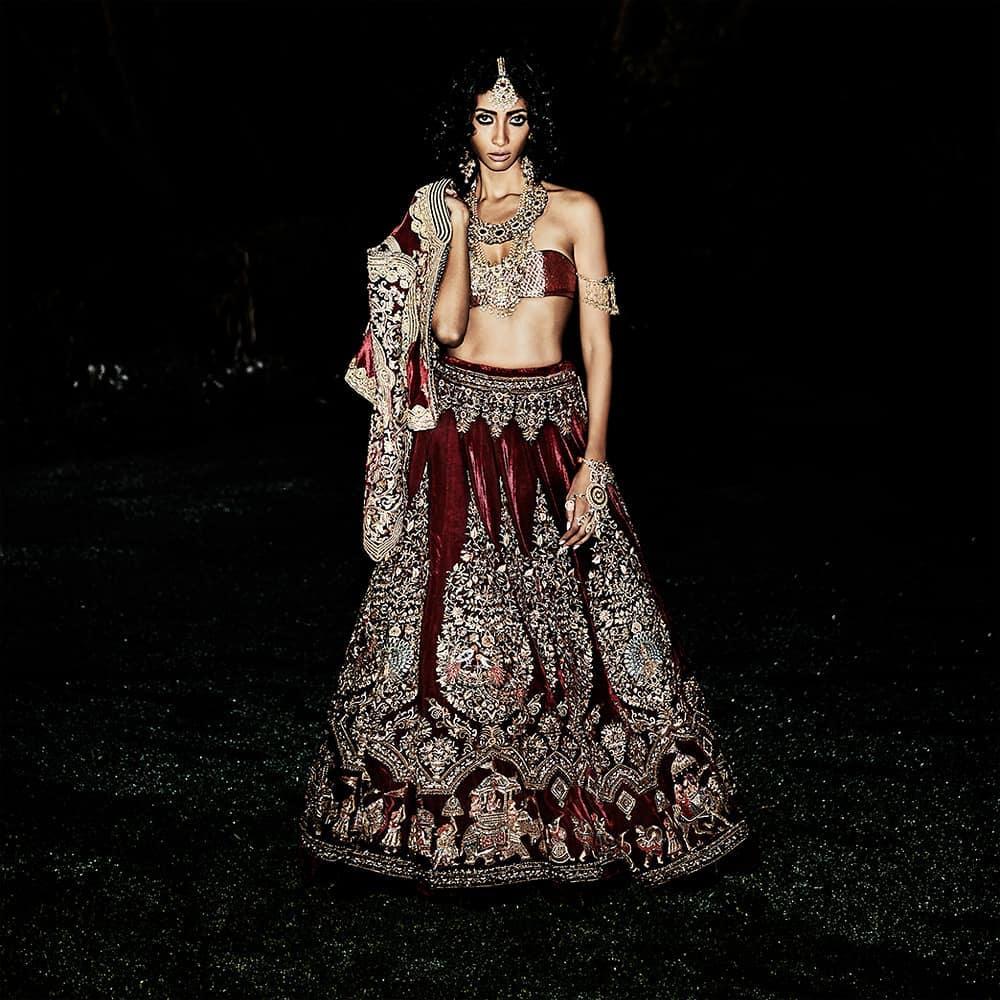 From the exquisite Raat collection, this off-shoulder lehenga is ideal for women who fancy themselves as dark and brooding Goth babes! The heavy handmade embroidery work on the skirt and Dupatta makes this garment an ideal one for the wedding day. With its deep red and silver contrasting hues, this outfit is no less than a work of art!
Styling tip: If you want to stick with the visual theme of this off-shoulder lehenga, you should wear heavy, intricate silver jewellery. This works for two reasons. The first is that it contributes to creating a cohesive look with the outfit. The second is that it is a choice that marks you as different from other brides! If that is something that appeals to you, then go for it!
Get your hands on unique crop top blouse designs to add your own spin on a lehenga. It's a great way to show off how creative you are!
Our makeup artists can help you look absolutely stunning on your wedding day! Get in touch today!