Layered Necklaces That Can Match the Attire to Complete Your Look
Mastering the art of layered necklaces for the bridal look is what we have talked about in this read. Learn how to match various haar designs flawlessly to bedazzle the bridal avatar right!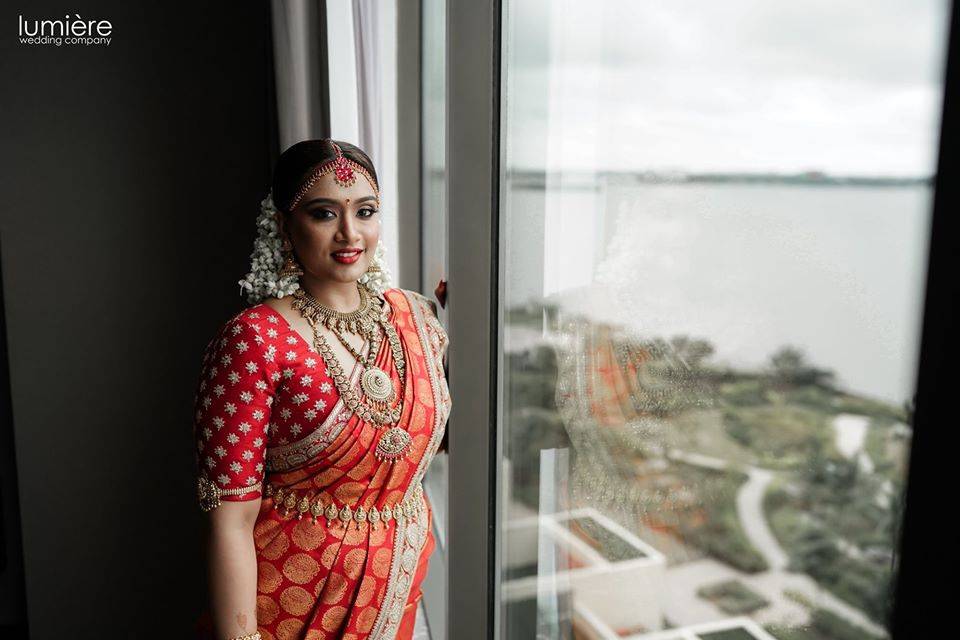 Everything about an Indian wedding is extravagant. Right from the decor to the bridal trousseau, everything is shiny, luxurious and extra. Speaking of the bridal trousseau, it is not just the attire but even the accessorisation that is made to look all glamorous for the wedding function. We are talking about statement-making jewellery pieces put together to create an extravagant look for the bride-to-be. The key element of a bridal jewellery set has to be the layers of necklaces worn to match the bridal ensemble best.
This read focuses not on minimalism but on maximalism that comes with an array of ethnic necklace designs. We are just not touching on a variety of bride-perfect necklaces but we are also sharing style tips on how to create sets of layered necklaces that will compliment all kinds of wedding wear impeccably. Check them out!
Meenakari Aad Necklace With Pearl Raani Haar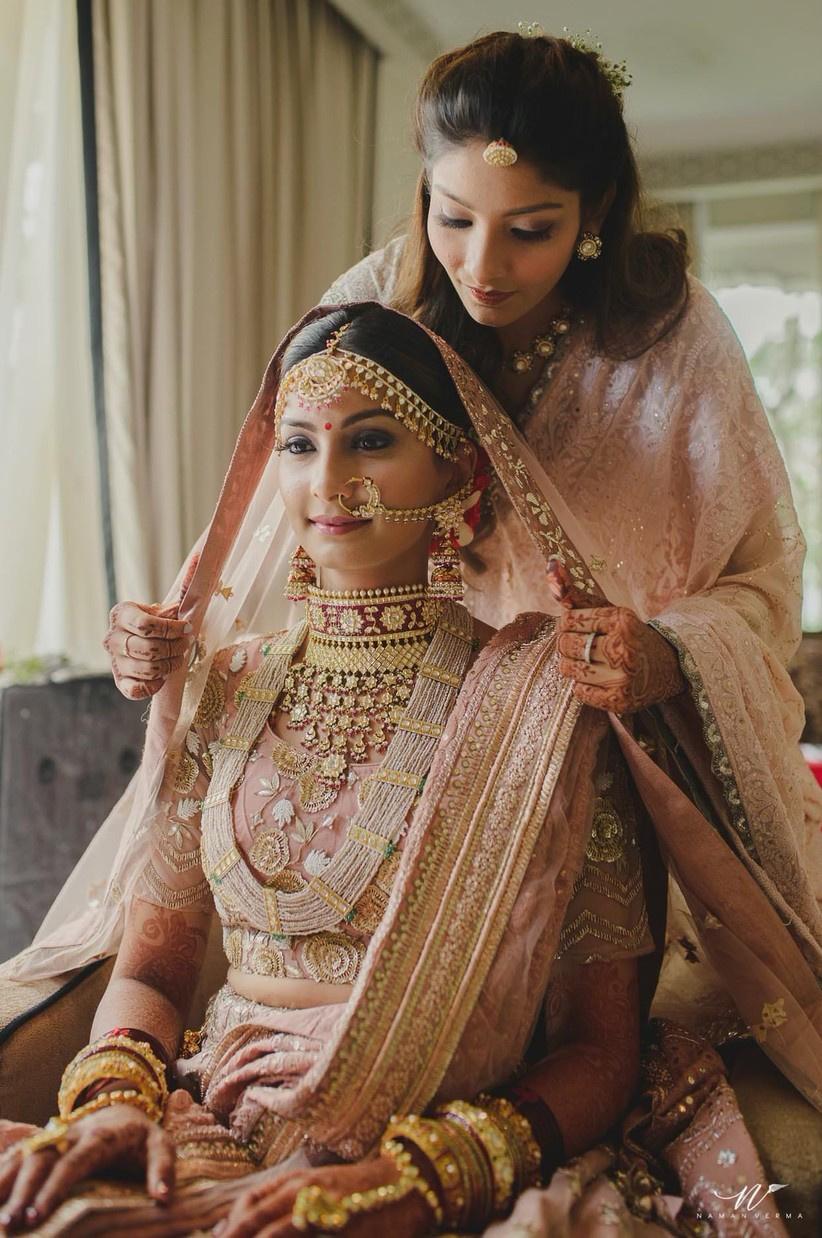 Two royal jewellery styles of Rajasthan come together to create one mesmerising look. The safest bet when it comes to layered necklaces that match Indian wedding trousseaus best is to stick to the traditional styles of one region of the country. Meenakari hand-painted work done on famous choker style called Aad makes it a necklace style worth owning. Team it up with long strands of pearls combined together to form one delicate Pearl Raani Haar. This combination of pearl and heavy Meenakari work balances both designs without overshadowing each other.
Pearls and Kundan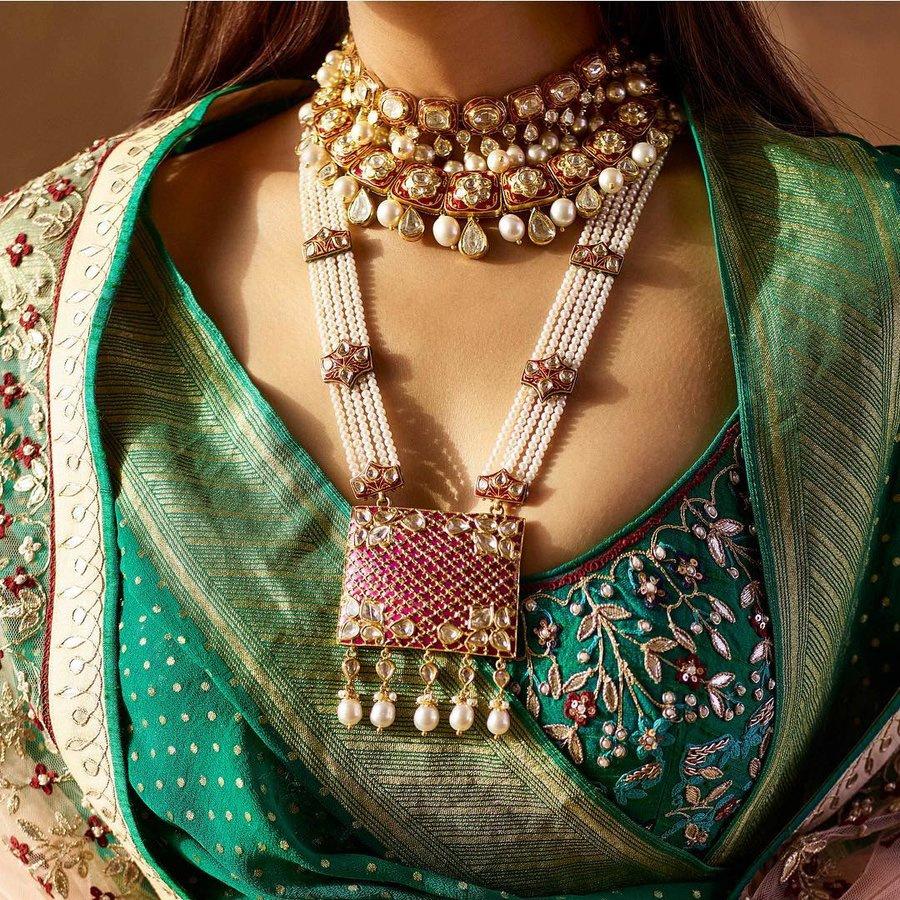 Brides-to-be can layer pearl necklaces with a toned-down Kundan Haar to create layered necklaces that are sophisticated and are perfect when a bride-to-be wishes to adorn layered necklaces that are not too loud upon wear. Pearls and Kundan embellishments are done on ruby-hued base will be a great add-on to the wedding jewellery collection and will be versatile enough to be worn with an array of ethnic wears for and after the wedding as well.
Royal Polki Choker Layered Set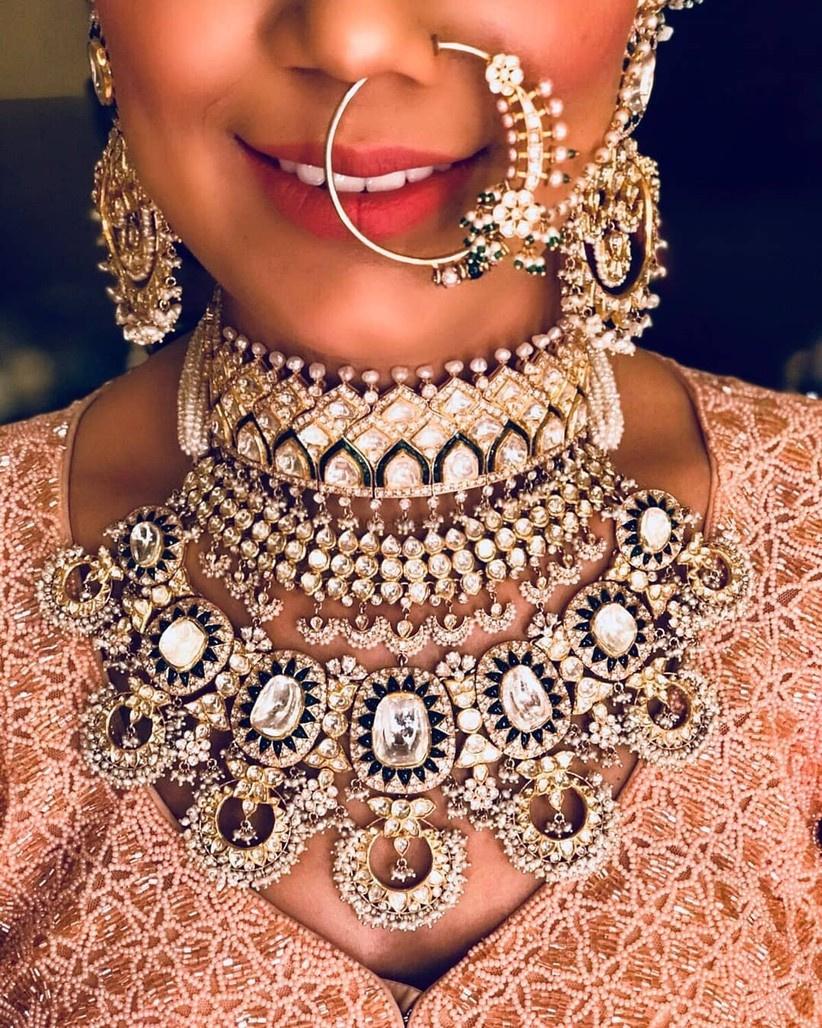 If long layered necklaces are not what a bride-to-be is looking for, then more structured and compact layered necklaces will be a great addition to the wedding wear. We are talking about the luxurious royal Polki choker style that has multiple layers of patterns and motifs, giving an effect of layered necklaces without being too spacious or long upon wear.
White stoned Polki set with a hint of emerald stones and embellished with pearl Latkans makes this style look exorbitant and regal at the same time.
Diamond Choker With Contemporary Haar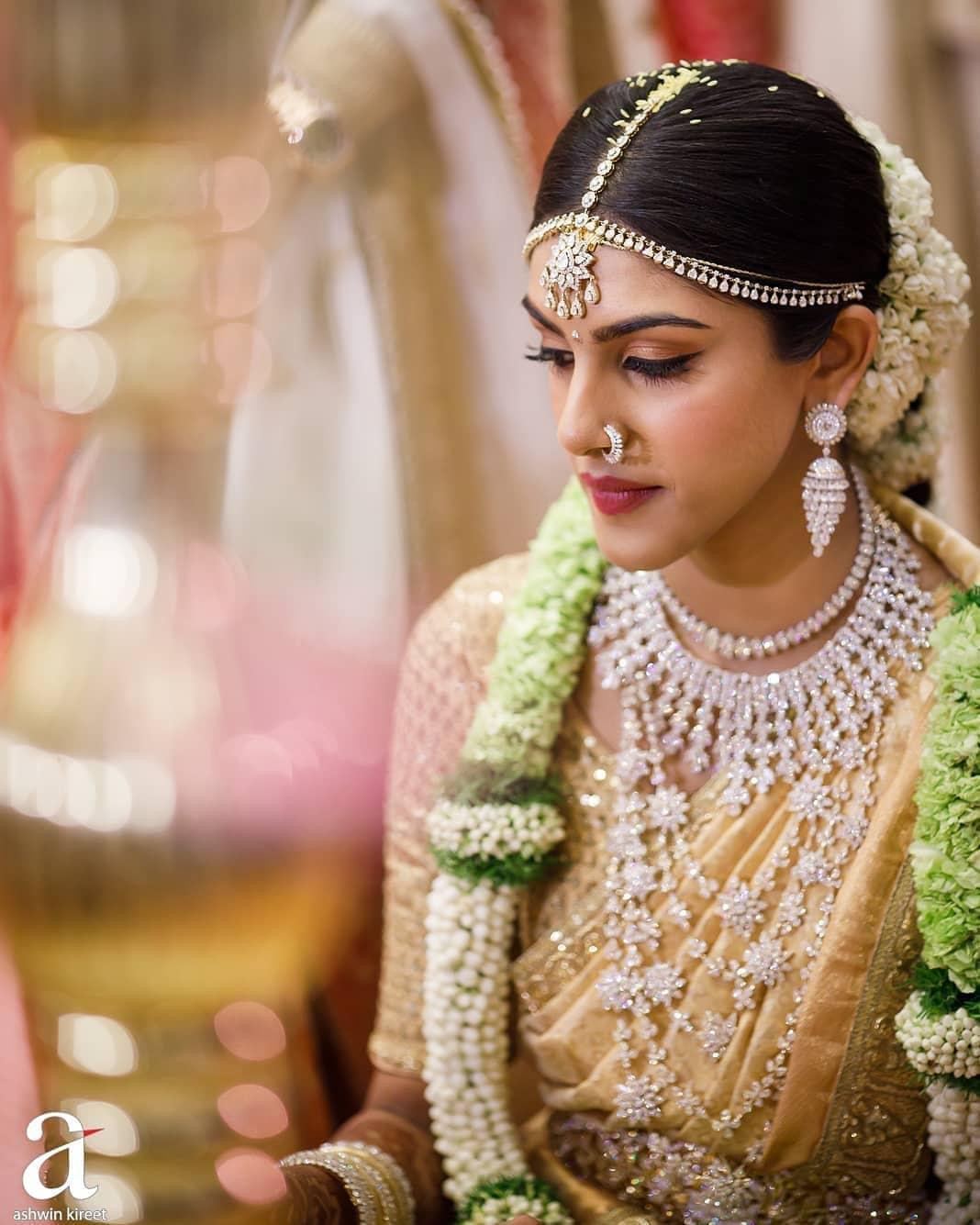 Image Courtesy: Ashwin Kireet Photography
A more modern take on layered necklaces for the wedding wear is this diamond choker with floral Haar. Layers and layers of micro solitaire-studded strands have been sewn together to create a beautiful choker necklace. This choker style has been teamed with diamond-embellished long floral Haar decorated in the same fashion.
The use of similar design embellishment elements in both necklace styles makes up for a great layered necklace set for the bride-to-be. The elegance of this layered style means that the bride-to-be can repeat the layering for adornment on special occasions post marriage as well.
Temple Necklace With Traditional Panchlada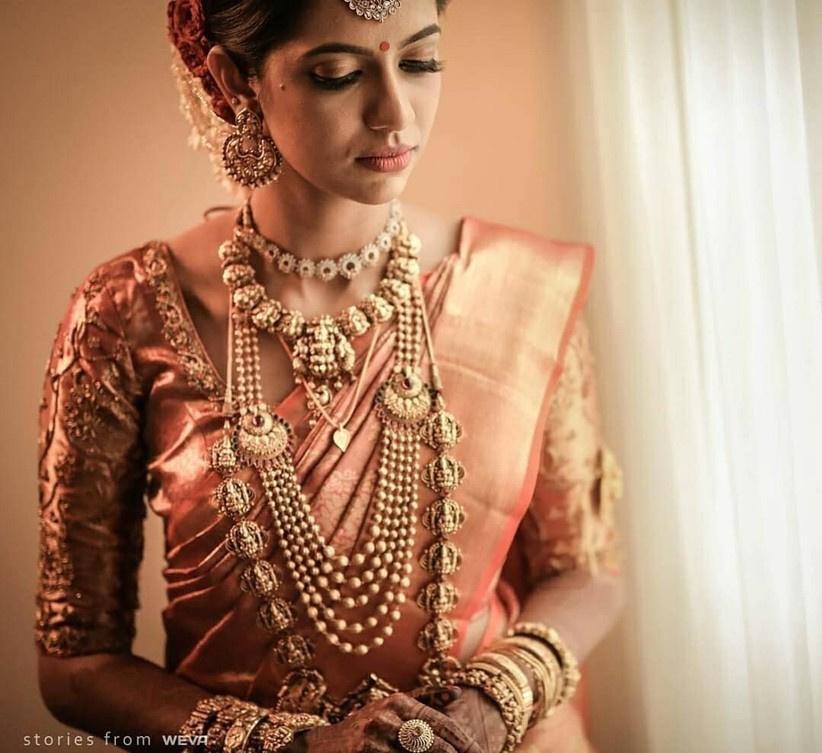 Temple jewellery has been one of the finest heritage pieces of jewellery that were a gift of the southern part of the country and it is in fact now widely celebrated. With the bride to be decked up in a gorgeous Pattu saree and jewellery that boasts of absolute precision, this layered necklace is one to behold with awe. The floral choker is delicately placed in the layers.
The best way to bring these two marvellous necklaces together is by sticking to one combined colour palette for both the necklaces. As seen here, the same hue of antique gold has been used on both the necklaces as the base to match the outfit.
Kundan Choker With Panchlada Rani Haar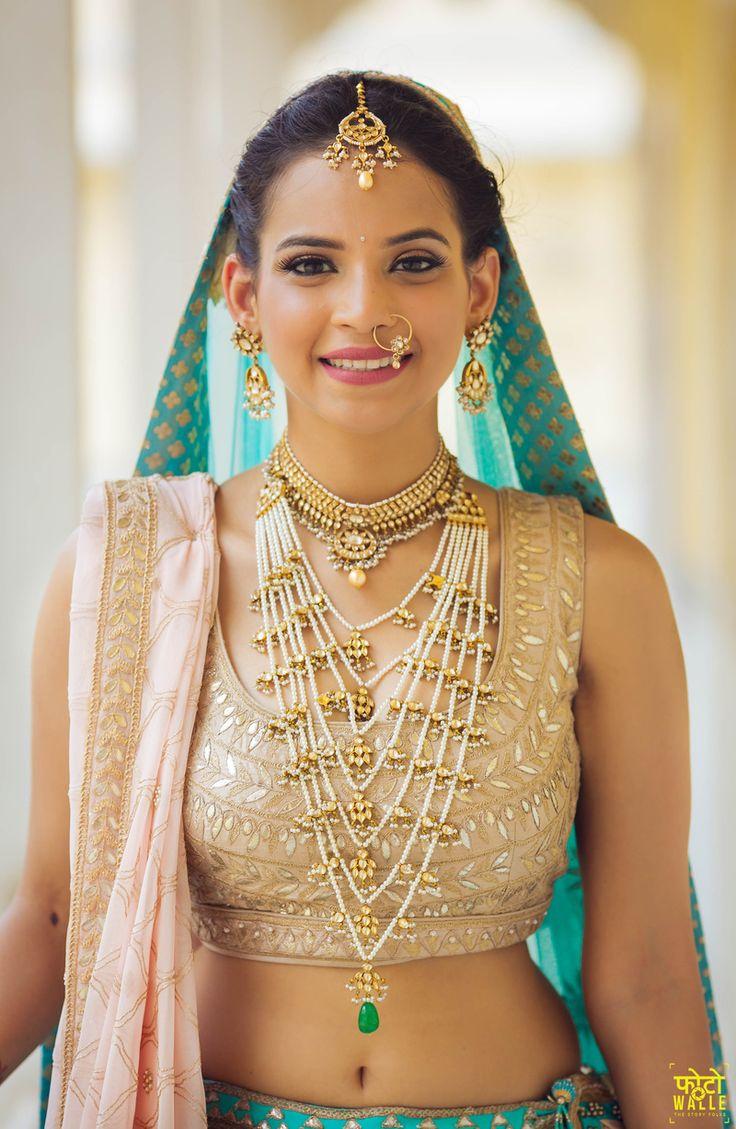 Kundan choker necklaces have become common and are readily available at almost every jewellery store across the nation. So how to make these often worn style of jewellery a more wedding-ready style? Team them up with a Panchlada Rani Haar, which too is a very famous necklace style nowadays. Panchlada refers to the five layers of pearl strands that make up for one royal looking Rani Haar.
Layered necklaces are a great way to combine simple or toned-down necklace styles to create one statement look which is perfect to adorn at the wedding. It is always vital to not overdo the layering method and stick to combinations that compliment each other best. The objective is to bring elements together to create one complete look. Maang Tikka, Nath, Matha Patti and even oversized earrings go very well with layered necklaces for the wedding wear.
Many of the designers and brands listed with us have beautiful designs of layered necklaces available in their latest bridal collections. Take a look!