Everything You Need to Know About the Traditional Meenakari Jewellery and How to Invest in It
Celebrating the craftsmanship of India, its history and its importance in an Indian wedding of the past, present and the future, we present to you a detailed guide on Meenakari jewellery of Rajasthan.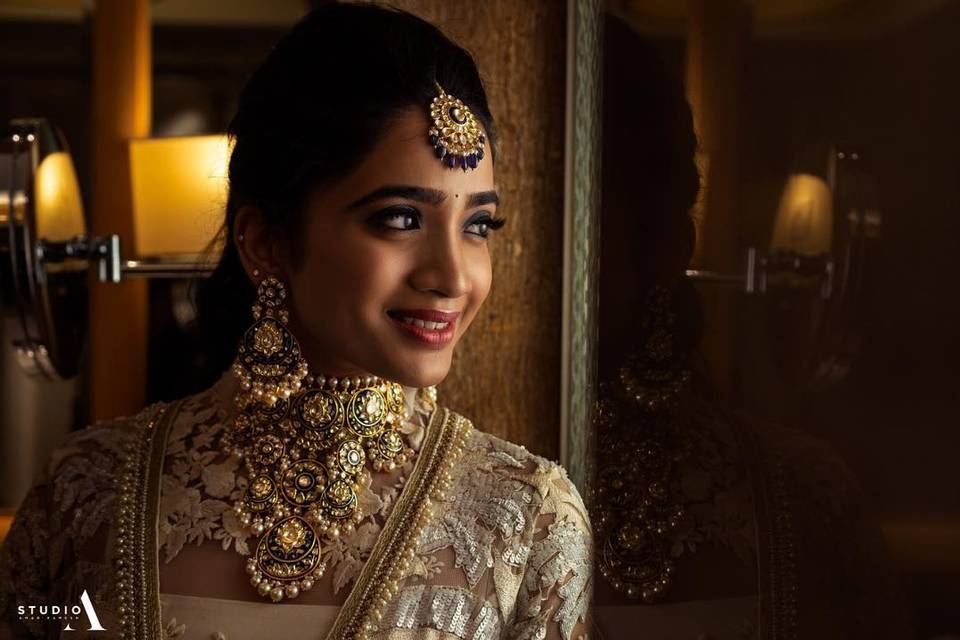 If you have always been in love with the colourful bohemian jewellery of India, then chances are that you are already well acquainted with the famous Meenakari jewellery of Rajasthan. Not just among the foreign tourists that frequent the bylanes of Rajasthan, but it is also famous with the brides-to-be of India who are looking for a royal look for their wedding fall for the beauty of Meenakari jewellery.
An evergreen style of jewellery, Meenakari jewellery comes with varied price tags depending on the material used to create a design, but every design guarantees stealing the spotlight and looking regal today, tomorrow and always. If you too have been smitten by the beauty of this style of traditional jewellery, then this guide will surely help you understand Meenakari jewellery better.
1. The History Of Meenakari Jewellery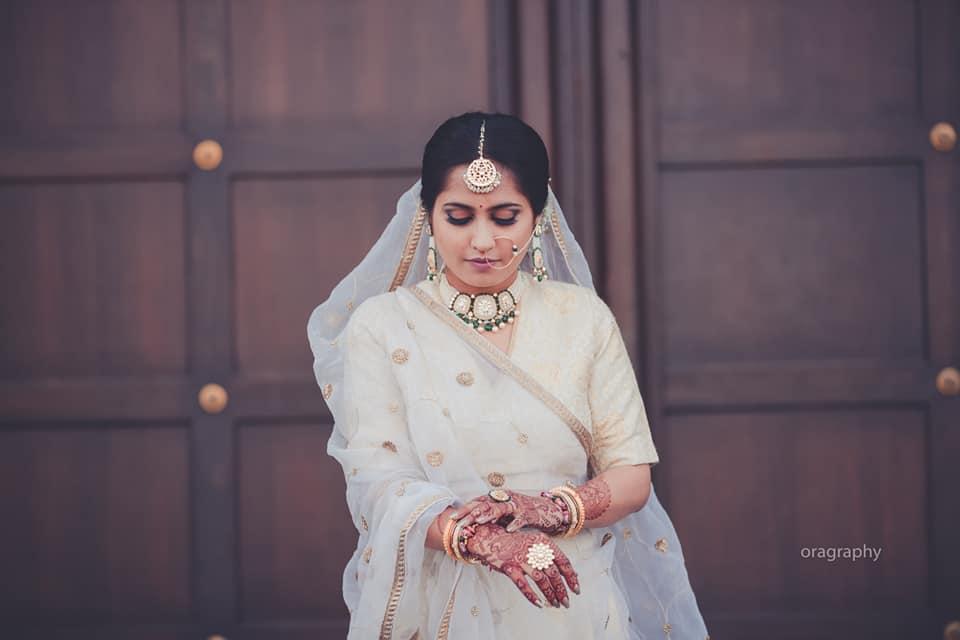 Historically originated in Persia and later brought to India by the Mughal invaders, Meenakari jewellery was quite a native style of jewellery which saw the light of popularity in India only when Raja Man Singh of Mewar decided to flaunt it for his portraits and Darbar ceremonies. In the 16th century Jaipur, the markets set abuzz with the demand of Meenakari jewellery souring high for both Indian and international trades.
Craftsmen of Lahore, who were brought to India by Raja Man Singh of Mewar, set up their base in and around Jaipur to help meet the demand of Meenakari jewellery, creating designs for pockets of all sizes.
2. What Is Meenakari Jewellery?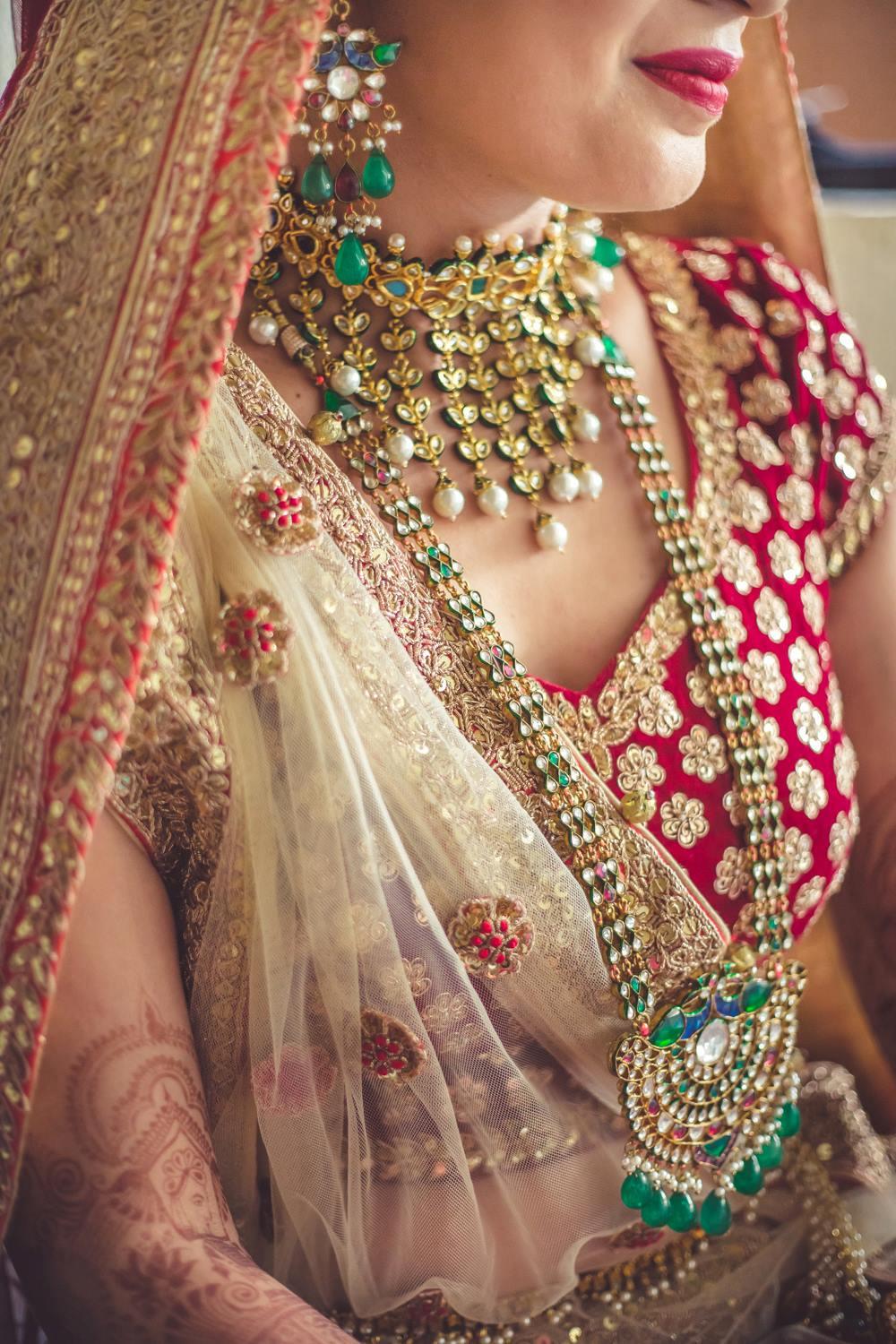 Image courtesy: Shades Photography
This style of jewellery stands out as being unique among other forms of Indian traditional jewellery. Precious and semi-precious stones embedded on the molten coloured glass of varied colours with outlines and bordering done with wires and molten form of gold and silver are some of the most important making factors of Meenakari jewellery.
For royalties, crushed and molten precious and semi-precious stones were used for the colouring procedure, whereas the glass powder was used to produce cheaper versions of Meenakari jewellery for the locals.
3. Regions Where Meenakari Jewellery Is Popular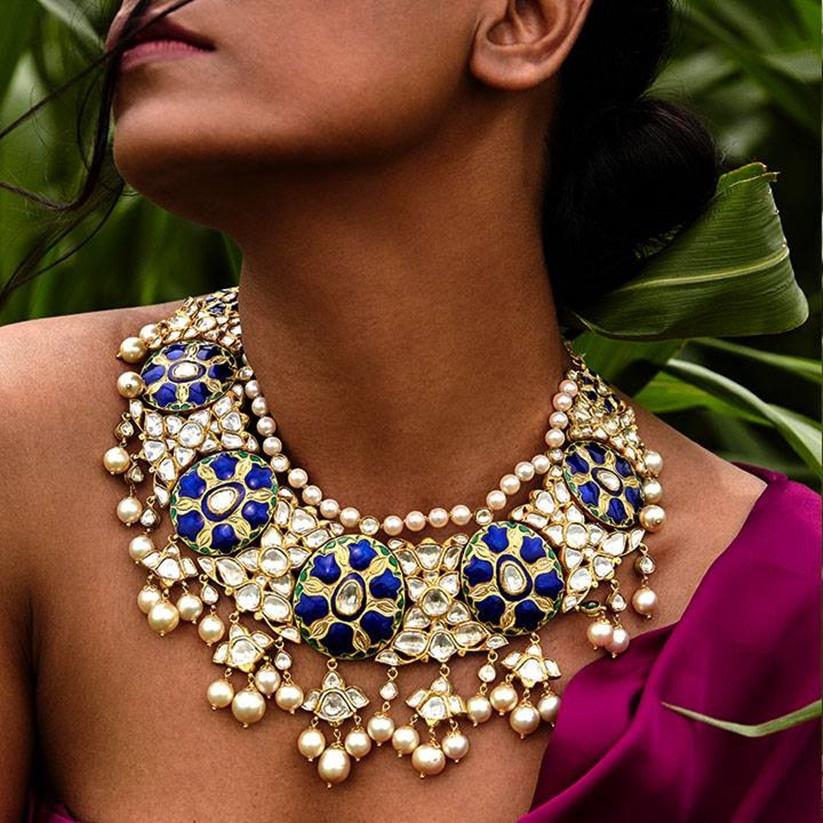 Image Courtesy: Sunita Shekhawat
Although the demand for Meenakari jewellery is high across the nation, it is most recognised and in demand at its place of production. While Jaipur has been the most important hub of Meenakari jewellery since the 16th century, some other parts of the state stand prominent in producing and trading of Meenakari jewellery across the world.
What's interesting to know is that the Meenakari jewellery done in gold can be found mostly in the regions of Jaipur, Delhi and Benaras while the Meenakari done in silver is done in the cities of Bikaner, Udaipur and Nathdwara the most. The glass enamelling of Meenakari jewellery comes from the region of Pratapgarh is highly in demand for its cheaper price tag.
4. Types Of Bridal Meenakari Jewellery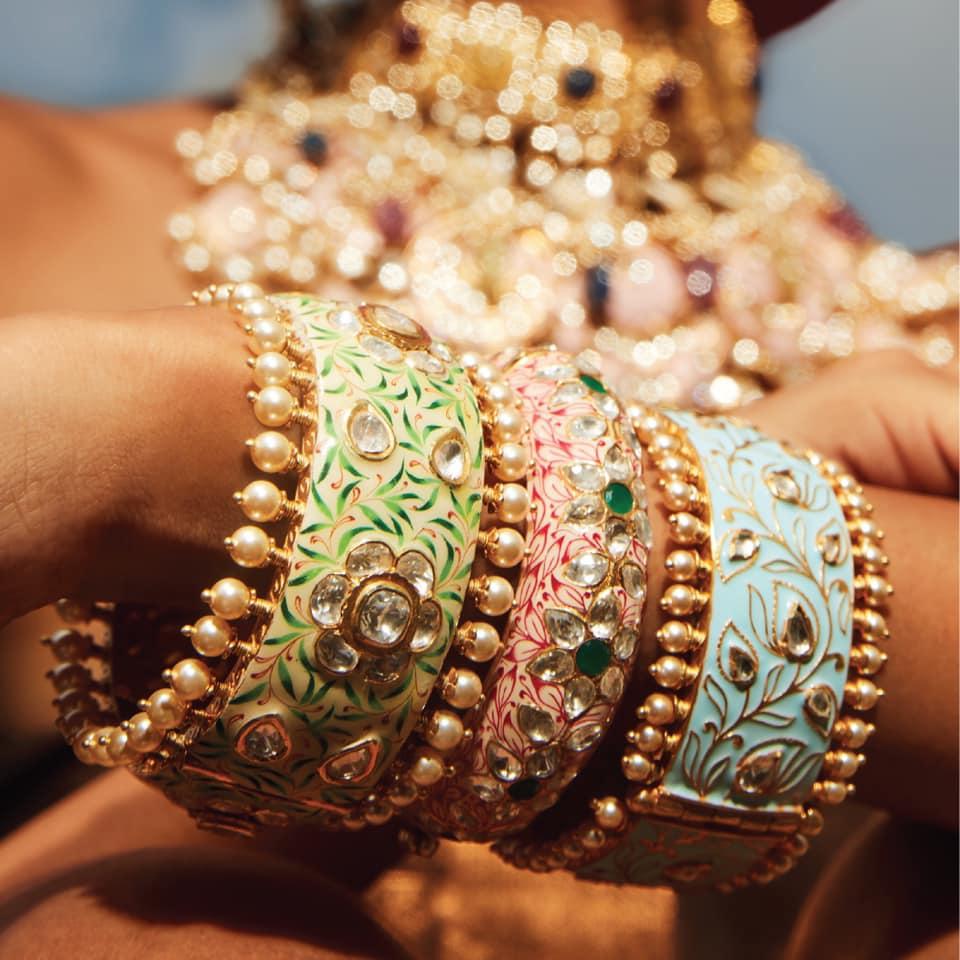 In the native language, Meenakari jewellery can be categorised in two styles - the "Ek Rang Khula" style which when a single colour of enamel is used for the entire design of the jewellery and the "Panchrangi Meena" style which as the name suggests, consists of five colours used to form one set of Meenakari jewellery.
The five colours locally consist of pearl white, powder blue, ink blue, blood red and forest green, vibrant shades contrasted with gold and silver embellishments. Because Meenakari Jewellery has become a prominent jewellery style of Rajasthani, the making process has become an important part of most Rajasthani wedding jewellery.
You will find Meenakari done on Rakdhi, Aarsi oversized ring, Mughal style Bajuband, bridal Chura, Kamarband, Bicchua feet rings, the famous Aad necklace, the hottest trendsetter - Haath Phool and the royal Rani Haar. Currently, Gulaabi Meena style of Meenakari jewellery is high in demand with A-list celebrities to regional brides-to-be ordering the trend to match with their powdered lehengas in perfect harmony. Gulaabi Meena style consists of using baby pink enamelling with a contrast of white glass powder and gold or silver powder and kundan embellishments to create the design.
5. Types of Meenakari Jewellery Patterns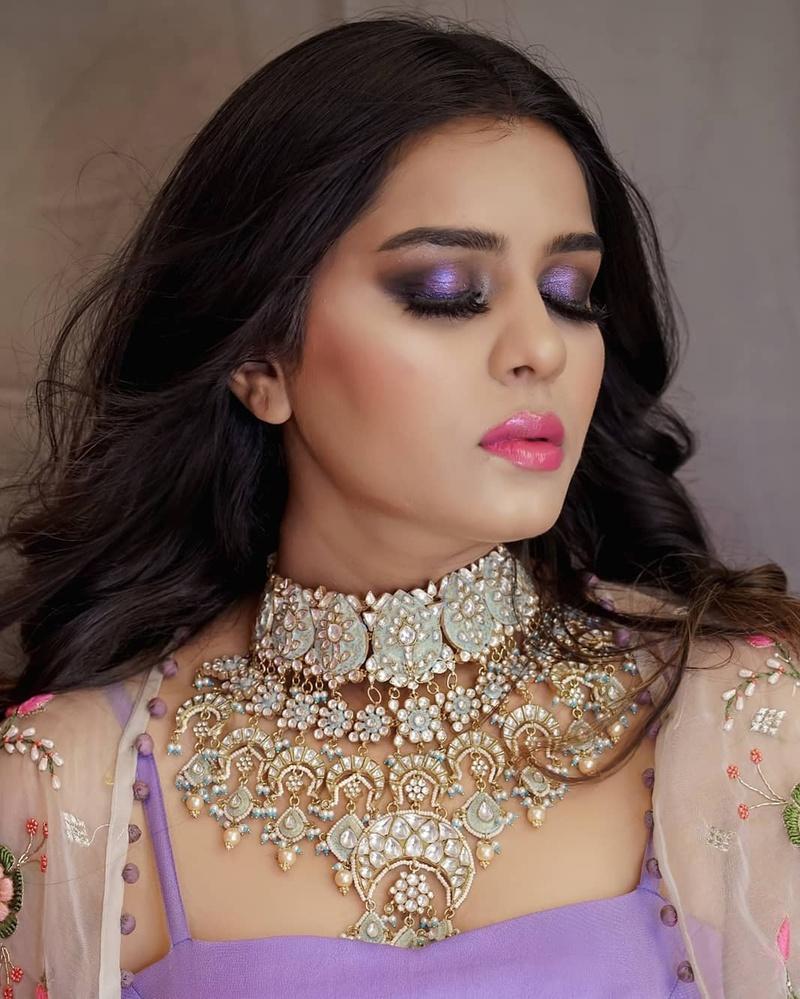 The patterns used for Meenakari jewellery are endless. But the most prominent designs that can be seen on the Meenakari bridal jewellery are a variety of peacock motifs, Mughal floral patterns, paisley twists, portraits of gods and goddesses, leaves, flowers, fish and motifs derived out of Mughal architectures.
The more detailed a design, the higher the price tag of that particular piece of Meenakari jewellery will be. Hence, always keep an eye out for a more polished and clean design of Meenakari jewellery before investing in it for the bridal jewellery set.
6. Investing In Bridal Meenakari Jewellery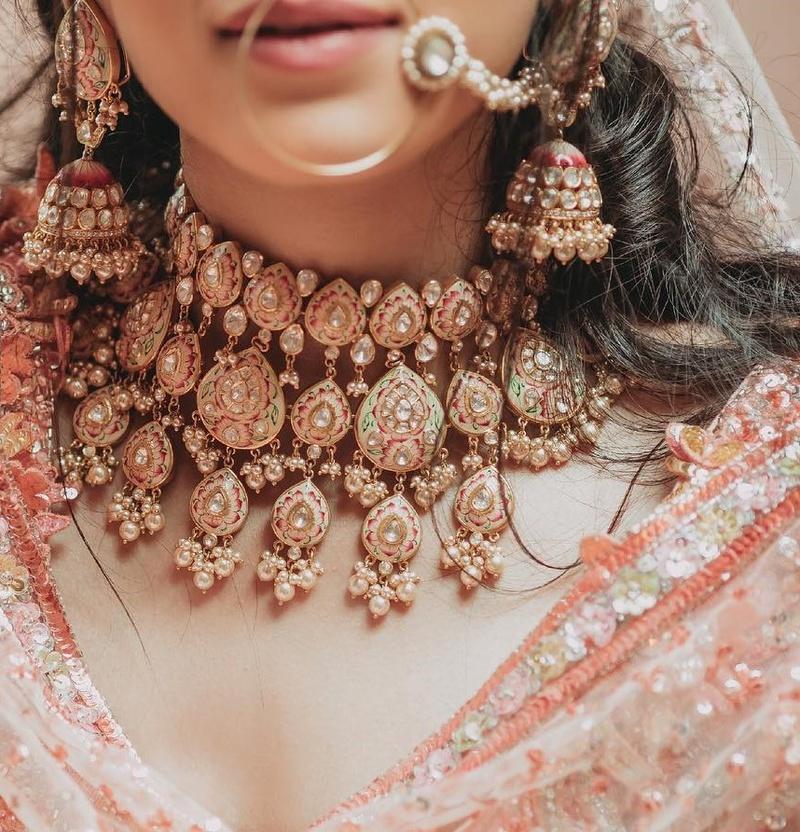 The biggest factor that defines the price tag of the bridal Meenakari jewellery is the type of materials used to achieve the article. For instance, a design of Meenakari jewellery in gold enamel will be costlier than that done in silver enamel which will be pricier than the one done in glass enamel. Apart from this factor, the size of the jewellery will also define the costing as the size determines the amount of material and time consumed to achieve the pattern. After material, comes the price of the design and the finishing.
Every craftsman or jewellery house levy their design cost on each piece of Meenakari jewellery, which may vary from seller to seller. The polished and more neatly detailed look of Meenakari jewellery is the final factor determining the price of the jewel.
For bridal Meenakari jewellery, you can look at investing in semi-precious and precious stone embedded designs, as the value of these stones converts the piece of jewellery into more of future investment. If you are looking at a limited budget for the bridal jewellery, then silver enamelled or glass based Meenakari jewellery in a neat design can be invested in, given the evergreen design nature and sustainability of Meenakari jewellery for decades and leaps.
Meenakari Jewellery outshines every other kind of jewellery and is considered as the epitome of traditional bridal jewellery style of India. The distinct making nature of Meenakari jewellery is what makes this style stand out among other types of bridal jewellery, letting the wearer shine bright as she sets a trend rapport for the bridesmaids in her own wedding. Just like any other type of bridal jewellery investment, Meenakari jewellery too demands detailed research and patient purchase.
So, make sure that you spend more time in finding the right design that's worthy of how much it's priced at. And while you're at it, don't forget to get a certificate of authentification, materials used, its cost and other factors stamped by the seller so that you can save up this jewellery as future savings and investments.
Which type of Meenakari jewellery is your personal favourite? Tell us in the comments below.