Gold Bridal Necklace And How To Perfect The Bridal Look
Do you want to create a unique look with your gold bridal necklace? Discover ways to play around with them with our ideas.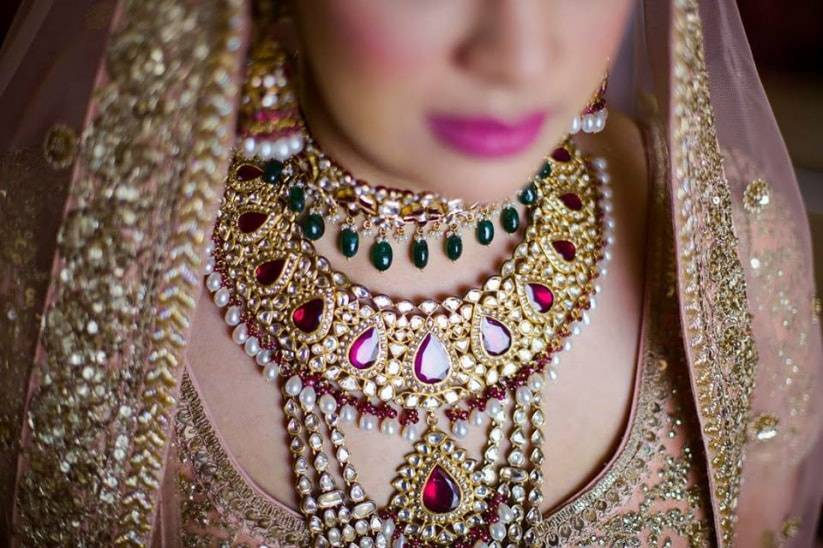 A gold bridal necklace is more versatile than one can imagine. It is more than just an addition to your bridal look to enhance the attire. It is a lot more than just an accessory once the big day has passed successfully because this piece of gold becomes an addition to your heirloom. It's not just a traditional piece of jewellery but one that can completely transform a western look too – it's all about how you style it and the design you choose. That's why buying one requires careful thought. What will you wear them with? How will you style it? Will you be able to wear it on multiple occasions?
Different kind of gold bridal necklaces can be styled with a wide range of attires and many varying looks can be created. While most brides prefer heavy and opulent gold jewellery set for the wedding day, on other wedding ceremonies, elegant and lighter bridal sets can be teamed up. It's all about how you style the whole look and how well your gold bridal necklace adds to that look.
Planning different looks with your gold bridal necklace? Here are some looks you can try and play around with to create interesting looks with your gold bridal jewellery set.
1. Play with the necklace length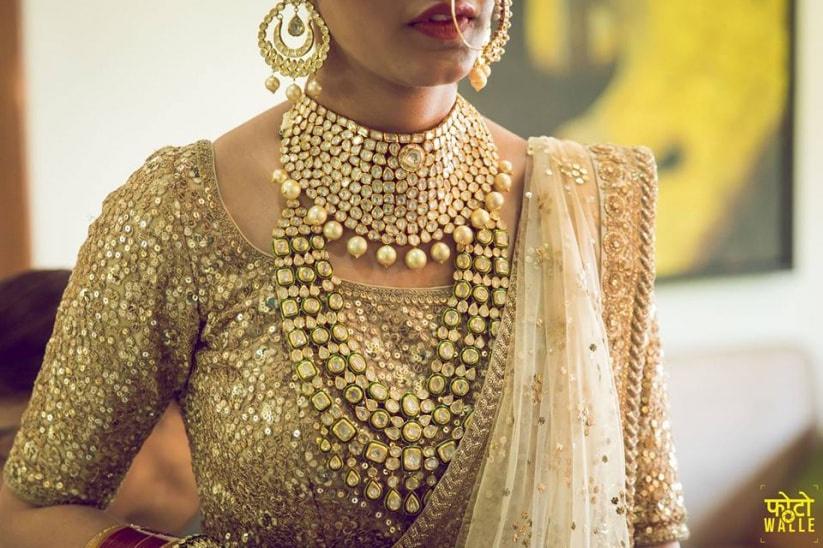 An interesting way to create different looks with your gold bridal necklace is choosing varying lengths of it. From a choker necklace to one going all the way down to your waist, there are varying looks and each has its own charm. A long gold bridal necklace looks great and can be worn both individually and paired with other necklaces. The length of the gold bridal necklace enhances the regal look that you attempt on flaunting on one of the biggest days of your life. Also, adding a long necklace to your bridal jewellery set, you will be able to wear a choker alongside and align both of your necklaces to complement one another all the more. Here's what you can do:
If you want to wear a long gold necklace, the attire you pair it with plays an important role. Long gold necklaces work great with the bridal lehenga as well as sarees. However, if you are planning to wear an Anarkali suit this may not be your best option. The beauty of a long necklace will bloom only when it is contrasted with a little bit of skin. The look that it will exhume when you pair it with a blouse is much different than with a suit. Try it and you will see the difference. The long necklace is also the best fit with flowy long gowns.
Consider fabric, design and print
Another thing to consider here is the fabric of your attire, its print and how it is designed. For example, a long gold necklace may look extremely stylish when paired with a high neck collared silk blouse, however, if the blouse has intricate embroidery all over or encrusted stones, the necklace may not be your best option as it will be overdoing it and the glamour of the necklace will be lost in the sheen of the background. Long necklaces look especially great when worn over rich fabrics and subtle prints serving as a great background.
Consider the occasion you are styling this look for. A long necklace with a saree is a great look for the reception or cocktail but will work better paired with other necklaces for the wedding ceremony. Your own wedding or your sibling's; both of these occasions are perfect for something as regal as a long necklace - an ode to real beauty. It might not fit well for the other pre-wedding ceremonies like the sangeet or mehendi.
2. Play with the number of necklaces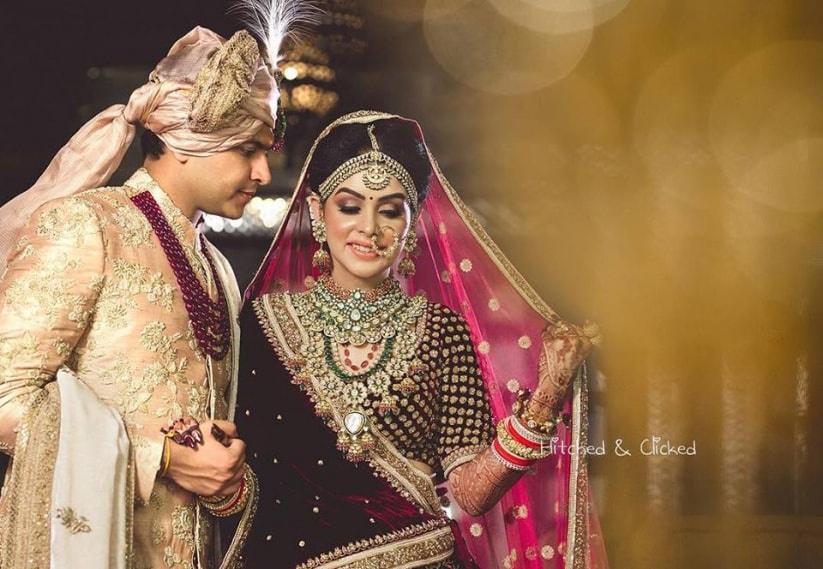 Who said you can wear only one gold bridal necklace at a time? Wearing multiple necklaces together creates a beautiful layered look that adds to the drama and the opulence. South Indian brides usually wear multiple gold necklaces, but the trend is catching on across brides across India. This can be a combination of two bold and broad necklaces or multiple thin ones of varying lengths. The queen is always seen to carry multiple pieces of jewellery layered beautifully to make her stand out amongst the rest, and you are the queen of this big celebration. Here's what you can do:
Multiple layers of gold necklaces work very well with almost all kinds of ethnic attires. However, if your attire has a heavy and jewelled pattern around the neck, you may not want to overdo it. Multiple layers of necklaces work great with silk sarees, bridal lehengas that have a broad neckline and even western attires like Dhoti-style sarees, off-shoulder blouses with a flared skirt and boat neck gowns.
A great benefit of multiple layers of necklaces is that each can easily be restyled. You can wear each individually at other wedding ceremonies and even easily show them off post the wedding functions.
Multiple gold necklaces look great at almost all wedding functions. For the wedding you can layer 4-5 necklaces of varying lengths, however for other ceremonies stick to a maximum of 3, depending on the attire. A choker necklace and a long necklace works great for occasions like the engagement, reception and cocktail.
3. Play with gold necklaces from different traditions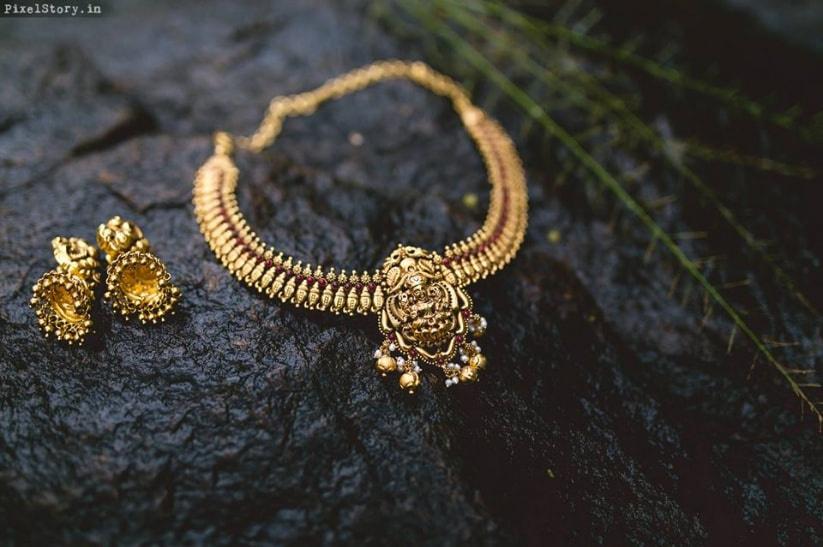 Every tradition has its own signature design of a gold bridal necklace. For example, the very famous temple jewellery design from South India. Whether or not you follow these traditions, you can always add these styles to your wedding look. The best part about traditional gold necklace designs is that these are timeless looks that will never go out of style. Additionally, traditional gold bridal necklaces are a great choice for brides who like to keep it traditionally simple. Upholding the essence and feel of the celebrations during your D-day you will look stellar in them. Here's what you can do:
Traditional gold necklaces look great with all kinds of traditional attires. However, you can create a fusion look too with traditional designs paired with trendy outfits. For example, a traditional Meenakari necklace from Rajasthan can look great with an attire like Dhoti pants and a cape style blouse or a one-shoulder blouse with a Ghagra. You can choose traditional colours and keep your styling on-point.
Let's face it, gold jewellery and bridal jewellery sets is expensive and if you can only wear it once it's going to pinch your pockets. Traditional gold necklaces are for life and can easily be worn again and again no matter what the occasion is. From the intricately designed ones to the simple chains, you can wear them again on any occasion and steal the show even if years have passed after buying them.
4. Play around with different crafting styles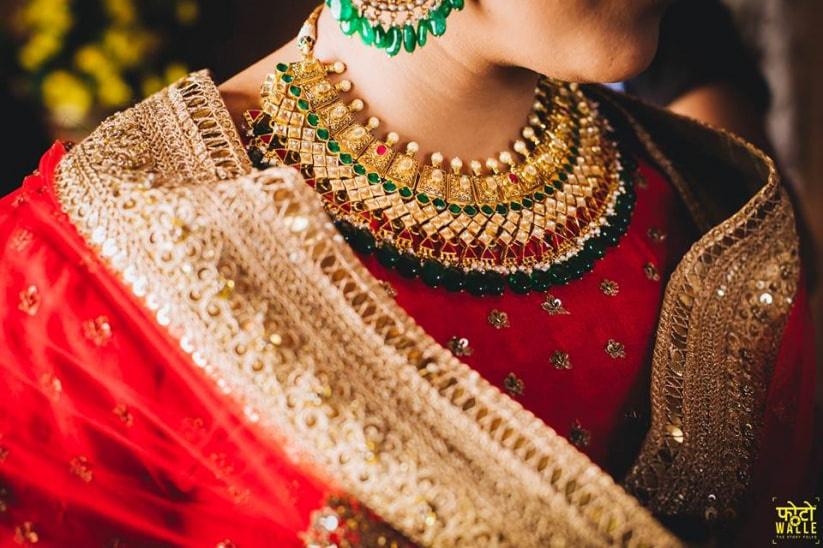 India is known across the world for the varying crafts and styles in jewellery designing. Every state has its own unique crafting style and each is remarkable and spectacular on its own. From the regal Polki and Kundan to the colourful Meenakari and the elegant Jadau. In fact, many modern-day trends like geometric shape jewellery have also made its niche amongst the popular crafting styles of jewellery. Here's what you can do:
The colour of your attire can help you pick the perfect crafting style. For example, if you are wearing a pink and blue bridal lehenga you can pair it with glittering Kundan or pick a set in the same colours crafted in Jadau style. These techniques of jewellery are a timeless trend and they go even with western wear to create the perfect Indo-western look.
The attire you wear can also help you pick the crafting style of your gold bridal necklace. If you are wearing western attire you can pick more modern crafting styles and if you are wearing traditional attire, consider traditional craft designs.
The world of jewellery is wide and glittery and there are endless possibilities to create stunning looks for every occasion and ceremony. Special occasions deserve the very best of styles and the jewellery you pick plays an important role in that. What look will you rock on your wedding and how will you style your gold bridal necklace? Will you go all traditional, create a fusion look or create your own personal style?
Have more ideas on styling gold bridal necklace? Share your tips with us in the comments below.