8 Maang Tikka Sets You Need on Your Big Day to Look Like a Star
Are you on the lookout for some fabulous Maang Tikka sets for your big day? Well, you are at the right place! We've got 8 stunning Maang Tikka sets just for you!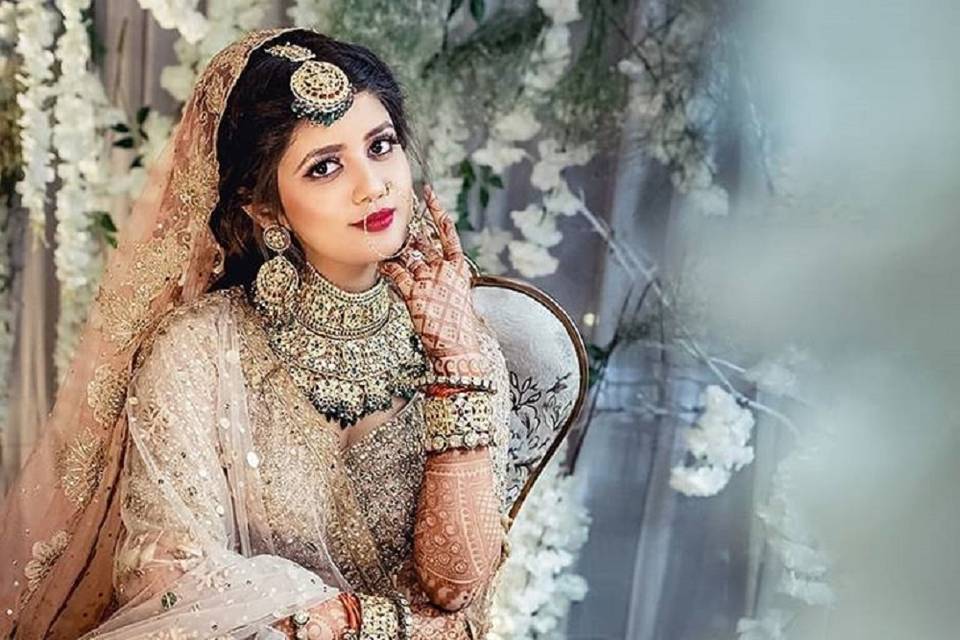 An Indian bride would seem incomplete without her wedding jewellery to compliment her look. So, whether it's a heavy necklace or even a simple one, going in for wedding jewellery for your big day is key – at least for an Indian bride! A Maang Tikka is one such ornament that most brides swear by, and planning your wedding day without this piece of ornament would be taboo for some. There are plenty of fabulous Maang Tikka set designs to choose from and you can get them from a number of different stores.
You can even get your customised according to your own taste and style as well. Right from pure gold and diamonds to imitation and artificial jewellery, you can get tons of designs at some of the best rates across the country. If you're getting married anytime soon, and are looking for some stunning jewellery to compliment your wedding day attire, then this post will help you out for sure. Here are 8 gorgeous Maang Tikka set designs that you should consider for your big day too!
Elaborate Maang Tikka Set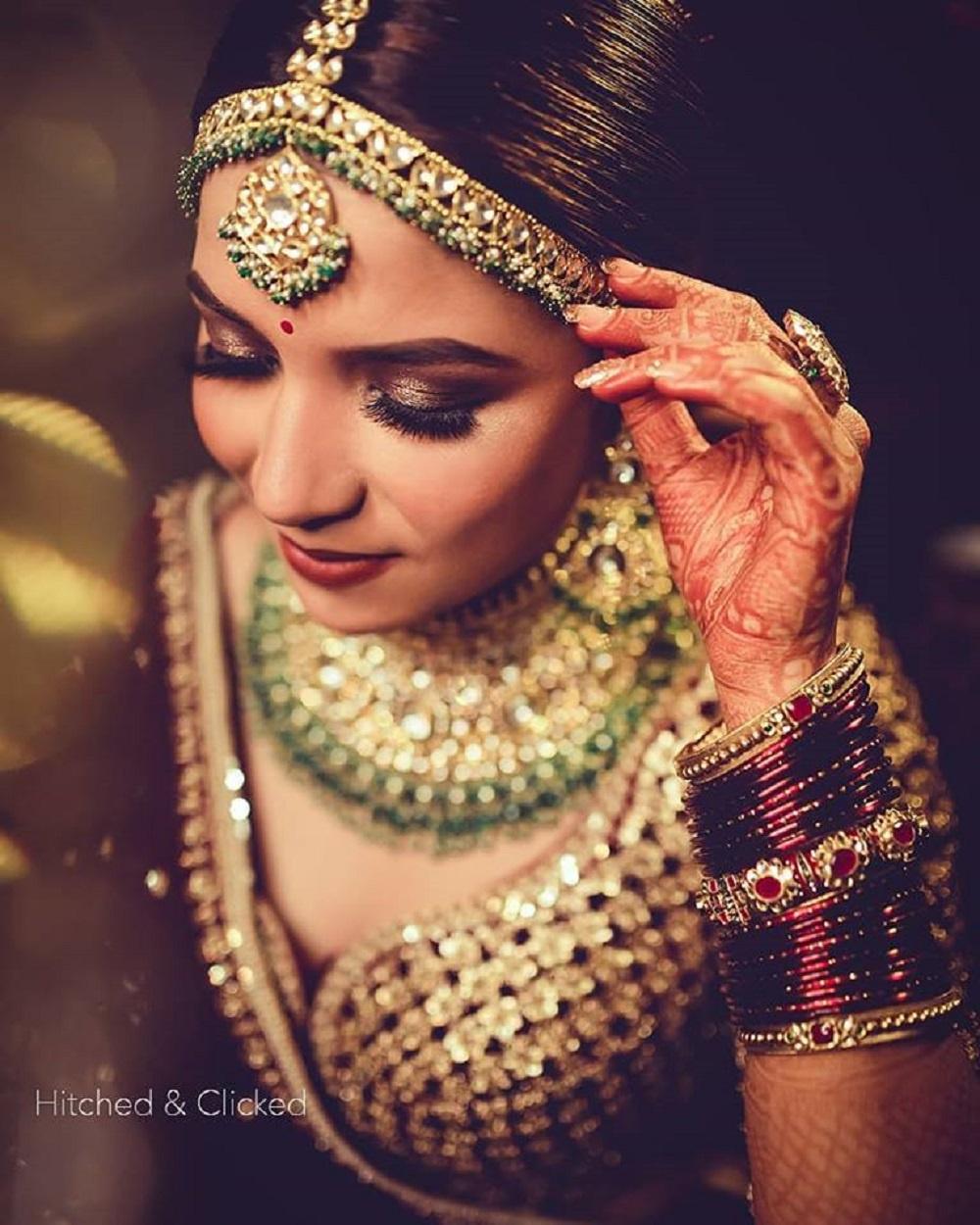 If you would like to go elaborate with your jewellery, then choosing something like this would be a good idea. This is a heavy Maang Tikka that comes with a chain and is adorned beautifully with white stones and green tiny beads. This set is perfect you're your wedding day since it comes with all the right elements to help you look stunning.
This Maang Tikka comes with a matching set of earrings, a ring and a heavy necklace that just brings the entire look together. If you do not like the green colour of the beads, you could also opt for other colours to match up with your outfit. You can order your favourite Maang Tikka set from Om Sons Bridal Store in South Delhi.
They have been in the business for a long time now, and have a lot of experience when it comes to bridal jewellery. You can discuss your design with them and they will offer you the best ideas to give you a fabulous statement piece for your big day. Here, you can find a wide range of different Maang Tikka sets. Prices start from ₹500 onwards, this, of course, would depend on the design and style of the jewellery you order.
Stunning Maang Tikka Set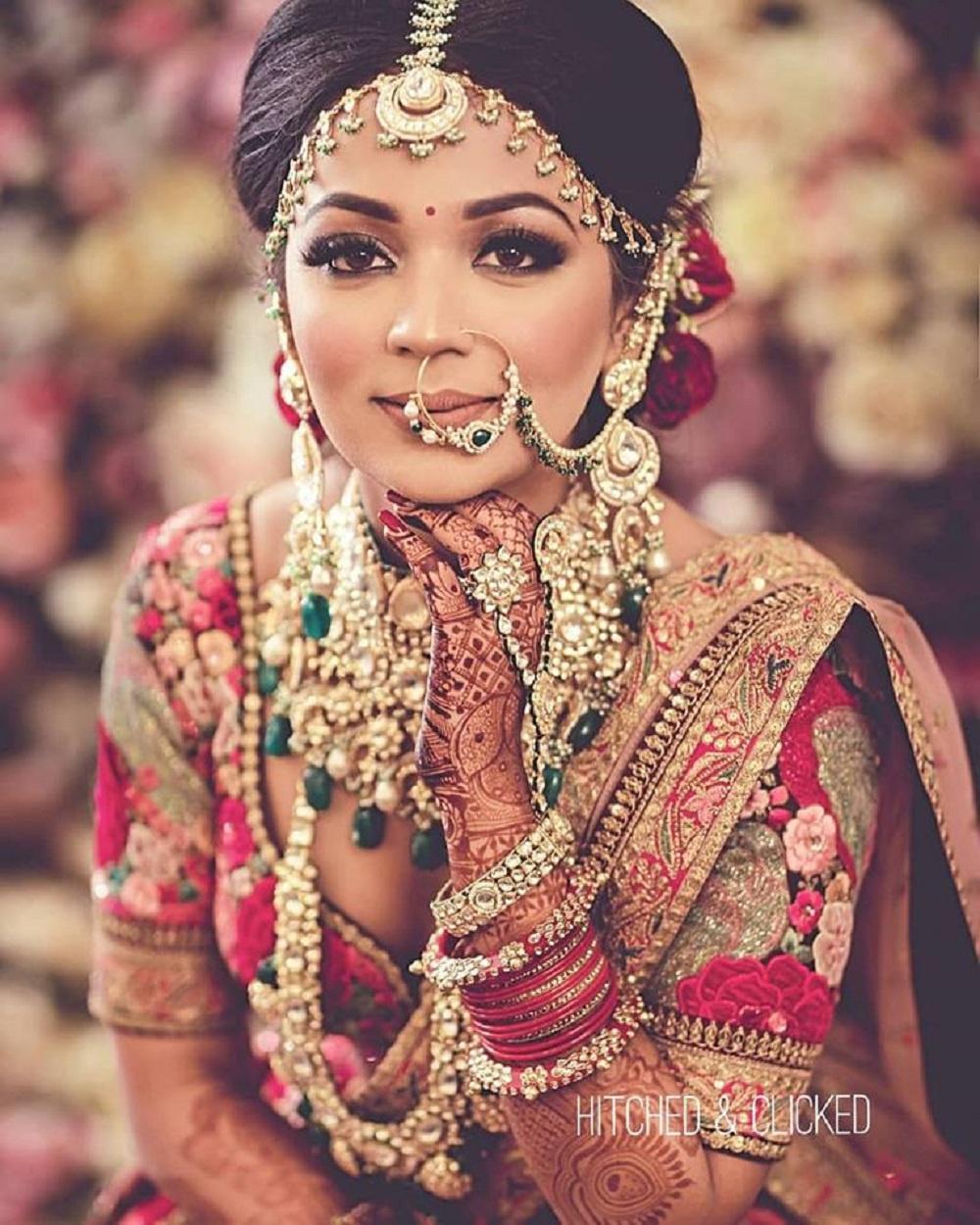 If you're going for a complete jewellery look for your wedding day, then check out this stunning Maang Tikka set design that's all things beautiful. This is a gorgeous chain-like Maang Tikka with pretty bells running along with the design.
This piece comes complete with a matching pair of earrings, a chained nose ring and of course an elaborate necklace that's simply stunning. The neckpiece comes with huge emerald stones that just adds on to the whole Maang Tikka set. If you would like, you could ask your jewellery designer to add those emerald stones on your Maang Tikka too.
If you're in for real jewellery, then you could get in touch with A.K.Zaveri, a fabulous jewellery store located in Ahmedabad. Here, you can find a plethora of jewellery designs like classic, contemporary, regional, designer and even vintage designs. If you would like to order your own design, then the company will leave no stone unturned and will deliver the desired product within 1 and a half month to your satisfaction. Prices start from ₹1,00,000 and go up to ₹8,00,000, depending on the design you select.
Gorgeous Maang Tikka Set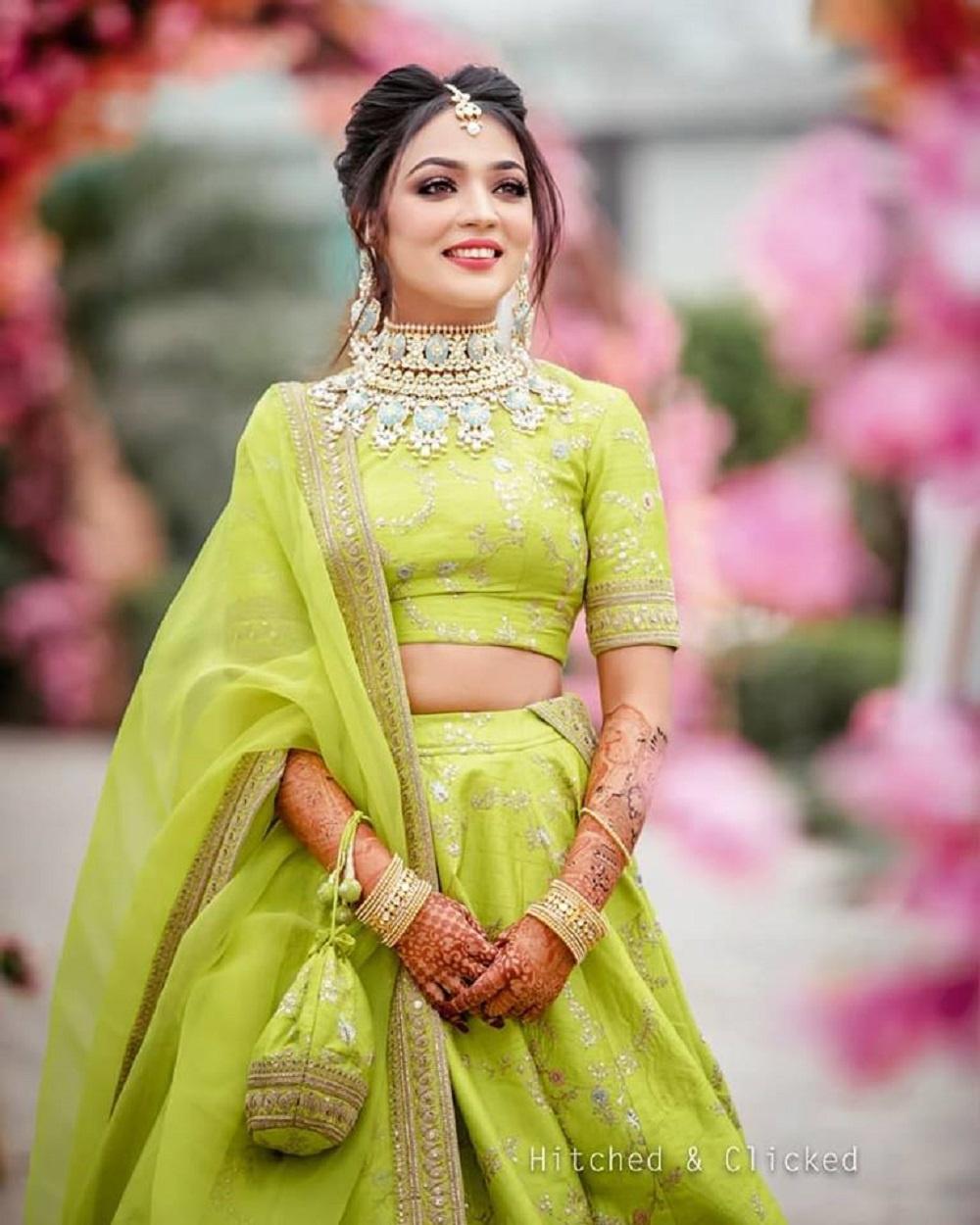 Are you looking out for a Maang Tikka set that's a combination of dainty and elaborate? Well, how about this stunning design? This bride just knows how to do it right when it comes to her wedding jewellery and this shows through the selection of her fabulous getup.
The lemon green lehenga along with her light turquoise jewellery has blended perfectly to bring out the best in the overall look. This Maang Tikka set consist of a dainty Maang Tikka that's combined with beautiful long earrings and an elaborate choker-style necklace. The entire set comes with huge light blue turquoise stones that are definitely the centre of attraction when it comes to her jewellery.
Contact Amrapali, Juhu Church Road for your jewellery needs. They make real jewellery, imitation and artificial jewellery, floral jewellery and semi-precious stone jewellery too. Their experience includes Hollywood stars Jennifer Lopez, Angelina Jolie, Penelope Cruz and Rihanna, while they have also designed for Bollywood beauties like Vidya Balan, Kajol, Sonam Kapoor, Deepika, Madhuri Dixit, Alia Bhatt and Kareen Kapoor, to name a few. Prices on request.
Stunning Gold Maang Tikka Set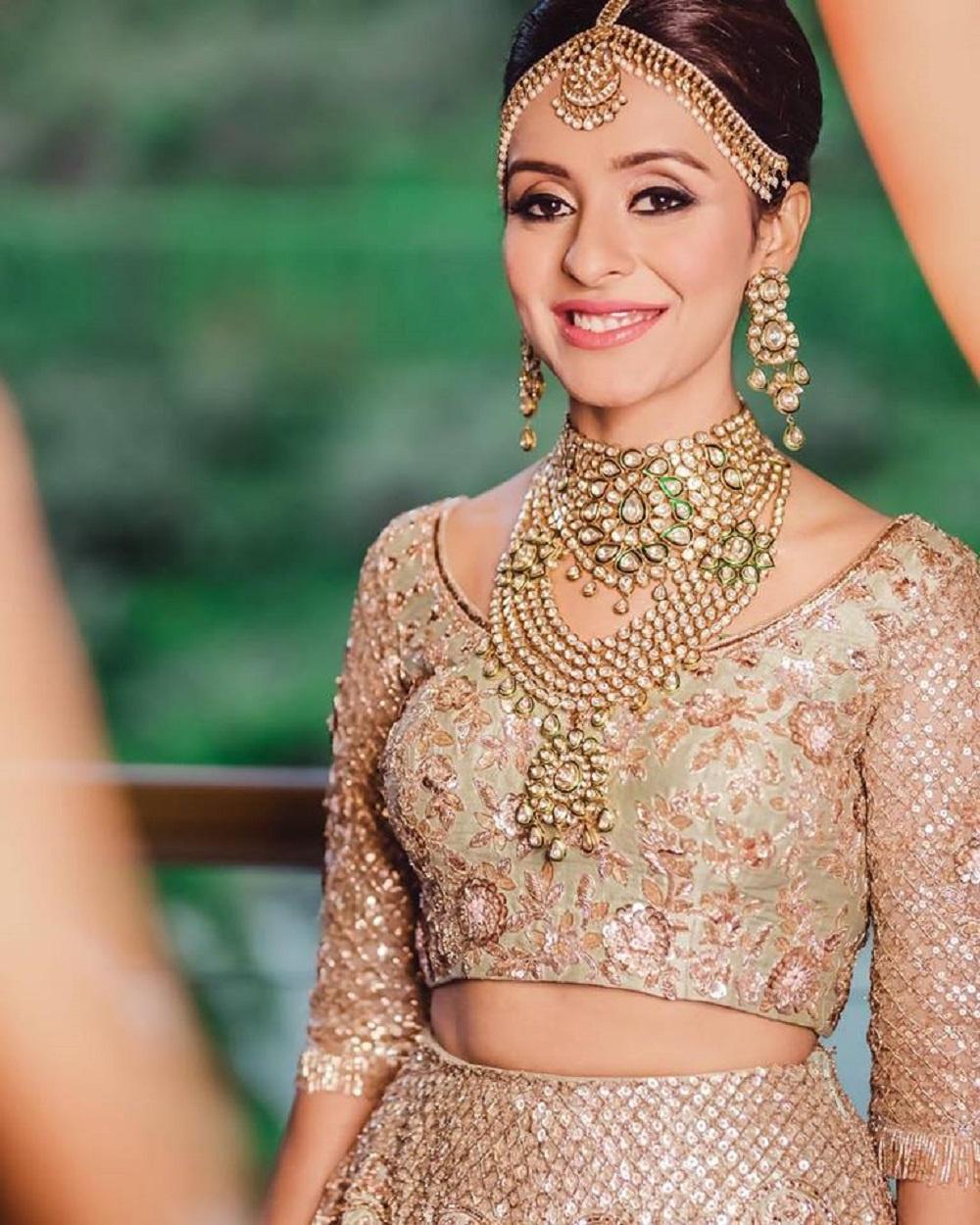 If you're a bride who loves to stick with the gold look, then probably you should go in for a Maang Tikka set just like this one. This bride has gone the gold way and got herself a chain Maang Tikka with matching earrings and a layered, heavy necklace.
The entire jewellery comes with white stones that match up with her lehenga. The Maang Tikka sits perfectly right in the centre of her forehead, making her shine and glow. Get in touch with Jaipur Jewels for a Maang Tikka set like this. This jeweller is known to be immersed in Indian traditions and history and offers a wide range of classic to contemporary jewellery designs.
The brand has around seven generations of experience, creating exquisite jewellery for aristocracy and royals. Started a hundred and fifty years ago, they were craftsmen of Jadau jewellery and later became the popular choice of royals. Here, you can find Jadau jewellery, diamond, pirohi and stone jewellery. Price on request and based on design.
Classy Maang Tikka Set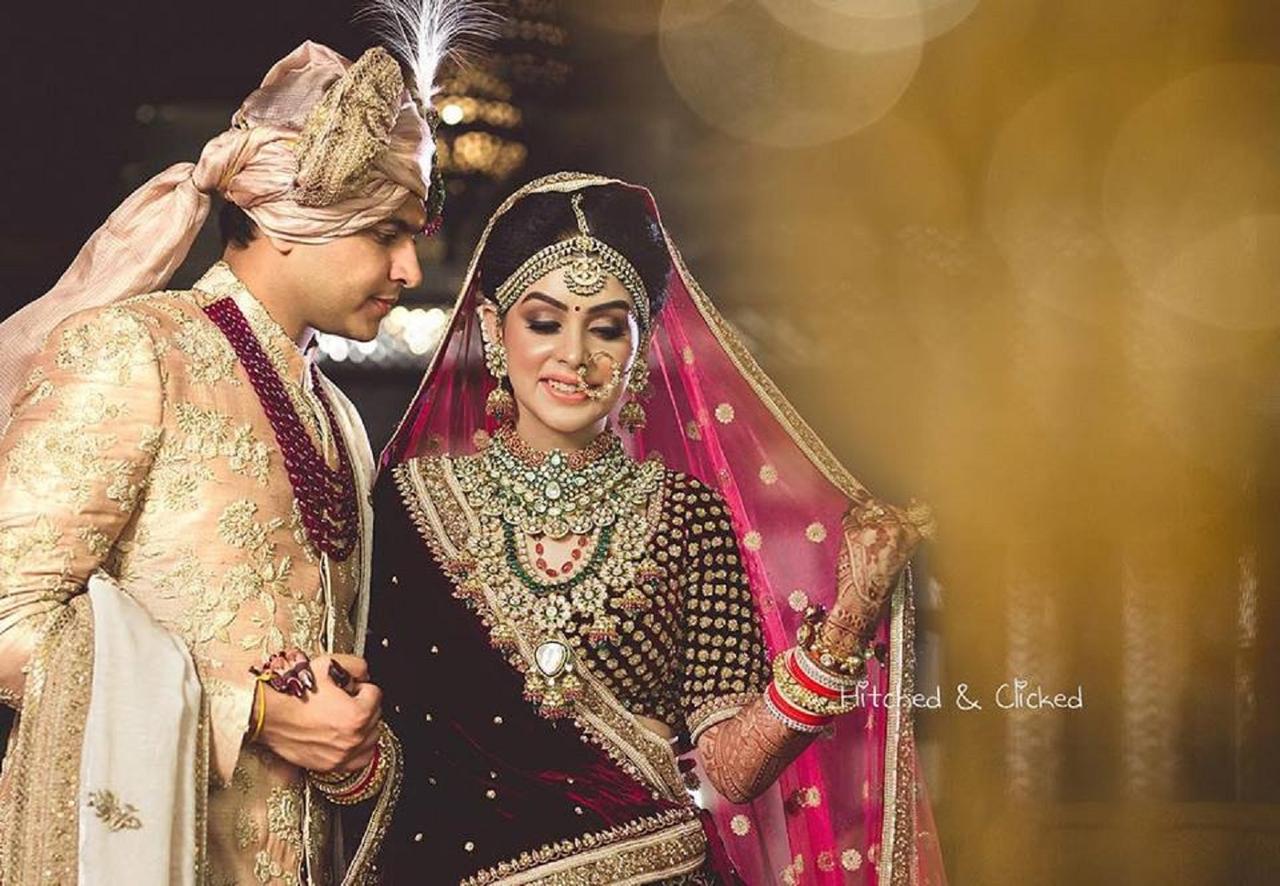 How stunning is this bride showing off her classy Maang Tikka set? When your wedding outfit is designed by Sabyasachi, you just cannot go simple with your wedding jewellery, right? So, going in for an elaborate and heavy design like this would always make you the perfect bride.
Right from the chained Maang Tikka to the nose ring, earrings and necklace, we have to say this bride has really taken the trouble to get her to look all right and perfect. If you're looking for elaborate Maang Tikka set designs just like this, then choose Raabel, a jeweller that's based out of the city of Lucknow.
This is your one-stop destination for all your jewellery needs. They artfully design your jewellery using sterling silver and semi-precious stones. They offer a wide range of jewellery options to suit your Sabyasachi outfit.
The Perfect Maang Tikka Set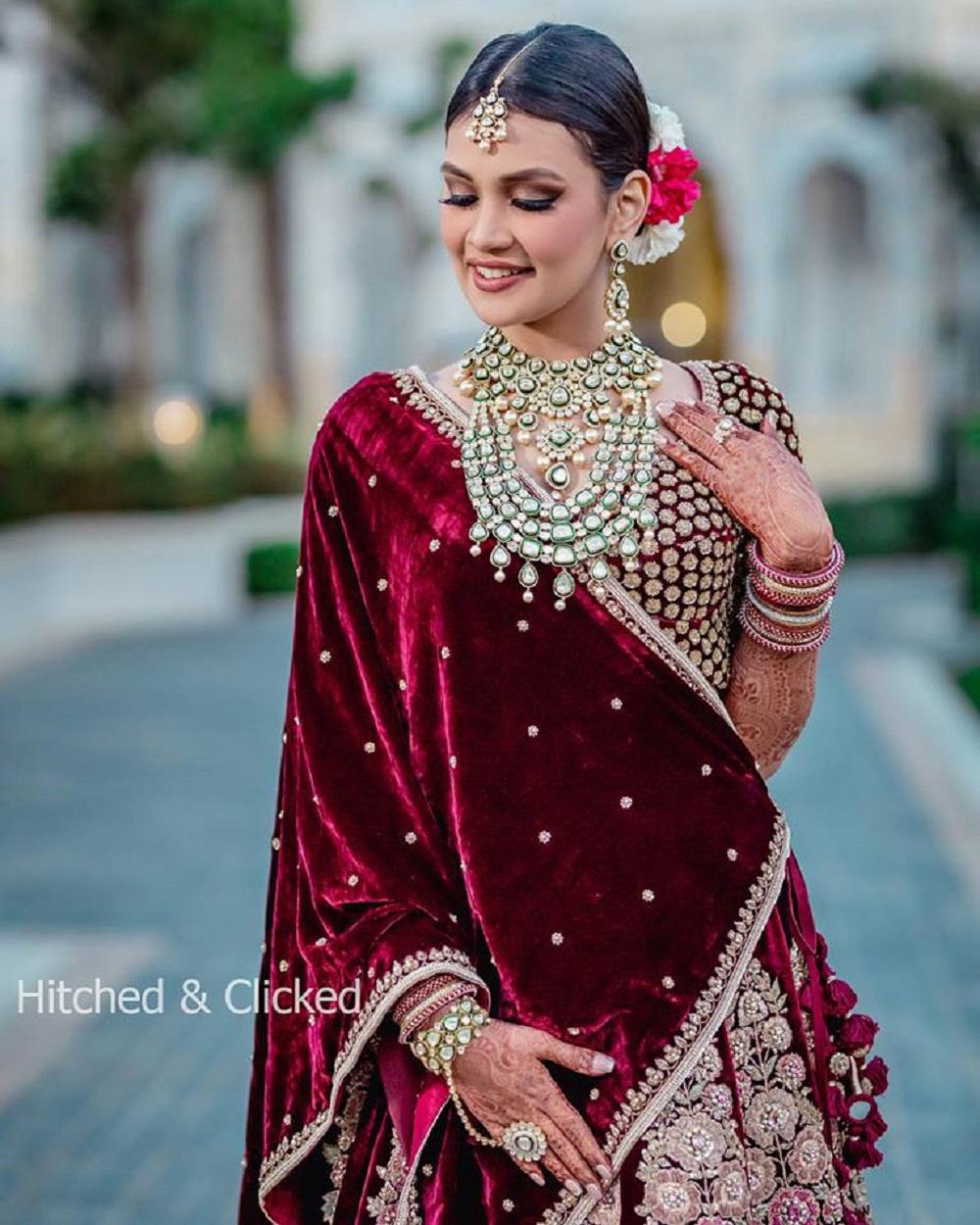 Looking for a Maang Tikka without chain set, then a design like this would be perfect for you. Clubbing this with a stunning designer lehenga would add on to the overall look of your attire. This set comprises of a simple Maang Tikka that's small and dainty, while the earrings are long and the necklace is elaborate.
It's not always necessary to go elaborate with every piece of jewellery, you can go to this bride's way and choose a small Maang Tikka with a heavy neckpiece. You can order a design like this from GD Sons Jewellers Pvt. Ltd, Chandni Chowk in North Delhi. They have some fantastic jewellery collection that you can choose from. Here, you can pick from classic, contemporary, designer, vintage, real jewellery and even semi-precious stones as well. Prices start from ₹70,000.
Sheer Elegance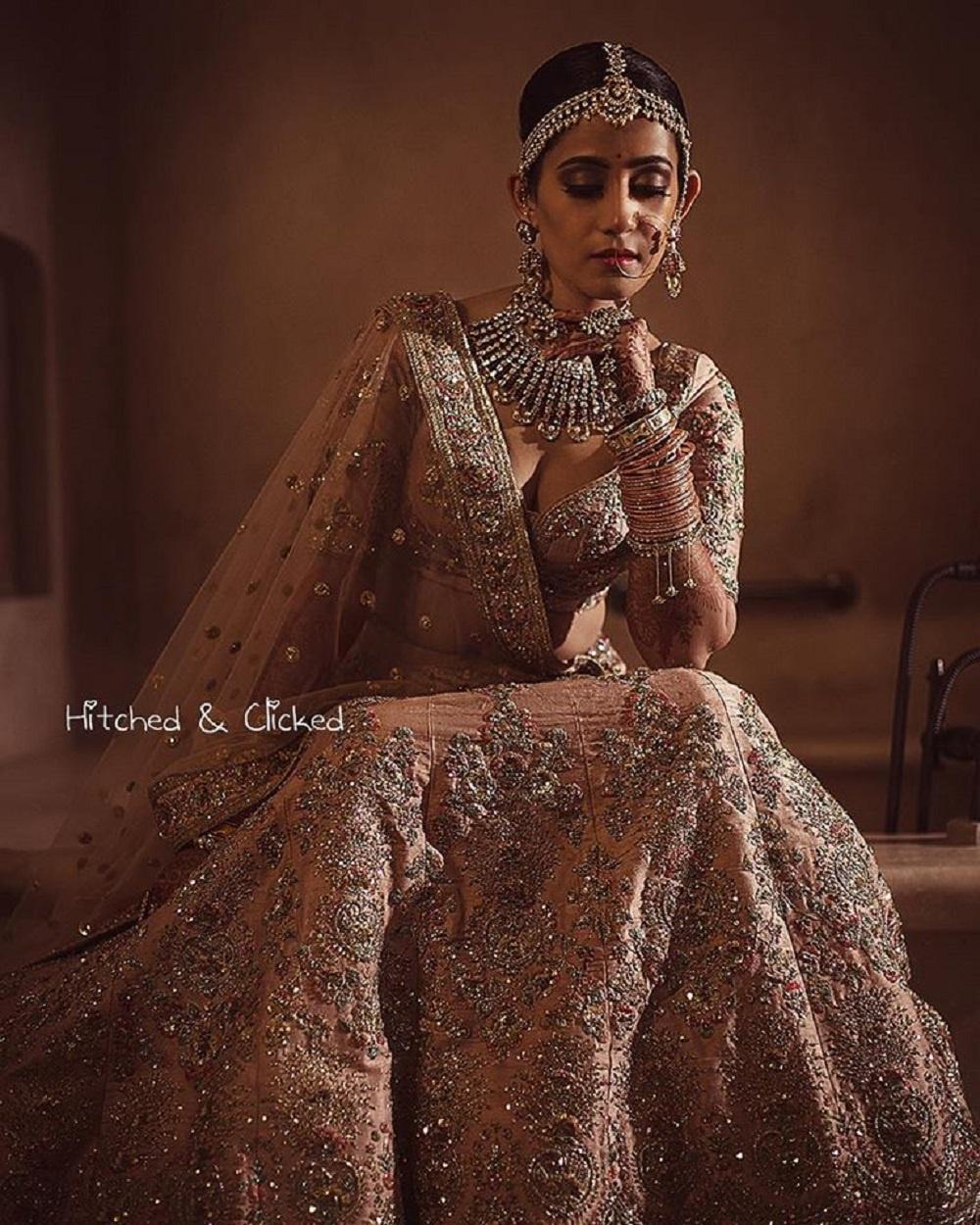 This Maang Tikka set is all things beautiful. The set consists of a stunning chain Maang Tikka with a similar designed set of earrings and a necklace. The necklace is quite elaborate and draws attention right away. A set like this can definitely make you the centre of attraction from the moment you step in the room.
Order a design like this from Kalyan Jewellers, Ajitgarh, Mohali. A premium jewellery store that offers some of the best designs for brides. The jewellery collection consists of traditional and contemporary designs made in diamonds, gold, precious stones and other precious metals as well. You can order your favourite design and walk your wedding day in style!
Traditional Maang Tikka Set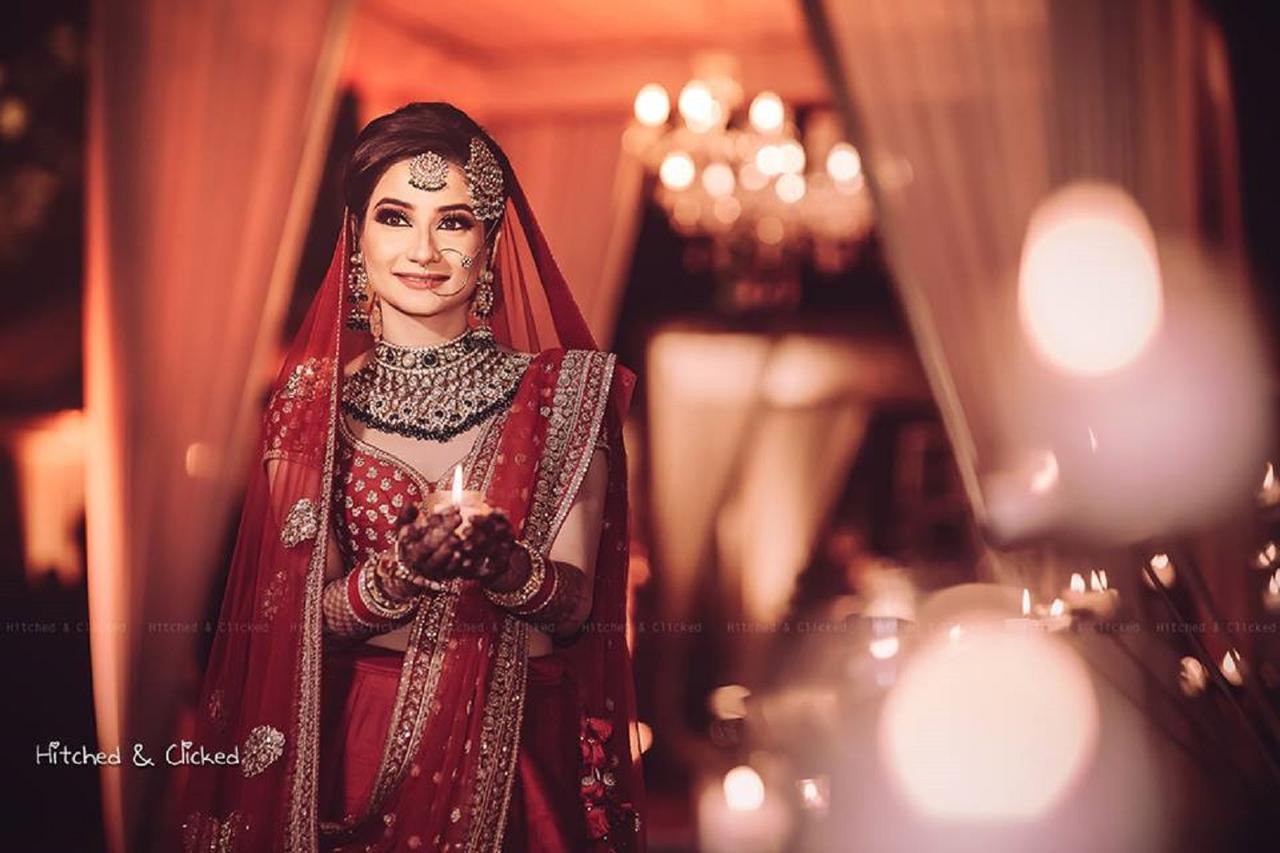 Looking for a very traditional look for your wedding day? Go in for a beautiful Maang Tikka set just like this one. This set comes with a two-piece Maang Tikka that's worn on the side as well as the centre of the forehead. And elaborate necklace and a set of earrings are the other ornaments that come with a design like this.
Get your hands on a set like this by contacting Radhika jewels, a store located in the city of Jaipur. Here, they offer some of the most beautifully crafted pieces that are simply timeless and are worth every penny. Their prices start from ₹80,000 and above, depending on your design.
These were some of the best Maang Tikka set designs we could curate for you. All these jewellers offer custom-made options as well. So, simply tell them what exactly you're looking for and it would be delivered right on time!
Hope you liked these fabulous Maang tikkas set designs if you did and are looking to get similar designs for your wedding functions, get in touch with our bridal jewellery vendors for the best options.