12 Nose Ring Images Every Glam Bride-To-Be Must See
It's the details that finish the look for a bride who looks absolutely spot on. And this includes your nath or nose ring. Here are 12 top nose ring images which we loved!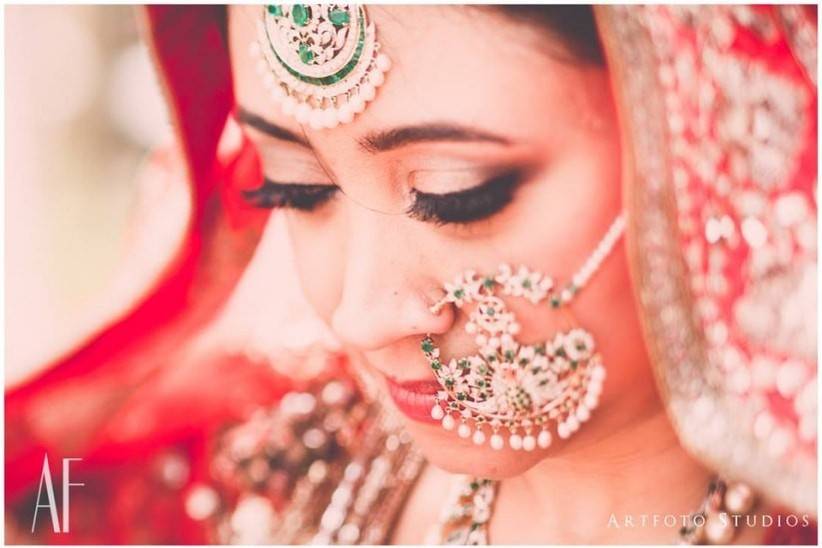 Nose ring images come with different shapes, stones and traditional ties. Picking the right nose ring can be quite a task and will depend a lot on your roots and the kind of look you're aiming for on your D-DAY.
It definitely is an essential element of your bridal ensemble, which is why it becomes all the more important to pick the right one. Check out our list of 12 top nose ring images for every bride-to-be:
1. Nose ring with a single stone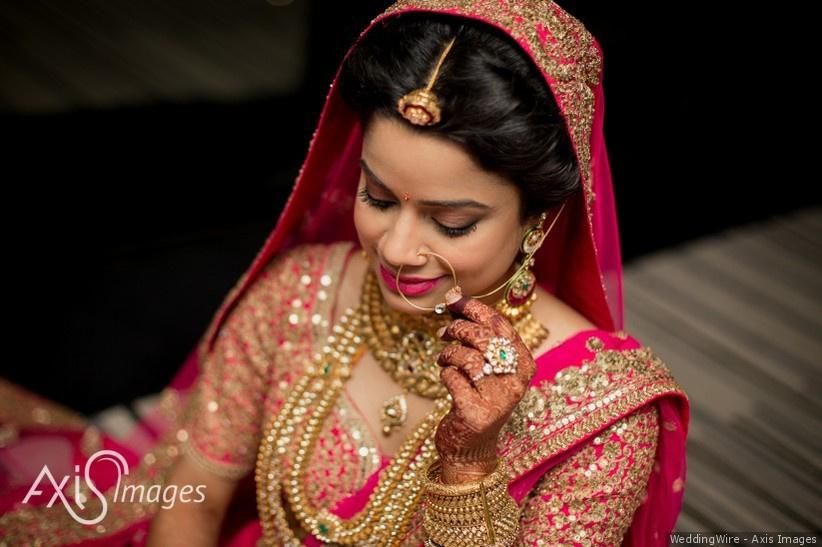 Simple nose ring images are always a testament to elegance ⁠— this nose ring, for instance, has a sense of grandeur without being too over the top. There's just a single stone to add the celebratory vibe, while the rest of the nose ring is minimal and classy.
2. Nose ring with green and white beads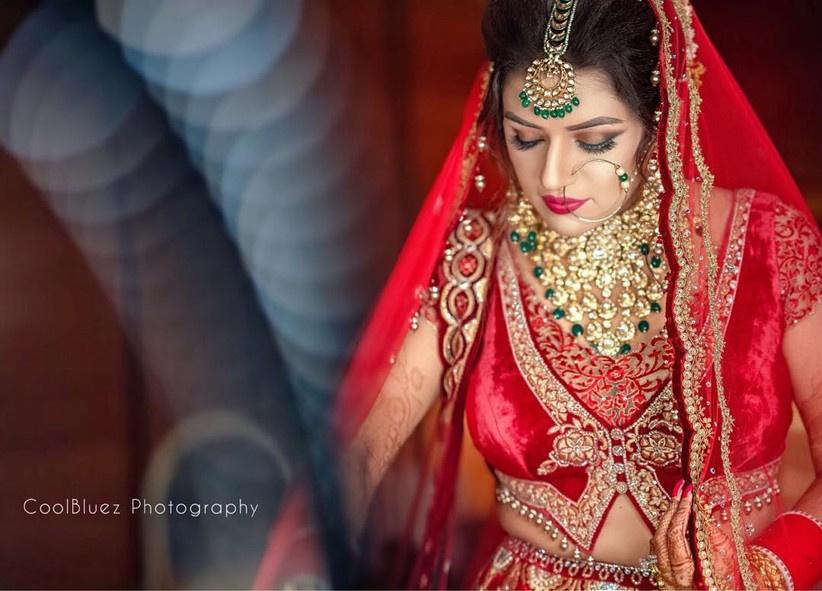 If you're wearing necklaces and earrings that have colourful stones in them, then you can definitely go ahead with a nose ring that has beads or stones of similar colours. Here, since the bride is wearing jewellery studded with white and green stones, putting on a nose ring with white and green beads is a great idea.
3. Nose ring with pearls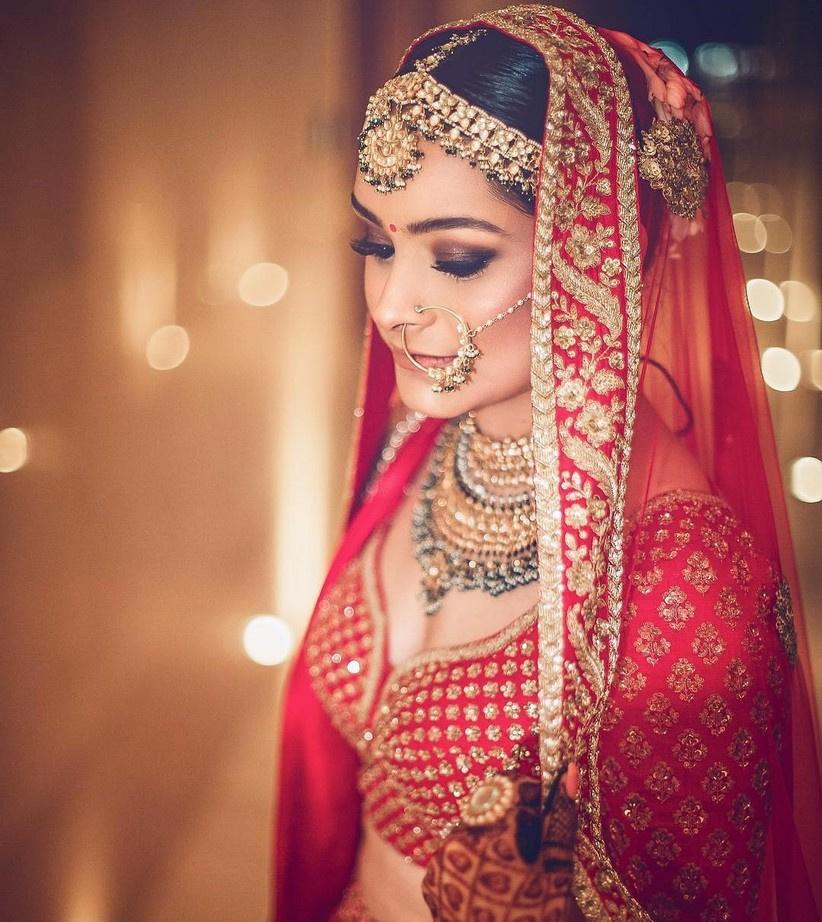 Pearls always look graceful on any bride-to-be ⁠— if you're not wearing pearl jewellery in general, but still want to include them in your look to bring in that sophistication, picking nose ring images with pearls is always a perfect way to go ahead.
4. The floral nose ring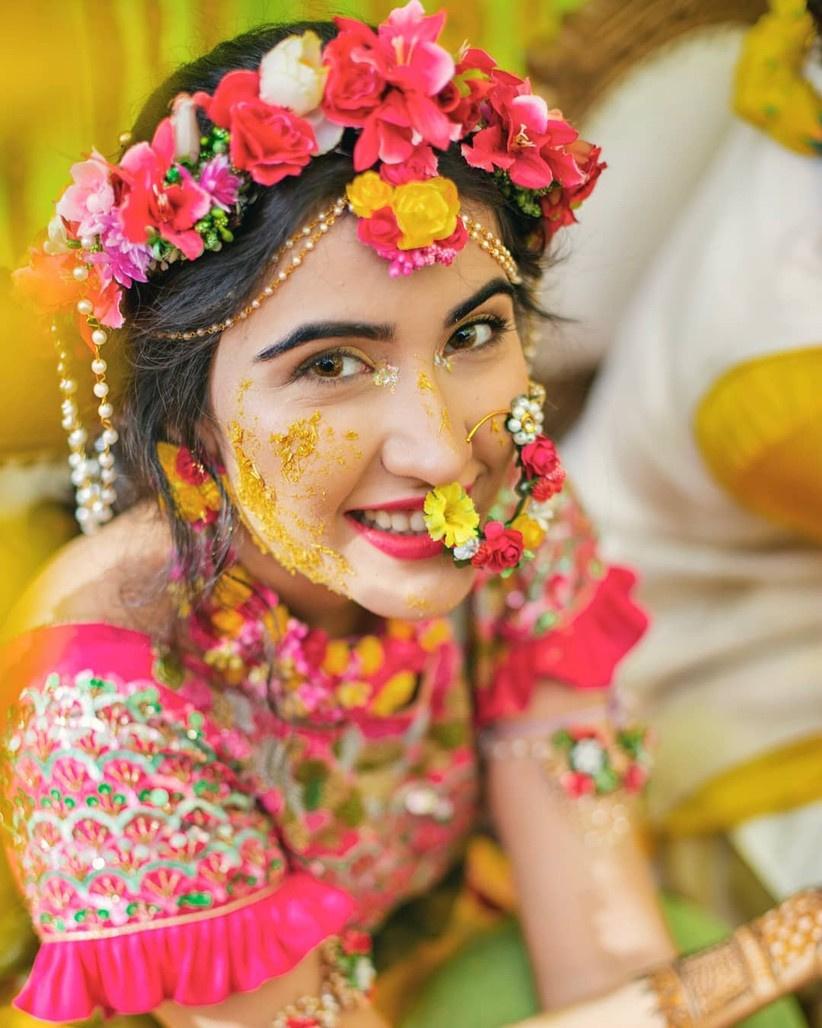 Floral jewellery is known to add a touch of vibrancy and colour to any outfit. This type of jewellery especially fits in well for ceremonies like the Haldi since it's all about vibrancy, fun and frolic.
So, without a doubt, go ahead with floral nose ring images for light-hearted ceremonies like this and don't forget to wear a floral Maang Tikka, floral earrings and a floral necklace along with it.
5. Nose ring with a latkan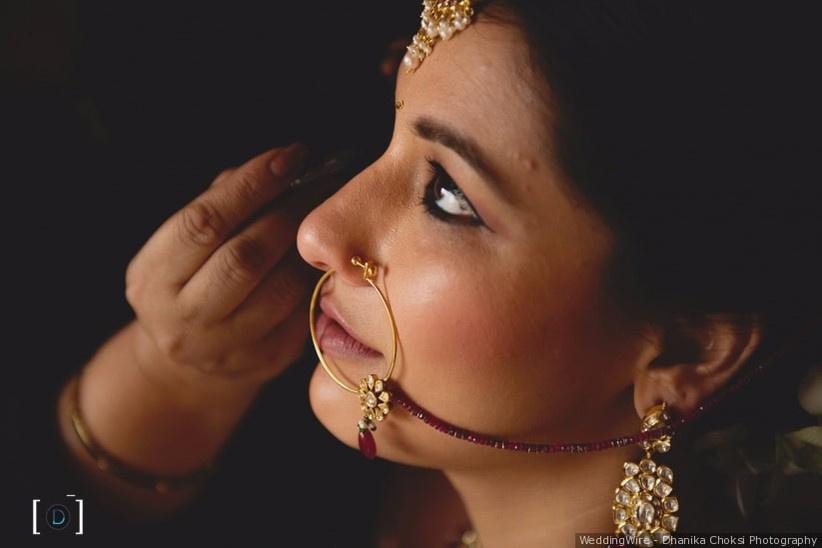 Nose ring images with latkan look dazzling with the coloured stones and motifs. In this particular case, there is a floral motif with a maroon stone hanging from it. But if you prefer other motifs, those options are easily available too.
You can also customise the stone according to the colour of your outfit and jewellery.
6. Stone-studded nose ring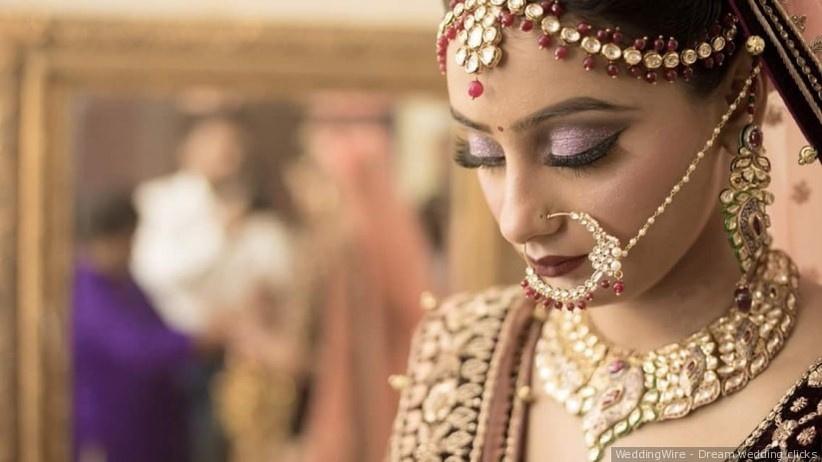 Stones and glamour go hand-in-hand and to keep it versatile make sure you pick a nose ring with white stones. These white stones are assembled in such a way that they create an attractive pattern. Nose ring images like these are perfect for brides who love dressing to the nines!
7. Nathani style nose ring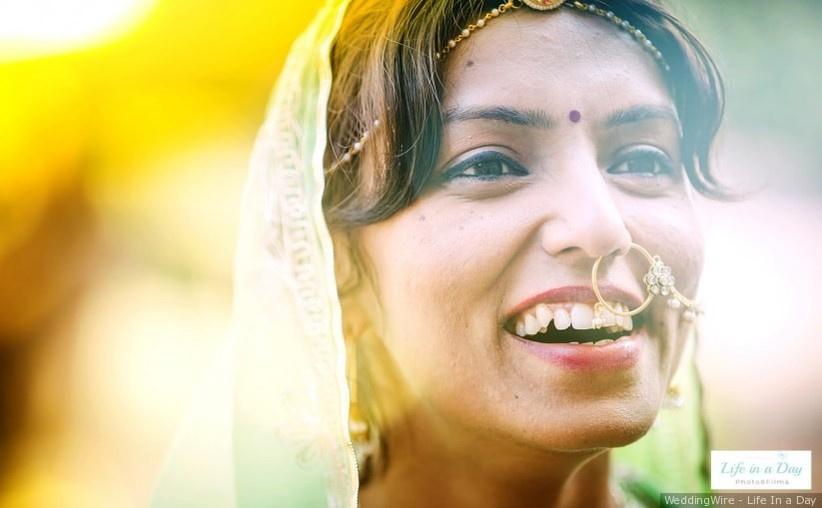 Nathani style nose ring images are small and simple but still manage to stand out because of their no-nonsense look. Nathanis with small patterns made of stone on one side are great for brides who like to keep it simple and subtle.
8. Nose ring with multiple chains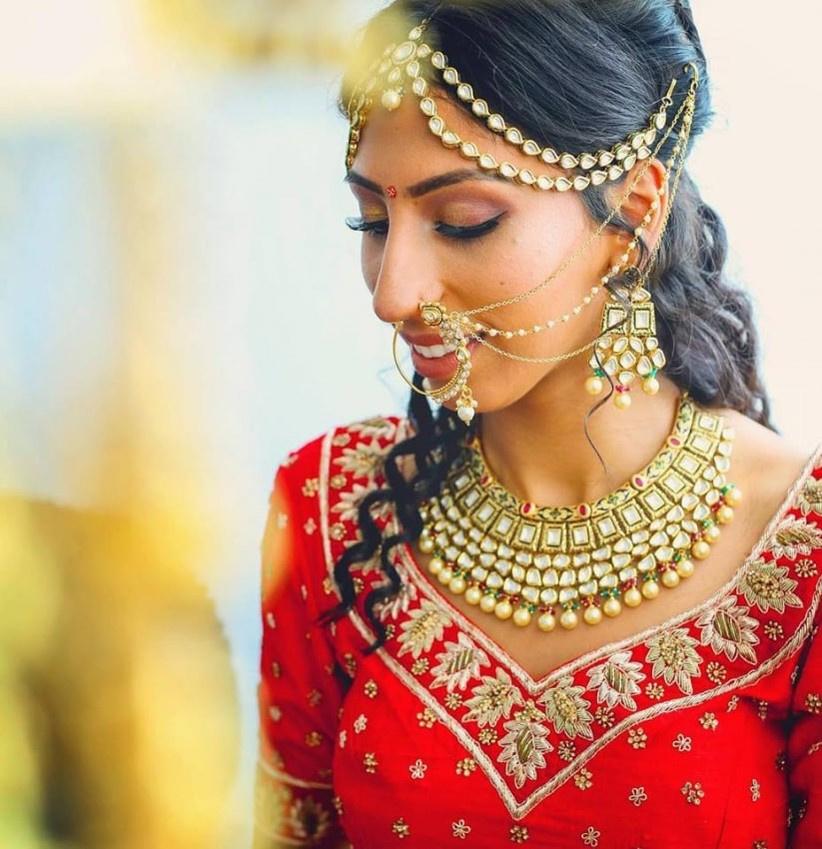 Nose ring images have multiple aspects to them ⁠— you can either experiment with the stones and patterns that go on the ring or another way is to focus on the chains that connect it. This particular one is a great example of that. If you're not to keen on heavy work on the ring but still want it to look grand, you should pick one that has multiple chains made of different stones.
9. Nose ring with a simple motif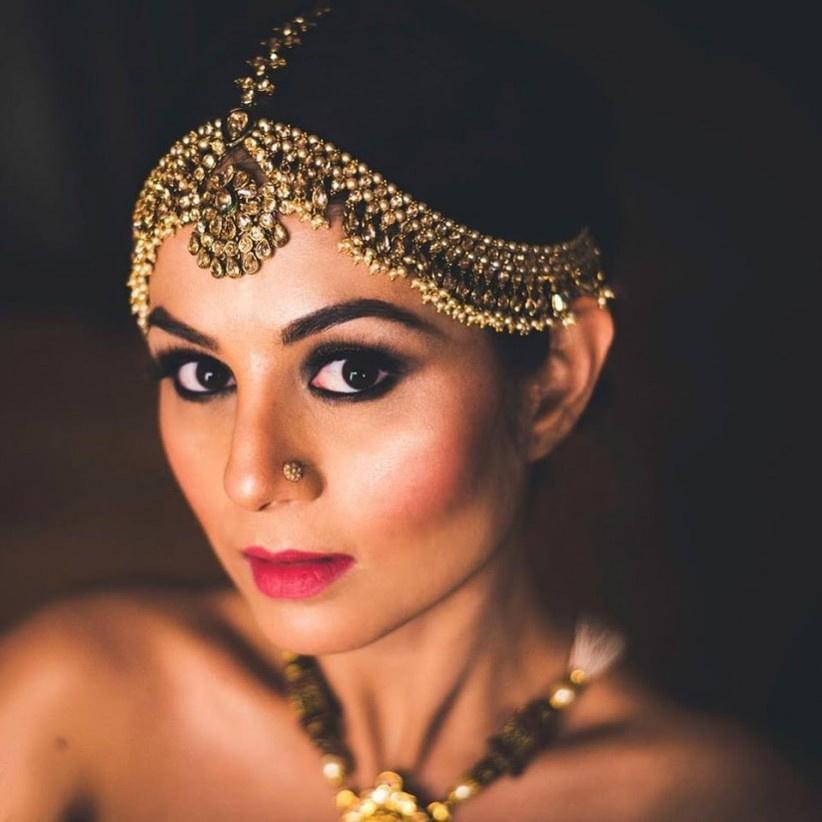 For some brides, heavy nose ring images are a strict no-no. We understand that, which is why we're giving you the option of a simple nose ring known as the 'Laung'. It's tiny and comes minus the embellishments of usual nose rings. This way, you can keep the rest of your jewellery grand without letting your nose ring grab too much attention.
10. Nose ring with red stone and Jhumki embellishments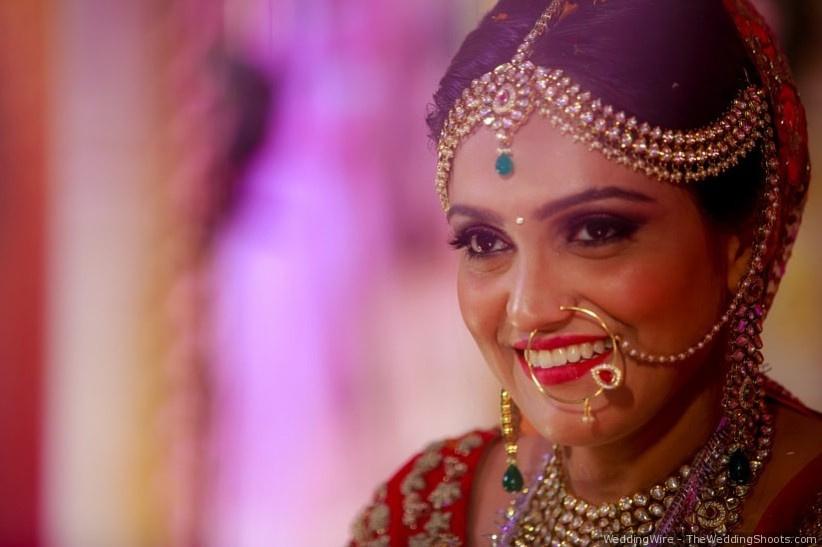 Jhumki embellishments in simple nose ring images look alluring ⁠— it gives you the best of both worlds ⁠— it adds a touch of glitz and also doesn't make you look too bling. Nose rings like these are simple except for the chain that is made out of pearls and gold.
11. The quintessential Maharashtrian Nath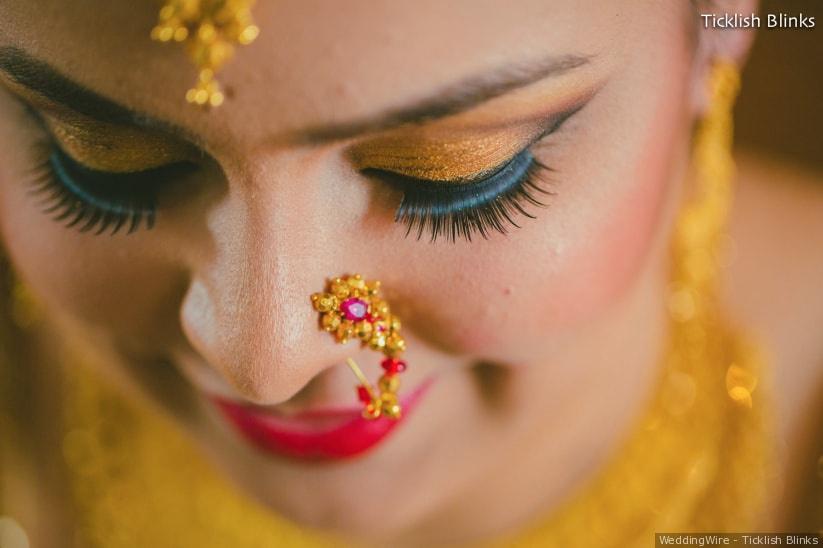 The Maharashtrian Nath is a signature piece, one that lets you know for sure that the woman with the cashew nut piece a Maharashtrian bride for sure! It has a very distinct shape, is made out of gold with a single stone in it. It complements the traditional attire called the Peshwai look, very well.
12. Nose ring in fan style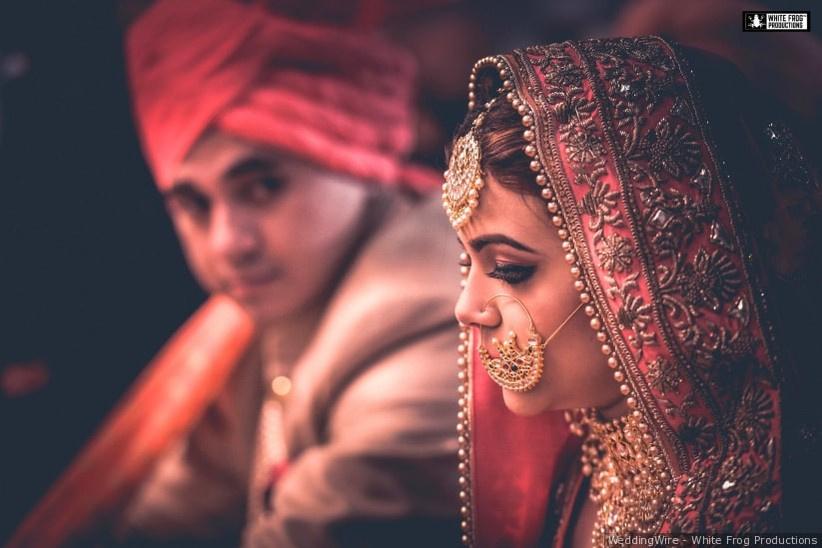 Nose ring images in a fan shape are quite intriguing ⁠— one half of the circle is left empty while the other half is filled with small and big stones. It makes the ring shine and shimmer like no other and goes very well with heavy jewellery. The patterns made with stones vary from one nose ring to another and the one you choose totally depends on your preferences.
Although nose rings are a very small part of your bridal attire, the meaning ascribed to them is tremendous ⁠— it symbolises new beginnings and the entering into a new phase of life. Which is why you must give it careful consideration before finally going ahead with one. The other factor is that you must also see if it matches the rest of your bridal jewellery and outfit.
Which nose ring do you want to go ahead with? Share with us in the comments below!
Written by Rohini Roy