Flower Jewellery Is The Best For Your Big Day- Here's How
Floral jewellery has been part of a bride's beauty arsenal for over a millennia. Here we decode all the questions that you may have before you decide to order your own set of fragrant, bridal jewellery. Pay attention to this FAQ list, peeps.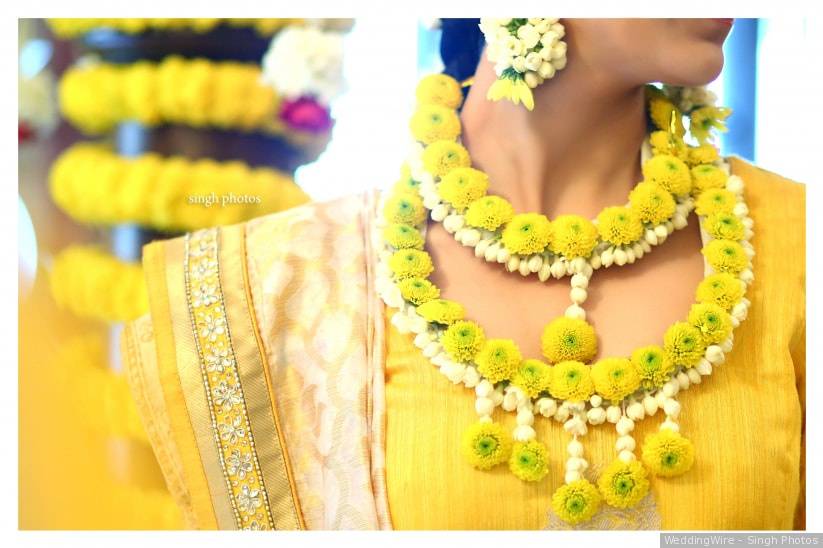 Move over plain, simple Gajras and floral bridal Kalire. Flower jewellery has taken the market by storm, with artisans flooding the market with choicest sets of Maang Tikkas, necklaces, earrings, Haath Phool, Bajubands and even belly chains composed of floral accents. Like dressing up for your Mehndi ceremony and Haldi ceremony, decking up in flowers gives one a chance at trying multiple looks, with inexpensive baubles that go perfectly well with your outfit of the day.
Flower jewellery is the newest trend in the market and with that being said, we have seen real brides go all out when they head out to purchase some stunning looking flower jewellery sets. From artificial to fresh flower jewellery bride's now are experimenting with their looks as much as there is scope to and beyond.
So, if you happen to be a fan of fresh flower jewellery yourself, then you have come to the most opportune post that will help you narrow down some of the most stunning and trendy designs in the market currently.
The Flower Jewellery FAQ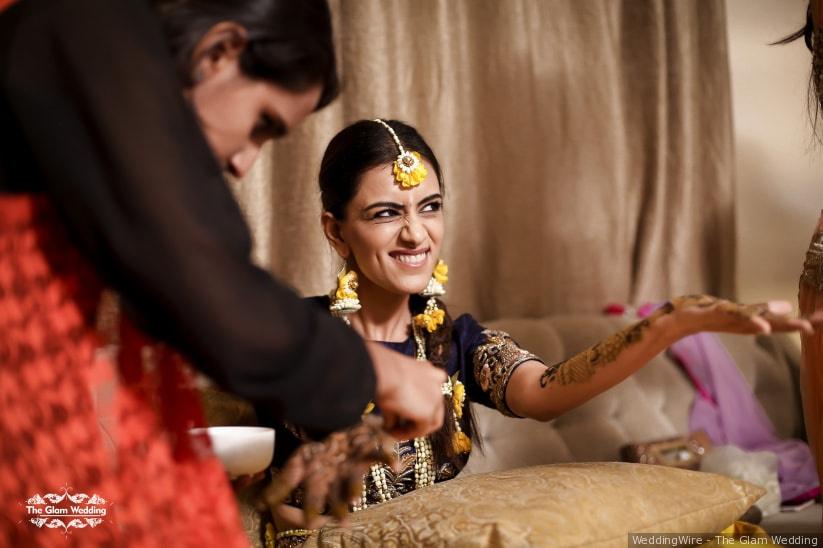 If you are a bride-to-be, we are quite certain you already know about the floral jewellery. However, you may be plagued by a set of doubts over what to buy, when and how to make it a highlight of your look. That's why we have brought all of them together in this flower jewellery FAQ, that you can glance through at leisure and ensure that you're well informed before you go and buy these baubles. Thank us later!
1. What is the flower jewellery trend?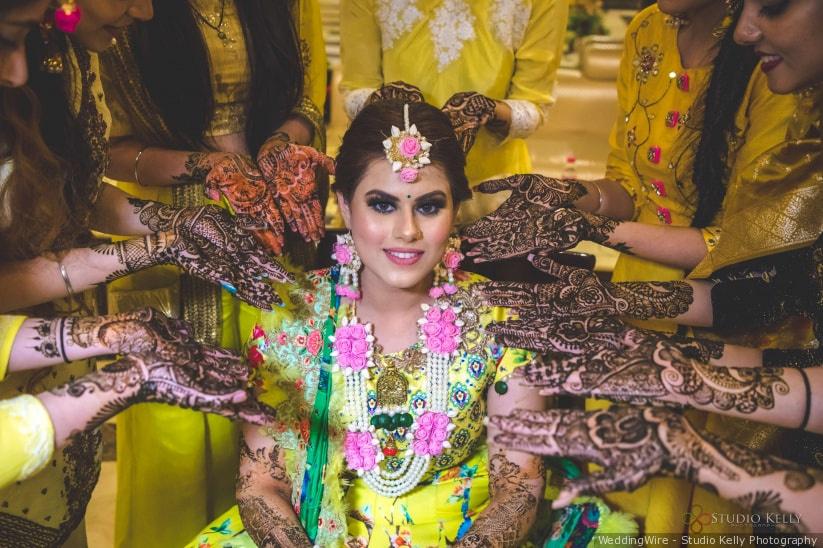 On the face of it, this seems like a no-brainer. When flowers are threaded together into beautiful, fresh ornaments the rest is flower jewellery or floral jewellery. However, with careful creativity, the bevvy of options that make up floral ornaments go across the board.
Starting from the top, there are headbands, Maang Tikkas, Matha Pattis, floral clips and hair accents, nets, drapes and Gajras. These fall down to the neck as necklaces of different sizes (and combinations). From the ears, they dangle as earrings (all statements - be it Jhumkis to chandeliers, small beads to those which extend to the hair). They casually encircle the form as waistbands and belly chains, Kamarbandhs and even floral skirts. Then there are the Haath Phool, bracelets on the wrist and Bajubandhs. Bridal anklets and toe ring complete the list, though there are variations in every form imaginable.
Then, there are combinations - be it threaded pom-poms with floral accents, Gota jewellery with flowers, silk thread bangles and others.
2. How long will it last?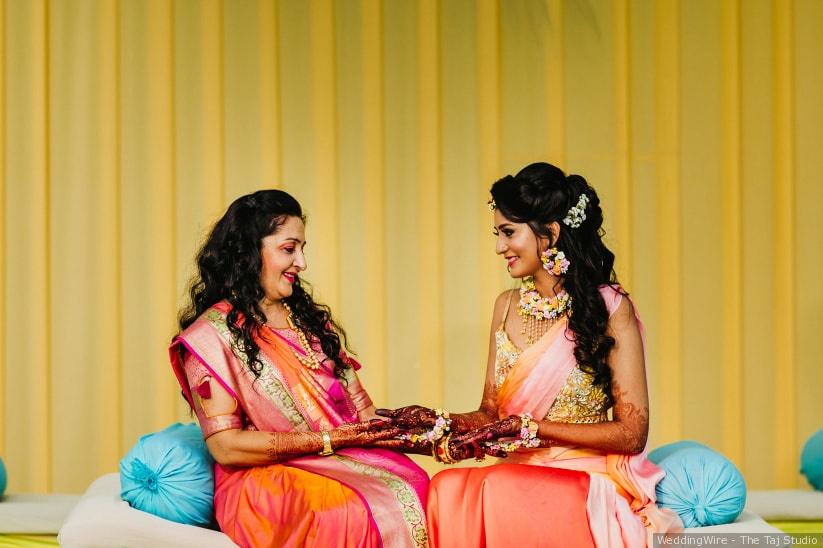 Fresh flower jewellery needs to be worn on the same day of your function, but it should last for the entire day. The flowers shouldn't wilt, no matter what the season. If you're really concerned about wilting flowers, choose dried flowers as your hair jewellery instead.
3. Why is it a good choice?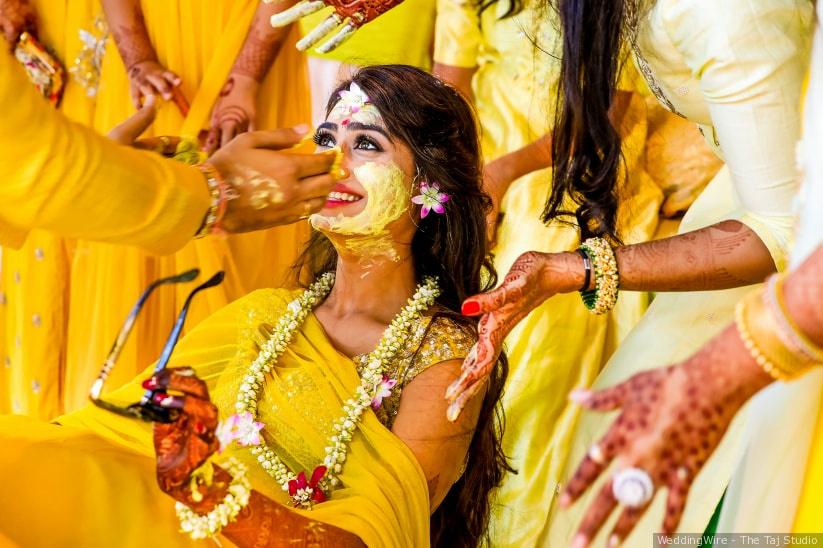 Flower jewellery is unique, affordable and eco-friendly. Apart from a fresh, fragrant appeal, adding flowers to one or more of your wedding looks, helps you stand out over conventional brides. You can pick flowers which go well with your outfit by colour and size and add accents that take them an extra mile.
And at the end of it, you do not have to worry about storing your baubles as they have already served you well.
4. When do you wear flower jewellery?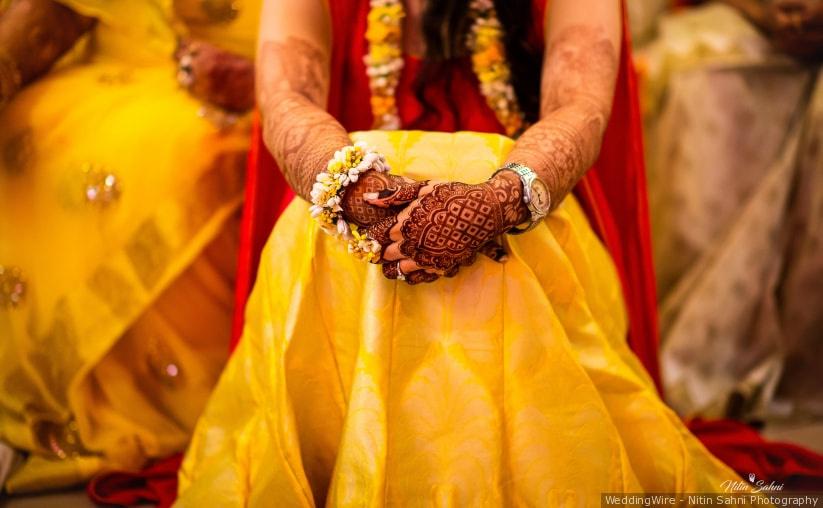 Floral jewellery can be ideally worn to your Mehndi function or angeet ceremony. The jewellery is usually very subtle, so you can wear it over bright clothes and still look classy.
These floral elements look their best in the sun, so make sure that you don them for your daytime functions and events.
5. Which flowers should you choose for your flower jewellery?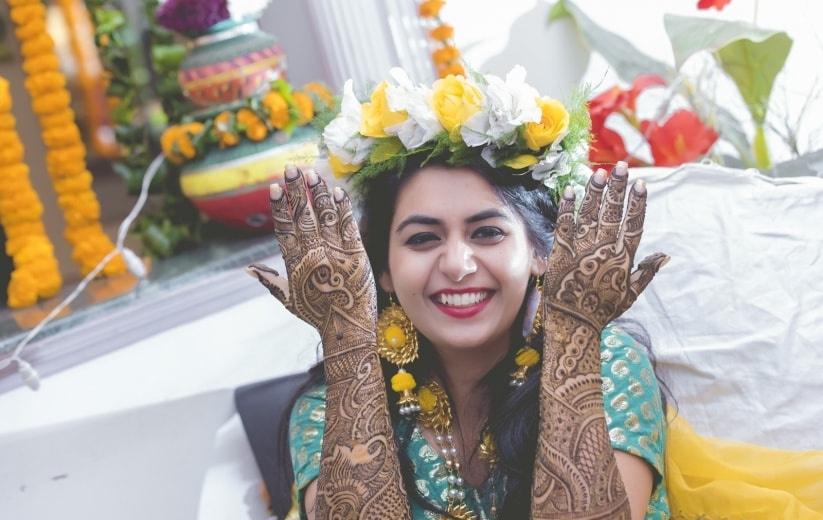 Usually, small buds make the best material for floral jewellery. So, think about jasmines, florets of varying kinds, tuberoses, carnations, button roses or even small-sized Dahlias. For a more distinct look, you may also opt for larger sized roses, orchids or lilies.
We also recommend a word with your floral jewellery vendor to match or contrast your flower jewellery against your outfit. It looks best when the jewellery and your dress are of contrasting colours.
6. What style of flower jewellery should you opt for?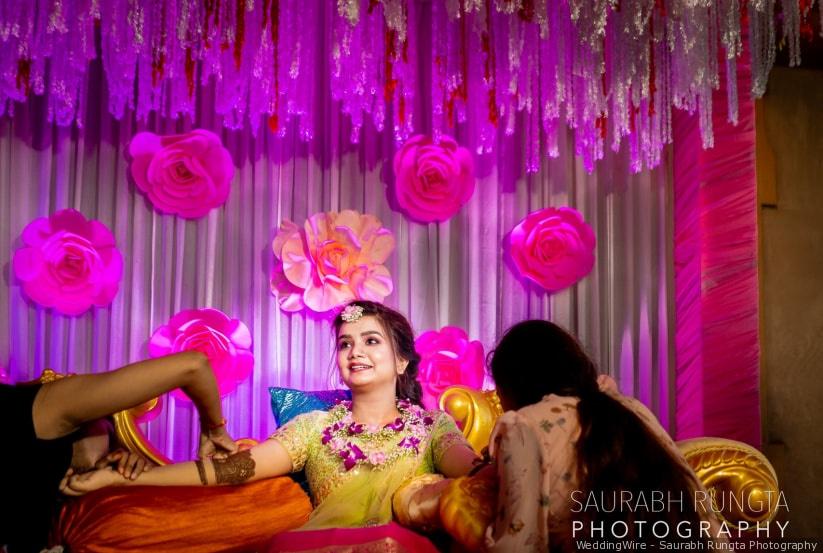 Let's begin with the basics.
Maang Tikkas for your crown and anklets for your feet add grace to any bridal outfit. So, go ahead and pick those first. Also, long necklaces go well with a tight-necked blouse while any style can go with a deep neck. If you are wearing a long gown or dress a flowery headband looks really cute and chic.
Beyond this, you're only bound by your own imagination. You can pick up earrings, Haath Phool, Bajubands and even Kamarbandhs. We were recently vowed by brides who chose floral skirts and floral veils and dupattas to go over their very traditional bridal outfits.
On order, you can literally get any type of jewellery you want. Typically Maang Tikkas, bracelets and anklets are available. You can also order Baju-bandh, Kamarbandh and the very beautiful floral dupatta!
7. When should you order your set?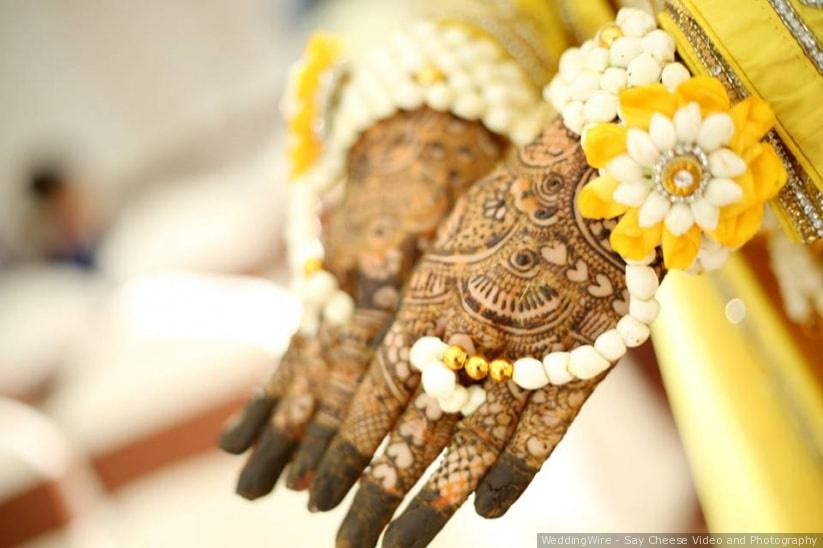 To be on a safer side order, book your jewellery at least a month before the event. Though it just takes one or two days maximum to make the jewellery, it is advisable to order some three or four weeks before to avoid any inconvenience. Also, make sure you check out some samples beforehand to be extra sure about the freshness of the blooms.
You will have to choose according to your dress- the colours, flowers, styles, which can surely take some amount of time.
We hope this glossary helps you nail just the right flower jewellery that radiates your personality on your special day. Do help by adding your own ideas in the comments below. Stop at nothing unless you find the most stunning looking flower jewellery set for your Haldi or Mehndi ceremony.
Have you booked your floral jewellery yet? If not, then get to it right away!