How to Wear Maang Tikka? Here is a Life-saving Guide for Brides
Do you always struggle with the question of how to wear Maang Tikka? Here are a few dreamy pictures of stunning Indian brides totally winning the game!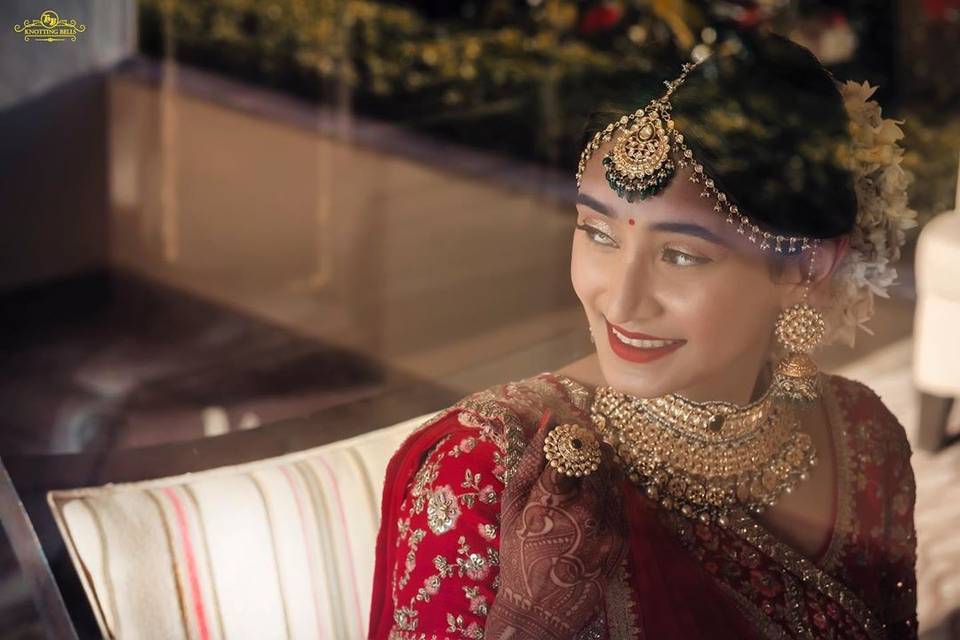 Is the wedding season already knocking on your door? Are you upset even after you are wearing the prettiest wedding dress, just because you cannot figure out how to wear Maang Tikka?
My lovely lady reading this, here is an article, researched and written just for this moment, which is all ready to hold your hand and take you out of the Maang Tikka blues. Before I get so hopeful, let me ask you first, are you ready to believe me for that big wedding function? Even if you are 40% sure, move on to read what I have in store for you.
Maang Tikkas are traditional pieces of jewellery which have been quite trendy for the wedding seasons lately. It is something which can be delicate or heavy, junky or precious, a supporting artist or a lead role. one ornament and a million varieties. Here are a set of simple ways to carry and know-how to carry Maang Tikka like a boss bride.
Whether you like buns, Gajras in hair or open hair with side partitions, or you want to team it up with a saree, a wedding lehenga, a tube gown or a Patiala suit, this list teaching you how to wear Maang Tikka is definitely not going to disappoint you. Have you fastened your seatbelts? Let's go!
1. For the love of Maang Tikka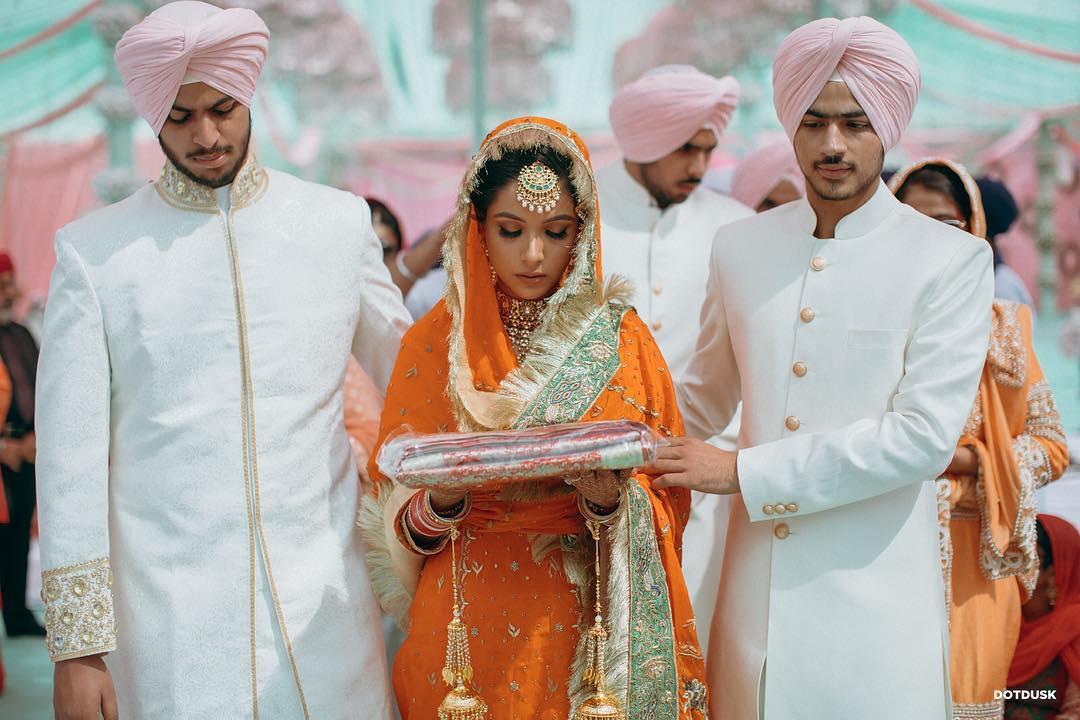 When looking out for how to wear Maang Tikkas, one has to be really a lover of Maang Tikkas to go for this showstopper Maang Tikka. When you are a pro at it and you know it, there is nothing like it. When choosing this fab way of leading yourself out of the blues of how to wear a Maang Tikka, all you have to know is that you can rock every look. If you are the bride, go for an entire set, just like this gorgeous bride. Let that sparkle show in the wedding album with the big Jhumkas and heavy neck-piece.
If you are the hot Dulhe ki Saali or Dulhe ki Behen, go for a look which is more subtle, like, without the earrings, this heavy Maang Tikka will steal the show. Just team it up with a bold lip shade and eye makeup and you will rock the function.
Which is the most suitable attire that goes with this way of wearing a Maang Tikka?
This is hands down the most fashionable and yet so versatile piece of Maang Tikka. You can team up this beauty with anything you like. Whether it is a Punjabi wedding like this one, you can totally rock that salwar kameez or it is a Hindu wedding, you can totally ace that bridal lehenga game. Even if you want to drape a gorgeous saree, this Maang Tikka is there for the rescue. Excited much?
2. The overlapping side curls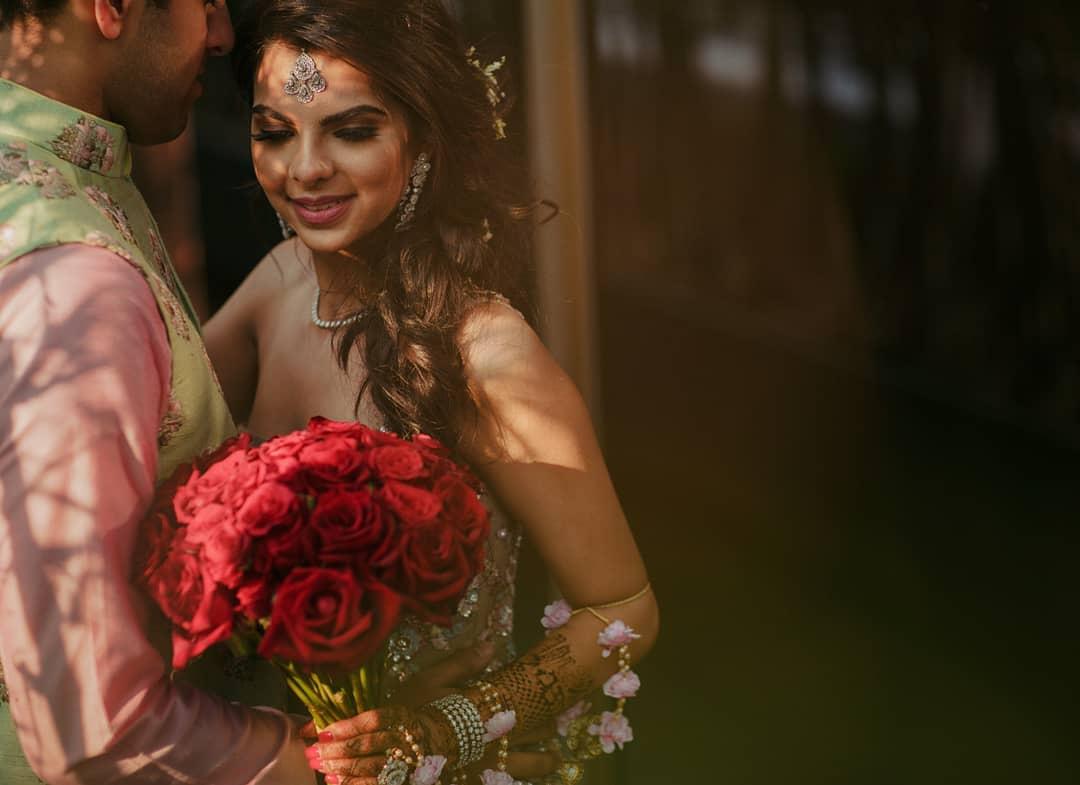 What a marvellous click, isn't it? The bride looks absolutely amazing. Now, this is one of the most intelligent ways in which you can explore how to wear a Maang Tikka. Choose the density of the ornaments or jewellery as per the style of your dress, its embroidery, the makeup and even the hairstyle if you like. Now, this look is what you call the most balanced look. The tube gown looks stunning with open curls tied on to the side.
The neck area being exposed has been enhanced by the sleek diamond chain necklace. With floral hair clip and big elegant earrings, the subtle Maang Tikka looks absolutely amazing while it adds that bridal charm.
Which is the most suitable attire that goes with this way of wearing a Maang Tikka?
Like several other Maang Tikkas, this is also a very versatile Maang Tikka. However, there are certain pointers to remember before choosing it for the wedding function. When experiment dares with how to wear Maang Tikka, you must balance it with the look.
This not-so-heavy Maang Tikka goes with more western dresses like in this picture, which demands an elegance. With western dresses, less is always more. However, you can also wear it with a more layered dress with thin jackets or shrugs, or even dresses with a choli or a crop top.
3. That hidden magic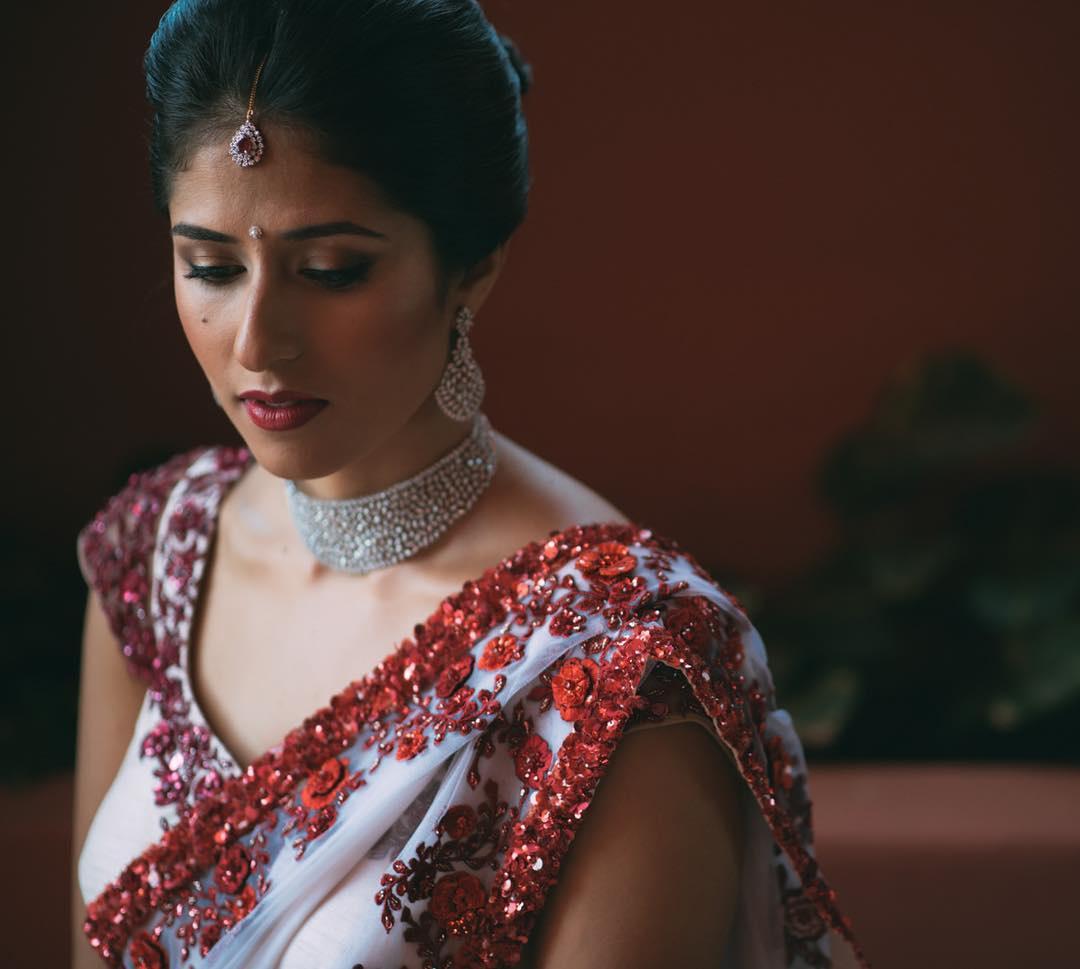 I always used to wonder, where exactly does this MaangTikka hold? I almost thought that it is pasted separately on the forehead until I realized the technique behind it. This is by far the most elegant Maang Tikka style that you would ever come across.
Still concerned about how to wear Maang Tikka in such a magical style? So, here is the answer. Wearing a Maang Tikka in such a way takes truckloads of skill. The hairstylist will tie up your hair in such a way that the sleek Maang Tikka thread lurking in the centre, hides. And all you will see is the Latkan on your forehead. Doesn't this sound like a magic trick?
Which is the most suitable attire that goes with this way of wearing a Maang Tika?
As you can see, such precious Maang Tikkas which are so delicate, demand and deserve a classy outfit to add to its grace. An elegant saree or a finely embroidered lehenga, without a lot of glitter and shine, look a more sophisticated choice for such a Maang Tikka.
Basically, the golden rule is, less is more. Such diamonds, rubies and other precious stone-studded jewellery pieces need to be the star of the outlook. No embroidery or accessory must take that simplicity (and attention) away.
4. That graceful overlap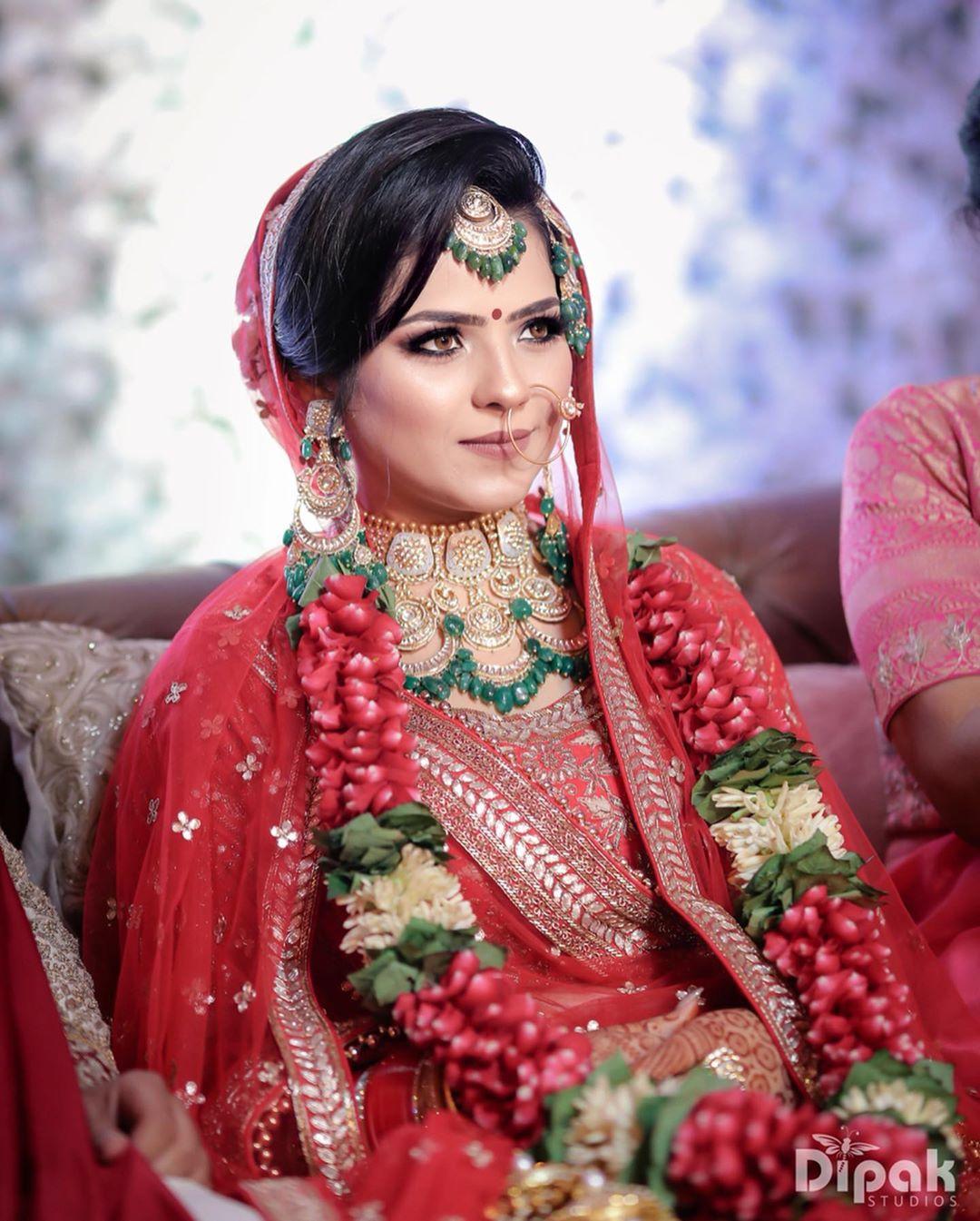 Ah! What a confident bride posing fiercely for the camera! Isn't she? Since we are discussing how to wear Maang Tikka, this is another version of the hair overlap style going over the hooking strand of Maang Tikka.
About 70% of the hair have been taken to the other side, cosily blanketing the Maang Tikka tucked underneath. The hair is then tied together in a neat bun which is further adorned by Gajra. With the mild looseness left in the hair, the way they fall on the forehead, near the Maang Tikka makes the entire look breathtakingly effortless.
Which is the most suitable attire that goes with this way of wearing a Maang Tikka?
For me, this is the perfect portrayal of how to wear Maang Tikka for a North Indian bride in that traditional lehenga and heavy jewellery. The entire vibe that this way of flaunting the Maang Tikka comes with, is purely entirely wedding material.
The Gajra looks amazing, the heaviness of the Maang Tikka, the precious emerald stones in gold, everything contrasting with the shiny black hair, looking graceful on the Indian skin. If this is not a dream look, then what is?
5. With that neat bun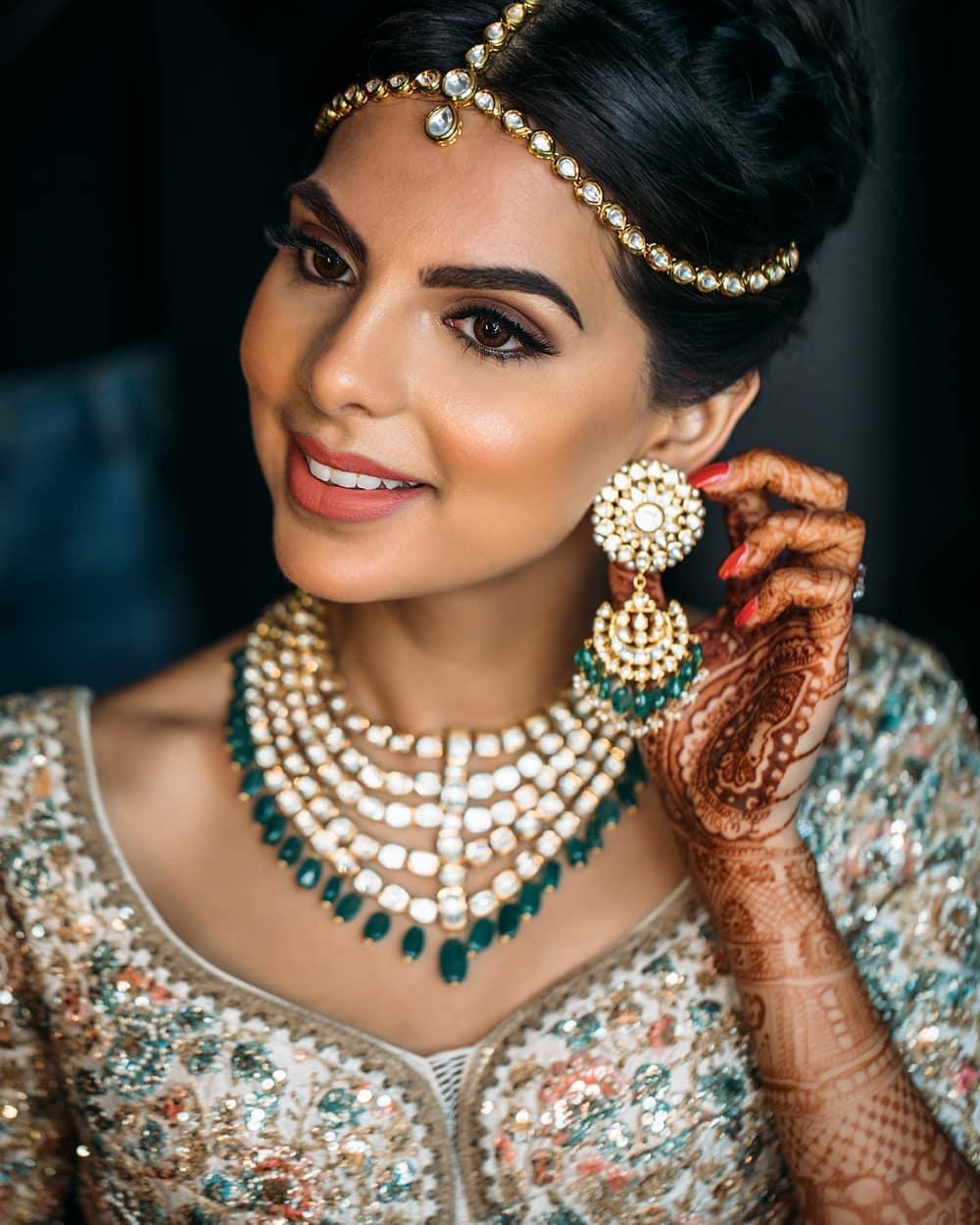 Oh! Why so elegant? I am sure you guys would also want to ask her that, don't you? It is a really sleek and neat way of demonstrating how to wear Maang Tikka. This being the three-stranded Maang Tikka can be placed majestically on the edge of the hair and the forehead while each of the three ends is carefully hooked on the three sides.
This can be done once a fairly tight and neat bun is made in the back of your head. It can be a high bun as well. You can make use of that lovely Gajra to enhance this Kundan Maang Tikka.
Which is the most suitable attire that goes with this way of wearing a Maang Tikka?
Being such a classy choice of Maang Tikkas, it is important to learn about what suits such elegant pieces when conversing about how to wear Maang Tikka. This can go perfectly well for every function alike, whether it is a lehenga or a gown.
Because of the fact that how well balanced this jewellery set is, the neck-piece being heavy, the Jhumkas being long while the Maang Tikka just fulfils the Shringar of that bridal look, it is definitely a great, in fact, a perfect choice of Maang Tikkas for a bride to flaunt (only in that proportion).
I really hope that this dreamy Maang Tikka looks caught a part of your heart. These bridal look with little pointers of knowledge to help you figure out how to wear Maang Tikka have been exclusively chosen for you with a lot of love.
Whether you are a lover of sleek ornaments or heavy jewellery is your thing, whether you are a hardcore traditional North Indian bride or you like to keep it stylish in a western way, there are Maang Tikkas for every bride alike!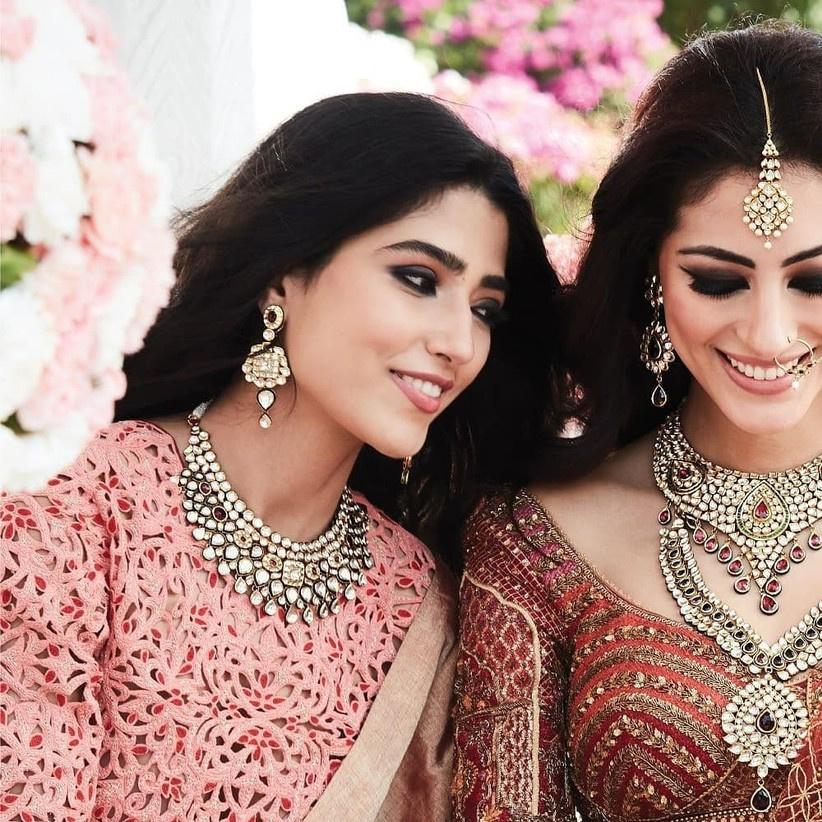 Don't forget, there are no hard and fast rules when it comes to dealing with the question of how to wear Maang Tikka. With the experimental trend fogging all over the wedding and fashion industry, you are open to going as experimental with the lovely Maang Tikka as you wish to be.
Team the beauty with jeans or a long belted dress, with boots or even black sneakers if you like. Nobody dares question you because there are no rules when it comes to fashion, especially Maang Tikkas. You like it and you flaunt it!
We would love to hear if you have ever experimented with any jewellery ever before, in the comments below.