Light Pink Lehenga Ideas For The Bride-To-Be
If you are looking for bridal light pink lehenga images for different wedding ceremonies, start scrolling to see the latest in the market!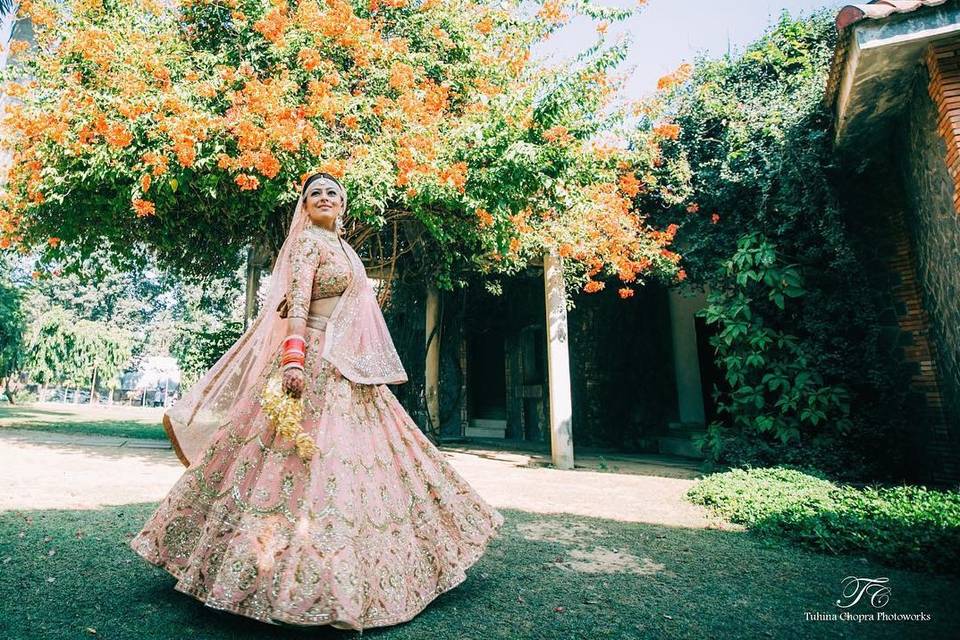 A bride looks like an angel in a light pink lehenga. The colour stands for unconditional love and understanding. It is gentle and is associated with giving and receiving care and we think this is exactly what millennial brides want from their marriage. Getting married is the biggest transformation of a woman's life and what better way to start this journey with the promise of unconditional love and care for each other forever!
Uphold this vow to your groom by wearing a light pink lehenga that stands for the same. Check out all these designs you can dress up in during the many wedding functions during your nuptials.
1. Roka ceremony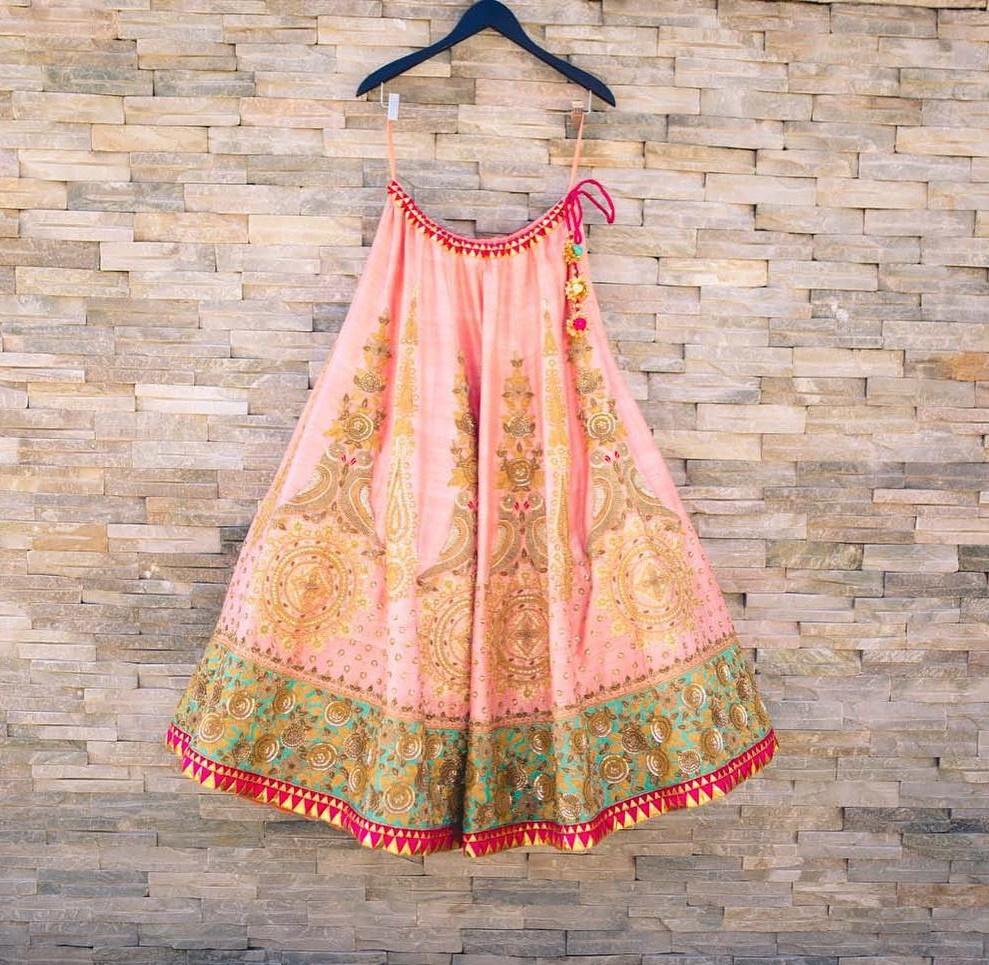 Roka ceremony is the first big ceremony in all the wedding events. Most of the immediate family from both sides meet each other for the first time and get to know each other. A bride should wear a traditional but simple outfit like this light pink lehenga.
The skirt is simple but very stylish and casual. There is no heavy embroidery work, which makes it perfect for an intimate gathering like a Roka!
2. Engagement ceremony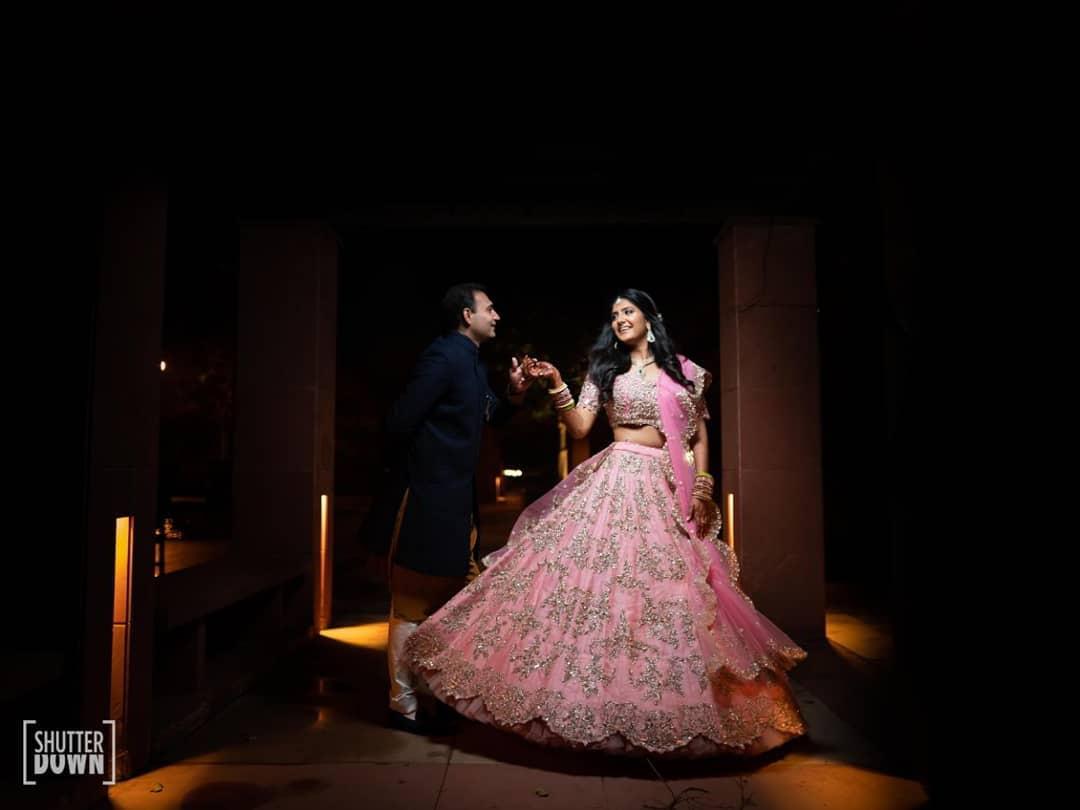 In the last year or so, scallop ends have become a huge trend in saree, lehengas and dupattas. They add a different design element to the classic light pink lehenga. This lehenga has shiny silver embroidery from top to bottom. The only break you get is from the simple net dupatta, which is necessary.
Style tip: You can drape the dupatta in the popular saree style or carry it on one shoulder and tie the other end with your bangles or tuck it on the other side of your waist.
3. Mehndi ki rasam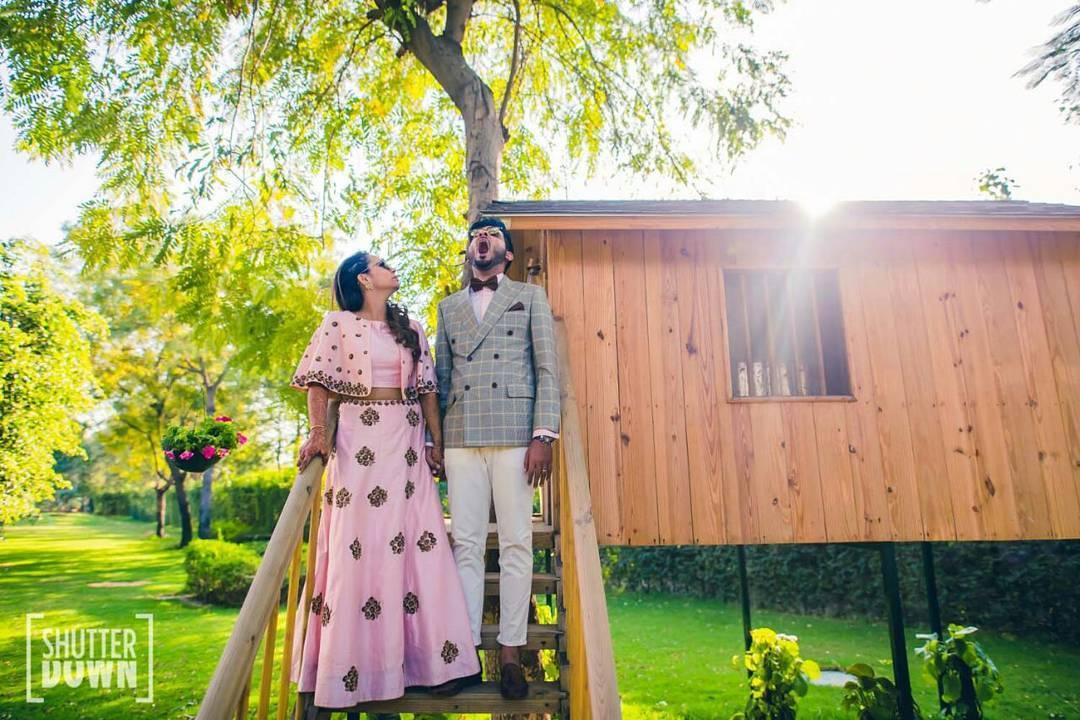 Mehndi ceremony requires you to wear something stylish and Indo-Western. If your heart is set on wearing a light pink lehenga, you can check out this modern lehenga set with a jacket detail. The dark embroidery stands out against the light shade of the lehenga. This look is young and perfect for the Mehndi rasam.
4. Sangeet ceremony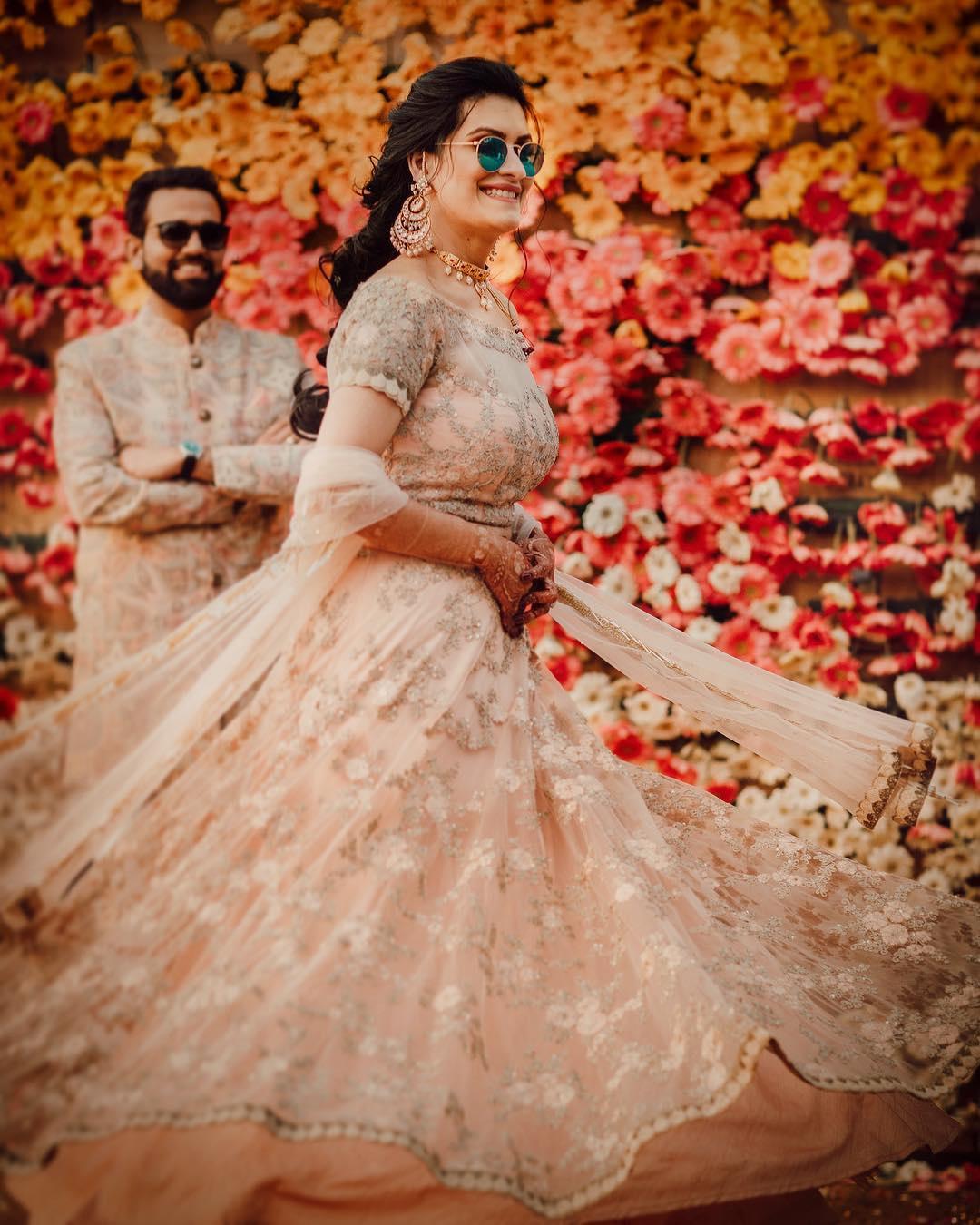 If you want to dazzle everyone with your moves on the night of the Sangeet, you should definitely wear a tulle skirt that has a big flair. It should move with you when you are making your groom dance with you. You can also go for a net lehenga, which has a shiny lining inside. Wear your dupatta on your arms.
You can wear a blouse with a boat neck if you are going for a simple style. If you want to try something new and stylish, you can also wear a halter neck blouse.
5. Wedding day options!
a) Light pink lehenga with a pop of blue and red!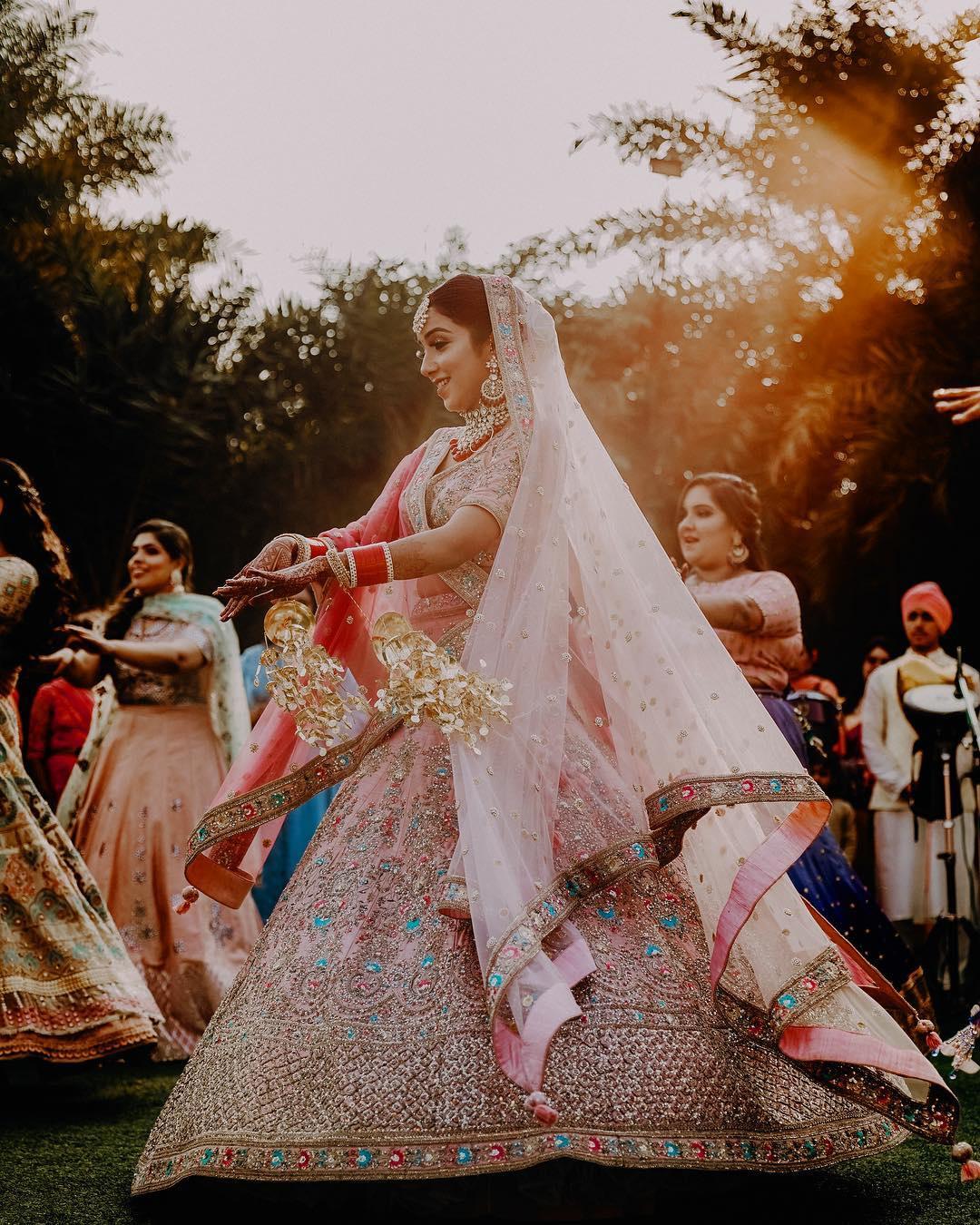 Light pink has become a bridal favourite when it comes to their wedding outfits as well. Because of the light colour, you can style it with colourful jewellery pieces as well. This bridal lehenga, however, has some blue and red pops of colours in the border of the skirt and dupatta. They add a freshness to the look, which goes perfectly with the gold embroidery.
b) Bride decked up with soft pink and gold lehenga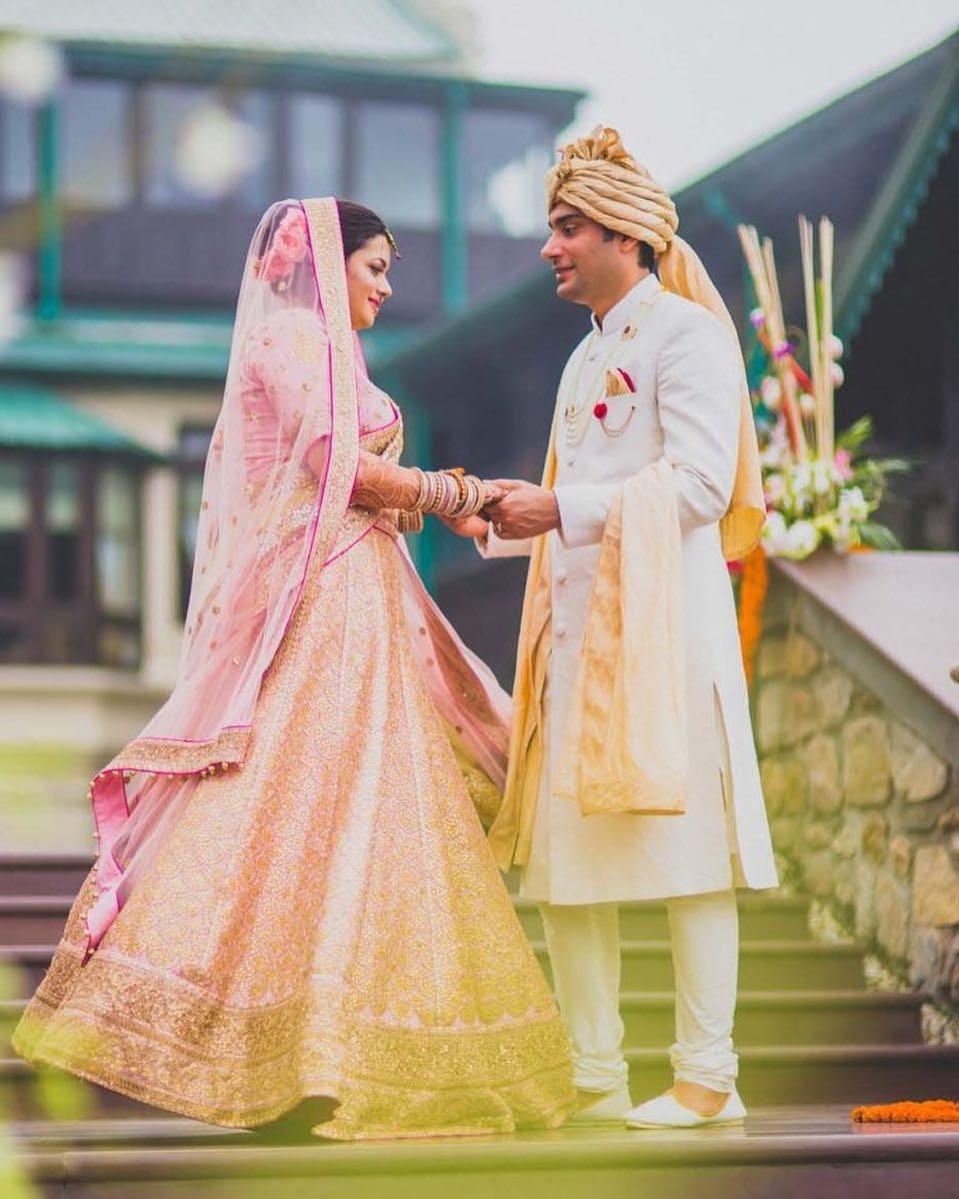 We have another bridal pink lehenga just for you. The lehenga is very simple with vertical pleats and a thick horizontal border. This style added to make the bride look taller than she is. The only colour in the lehenga comes from the hot pink lining in the border of the dupatta.
Its brightness cuts the light pink lehenga and gives your eyes a much-needed break. To complete the light pink theme, this bride is wearing light pink flowers in her hair as well.
c) Pink and silver bridal lehenga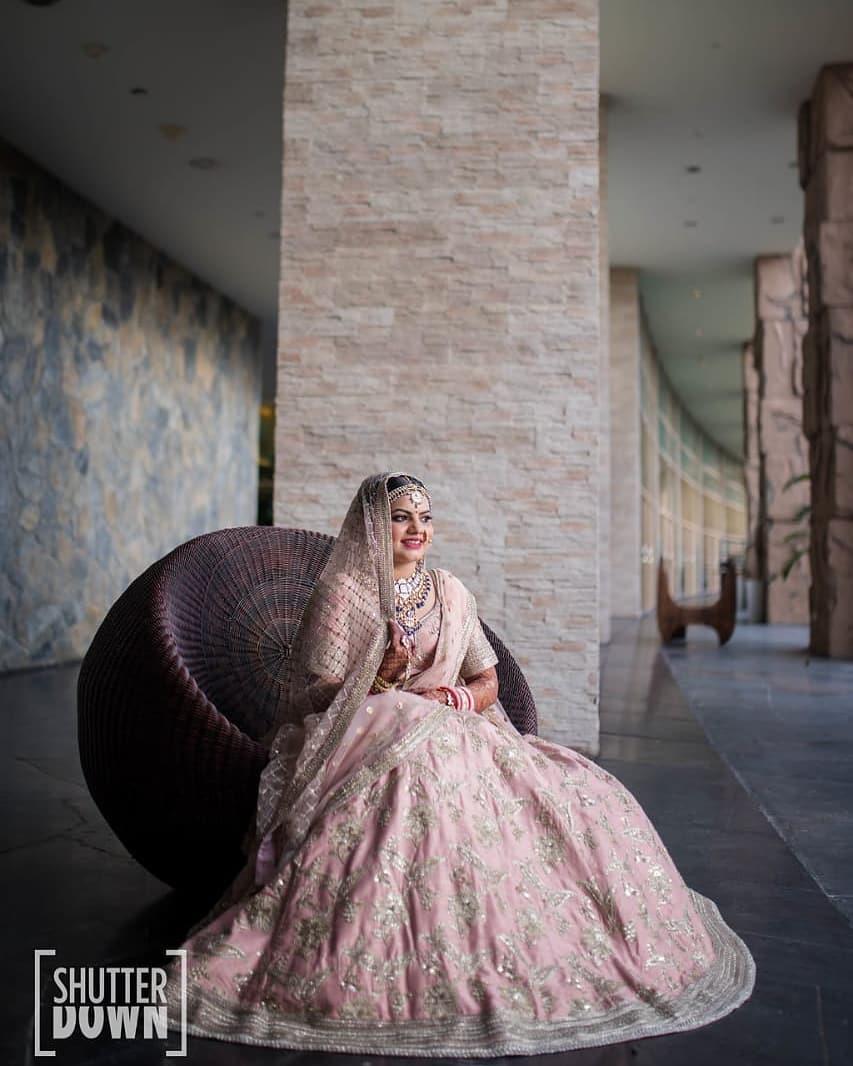 Light pink and silver are a combination made in heaven by the fashion gods themselves. Both the colours compliment each other so well that you cannot pick out even a single fault.
As both the colours are very subtle, you can style bright coloured jewellery with them like diamonds with rubies to complement the light pink lehenga. You can also go with white gold jewellery to continue your monochrome look!
d) Pink and gold lehenga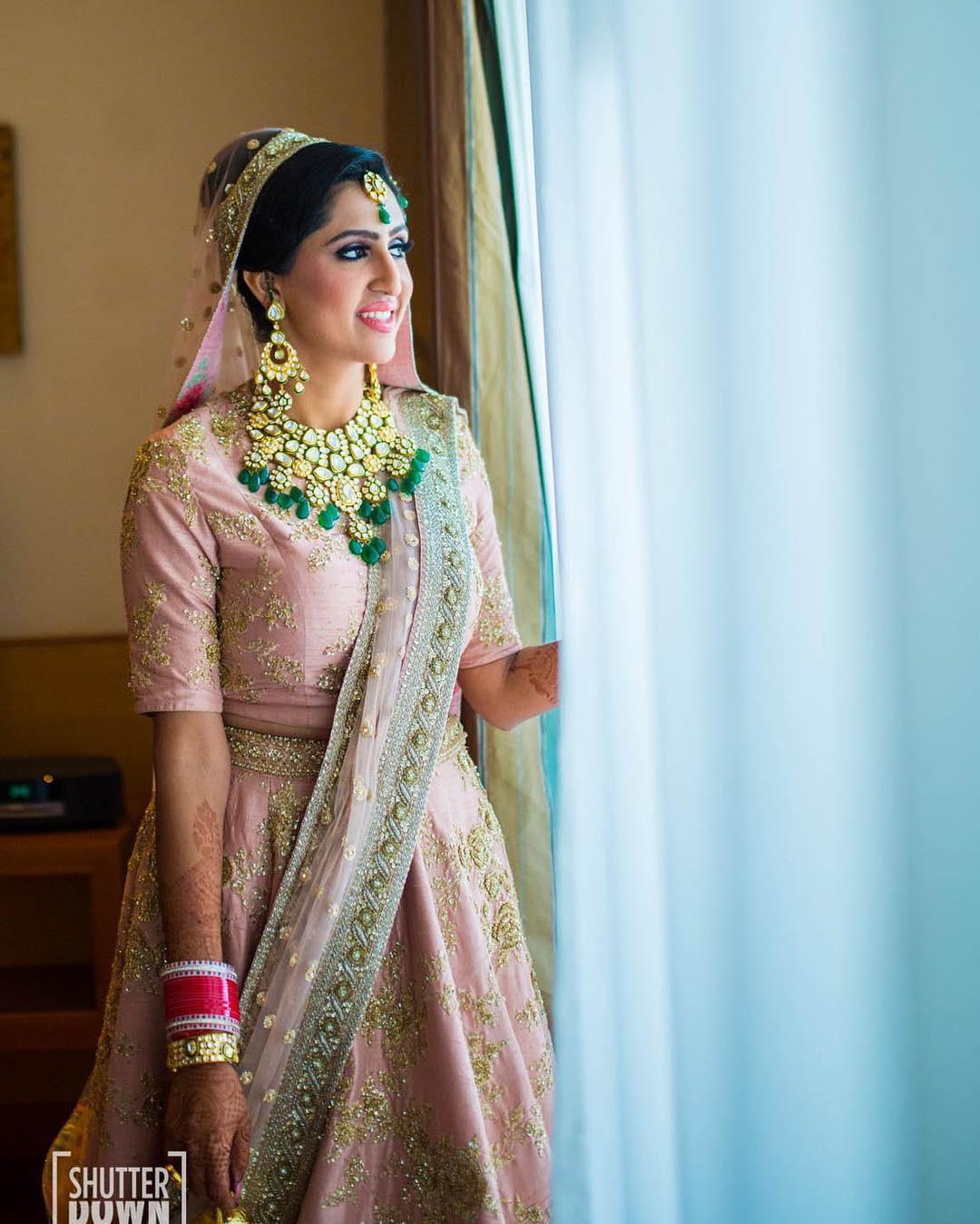 Just like pink and silver, pink and light gold also complement each other very well. They shine like stars on the bride's outfit and make her the centre of attention. Jewellery with green stones and emeralds will look gorgeous with this light pink lehenga.
6. Reception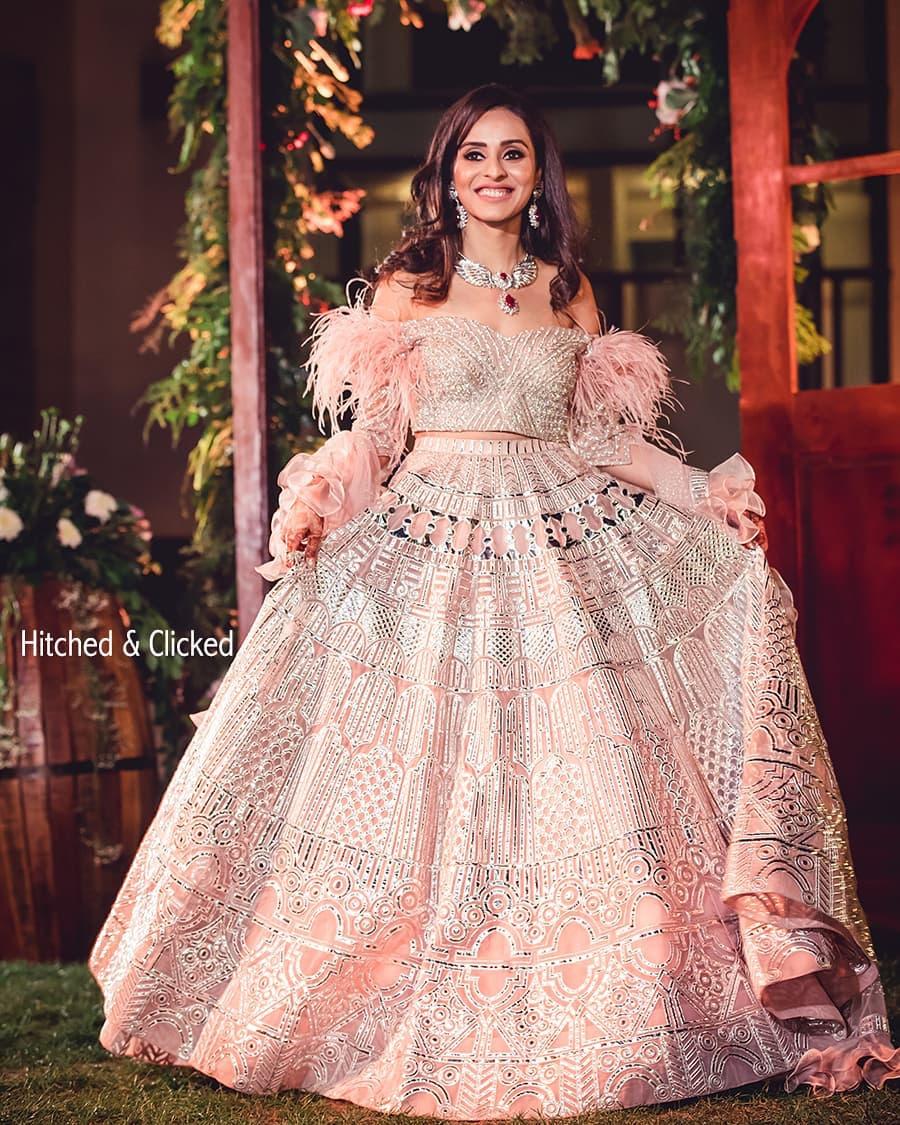 After all the traditional wear of the wedding day, a bride needs to wear something modern and stylish on the Reception. You cannot miss this designer light pink lehenga with silver prints on it. The blouse has a sweetheart neckline with off-shoulder sleeves and feathers attached to the sleeves. The ruffled dupatta is what completes this fashion-forward look, which is perfect for a Reception.
Now that you know the different ways of wearing a light pink lehenga, choose it for your wedding! You can wear it to any event and look gorgeous!
Check out these stores near you that offer lehengas!