Get Your Bridal Wedding Lehenga Personalised & Own Your Big Day
Remember the times when brides wore their mother's bridal wedding lehenga? Well, those times are definitely the past as these days brides do not just wear a brand new wedding outfit but also get it customised and personalised as a gesture of love.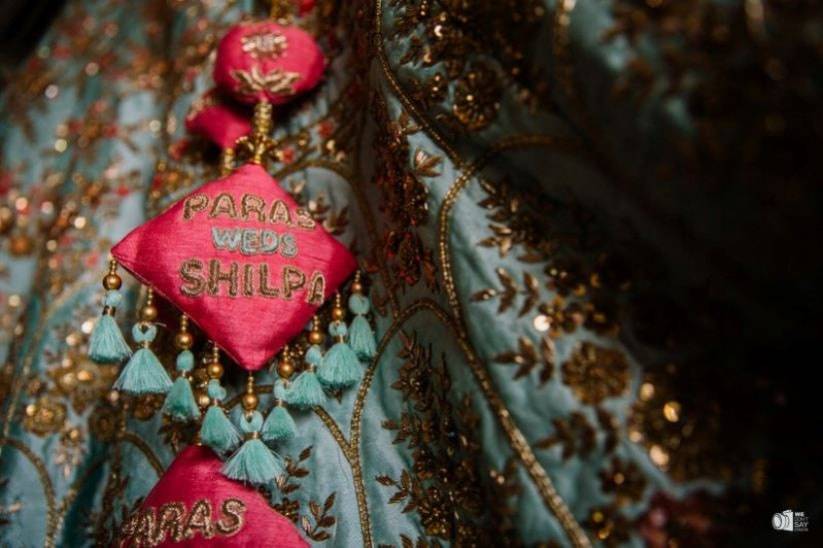 In today's day and age, the millennial brides do not shy away from showcasing their love for their fiancés. Neither do they have a problem in going over-the-top with their choices or gestures? While we love every bit of it, there is something that we especially enjoy seeing our millennial brides do and that is personalising their bridal wedding lehenga. Every woman is extremely emotional about her bridal wedding lehenga but the millennial brides are taking it to another level. They are getting into its designing to personalise it in a way that will be cherished by them for the years to come. Want to know some of the coolest things that brides have done to personalise or customise their bridal wedding lehenga? Then read ahead.
1. Wedding Hash Tags Are Everywhere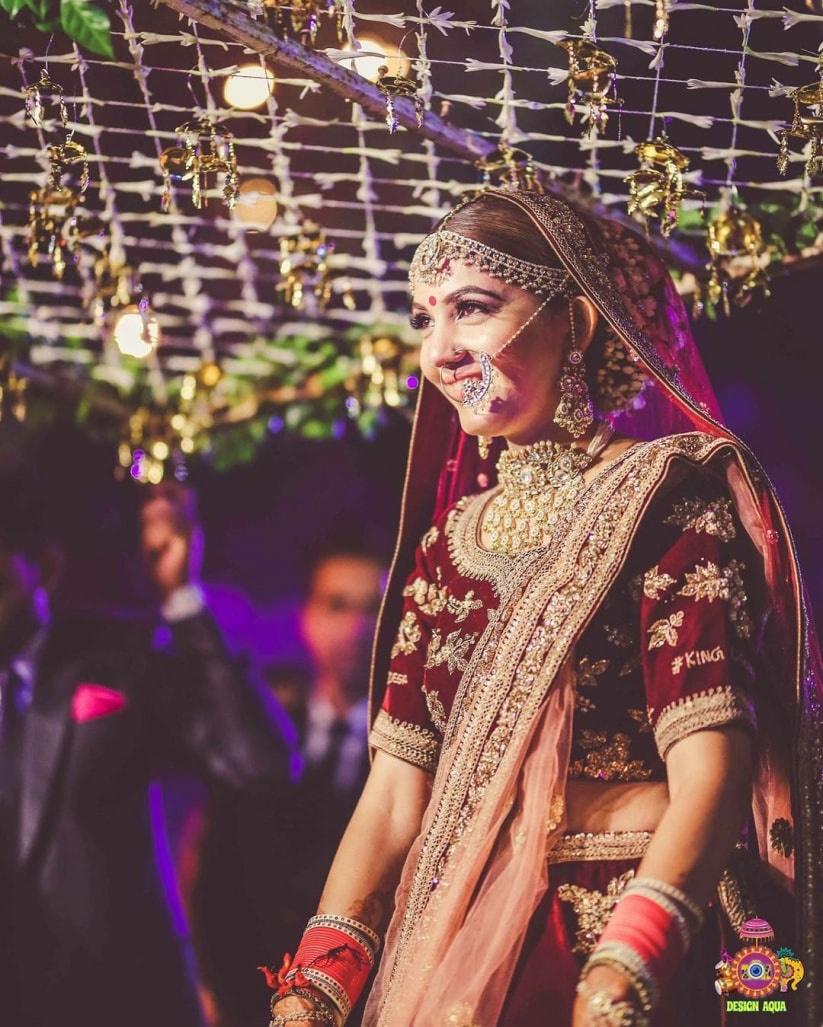 With the new trend of creating wedding hashtags for social media, it inevitably becomes a part of everything at the wedding. But where we have started liking it the most is on the bridal wedding lehenga. Some brides love to put in on the sleeve of their blouse, others get it inscribed on their lehenga skirt. Despite wherever they decide to put it, we love the idea of personalising their bridal outfit as it surely is a possession of a lifetime.
2. Make Use of the Latkans and Tassels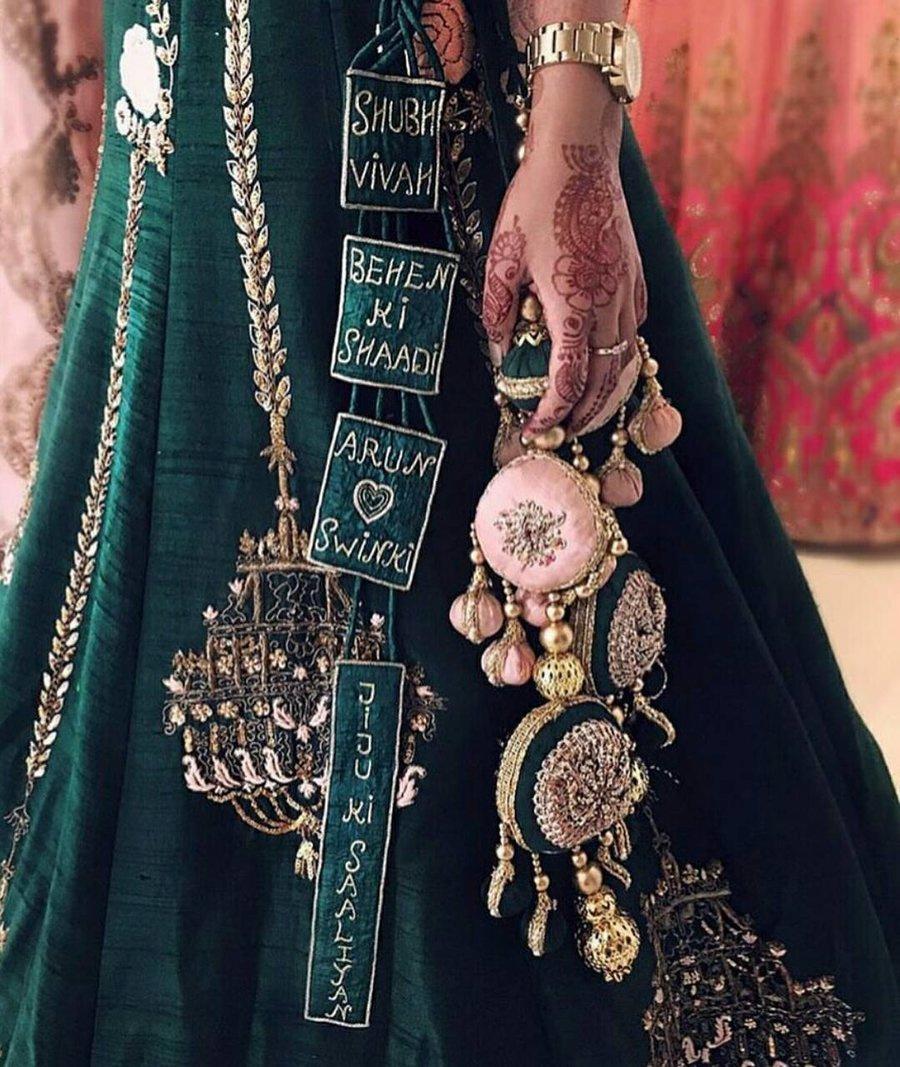 Image Courtesy: Archana Rautela
With bridal wedding lehenga having lots of Latkans and tassels both on the blouse as well as the lehenga, brides thought why to let go of the opportunity to do something quirky. We all loveLatkans that are a big and a little over-the-top. So what is a better idea than to customise the Latkans and tassels of the bridal wedding lehenga with initials of you and your partner's name or even hashtags?
3. Hide It at the Hem of Your Lehenga Skirt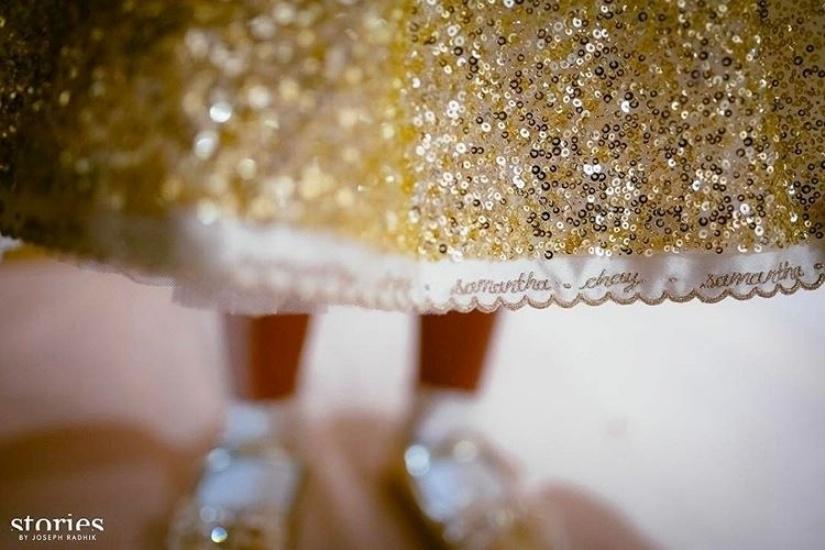 Image Courtesy: Stories by Joseph Radhik
Amidst all the bold millennial brides are some shy ones that do not want to go overboard with the personalization of their bridal wedding lehenga and rather choose to keep it hidden. Well, for those brides the hem of the skirt is a great place to get the initials embroidered or even the names written.
4. Cherish It on the Tag of Your Bridal Wedding Lehenga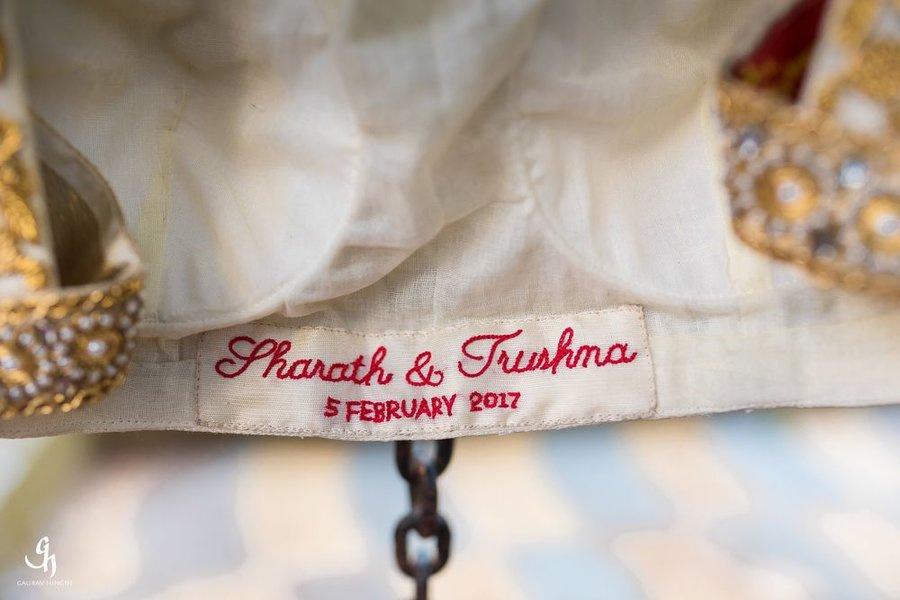 Image Courtesy: Gaurav Hingne Photography
Another great place where brides choose to hide their initials or names along with the wedding date is on the tag of her lehenga. This way you can ensure that nobody other than you sees it while it will always be something that will be cherished for the years to come.
5. Go Bold With the Back of Your Blouse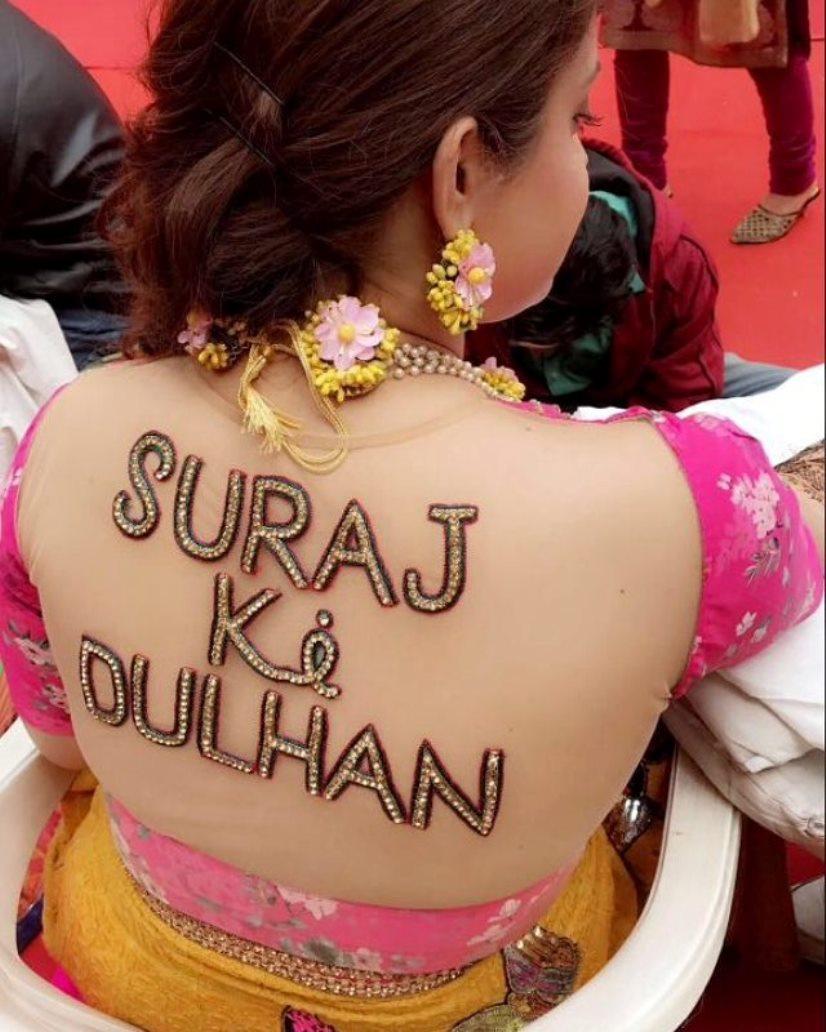 Now for brides that are not shy or don't believe in choosing to personalise their bridal wedding lehenga in a subtle way can try using the back of their blouse. The back of the blouse is one place where you can make it as bold as you want. So if you want the whole world to know what you've gotten written from afar then the back of the blouse is what you should customise.
6. Going the Traditional Way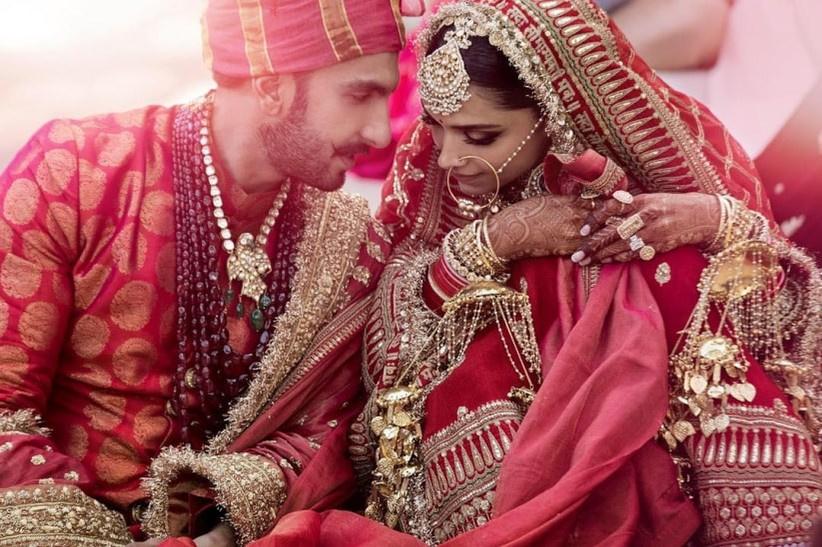 Image Courtesy: Sabyasachi
We've given you enough ideas of how brides customise and personalise their bridal wedding lehengas with hashtags, names, initials, and wedding dates, now let's talk about other things that brides choose to get inscribed. One of the increasingly famous ideas is that of inscribing shlokas on your bridal outfit. Why we say increasingly famous is because the trend has caught on right after Deepika Padukone had 'Sada Soubhagyavati Bhava' written on her bridal dupatta.
7. Lehengas are a Good Place for Shlokas Too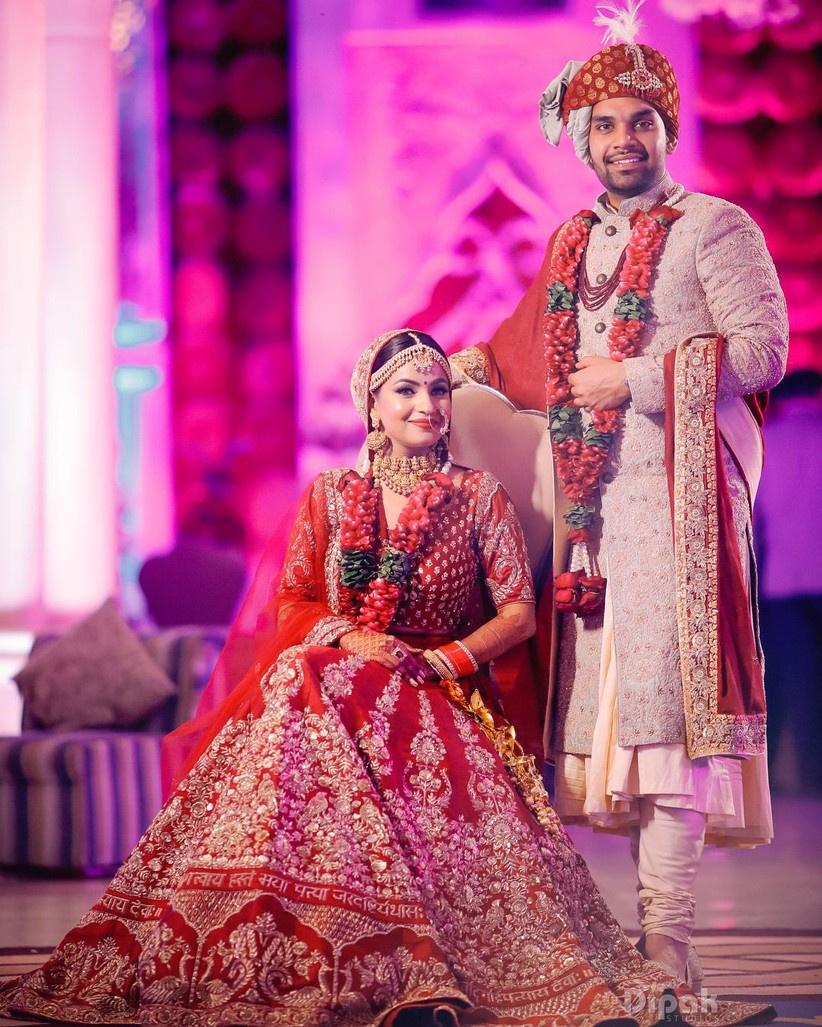 After Deepika Padukone, many millennial brides have been seen inscribing similar Sanskrit shlokas relating to married life on their lehenga skirt as well. So if you do not like the idea of personalising the dupatta, then you can make a more visible inscription on your bridal wedding lehenga.
8. Love Notes on the Bridal Wedding lehenga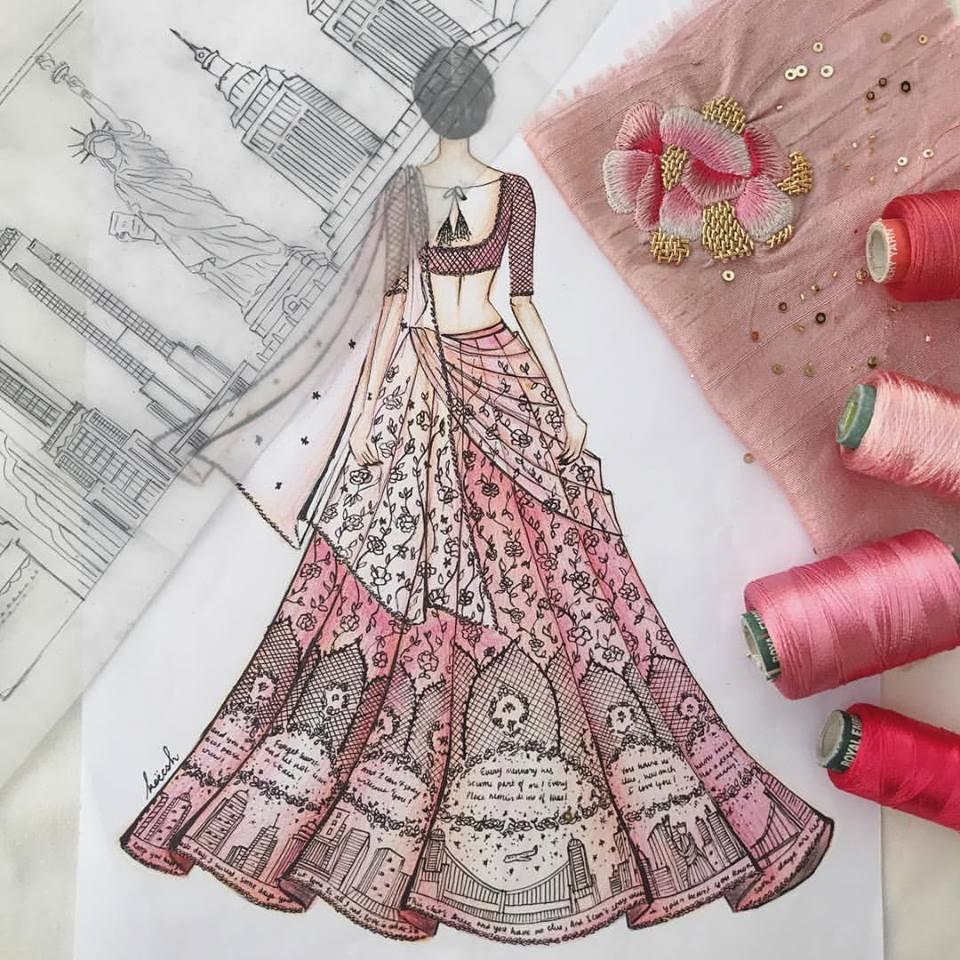 Image Courtesy: Kresha Bajaj
Last but definitely not the least, is the most heart-melting thing that we have seen brides do. It is the inscription of love notes on their bridal wedding lehenga as a sweet gesture of love for their groom. This is not just the best gift a groom can expect but also goes to show how much her wedding outfit means to her. This has definitely raised the bar of personalising the bridal wedding lehenga a notch higher than other brides will surely find tough to beat. So go ahead and find one for yourself!
While love makes you do crazy things all the times, personalising the bridal wedding lehenga is only something our brides have the courage to do. It is not only a gesture of their love and happiness but also a testament to their courage and confidence. We'd love to see our grooms beat them at the game of personalising wedding outfits someday, but till then we are in love with these super cute ideas of personalising bridal outfits. We are sure there are many other ways to do it than the ones we've mentioned as it totally depends on each bride how she wishes to express love and personalise her outfit.
Would you like to personalise your bridal wedding lehenga with your partner's name or initials alongside yours? Tell us in comments if you think this gesture of love is super cute.