Golden Colour Bridal Lehenga: the Diva in You Unleashed for D-day
Don't be afraid to experiment with your bridal outfit. Check these super gorgeous golden colour lehenga designs out!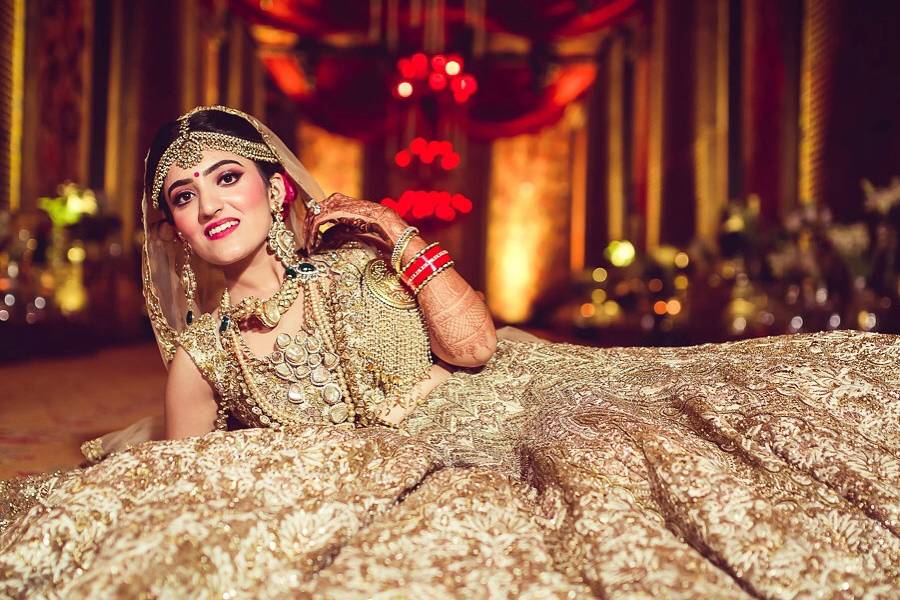 Gold has always been a colour that symbolises regality and a perfectly made golden colour bridal lehenga brings out the elegance, perfect for any bride. A lehenga in this colour gives you the opportunity to play around with not only your clothes but also your jewellery and other accessories. We recommend going ahead with an overall golden outfit, pairings it with a different-coloured blouse or have embellishments in colours that complement it.
Your ultimate look will depend on the kind of fabric you pick for your golden colour bridal lehenga. After that, you just need to select the right kind of accessories to complete your #OOTD. You don't necessarily have to pick jewellery that is golden in colour. Leaving the crowd speechless with your outfit will be very easy if you take inspiration from these golden colour bridal lehenga designs for your wedding outfit.
Keep your gold game strong with our list of golden colour bridal lehenga designs and we promise, when you walk down the aisle and reach the mandap to take your vows, you'll look like a royal princess who's spreading pixie dust here and there.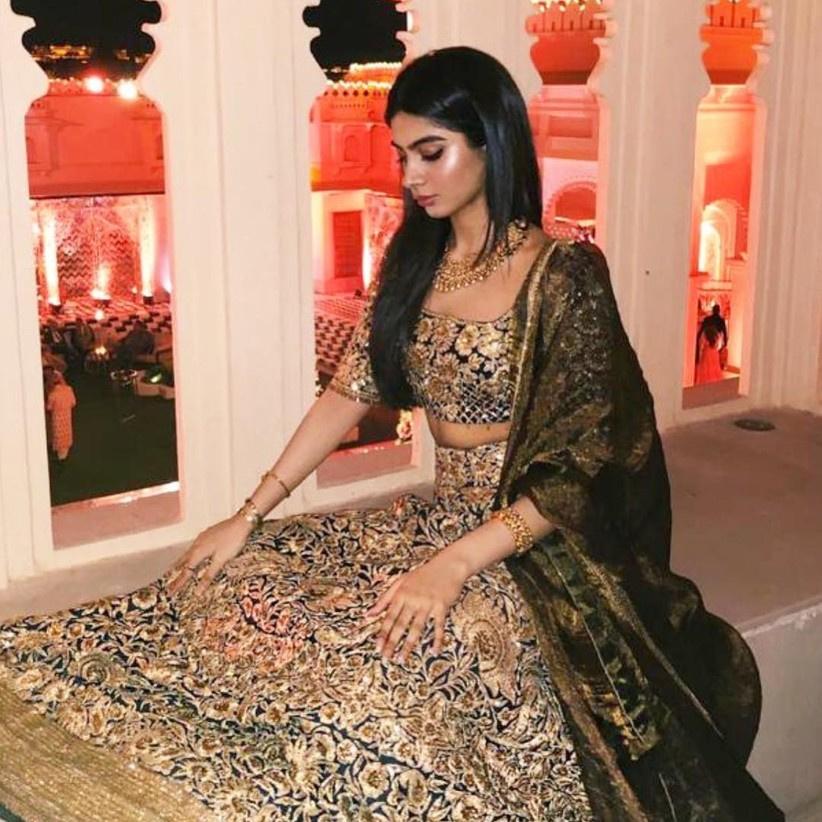 The glamour of the golden colour bridal lehenga makes up for a hefty number of accessories and when styled right, it will make you look like a stunning goddess and give you a look that you will cherish forever. The best part is, if your wedding is at night, the sheen and shimmer of the golden colour bridal lehenga will make you look drop-dead gorgeous! The wedding outfit is not chosen in one go, in fact, there is careful planning, thought and considerations that go behind this and the tricky (yet successful) bet would always be a golden colour bridal lehenga for the day. Do it right and we guarantee that you will be a legendary treat for the eyes.
To make a choice regarding which golden colour bridal lehenga would suit you the best on the big day is hands down one of the most complex questions a bride-to-be has to think about amidst tons of other things to decide.
On your wedding day, you wouldn't want to look anything short of magical in terms of your outfit, the makeup and your the bridal jewellery. At your wedding, you would want to look beautiful, trendy and most importantly, you'd want to set yourself apart from all the brides you've seen, this wedding season.
The easiest and the best way to look different is to do away with the norm of wearing nothing but red lehengas for your wedding. So here's your ultimate guide on golden colour bridal lehenga designs and look phenomenal on your grand big day!
1. The Time-tested golden colour bridal lehenga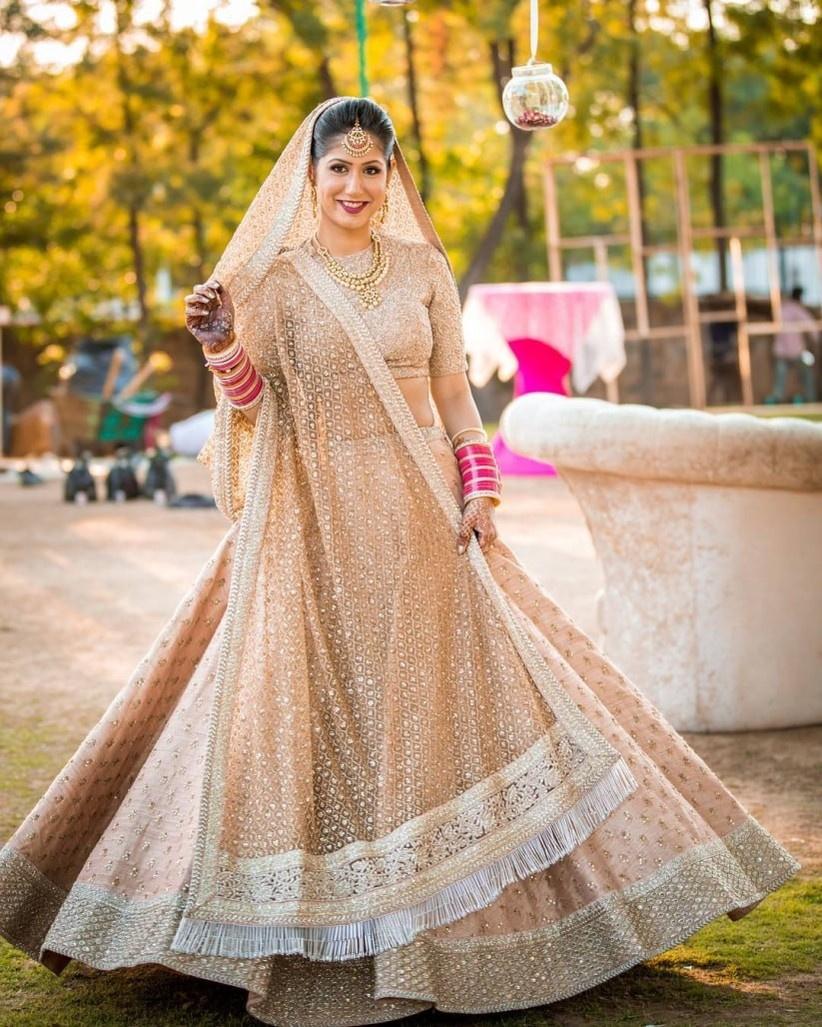 You can set apart a typical golden colour bridal lehenga with different fabrics and appliques that you use. For this one, either use a net cloth with embellishments, silk fabric with a massive cancan or embroidered georgette. Pick one from this list of fabric to avoid common mistakes that people make when choosing the fabric for golden colour bridal lehenga.
Go through your options well because gold is definitely not a colour you can experiment with too much. Consider the shade of gold you'd like. Is it going to be a bright golden or a subtler one? Be sure to think all of this through before you buy or design your golden colour bridal lehenga.
2. Golden colour bridal lehenga with a dash of colour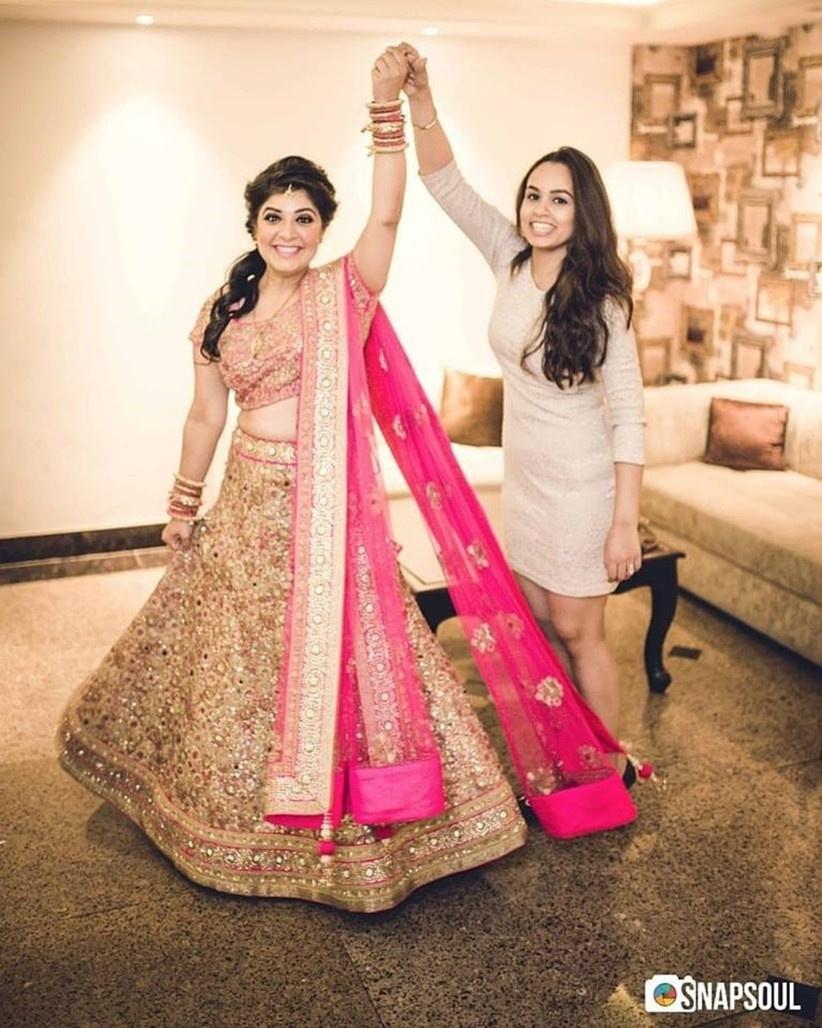 Not so keen on keeping your bridal lehenga entirely golden? You can adorn it with different embellishments in bright colours like pink, orange or red. Your options range from sequins to brocade work and laces. This will ensure you have a touch of colour on your otherwise golden lehenga but will still retain the elegance of your outfit.
Another easy way to add colour is to wear a red, pink or orange gorgeous dupatta. No matter what colour you choose, make sure that the contrast is high for the beauty of your outfit to pop out.
3. The classic gold and red bridal lehenga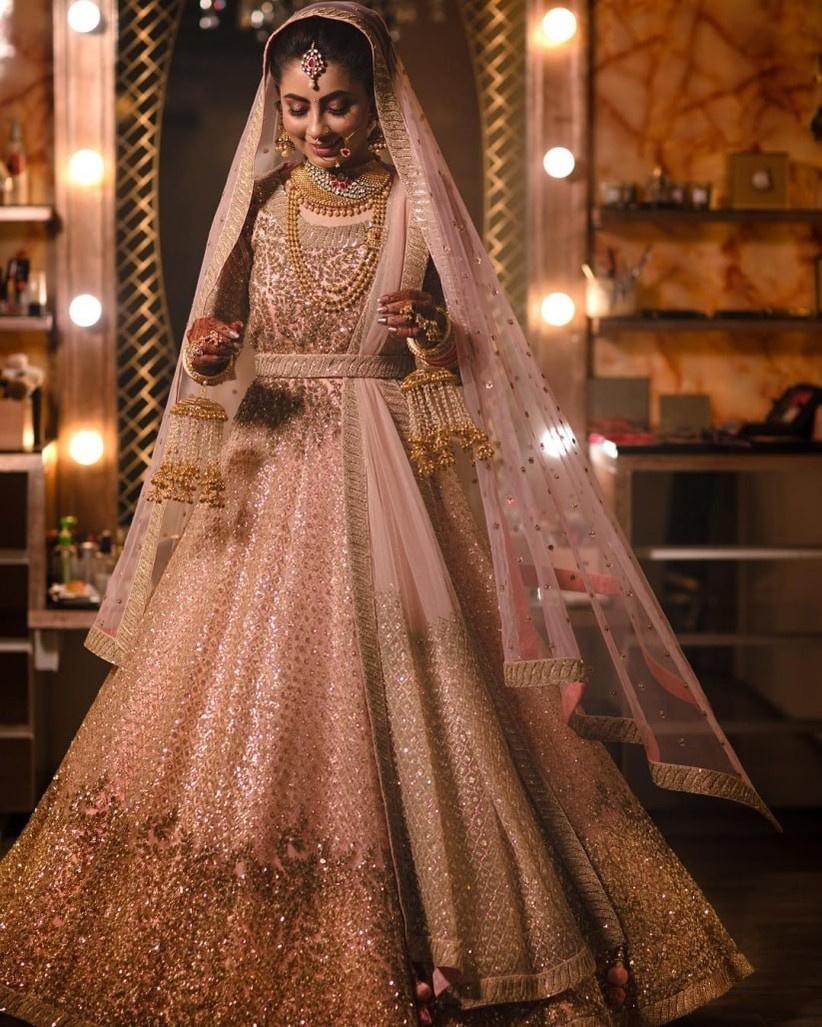 Red is the quintessential colour of weddings and there's no reason to stay away from it. Here's a unique way to integrate red in your golden colour bridal lehenga: go for a golden blouse or dupatta with a red lehenga or vice-versa.
That way, you'll still have the stunning gold in your outfit along with the magical red that stands out at every wedding. Don't be mistaken the red and gold coloured combination is no longer meant just for Bengali brides. You can create wonders with it too!
4. The trending Rose golden colour bridal lehenga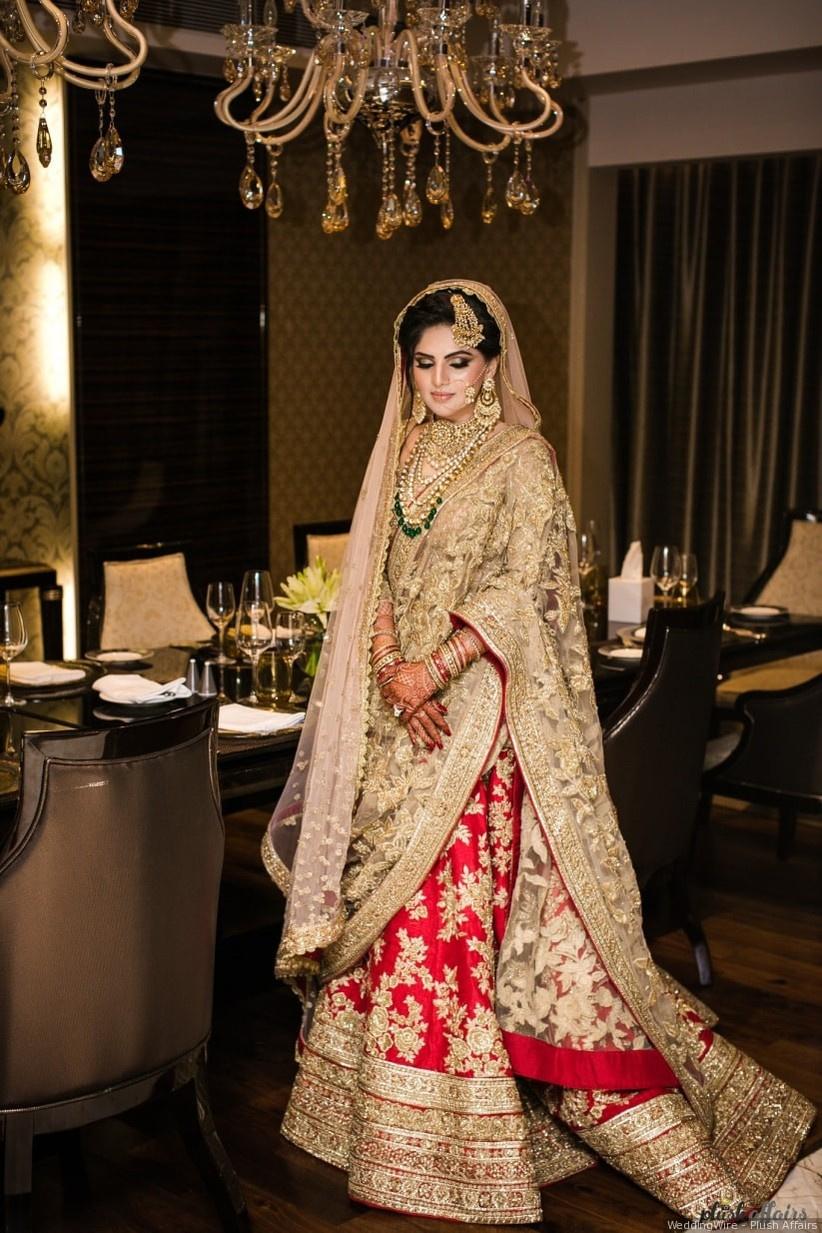 The rose gold colour has been on the trending list for quite some time now because of the richness of the shade. So, if you want to stray away from a pure golden colour bridal lehenga but not too much, then the rose gold shade is perfect for you.
Add a lot of net designs and sequin patterns. The shimmering effect that this will create will make you the dazzling bride on your wedding day! This colour is even better for brides who are going to have their wedding during the day.
5. The accessories guide for your golden colour bridal lehenga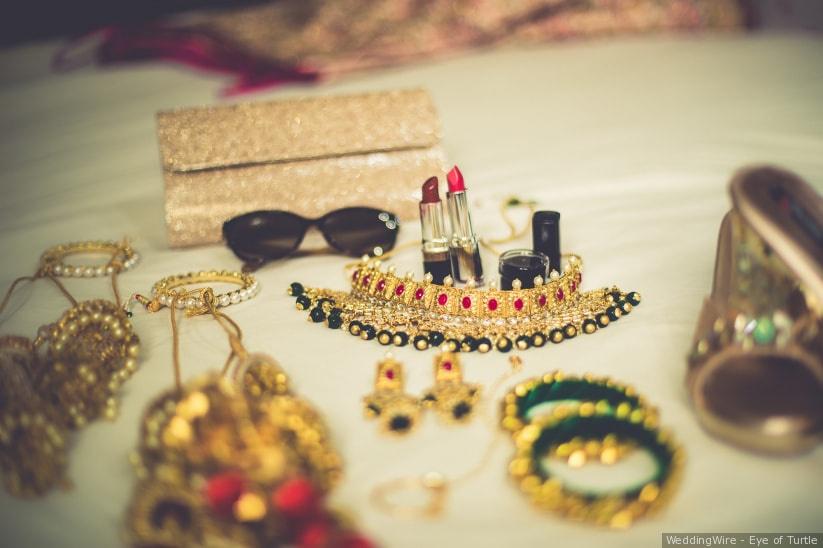 It is almost obvious that golden jewellery will go well with your golden lehenga. But the key lies in not overdoing it. Try sticking to Kundan or diamond jewellery or rubies, emeralds and sapphires to add the right amount of colour. Be sure to consider a shade that complements your skin colour. Golden neckpieces will mostly be hidden if you've picked a heavy dupatta or if your neckline has a heavy work.
We recommend picking jewellery with subtle coloured stones in them so as to not make your outfit look boring. Plus the coloured stones will add a fresh touch to your ensemble. Now that you're well equipped with all the golden colour bridal lehenga designs, it totally depends on how well you pick the fabric and the accessories that go with it.
If you're going with someone to shop for your bridal lehenga, ask for their opinion or always trust your intuition. After all, a bride-to-be will always know what looks best on her!
Which golden colour bridal lehenga did you like the most? Share with us in the comments below!
-Written by Rohini Roy