Here's the List of Unique & Simple Designs in Kanchi Pattu Silk Sarees
Brides on the hunt for latest Kanchi Pattu sarees that can be worn for their wedding functions as well as kept in their bridal trousseau, we have just the right designs for you.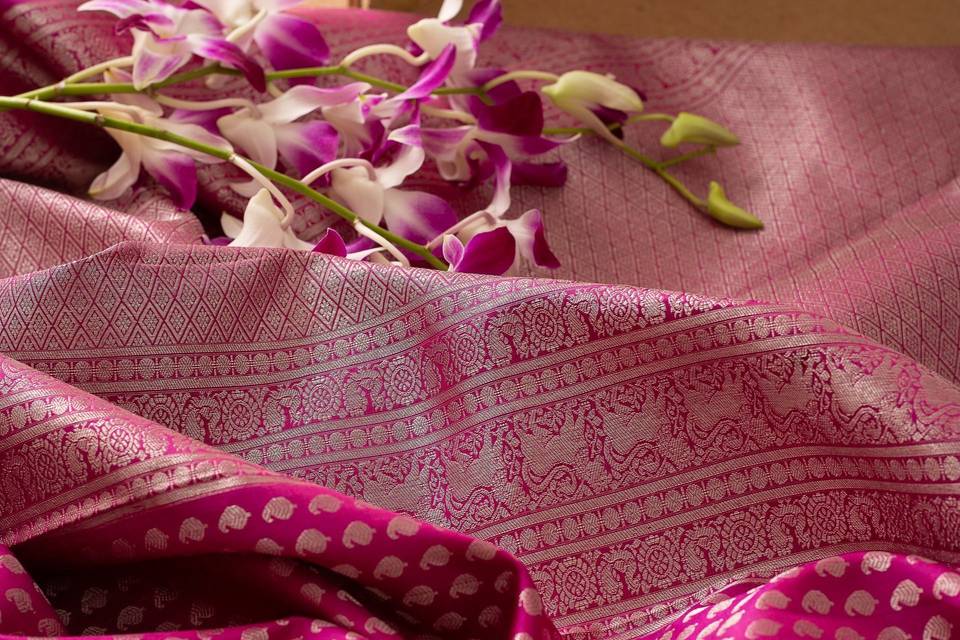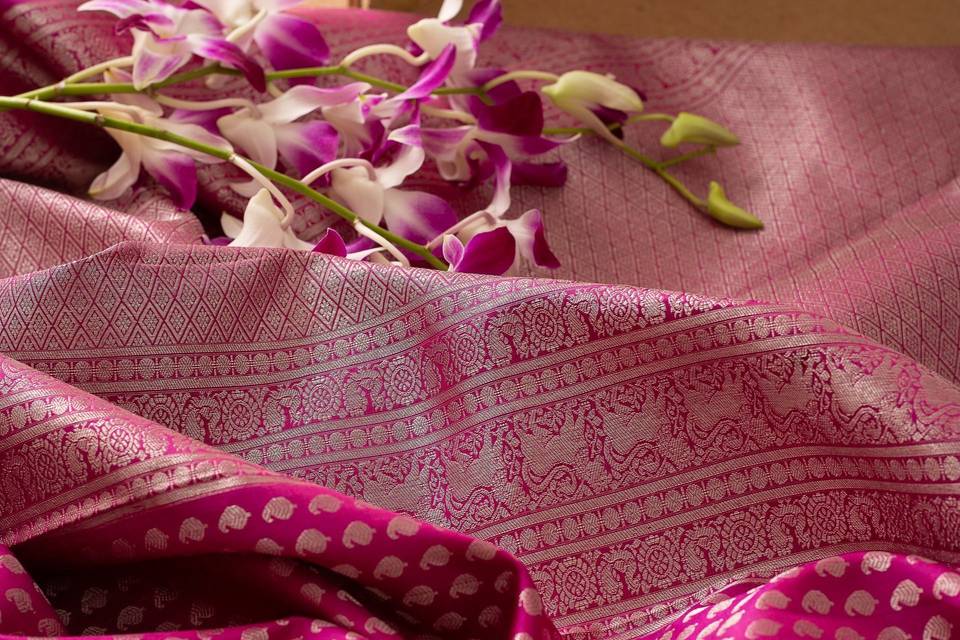 Image Courtesy: Singhania's
Kanchi Pattu sarees are one of a kind silk sarees made by artisans in a town named Kanchipuram in Tamil Nadu. While South Indian brides love wearing Kanchi Pattu silk sarees for their wedding day, millennial brides around the country are currently crushing over these gorgeous silk sarees.
In the millennial era, brides no longer believe in sticking to the regional choices when it comes to outfits and love to experiment with styles and designs from around the country that are unique and gorgeous.
Therefore, Kanchi Pattu silk sarees come to their mind the minute they wish to opt for something graceful yet traditional.
Keeping the craze for Kanchi Pattu silk sarees in mind, here's a list of designs that millennial brides would love to wear for their wedding or even keep in store as a part of their bridal trousseau. So go ahead and pick your choice amongst some of the most beautiful Kanchi Pattu silk sarees we have ever seen.
Violet Kanchi Pattu Saree with Bird Motif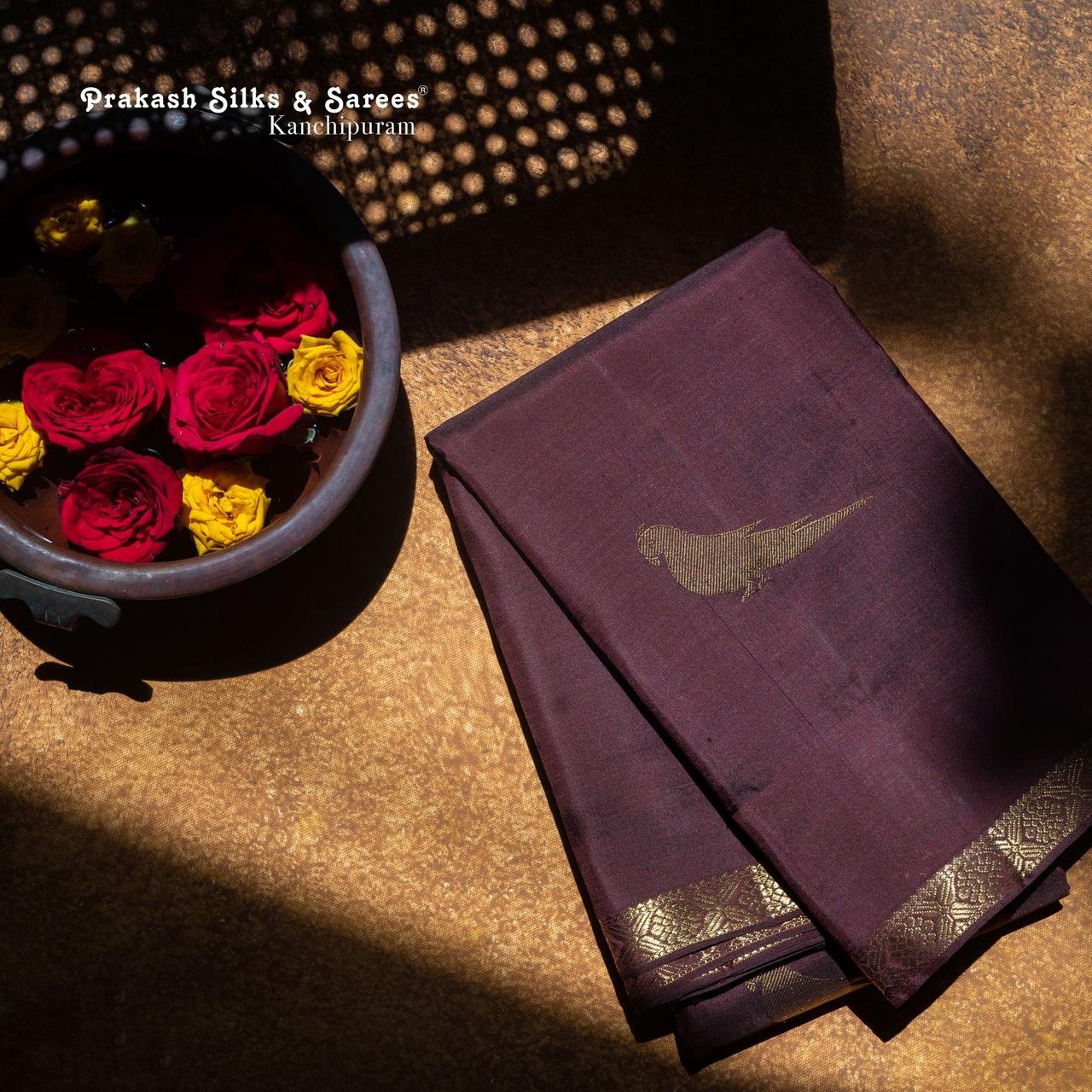 Image Courtesy: Prakash Silk and Sarees
Keeping the choice of millennial brides in mind, this one is a light Kanchi Pattu saree that works perfectly for the bridal trousseau. While bird motifs aren't the most common ones in Kanchi Pattu silk sarees, this is one of a kind just like the millennial bride's style. The light border and the scattered motif make for the perfect choice to wear to lunch dates, functions or even to work after your wedding.
Fully Detailed Pink Kanchi Pattu Saree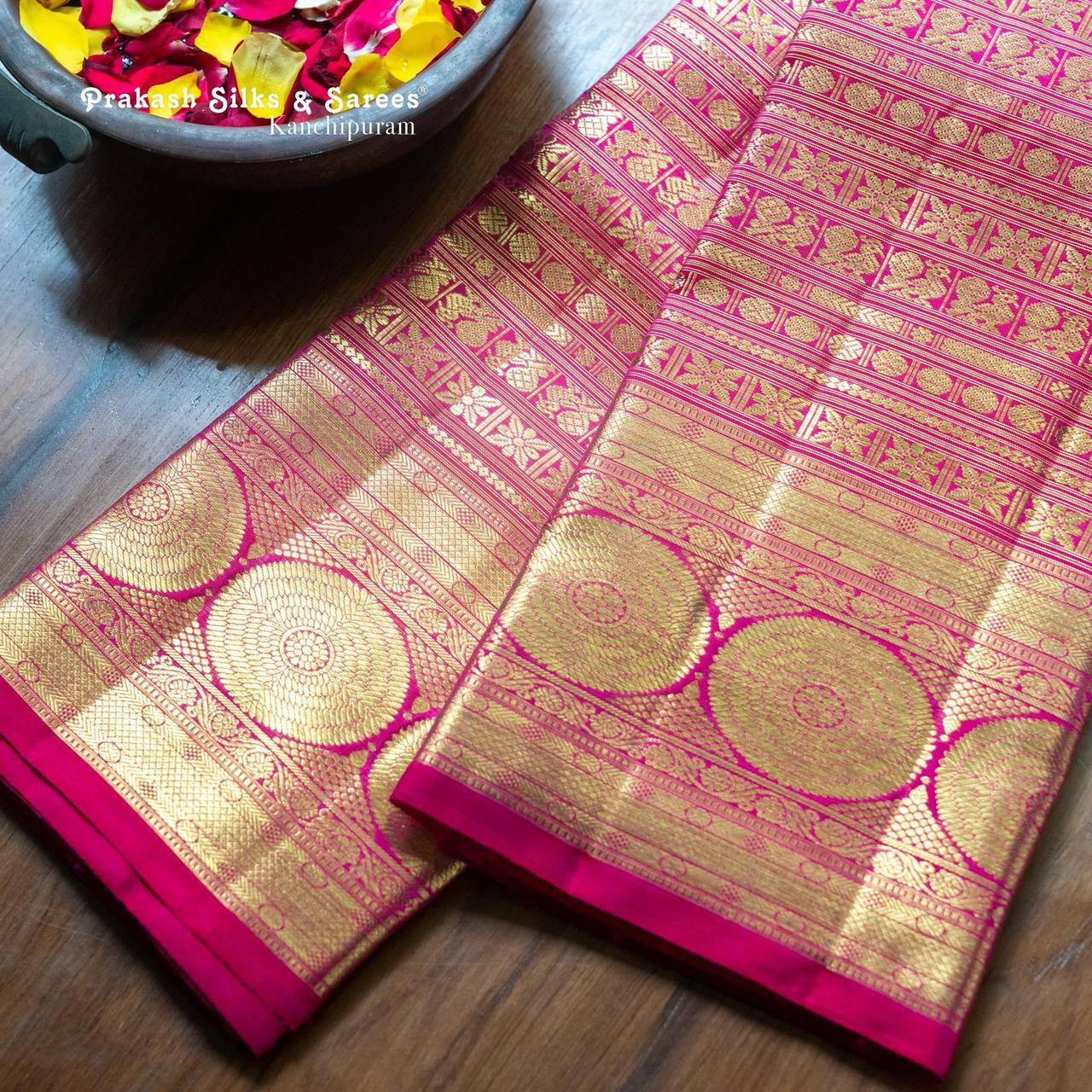 Image Courtesy: Prakash Silk and Sarees
Now here's something for brides that wish to choose Kanchi Pattu sarees for their big day. This one is fully detailed and extremely heavy and will make sure you look perfect on your wedding day. The flower motifs in geometrical stripes make for a unique design in Kanchi Pattu silk sarees and are sure to raise many eyebrows. From its colour to its design, there is nothing that can go wrong with classic and yet stylish options like these.
Jewel Yellow and Pink Kanchi Pattu Saree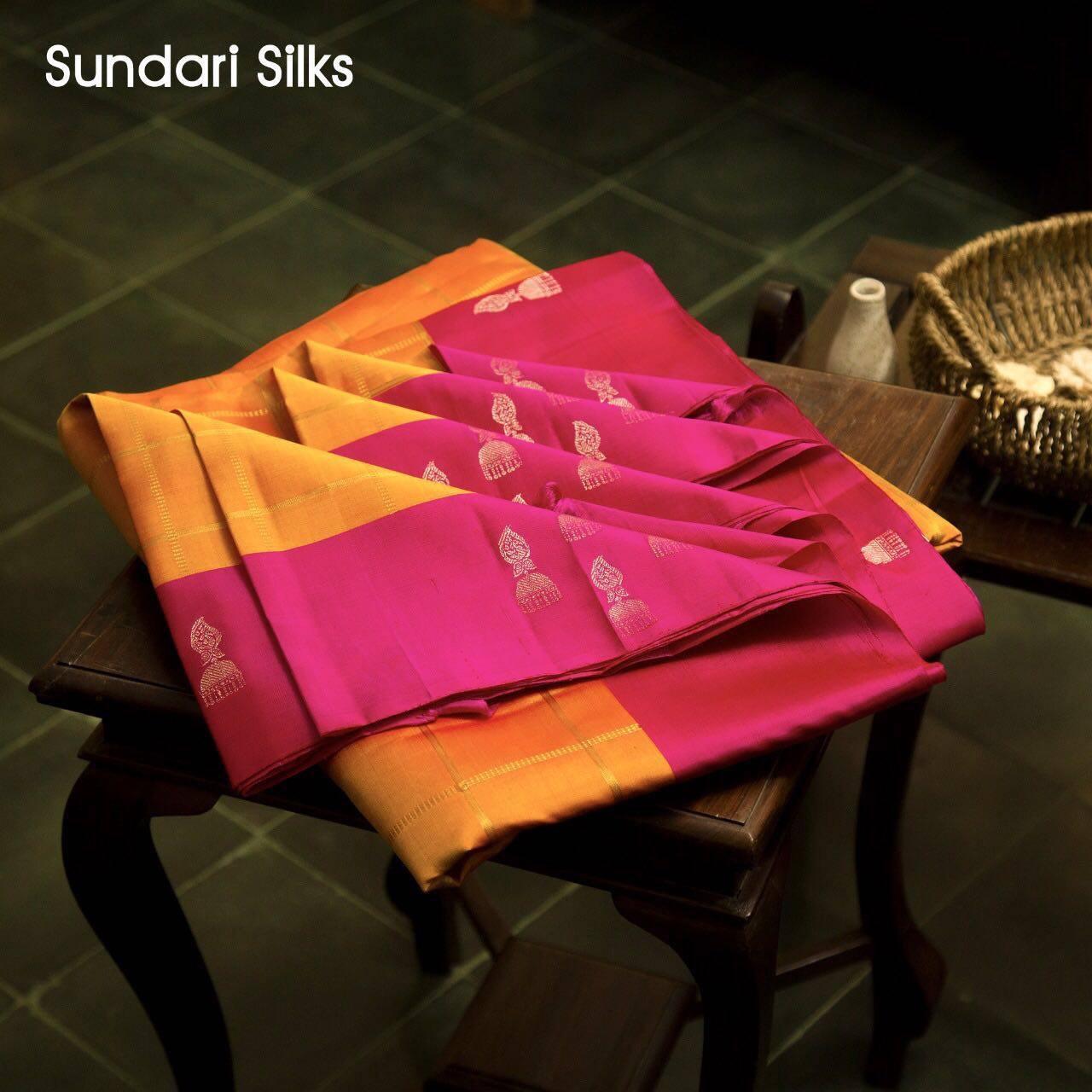 Image Courtesy: Sundari Silks
If we had to pick one of these Kanchi Pattu silk sarees that is the most quirky out of the lot, we'd undoubtedly pick this beautiful jewel yellow saree with pink borders. While what makes the saree unique is its 'jimmiki' motifs woven in the borders that refers to ornamentation in the Tamil language, the fact of the matter is that the colour also adds to how stunning it looks. So brides that are bored with the regular Kanchi Pattu saree motifs here's one that is perfect for you trousseau and to is worn for festivals and poojas after marriage.
Beautiful Green Kanchi Pattu Saree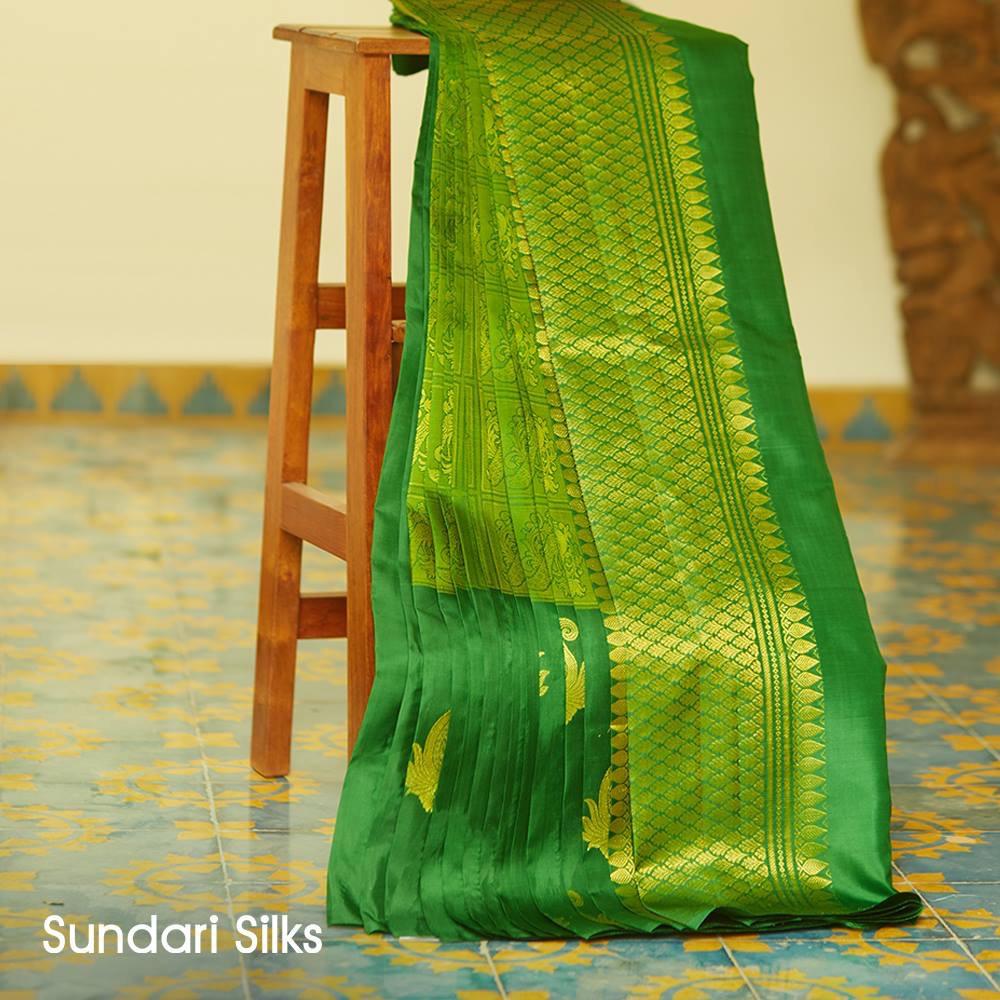 Image Courtesy: Sundari Silks
While the pinks and yellows are regular, sometimes it works to try more classic colours with traditional sarees as they make the brides stand out. This simple and classy green Kanchi Pattu saree with golden leaf and peacock design are a perfect fit for any occasion small or big. Millennial brides that love mix and match can choose to amp it up or play it down with their blouse and jewellery.
Animal Motifs on Black Kanchi Pattu Saree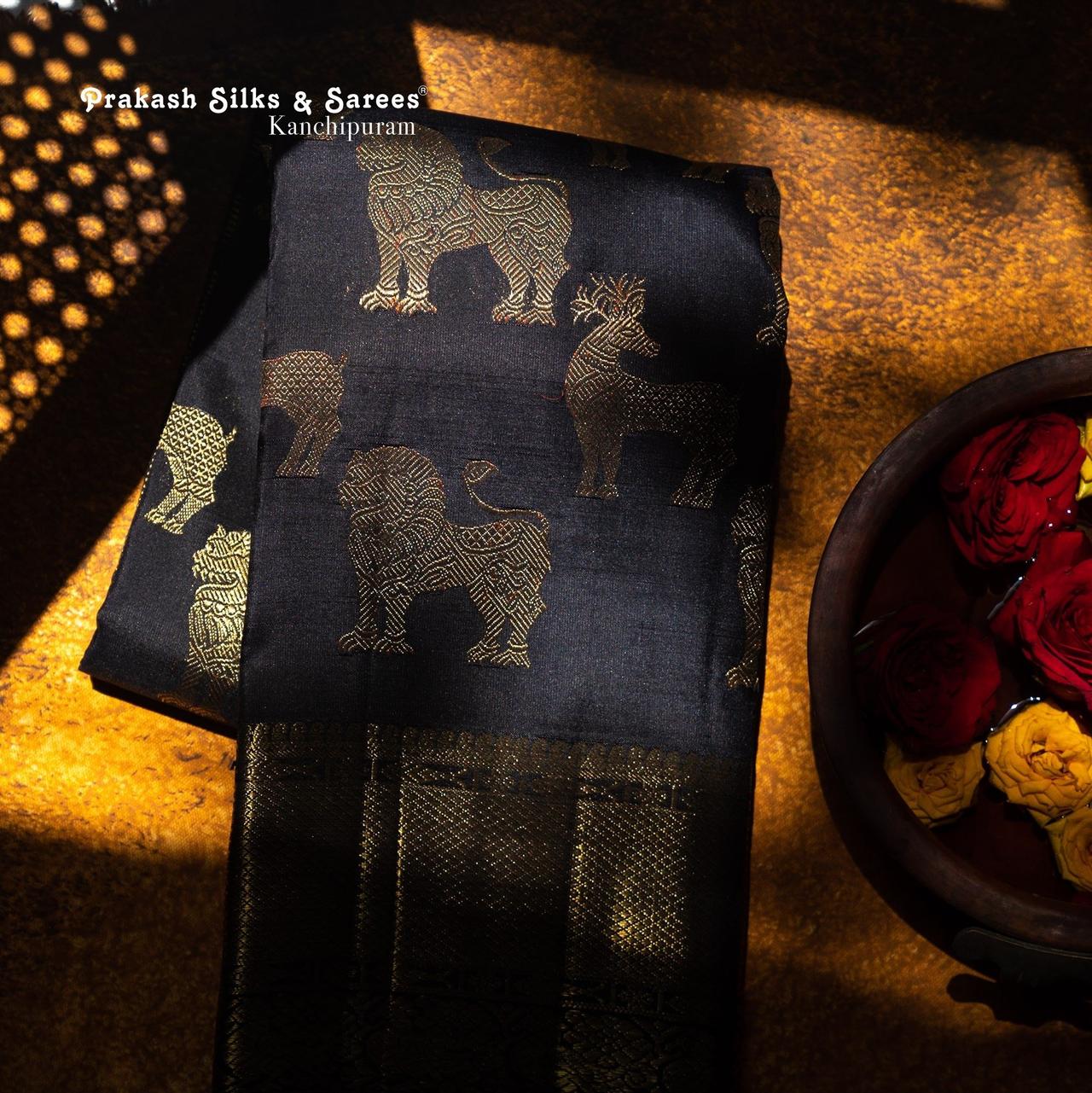 Image Courtesy: Prakash Silk and Sarees
While black Kanchi Pattu silk sarees might be a rarity, this one surely makes you want to see more of the colour in them. While bold motifs in Kanchi Pattu silk sarees might not be the first preference of millennial brides, they have to see these animal motifs with lions and deer to make a choice about this bold Kanchi Pattu saree. Going by its colour and design, this one is a perfect choice to wear to a wedding Reception or parties as brides can play with colours when it comes to the blouse and goes in for contrast choices like red and pink.
Red Kanchi Pattu Saree with Black Border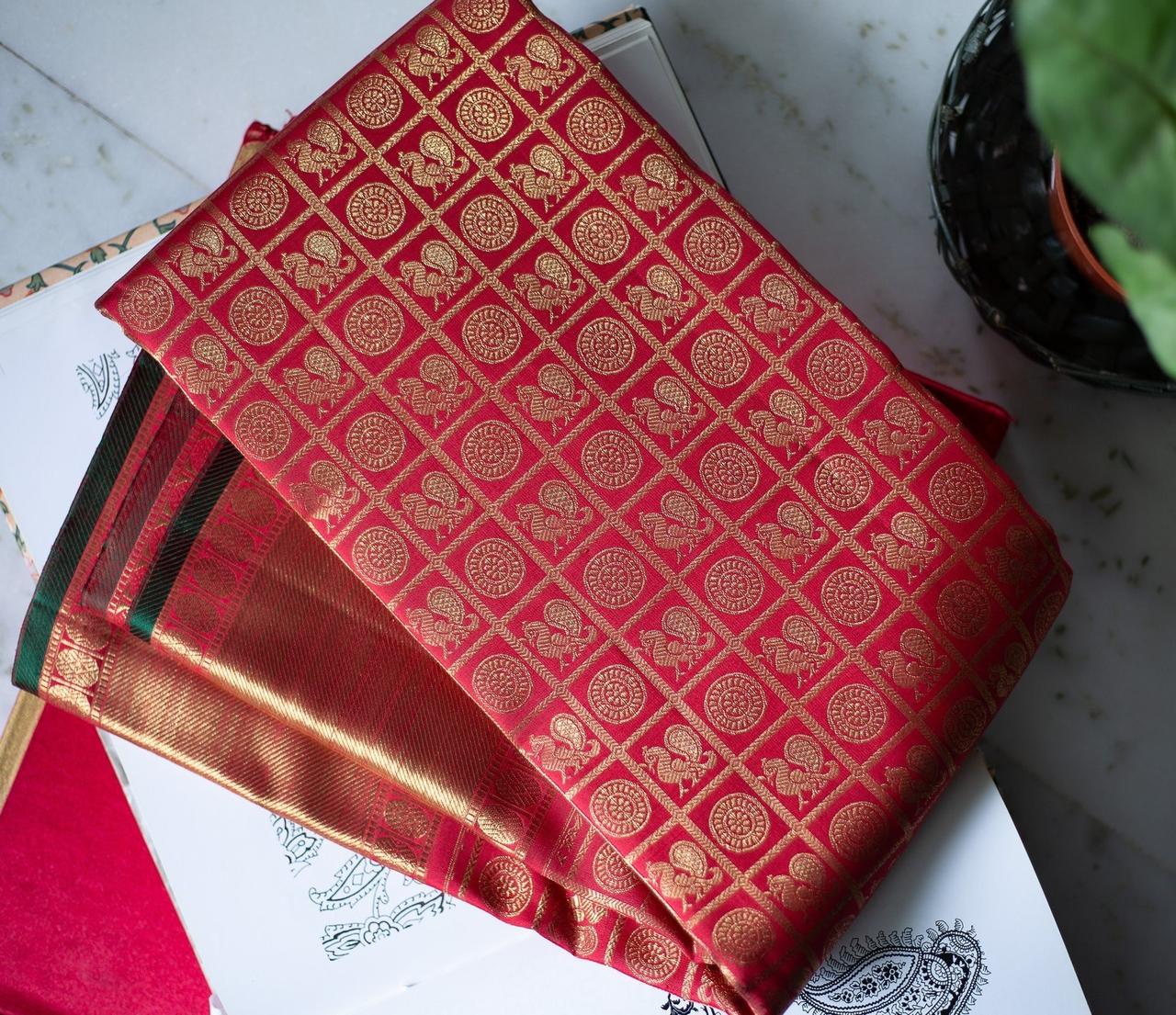 Image Courtesy: Singhania's
While the colour red might be very bride like, this Kanchi Pattu saree is actually more party type than bridal. The geometric checks that alternate with peacock and coin motifs do not just look very millennial but also have a one of a kind ff. The black border only makes it more interesting; however, it might be one that is too heavy for parties. Millennial brides can think of unique ideas to make its blouse trendy so that they don't look overdressed in it at a party.
Floral Motif in Emerald Green Kanchi Pattu Saree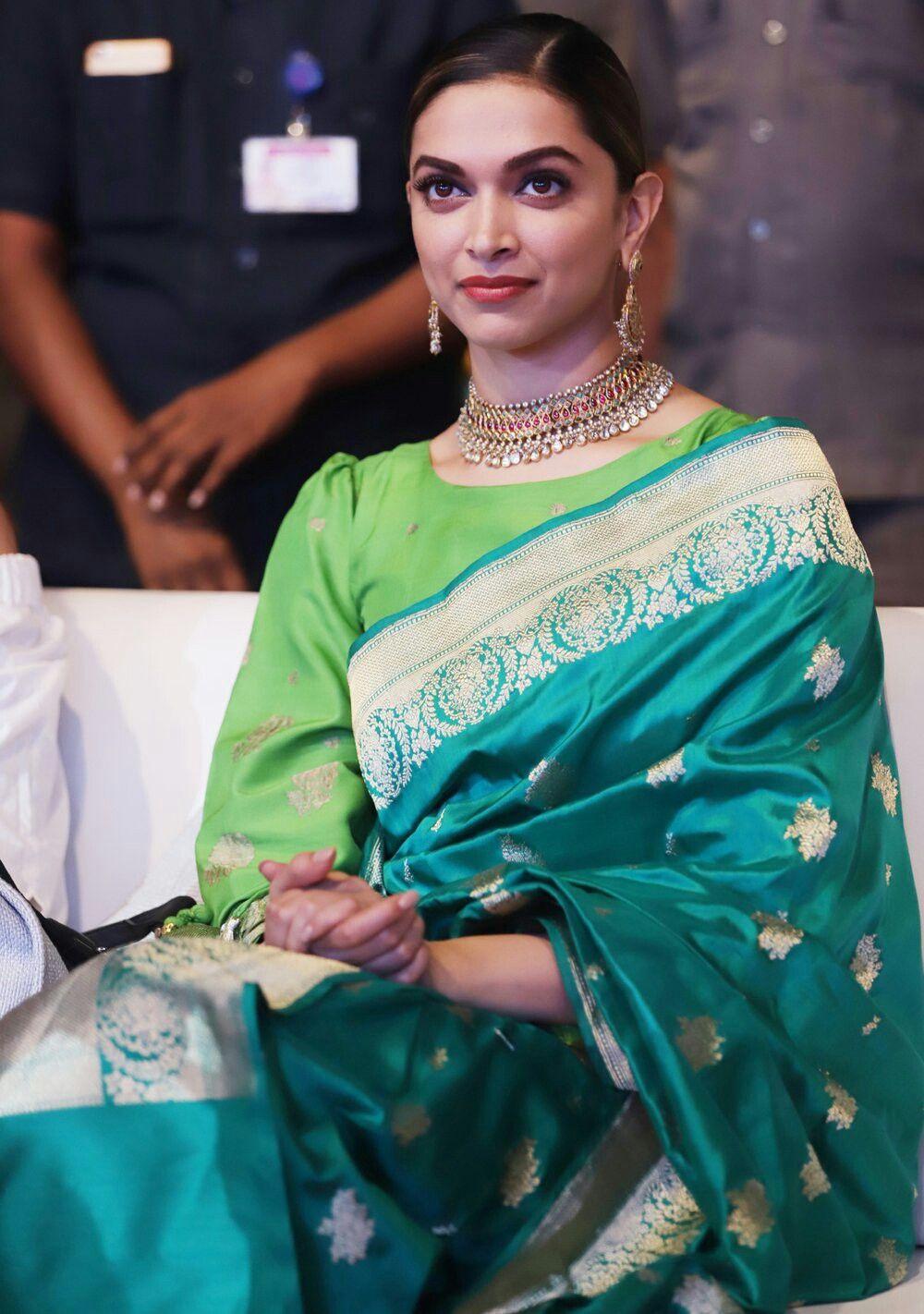 Image Courtesy: Shaleena Nathani
This is another green addition to this list but one that is a more classic choice for the millennial brides. With floral motifs and floral borders woven all over the saree, this one looks extremely delicate and works perfectly as a choice for your BFF's wedding.
While it goes without saying that brides can keep the blouse a stylish or as classic as they want, playing with the colour of the blouse is what is really going to make this as an interesting choice. Just like another shade of green for the blouse in this picture makes the saree look even more stunning than it already was.
While these were our top pick for Kanchi Pattu silk sarees, millennial brides always have the choice to mix and match colours with designs and make for a hit combination that will work for their wedding as well as their bridal trousseau.
However, styling the Kanchi Pattu saree is where the main focus must be as they are an outfit that can be made to look as traditional or stylish as possible only by working on the blouse and accessorising of it. So think no further, choose your favourite pick and style it how you'd like to wear it for your wedding day or even after it.
Pick one of the best Kanchi Pattu sarees from our list and tell us in comments why it's your favourite.