Know The South Indian Brides' Rituals: What Happens, When & How
Got your look? Good. Now, learn about wedding traditions for you. These South Indian brides only rituals are what make a wedding so special. Read on to know more.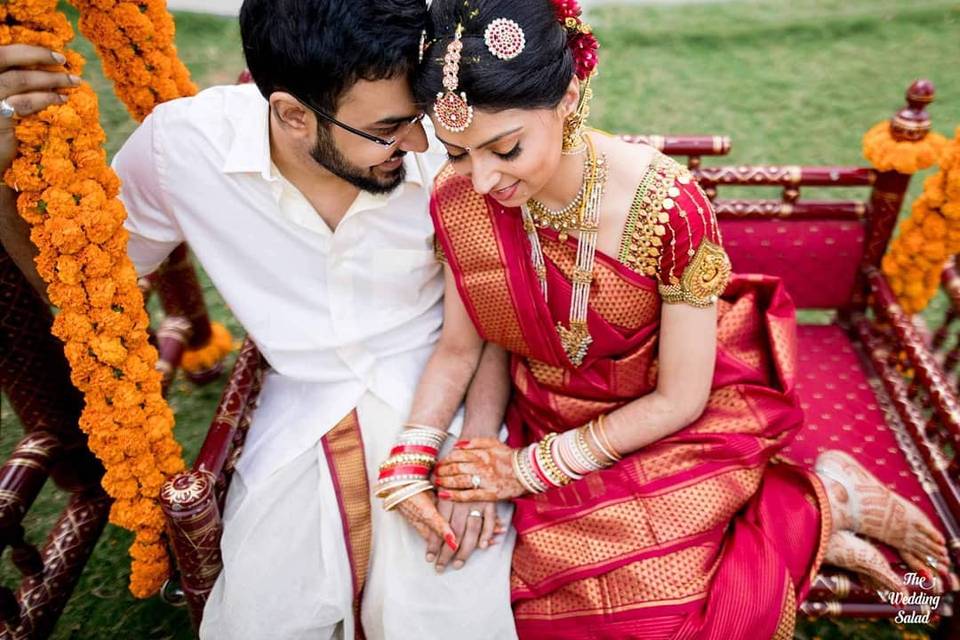 Across the four states, there are a vast number of South Indian wedding traditions and customs, each having their own significance. While on hand there are certain interesting wedding and pre-wedding rituals for the groom; fun, colourful and emotional traditions are in store for the brides on the other. Whether it's Haldipaspu in an Andhra Reddy wedding, Pooram Kazitha in a Tamil Chettiyar wedding or Valaidal in Kerala Muslim wedding...there is one thing common in all these customs!
They are all meant for the bride! So let us take you on a tour to the fascinating wedding traditions which are specially meant for all South Indian brides!
1. Haldipaspu or Paindipilla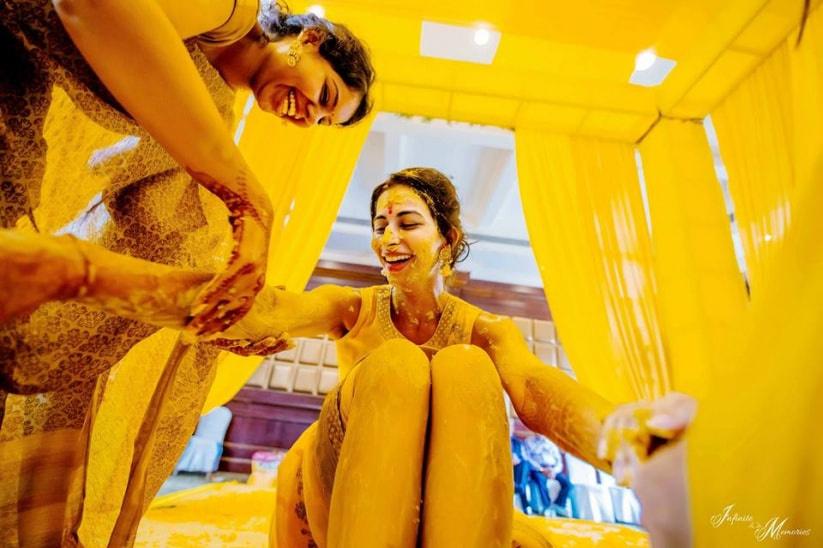 As per Andhra Reddy traditions, a Haldipaspu or Paindipilla involves decking up the bride on the morning of the wedding day. Five, nine or eleven (odd numbers) Sumangalis or married women, individually circles the bride and apply Haldi paste on her, which adds to her bridal glow. Then they put a coin in her palm, touch the coin to the bride's face and throw it in a vessel. This whole ritual is performed with south Indian brides to ward off any evil force.
2. Ganga Puja and Coconut breaking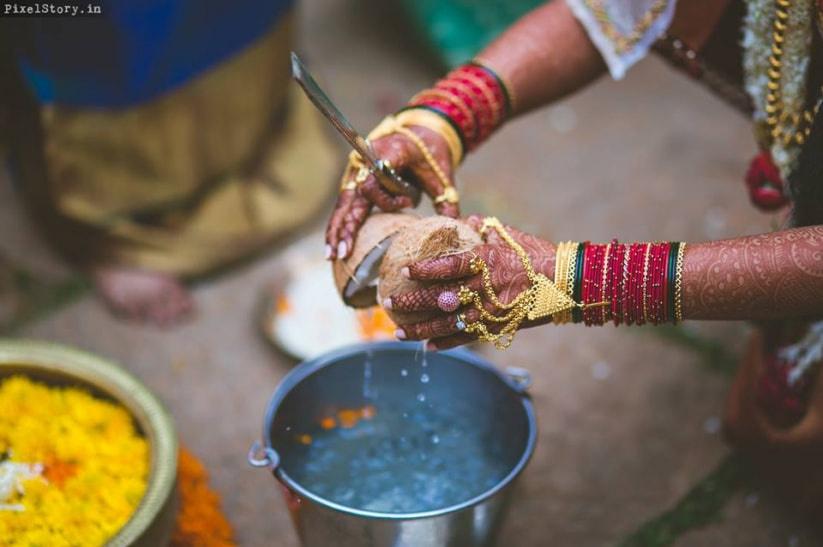 South Indian brides who are about to get married in a Coorgi style, this is a rather fun and cheerful tradition! After the wedding is over, Ganga Puja takes place at the groom's house. And that's when the newly-wed bride has to go through some 'ragging time!' The bride has to break a coconut with her hands (of course, with the help of tools!).
As if that wasn't enough, she's asked to get water from the river (these days thankfully tap water has replaced river water!) in large pots and carry it all the way. Now brothers and uncles of the groom don't let her enter and keep teasing and playing fun games with her! All of this is in jest and playful spirit and is intended to make the new bride open up and feel comfortable.
3. Murthasese and Madarengee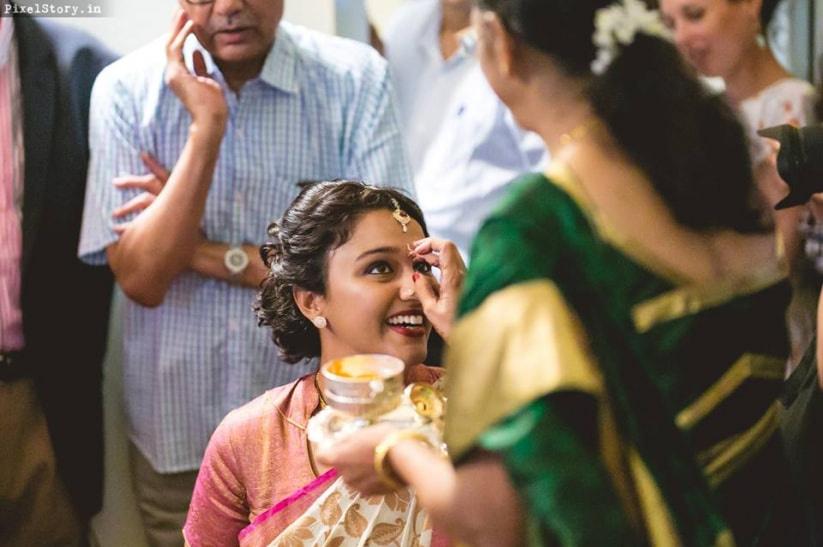 Just like in many parts in India, Madarengee or Mehndi is a significant tradition in Bunt or Nadavas weddings of Karnataka. Another significant custom that is practised on South Indian brides in a Bunt wedding is called Murthasese. Somewhat similar to Paindipilla, just a day before the wedding, the bride is dressed up in Kanjivaram silk saree and a gold Kamarband and is seated near the Tulsi plant facing east.
Everyone blesses her with rice grains, turmeric and kumkum. Married women put bangles on her hand including one black bangle to ward off evil.
4. Valayidal and Mailanchi Raavu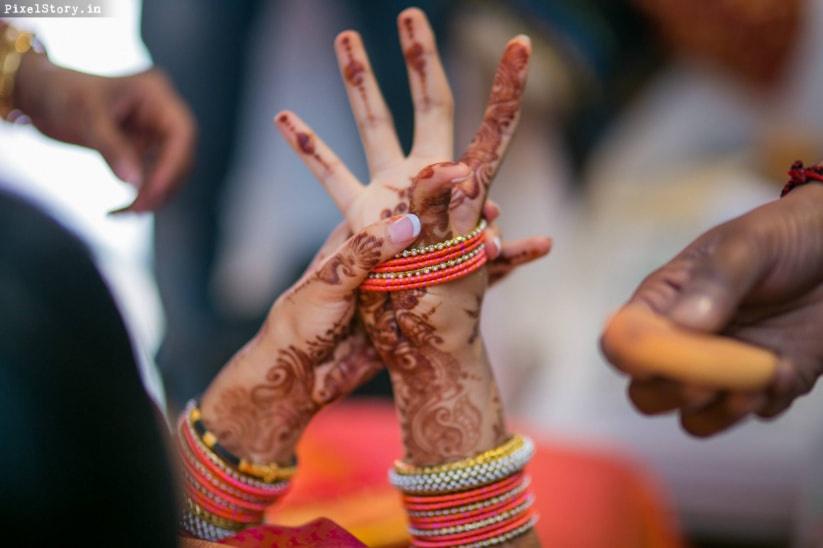 Valayidal is one such unique tradition in Muslim weddings that is performed only in Kerala. Once the wedding date is fixed, the bride is presented and adorned with one or multiple gold bangles by her would be mother-in-law. One of the major traditions that almost all south Indian brides experience is, getting loads of gold!
Following this, comes the musical tradition of Mailanchi Raavu or popularly known as Sangeet. At a Mailanchi Raavu, women sing wedding-themed songs or Mappila Paattu with the prospective bride while applying Mehndi on her palms.
5. Padapuja, Kulam Vazhum Pillai and Thumbu Kattudal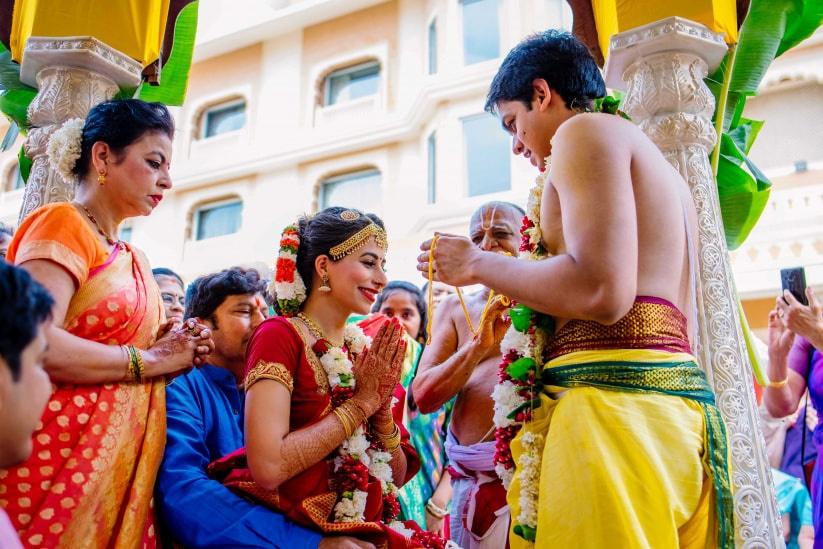 In a Tamil Chettiyar wedding, once the bride is welcomed and blessed in the new family, she washes her mother-in-law's feet using betel leaves (Padapuja). The bride is given the responsibility of the house (Kulam Vazhum Pillai) and a matrimonial thread called Thali is tied around her neck (Thumbu Kattudal).
The traditions for south Indian brides are more or less similar in Tamil Nadu with minor variations in every region.
6. Kanyadanam and Saptapadi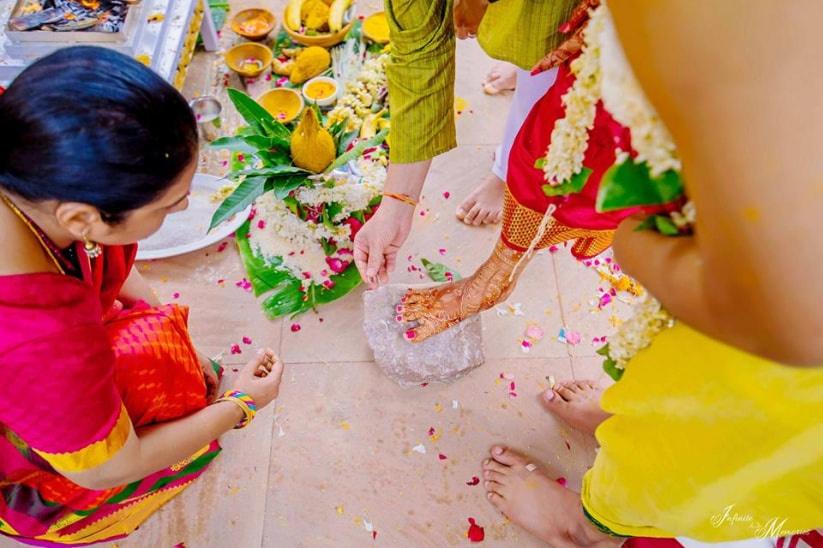 A Kanyadanam is a very emotional tradition for south Indian brides in a Tamil Brahman wedding. The bride sits on her father's lap while he gives her away. It symbolises that a daughter will always be like a father's baby. When he gives away his baby he seeks the groom's promise to take care of her always. While during a Saptapadi or Pheras, the groom helps the bride to tread on a grindstone placed by the holy fire. This grindstone symbolises her entrance to the new family.
So if you're a bride and having a South Indian wedding, now you have a fair idea about the wedding rituals that would involve the bride! An assortment of intense and fun traditions, South Indian brides experience a full-blown cultural treat in a wedding. The gorgeous Kanjeevaram to Navari or the snow white wedding gown with a long trail...you can witness a stunning range of bridal wear at the weddings of South India. With spectacular South Indian jewellery like the Manga Malai, Kasumala and Vankis brides just look divine! Hope you're all set for your Mangal Kalyanam now!
If there is any wedding tradition you'd like to share with us, please comment below!