8 Glimmering Pearl Necklace Designs To Light Up Your Events!
If you are looking for Pearl Necklace Designs for each of your wedding event, this might be helpful! Take a look at some stunning designs for pearl inspiration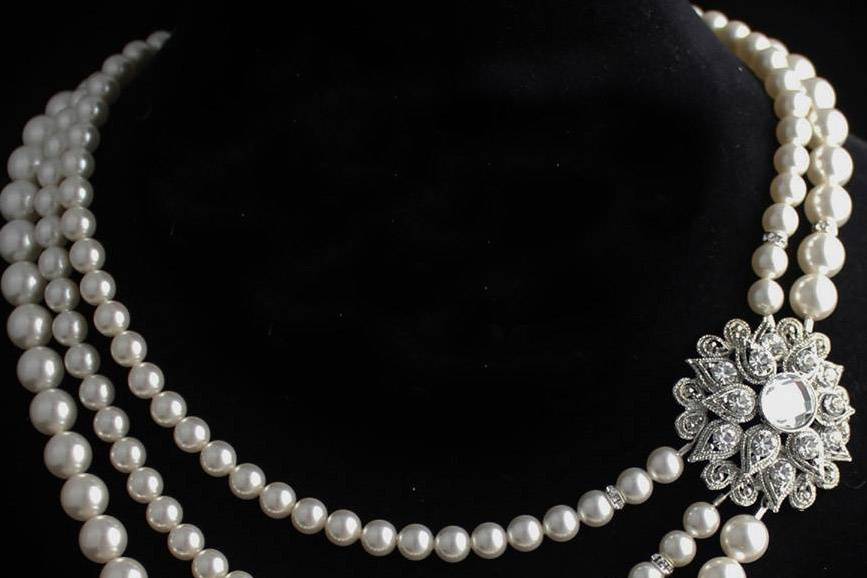 After all those Kundan jewellery sets, temple jewellery and a trunk full of silver and silk thread earrings...you want something to add a bit of grace to your jewellery collection! The answer is- Pearls!
Nothing can substitute the elegance of pearls. And the best part about pearls is, you can sport them with almost any kind of outfit. So how about we show you some pearl necklace designs this time that would totally take your breath away! Indulge in some pearl overdose. Watch the photos, pick your favourites and once you wear them, be prepared to experience major head-turning on your wedding events!
1. Pearl Choker Necklace with Polki Pendant

Express your love for pearls with this chic choker! This combination of pearls and Polki would be one of the trendiest pearl necklace designs. The numerous thin pearl strings creating a broad choker accompanied by a prominent Polki pendant would simply add loads of attitude to your outlook!
Outfit tip: Off shoulder lehenga or evening gown, designer saree with a deep neck blouse, western dress with deep neck.
Ideal occasion: Cocktail party, Sangeet, Reception.
2. Diamond and Pearls

If you can't decide which one you love more- diamonds or pearls, this is one of those pearl necklace designs that would solve your dilemma! A pearl necklace with equal prominence of diamonds in it...what more could you ask for? The beauty of this choker necklace is the perfect balance between the thin pearl strings and the fine diamond embellishments with three emerald stones at the centre. The final touch of four big hanging pearls completes the look.
Outfit tip: Silk or designer sarees, heavy lehenga with deep neck choli, Indian gowns.
Ideal occasion: Wedding, Reception.
3. Nizami Necklace with Emeralds

An inspiration from the Nizami Kanthi or a necklace, this design is a true display of stellar craftsmanship. One of the finest pearl necklace designs by Akoya by Anukriti, this necklace has three layers for you to explore! The sheer combination of Polki, Russian emeralds and Hyderabadi pearls all in this single piece, makes it an epitome of beauty and art!
Outfit tip: Embroidered lehenga in pastel shades, green lehenga, golden saree.
Ideal occasion: Sangeet, Wedding, Reception.
4. Gold & Pearls Statement Necklace

If you'd like a hint of gold with your pearls, go for a statement necklace. It's a sophisticated gold chain with prominent pearls and tiny diamond studs in a single strand. The highlight of such pearl necklace designs is the to-the-point pattern with nothing else to take away the focus off of pearls! And since it's just a single strand, there is a subtle elegance along with its strong statement!
Outfit tip: Dark shaded evening gown, Chiffon red saree, any dark colour western dress.
Ideal occasion:
Pre-wedding shoot,
Cocktail party
, Sangeet, Reception.
5. Multi-colour Pearl Collar Necklace

Here's one of the most eyeball-grabbing pearl necklace designs you will see here today! This particular necklace is a perfect representation of pure pearl magic! Especially the magic enhances with the presence of pearls in three different shades. The white, pink and grey pearls artistically entwined with each other to form a three-layered collar necklace. The tiny diamond studs dial up the panache further!
Outfit tip: Pink lehenga, designer silk sarees, evening gowns or white Chikankari kurta.
Ideal occasion: Wedding, Reception, Sangeet night.
6. Multi-layered Necklace with Floral Pendant

Are you planning a royal wedding in Umaid Bhawan Palace of Jodhpur? Then you must keep your outfit and jewellery in sync with the theme! This is one such pearl necklace designs that would only add to the royal vibes of your wedding. The multi-layered necklace with bold white pearls and a gorgeous floral shaped pendant in platinum with large pearls on it...is there anything that's not grand about this necklace? For that extra glitz, there are small diamond studs around the pendant too!
Outfit tip: Rajasthani lehenga in bright colours, white saree, Anarkali suits.
Ideal occasion: Engagement, Reception, Sangeet.
7. Single strand with a single Pearl Pendant

Brides who are looking for sleek, minimalist pearl necklace designs, should go for something like this. A simple single strand pearl necklace with a diamond-studded single pearl pendant. The simplicity is the USP of this necklace as it exudes oodles of sophistication.
Outfit tip: Pastel coloured salwar suits, Lancha dresses, chiffon sarees, saree with contemporary drape, Indo-western gowns.
Ideal occasion: Engagement, Mehndi, Sangeet, Cocktail.
8. Floral Pearls on a chain

If you like your pearls to be big, bold and beautiful, this should be one of your favourite kind of pearl necklace designs! Seven floral shaped pendants of different sizes with the largest one being at the centre are strewn together on a gold chain. The floral pendants are simply designed with big white pearls. There are small diamond studs in between every pendant that's adding sparkle to the necklace!
Outfit tip: Lehenga choli, silk sarees, Anarkali dresses, evening gowns, Indo-western dresses.
Ideal occasion: Engagement, Mehndi, Sangeet, Cocktail, Reception.
While we're talking about pearl necklace designs, it only makes sense to check out some gorgeous pearl Jhumka designs too! Before you buy your pearls, know about the authenticity of your dealer. In case you're not too sure about the parameters to check, go for branded or renowned pearl stores who have been doing business for quite some time now. Although we've given you certain outfit tips to go with your pearl necklaces, don't be afraid to try experimenting new combinations. Because pearls almost go with any outfit and on any occasion.

Take a look at some of our jewellery designers for some great collection on pearl necklaces.