Diamond Pendant Designs to Gift on Your First Anniversary!
Are you wondering what you should get your darling wife for your first wedding anniversary? Check out these diamond pendant designs and pick something similar!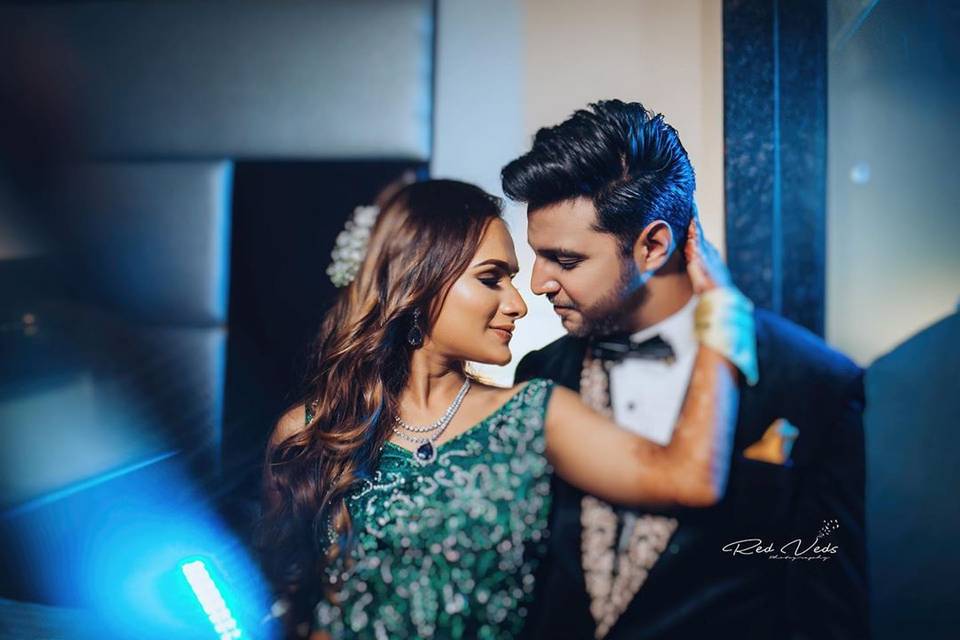 Nothing says 'I love you' more than a thoughtful present. Having spent a year with your wife, you know exactly what she likes and what she doesn't. However, in spite of that, picking the right present for the first anniversary can be a little challenging. Don't worry – it's challenging for most people and it's certainly not a reflection of your love!
One of the best ways to navigate this challenge is by buying your wife stunning lightweight jewellery. Such jewellery styles are not only easy on the pockets, but they are also appropriate for the workplace setting, meaning that your wife can wear them every day! You definitely don't have to worry about the necklace being locked up in a locker, forgotten until the next family function!
Diamond pendant designs come in a large variety, so you're bound to find something that your wife will truly love. To help you figure out what different diamond pendant designs say about the woman wearing them, we have curated a list of the same for you! Keep scrolling to find the perfect first-anniversary gift for your lovely wife!
1. A small heart-shaped pendant!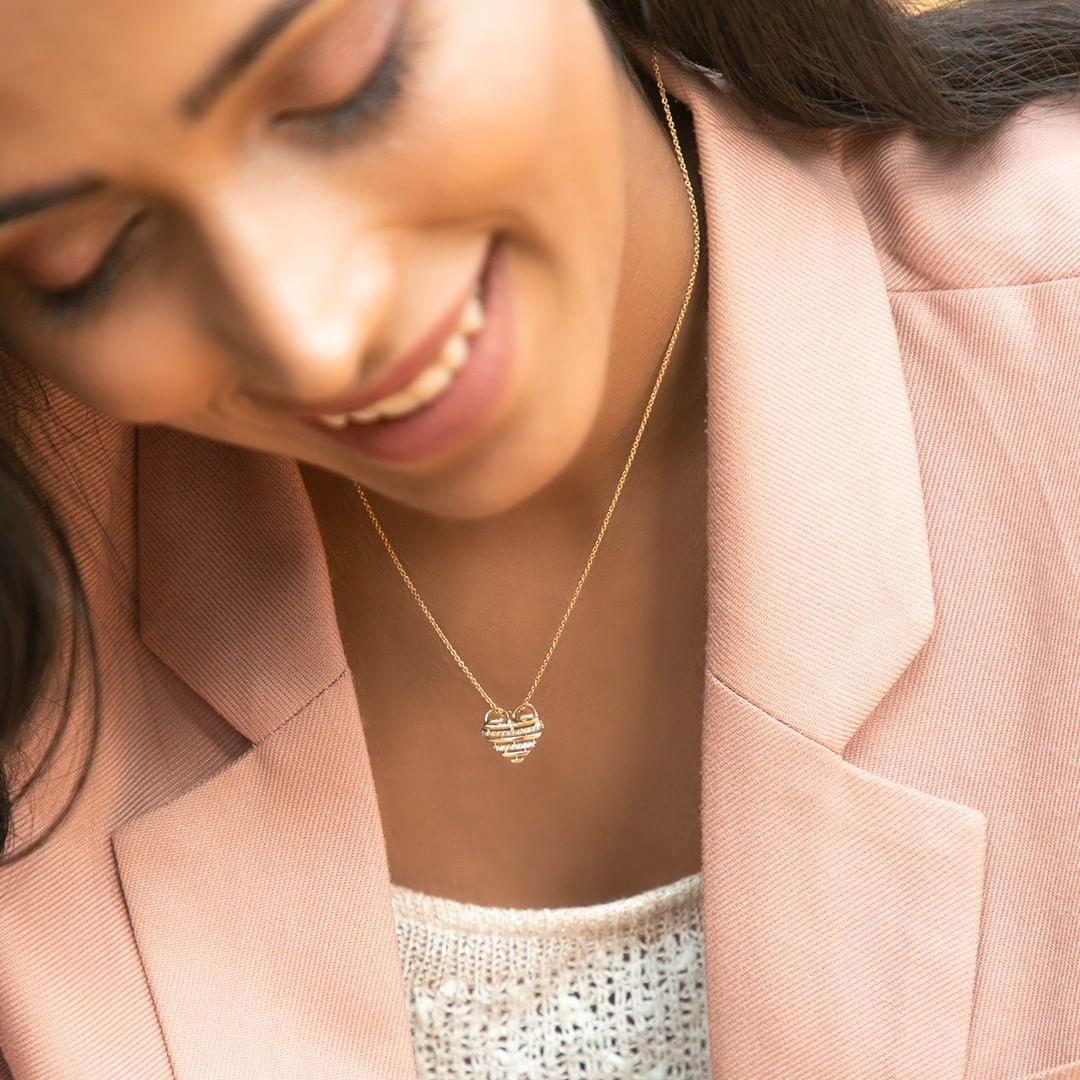 When it comes to diamond pendant designs that are perfect as the first-anniversary gift, a heart-shaped pendant should definitely be one of your top choices. This is because hearts symbolise love, and you can use this special day to show your wife how much you love her! A small heart pendant can look very elegant, as long as the rest of the necklace is a bare one. She can style this with her western formal wear for work!
2. Pendants inspired by nature!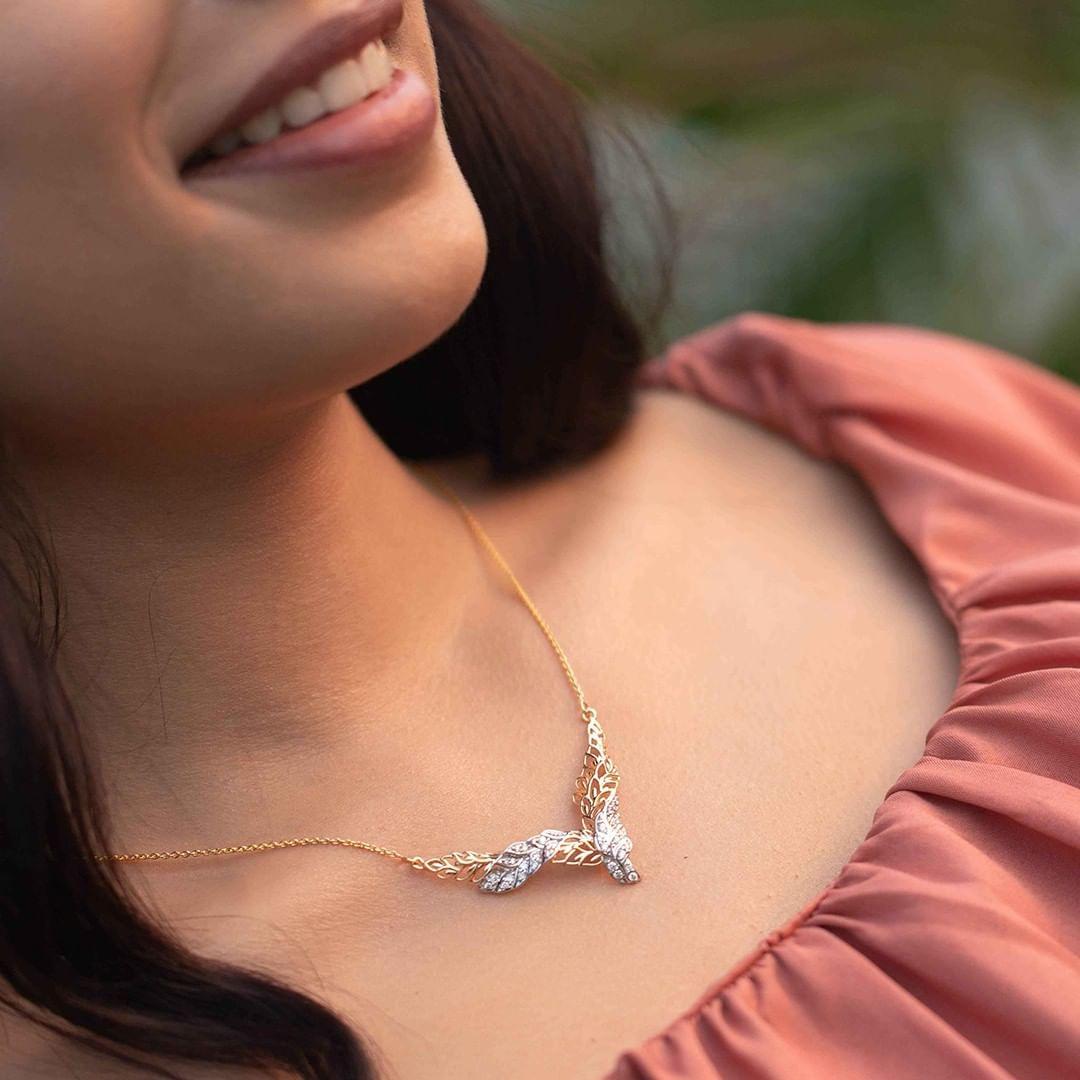 Nature lovers tend to be gentle souls with a penchant for beauty, and if that describes your wife, then you should get her diamond pendant designs that are inspired by nature. The one above has leaf designs in gold and diamond right at the centre of a thin gold chain. Like its predecessor, this one can be styled with work wear too, making it a great accessory for a woman who loves her bling!
3. Pendants with a quirky design!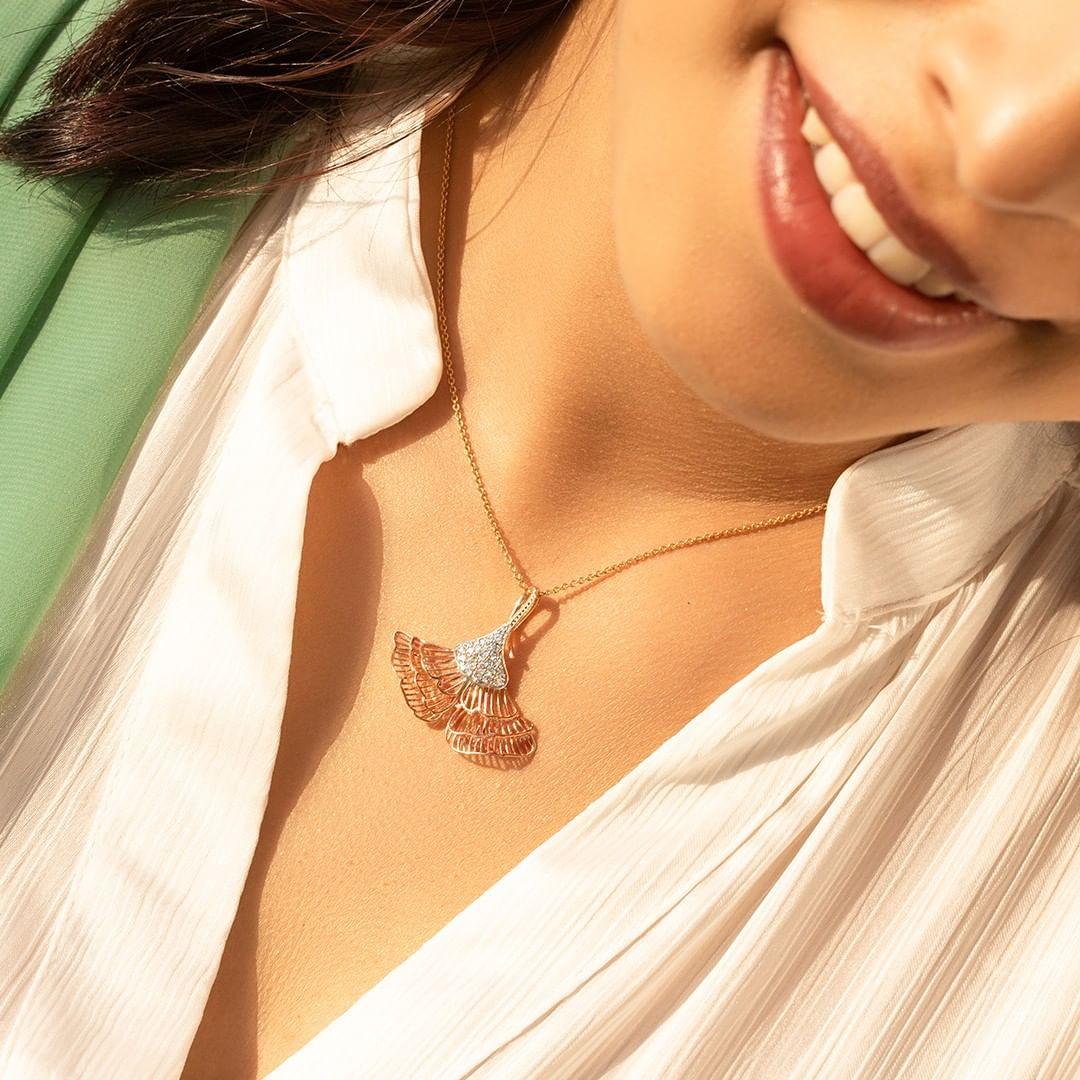 More often than not, diamond pendant designs tend to either have a geometrical shape or an abstract one. How about picking an animal or bird shape that resonates with your wife or your relationship? Here's a peacock shape that is perfect for a quirky woman who loves to show off her sense of style!
4. Pearl drop pendant!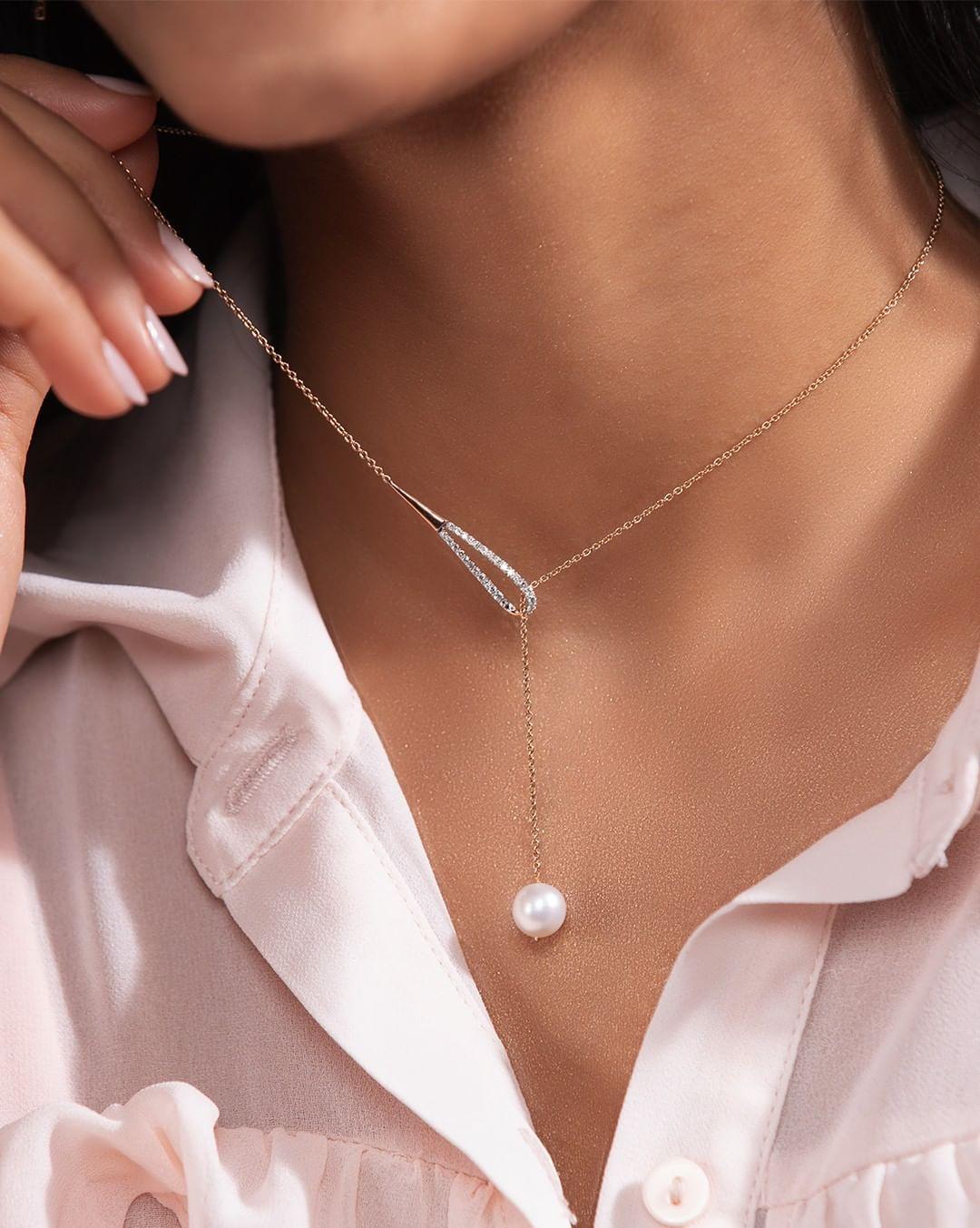 Picking diamond pendant designs doesn't mean that the diamond has to be the only feature in the necklace. Here's a design with a looped diamond, and a string and pearl going through it. This is a simple and elegant look, and your wife will certainly go gaga over it when she sees it! She can wear this to board meetings with a white silk shirt and look absolutely stunning!
5. Heavy diamond pendant designs!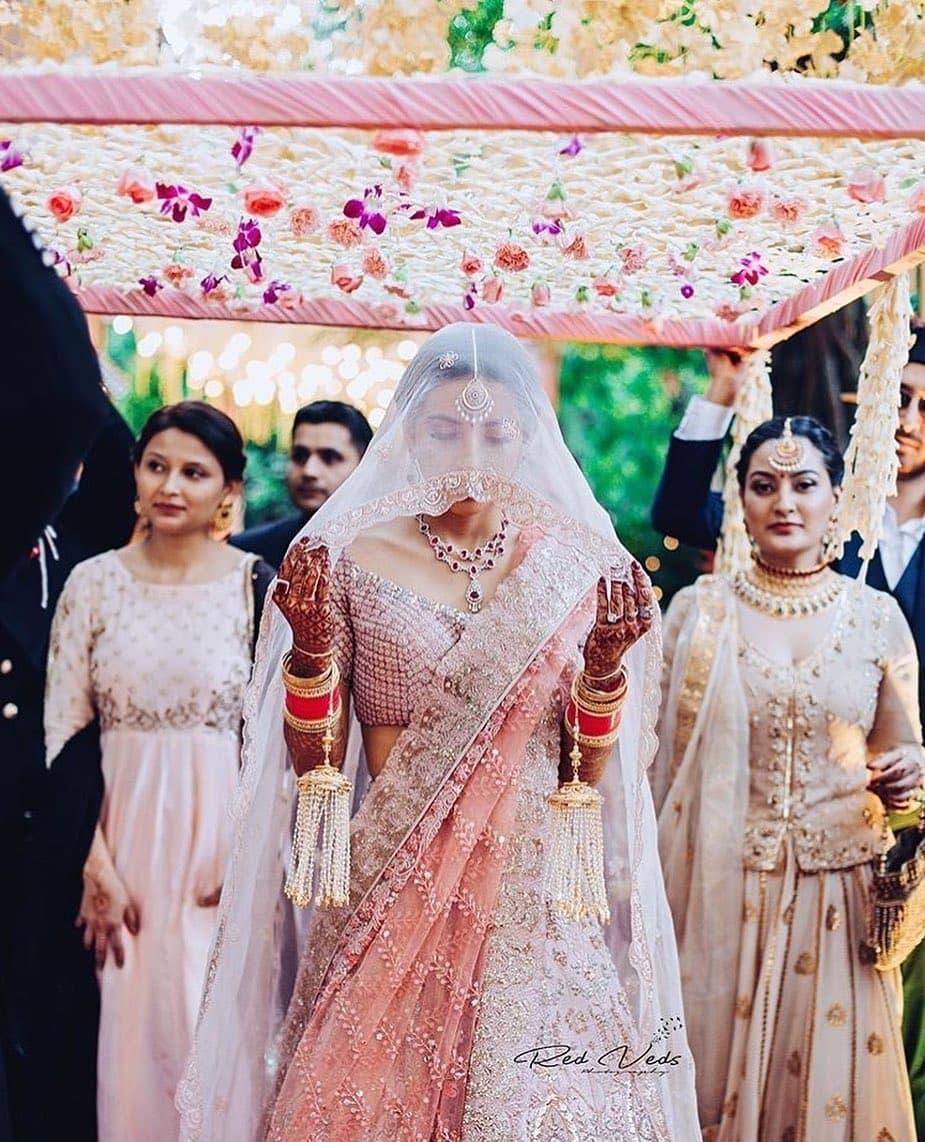 When picking diamond pendant designs do be open to picking heavier variants of the same as they can look great. A diamond necklace with rubies all over can be a great gift for a wife who loves to go out to a ton of social events and makes sure that she glitters at all of them. If you and your wife have a hardcore social life, then she'll definitely appreciate such a piece on the anniversary!
6. Mangalsutra style diamond pendants!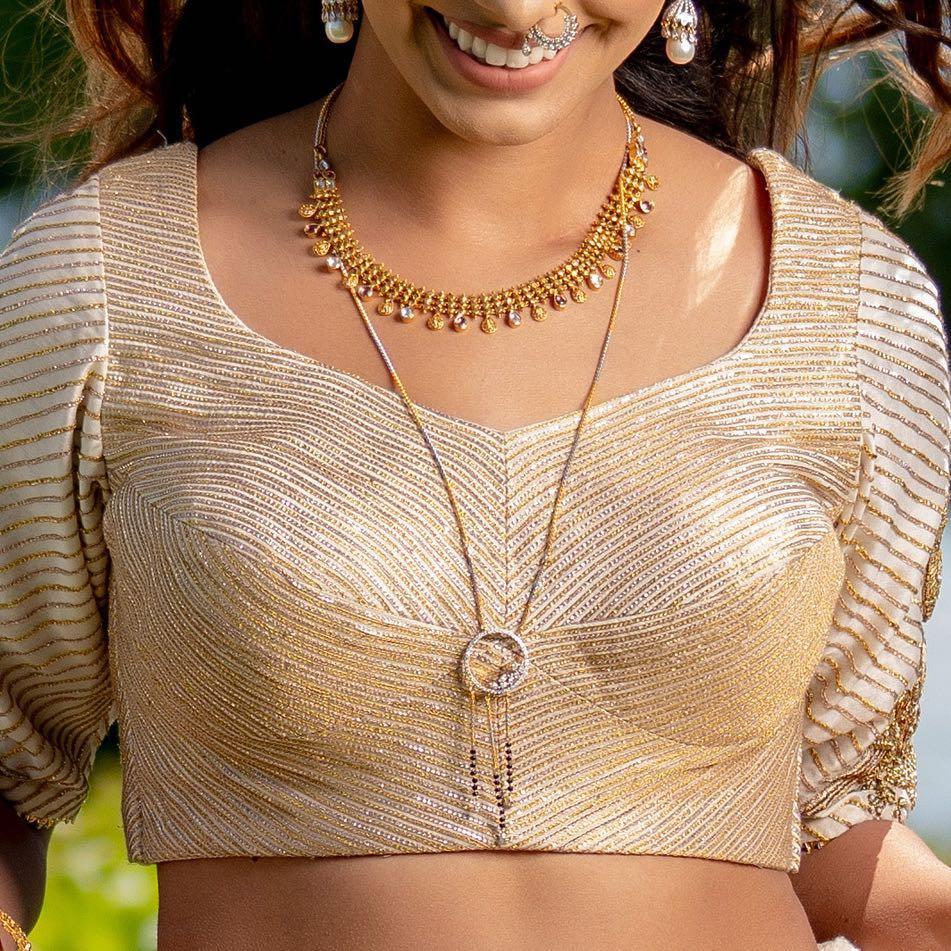 Many traditional women do not like to wear any other necklace than the Mangalsutra as they feel that other necklaces take away from this auspicious one. If your wife wears this necklace on a daily basis, then when you're picking a present for her, make sure that the diamond pendant designs are ones that incorporate the Mangalsutra style too.
This way, this can use the necklace for styling, as well as to show off how happily married she is! This works with short Mangalsutra designs too!
7. Geometric strands that meet together!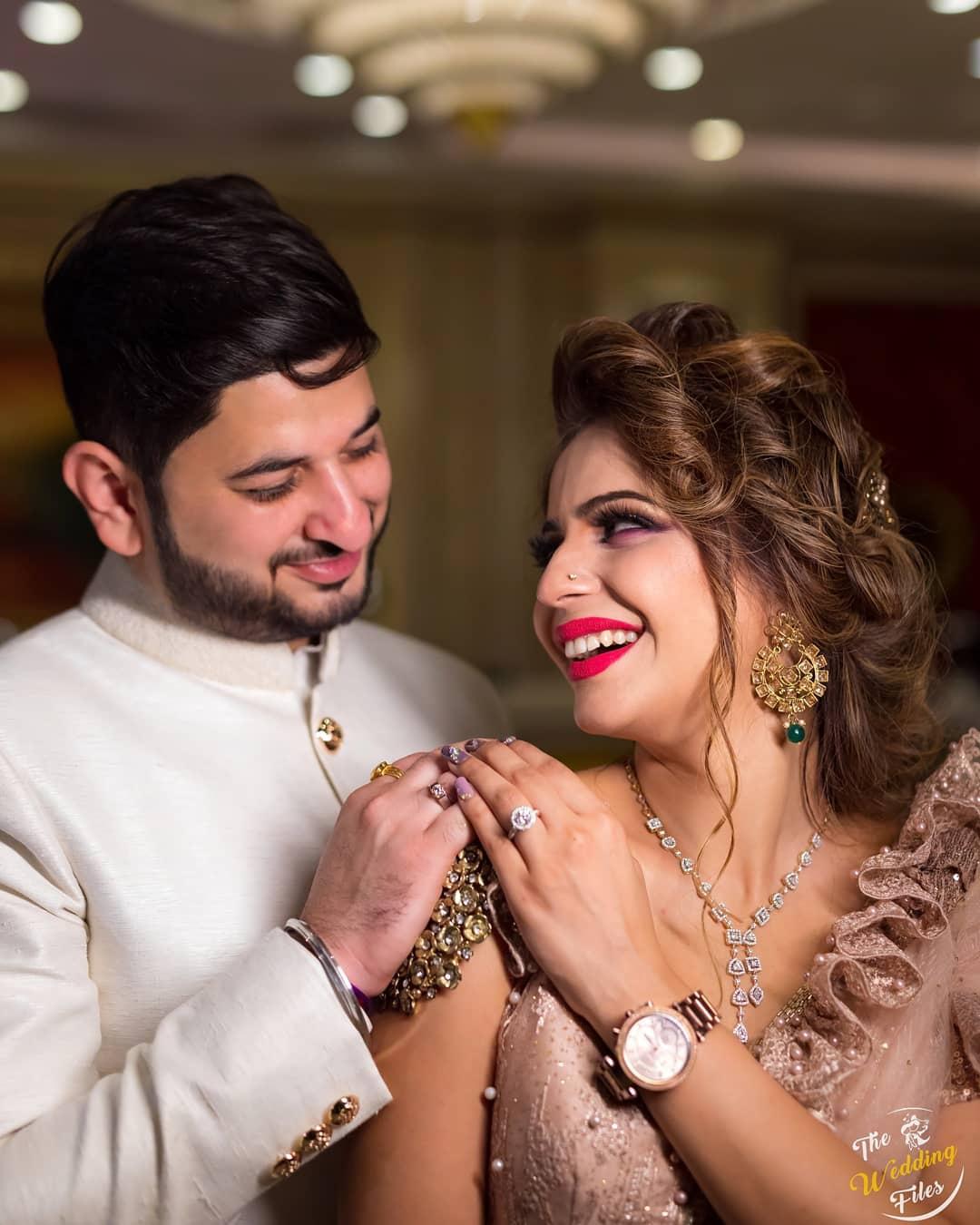 Image Courtesy: The Wedding Files
Finally, gift your wife diamond pendant designs that she can wear out, without feeling like a Christmas tree! This particular necklace has two strands that come together and then dangle away from each other, creating an interesting, rope-like effect.
Your wife will definitely appreciate wearing this necklace out to any social event, whether it's a family dinner or a festival! If you can wrangle it, get her matching earrings too to make this a complete set! She will adore you for it!
Your first anniversary is a big event, so make sure that you mark it as a special one by gifting your wife something that she cherishes for the rest of her life! Nothing beats a diamond necklace in that regard, however, if you're feeling generous, you can go for gold too!
Want to know where you can buy such necklaces? Check out these jewellers near you!