Different Types of Diamond Necklace Sets That Can Help You Complete Your Reception Look!
Does that old Marilyn Monroe song start playing in your head every time you think of a diamond necklace set? Well, if diamonds are truly your best friend, show them some love at your reception party!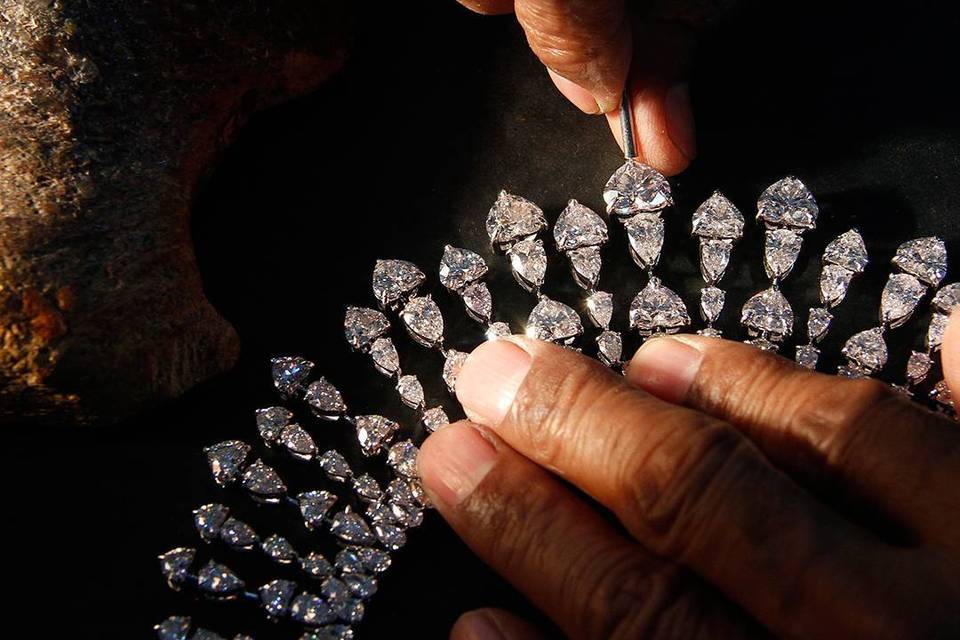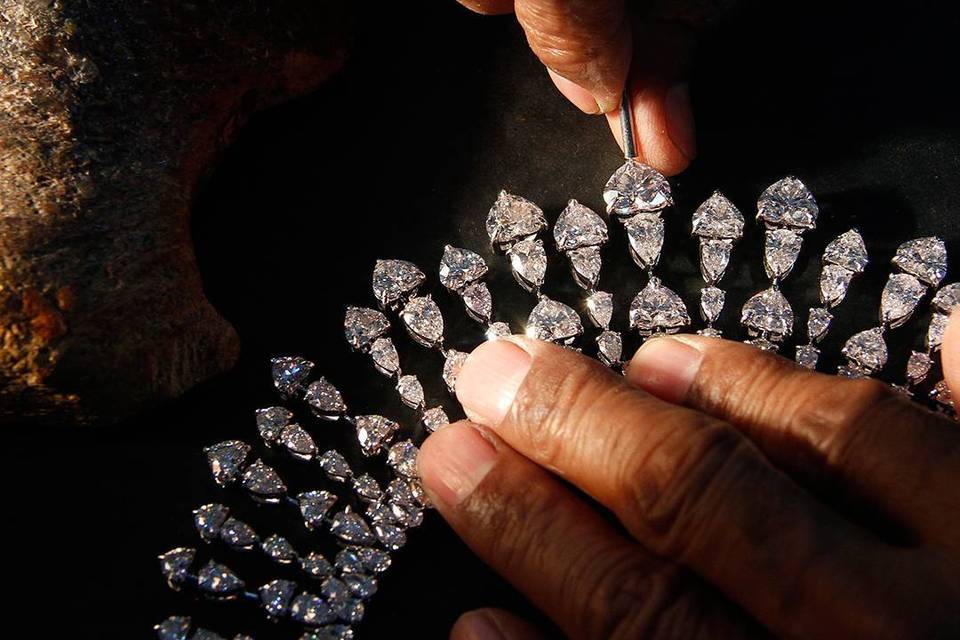 Image Courtesy: Hazoorilal by Sandeep Narang
While a diamond necklace set is coveted by many women, this style of jewellery is often considered a bit western, which is why you do not see many brides wearing diamonds during their wedding day. However, once all the main ceremonies are over, the reception ceremony is the one that allows brides to step out of their traditional look and into an aesthetic that does not necessarily have to conform to traditional parameters. As a result, it is the ideal time to bring out your glittery diamond necklace set and flaunt it in front of all your guests!
1. Pair an off-shoulder garment with a choker diamond necklace set!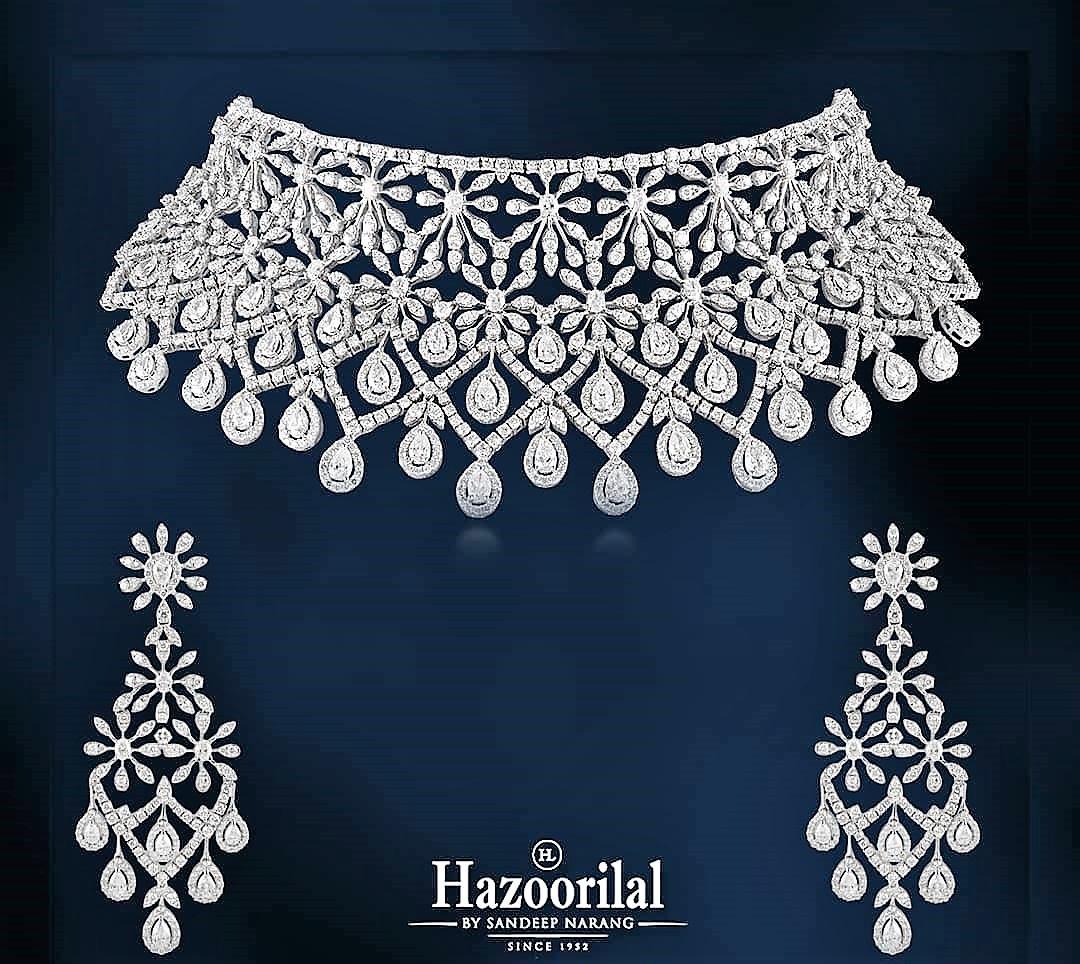 Image Courtesy: Hazoorilal by Sandeep Narang
There's something absolutely exquisite about chokers. Their high position on the neck allows them to highlight your collarbone and décolletage area, which is always an elegant look to sport. So, if you are planning on wearing an off shoulder lehenga, you simply must style it with a diamond necklace set with a choker. As chokers come in all shapes and sizes, you'll find necklaces that are extremely heavy and intricate, making them ideal for a formal affair. Paired with statement earrings that sway from your earlobes, this is a look that is absolutely stunning!
2. Can't resist one last night of total luxury? Pair your outfit with a ginormous set!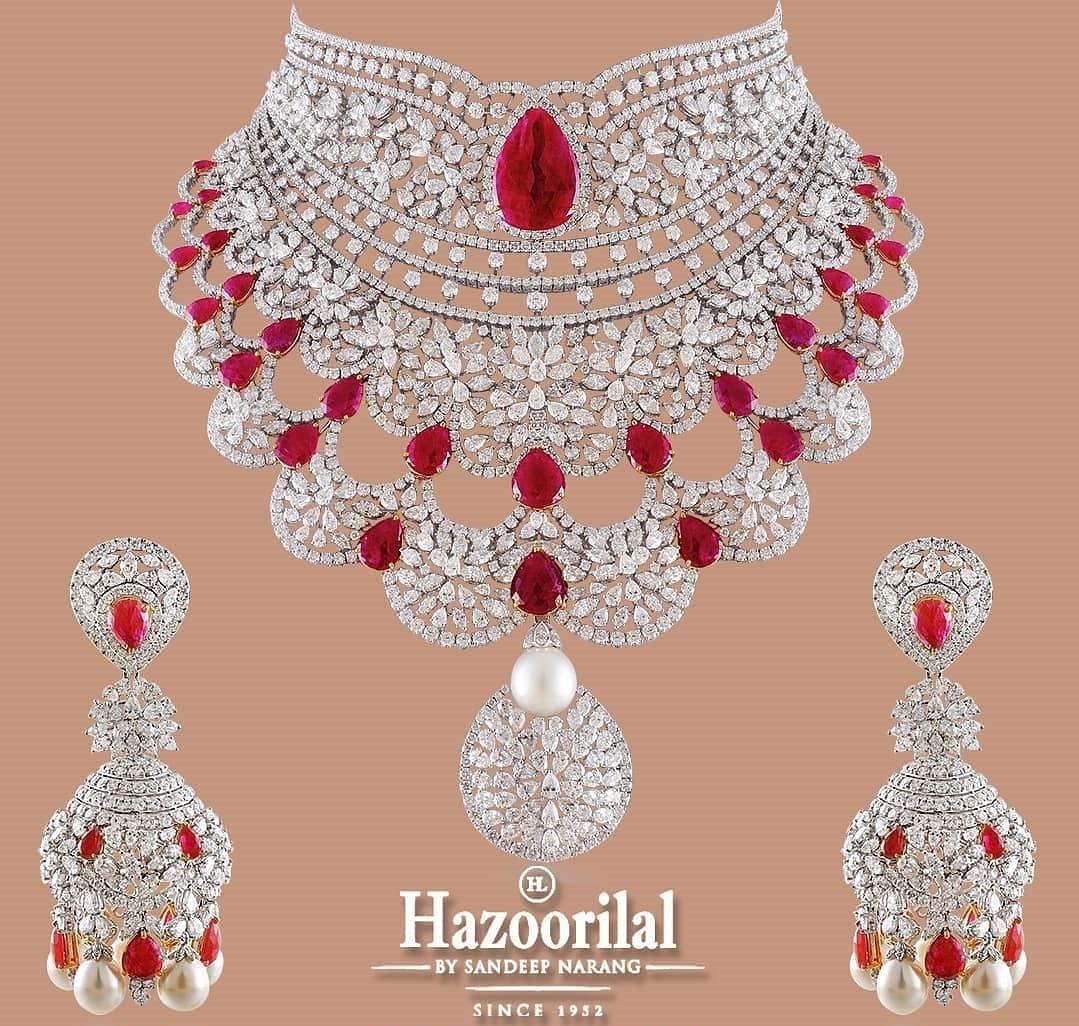 Image Courtesy: Hazoorilal by Sandeep Narang
Often people think of diamond necklace sets as dainty pieces of jewellery but this is far from the truth. Just look at this super intense set pictured above! If you want to celebrate your reception as one more night of opulence and dressing up, then you need a ginormous diamond necklace set that conveys exactly that emotion! With giant ruby stones studded all over the necklace and earrings, this one brings the traditional vibe along with it. So, if you're worried about styling it correctly with a lehenga or saree, don't be!
3. Want to have your cake and eat it too? Uncut diamonds are the best way to go!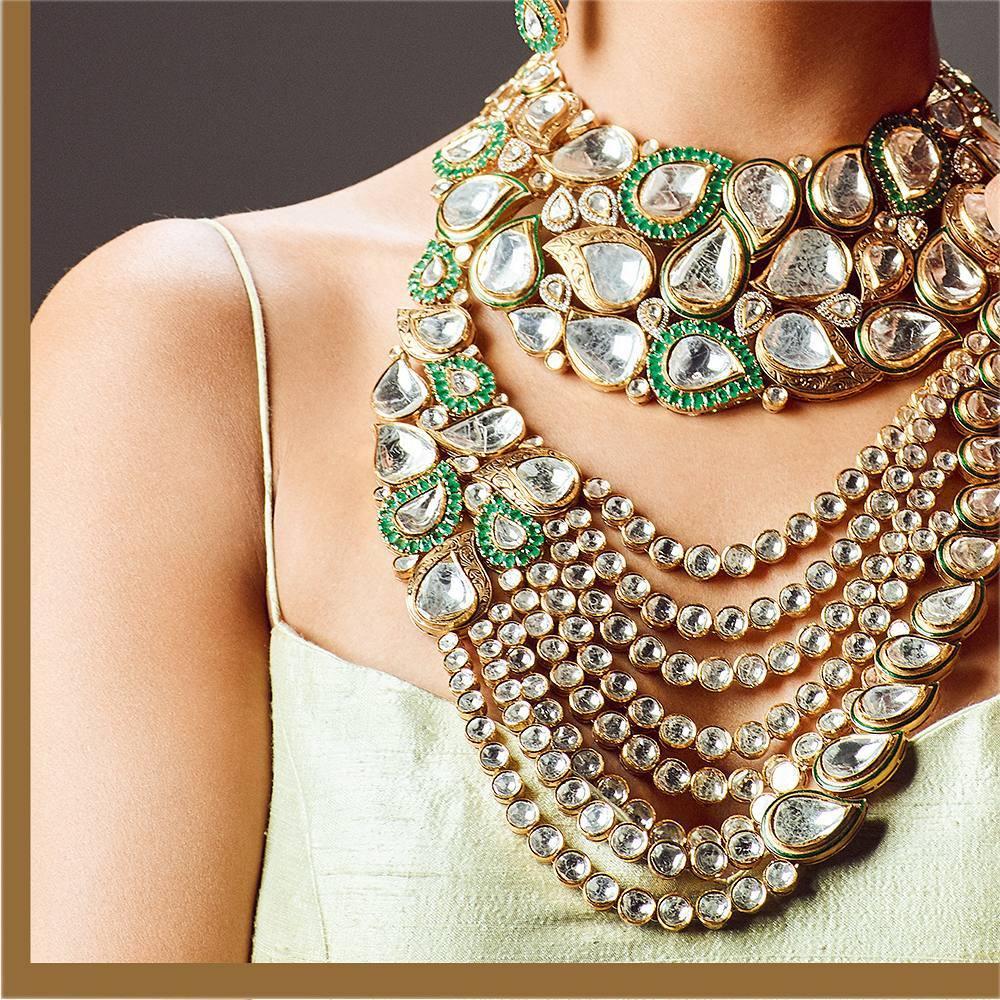 Image Courtesy: Hazoorilal by Sandeep Narang
Polki jewellery is a type of traditional Indian jewellery that utilises uncut, unpolished diamonds in their raw form. Highly ethnic in their aesthetic, these diamond necklace sets bring you the best of both worlds in terms of being able to wear diamonds and being able to strike that ethnic look. Polki diamonds are often confused with a Kundan necklace and there's one simple reason why: Kundan jewellery uses a ton of Polki diamonds. Still unclear on the difference? Kundan refers to raised frames of gold onto which stones like diamonds, rubies, and emeralds and so on are set. Polki, on the other hand, is the uncut diamond. So, get your hands on this type of a diamond necklace set and you'll be able to wear it for all occasions.
4. Want your jewellery to match your pastel lehengas? You can get that too!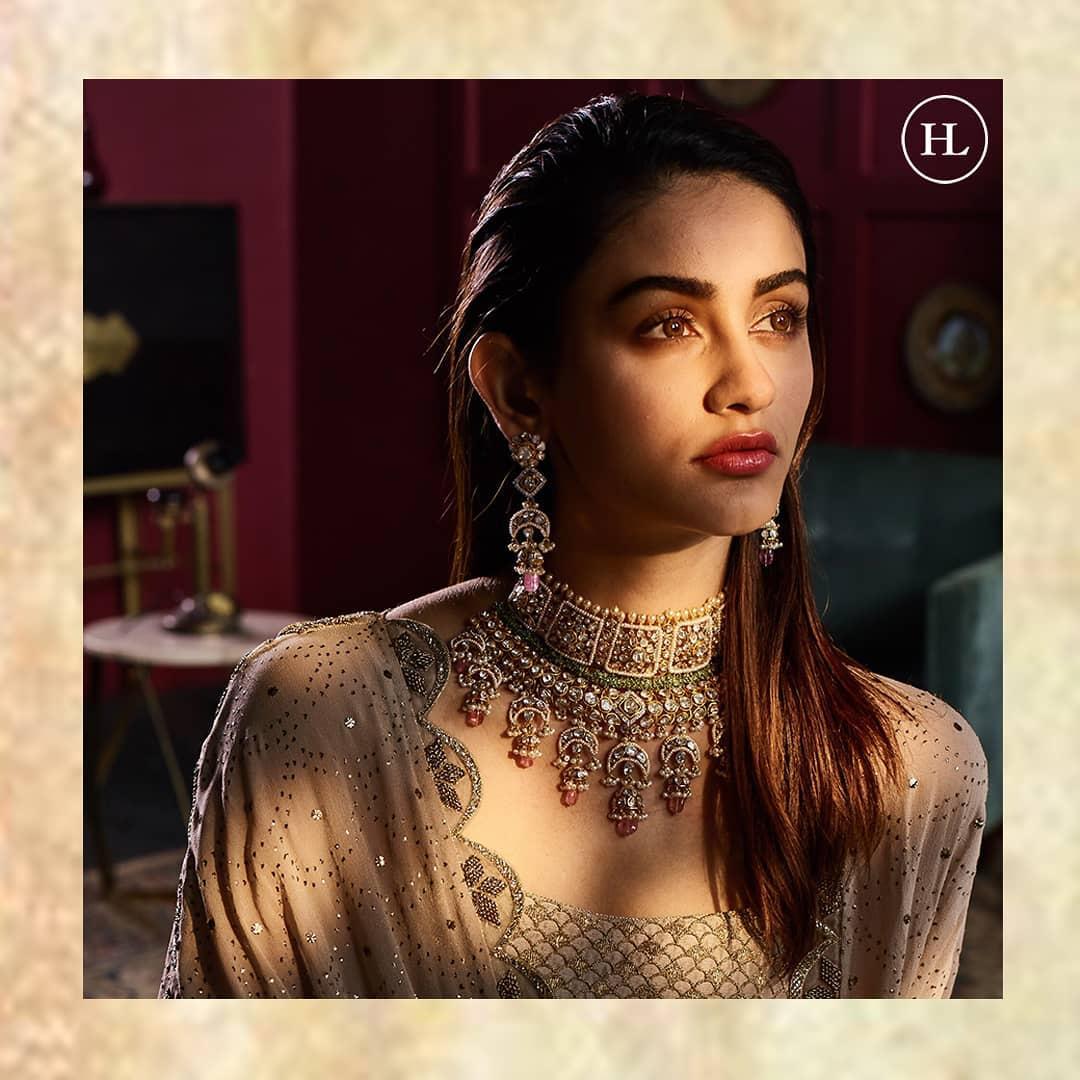 Image Courtesy: Hazoorilal by Sandeep Narang
These days, pastel lehengas in shades of greens, pinks, and blues are exactly what the bride ordered. With a very contemporary look, these lehengas can look absolutely stunning and are favoured for almost all wedding functions. When you're planning on styling such trending lehengas, pick a diamond necklace set that imbibes their unique colours! There are higher chances of finding something like this in the Polki style than in the western style of diamond jewellery, but we're not saying it's impossible! A beautiful necklace with pistachio green stones, pastel pink stones, and even ivory ornaments can look absolutely stunning when paired with such attire!
5. Don't want to say goodbye to your diamonds after the wedding? Here's a bonus suggestion!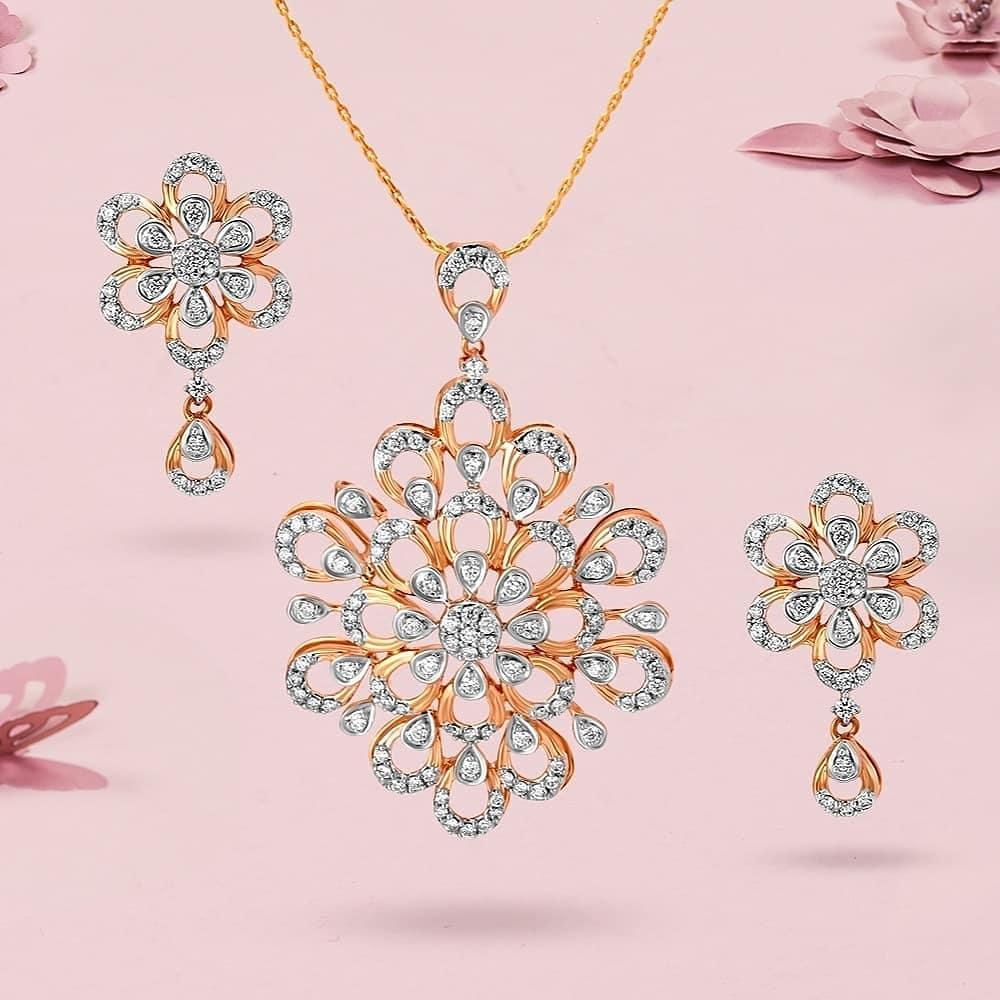 Now, if you really, really love wearing jewellery, who says you have to bid your gorgeous sets farewell after the wedding is over? No, we are not talking about busting them out for the occasional function you're invited to! You can wear your diamonds on a daily basis to work! Light weight jewellery, which is one of the latest trends when it comes to women's jewellery pieces, allows you wear sets of diamonds and other stones on a daily basis. This type of jewellery offers a contemporary look that allows them to be easily styled with western formal attire. As these pieces of jewellery are quite subtle, the overall look will not be OTT.
As you can see, diamonds can be quite versatile in their own way. While we still believe that western styles of jewellery are not the best choice for Indian traditional attire, you can get away with wearing diamond sets when they are super heavy, intricate designs!
If you are planning to build your own set from scratch, make sure that you include a heavy necklace, earrings, solitaire, and a bracelet if you want a proper set that includes everything. Making your own set allows you to bring together different designs to create a funky yet cohesive look.
Get in touch with our jewellery vendors to find the perfect sets for your look!