How to Make Your White Chikankari Kurta Wedding Worthy?
A white Chikankari Kurta makes for an effortless yet elegant choice of attire. Here's how you can style, combine and make it wedding-worthy.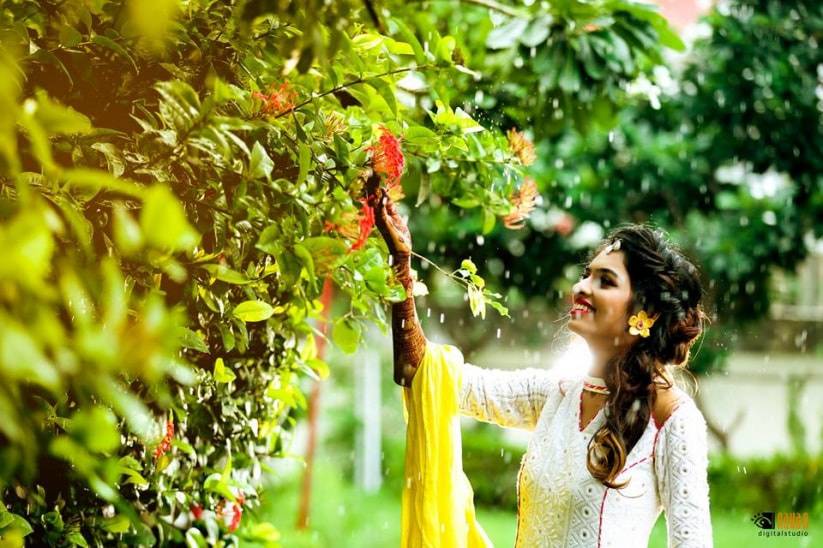 The classic white Chikankari Kurta has been synonymous with effortless elegance for decades now. Chikankari, a beautiful thread work from the land of Nawabs, Lucknow, looks beautiful on almost any colour but stands out best on white. It's a summer staple, it's even made it to work wear fashion and we are now taking the white Chikankari Kurta to the weddings.
Yes, a simple white Chikankari Kurta can easily be turned into a wedding statement piece, with just a few styling elements. It's all about accessorising it right, getting the right style and of course owning the wedding look on the perfect occasion.
Different ways to style a White Chikankari Kurta for a wedding:
1. Pair it with a Bright Dupatta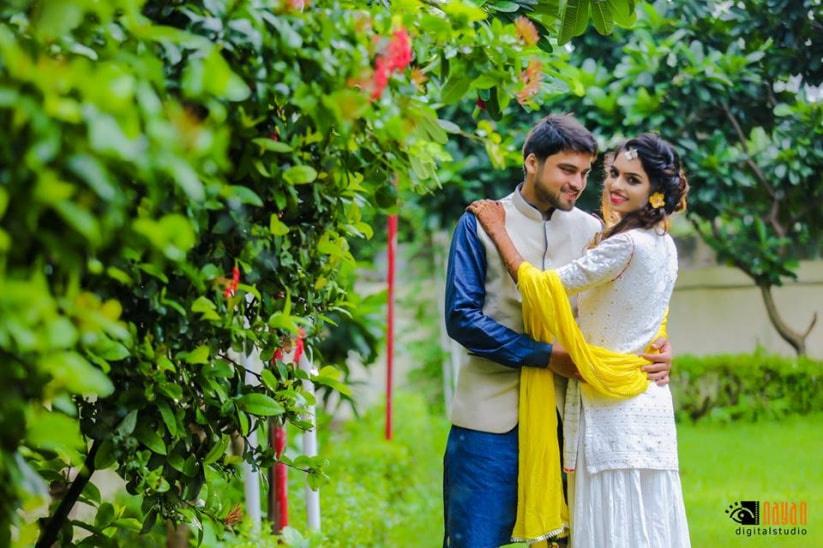 One of the simplest ways to revamp a white Chikankari Kurta is to team it up with a bright and bold Dupatta. You can choose a bright yellow or orange for a day-time wedding function and a deeper blue or Rani pink for an evening wedding ceremony. You can also choose embroidered Dupattas in bold colours or printed silk Dupattas.
Styling tip: Add coloured Juttis and lots of coloured bangles to complete this look.
2. Pair it with a Sharara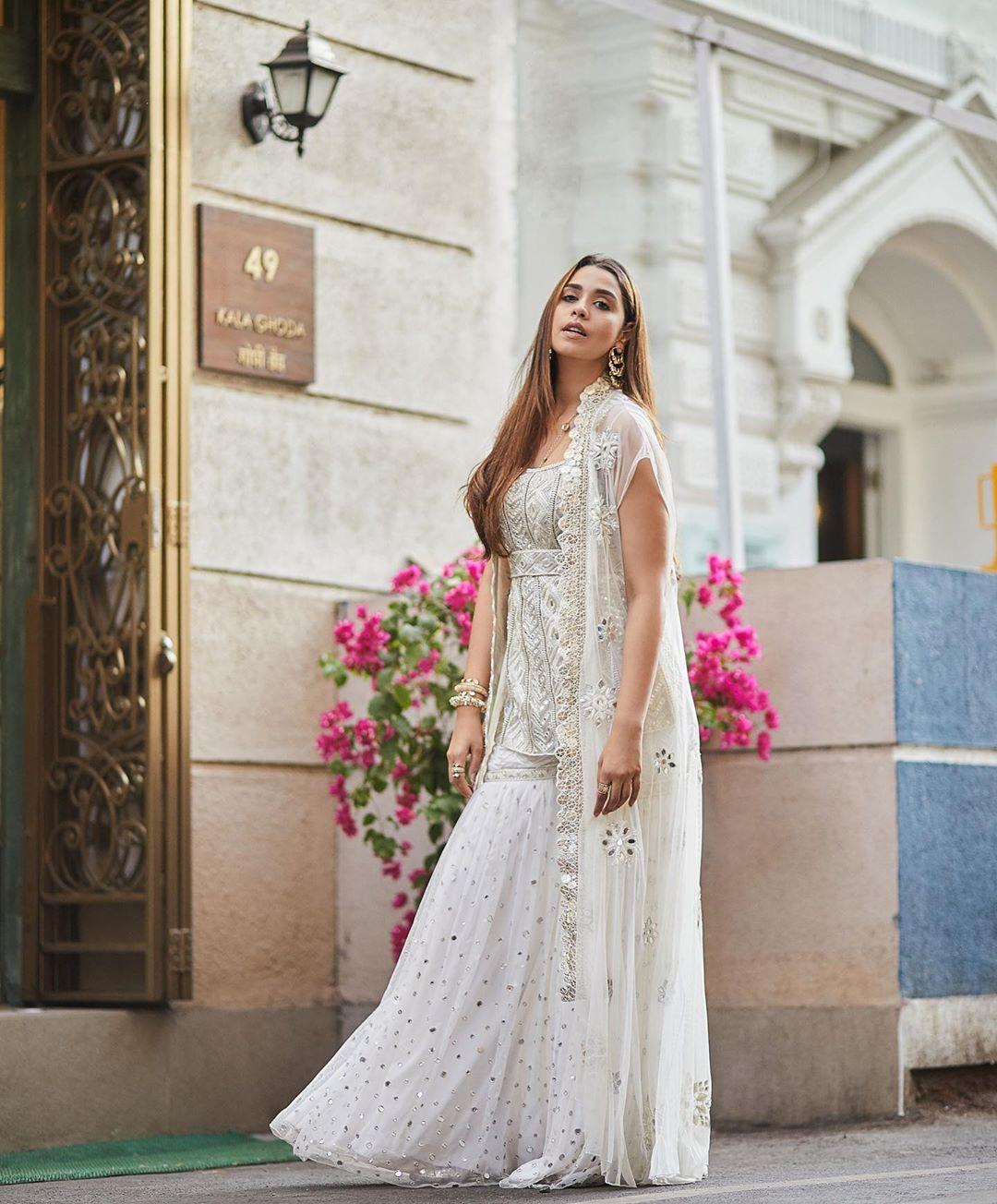 Image courtesy: House of Misu
Ghararas are big this wedding season and you can team up a white and silver wedding Sharara pants with your white Chikankari Kurta to make a wedding statement. If your Kurta has some embellished work go for a plainer Sharara and if your Kurta is simple, choose a Sharara that has silver printed work or silver Gota borders.
Styling tip: Add Chandbali earrings with white pearls and a statement ring to complete this look.
3. Pair it with a Gharara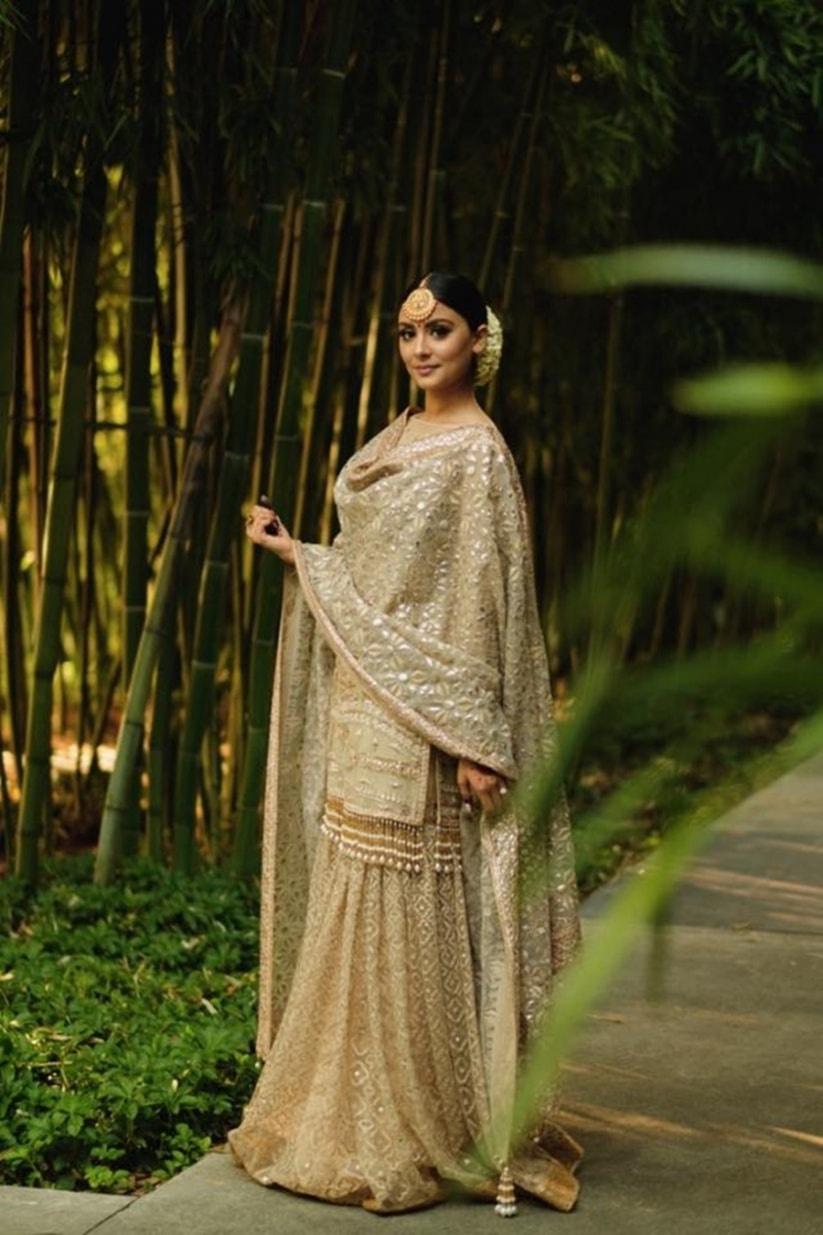 An off-white Chikankari Kurta with a wide flared Gharara bottom is both stylish, elegant and on-point. You can add a Gharara that has some detailed work on it like sequin work, Gota work or even a Chikankari work Gharara.
Styling tip: Add fresh white flowers to a classic hair bun and a big Maang Tikka to complete this look.
4. Pair it with Wide Bottom Pants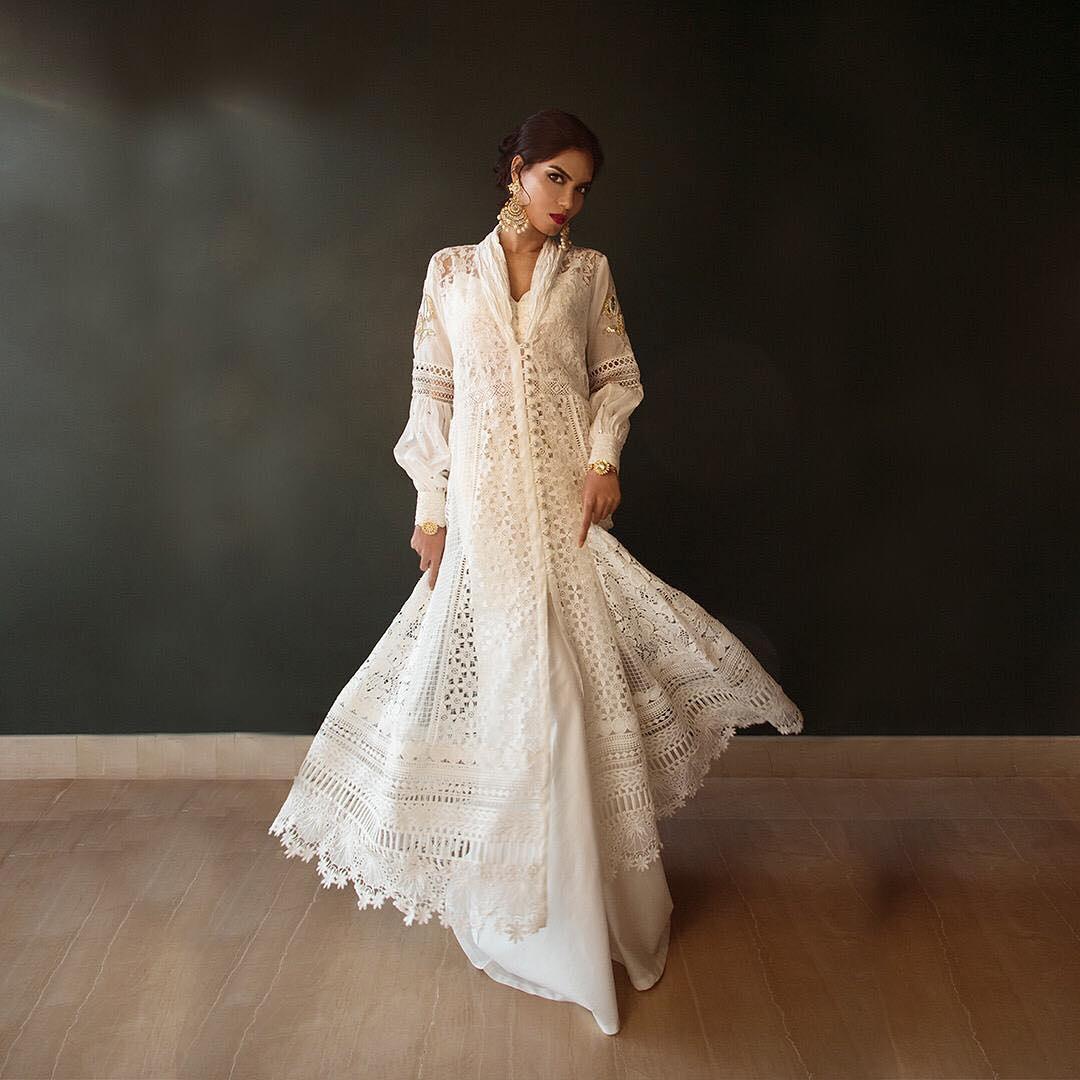 Image courtesy: Sanam Chaudhri's Nazakat Collection on Instagram
A smart take on the elegant white Chikankari Kurta is to team it up with wide bottom pants. It's stylish, contemporary and definitely very chic. You can choose plain white pants or a more ethnic one with embroidered borders.
Styling tip: Add a string of pearls, solitaire earrings and stilettoes to complete this look.
5. Pair it with a Lehenga Skirt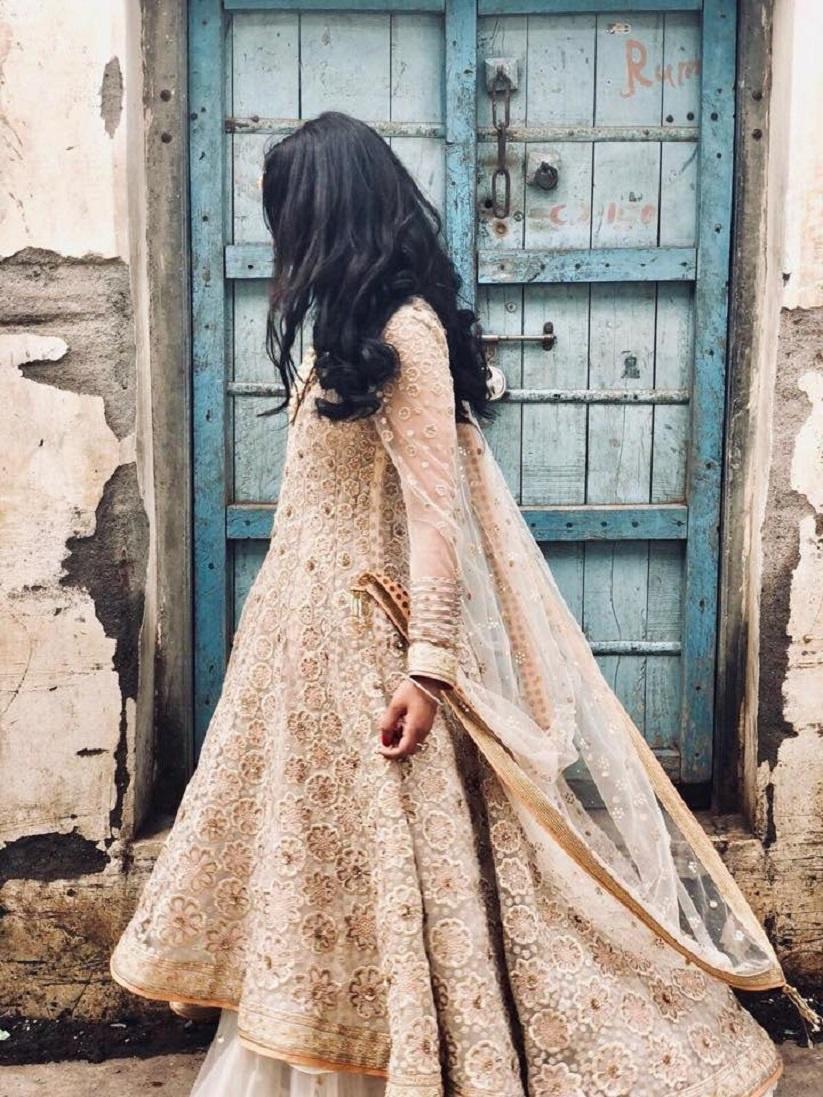 A Lehenga skirt and Kurta has become the new wedding trend. The combination is flattering and makes even a simple attire look opulent. That's your cue, a simple white Chikankari Kurta with a white or coloured Lehenga skirt is a great combination that you can definitely wear to a wedding- even your own.
Styling tip: Add a Kundan jewellery set and lots of bangles to complete this look.
Your white Chikankari Kurta will be reinvented, that simply!
6. Pair it with a heavy, statement jewellery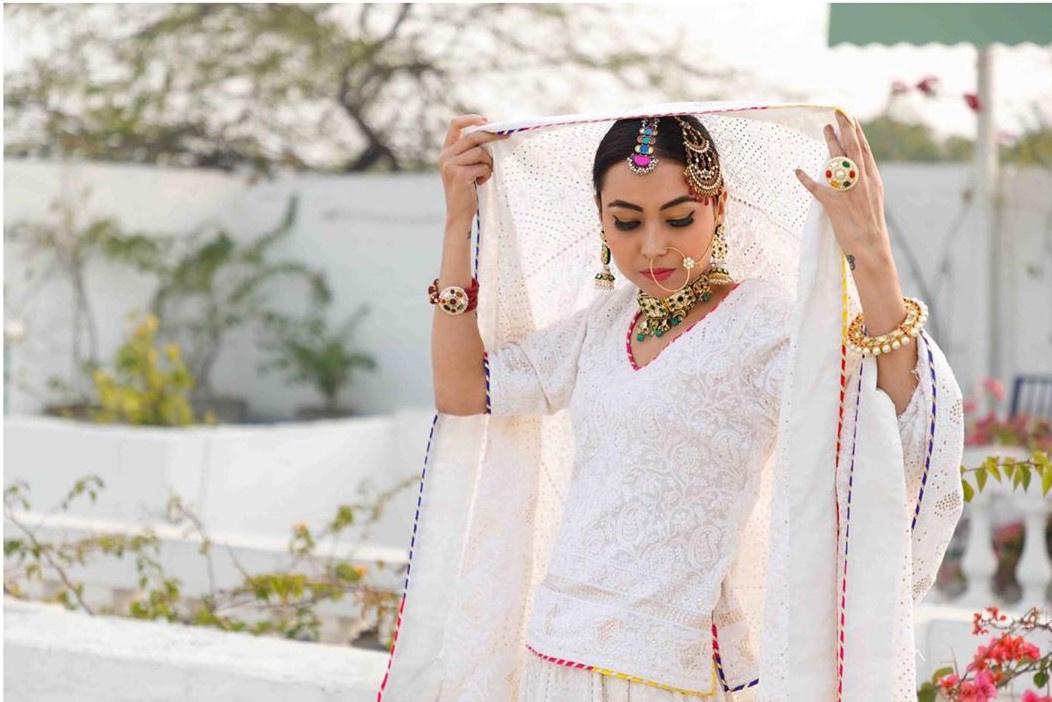 Image courtesy: Meiraas on Instagram
Whether you're trying to work a long, white Chikankari Kurta or a short, Lancha-style top, the way to make it stand distinctly on its own as chic and elegant is all about how you style for your day. Dress it up with a heavy, statement jewellery or even a full bridal necklace set (with the Passa, Maang Tikka, Nath and rings) and see how you'd be able to rework it with the magic of these pieces.
On the other hand, you can also try the bigger-is-better approach, in terms of the heritage jewellery you choose for the occasion. A Maharani haar, a heavy, chunky heritage necklace or a large, statement brooch, will all shine against the blank background of your white, Chikankari Kurta.
Styling tip: Keep your hair flowing or simple so that the punch made by your jewellery really stands out.
All these styles are a great way to dress up your white Chikankari Kurta and make it stand out. It's just changing what you wear it with and how you style it that makes all the difference. But if you don't already have a white Chikankari Kurta and want to get on with this elegant trend, here are some styles to inspire you:
7. Anarkali Style White Chikankari Kurta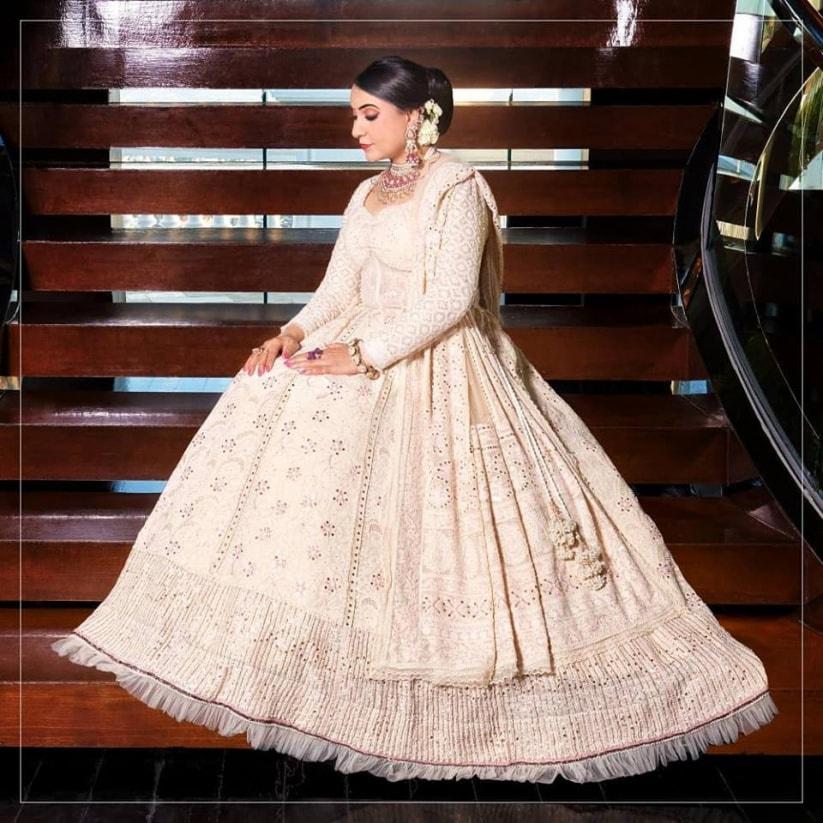 White Chikankari Kurtas are generally seen as straight Kurtas that can be paired with Churidar's, Salwars and even jeans. But getting yours made in a regal Anarkali style will change the game. Chikankari is a very delicate and intricate work of art that will look stunning on an Anarkali style Kurta with the flow and flare to enhance the design.
Styling tip: You can make this an elaborate attire by pairing it with a wide Kundan or Meenakari work necklace and matching earrings.
8. Gown Style White Chikankari Kurta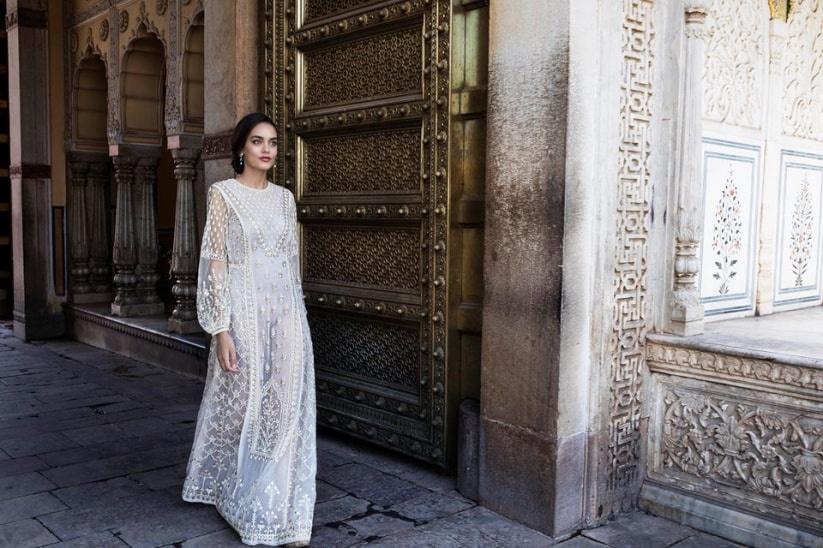 If you have a white Chikankari fabric and you are planning to get it stitched into a Kurta consider a gown style Kurta design. A free flowing white Chikankari Kurta in gown style looks extremely elegant and can be the perfect head turned attire.
Styling tips: Go for a dark smokey eye makeup look and glitter eyes with chandelier crystal earrings to complete this look.
These are 8 stunning ways to wear your existing white Chikankari Kurta and two design inspirations if you are planning on buying one or getting it stitched. All of these looks are perfect for weddings and the accessories you add, the bridal makeup and hairstyle can easily make these great picks for both day and evening wedding looks.
How are you going to style your white Chikankari Kurta wedding look?