These Stunning Maggam Work Designs Will Glam Up Your Bridal Look
Done with your saree and Lehenga shopping? Now comes the 'perfect blouse hunt' part. Try some of these magnificent Maggam work designs this season.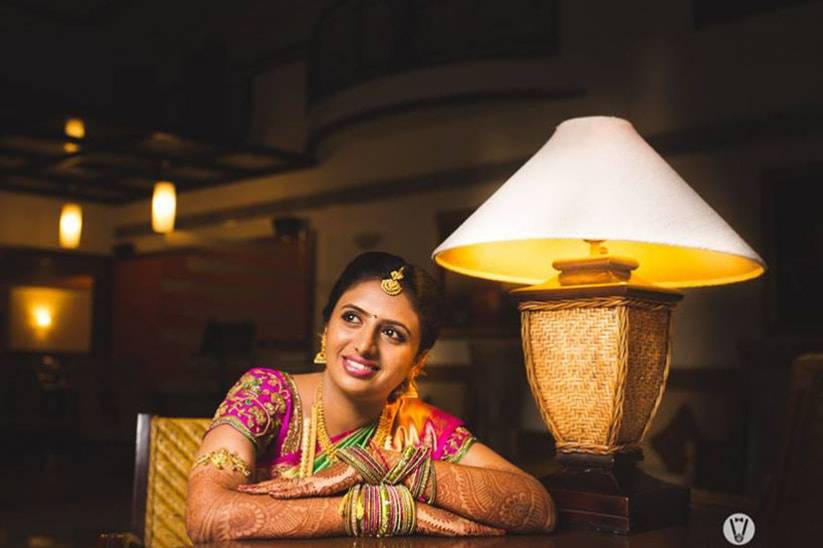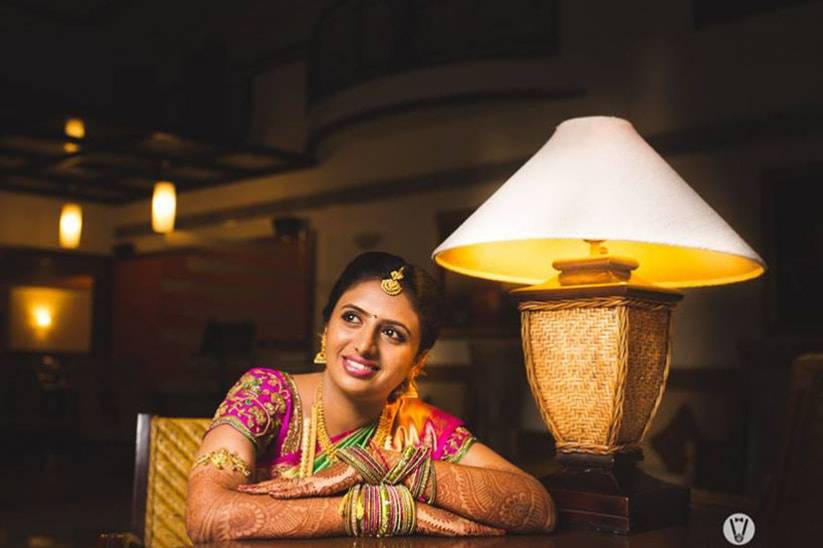 Image Courtesy: Venki Photography
Indian embroidery has always been very close to every bride's heart since ages. From Lucknowi Chikan, Bengal's Kantha stitch, Rajasthani Gota to Kashmiri Kashida and Persian Zardosi- a woman's wardrobe isn't complete without intricate handwork from different lands.
In this article, we have come up with something very special and exclusive for you! Indulge yourselves in some of the finest Maggam work designs on blouses and take inspiration for your own bridal outfits.
The wedding is that one fairytale that will come to life for you and you will want everything involved in the whole celebrations to be perfect to the T and to make this dream of yours come true, you will have various professionals to assist you and an inflow of unique ideas that will make it a big day for you.
One of the basic necessities required to make the wedding an unforgettable one for you is the attire that you choose. You need to look like the queen of your own tale and that makes it unforgettable.
You can use the modern techniques and designs on the traditional Maggam work designs that will make you stand out and at the same time look breathtaking!
1. Indigo and fuchsia coloured blouse with broad round neck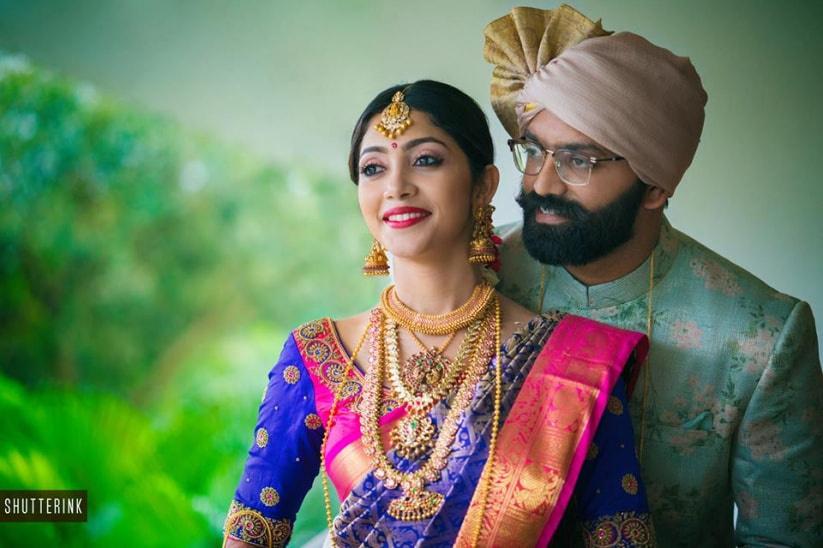 Choose a dual coloured Kanjeevaram saree and pair it up with a matching blouse with Maggam work designs embroidered on it. Indigo and fuchsia are vivid colours and Maggam embroidery on the sleeve rims and neck would be ideal for a wedding occasion.
Jewellery: Gold necklace or choker, Jhumka and Gota Maang tikka
Occasion: Wedding, engagement.
2. Beige saree with bottle green Maggam work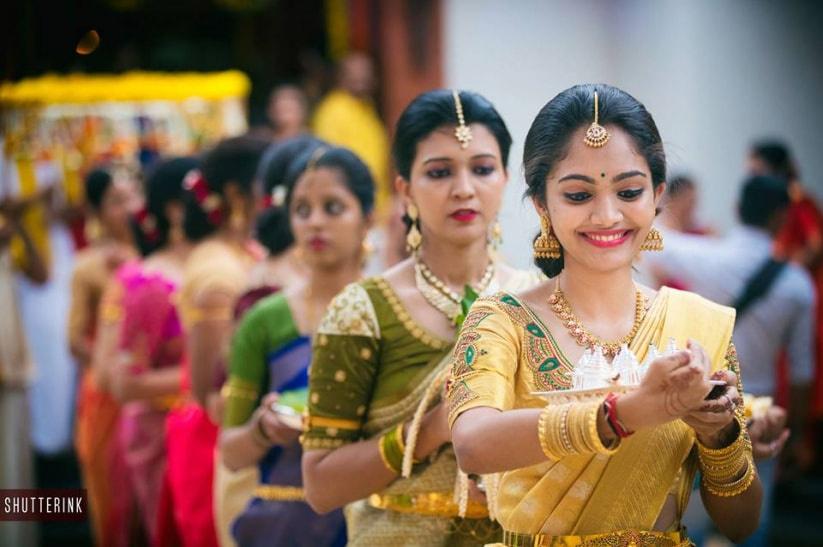 Dial-up the elegance factor with subtlety. Sport a beige or a cream coloured blouse with contrasting bottle green and maroon Maggam work design on the sleeves and neck.
Jewellery: Matte gold Jhumka, matching bangles and small Maang tikka.
Occasion: Engagement, day function, ideal for bridesmaids or sister of the bride.
3. Deep magenta blouse with rusty golden work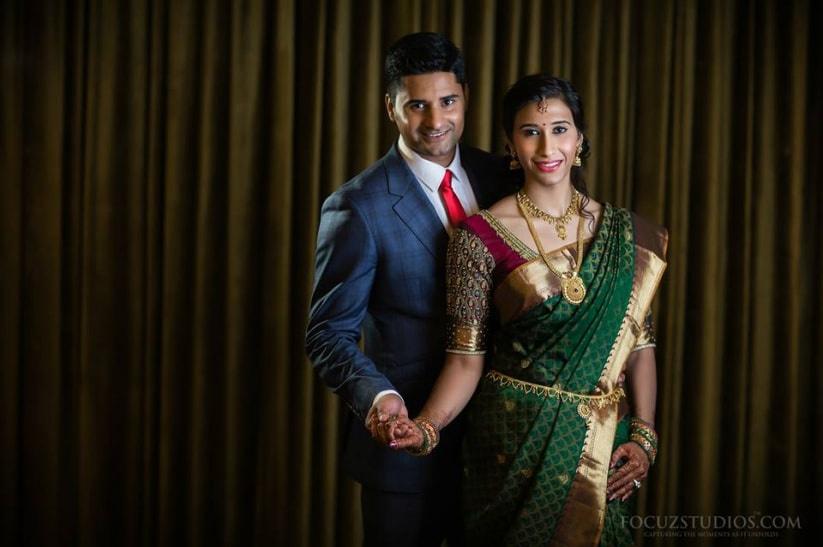 If you're thinking about making a statement with dark colours, drape a forest green silk saree with golden borders. Team it up with a dark magenta blouse with golden Maggam work designs heavily spread all over the sleeves. Make the neckline work thinner to highlight the sleeve embroidery.
Jewellery: Long gold necklace with locket, green and golden bangles, golden Kamarbandh, medium Jhumkas and a small Maang tikka.
Occasion: Reception, cocktail or Sangeet.
4. Light coloured saree and green blouse with bold embroidery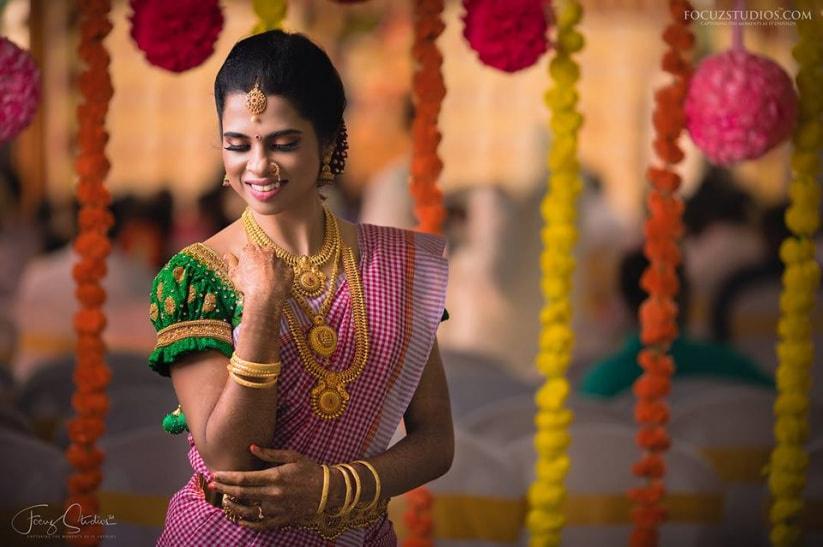 Try something unconventional. Don a saree with tiny light pink and white checks. For a twist, go for bold Maggam work designs on a parrot green blouse with short puff sleeves. Small paisleys with golden borders on sleeves and neck will enhance your look for a day event.
Jewellery: Matching gold bangles, long necklace, dangling earrings and a modest Maang tikka.
Occasion: Mehndi, engagement or Haldi.
5. Mustard silk saree and magenta blouse with 3/4th sleeves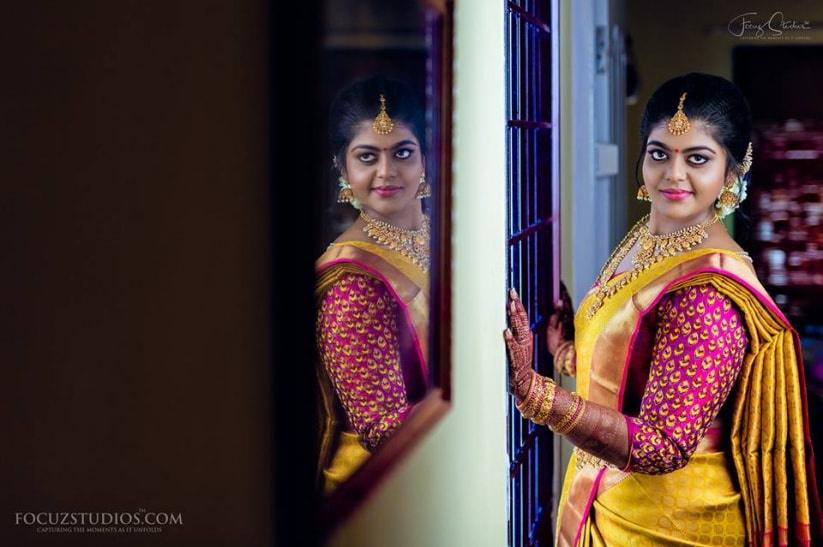 Maggam work designs look best when you don't shy away from being bold. Try a bright magenta blouse with prominent Maggam embroidery for a sultry bridal look.
Jewellery: Gold necklace and choker, golden and magenta bangles, golden and white Jhumkas and a Maang tikka.
Occasion: Wedding, Sangeet or Engagement.
6. Red Banarasi saree and red blouse with heavy golden work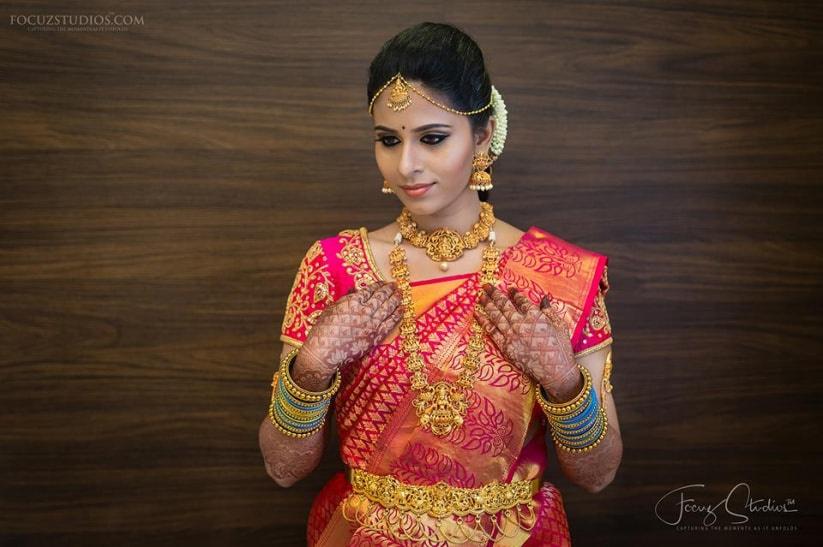 Paint the town red with the colour of love. Show off your gorgeous Banarasi silk saree and accentuate your panache with heavy Maggam work designs on the blouse. Go for fuller zari work on the sleeves and a broad neckline.
Jewellery: Heavy golden Mala, matching Maang tikka and heavy earrings. Throw in a few contrasting blue or green bangles along with the golden ones for some punch.
Occasion: Wedding, reception.
7. Bright yellow blouse with temple Maggam work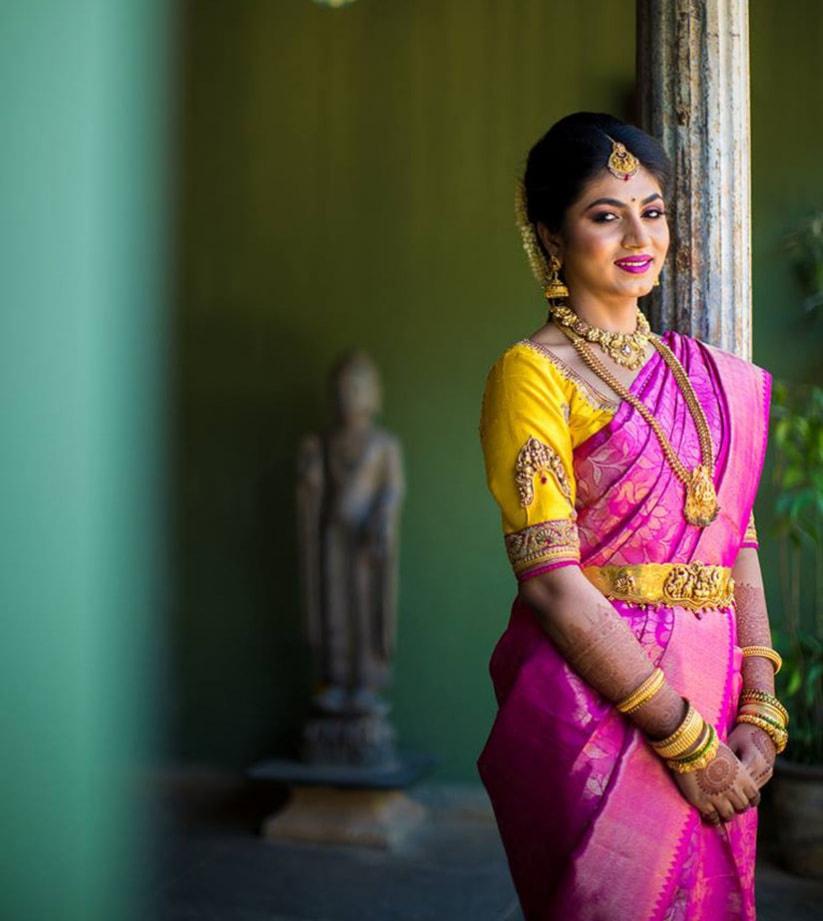 Showcase the magnificence of Maggam work designs on your bright yellow silk blouse. Make sure the focus is on nothing else but the temple embroidery on your blouse. Choose a dark pink contrasting saree with subtle prints.
Jewellery: Long gold necklace, Jhumka, gold bangles and a golden Kamarbandh or belt.
Occasion: Wedding, engagement.
8. Maggam work on olive green saree pallu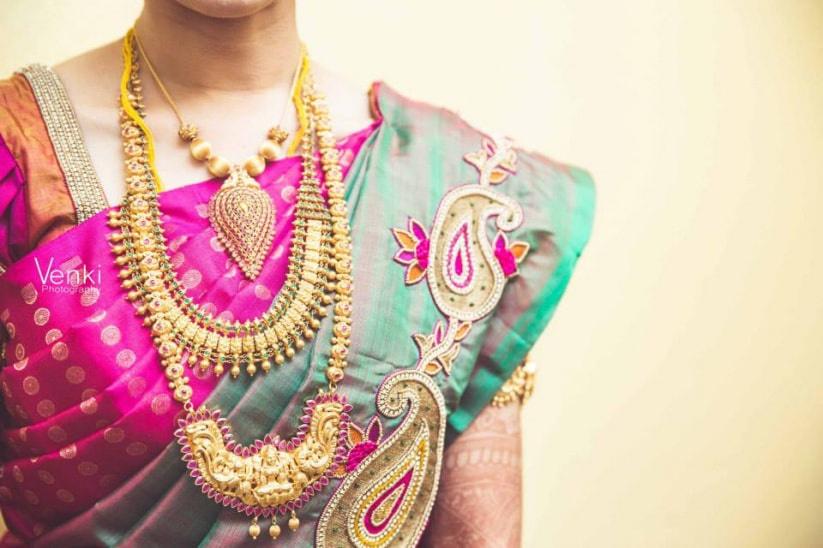 Image Courtesy: Venki Photography
Make your olive green saree pallu the hero of your entire bridal outfit. Get Maggam work designs embroidered on the whole pallu and drape it in a pleated fashion for maximum visibility. Pair it up with a contrasting pink blouse with lighter work. The heavy work on the borders of your pallu will make it look gorgeous and add to the wow factor when you make your entry in the dulhan's doli. Pleat it right and broad in accordance with the size of the designs so it is not hidden in the folds. Flaunt the glam!
Jewellery: Single necklace with a subtle pendant, medium earrings and some matching bangles.
Occasion: Mehndi, Sangeet or engagement.
9. Bright pink embroidered blouse with green saree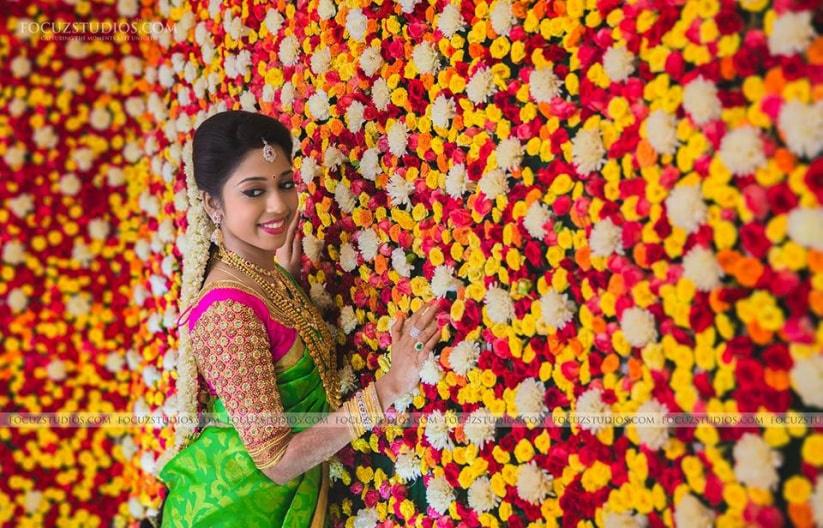 Intricate stonework throughout the sleeves and fine zari embroidery as borders and neckline - adorn your pink blouse with brilliant Maggam work designs complementing your parrot green saree perfectly. Green and pink have always been a safe choice when it comes to contrasting colours and not wearing the same coloured blouse and saree. The wedding ceremonies in all their grandeur demands for you to look gorgeous and the stonework blouse will do justice to this.
Jewellery: Temple ornaments with rustic gold hues.
Occasion: Wedding, reception or engagement.
10. Deep purple blouse with silver embroidery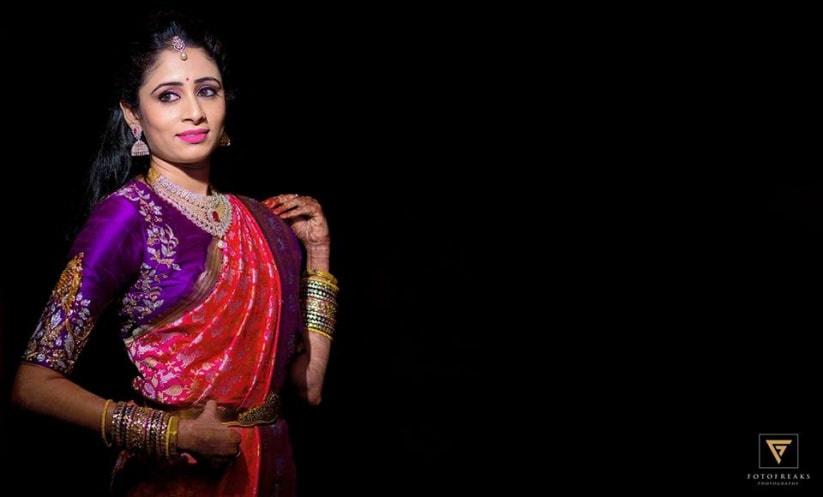 Flaunt some elaborate Maggam work designs on your reception night. Go for silver Maggam embroidery with a little hint of golden zari on a deep purple blouse with quarter sleeves. You can choose a dull red or a bright pink saree to go with it.
Jewellery: White gold or a diamond necklace, white Jhumkas and maang tikka, silver and purple bangles.
Occasion: Engagement, wedding, reception.
11. Orange blouse with embroidered sleeves and back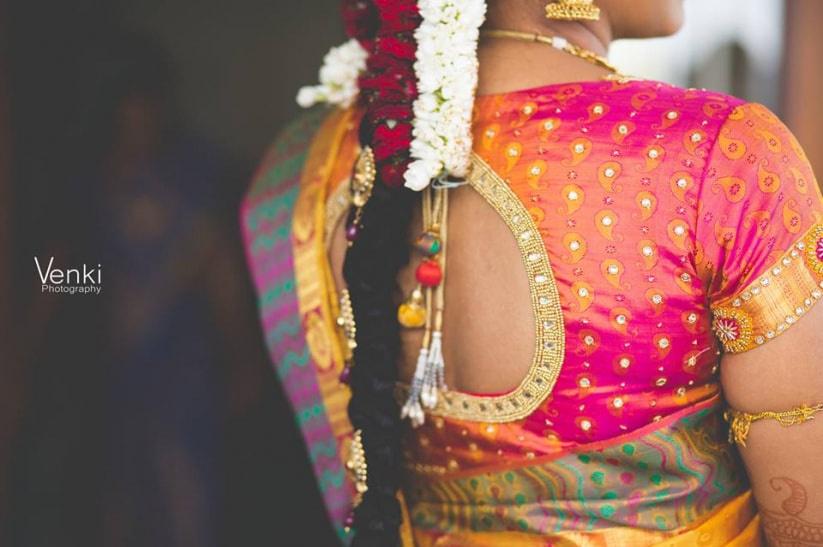 Image Courtesy: Venki Photography
Get the back of your orange blouse decorated with fine Maggam work designs. Opt for a deep U cut or a large teardrop cut and accessorise it with golden embroidery. Also get tiny paisley shaped stonework on the body of your blouse.
Jewellery: Armlet, Parandi and Jhumkas.
Occasion: Sangeet, engagement, reception.
12. Deep magenta with mustard and golden floral work
Image Courtesy: Venki Photography
Add a bit of gaiety in your bridal outfit with little floral Maggam work designs on your blouse. Choose magenta or a dark pink blouse and go for cute flowers as a part of the embroidery. If you match the colour of the Maggam work with your saree colour (e.g. mustard), even better!
Jewellery: Light gold or white gold earrings and necklace, small maang tikka.
Occasion: Haldi, mehndi or engagement.
The intricate flowers, dangling pearls, stone and mirrors are some of the evident features of Maggam embroidery. Exquisite handwork and craftsmanship are what make Maggam work designs so special for brides. Check out some chic South Indian blouse designers for tips. Also, you might want to take a look at some unique blouse patterns before you choose the one for yourself. Get soaked in the exotic traditional fashion of India that never goes out of style among brides.
Have you picked your wedding jewellery yet? Take a look at our vendor's list to choose from.