Is Black the New Red? Decoding the Bridal Black Lehenga Trend
The black lehenga trend is spreading like wildfire, with more and more brides opting for a new-age version of the traditional red lehenga. So is black really the new red? We've answered all and more! Read on.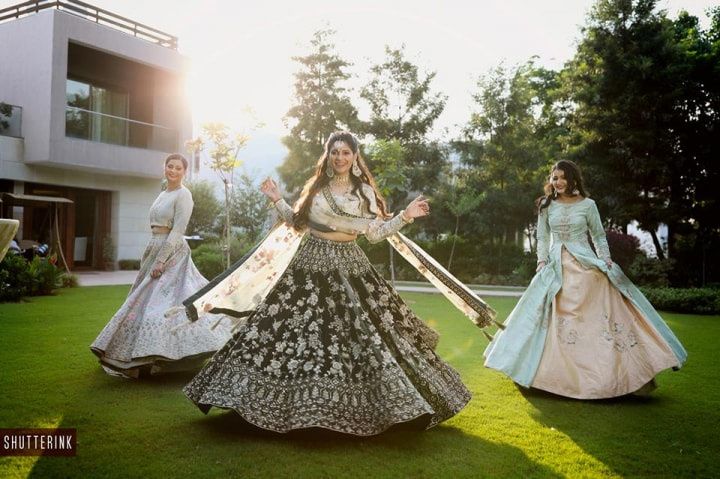 A black lehenga has become a bridal trend that has people surprised, stunned and super excited too! After the little black dress and the all-black power suits, it was only a matter of time that an all-black wedding ensemble would take on the bridal trends. But why is there such a buzz about the black lehenga? The fact that a lot of people in India consider the colour black, a not so auspicious one and definitely not a very bridal one. Black is considered a very 'western' colour in that sense and most Indian ethnic colours refrain from this dark, solid, statement colour. But, that's changing, and how!
The black lehenga trend has been making its way with more and more brides including it in their wedding wardrobe. And why not? Black is a versatile colour that enhances all skin tones, a wide range of embroidery and other handworks and makes a bold statement like no other colour can.
If you have been trying to decode the black lehenga trend and considering making a wedding statement, here's how and when you can do it right.
Marrying the Black Lehenga with Different Wedding Functions
1. The Cocktail Number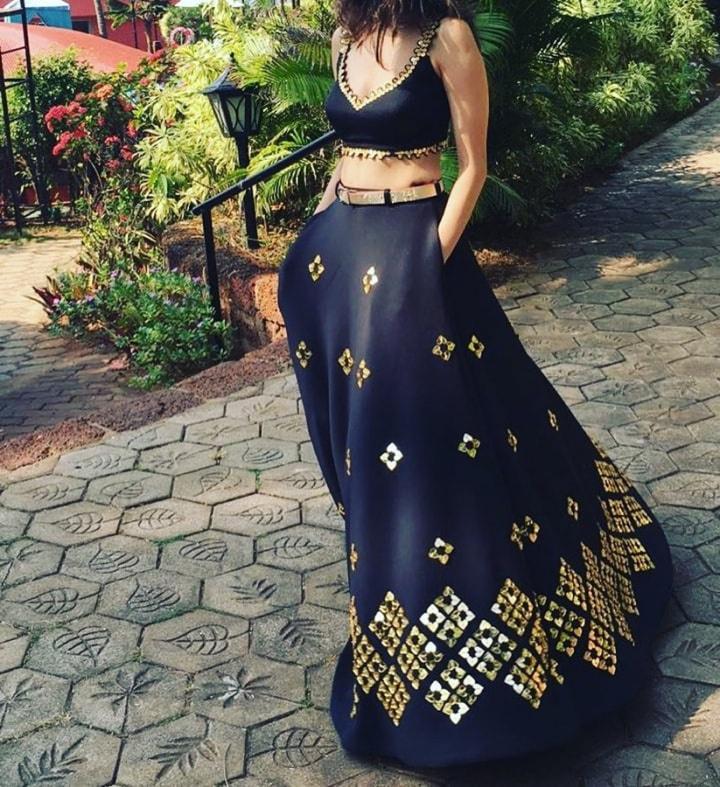 One of the easiest ways to make the black lehenga a part of your wedding wardrobe is showing off a sexy number on your wedding cocktails. You can go for a skirt and crop top style black lehenga with modern accents like belts and modern jewellery to add to the look. Choose one that has a modern cut and design to make it an indo-western look.
2. The Sangeet Special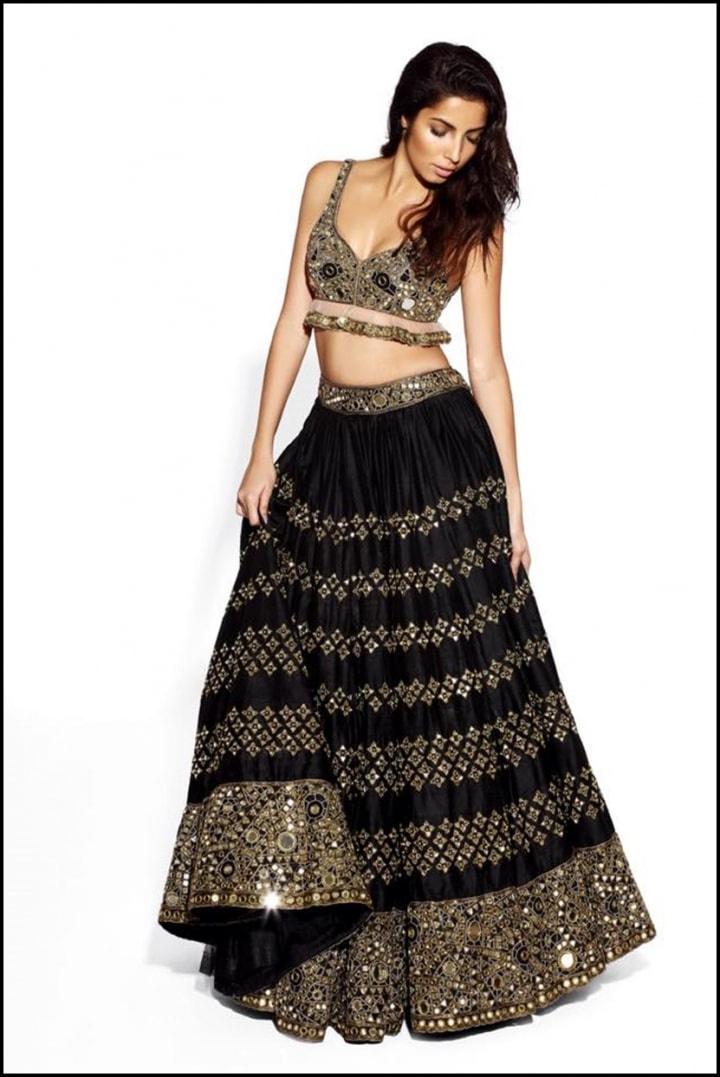 The Sangeet function is a great opportunity to sport a stylish black lehenga that balances sexy with bride-like. You can opt for a crinkled black skirt with tiny gold motifs and a sexy blouse design to go with it. The classic black and gold combination makes it an over-the-top attire, yet keeping it classy and stylish. You can team this up with minimal jewellery that is quirky and modern.
3. The Engagement Ensemble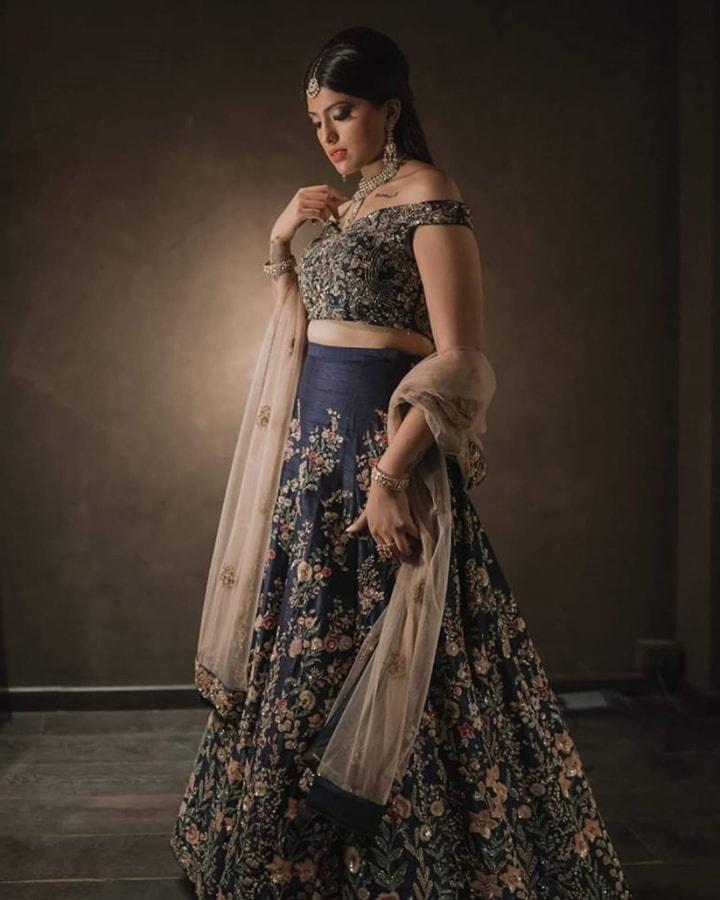 Taking the black lehenga to the next step would be wearing one for your engagement function. Choose something that has elaborate work on the skirt with a plain blouse or vice versa. You can add a little bit of colour by choosing something that has multi-coloured embroidery work. You can go for a stylish blouse design like an off or one-shoulder style, a corset style blouse or even a powerful collared blouse. The key is to keep one of the pieces- the skirt or the blouse - true to traditional bridal wear and mix it with a modern better half.
4. The Wedding Elegance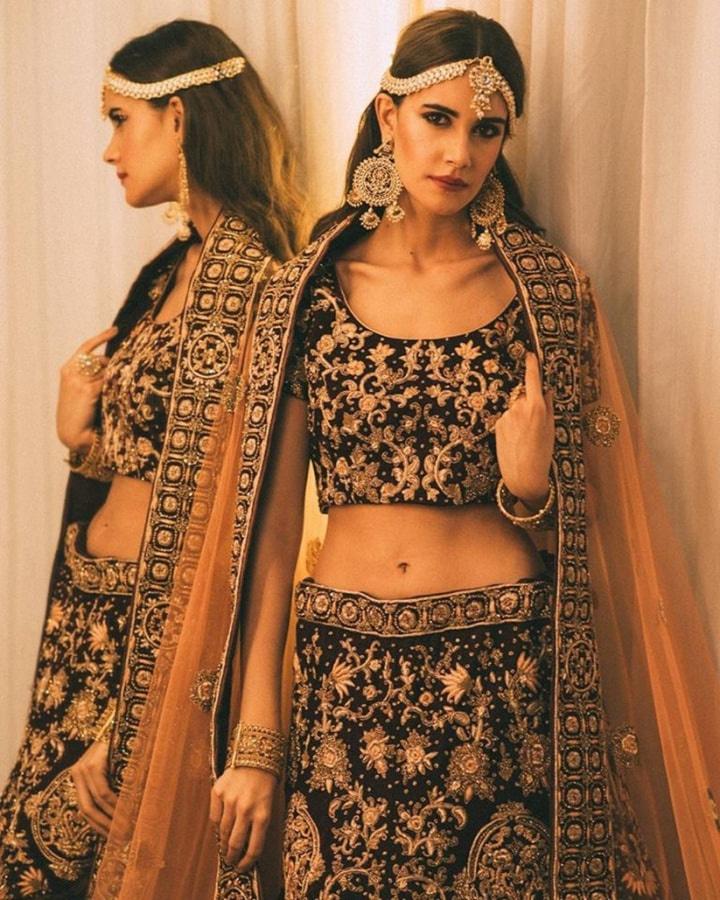 The final step to acing the black lehenga trend would be to take it to your wedding. A bride dressed in a black lehenga in itself is quite a rare sight and that in itself makes it the unique bridal attire you have always dreamed off. You can choose an elaborate lehenga with intricate details all-over and team it up with heavy bridal jewellery. The best part is that the colour black will beautifully enhance all traditional artwork and jewellery styles. You can add a sheer golden Dupatta to the black lehenga to make it more bride-like.
From the classic red to pastels, shimmery golden bridal lehengas, and now the statement black lehenga- the bridal trends have been changing. Each new trend has its own unique elements that make it hard to miss and stand out. The black lehenga trend is no different. It is unique, beautiful and definitely making waves. But the fact is, knowing what works for a trend is very important to nail that look. Imagine the classic red lehenga with patchwork- is that bride-worthy? Similarly, a black lehenga only stands out and makes a statement when everything about it is worthy of a bride.
Embroidery and Embellishment Styles that Enhance a Black Lehenga
5. Aari Work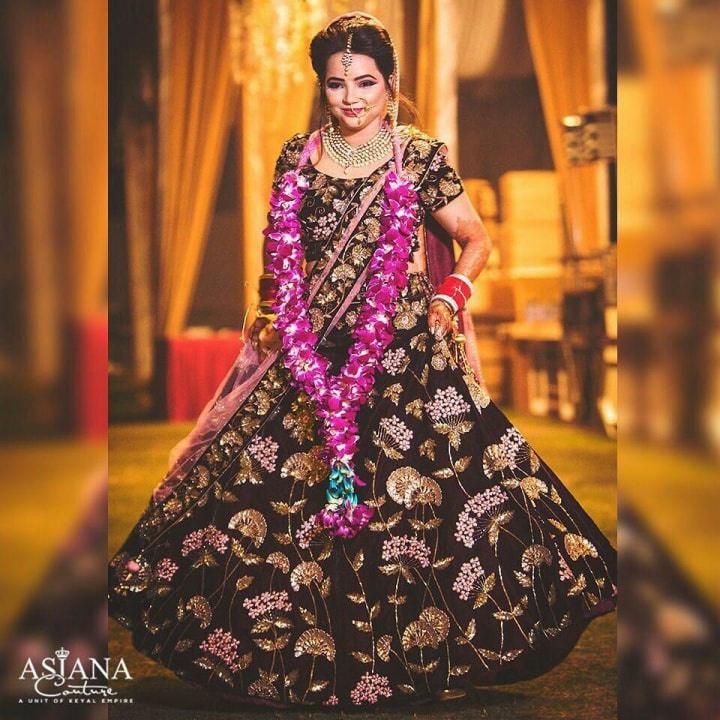 Aari work is a traditional style of embroidery that is especially known for the intricate and elegant thread work. It is done using a special hook-like long needle and uses gold or silver threads with beads and stones to create intricate hand-embroidered patterns. Golden thread Aari work on a black lehenga is a stunning combination, enhancing both the embroidery work and the base colour. The lehenga skirt with panels of Aari work or a style that has an all-over embroidery design will work great. It works best on crepe and silk fabrics.
6. Zardozi Work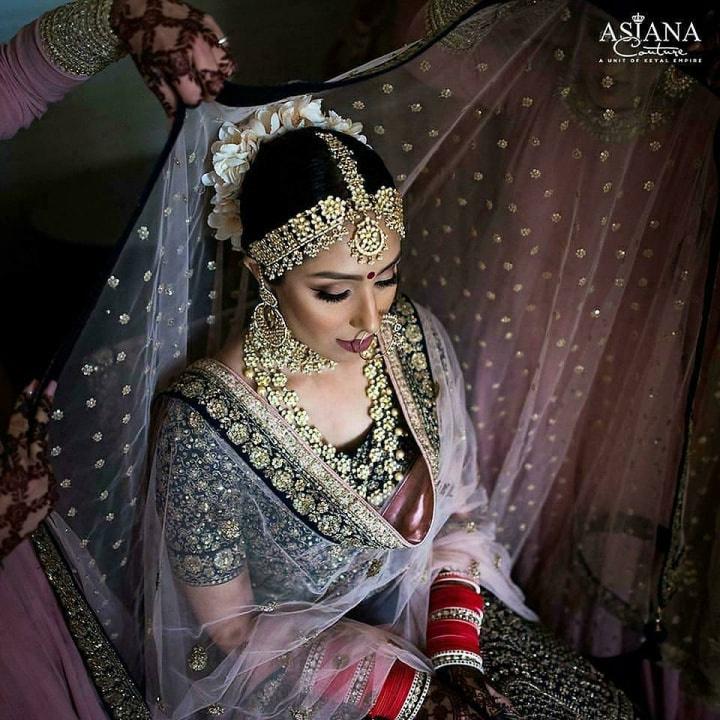 Another ancient and traditional artwork, Zardozi is a combination of gold Zari thread with beads to create an intricate design pattern. It is an enhanced embroidery that uses Salma-Sitaare to create a bouquet of artwork. It works great on rich fabrics like silk and velvet too, making it a great style for your bridal black lehenga, no matter what the season is. It is a very traditional design that can make a black lehenga look very traditional, yet trendy.
7. Gota Patti Work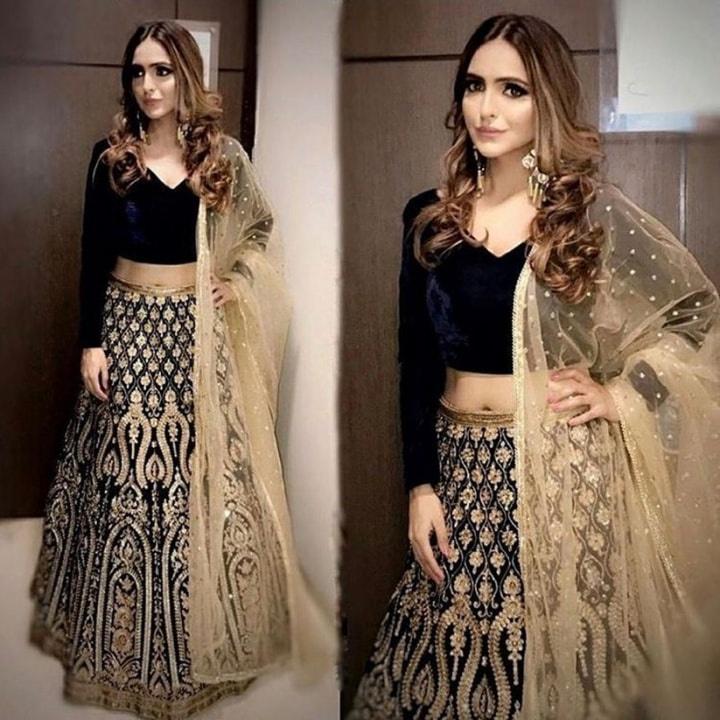 Gota Patti is a traditional form of handwork from Rajasthan. It combines Gota with thread embroidery to create bold patterns on fabrics. It is a raging trend in bridal fashion for the bold designs and patterns it can create, yet look elegant. A Gota Patti black lehenga is sure to be a stunner attire that can range from traditional to fusion, depending on the intricacy of the work on it. You can easily combine a Gota Patti black lehenga skirt with a modern crop top or collar style black blouse to make the perfect Indo-western attire. This works on all kinds of fabrics.
8. Black on Black Beadwork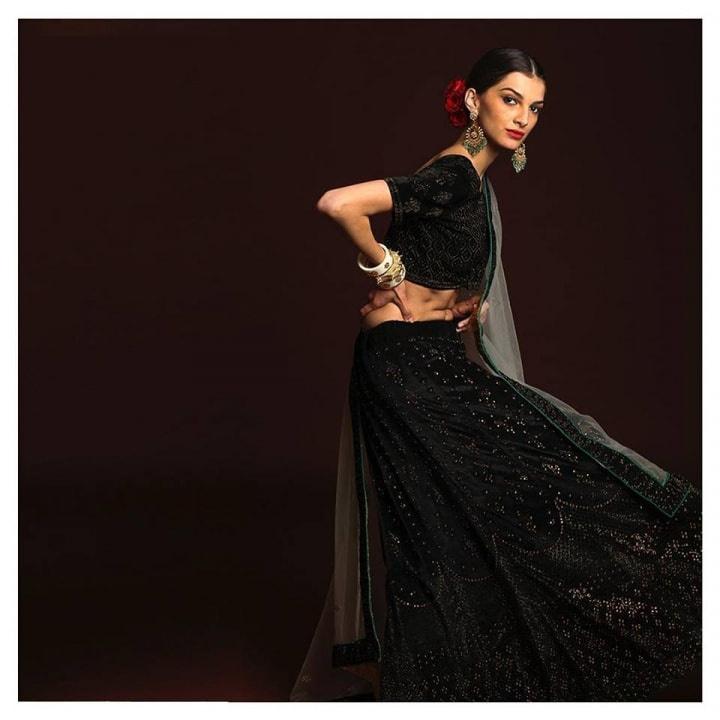 Black beadwork on a black lehenga is the perfect attire that speaks modern yet traditional; sexy yet subtle. Beadwork can easily create intricate long panels for the skirt and heavily embellished blouses. This can be the Indian version of the classic black gown. You can easily combine it with net Dupattas in bold or pastel hues and traditional jewellery for an Indio-western look. This works well on net, lace and georgette fabrics.
Did you imagine the black lehenga to be that versatile? Yes, no matter what the function is, what season it is or what look you are going for; a black lehenga easily manages to make its way in. There's no confusion in which hue or shade works best for you when it comes to the solid black!
The best part? Whether you want to be a sexy modern bride or a truly traditional one, the black lehenga can adapt to any look you are trying to create. So, if black is your favourite colour it's time to make a black bridal statement.
Would you sport a black lehenga on your wedding day or choose the classic reds?