Go, Garba Dance: Here's How You Organise This Gujarati Gala Night
Want to do something totally unique and fun-filled to make your sangeet night an event to remember? Well, a Garba dance themed party is the way to go then!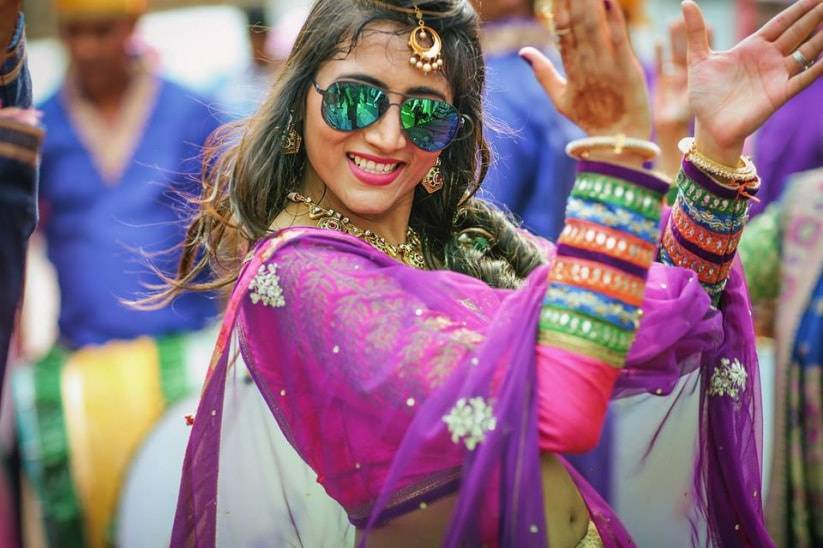 Indian weddings as we all know are not just events, they are festivals. Be it a Punjabi wedding or a Tamilian one, we Indians know how to make our wedding functions grand. And since we have already established that Indian weddings are more like festivals than anything else, we have here a very unique yet very rocking idea to make your Sangeet function an affair to remember - a Garba dance themed party.
All of us who have attended a Desi wedding can vouch for the fact that the Sangeet night is THE night of fun. It is that one function where everybody including the bride, the groom, their families and friends all come together and celebrate the upcoming union of the couple with dance, music and a lot of fun.
While in earlier times Sangeet was a part of just North Indian weddings, these days people from all the different cultures have adapted the function into their wedding itinerary. Incredible India, right? So, why not add a bit of Gujarati Masti to the mix and make your Sangeet night one which you or your guests will never forget.
Let us start by telling you a little bit about Garba dance, everything you need to plan an authentic Garba dance-themed experience and how you can get your guests to groove to it. Let the fun begin!
What Is Garba Dance?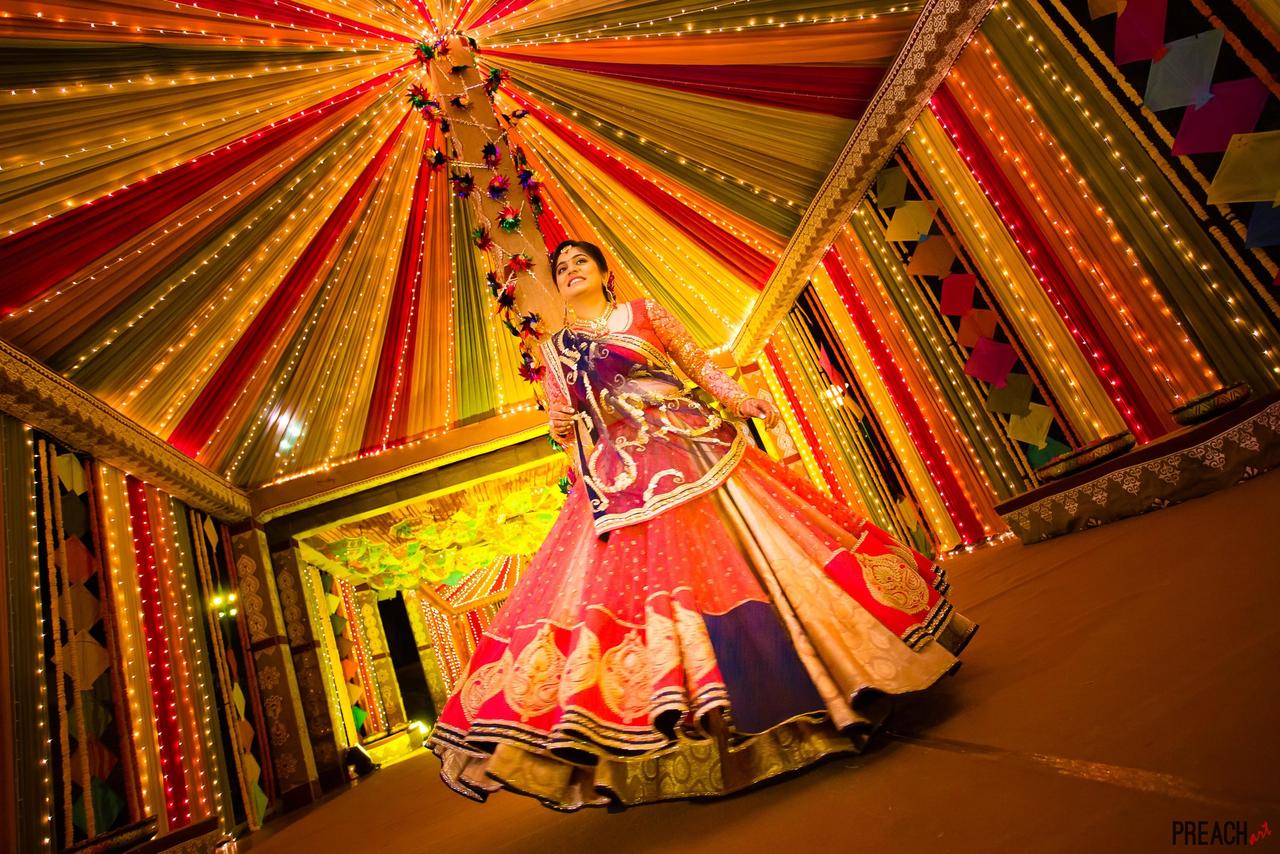 Image courtesy: Preach Art
Garba dance is a Gujarati folk dance form which was originally performed as a fertility ritual, hence the name. Over the years the dance form evolved and was influenced by Dandiya Raas, which is another Gujarati folk dance form. The combination of Garba and Dandiya Raas makes for a high-energy dance form which is usually enjoyed during the Navratri festivities.
Everything You Need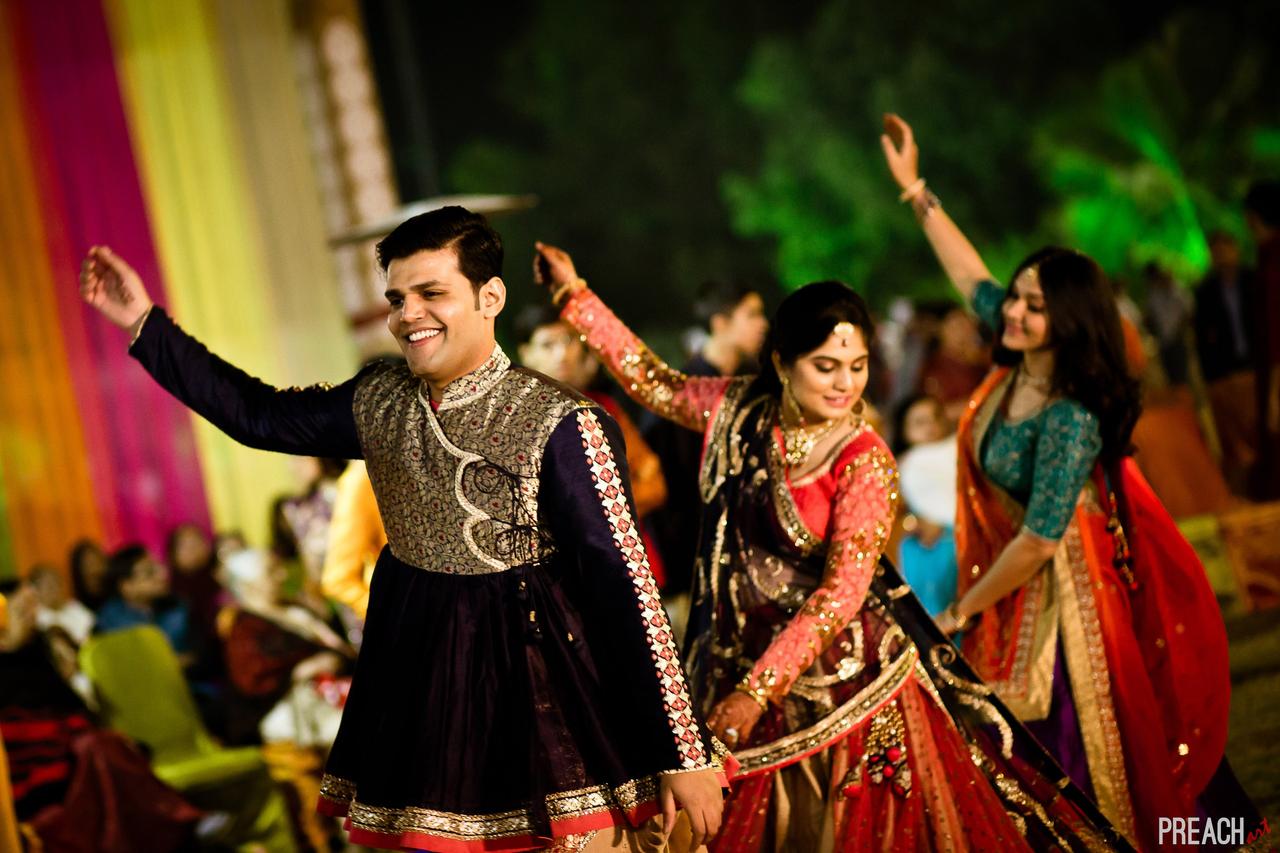 Image courtesy: Preach Art
Before you run off to plan a rocking Sangeet night for your wedding, you need to know about everything that is a part of traditional Garba and Dandiya Raas. Here is a list of everything you need for an authentic Garba dance experience:
1. Chaniya Choli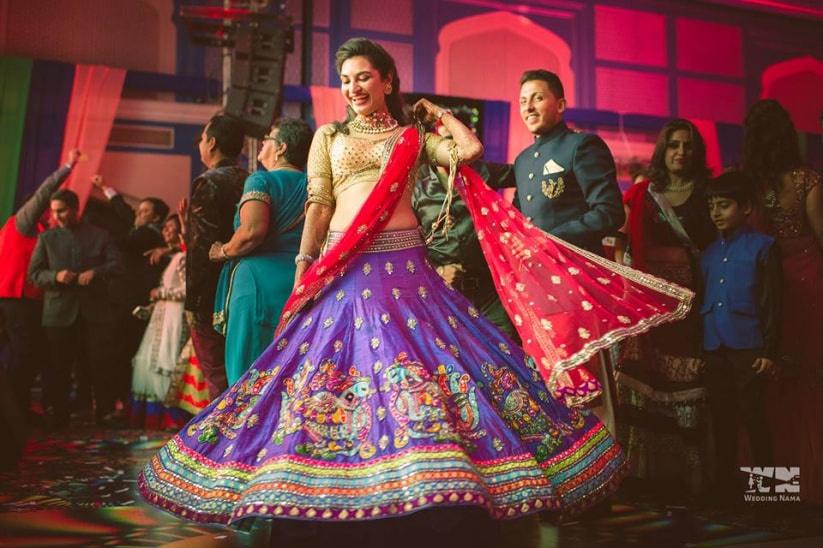 This is the traditional Gujarati outfit that women don when playing Garba. It is heavily embellished with mirrors and Gota work. You can give the Chaniya Choli a modern twist by adding a few personalised touches to your outfit like picking a sexy blouse.
2. Kediyu
The traditional Garba outfit for the men which includes a Ghagra - a short Anarkali style kurta - and a Kafni pyjama.
The outfits for a Garba dance are usually very bright and colourful, keeping in mind the spirit of festivities.
3. Jewellery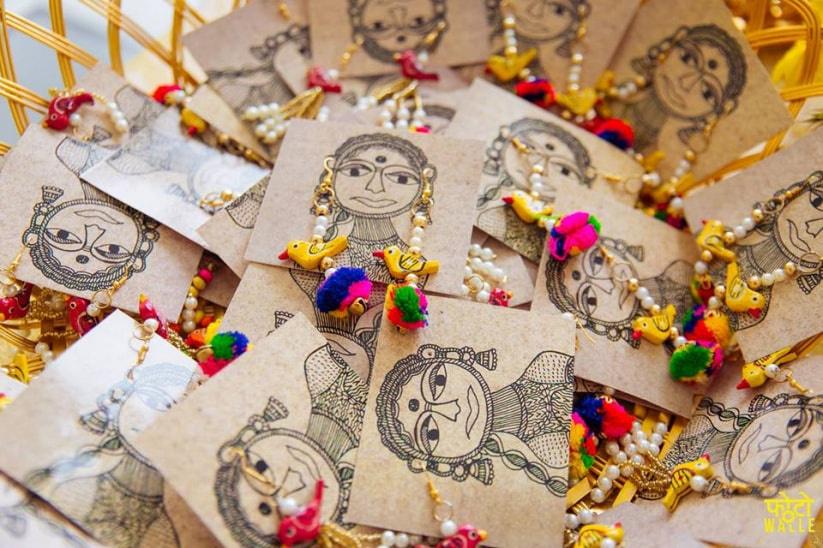 Usually, women adorn themselves with large Necklaces, Jhumkas, Maang Tikkas, Borlas, Kangans, Chudas, Kamar Bandhs and Bindis while dressing up for a Garba dance performance. Be our guests if you are all for authenticity, but just make sure you don't overdo it.
P.S. These tiny trinkets of jewellery will also make for the perfect wedding favours for your female guests. Just saying!
4. Dandiya
The pair of heavily decorated wooden sticks which are used to play Dandiya Raas paired with Garba. Zing up the evening with a large number of Dandiya sticks for everyone who would want a swing at them, but remember that the Garba dance itself does not need the sticks - it's more of a whirling activity with the everyone clapping to the beats.
You could also add a Dandiya competition after the more traditional Garba dance performances are done.
5. Garba Dhol
No Garba dance festivity is complete without a power-packed Dhol beat going in the background. While there are a lot of traditional Garba and Bollywood songs available, nothing beats the power of the Dhol.
Ensure that a few dhol performers can be brought to the scene. If your Garba dance ceremony is more low-key, then get a couple of Dhols and let the aunties in the family have a go at them, possibly to some Gujarati wedding songs.
6. The Perfect Sangeet Night Garba Dance Playlist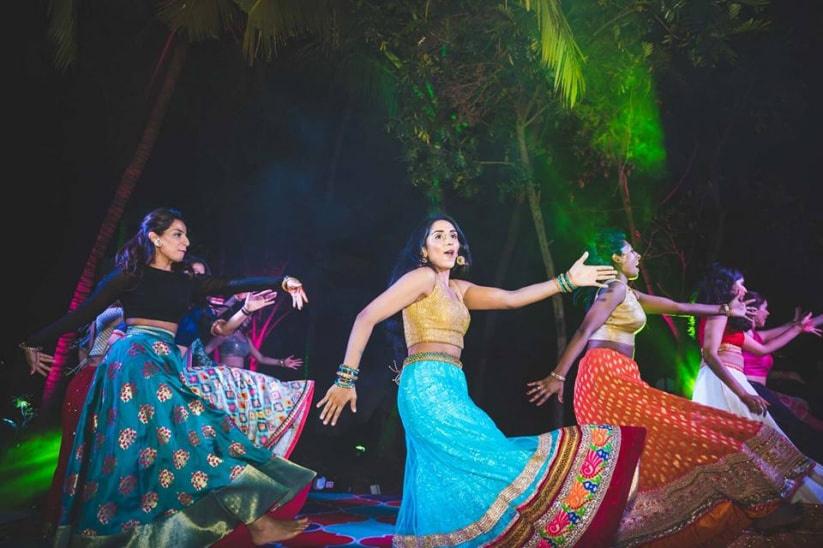 Chogada - Loveyatri
Dholida - Loveyatri
Rangtaari - Loveyatri
Nagada Sang Dhol - Goliyon Ki Rasleela - RamLeela
Maine Payal Hai Chhankai - Falguni Pathak
Odhni Odhu - Falguni Pathak
Shubharambh - Kai Po Che
Dholi Taro Dhol Baaje - Hum Dil De Chuke Sanam
Dholna - Shubha Mudgal
Lagdi Hai Thaai - Simran
7. A huge empty space
Make sure that you have ample space when planning a Garba dance-themed Sangeet night because a cramped area can just kill the vibe of the energetic dance form. Not to mention, if people do not have enough space to play Garba and Dandiya, they might end up hurting themselves and each other unintentionally. Keep that in mind when picking the venue for your function.
If your Garba dance function is happening indoors, ensure that the floor seating plan is shifted outwards - either lining the chairs with the walls or maybe getting the organisers to remove the chairs and tables before it begins.
How To Get Your Guests On The Dance Floor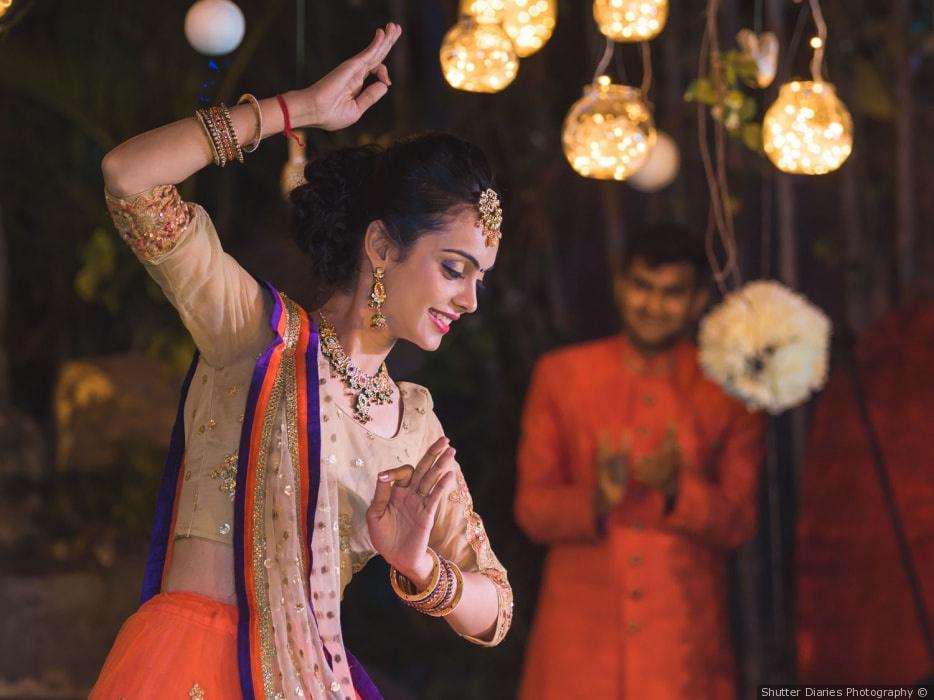 The bride, groom and their close ones will usually prepare Sangeet dance performances beforehand. But getting the other guests on the dancefloor can be a real challenge. Well, we have a solution to that too. You can engage your guests in a simple and classic game of passing the parcel. Write the names of some peppy Garba dance songs on chits and ask the guests to pick a chit when their turn comes and get on the dance floor with anyone of their choice. This way everyone gets involved and the fun gets doubled.
On a side note, here is a choreography video of Chogada from Loveyatri that might help you plan and prepare your Sangeet night performance:
Now that you know everything that you need to know about planning a rocking Garba dance-themed Sangeet night, get the groove on and give your wedding guests a night they will never forget.
If you want to add an interesting suggestion or an anecdote, or you have some more amazing ideas for a Garba dance-themed sangeet party, then do let us know in the comments below.