12 Beautiful Crop Top and Skirt Combinations to Rock the D-day
Looking for something to wear this upcoming wedding season, but don't want it to be too traditional? Then why not go for the crop top and skirt combos that people are falling for.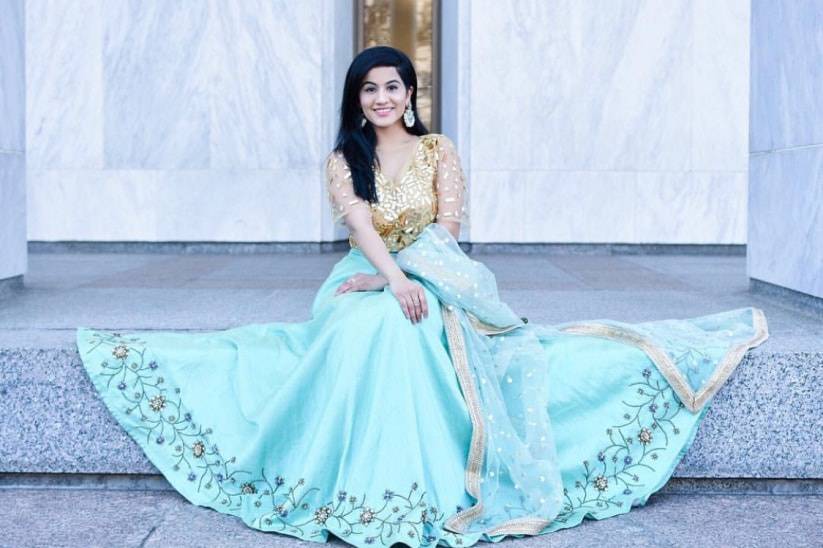 At times, for certain functions, one does not want to dress up too much. It could be because of the kind of a function it is, like at Haldi, you are likely to get dirty so why wear something heavy to cause additional problems. At other times, you just do not have a mood to wear something heavy. So, a crop top and skirt seem to be a sensible solution to this predicament. These either come in pairs or you can mix and match them. They are not as heavy as your usual bridal lehengas and give a very casual vibe off you. Since it is so close in styling to an actual lehenga, no one bats an eyelid when you wear this instead. Unless, of course, you want to be noticed for such out of the box ideas and your crop top is one to turn heads when paired with the skirt.
So, here we show you some curated styles that you can use this wedding season.
1. The Floral Combo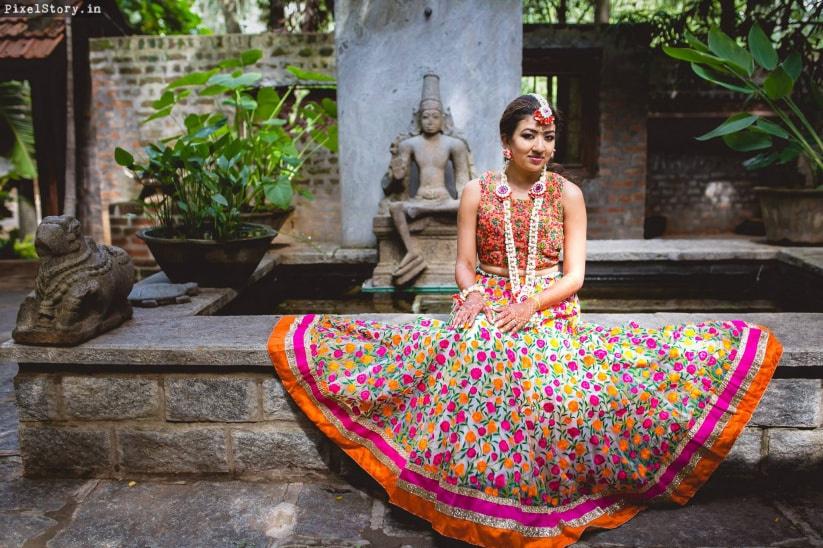 This crop top and skirt combination can work for anyone's Mehndi function. With bright orange and pink colours, which have been seamlessly worked in this outfit, you do not have to worry about anyone's gaze straying anywhere else. You can go for a matching set outfit, but a different crop top with a combining colour works well too. You can bring this out together with floral jewellery, or maybe even gold chandelier earrings.
2. The Muted Colours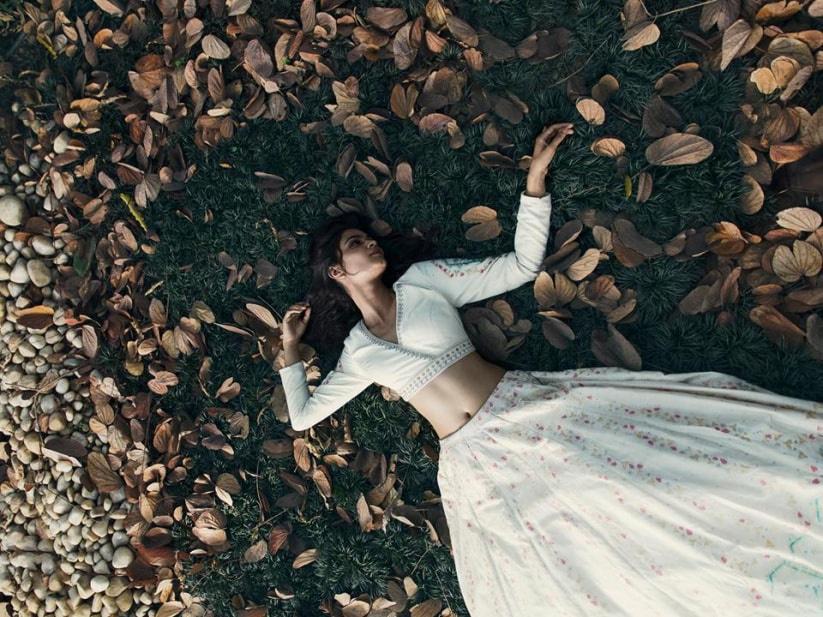 With a sky blue coloured crop top, with light embroidery on the border, and a white skirt with even lighter floral prints, this outfit is dreamy. This muted colour combination looks airy and can be completed with heavy earrings and a choker necklace.
3. Yellow Outfit With A Dash Of Pink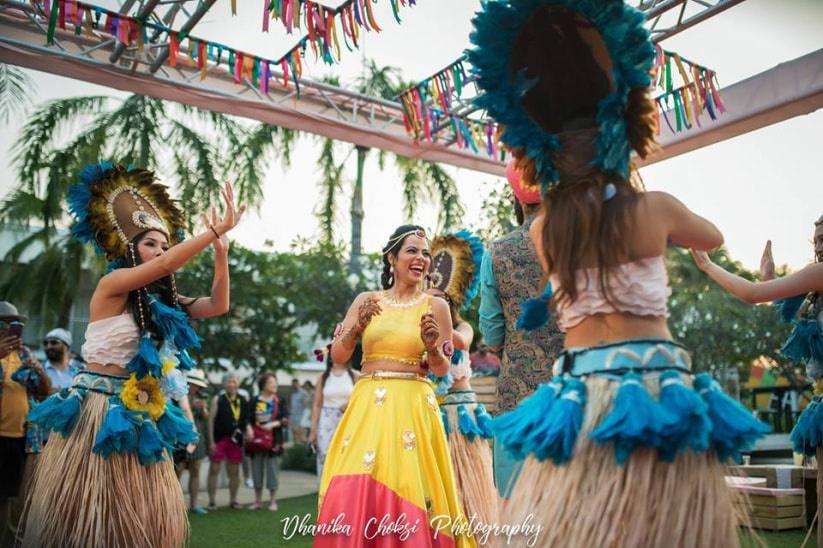 This yellow crop top and skirt is just the right mix of traditional and modern. With the asymmetrical skirt and silver belt, there is just the right touch of modernity added to a traditional-looking outfit. The pink colour just makes it more exciting and gives the bride the zest she needs.
4. Dull Pink Tassel Outfit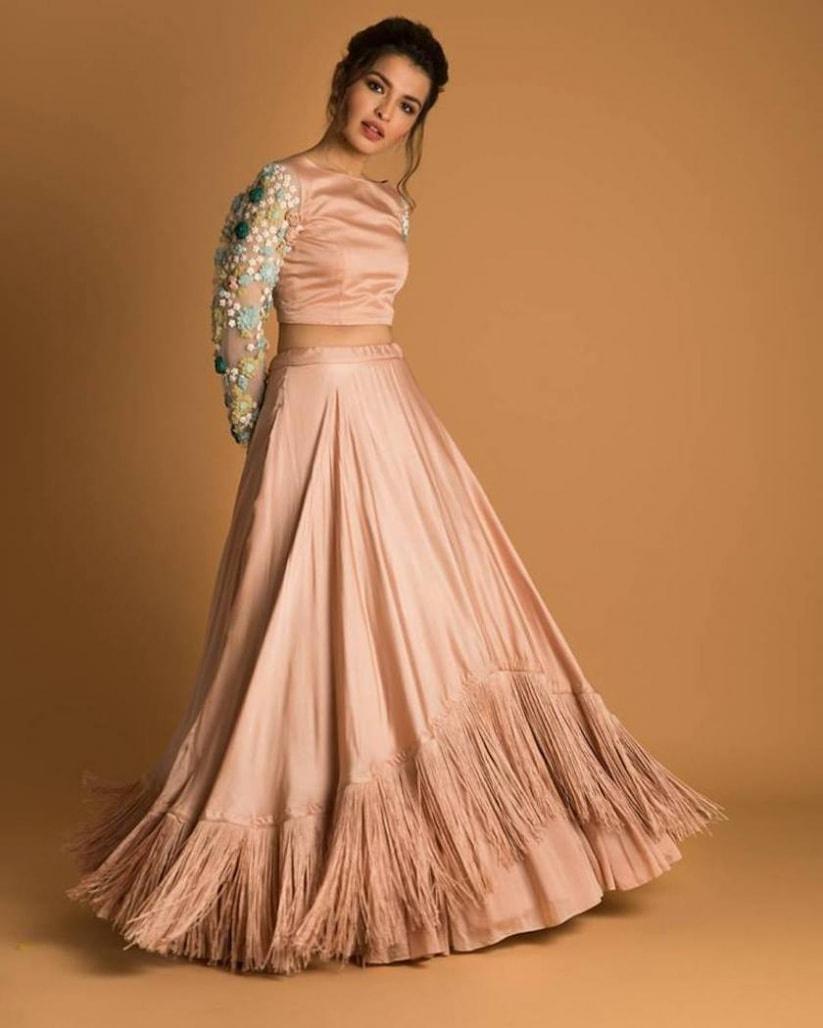 Photo Courtesy: Neha Vaswani's Facebook Page
This crop top and skirt stands out, not simply for its tassels, but because its tassels are in the skirt. There aren't many skirts that have this kind of a design, so it makes this outfit stand out. Added to that, the crop top that has net sleeves is just a bonus with its colourful and beautiful embroidery.
5. Two Shades Of Green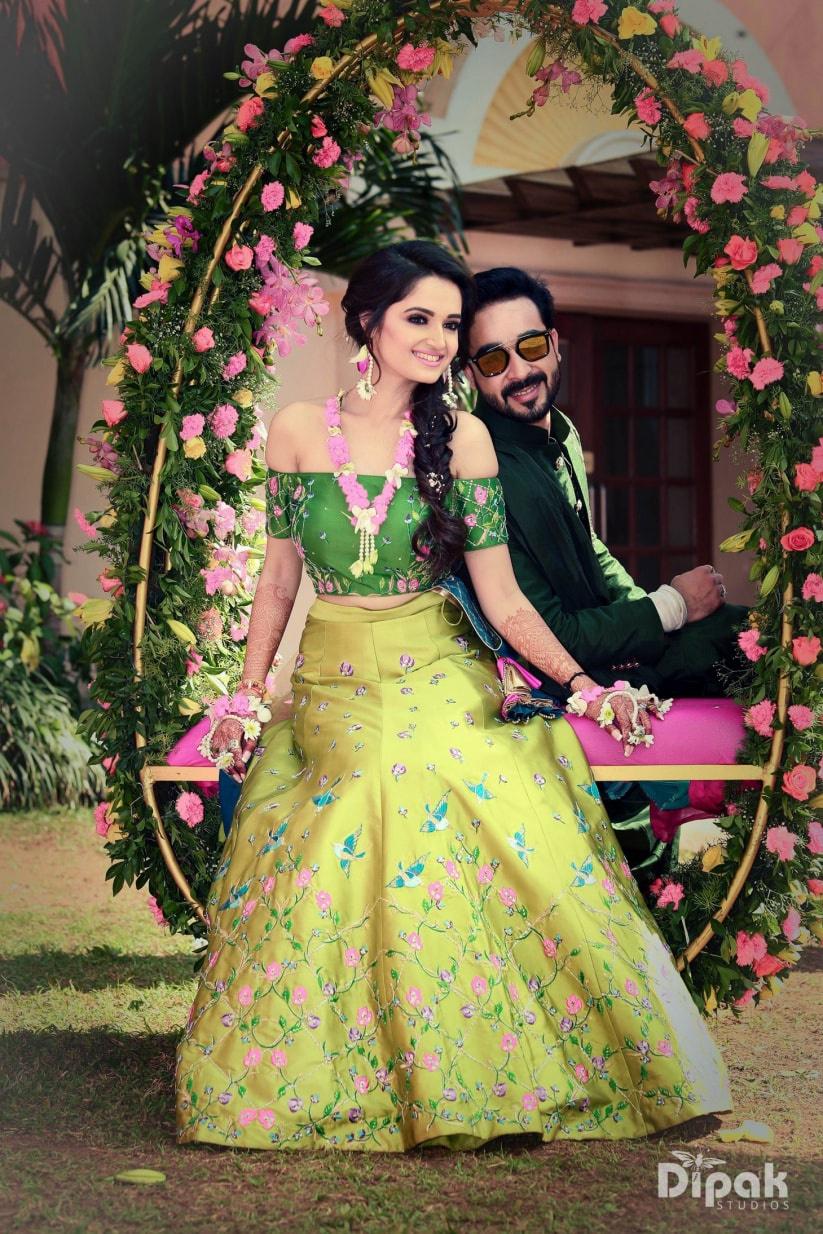 An outfit with one colour in two different tones doesn't always work, but with this crop top and skirt, it works it well. With a beautiful off-shoulder crop top and a nature-inspired skirt, there is nothing to not love in this outfit.
6. Go Black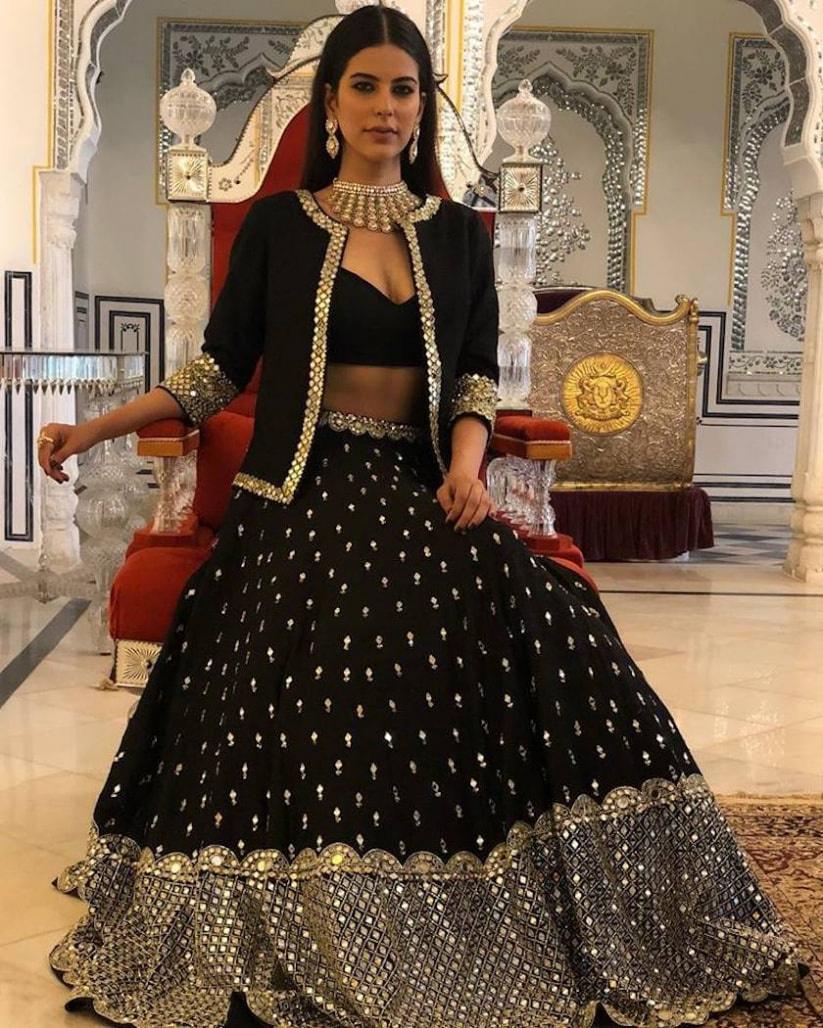 Photo Courtesy: Abhinav Mishra's Facebook Page
Though black is not a go-to colour for weddings, perceptions are changing, and seeing you in this outfit, they will definitely change. This bold and beautiful outfit with its mirror work will make you shine like no-one's business. Pairing the outfit with silver jewellery will be the cherry on top.
7. Gold Tassels With Yellow Skirt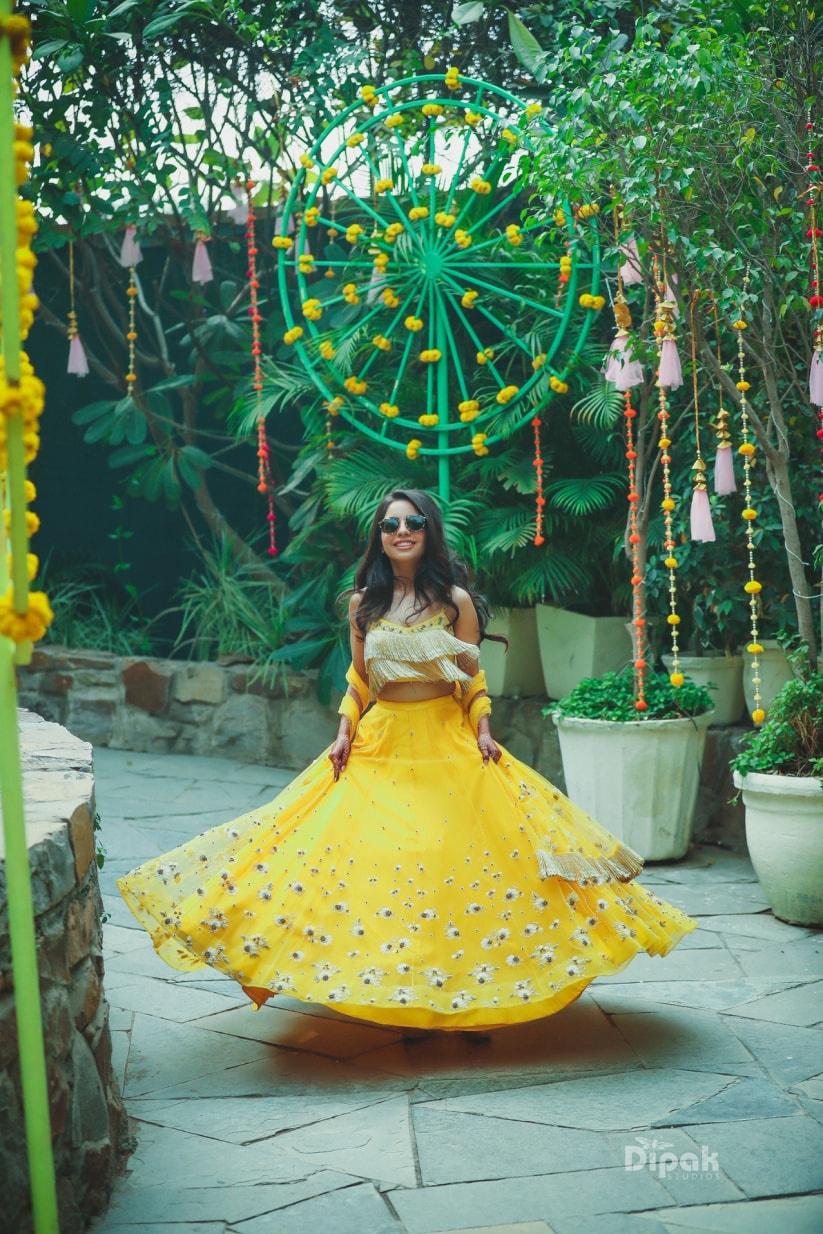 Who doesn't like tassels? And when these tassels are golden in colour they look even better. With a golden tassel crop top and yellow skirt, this outfit looks playful and smart. The top doesn't need anything more and the skirt has flowers stitched on its lower part. This crop top and skirt outfit will go very well for any of your intimate functions.
8. The Dusky Brown One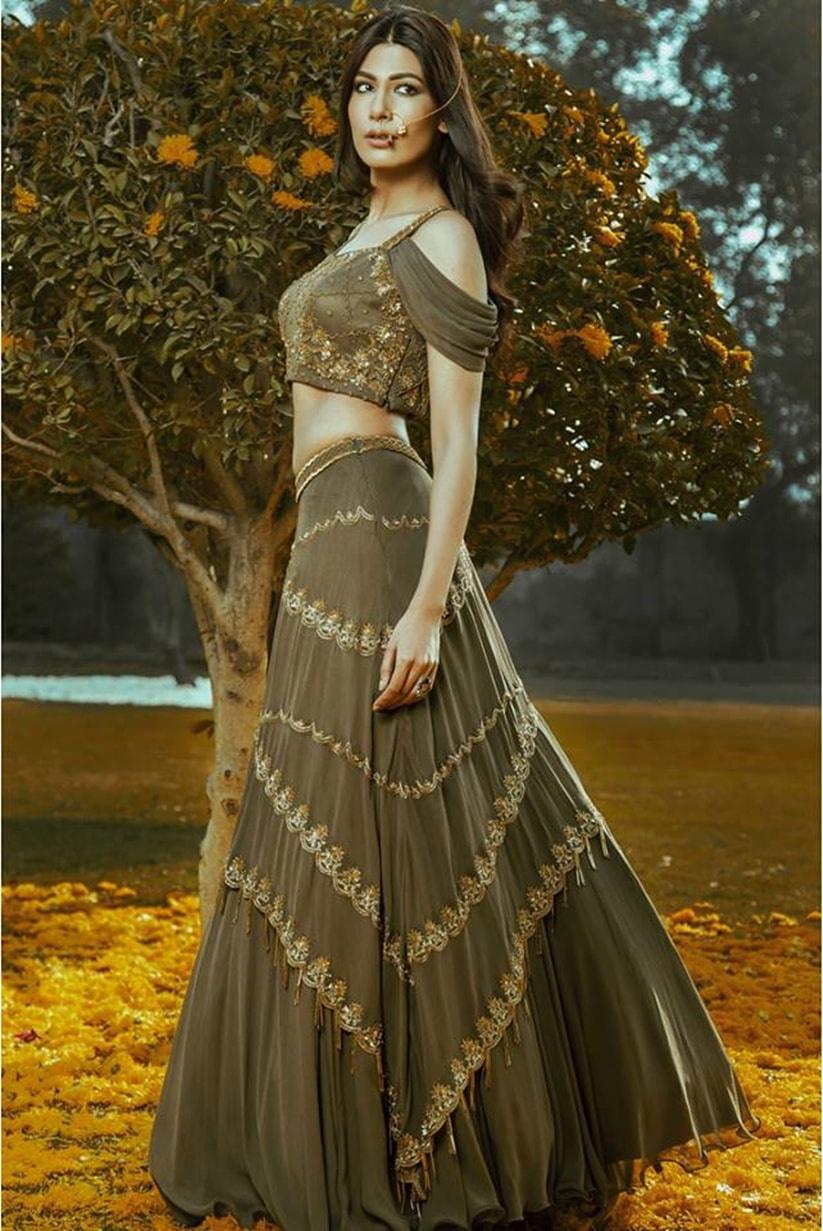 Photo Courtesy: Avigna's Facebook Page
The dusky brown outfit looks oh-so-elegant. The Gota Patti work gives it a traditional feel, but with a colour like that, you will be high on the trendy list as well. The off-shoulder crop top with the cowl like sleeve works to complete the whole look together. Add a pair of dull gold earrings or just a Nath if you're feeling edgy and you are good to go.
9. Mint Green with a Hint of Gold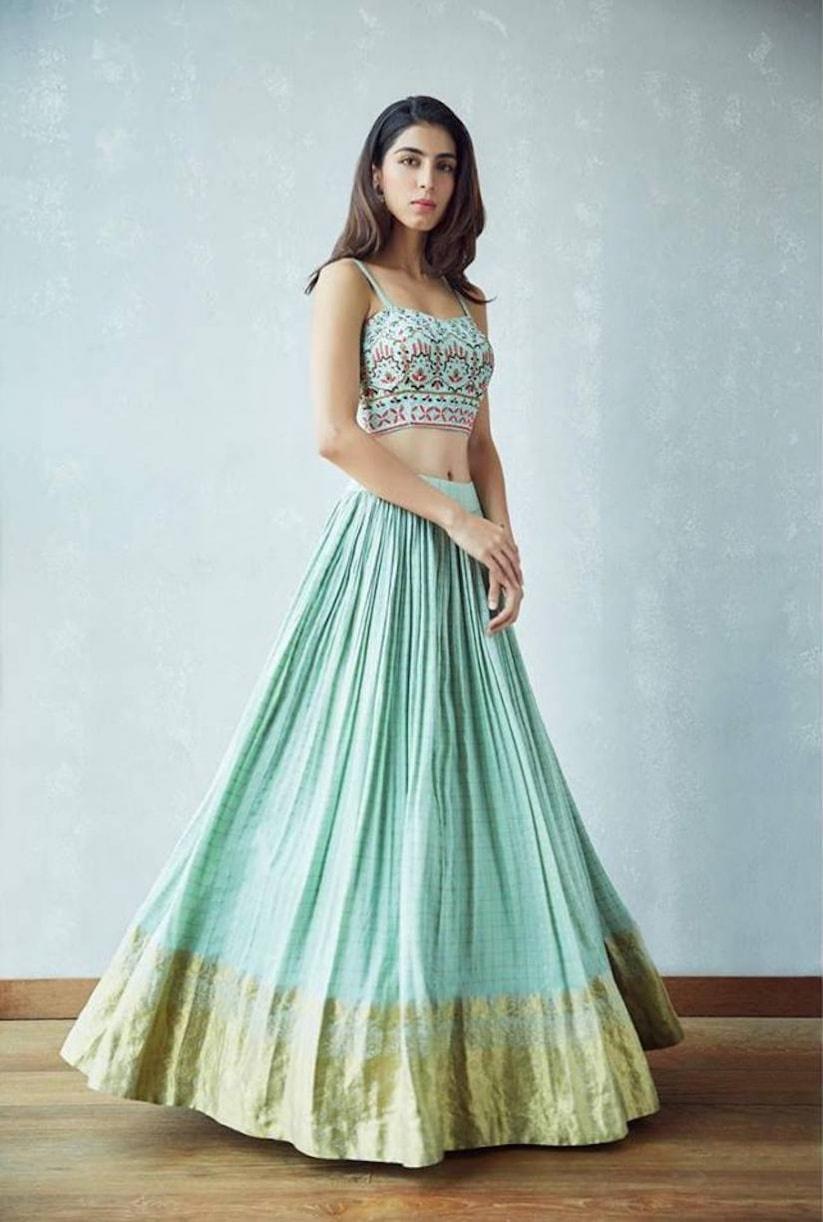 If anything says effortless and elegant, well it is this outfit. Label Anushree's whole ensemble would make you the talk of the town, the colour is also distinct from the usual ones you see. The crop top and skirt with their embroidery and golden border respectively can even star in separate outfits and make them look rich, and together they just do wonders. Leave your hair open for this outfit, as it will make you look even younger.
10. Yellow And A Lot Of Mirror Work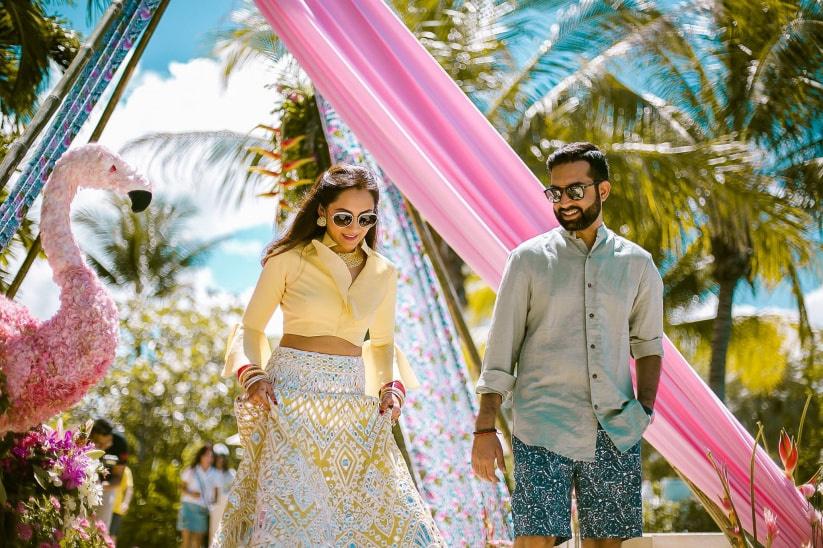 Shine! Well, that is what you will do wearing this crop top and skirt. Both literally and figuratively. The yellow crop top has a statement neckline, which will make sure no one forgets it soon, and the skirt with such exquisite mirror work will not slip from someone's mind so fast. The beauty of this outfit is the contrast of both the crop top and the skirt. The crop top is contemporary and the skirt has more classic work. Both these pieces come together to create something which works well if you have Haldi function or if it is a pool party.
11. The Midnight Blue Hue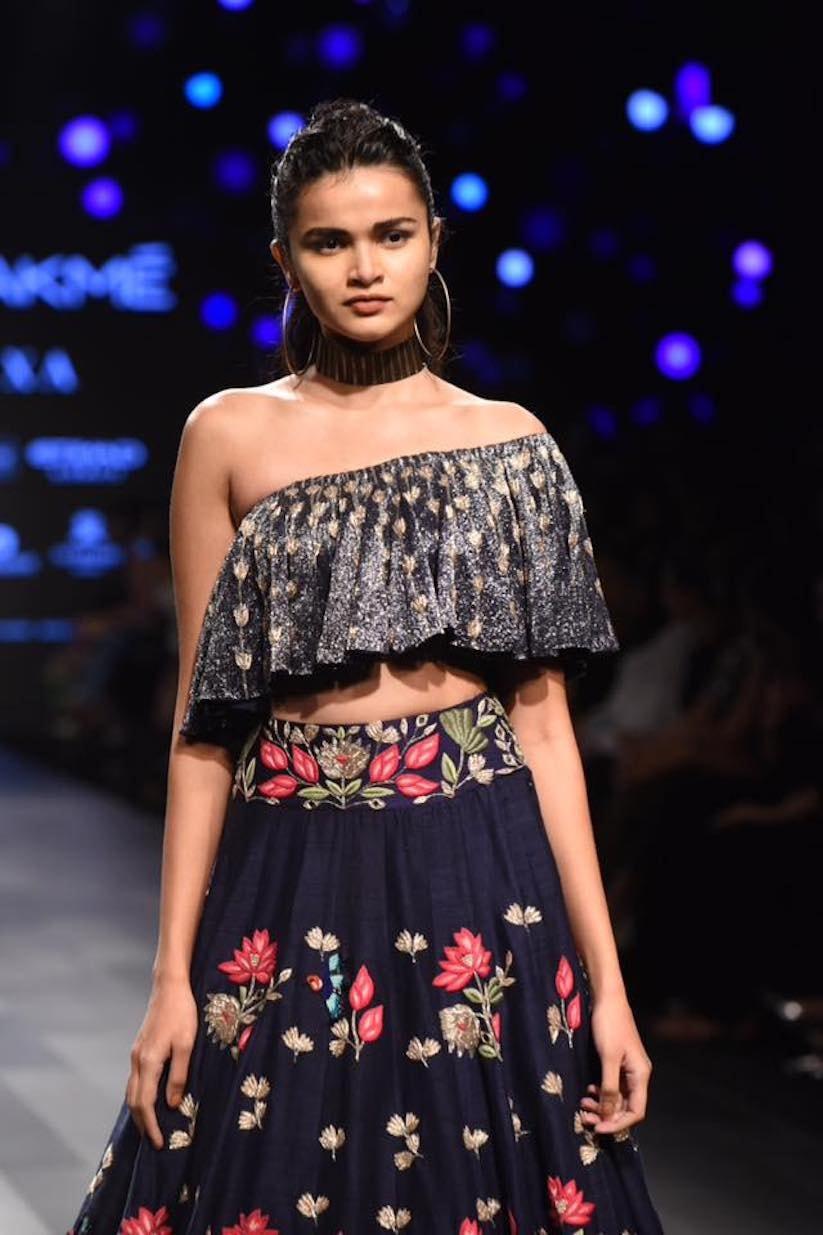 We have just the perfect outfit for any late-night functions that you have. This outfit is an ideal pick for a present-day bride. The one shoulder crop top with embellishment and the skirt with bright coloured threads embroidered are a combination worthy of any night party-like function. You can complete this look with large hoop earrings and a choker necklace.
12. The Bride in Hot Pink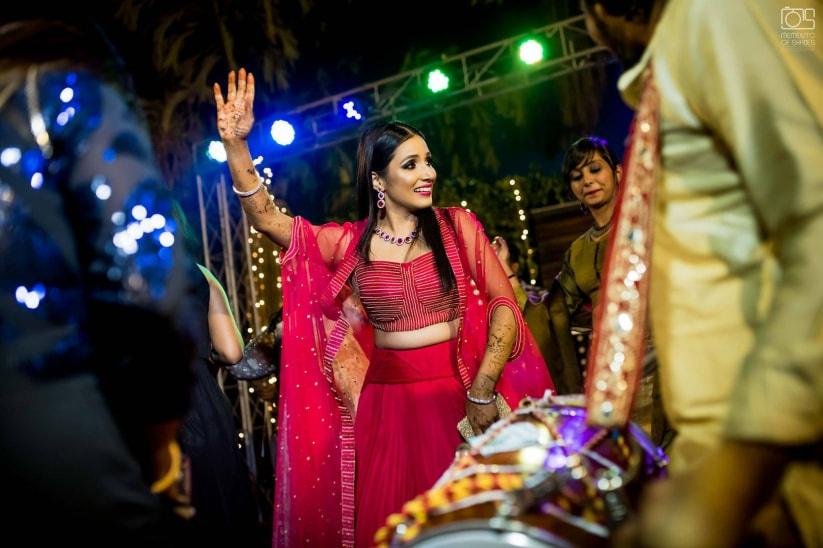 We all agree that however many colours come and go, a bride in hot pink is always our favourite. A bride in this colour looks traditional, even with these stylish designs she is adorning. The crop top has some Zari work done, but not so much that it overpowers its chic look. The skirt, on the other hand, is a plain one, but with the right rich cloth used it would not need anything else. The look is completed with a translucent jacket with small pearls adorned on it. This crop top and skirt look makes a bride look like a million dollars. The minimalistic work done on it increases the gracefulness of the combination. Pairing it with a set of rubies totally completes the look.
Each of these attires has something different and special about them, but what they all have in common is that it is lighter to wear than any of your regular Indian wedding dresses. That and also that, they provide a break in the monotony of wearing the same kind of outfits in all of the functions.
Do you think our modern-day bride needs these crop top and skirt combinations to break the stereotype? So, tell us which one do you like the best and what combination would you want to brave?