How to Build an Enviable Bridal Saree Collection? This is How!
Your bridal saree collection should be unique so that you can look different at every event. Check out these types of sarees that you should definitely include in your collection!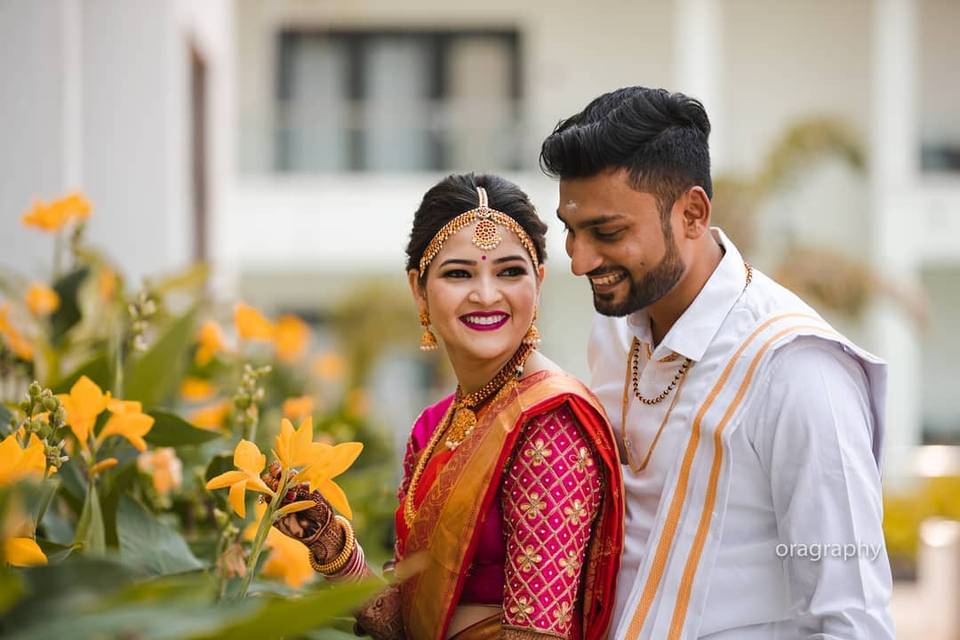 If you want your bridal wardrobe to predominantly have sarees, then you must have a variety of sarees in your collection. This is because wearing the same style can get a bit visually repetitive, and you may feel the same when you glance through your wedding photos years later.
So, to make sure that you bring different versions of yourself to every event, you must build a bridal saree collection that looks as varied as the country itself! Pick up different styles and watch how you impress your guests at each event!
Here are a few garments to include in your bridal saree collection:
1. A vibrant Banarasi silk saree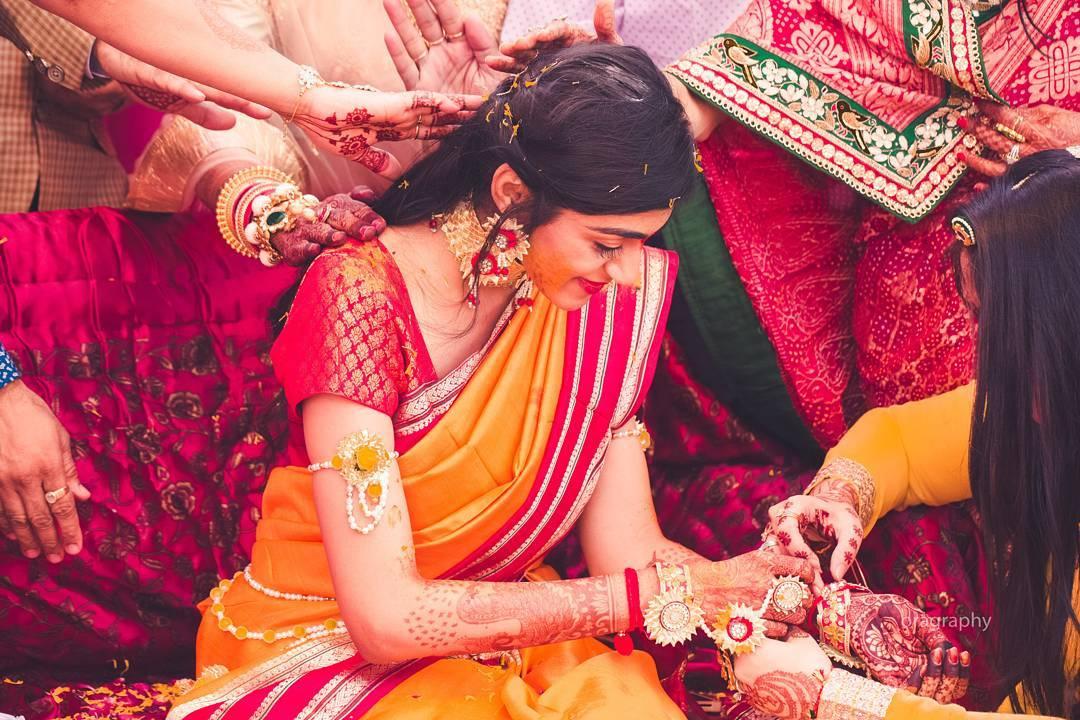 No bridal saree collection is complete without a stunning Banarasi silk saree. These exquisite sarees are characterised by their relatively plainer fabrics accompanied with the use of brocade prints either on the body of the garment or the blouse. In the example above, you can see the brocade work on the blouse. This is a vibrant saree that is perfect for the Haldi or Mehndi ceremony. Pair it with stunning floral jewellery in matching colours for a great look!
2. A pastel Chanderi saree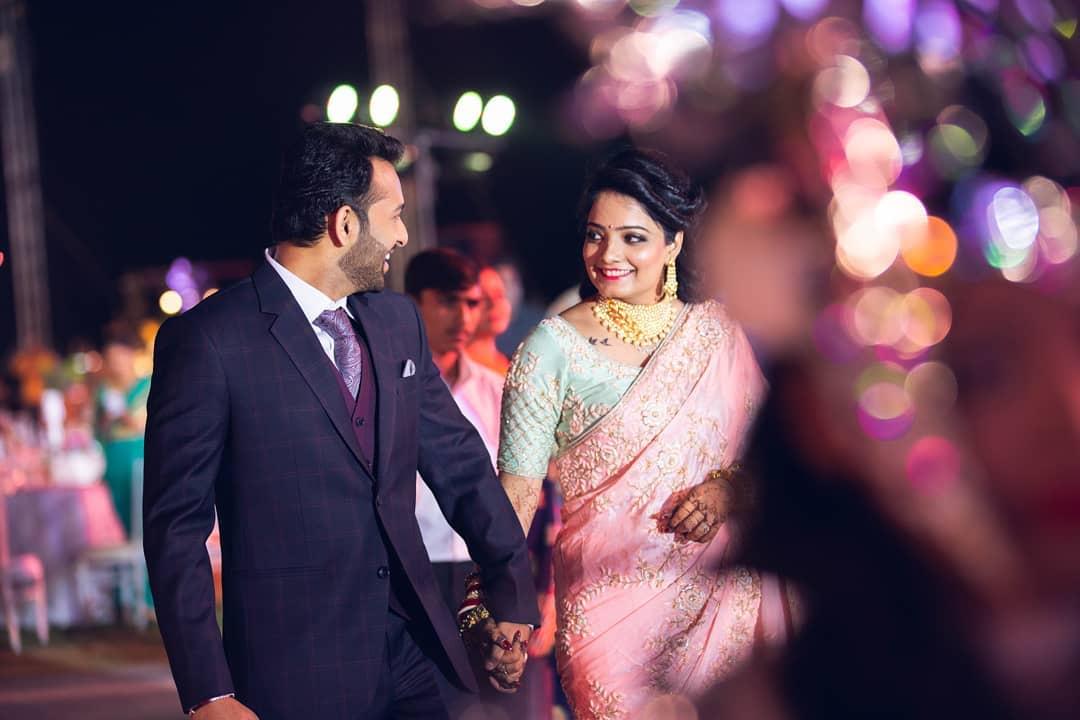 Pastel colours are hot this season, and if you are looking to incorporate this trend in your bridal saree collection, pick a powder blue Chanderi saree and pair it with either a matching blouse or a pretty pink one. Colours like these look lovely with pearl jewellery so consider wearing a long pearl necklace if you are wearing this. You can also go for Maang Tikkas or earrings that have pearl elements. Keep your makeup in the pastel zone too!
3. A classic Bandhini print saree!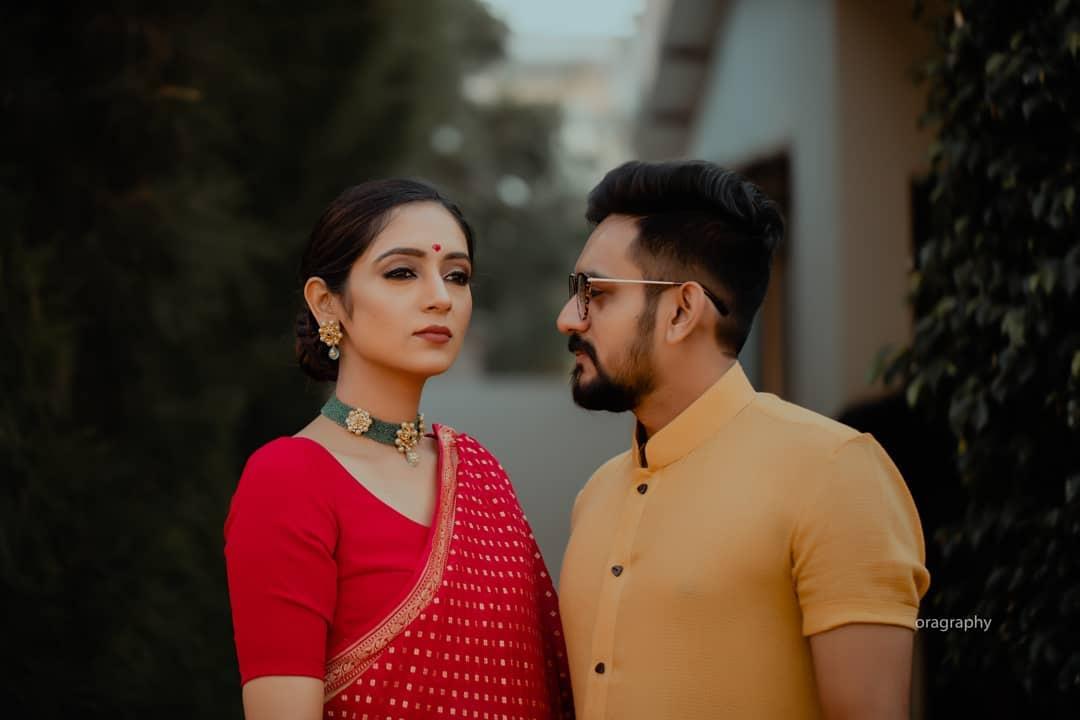 The Bandhini print is mostly associated with Gujarat and is a lovely, light print that's ideal for day events. You can either pick a classic Bandhini print or a saree with a design that emulates the print to keep your guests guessing. The bride in the picture has a gorgeous red saree with gold diamonds all over and from afar, it does look like the Bandhini style! We love how she's paired the same with a plain blouse and a choker necklace.
4. A Kanjeevaram silk with a contrasting blouse!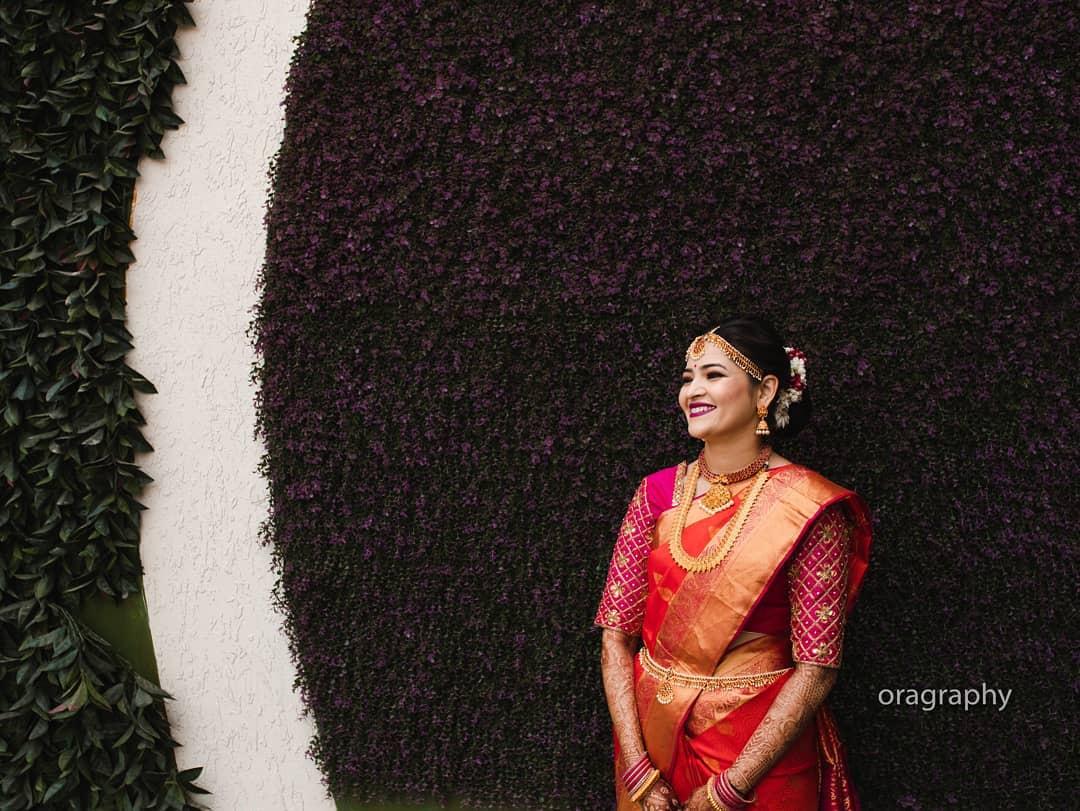 We really cannot write about a bridal saree collection without including a Kanjeevaram saree. This classic South Indian garment is an aspirational piece for many women, and there's so secret why – nothing looks as gorgeous as a well-designed Kanjeevaram silk saree.
This bride chose to wear her saree with a contrasting pink blouse that has cutwork on it. The result is a visually stunning look that any bride would be proud to wear!
5. A yellow cotton saree!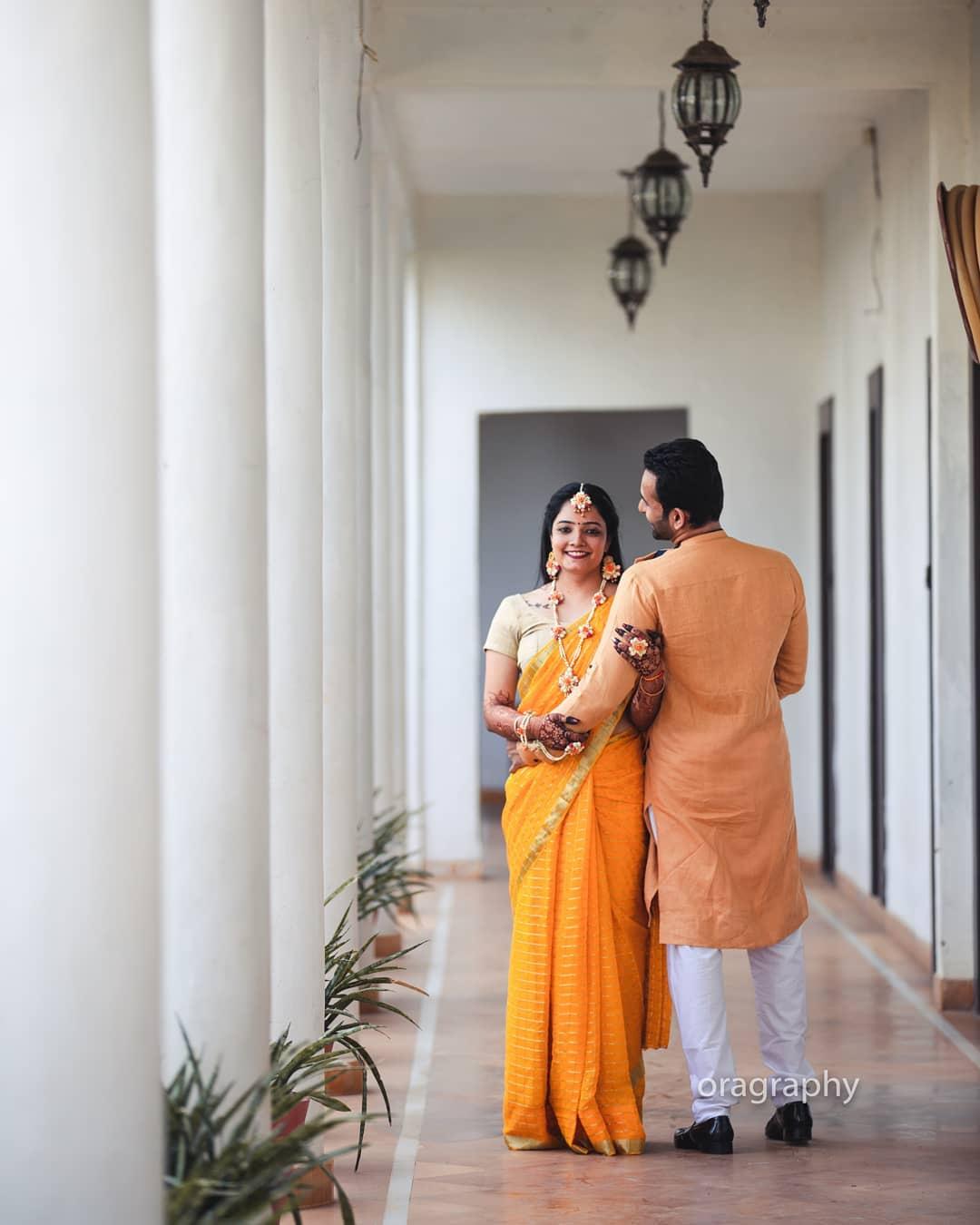 Yellow is a classic colour for Haldi ceremony and therefore, a yellow saree is definitely something you need to add to your bridal saree collection. This bride's understated saree look has a beige blouse that lets the ochre yellow fabric be the star of the show. She's paired her look with gorgeous floral jewellery that offers a great visual break from the yellow, and we must say that it was a smart move on her part! Wear something like this for your Mehndi or Haldi too!
6. A Kasavu Pattu saree!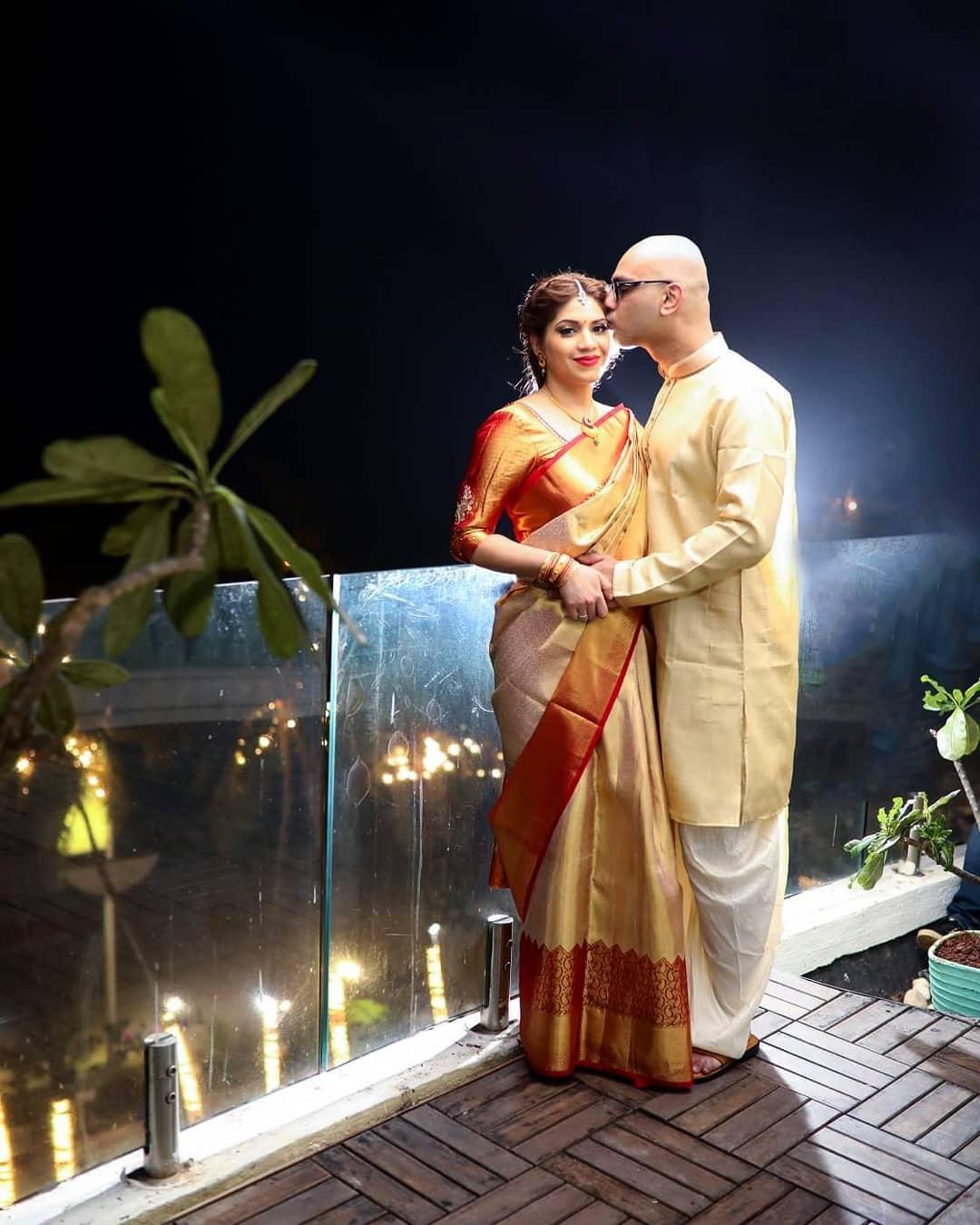 A Kasavu Pattu saree is a saree worn in Kerala and is characterised by its ivory shade. Most commonly, the saree has a gold border with a plain fabric; however, modern variants of the same have light gold patterns too. You can pair a traditional Kasavu Pattu saree with a plain blouse, a gold metallic one, or one in any colour. That's the best thing about ivory – you can pair it with any colour! This is why this garment deserves to be in your bridal saree collection.
7. A Nauvari saree!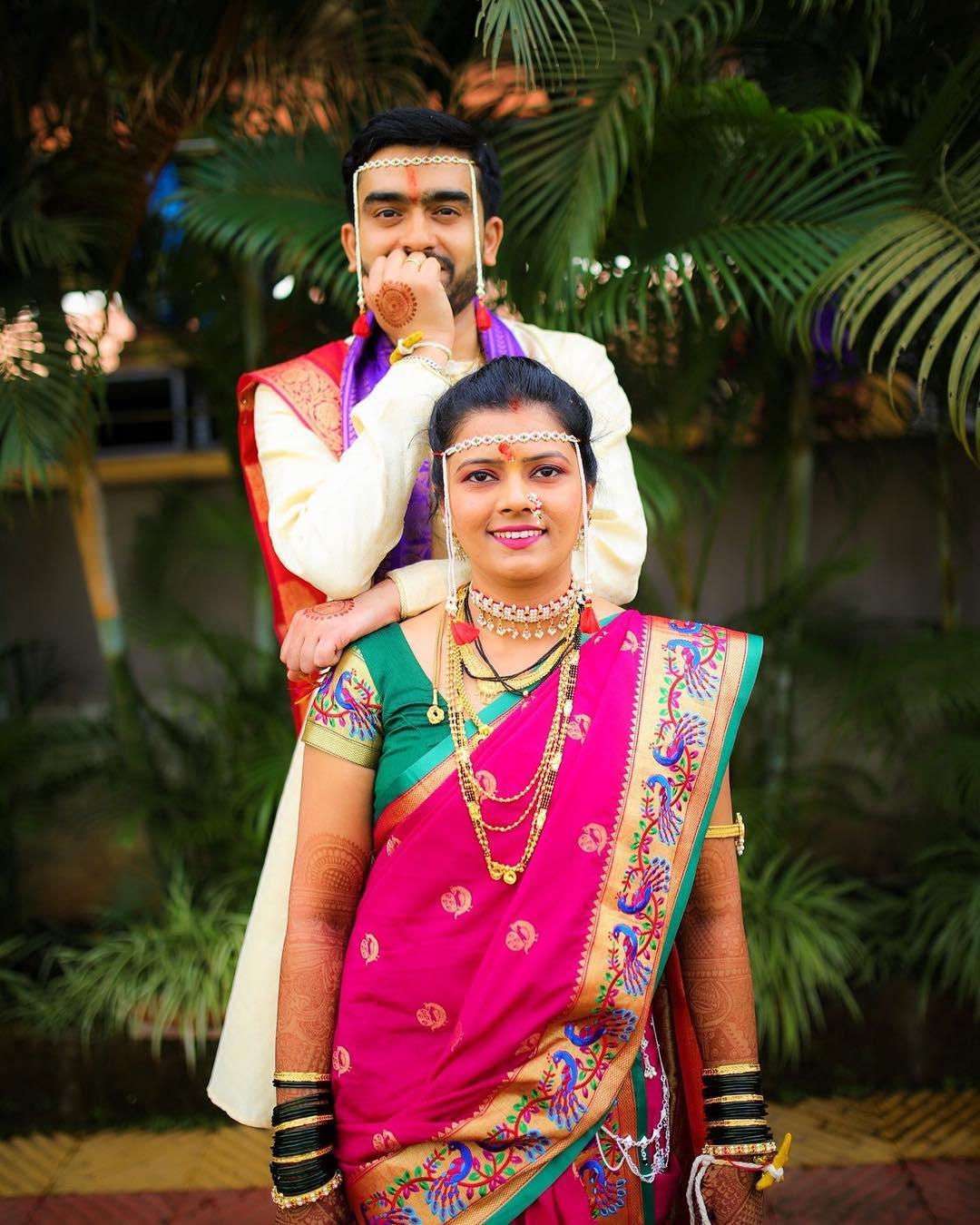 A Nauvari saree is a Marathi saree that uses 9 yards of fabric. It is tied from the front to the back and creates the illusion of pants. These sarees are very popular and are mostly seen during Maharashtrian weddings. If you're planning to add this to your bridal saree collection, get one in the classic green shade that's associated with this look!
8. A silk saree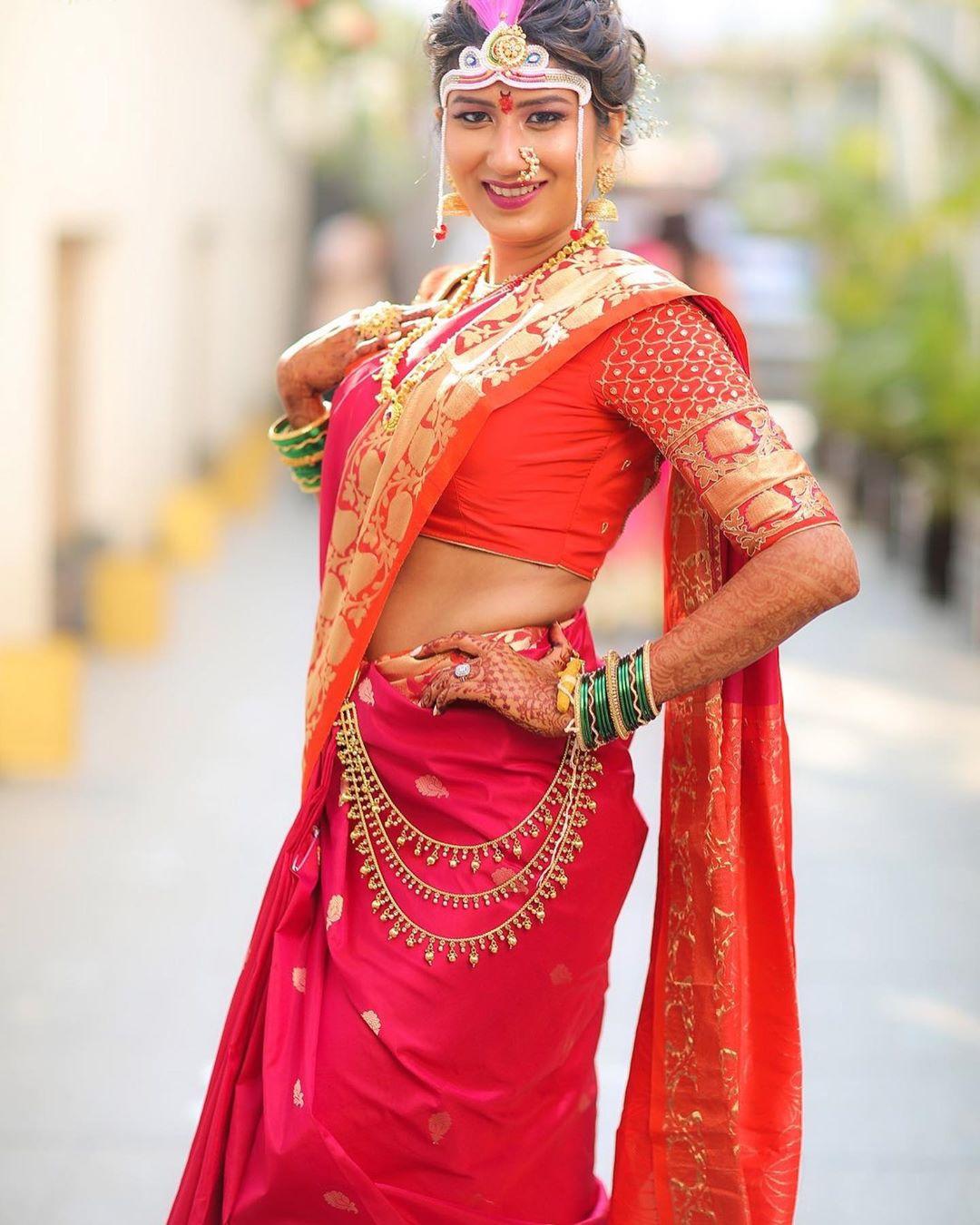 Of course, when it comes to creating your bridal saree collection, you don't always have to stick to classic regional garments. This one's an example of a silk saree with a standard gold print sparingly added to the fabric. The bride has paired it with a Cutdana blouse has pleated it in a standard way, as opposed to the Nauvari style of pleating. This is something you can wear to any wedding event, be it your own or a friend's!
As you can see, you have so many options available to you when it comes to building a bridal saree collection. Pick any regional look, or go with standard non-specific looks, for different functions and you'll look radiant!
Wish to own a saree just as spectacular at these? Don't worry, we've got you! Check out these stores now!