10 Kundan Maang Tikka Designs We're Crushing On Currently
Whether you're a bride at a wedding or a guest, a Kundan Maang Tikka is a fantastic accessory that can elevate your look and complete your ensemble! Check out these 10 Maang Tikka designs we've curated!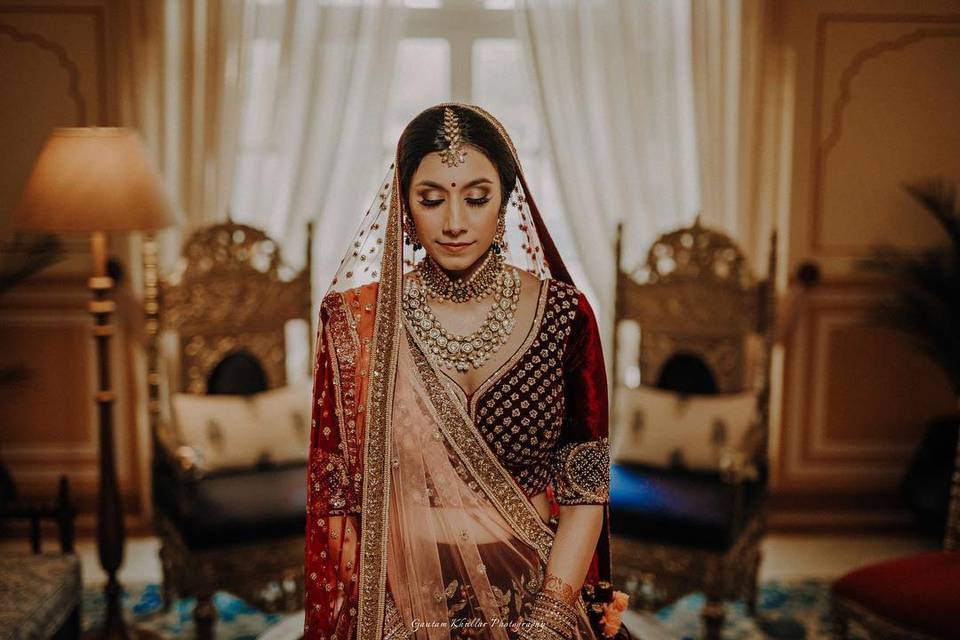 Kundan designs are the most popular when it comes to jewellery styles, simply because it looks so royal. With a bunch of different types of precious and semi-precious stones set on a gold frame, this jewellery not only highlights the stones, but also the metal itself. As a result, brides looking for an opulent look often gravitate towards this jewellery style.
As the maang tikka is a piece of jewellery one often sees on brides, one of the easiest ways to incorporate Kundan in your look is by wearing a Kundan maang tikka. Need some inspiration to help visualise this jewellery on yourself? Check out these exquisite Kundan maang tikka designs:
1. The classic maang tikka with Polki work!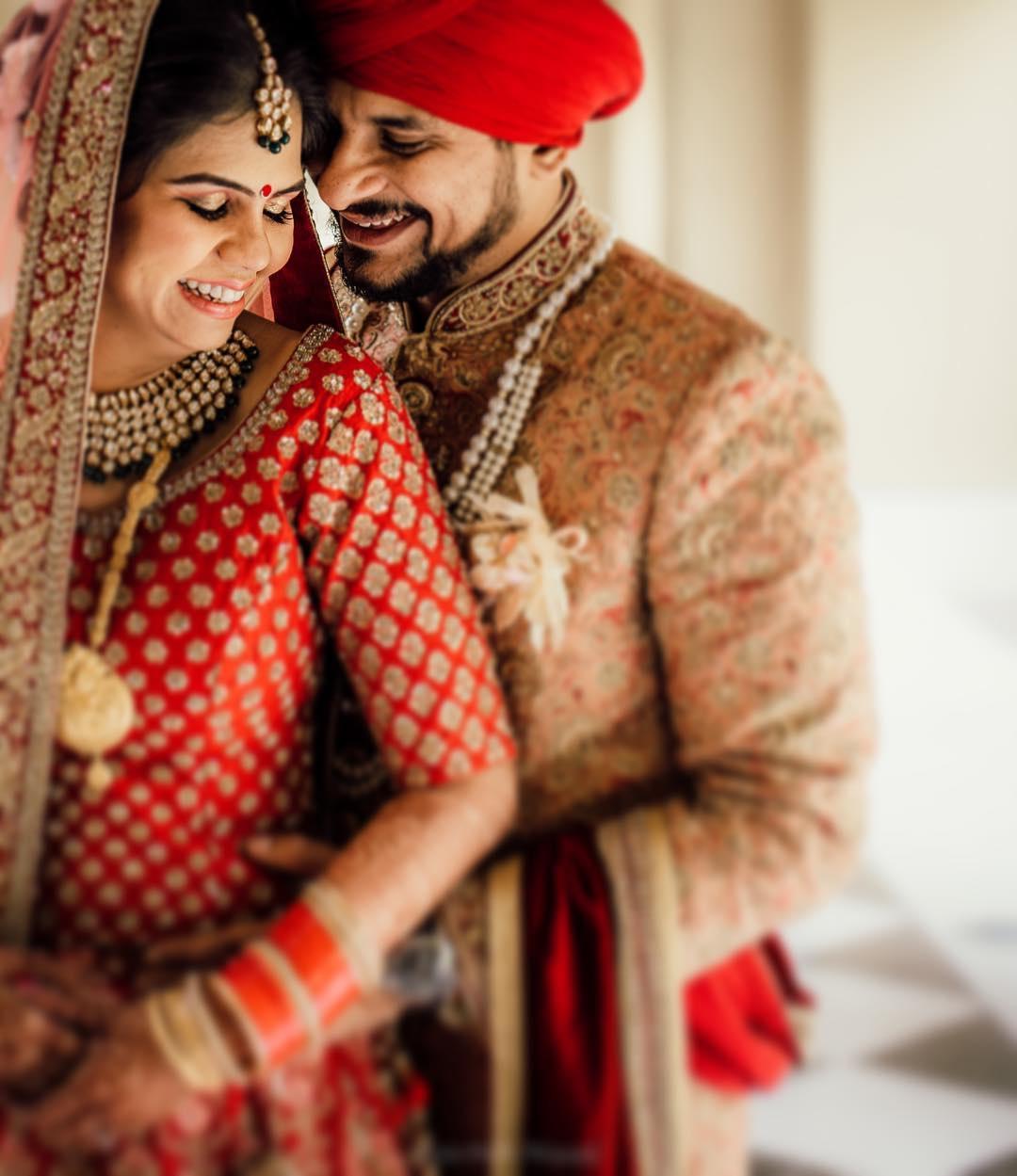 One often pictures Kundan and Polki designs together because the combination is such a classic one! Here's a Kundan Maang Tikka that has large uncut diamonds shining brightly on its frame. The deep green stones hanging from this ornament add to its luxurious look and go really well with the red bridal ensemble!
2. This giant statement piece!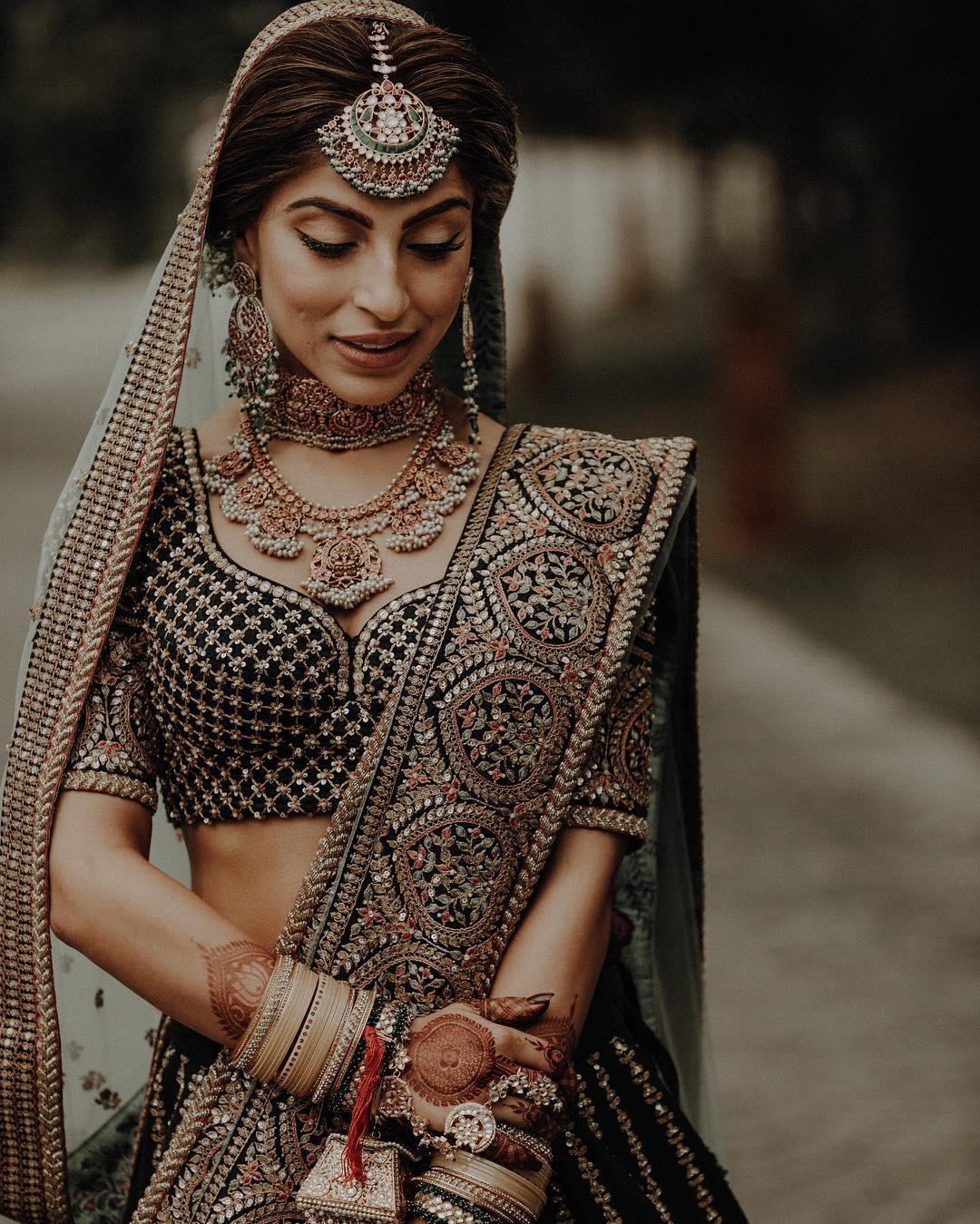 Here's a gorgeous statement Kundan Maang Tikka that every bride needs to consider wearing. With a huge base, the ornament has uncut diamonds along with green stones that perfectly compliment her moss green lehenga. The Maang Tikka also has tiny white pearls dangling from it, along with droplet-shaped stones.
3. This design focuses on the gold the most!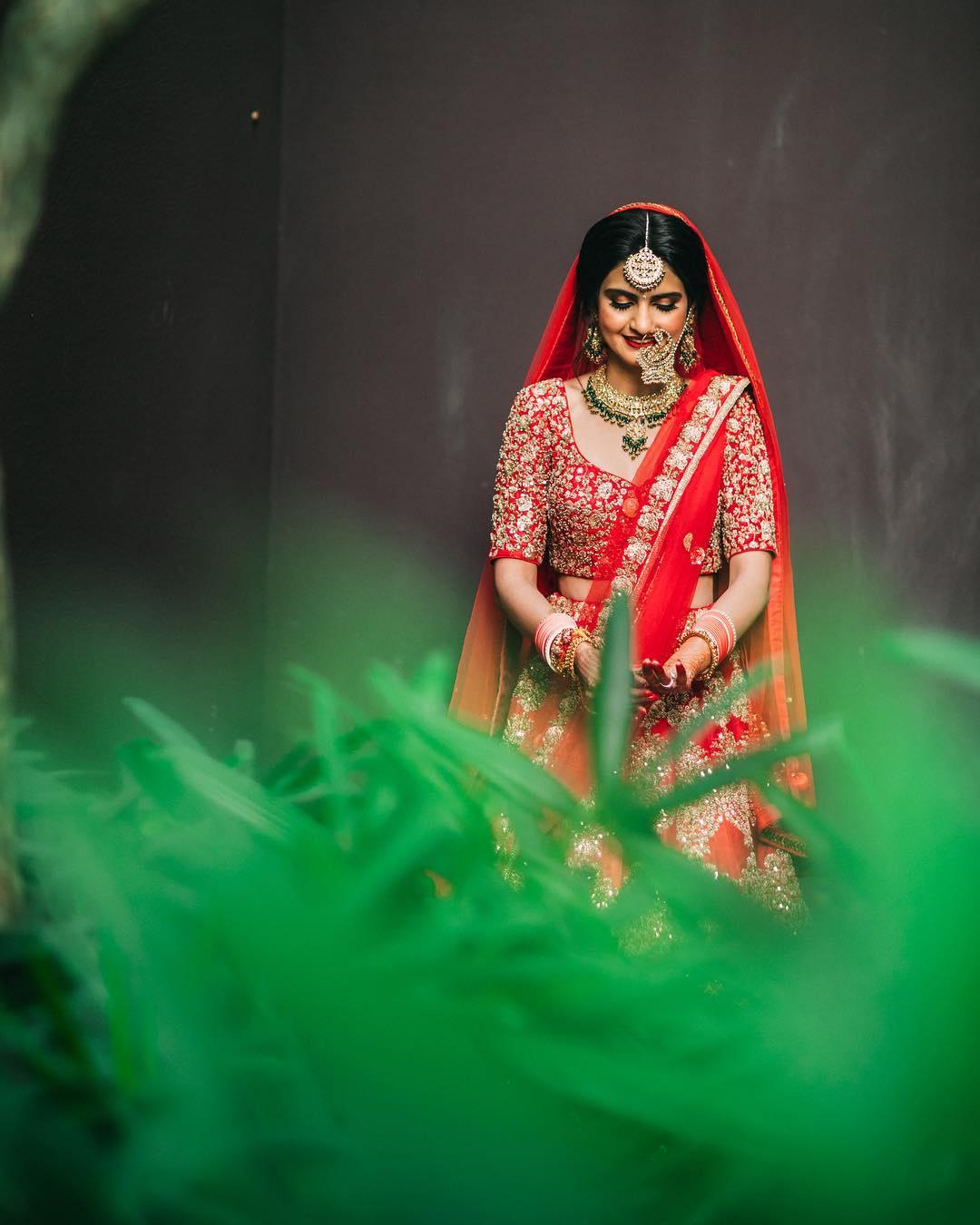 Kundan is all about the gold, and this is a design that highlights that beautifully. With a large gold base that has a few white stones studded across it, the piece has small Ghungroos dangling from the end, adding another visual element to the look. This Kundan Maang Tikka is perfect for brides who don't want to mix and match too many stones!
4. This light droplet shaped piece!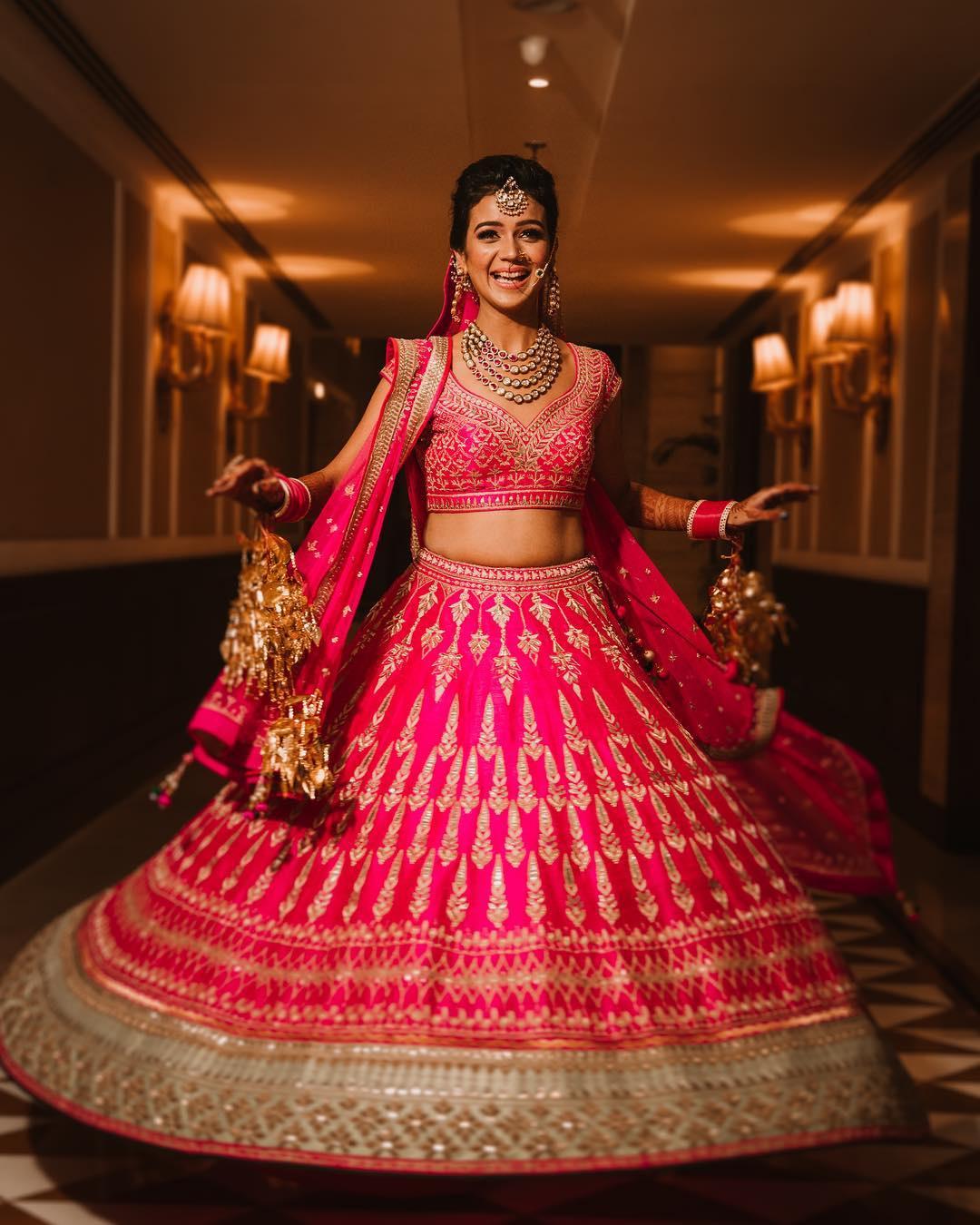 Shaped like a drop of water, this Kundan Maang Tikka has a unique design. This piece also has uncut diamonds on it, which adds to the reflective element of the piece.
5. This Hyderabadi style Maang Tikka!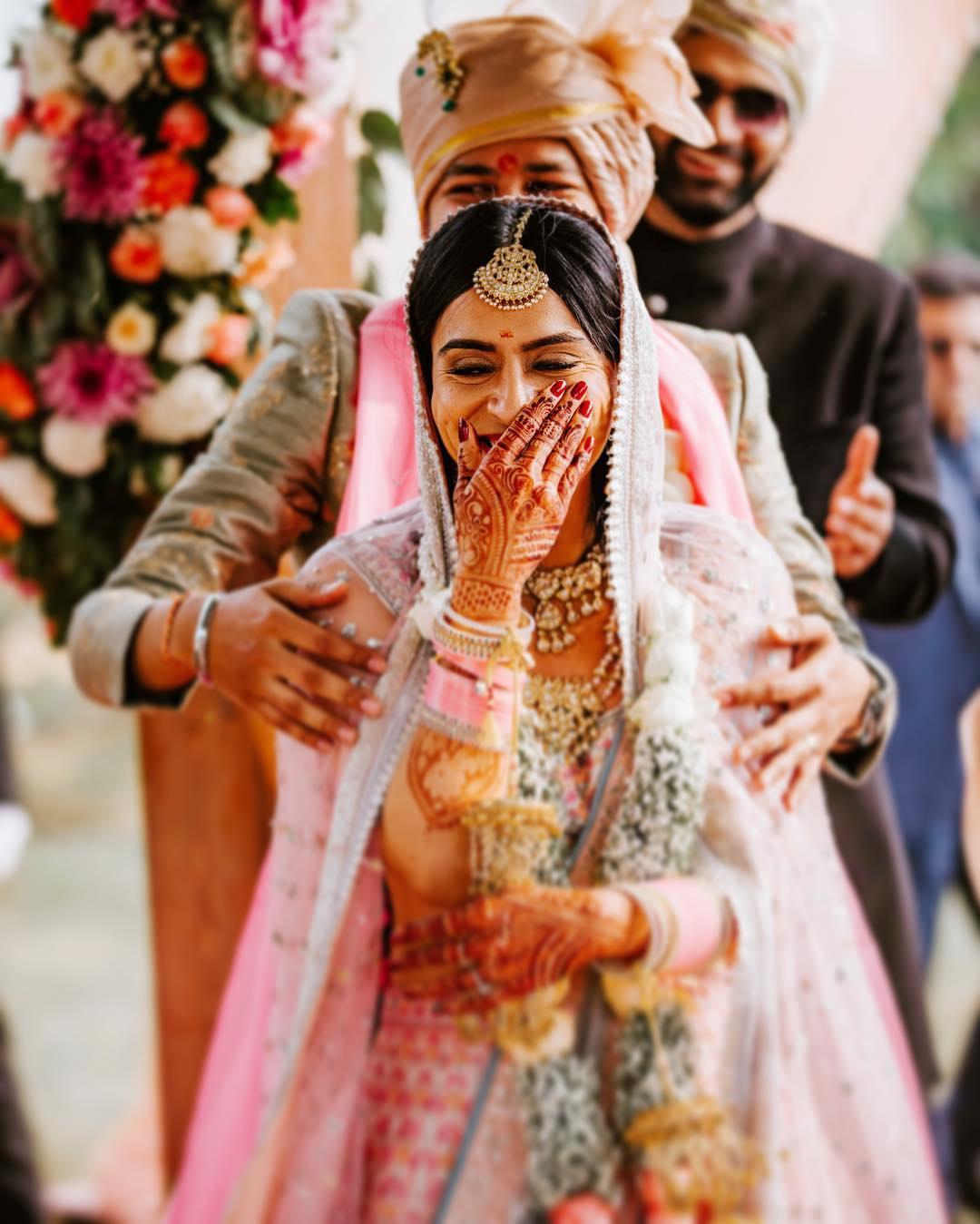 With the heavy use of pearls, this Kundan Maang Tikka draws its inspiration from Hyderabadi jewellery designs. The crescent moon shape features quite prominently in this design, making it a top contender for some of the best jewellery designs we've seen!
6. This pink and pearly look!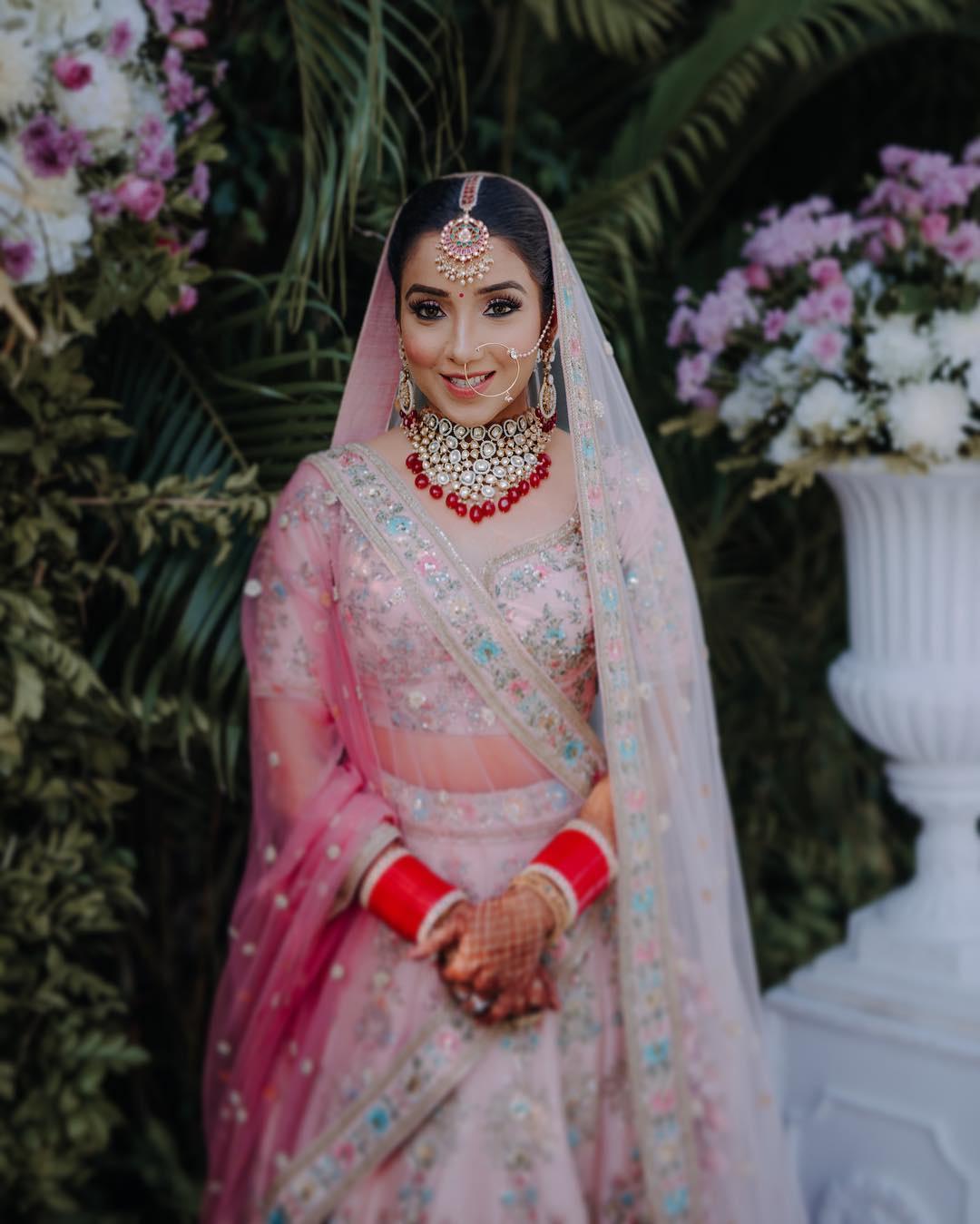 Completely different from most Kundan Maang Tikka designs in the market, this is a piece that uses Meenakari work to add a ton of colour to the look, along with beautiful pearls that sit right on the forehead. The heavy chain that sits on the parting of the hair has red Meenakari work too, making this a unique piece that brides need to have in their collection!
7. This light red Maang Tikka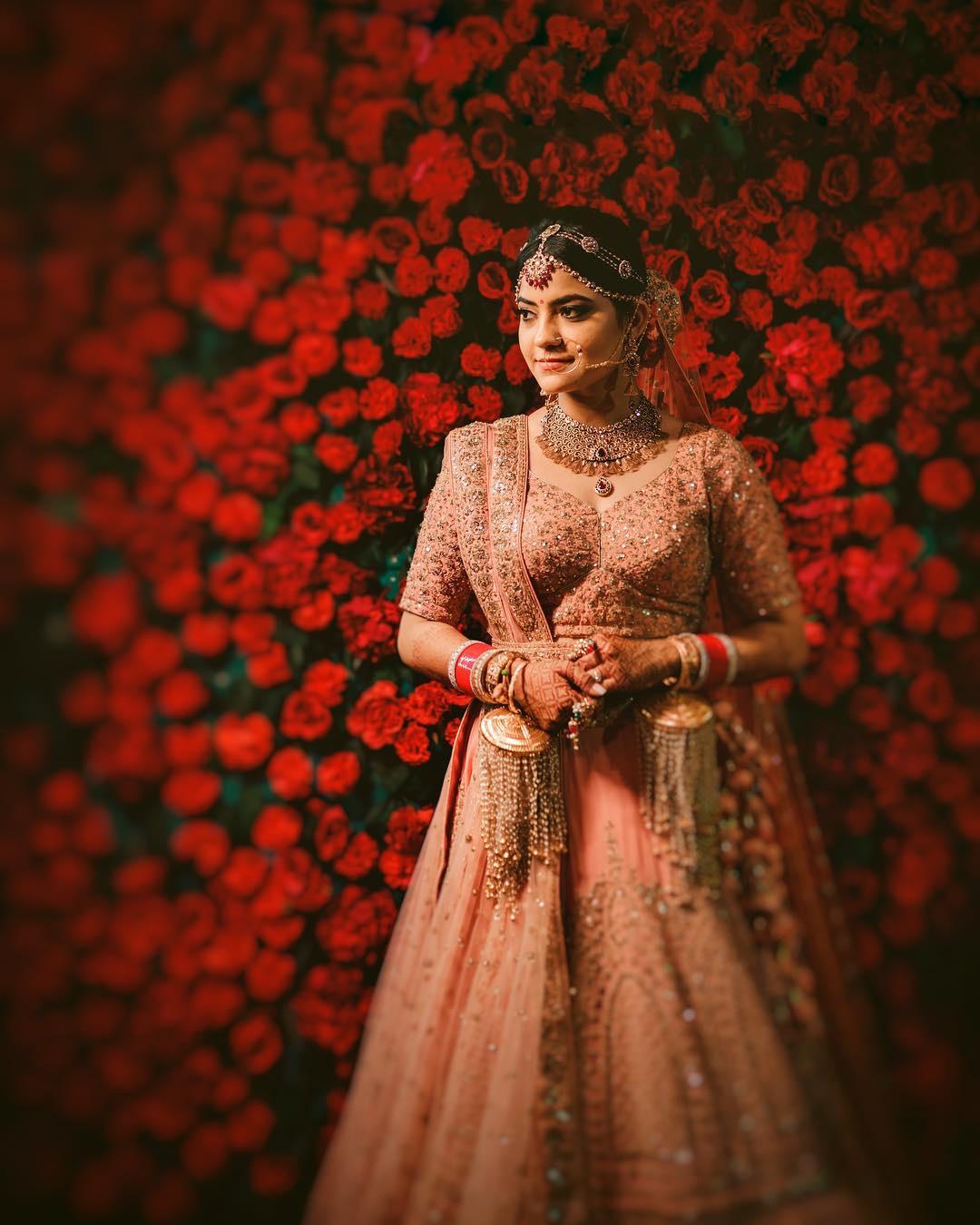 Speaking of red and pink stones, this is a Maang Tikka that takes a minimal approach with red stones and a small pendant. In order to increase its overall vibe, the bride has paired it with chains and Maatha Pattis to make the look grander. Paired with lighter jewellery on the face, and then a super heavy necklace, this is a look that screams perfect styling no matter where you look! Hats off to this bride!
8. Minimal red Maang Tikka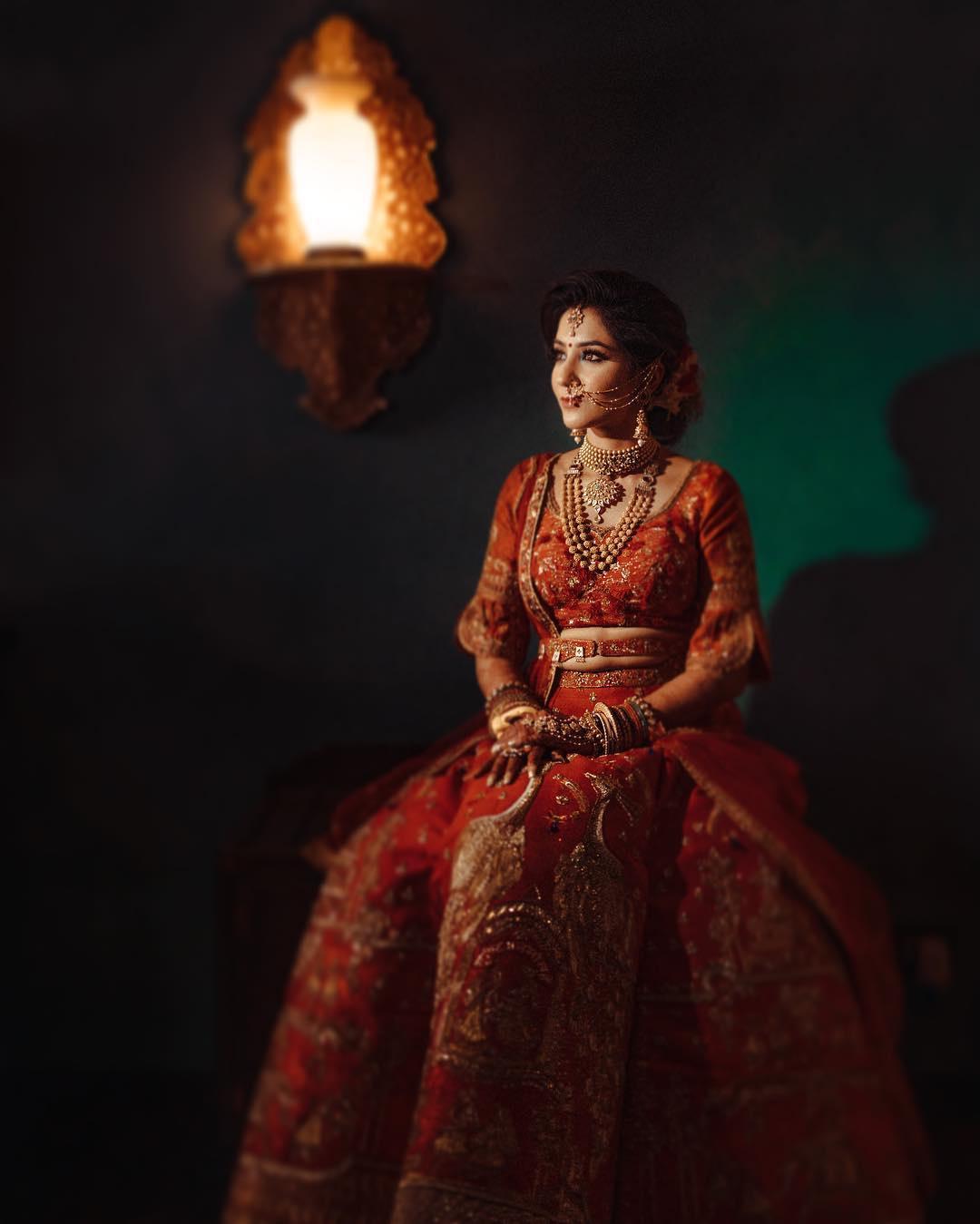 If you have a smaller face, or want to go for a minimal look, then sporting a giant Kundan Maang Tikka certainly won't work for you. Instead, choose a small but beautiful piece that brings all the attention to your eyes and hair, without dominating your forehead. You can make up for its lightness by pairing other jewellery pieces that are heavier. The bride in this picture has gone with a three-chained gold nath and a chunky necklace that both perfectly balance out the Maang Tikka.
9. This tiny piece paired with a separate Maatha Patti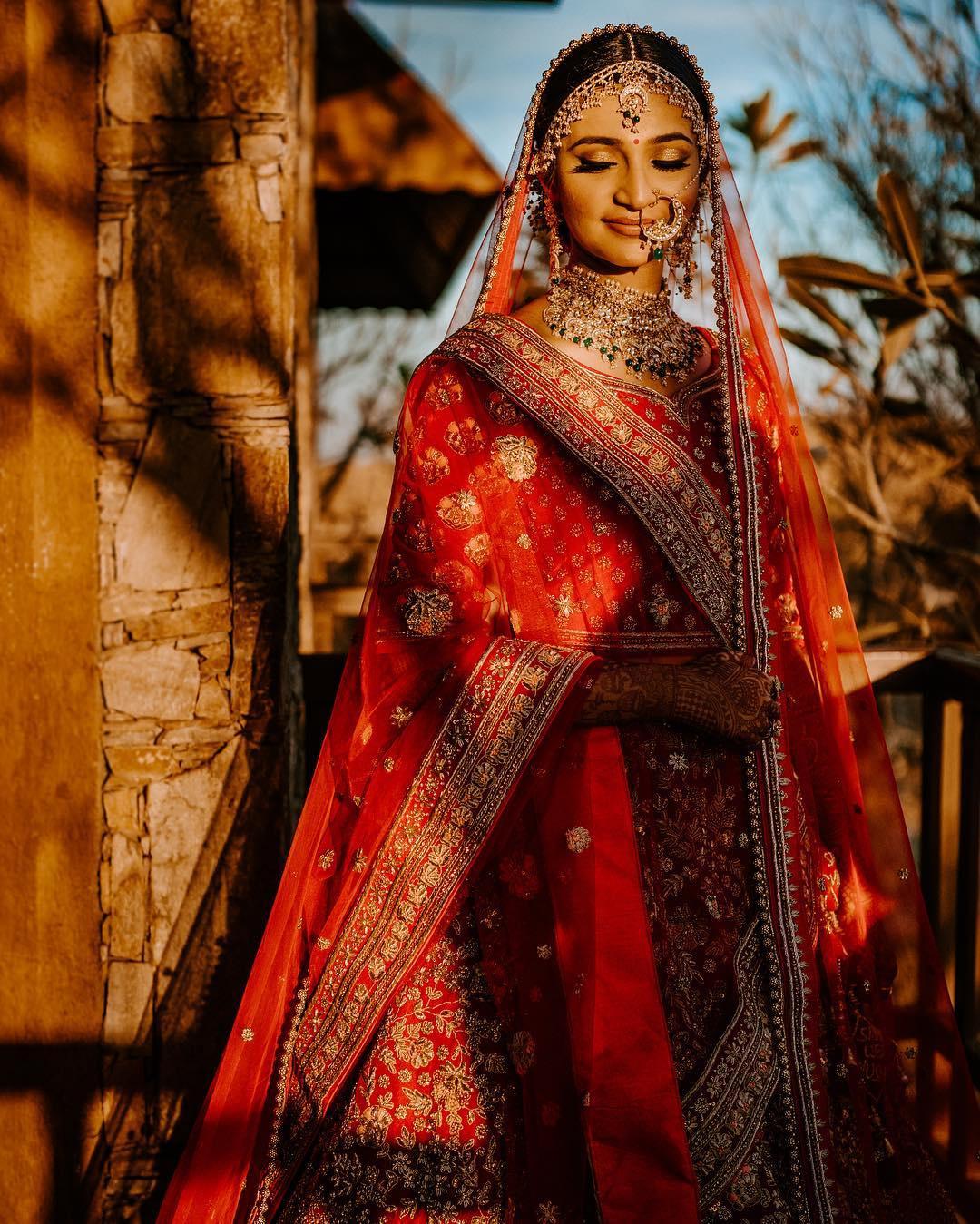 If you love layering jewellery, go for a tiny Maang Tikka that you can layer with a heavier Maatha Patti and other jewels. This can help you create a really cool look on your wedding day and you can boast off coming up with the concept all by yourself!
10. This giant piece that's a part of a set!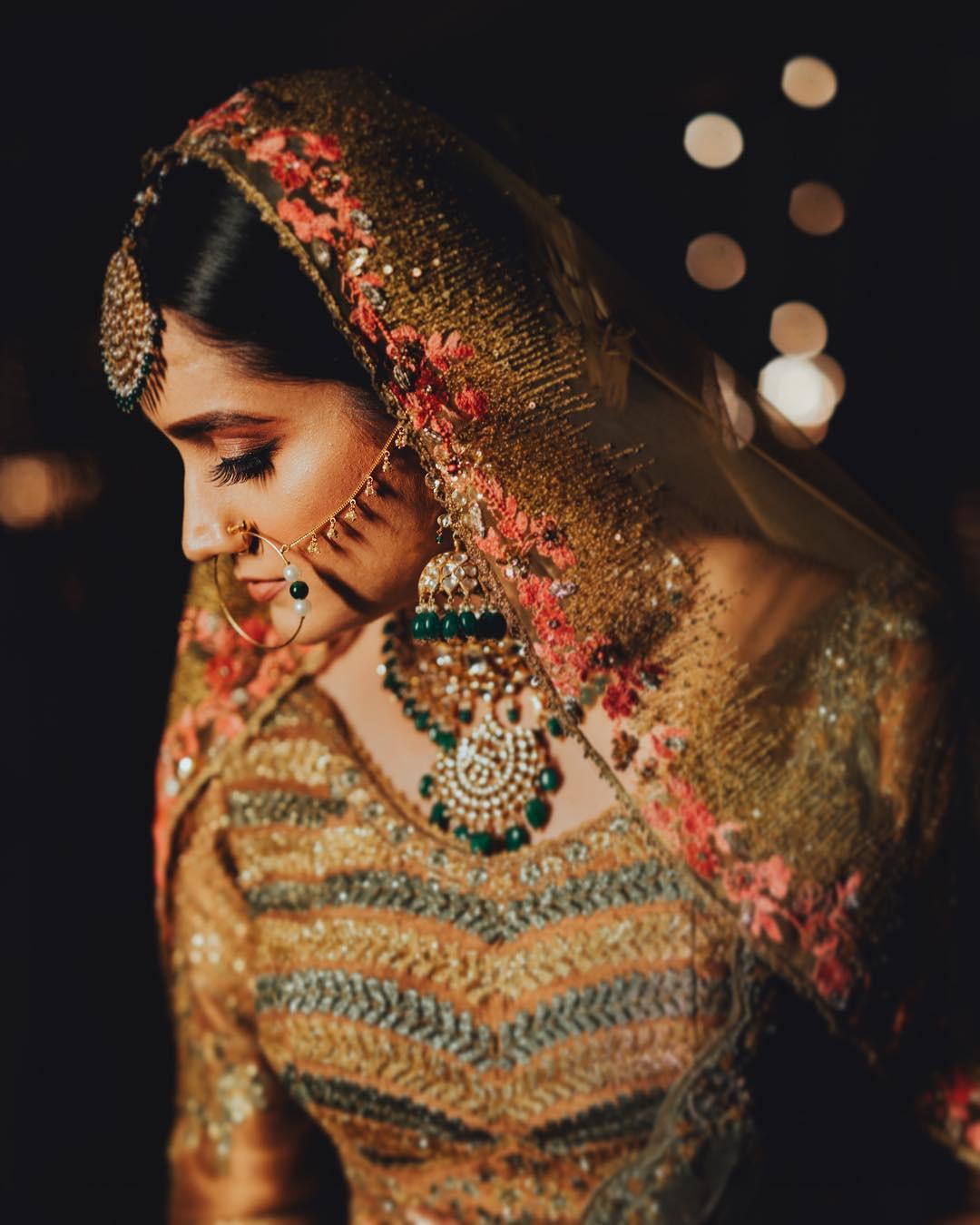 The easiest way to style your Maang Tikka is by buying one that's a part of a larger set. Here's a huge Kundan piece with pearls and emeralds that matches perfectly with the necklace that the bride is wearing. This is the easiest way to create a cohesive look that requires no additional styling effort on your part!
With this ornament being such a crucial part of the Indian bridal aesthetic, you can bet that no matter how big or small your Maang Tikka is, it's going to get a ton of attention!
Want to know where you can buy the most gorgeous jewellery? Check out our jewellery vendors all over the country!