Bridal Makeup Pictures Setting Ultimate D-day Goals for the Ladies
If you're into makeup that's either editorial or so natural that people assume you #wokeuplikethis, look no further. Check these bridal makeup pictures which popped our eyes out. These real brides slayed by ditching trends and working these looks.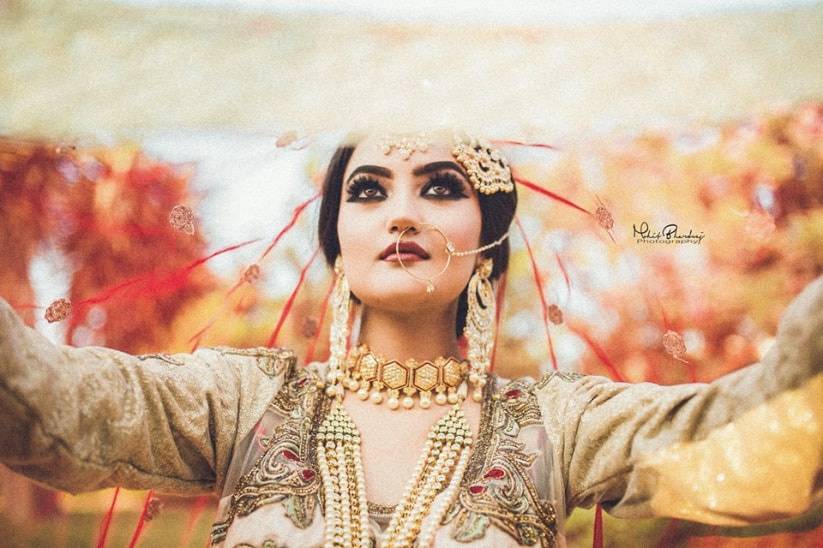 Getting your makeup glam spot on is a dream come true for all brides and of course bridesmaids too. I mean aren't weddings an occasion where you marry the love of your life and in some cases find the love of your life ;)
If there is anything that Bollywood has taught us, then it's surely that love, at first sight, has the highest probability of happening at weddings. So, brides-to-be and bridesmaids or BFFs of the brides bookmark this as your fashion Bible and take in each of these bridal makeup pictures as your Holy grail and slay them with your makeup hacks and vibrant hues.
Here, we make a case for these bridal makeup pictures and why they will help you more than any catalogue picture. You can thank us later! These real brides' looks led to some major slayage and so can yours.
1. Golden Goddess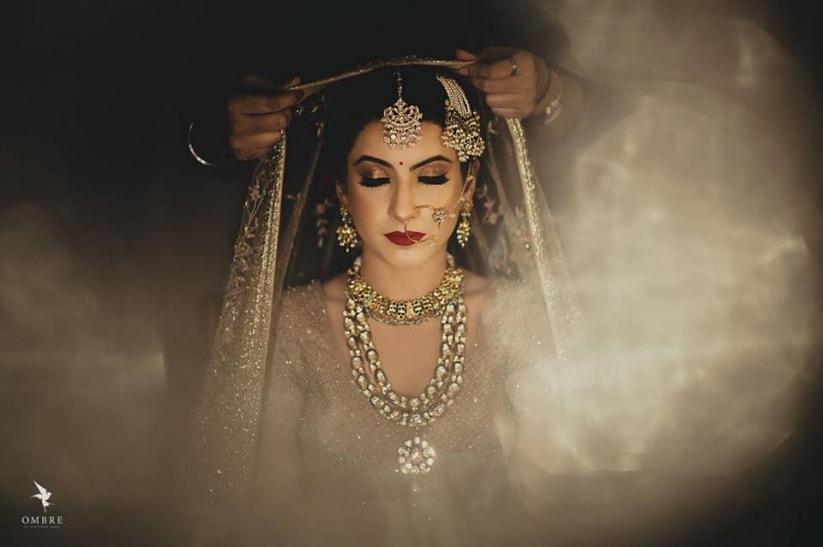 Doesn't she look like a dream come true? With a golden bridal lehenga and her dupatta on fleek, this bride is out to serve some looks. If you too are planning to wear a similar colour palette, then go for defined eyebrows. This is one of the celebrated bridal makeup pictures that you bookmark on the lookbook.
Eyebrows
Use a black eyebrow pencil to seal the deal. The highlighted dark brows will be a contrast to the bright and neutral colours that you flaunt and will obviously make your eyes look even more gorgeous. Brush it up with a dark brown or black eyebrow powder and a small brush with a fine tooth to give it a natural yet fine finishing.

Eyeshadow
Use some of that shimmer and glitz to highlight your inner and outer eye before you smear eyeshadow over the lids. The deep pigment choice for eye makeup is a good one that will highlight your features for all to behold. Then use golden and copper sparkle tints and blend them in the middle for the desired look. And, throw in some fake long lashes and girl you're good to go!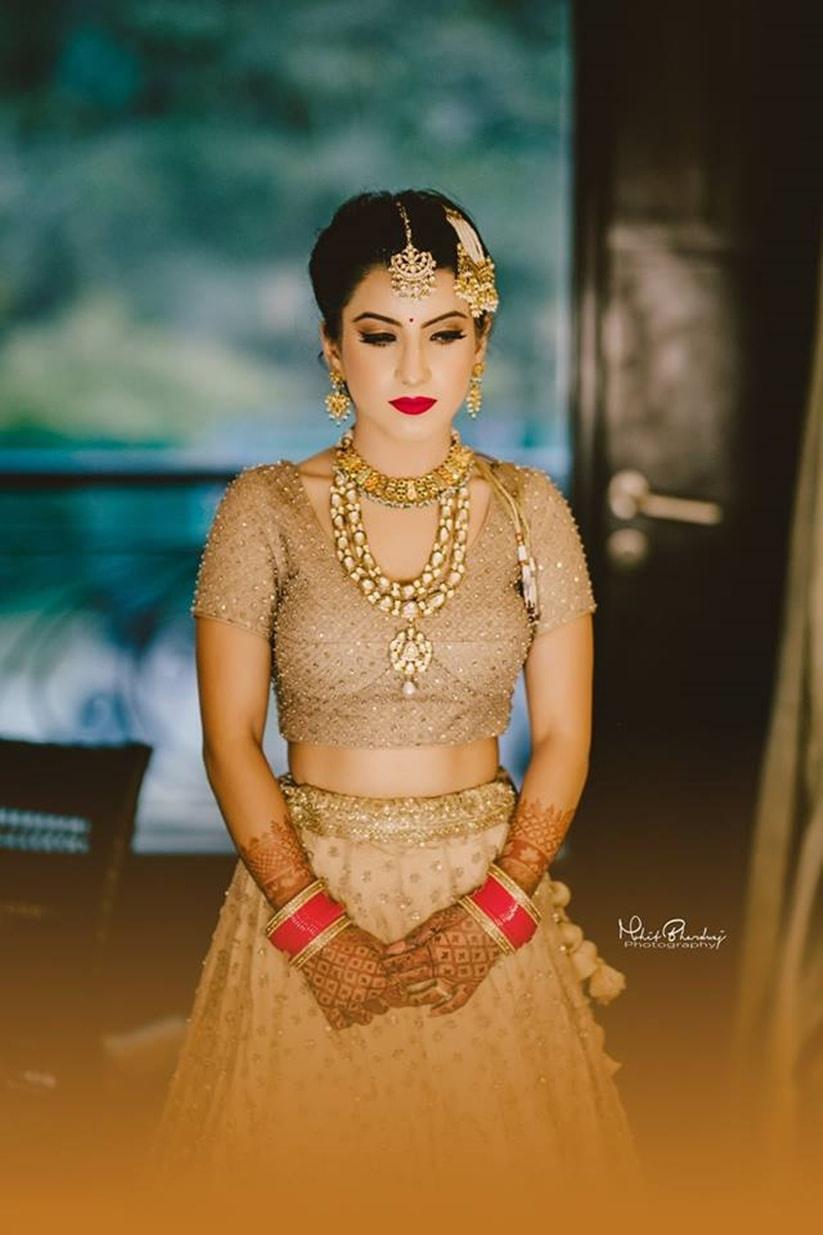 Lips
Go for a deep red or a dark maroon shade since your outfit and eye makeup are both blingy. Matte red is always the magical colour. It speaks of power and grace and upholds the bridal look that you put together, and red is anyway always an auspicious colour used for the ceremonies too. Let your lips be dark, mysterious and sultry.
2. Paint Me in Hues of Pink, Orange, Blue!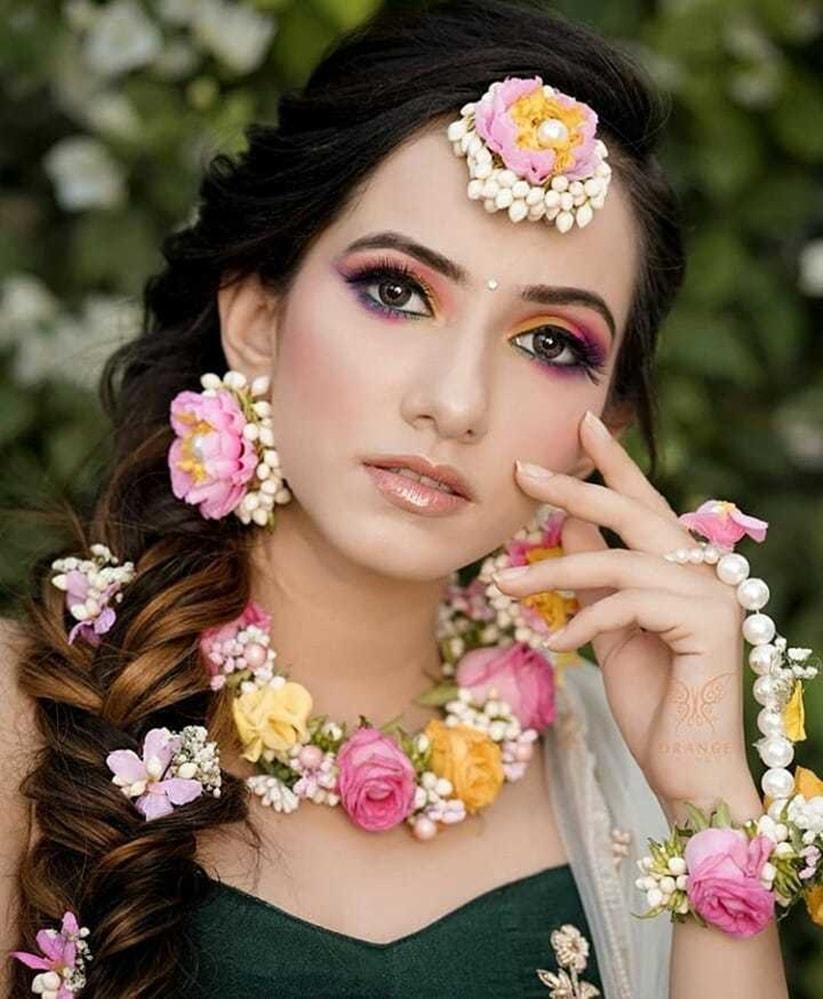 Photo Courtesy: Aanal Savaliya
We don't know whether to call this bridal makeup picture beautiful, exquisite or unbelievably gorgeous? Who knew a multicoloured eye makeup could look so good. Well, thanks to this real bride, now we know the answer to that. What do you need to sport something as out-of-the-box as this? We've got you!
Eyebrows
Use a black eyebrow pencil to firmly reshape your brows and fill them in wherever required with the same pencil or a brow brush and some brow lining powder. Define them well and dark so the colours used on your eyelids can be properly highlighted in the features.
Eyeshadow
This will make or break this entire glammed up look. Contour your eyes first thing. Highlight the inner eye using a light coloured and a little-glittered highlighter. This makes your eyes pop and appear bigger than they are. Blend a few pastel tints of your choice from the eyeshadow palette. Use of the lighter or brighter shades is recommended when you do the inner eye corner and you can use purples and blues or greens for the outer corner. This enhances the pop-up idea even more. Add a wing of that perfect liner with a streak of bold kohl and boy you're a catch! Throw in some fake lashes and entwine your future hubby in it too!
Lips
Let your eyes be the focal point of all attention. Therefore, go for a clear lipstick with a little shimmer in it. Or you can just coat a nude shade lipstick with some gloss and you're good to rock.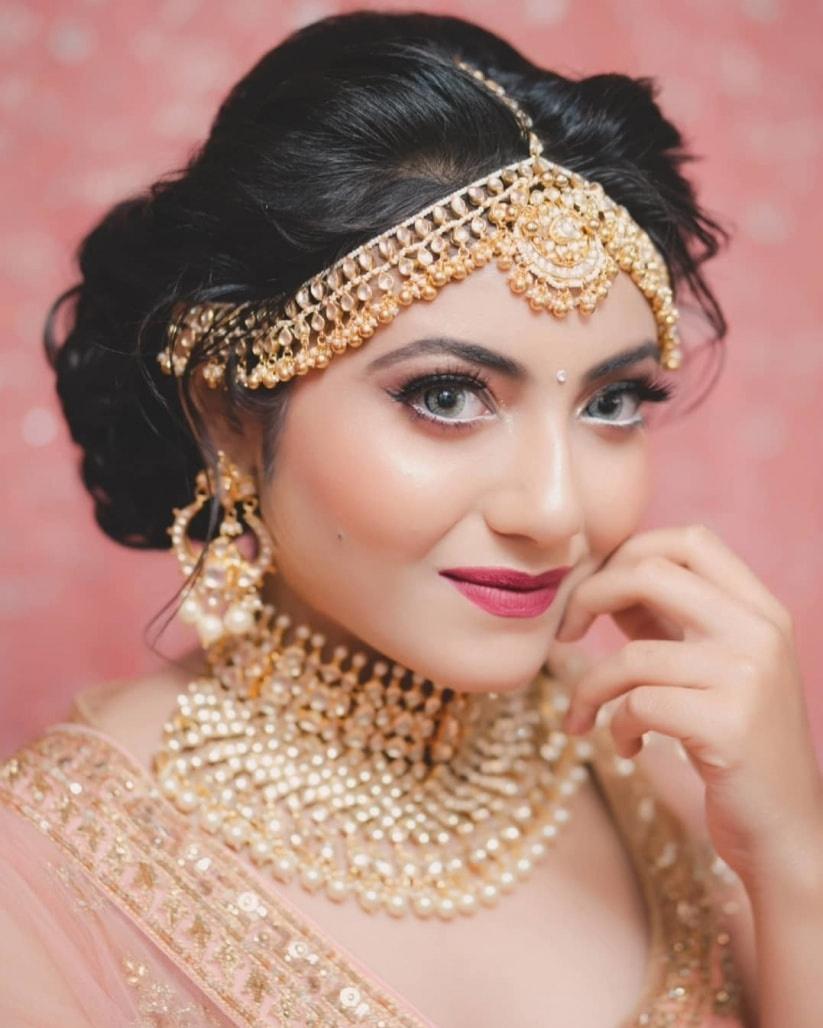 Photo Courtesy: Aanal Savaliya
Or perhaps, this bridal makeup photo? All you got to do differently is ditch the pastel eyeshadow and tune in with a rose pink shimmer and ditch the black kohl with this offbeat white and ivory mix of Kajal. Danm! She looks like a sight for sore eyes! Yes, she does!
3. The Overarching Bride Who Is Unafraid to Experiment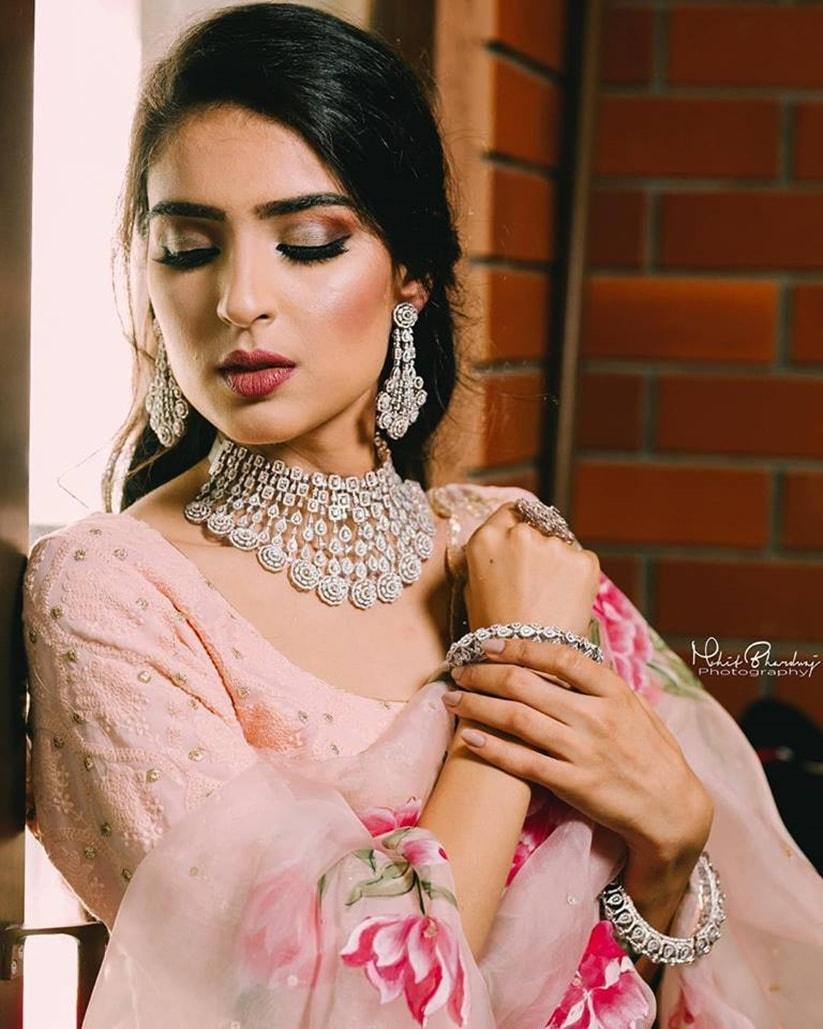 Bridal makeup can be all about a little drama, glitter and glamour or about creating a natural, no-makeup look! This gorgeous woman in this bridal makeup picture has the cheekbones to kill with! What works best in this bridal makeup picture is that despite having done makeup it hasn't essential changed the real outlook of this bride. One can see she's beautiful both inside and out.
Eyebrows
Use a black eyebrow pencil to firmly reshape your brows and fill them in as and where needed. Avoid over-arching as the whole look is so subtle and natural, overdoing it is off the cards.
Eyeshadow
Begin by contouring your eyes. Highlight the inner eye using a light coloured highlighter to make your eyes pop and appear bigger than they are. Add a wing of that perfect liner with a streak of bold kohl and boy you're a catch! Throw in some fake lashes and entwine your future hubby in it too! Use two shades of eyeshadows. Preferable a darker tint of gold and a lighter tint of copper. Blend them well if you wish to achieve a look like this one.
Lips
Coat a nude shade lipstick with some gloss and you're good to rock your pre-wedding festivities or win some eye candies at your BFF's Haldi ceremony. Just a tip, before you put the first coat of your lipstick make sure you put a layer of foundation on your lips first. It will help your lip colour stay put for longer.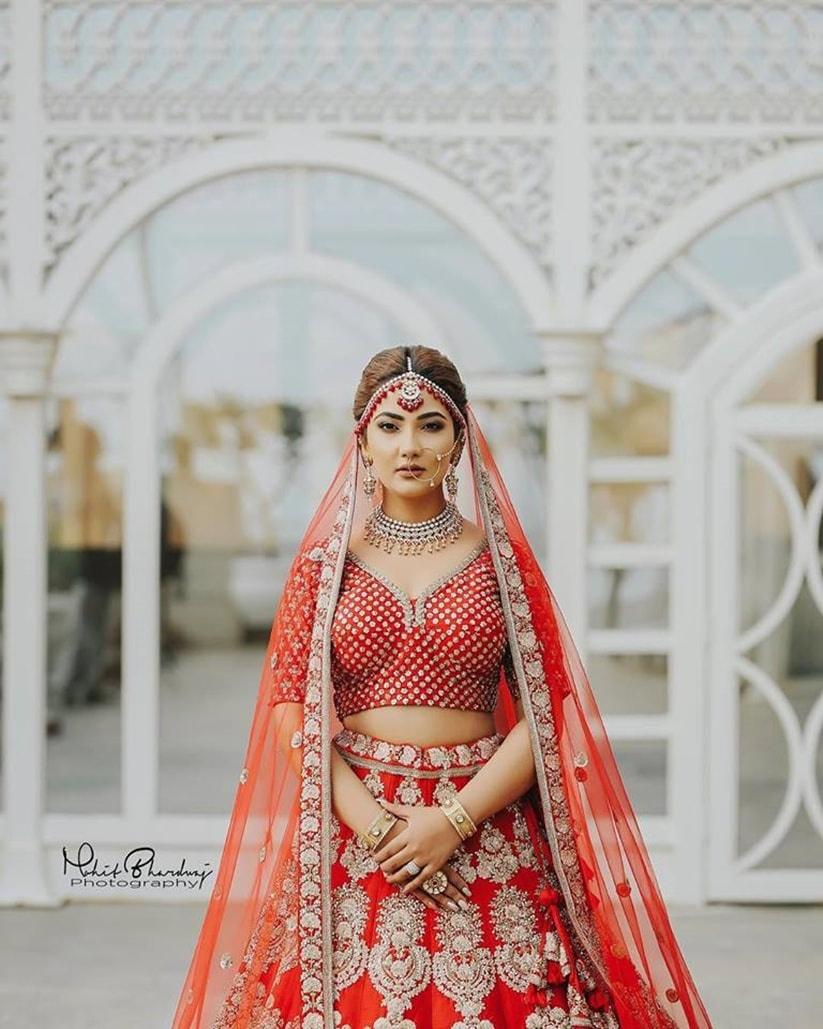 Or, perhaps this bridal makeup picture? To look like a dream walking down the Earth go for a high definition makeup. And, because your bridal lehenga is going to be heavy let your makeup be a little of the natural side. Overdoing the makeup will only make you look too over the top and will also steal the thunder of your stunning bridal garment. SO, go for a nude lipstick, some bronzer to bring out your cheekbones and highlight that cute nose of yours! Make the bridal makeup picture a stellar one.
Or, how about this bridal makeup picture right here? Subtle yet bold and mystique? Can you put a finger on what makes this bridal makeup picture a front-runner this year?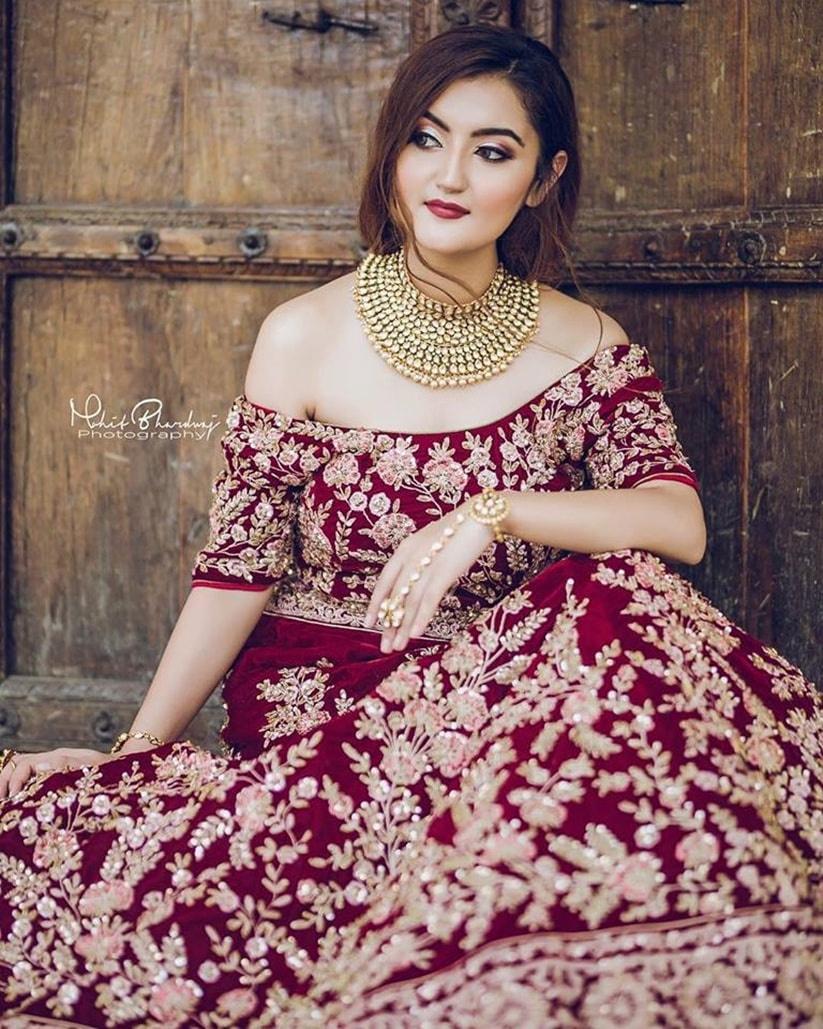 It's all in the eyes of the beholder! Well, only this time the magic lays in her eye makeup. Look at those fine lines of highlighter and eyeshadow which are popping and elevating her overall look. She has on a very neatly blended eyeshadow of light but shimmery colours and liner which was put on which much precision.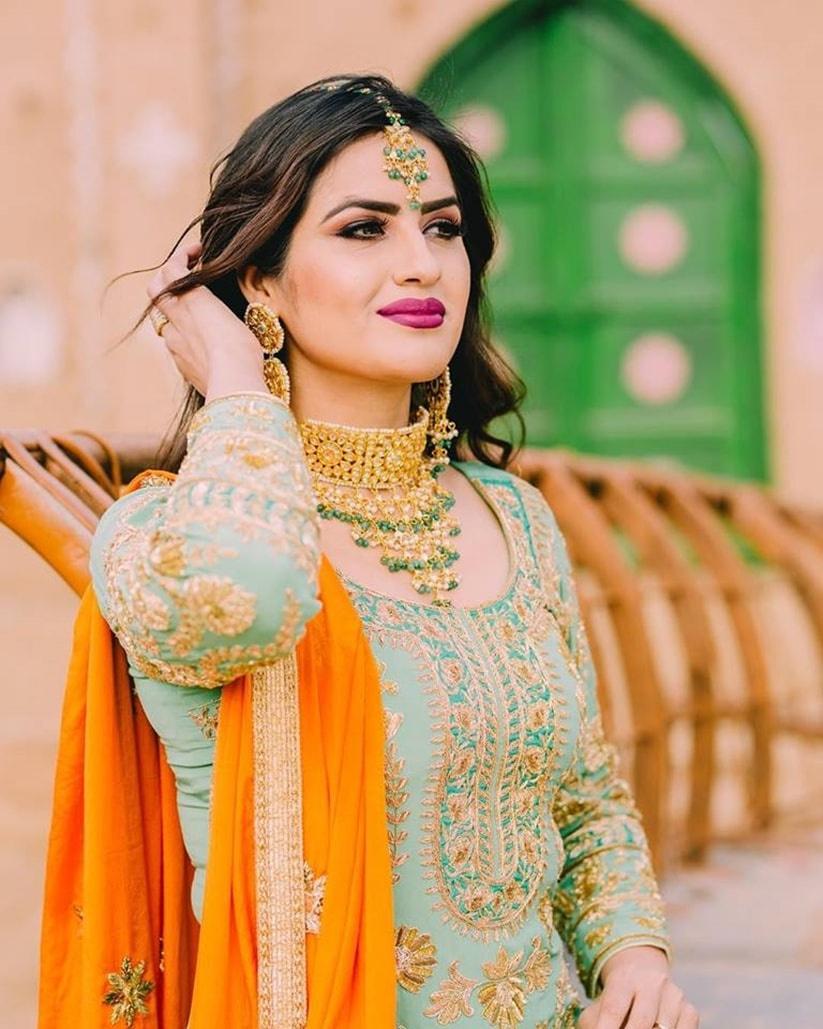 To make your glam pop out you too can sport a dark tint of lip shade and you will break some hearts or probably win some more. This is a bridal makeup picture to die for!
4. There Is More Beauty In Less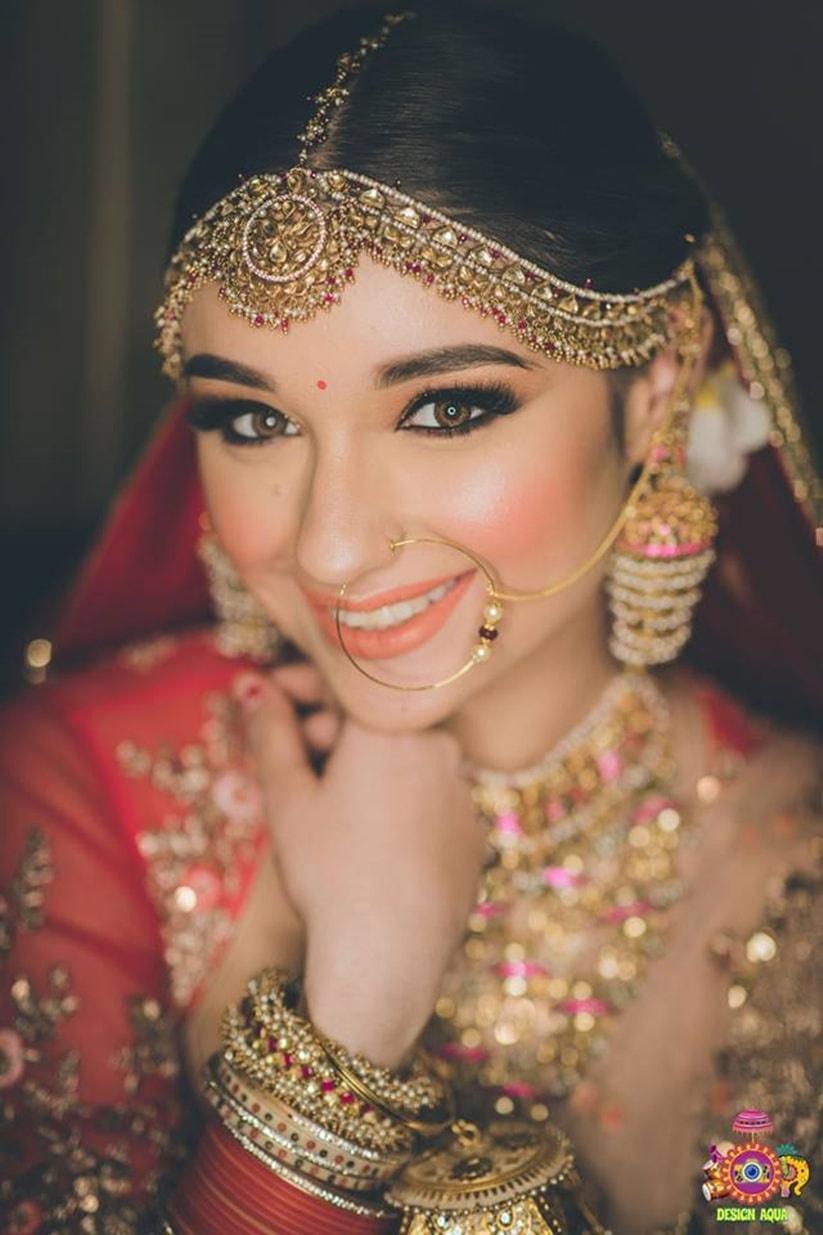 Don't try to hide out between a thick layer of cakey makeup. This bridal makeup picture is the answer to all the brides who love minimalism when it comes to makeup for the D-day. One thing that shines amidst all these brides is that their makeup only beautified what was already beautiful. The cosmetics only made each of them look more sensual, more beautiful and more gorgeous than ever.
Eyebrows
Use an eyebrow pencil to firmly shape and fill them in as and where needed.
Eyeshadow
Begin by contouring your eyes and highlighting the inner eye to make your eyes pop and appear bigger. Add a wing of that perfect liner with a streak of bold kohl, throw in some fake lashes! Go for a pastel shade eyeshadow and keep your look subtle. This dewy look will be perfect for pastel shades of lehenga like yellows and peach that you can flaunt.
Lips
Go for a light orangish or peach lip colour with a bindi on your forehead and voila! A walking dream will be captured on your bridal makeup picture!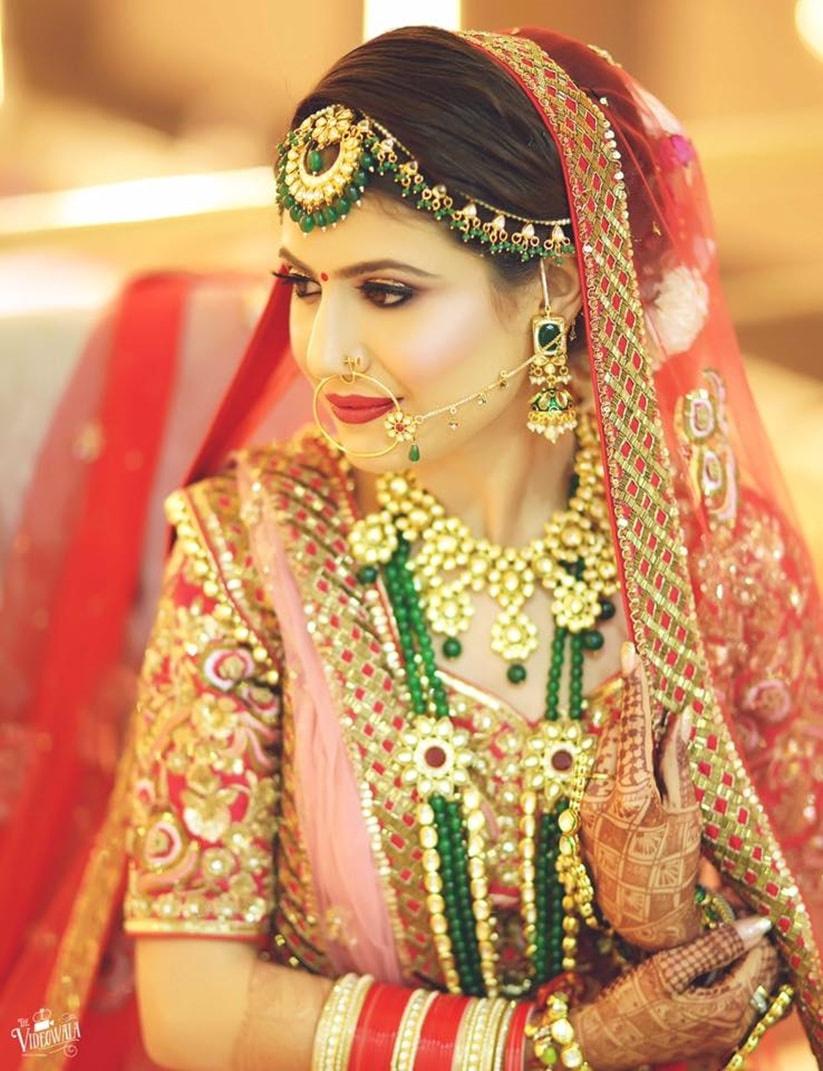 The same goes for this stunning bride and her exquisite bridal makeup picture as well. We are stunned and at a loss of words. Are you too? From her on-point cheekbones with a dash of shimmer to her rosy lips, everything is on point. Even her simply put eyeliner and kajal look mystique and out of the usual. She looks like a repository of royal charm and Indian sensibilities turning into a soulful blend in one bridal makeup picture here.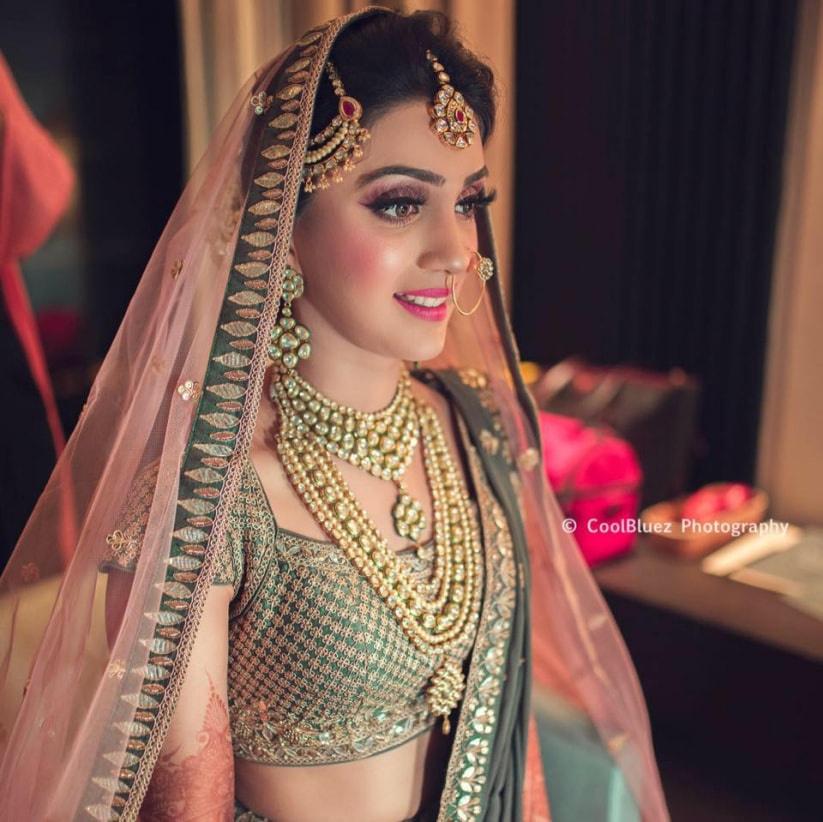 And, this bride? You can totally take notes from her bridal makeup picture as it seems to be perfect for a daytime ceremony. Light, subtle still exquisite.

Some Tips for Clear and Healthy Skin: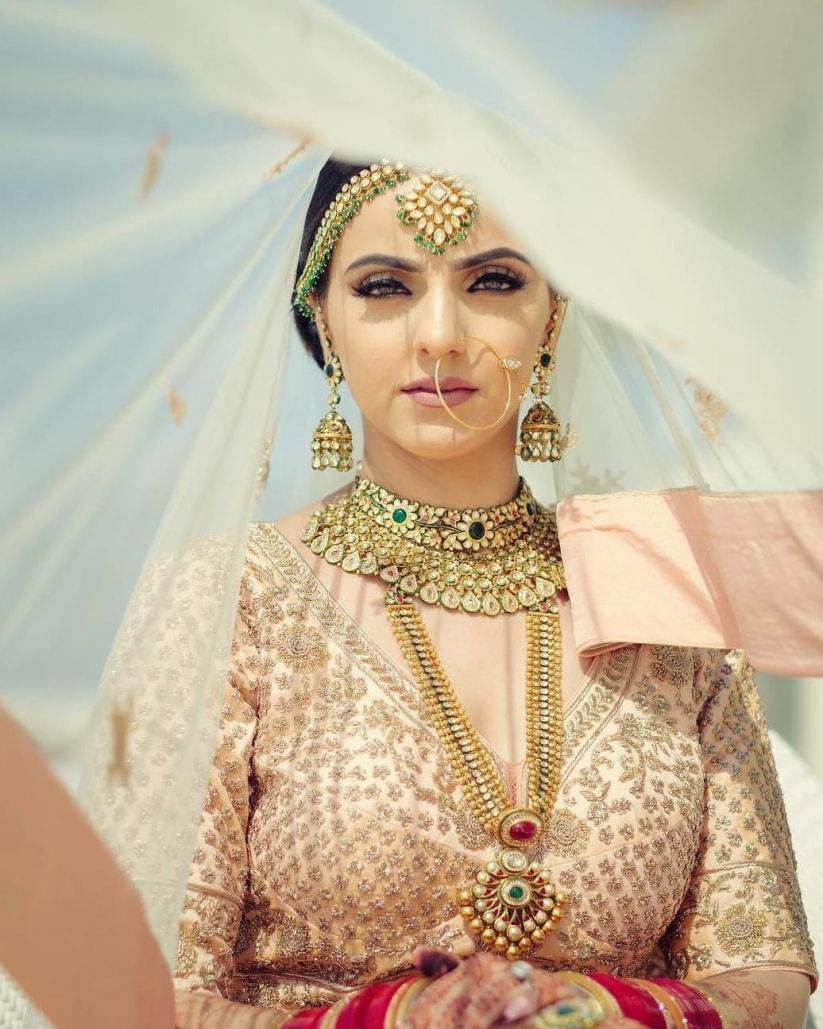 Photo Courtesy: Deo Studios
No makeup will ever make up for a bad skin. Start with a healthy skin care regime. Begin some months prior to the date and moreover follow this for future as well. There is no harm in having a clear and glowing skin.
Invest in a good cleanser, toner and moisturiser.
Drink adequate amount of water as it keeps your skin hydrated and fresh.
Include a lot of veggies and fruits in your diet. Fries may taste good but veggies will make your skin look good. What's more important, tasty fries or healthy vibes?
Some Tips for Rosy and Supple Lips: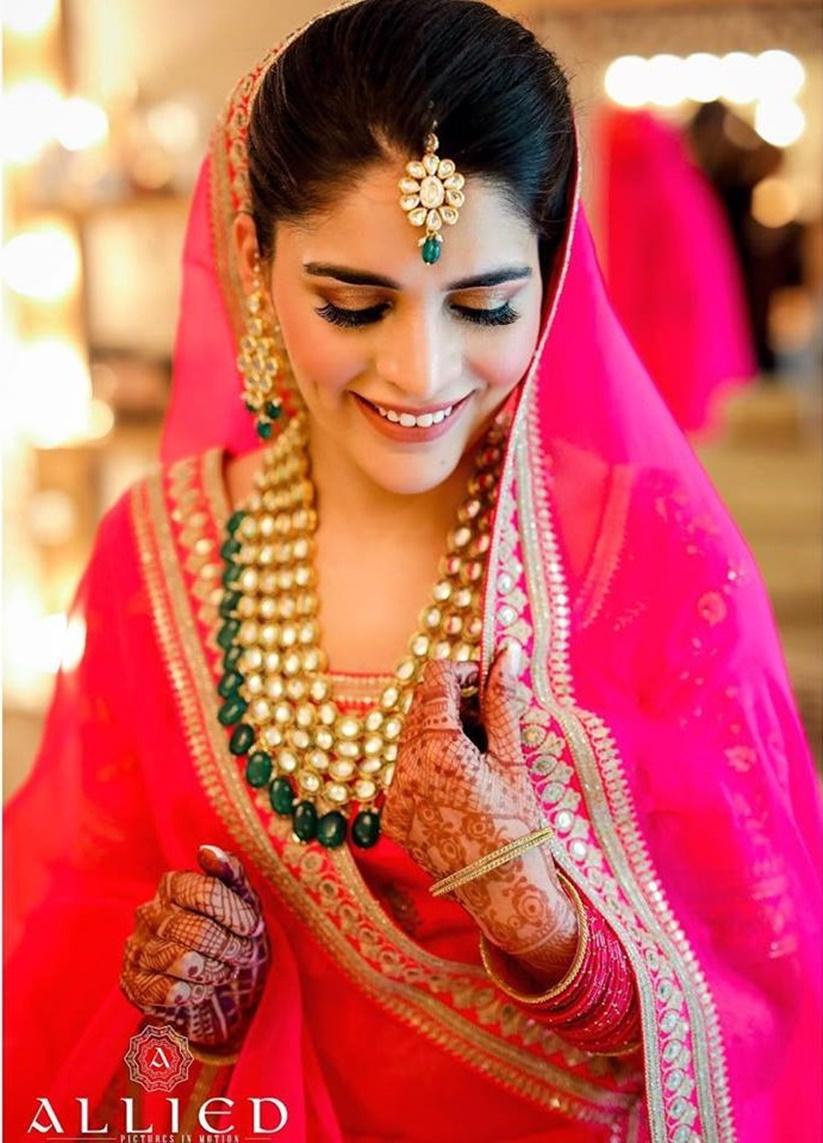 Exfoliate! Yep, you heard us! Use a toothbrush to exfoliate your lips. Don't be too harsh but put enough pressure that the blood circulation gets pumping and your dead cells come off.
Make a lip scrub and apply it diligently twice a month. You can look the recipe up on youtube and store a few variants just in case you like variety.
Always invest in a lip balm which has SPF. Always!
Water! Drink up as much as you can trust us to make it your best pal!
Always Invest in Good Brands: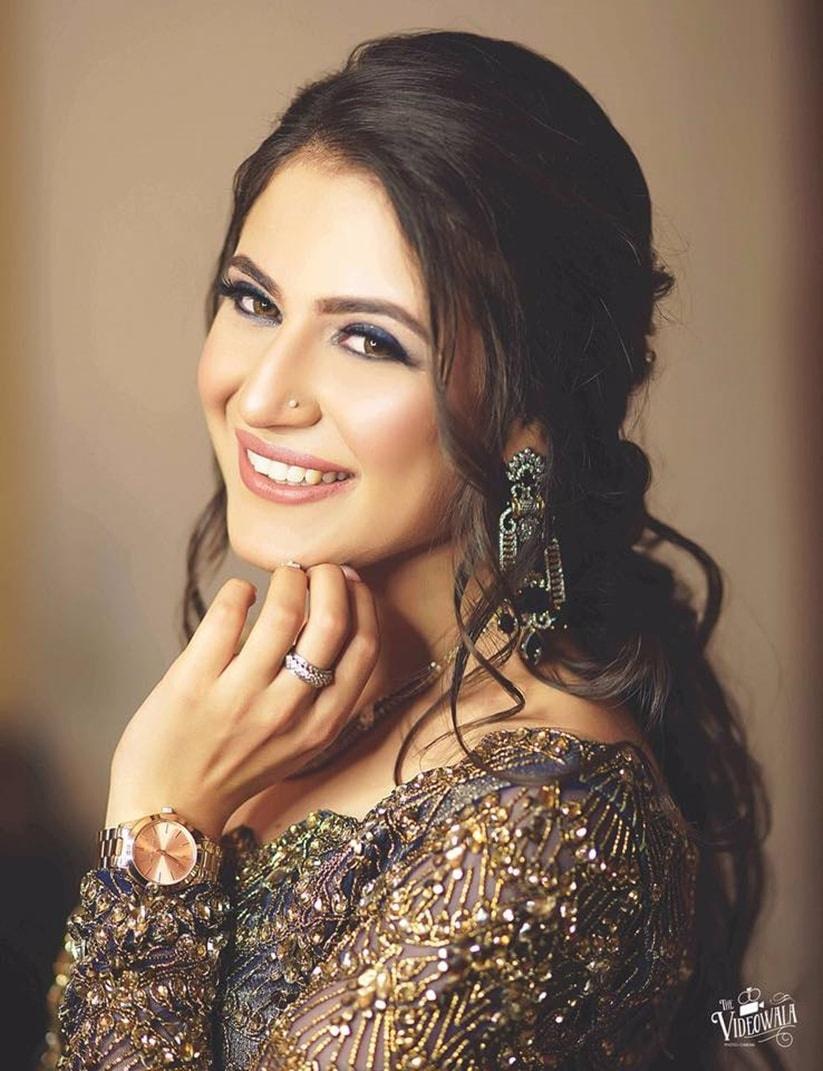 Do not! We repeat don't ever purchase fake makeup products. You wouldn't want to damage your poor skin for good? Would you?
Try the products before you make a purchase. Try the products on a small patch of skin to check for rashes, allergies and side effects. It's better to put no makeup than put one at the risk of hampering the texture of your skin.
Lastly, never use expired products. Check your makeup kit on a yearly or a bimonthly basis to check for expiration dates.
We hope you found these real brides and their bridal makeup picture as a token of inspiration to curate a look for yourself which is chic, bold and majestic. Get in touch with your makeup artist and go for a trial session before you decide on a look for yourself.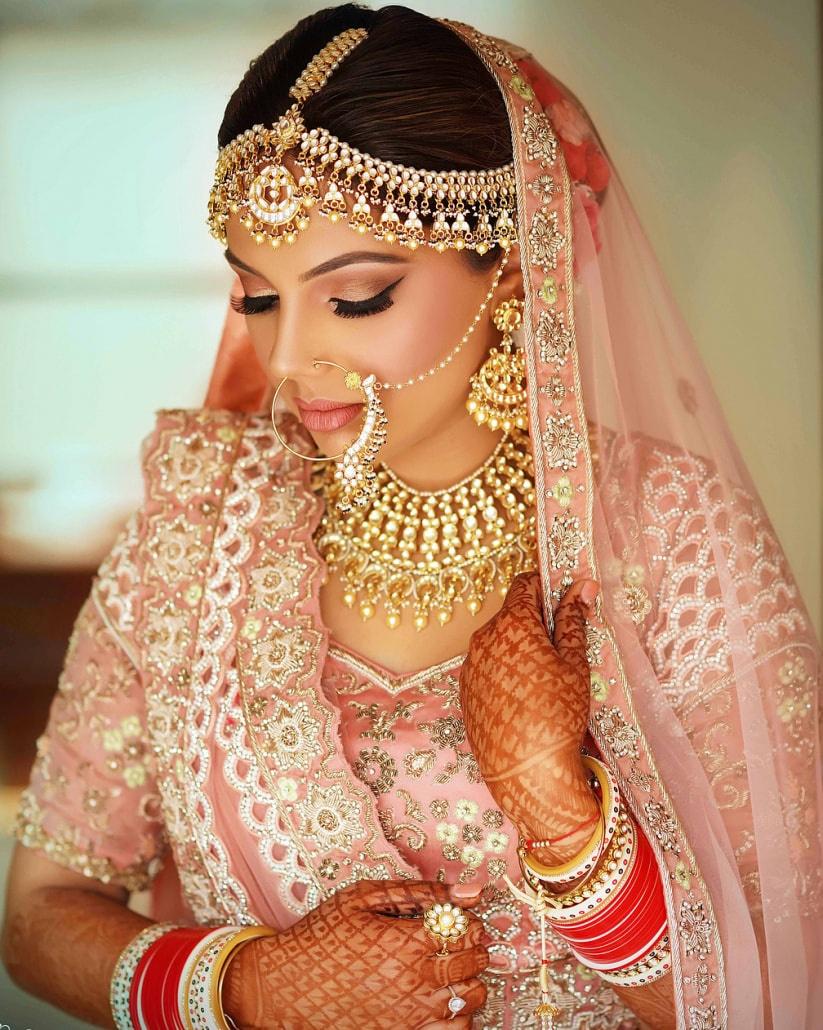 We would love to hear your thoughts about ideation and execution of makeup hacks and which products you love using most. Write to us through comments or share your bridal makeup picture on our portal and stay beautiful!