South Indian Bridal Makeup Guide - Here's How You Perfect the look
Confused about how to achieve that dewy look for early morning ceremonies? Here's a makeup guide especially for the South Indian brides.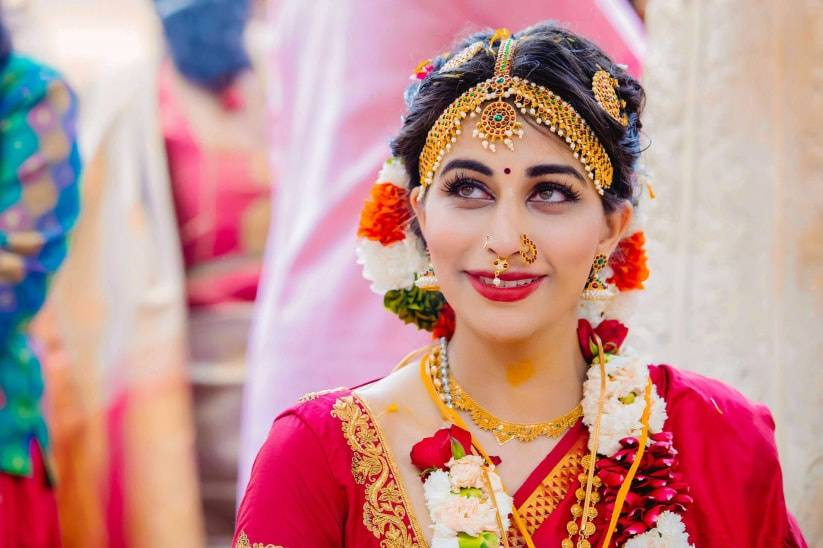 South Indian brides are dressed up like goddesses in stunning wedding silk sarees, extravagant gold jewellery and fresh flowers. Yet, the look never becomes flashy because the South Indian bridal makeup brings an overall balance to it. The bridal hairstyle is always of tied up hair in almost all the South Indian cultures, so it is the makeup that essentially defines the look.
A dewy, glow will look good during the wedding ceremonies as they usually start early in the morning. Here's a simple south Indian bridal makeup guide that will help you in accentuating every feature.
1. Work the magic for your eyes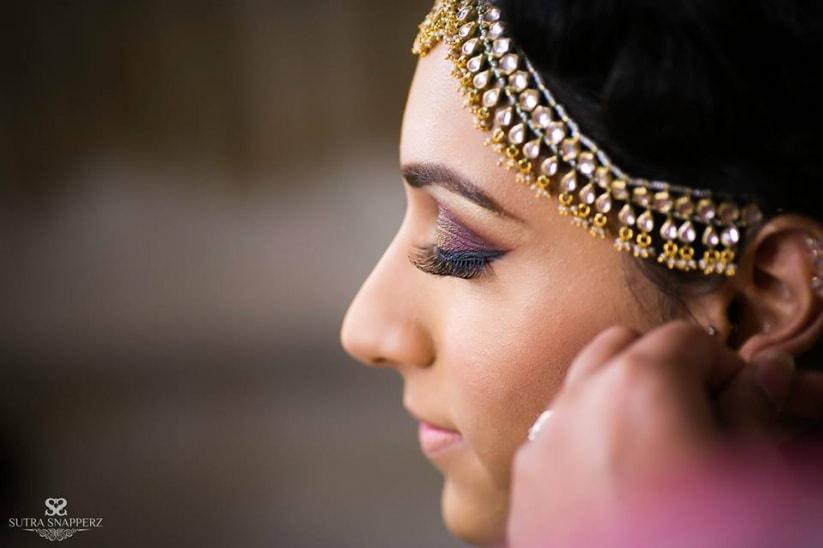 The highlight of South Indian bridal makeup lies in the eyes. The eye makeup creates the drama the outfit needs. Use light shimmer shades of gold and yellow for the eye makeup.
Makeup artist Priyanka Arora explains, "South Indian brides generally want light eye makeup, but they always go for thick lashes." Use false eyelashes with a volumising mascara to achieve that. Tightlining the eyes with kajal and winged eyeliner will make your eyes look even more captivating.
Here are the core South Indian bridal makeup eye highlights -
A. Light eyeshadow for a natural makeup look
B. Dramatically drawn black kohl eyes
C. Voluminous eyelashes
2. Natural lips, please
Since the outfit is already loaded with colours, you should go for neutral lip shades. Choose colours in pink and mauve tones that suit Indian lips for the perfect Indian bridal makeup. Makeup artist Sohini Juneja shares her expert tip, "Lighter shades will work well for those with thin lips. For fuller lips, use reds and maroons but ensure that they don't overpower the look."
In Malayali Hindu weddings, off-white silk sarees are worn, so bright lip shades are perfect for Kerala bridal makeup. A dash of colour and you're all set to make the look pop.
So, here's what you need to keep in mind as far as your lips are concerned:
A. Bright saree shades - muted pinks, mauves and peaches in lip shades
B. Muted saree shades - red, dark browns
C. Slight lip gloss or cream-palette products
3. A muted base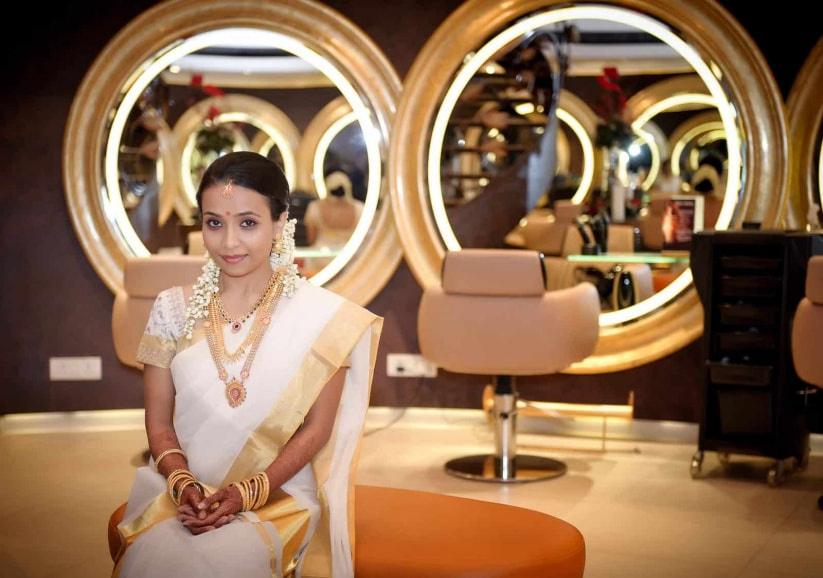 Start your face makeup by creating a light base with the foundation and concealer that are two shades lighter than your natural skin tone. The products tend to oxidize on the skin of some brides so opt for natural products. You don't want to appear grey in the wedding pictures. Use an orange tone colour corrector for the warm skin tones to hide any spots or blemishes.
A clean and flawless base is the best bet for South Indian bridal makeup.
So, here is what you need for the right makeup -
A. Foundation and concealer in true to tone shades
B. Orange tone colour corrector
C. Highlighter to do basic highlights
4. Blush it up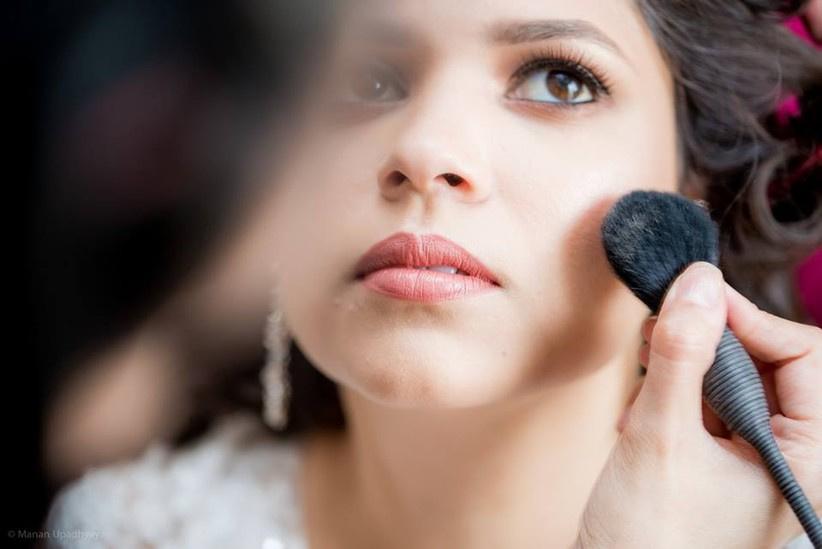 You should go for blushes in coral and orange tones that enhance the warm hue of your skin tone. Don't forget to use a bronzer for that golden glow. As most of the South Indian women are blessed with sharp features that don't require highlighting, so you should go easy with the contouring even though it is one of the latest bridal makeup trends.
Makeup artist Shruti Sharma recommends, "Since the weddings are mostly in the mornings, so I avoid shimmer and very heavy-duty highlights and shadows for the South Indian bridal makeup." You will find many bridal makeup images for inspiration.
So, remember:
A. Coral and orange tones
B. Bronzer for a golden glow
Accessories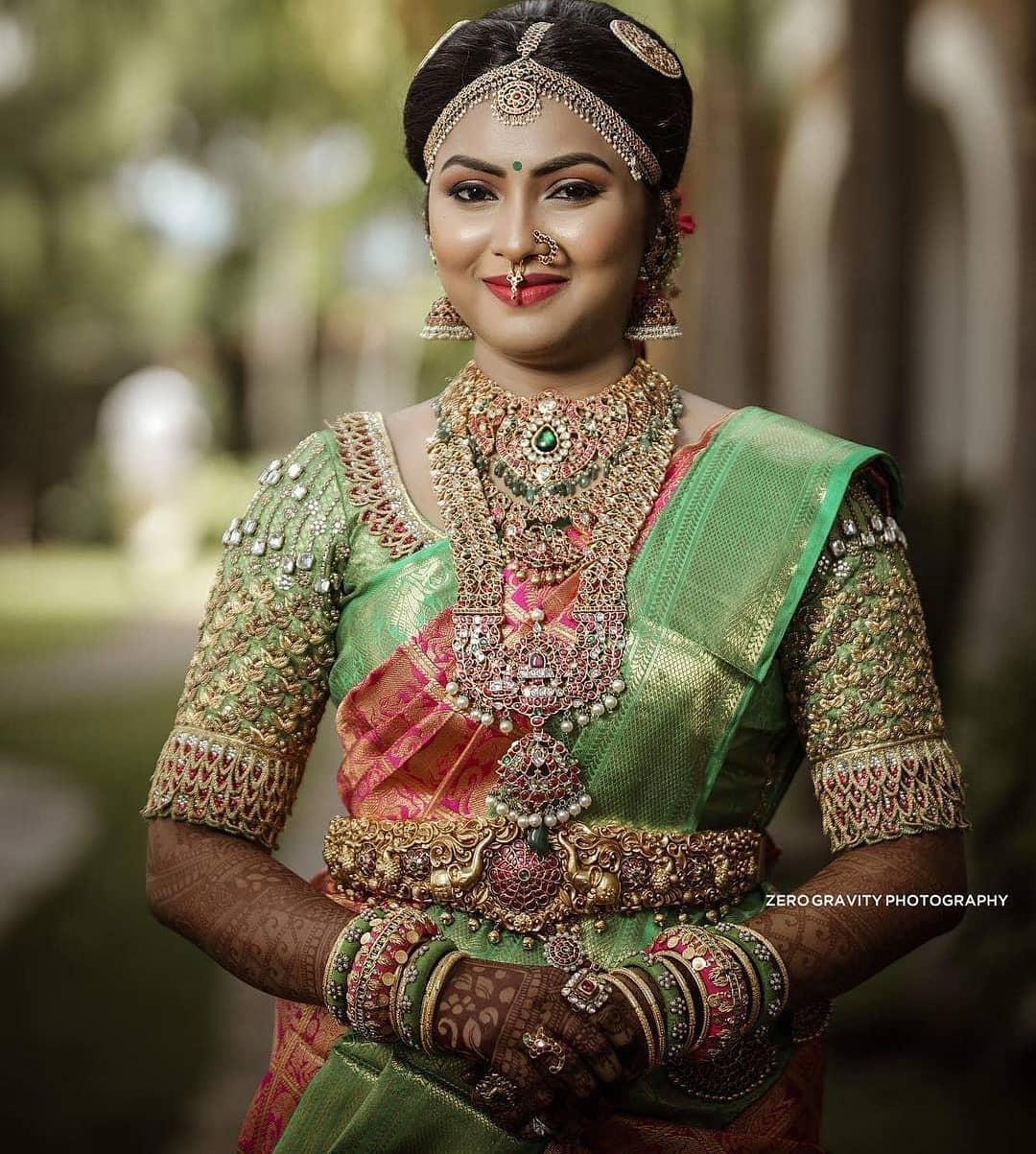 Just as north Indian brides have a matha Patti, some South Indian brides have Thalaisaamaan (also known with a multitude of cultral names) which creates a parting in the bridal hairstyle. It is an integral part of the headdress that characterises the South Indian brides. Accessories like tilak or bindi are used in all cultures differently. Simple bindis are popular in Tamil weddings.
In Kannada weddings, they have a specific shape of the tilak and alternate dots of brown and white are drawn over the eyebrows. Clip these well so that you can freely dance to the peppy Tamil wedding songs during the celebrations.
Here are the more common South Indian bridal makeup accessories that can work wonders for a southern belle:
1. Poola Jada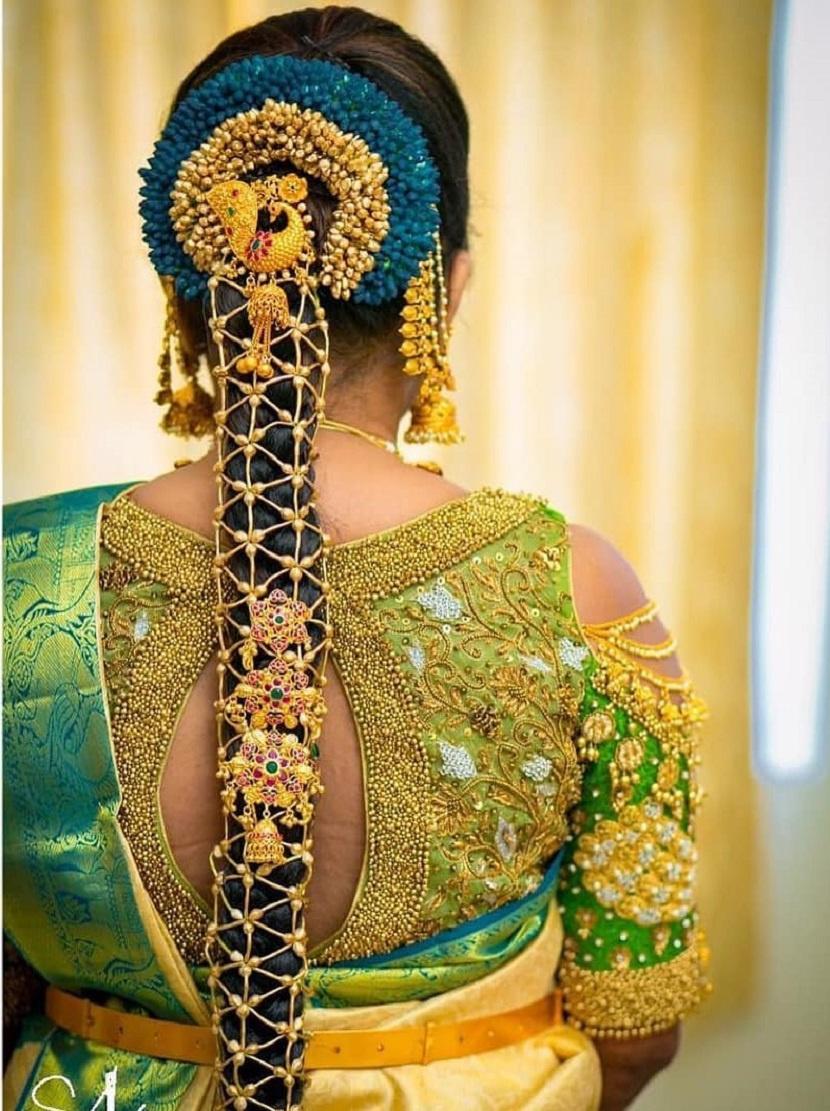 The Poola Jada or Poola Jadai, is a floral accessory that stylistically drapes over the bride's bun and braid, accentuating both and working towards a regal look. Here, the combination is partly floral and partly bejewelled.
2. Naga Jadai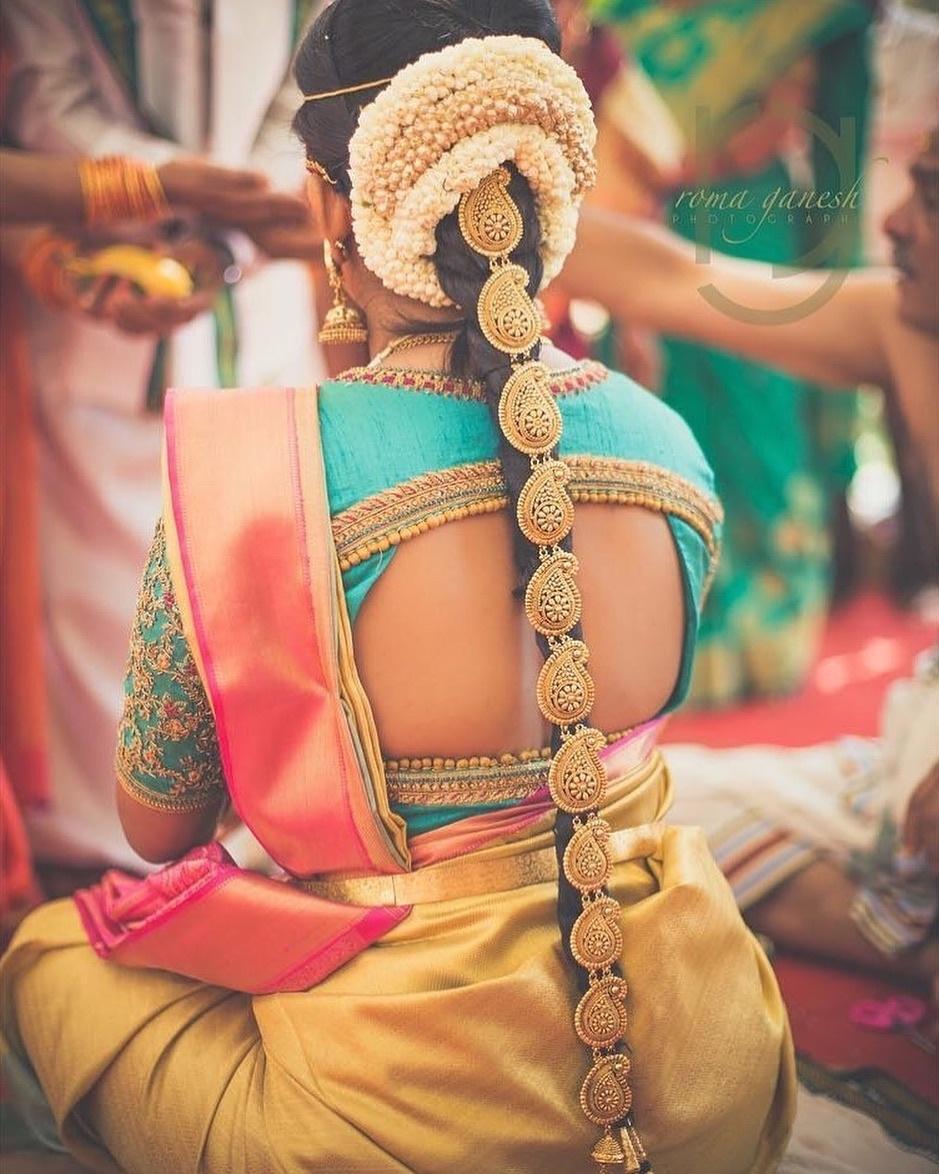 The Naga Jadai is a snaking trail of bejewelled, gold or temple jewellery accessories that run along the length of a south Indian bride's braid. It is a distinctive feature for a bride here and we often see ladies holding their Naga Jadai high alongside a more naturally done South Indian bridal makeup.
Talk to your makeup artist beforehand to ensure that the family traditions are followed. She will suggest products that don't react with your skin and stay put even when you're busy grooving to the wedding songs. Humidity and emotions can wash your look, so opt for waterproof products or get airbrush makeup done. The key to South Indian bridal makeup is to appear natural to ensure you look stunning in all the pictures your wedding photographer takes.