6 Kerala Wedding Sarees That Need To Be In Your Wardrobe Now
Looking for a new style this wedding season? Try these Kerala Wedding Sarees and revamp your look right now.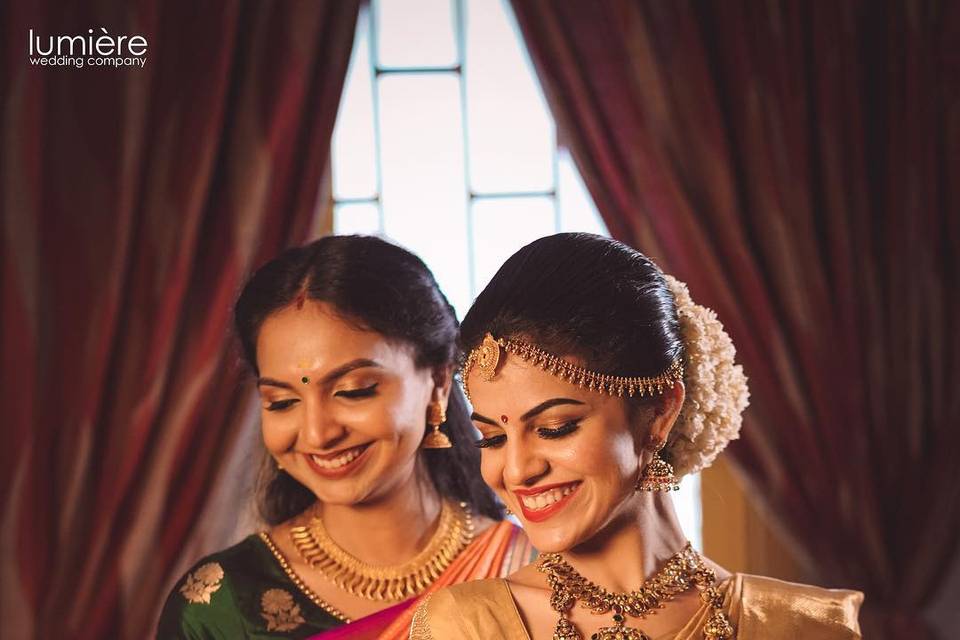 No one can resist the charm of Kerala wedding sarees as their silk sarees are among the most magnificent ones in the country. Even the celebrities like Rekha, Aishwarya Rai and Vidya Balan can be seen sporting these graceful sarees. When paired with the perfect bridal makeup and hairstyles, these bridal sarees can take your D-day look to a whole new level. Have a look for yourselves and fall in love with the gorgeous selection.
1. Kasavu Saree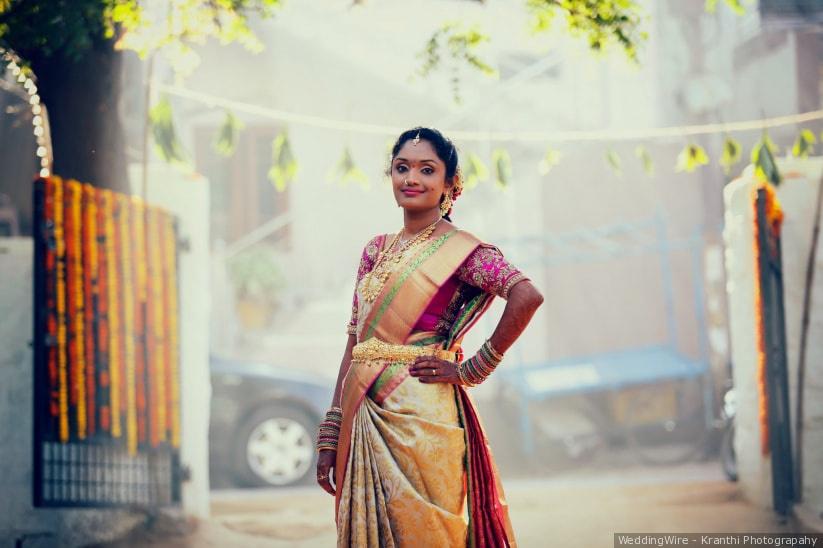 The origin of Kerala's famous white silk sarees can be traced back to the Buddhist era. As the time passed by, these sarees gradually became popular among the ladies in all of South India, especially in Kerala. An interesting fact about Kerala Kasavu saree is the style of the fabric used to make these sarees which resembles the fabrics of Greek or Roman Goddesses. No matter what, these silk sarees look royal and elegant at the same time. Probably, that's the reason why it is popularly used as the South Indian wedding saree even today.
Traditionally, Kasavu Kerala bridal sarees had the only golden border. But these days, a golden border has now been replaced with different colours and varieties of zari work and designs, representing the culture of each South Indian state. Often, the borders of Kasavu sarees are made in silk thread giving it a softer look to these wedding sarees. Designer Kasavu sarees are bedazzled and glamorised with extra zari work.
2. Pink Zari work Saree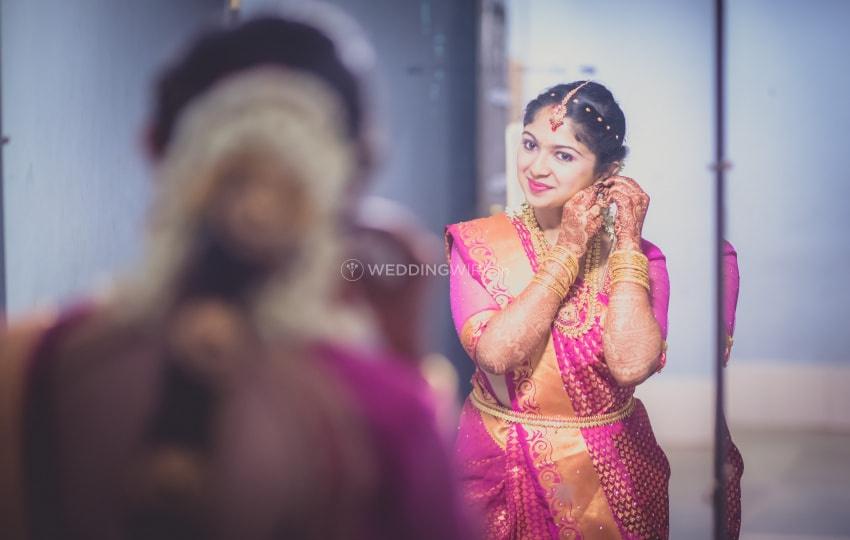 South Indian brides that do not prefer wearing the traditional white Kasavu saree for their wedding can choose sarees in pink, a colour that signifies universal love. These sarees are decorated with intricate patterns made in zari work. Many sarees are made in Kanchipuram silk saree patterns which are originated from South India. Brides also prefer Pattu silk, Maheshwari silk and designer pure silk sarees as bridal wear.
If you are a bride with a little bit of sass and believe in sugar and spice and everything nice, pink is the perfect colour that you can choose for your wedding outfit. Pink is a colour that presents charm and romance in the relationship along with the playfulness and tenderness. This is one of the best colours to go for a Kerala bridal saree.
3. Yellow Goddess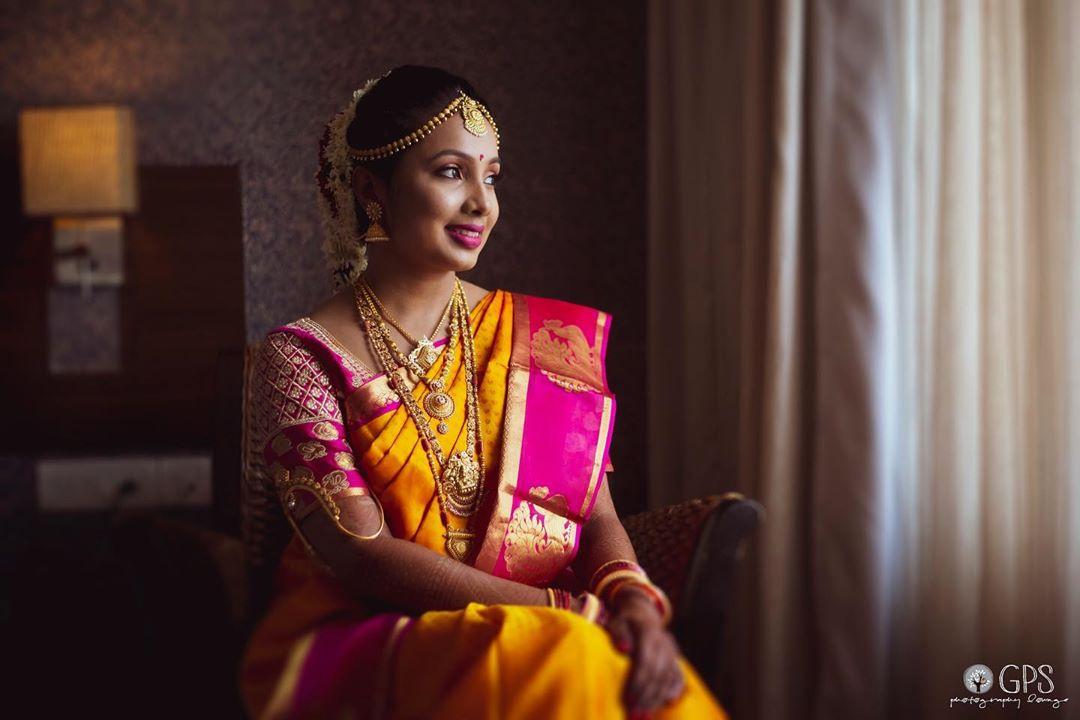 Image courtesy: GPS Photography Lounge
Just like yellow lehengas, a yellow saree for wedding maintains its own appeal amid a bridal saree trousseau, especially one for Kerala wedding sarees. The set can be rich, bright turmeric, deeper mustard, vibrant sunshine or even a pastel variant of yellow, depending on your skin tone, need, fancy and occasion.
As it is with conventional Kerala wedding sarees, these Kanjivaram and Kasuvu designs come with either a contrast or a rich, gold border and this needs to be styled just right for your look. We love how this bride worked wonders with a rich magenta border on her yellow saree.
4. Ravishing Red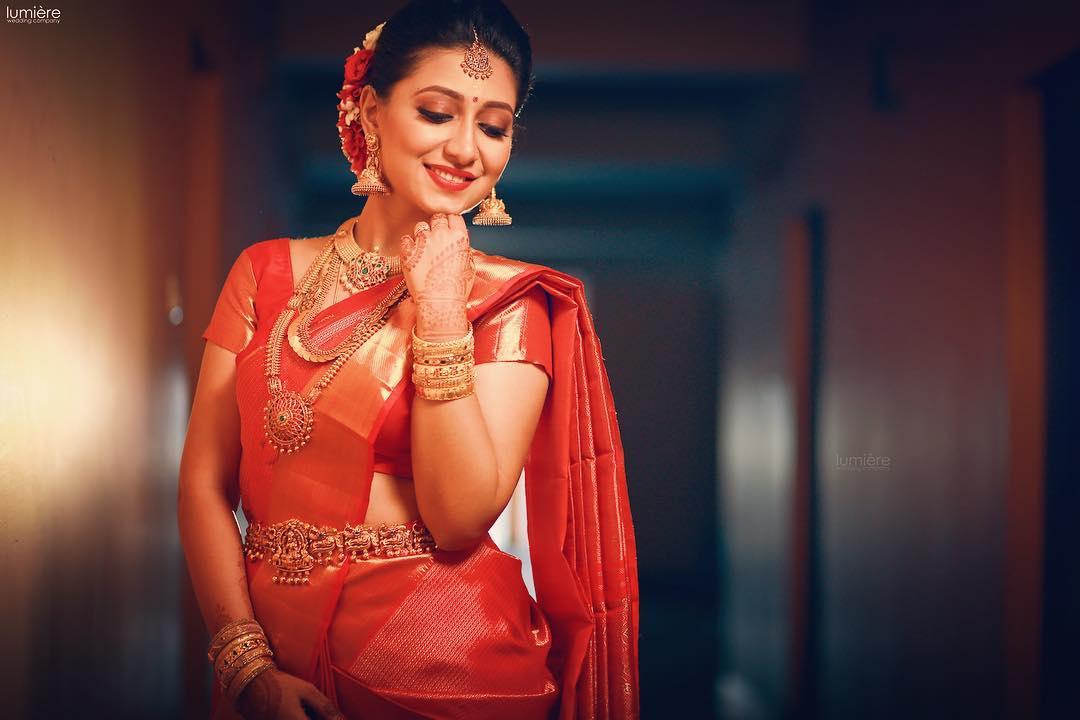 Bride all over the nation prefers wearing the red coloured bridal outfit as the colour signifies love, passion, strength and vigour. One of the most important reasons why most of the by rights in India used to wear red coloured wedding saree is the colour looks beautiful on any skin complexion and enhances the charm. South Indian brides are no different and love to wear Kerala wedding saree in shades of red colour.
Try these out before your big day and choose one that sits best with your personality.
5. Cream gold temple inspirations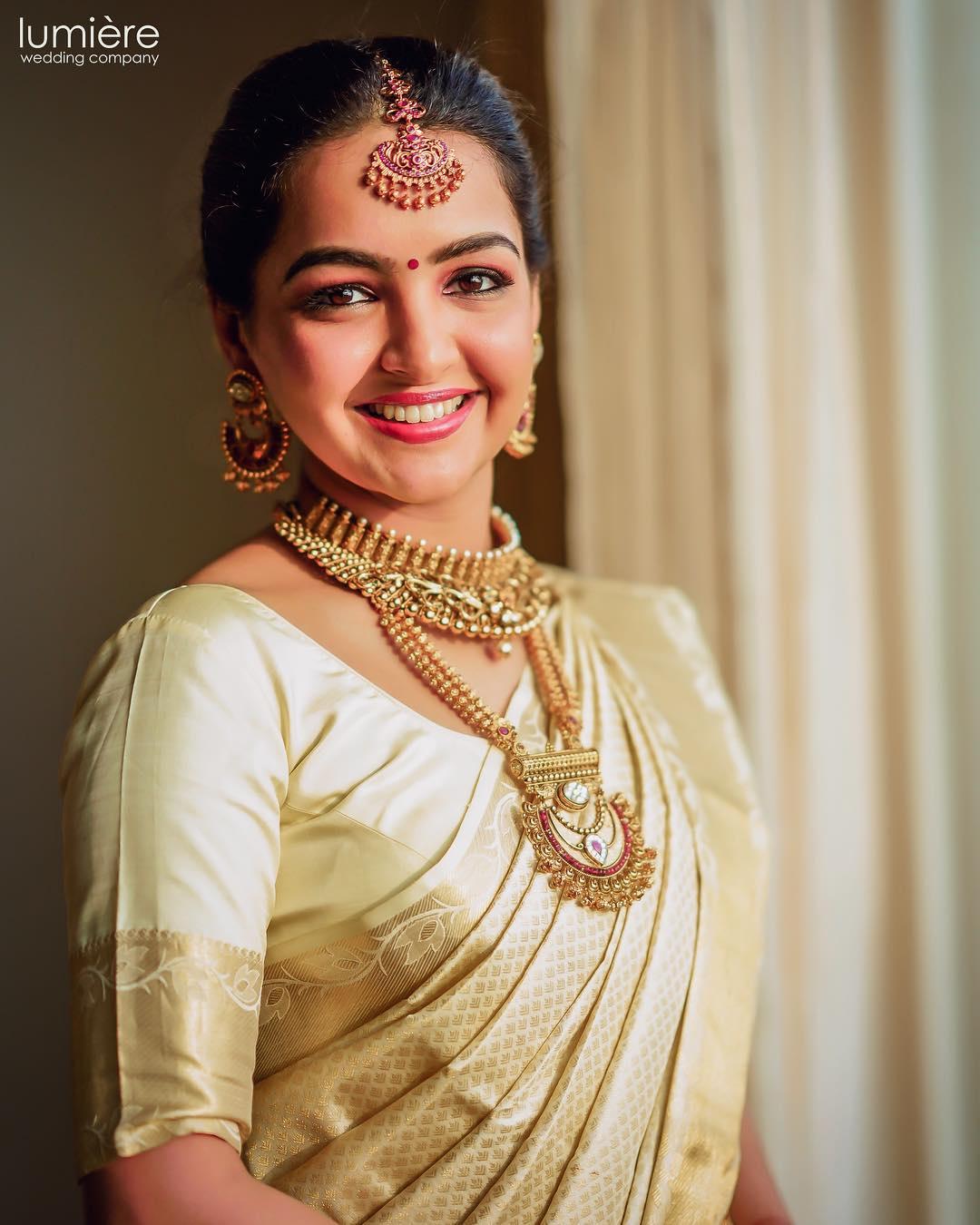 Gold is the colour of grandeur, opulence and richness, but it is also a colour that adds a hint of glamour, and illumination to your South Indian wedding saree. In Kerala, the brides are seen as a form of Goddess Lakshmi, who brings prosperity, health and wealth to the family. The brides who want to stand out can choose golden colour silk South Indian bridal sarees.
The cream gold combination works with those who may need the conventional white and gold cotton silk combo for their day and those who just want their Kerala wedding sarees to shine without overpowering their look.
6. Simplistic white cotton silk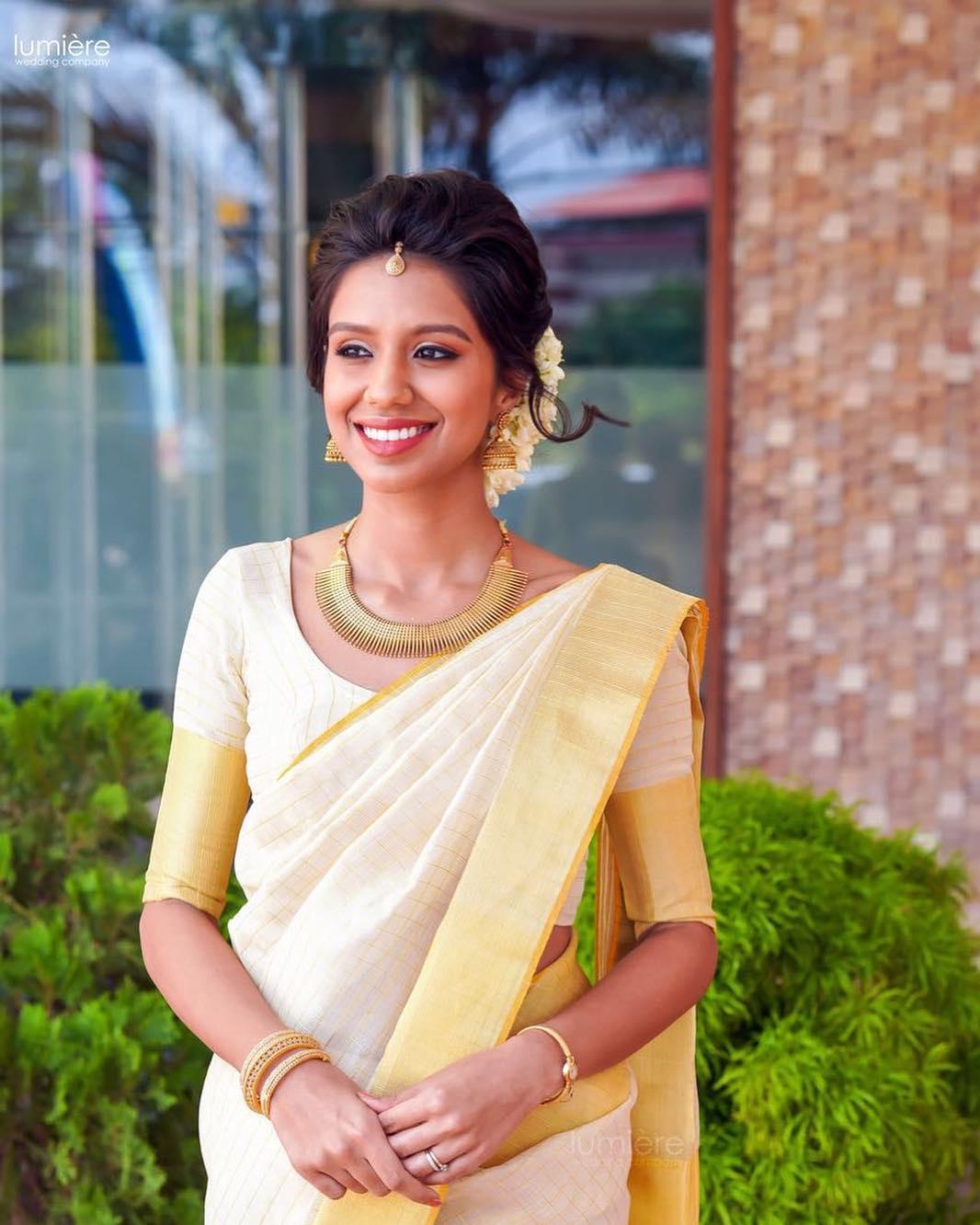 Last, we come to the starched white cotton silk fabrics that the region is well-known for. Find yours (with traditionally plain or with thin checks like here) and you will know how naturally this belongs among your Kerala wedding sarees.
These plain sarees work equally well with heavy sets of Kerala wedding jewellery and the more subtle choices worn by this bride from the Lumiere wedding company. Make your choices as wisely too.
So now, that we have listed some of the most popular Kerala wedding sarees, I hope it will be easier for you to choose your perfect wedding outfit. Also, don't hesitate to try out different colours because when it comes to the wedding you should be the one who enjoys it the most. So tap your feet to the groovy wedding songs and let your wedding photographer capture some candid shots. Now that you have the basics covered let us brief you a little about some pro makeup hacks and styling tips that will take your look to the zenith.
Adding one of these beauties to your bridal wardrobe would ensure that you look like an absolute beauty on your big day. One pro tip to ensure that your bridal look stands out from all the rest attending your wedding is that you balance your wardrobe with jewellery, makeup and hairstyle that sits complementary to your outfit and does not overpower your Kerala wedding saree. If you chose a royal blue saree with golden zari border, then the key is to go for a piece of jewellery that has hints of gold in it. Even the makeup then should be compatible to the colour tones of your outfit, maybe a dash of light blue eye shadow to mark that perfect winged eyeliner. Take care of a few of these beauties and you're good to go.
Which colour combinations would you choose for your set of Kerala wedding sarees? Tell us through the comments!