10 Enchanting Rajasthani Lehenga Inspiration for Brides Who Are Super Stylish & Chic
The enchanting land of Rajasthan produces some of the finest, most stunning lehengas and ghagra cholis. Experience the exclusive craftsmanship of the land of the royals here!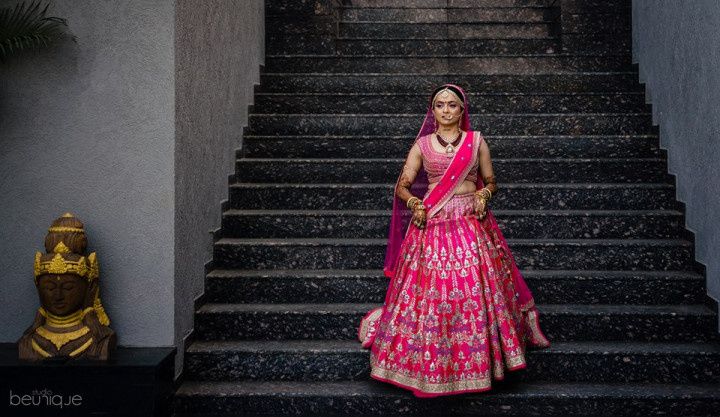 With expertise at their art and undying love for their craft, Rajasthani artisans know how to translate beautiful royal tales on lehengas. Rajasthani lehengas are rich in colours and sharp on details. Darting deers, flying birds, waving trees and flowering buds in vivid colours along with intricate embroidery work form the main component of these lehengas. Rajasthani lehengas are catching the fancy of fashion-loving brides from all over India. Here are 11 stunning Rajasthani lehenga inspiration that modern brides-to-be must check out.
Features of Rajasthani Lehengas: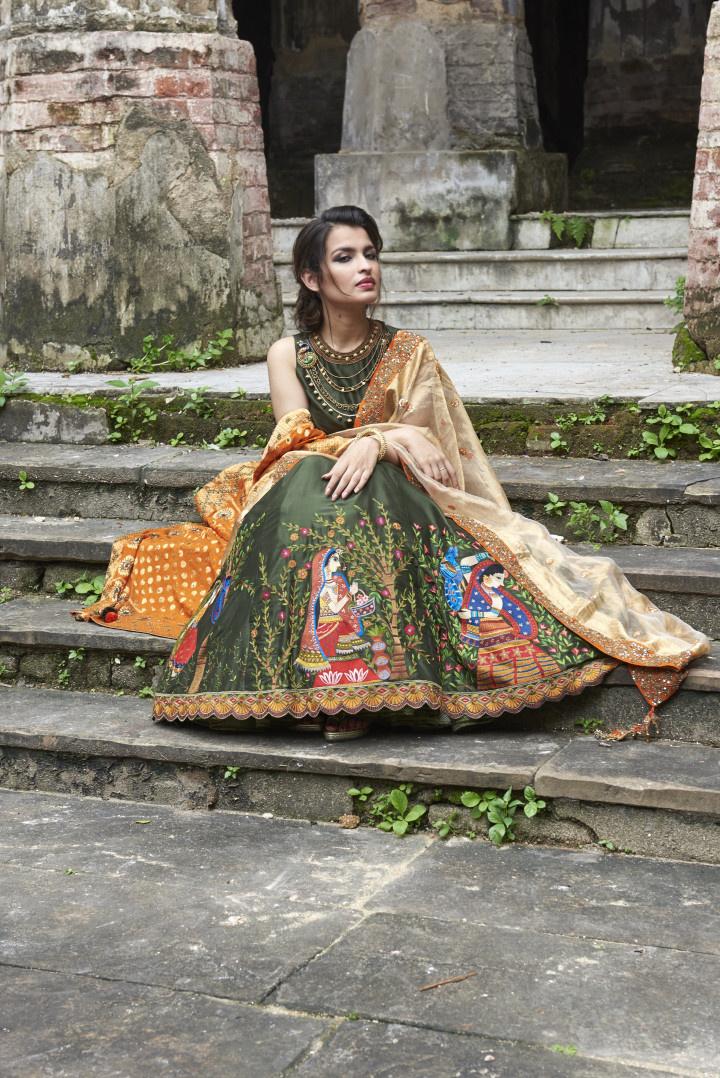 Gota, Kundan and zardozi embroidery work
Use of colourful fabrics
Detailed embroidery
Made out of a silk base
Embellished with coloured semi-precious or precious stones like beads and amber
Traditional motifs and floral patterns
A gorgeous Odhni
1. Blue lehenga with a contrasting dupatta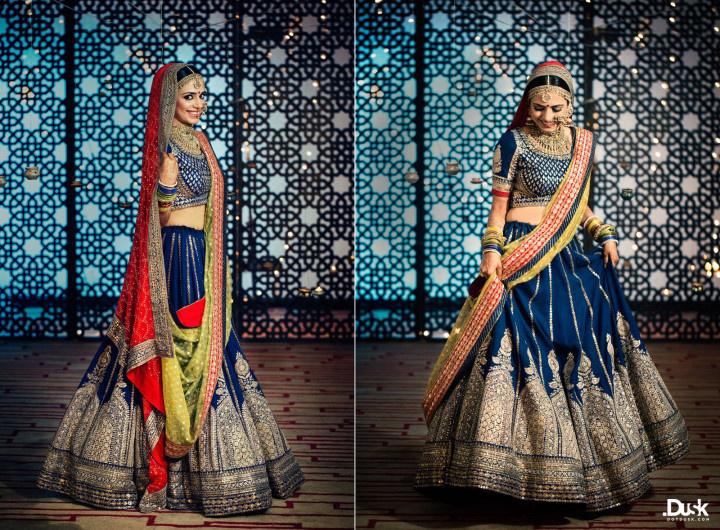 This teal blue lehenga with zari embroidery work comes with a contrasting bandhani style trim on the sleeves. The dupatta is very unique and colourful, created with Rajasthani style dyeing techniques. The skirt features large jharokha style embroidery with zari and Gota Patti. The overall appeal of this lehenga makes it perfect for engagement, wedding and even reception.
2. Bright pink gota work lehenga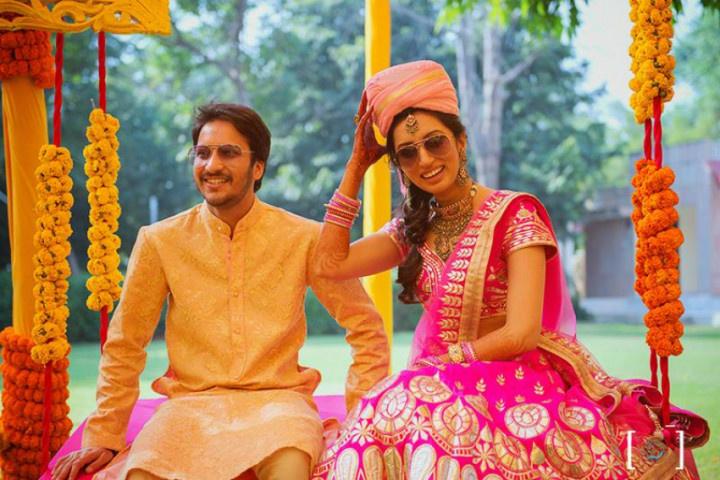 This bright pink lehenga features the quintessential Rajasthani embroidery work, gota patti. The embellishment is uniform throughout the choli, skirt and dupatta; the pattern appears to be inspired with flora, hence boasts of leaves and flowers motifs. Perfect for mehndi, sangeet and engagement, this lightweight traditional lehenga is yet another wise pick.
3. Lightweight yellow lehenga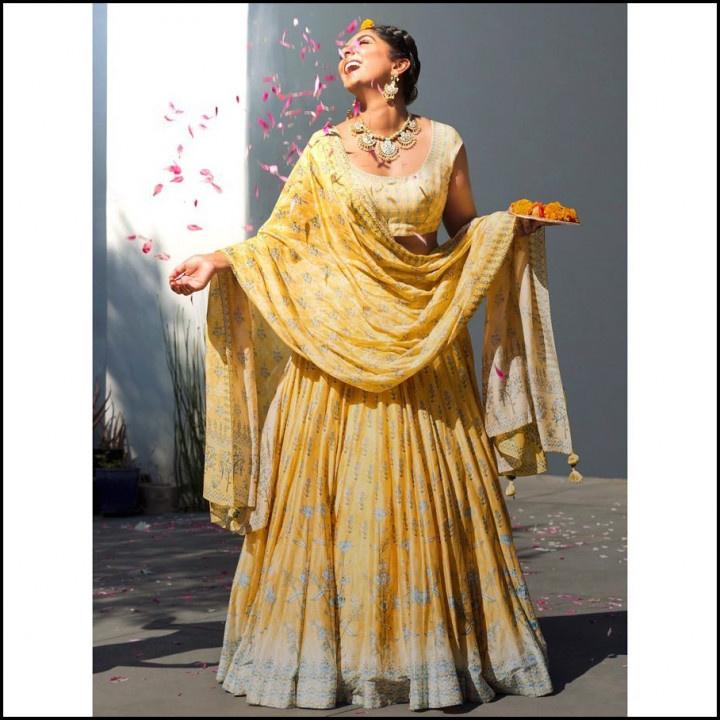 This ombre yellow Rajasthani lehenga contains beautiful pastel hues that are perfect for summer weddings. We love how all these lovely colours merge, creating a beautiful garden on the outfit. This lightweight chanderi silk outfit is paired with Chanderi choli with sequins and a printed dupatta. We highly recommend this lehenga for your Haldi, Mehndi or Chura ceremony.
4. Baroque jewel-toned lehenga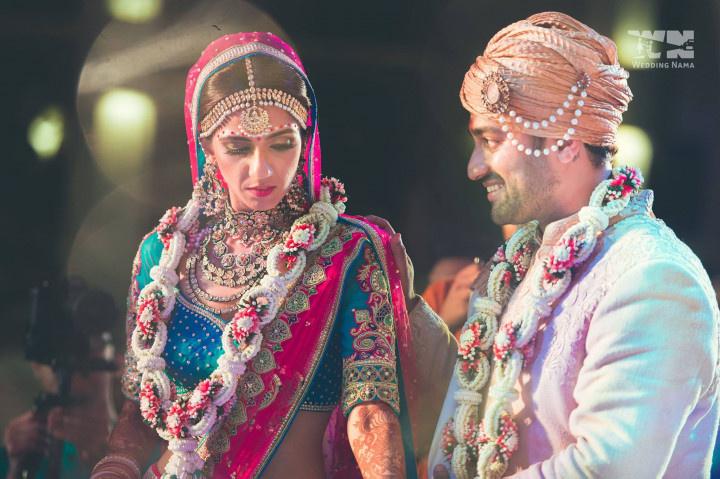 This very opulent silk lehenga features paisleys, peacocks, dancing Gopis, zardozi work, pearl trim and Resham work in jewel tones. It is a perfect pick for brides who want everything to be colourful and luxuriant on their wedding. Keep your makeup muted and jewellery classy when going for so much colour in your outfit. Also, make sure your groom wears a muted colour to complement this vivid look of yours. A stunning creation like this is all you need to steal the limelight on your wedding.
5. A Sabyasachi creation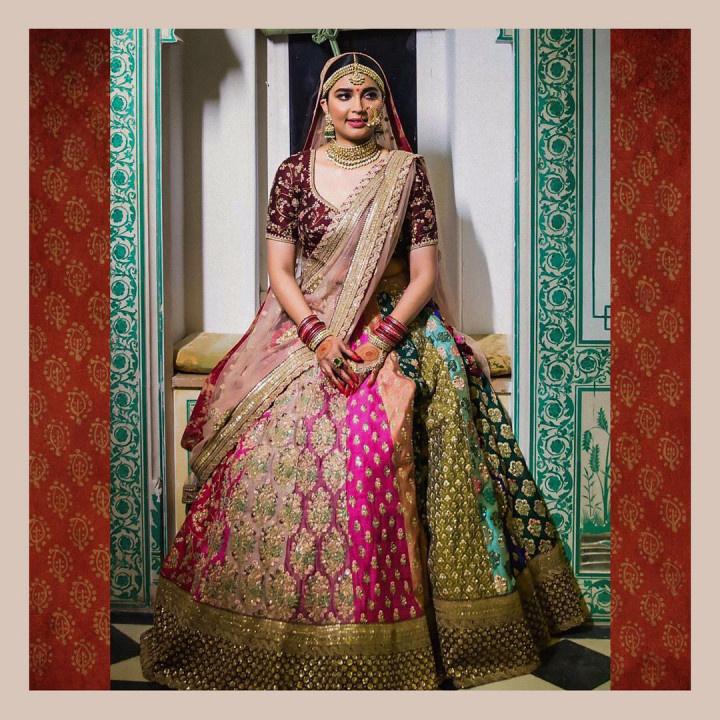 Image Courtesy: Sabyasachi's Instagram
Who knows a better way to utilise gorgeous Indian textiles than Sabyasachi! This unique creation by the master designer himself is inspired by the silhouettes and hues of Rajasthan. Along with a rich assortment of fabrics in various colours, this lehenga emphasises gota patti and zardozi work. The booties and flowers created with embroidery and multi-panelled skirt are giving this outfit a beautiful flare. We'd definitely love to see brides donning this concept on their wedding or reception.
6. Flowy and lightweight lehenga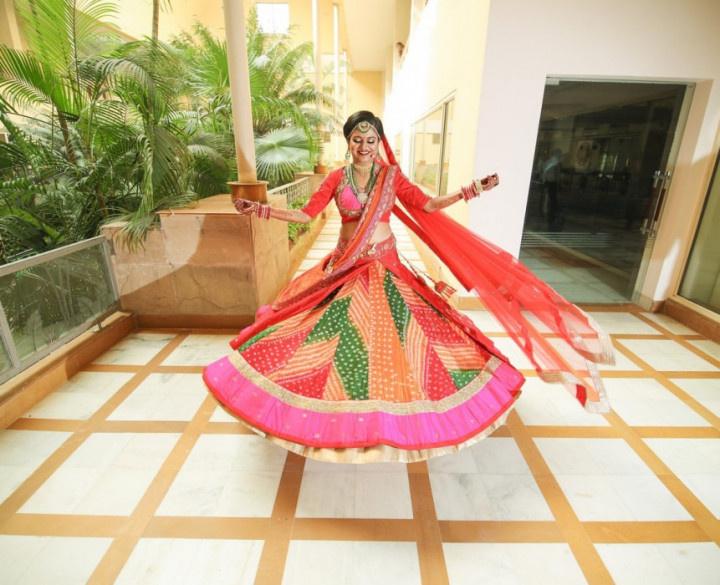 Owing to the high temperatures, traditional Rajasthani lehengas are supposed to be lightweight and breezy. This lightweight, flowy lehenga is adding a royal touch to the bride's look. Double dupattas, bandhani style prints on the skirt, unique neckline of the choli and golden gota work are casting a spell. Try on such lightweight and colourful lehenga if you're planning a day wedding in Rajasthan.
7. Perfect summer wedding ensemble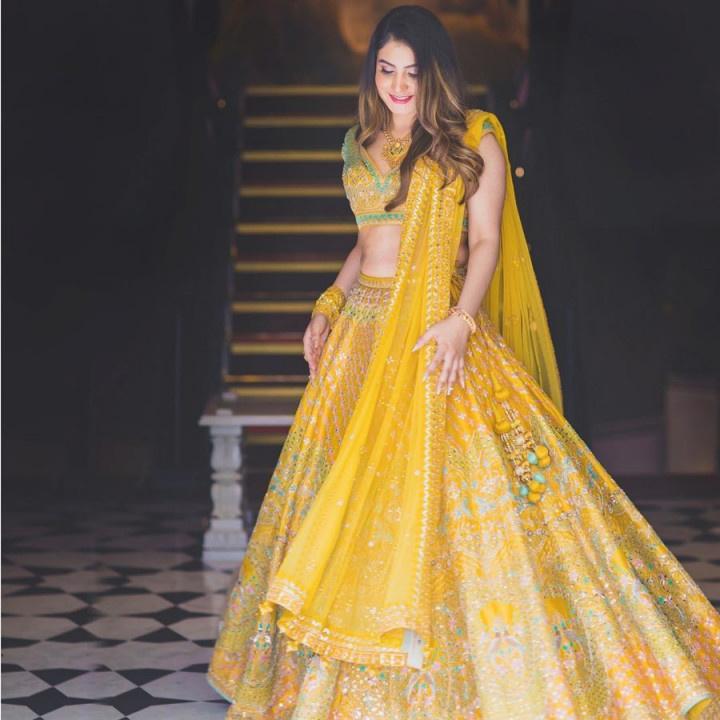 This combination of green and yellow is a perfect choice for summer brides. Floral motifs of regal Rajasthani gardens, when mixed with summer hues, are creating this masterpiece. Embroidered with traditional crafts of gota patti, zardozi, Resham and Dori work this flowy lehenga is royal without being blingy. We suggest this lehenga for sangeet and engagement functions.
8. Indian weaves and traditional embroidery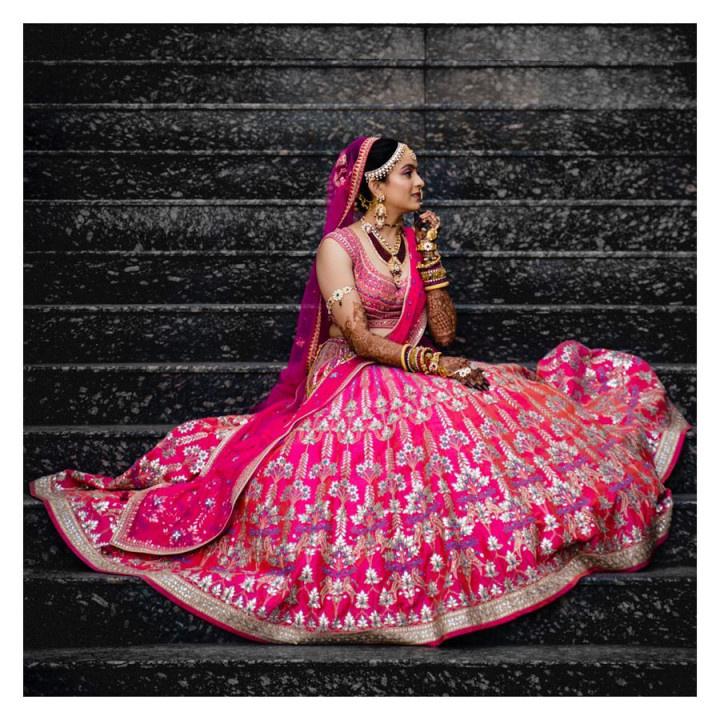 This gorgeous, magical creation with gota patti, zardozi, Resham and Dori work is unique. With hot pink as the base colour and delicate embroidery, this lehenga is traditional with a hint of modern silhouette. The rich depiction of flora through embroidery is giving this outfit a feminine look. Day wedding or night, this colour-combination and style won't disappoint.
9. Ombre lehenga with gorgeous gold details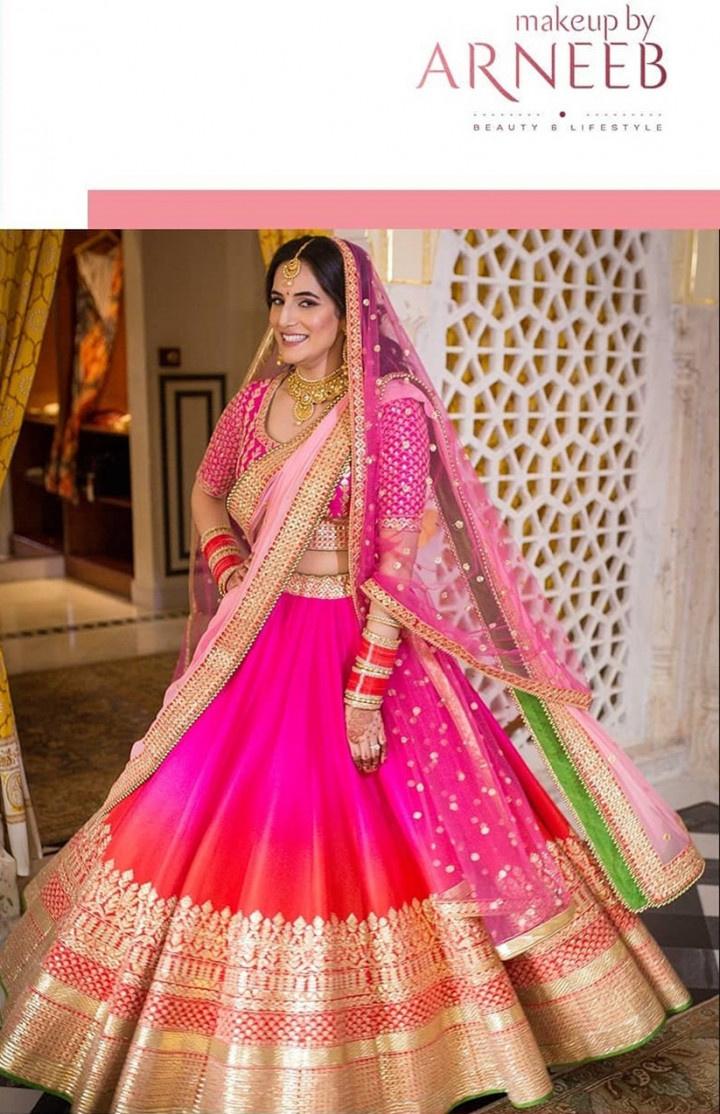 A whole lot of colour with the right amount of gold can spell magic. This Rajasthani bridal lehenga features intense gota patti, Resham work, zari and zardozi embroidery. The double dupatta, heavily embroidered choli are complementing the ombre skirt. The dupatta draped on the shoulder features a green border which makes the outfit colourful but not gaudy.
10. The bridal red lehenga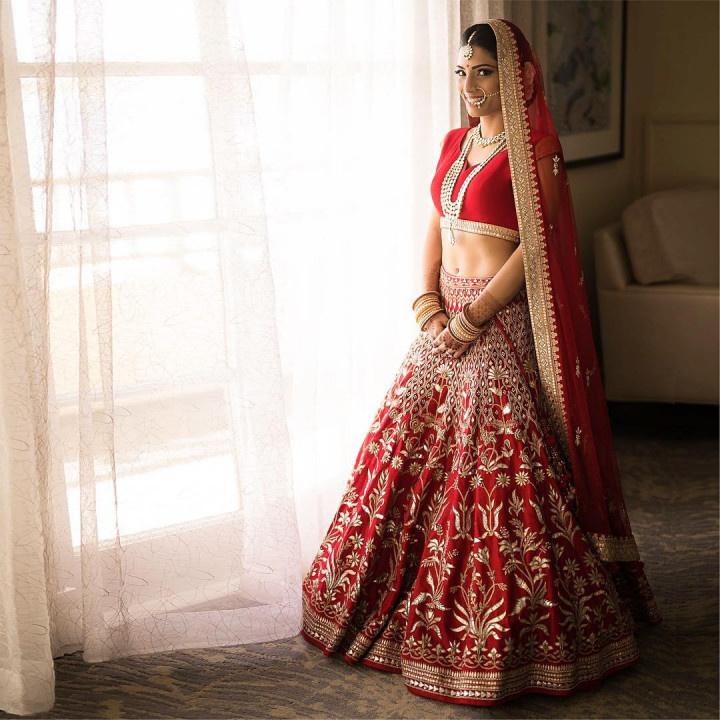 Rajasthani bride or not, you all would love to admire the beauty of this blood red lehenga with traditional embellishment. Beautifully and extensively embroidered with gotta, Dori, zardozi and sequins, this lehenga oozes magic. Pair this look with Jadau jewellery and no one will be able to take their eyes off you. Rajasthani lehengas and Ghagras are perfect for brides who love everything colourful. The beads, fancy stitches, shells, and sequins - the motifs used to give these lehengas a fancy look while keeping the traditional vibes intact. These handmade lehengas are created with lightweight silk, brocade, satin and Tanchoi fabrics. Hence, the brides wearing these Rajasthani lehengas look graceful without feeling burdened under the layers of fabric.
Would you love to add Rajasthani lehengas to your shopping spree?