Want to know everything about wedding ghagra shopping for pre-wedding, wedding and post-wedding functions? Fret not, we're here to help you source that ultimate outfit that has your name written all over it. Millennial brides are not only fashion-forward and fashion-oriented when it comes to grooming and preening themselves for all their wedding festivities but are also unafraid of switching the traditional with Avant Garde.
Cotton, silk, raw silk, khadi georgette, crepe, net, satin, brocade, chiffon. You name it and the beautiful flowing skirt in all its exuberant magical flow comes in different shapes and the merger of the traditional and conventional ones with the modern fashion that is in vogue, will only heighten the fancy schmancy for the bride and her bridesmaids.
That's why we have curated a list of wedding ghagras for women, which will bring out the inner fashionista in you.
1. Leheriya Print Wedding Ghagra for the Marwari Bride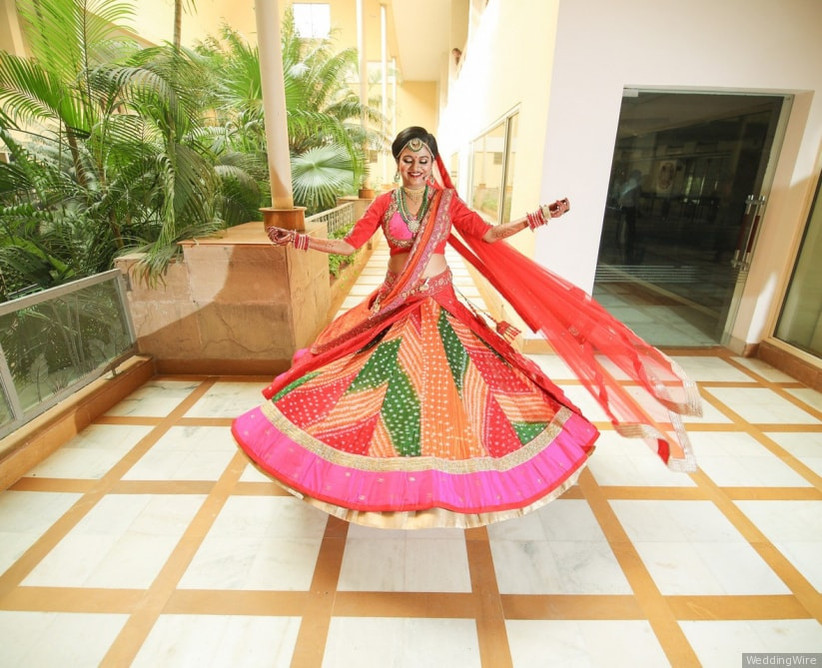 Rajasthan and Gujarat are known for their princely states, one of the reasons why their fashion is both regal, royal yet chic. Amidst all the wedding frenzy, being the bride, you can be the subject of everyone's gaze in a bold Leheriya print wedding ghagra. Not only will this garment add a Rajputana touch to your overall look but also it is an eloquent bridal attire option.
You can go for a full-on traditional look with bold Gota yoke patterns along the seams and the Kalis of your bridal skirt. The broad border will define the shape of the ghagra and give it more volume and circumference area to make you look more regal.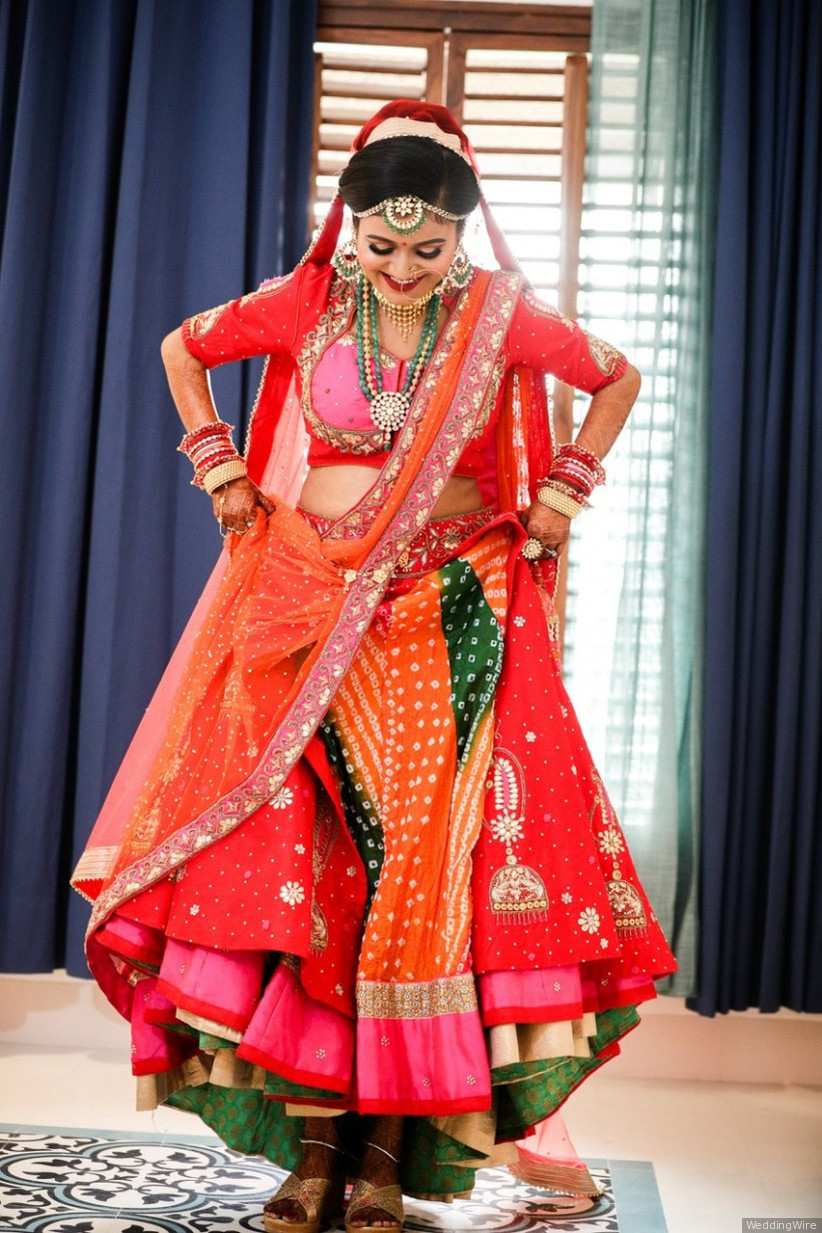 If you're aiming for an imperial look, then you can go for an embellished choli which contrasts with the colour of your ghagra with a heavy dupatta with Gota and mirror work to get the desired look. The empirical cut of the blouse will help you flaunt your curves and be a crowned lady on your D-day! The heavy embroidery is the right fit for your wedding to make it large.
Accessories to go with it: Since the look is completely traditional, pair all the traditional elements with it for coming out to be the epitome of an elegant bridal avatar. Wear the Maang Tikka with Matha Patti, Bajuband, Kamarband along with your bridal jewellery set and flaunt your way into some mesmerising bridal shots.
2. Thread Embroidered Wedding Ghagra
Brides leave no stone unturned to look like a vision on their wedding day. Thread embroidery is an integral part of decorating the Rajasthani ghagras. The artisans make use of intricate thread for creating exquisite patterns whilst also incorporating Zardozi and mirror cutwork to embellish the outfit. The best thing about going for a Zardozi-oriented fashion look is that it is a cohesive mix of both the traditional with the contemporary. And, you can always wear the skirt in future and pair it up with an uber cool crop top or a shirt blouse for an Indo-western look.
Accessories to go with it: Pair accessories in a metal that fares well with the thread work of your outfit. The designs of each item can be as contemporary as you want them to be as long as it complements the ensemble.
3. Glorious Gota Patti Wedding Ghagra
Gota Patti border work has been the inspiration for countless many fashion designers. Big names like Anita Dongre too found their muse in the art of using this fabric as an embellishment. Forever evergreen and regal, this wedding silhouette is a front-runner. You can custom design your outfit as well by choosing the embellishment that you love best and have them incorporated in your wedding ghagra. The intricate designing of these wedding ghagras are one reason to die for and they will make you outshine everybody else.
Take your look up a notch by adding a little bling to it, it could be an ornate set of statement jewels that contrast well with the colour tone of your bridal outfit, with a bouquet hairstyle adorned with flowers to bring out the best of your bridal beauty.
Accessories to go with it: With Gota work on the block, all you need is more bling. But don't go OTT with it. Your accessories and Gota work can work in a cohesive nature if you balance the elements right.
4. The Storytelling Wedding Ghagra in Kalamkari Print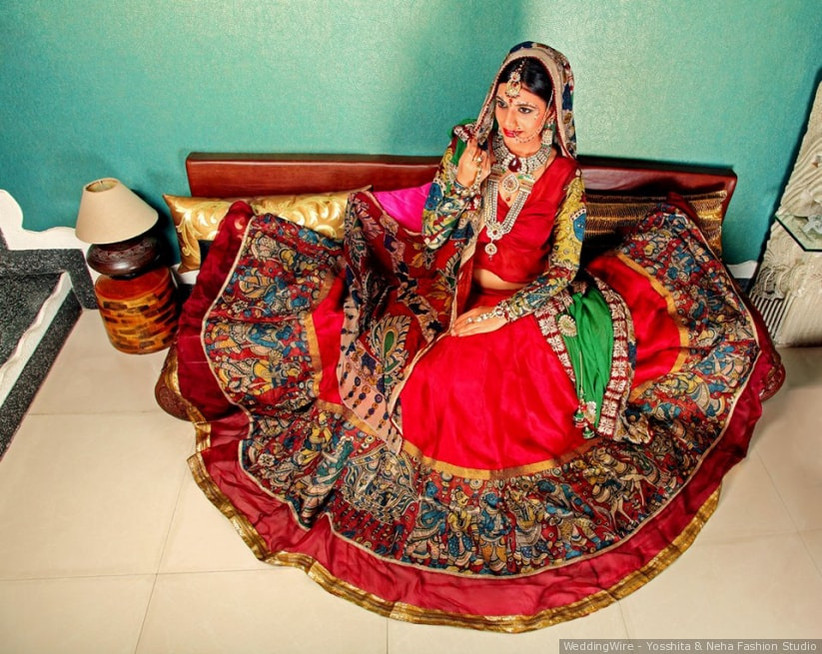 Kalamkari print is the famous hand-painted or block-printed textile, a perfect choice for the brides who wish to go for a theme-based bridal outfit and the artsy lovers for all things mystic and mysterious. Since this technique is handcrafted, the brides can dictate their love stories to the craftsmen and have them create soulful designs which best reflect the journey of the couple from friends to family. You can be one of those brides to have their love story stitched seamlessly on their wedding ghagra and relish it as a memoir of a life well-lived.
Accessories to go with it: With the Kalamkari print, the accessories that would go best would be in silver. Go for chunky oxidised silver jewellery and top your look with it.
5. Banjara Style Outfit for Mehndi
This outfit is a spectrum of colours, it is the true essence of what Rajasthan is all about. For all brides who love colours and are unafraid of adorning bold prints, then a Banjara inspired outfit has your name written all over it. Floral prints, graphic designs, bold statement colours like blue, dark green, emerald, hues of pink and red, while you mix and match your options, incorporate a pair of a trendy cape-style blouse or a shirt blouse along with your banjara inspired ghagra. Brides, it's time you ditch the traditional style drive and go for something out-of-the-box this season for your Mehndi ceremony.
Accessories to go with it: A burst of colours should be complemented with accessories that follow the same fashion. Try going for Meenakari jewellery sets for complementing your outfit since this jewellery style can perfectly match the colour pop of your wedding ghagra.
Write back to us about your own style quotient and how you incorporated one of the above wedding ghagras in your wedding trousseau.