6 Kinds of Silk Thread Earrings to Accessorise Your Mehndi Ceremony Look to Make It Surreal and Unforgettable
Not all silk thread earrings are created alike. We share with you a variety of designs that are lightweight and that you can opt for pre-wedding festivities to accessorise and look stellar.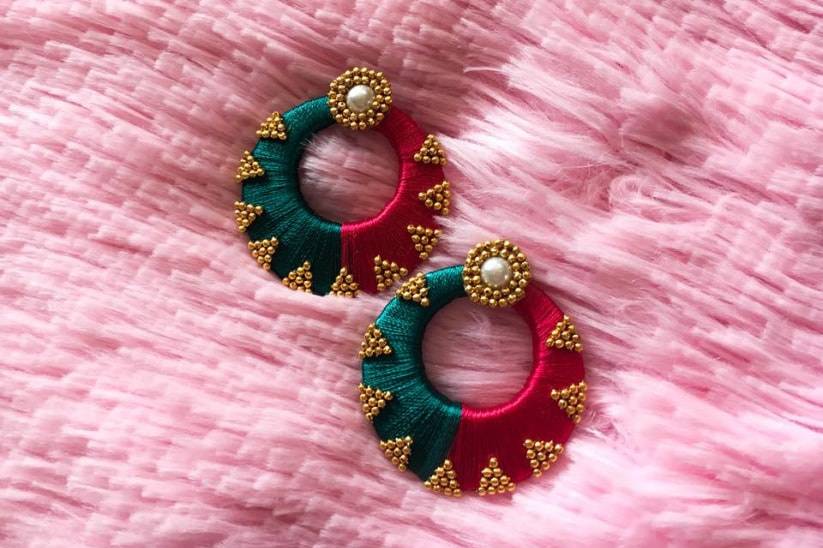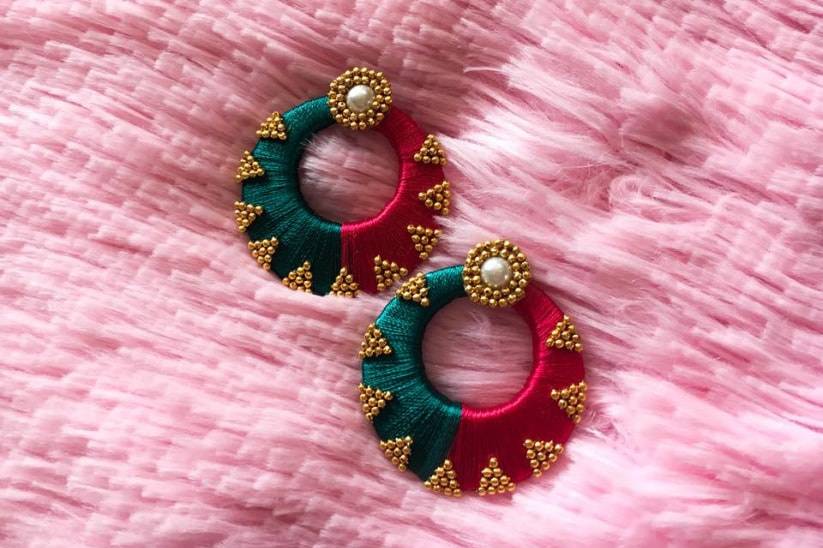 Photo Courtesy: Creative Zip
Among the most common threads used in designing, earring designs are the ones that are made with silk thread. They are rich, beautiful, and are great for wedding festivities. Also as they come in a variety of colours, you can easily pair them with your favourite outfit. From Jhumkas to Chand Balis, we share with you different types of silk thread earrings that are must have and you can also look them up online from jewellery vendors. The best part? They are lightweight and they have a lot of options to choose from that will fit each of your outfits perfectly to accessorise the right way and to make you look gorgeous.
1. Silk Thread Jhumkas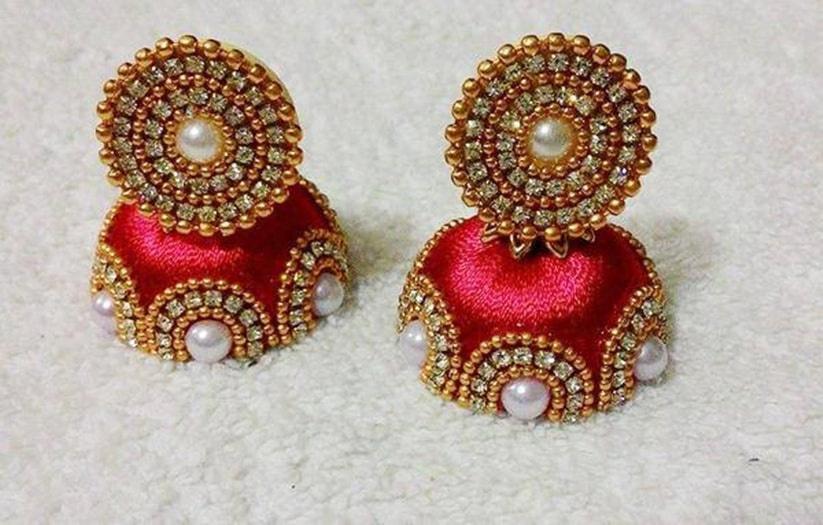 There is nothing quite like a pair of lovely Jhumkas. Better yet when they are the silk thread earrings. Although they work well with any kind of a traditional dress, they look great with a saree or an Anarkali suit. Irrespective of the colour that you choose, pick a pair that's decorated with stones and beads to make a style statement. The bright colours of the jhumkas make it a compatible choice with every type of attire and the variety that they have to offer involves different designs of stones and beads too.
2. Chand Balis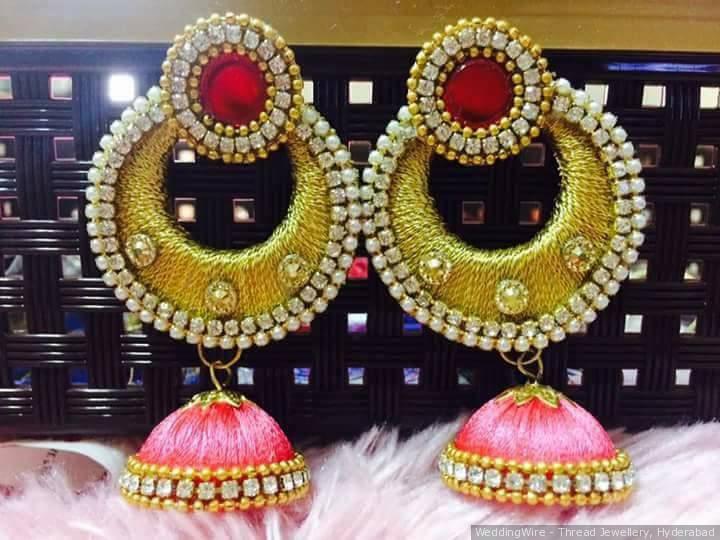 Want to be the best-dressed guest at your friend's mehndi ceremony? Don a pair of silk thread Chand Balis studded with embellishments like pearls, beads, and stones. Wear them with an elegant saree or a shimmery lehenga to garner a lot of appreciative looks. You can pick these gorgeous pair and go for a beautiful floral skirt or even an Anarkali and you are good to go. Did we mention to partially open your hair with these silk thread earrings?
3. Silk Thread Danglers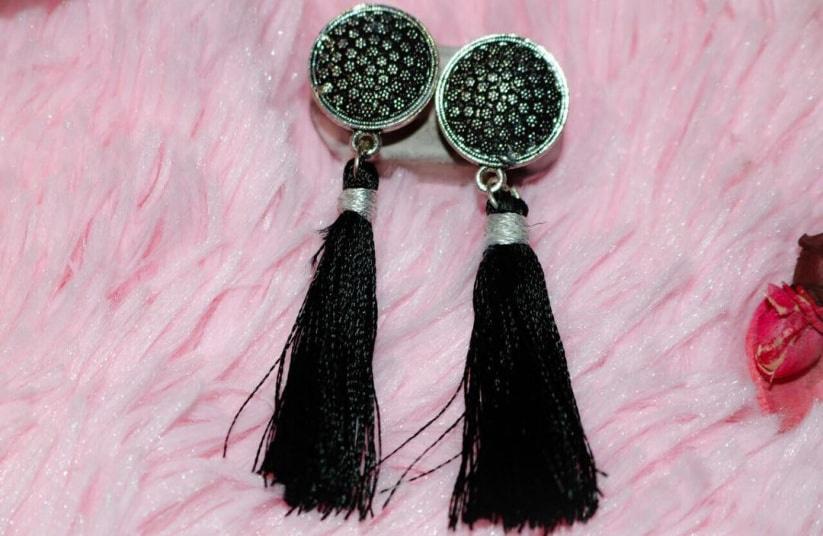 Photo Courtesy: Creative Zip
Planning to tie up your hair for the next occasion and pair stellar wedding accessories and earrings? Consider wearing a pair of silk thread danglers to add dazzle to your overall look. Not only do they go well with all kinds of Indian outfits but they also look great with Indo-western dresses as well. The best part? You don't even have to add a neckpiece as they are grand enough. The tassels are long and fall until the neck that makes you look even more glamorous. The sheen and the shape of the piece frames your face perfectly.
4. Ear Studs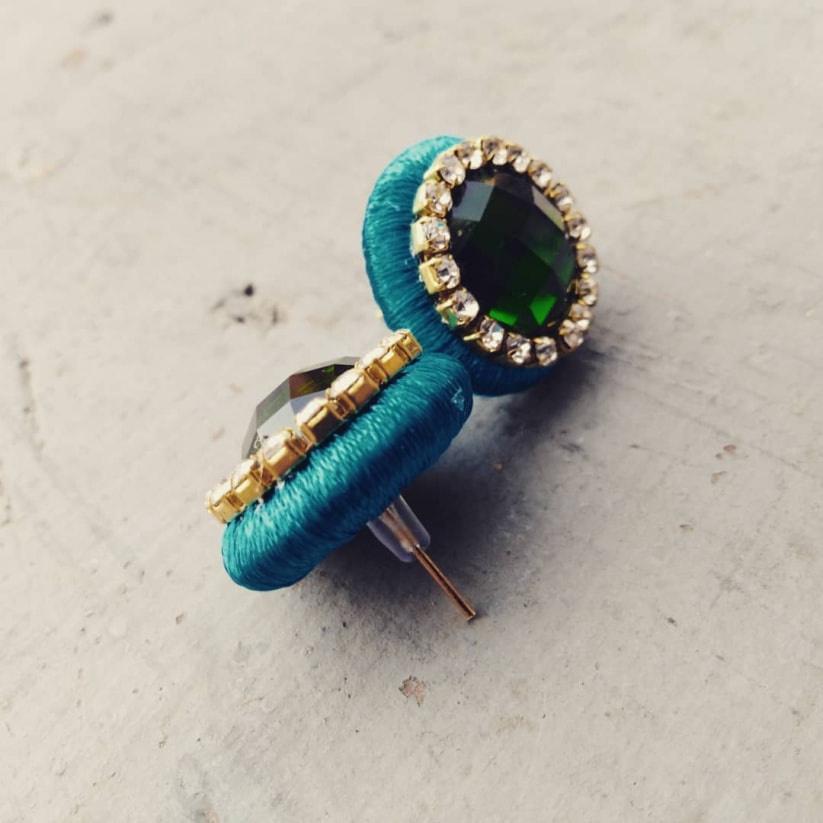 Photo Courtesy: T&J Fashion Clothing Instagram
For those who don't like hanging earrings like danglers or Jhumkas can always opt for silk thread studs. Irrespective of what you wear, they look beautiful and stylish. Just make sure to tie up your hair into a chic bun so that the gorgeous silk thread earrings are visible. If the bun is not your style, at least keep your hair strands behind the ears. The work of thread in the studs are worth praising because of the precision and the perfect finishing.
5. Pom-Pom Earrings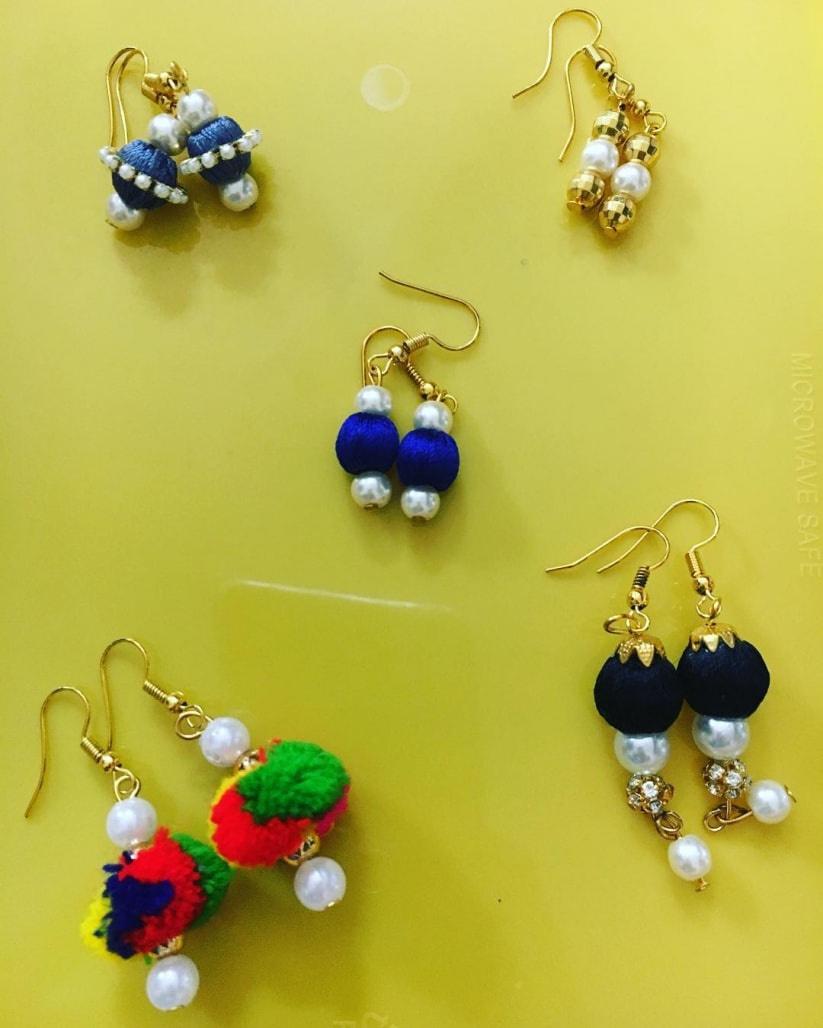 Photo Courtesy: Creative Zip
Pom-pom earrings with silk thread have been quite a craze in recent time and for good reasons. You can adorn it with western as well as ethnic ensembles. Wear them for the next mehndi or sangeet function and be sure to fetch a lot of compliments. They are eardrops that come in different sizes from smaller ones to the ones that are long and bigger and each of them boasts of unique colours that you can choose for different ceremonies and match it up with your attire.
6. Tiered jhumkas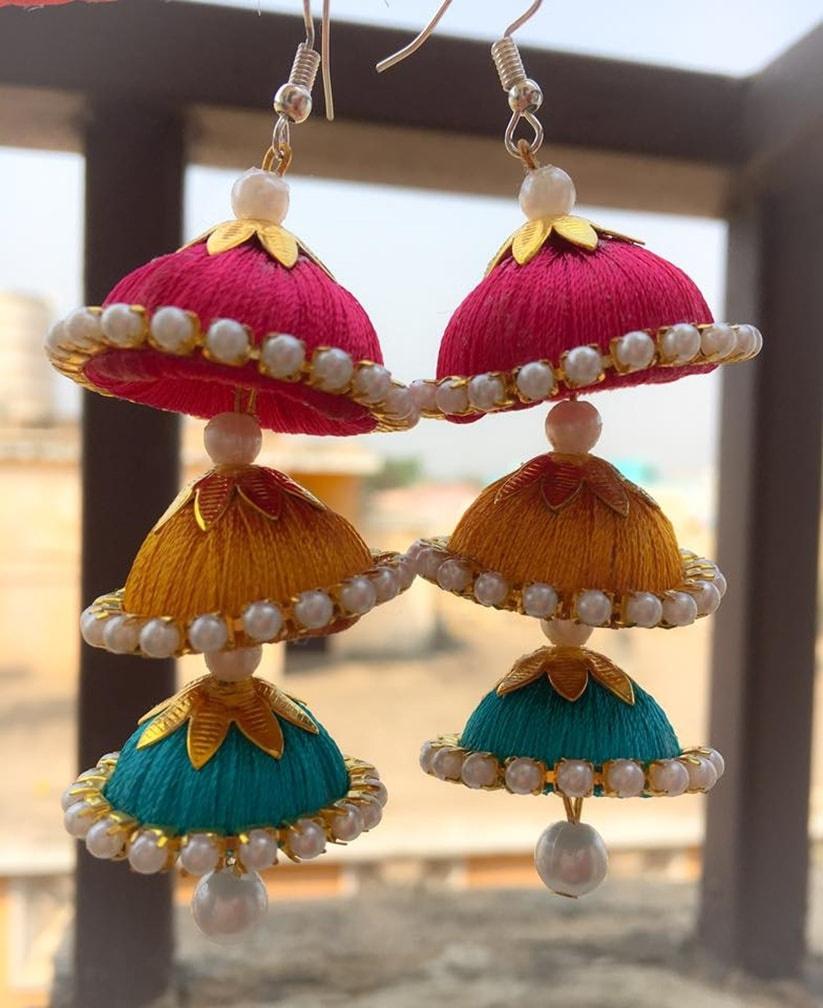 Photo Courtesy: Creative Zip
A fresh new take on the traditional Jhumkas, silk thread earrings that is a tiered pair, is all you need with a simple lehenga or an Anarkali suit. When decorated with gold metal balls or a diamond stone chain, it is a perfect accessory for big days as well. They are almost like chandeliers and they will make a regal appearance like the Devasena earrings that bring out the royalty in you when worn with the right dresses and with the right ceremonies lined up.
Silk Thread Earrings Care Tips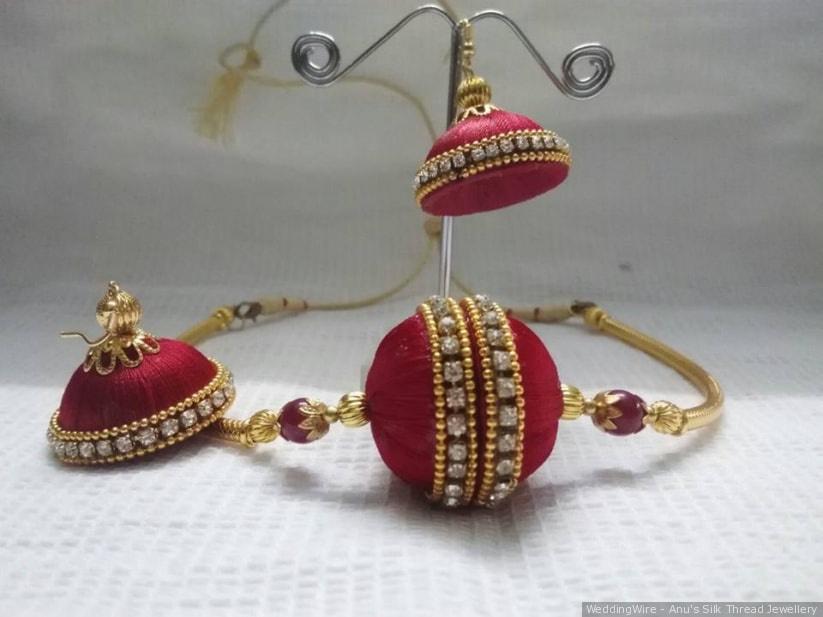 We share with you some tips to keep the handcrafted pieces of silk thread earrings safe and clean.
1. Keep away from liquids
Always keep your silk thread earrings away from water and any other type of liquids. Do not wear it while getting your hair done for the occasion. A good rule of thumb is to put on your jewellery at last and take it off first. You do not want the hair spray or curling iron to find a way to ruin it.
2. Handle with care
To prevent damage, do not drop the earrings on the floor as stones and other embellishments may come off. They are very delicate jewellery pieces that have been made for special occasions and throwing it off or misplacing them makes it a wardrobe malfunction that you do not want to face especially before the wedding.
3. Avoid chemicals
Keep your handmade earrings away from perfumes, deos, and cosmetics as these products can cause decolourisation of your jewellery. Make sure to wear them after applying lotion, make-up, and wearing perfume.
4. Don't put pressure
While wearing and taking off the earrings, do not put a lot of pressure on the embellishments as they can fall down due to their delicate nature.
5. Store Properly
Post usage, store silk thread jewellery pieces in a plastic box to avoid dust and moisture. Also, make sure to keep plain earrings and embellished earrings in separate boxes.
Best Occasions to Wear Silk Thread Earrings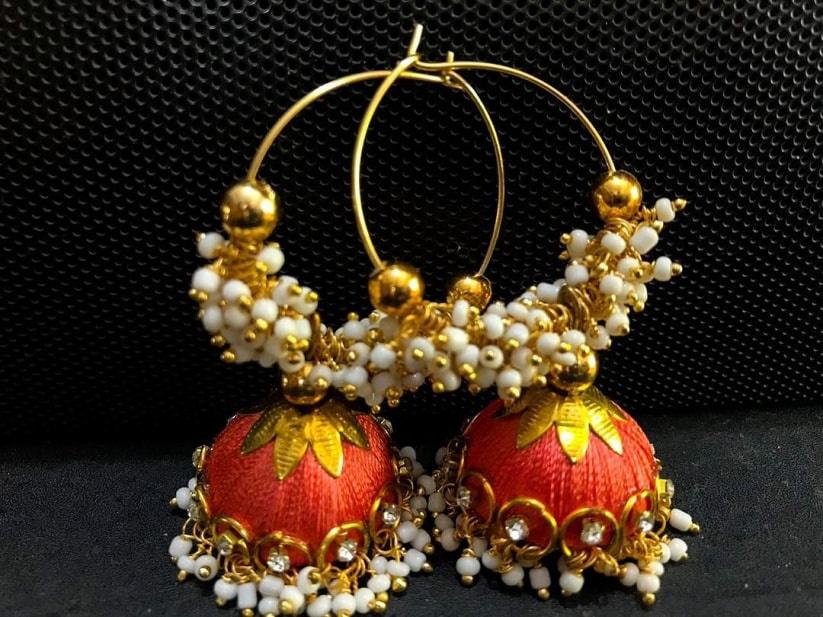 Photo Courtesy: Creative Zip
We can't agree enough that some types of jewellery are best reserved for special occasions, and silk thread pieces are no different. As they are usually light and inexpensive they are great for smaller events like mehndi, haldi, or sangeet. Consider building up a collection of these earrings in various designs, sizes, and colours so that you can mix and match if you want to.
Silk thread earrings, when paired with the right outfit, can really make you shine from within. Just make sure to maintain them properly so that they do not lose their original lustre.
What do you think about these earrings? Which ones would you like to flaunt? Let us know through comments.