The Latest Lancha Dress Designs Are Here To Take Your Breath Away
Looking for a graceful Lancha dress? Take a look at some of the gorgeous designs and update your bridal outfit wardrobe with eminence. Keep scrolling to know more!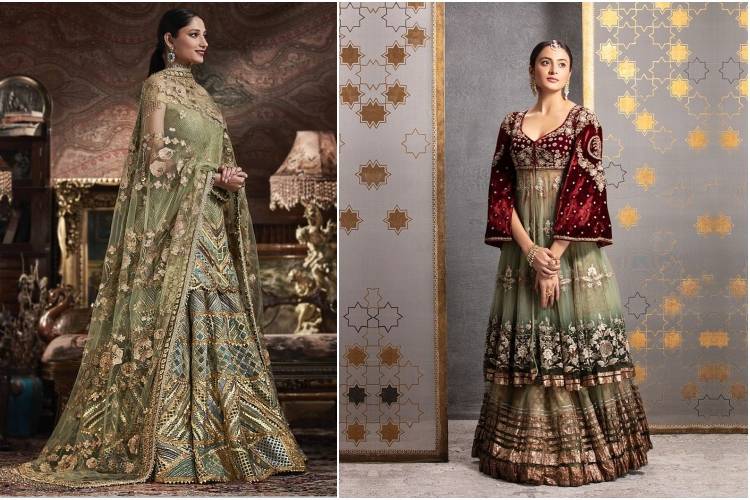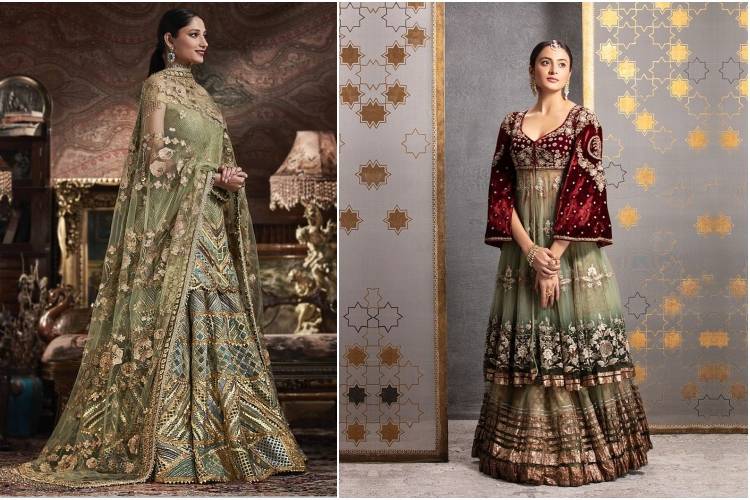 Image Courtesy: Anju Modi, Rimple & Harpreet
The charm of Indian weddings lies in the rich culture and colourful ceremonies. But the #ShadiFun is incomplete without the perfect traditional outfits. If you are the bride who loves everything trendy, then we have got you covered. Off-shoulder and short blouses are breathtaking but the charm of long blouses has topped the fashion with grace. Are you on a lookout for something classy yet elegant? Let Lancha dress be your saviour for your big night!
A Lancha dress has its own unique characteristics and fascinates the eyes of the beholder with its grace. Instead of the regular short blouses, a Lancha style has a much longer choli, mostly covering your stomach. It can be long till your calf or your ankles as well. The skirt is also limited in its flair or plates.
While lehengas are an all-time craze, Lancha fits perfectly if you want to experiment and pick a more traditional approach with your attire rather than choosing similar outfits for all your wedding functions. We've put together some amazing bridal Lancha dresses that can top your bridal wardrobe. Scroll up and tick your favourite Lancha dress!
Lancha Dress For Engagement
An engagement dress adds a pinch of glam to the new beginnings. Why not pick the right outfit and commence the new journey with happiness? Engagement dresses can be traditional, classy, or modern; there are too many options to make your precious day a memorable one. Ladies lancha dress is one outfit which brings elegance and class at the same time. We have picked the best lancha dress images for your engagement ceremony!
Bold Acid Green Lancha Dress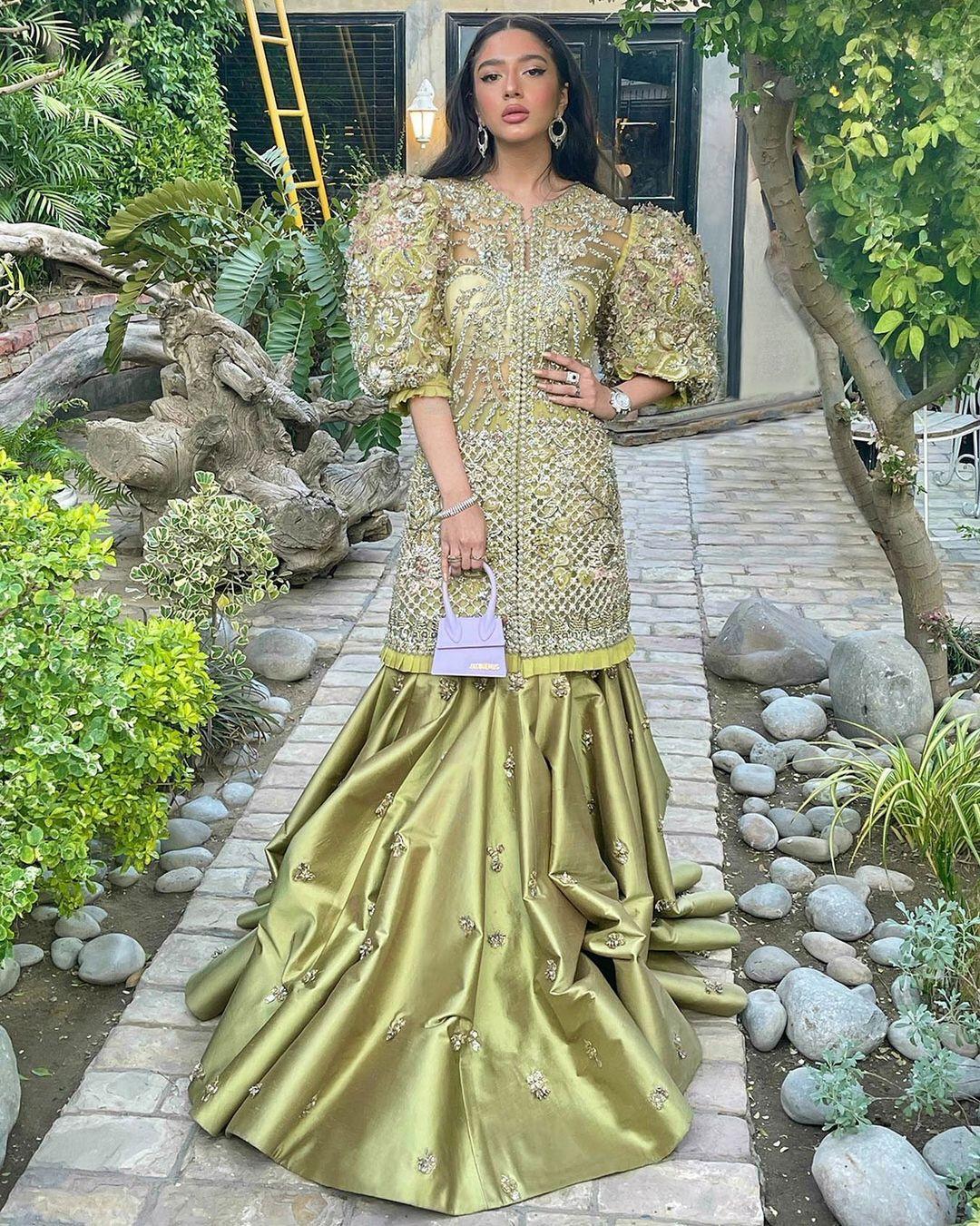 Image Courtesy: Elan Official
Wish to make a bold statement at your engagement ceremony? This lancha dress is an apt choice that will sprinkle your new beginnings with joy. This is one of the best lancha dresses we have ever come across. The exaggerated puff sleeves are fully hand crusted with Swarovski, pearls, and sequins. This lancha dress image is from the collection of Elan official. We are swooning over this ultimate lancha dress. Get wed ready while you pick this gorgeous dress!
Dreamy Ice Blue Lancha Dress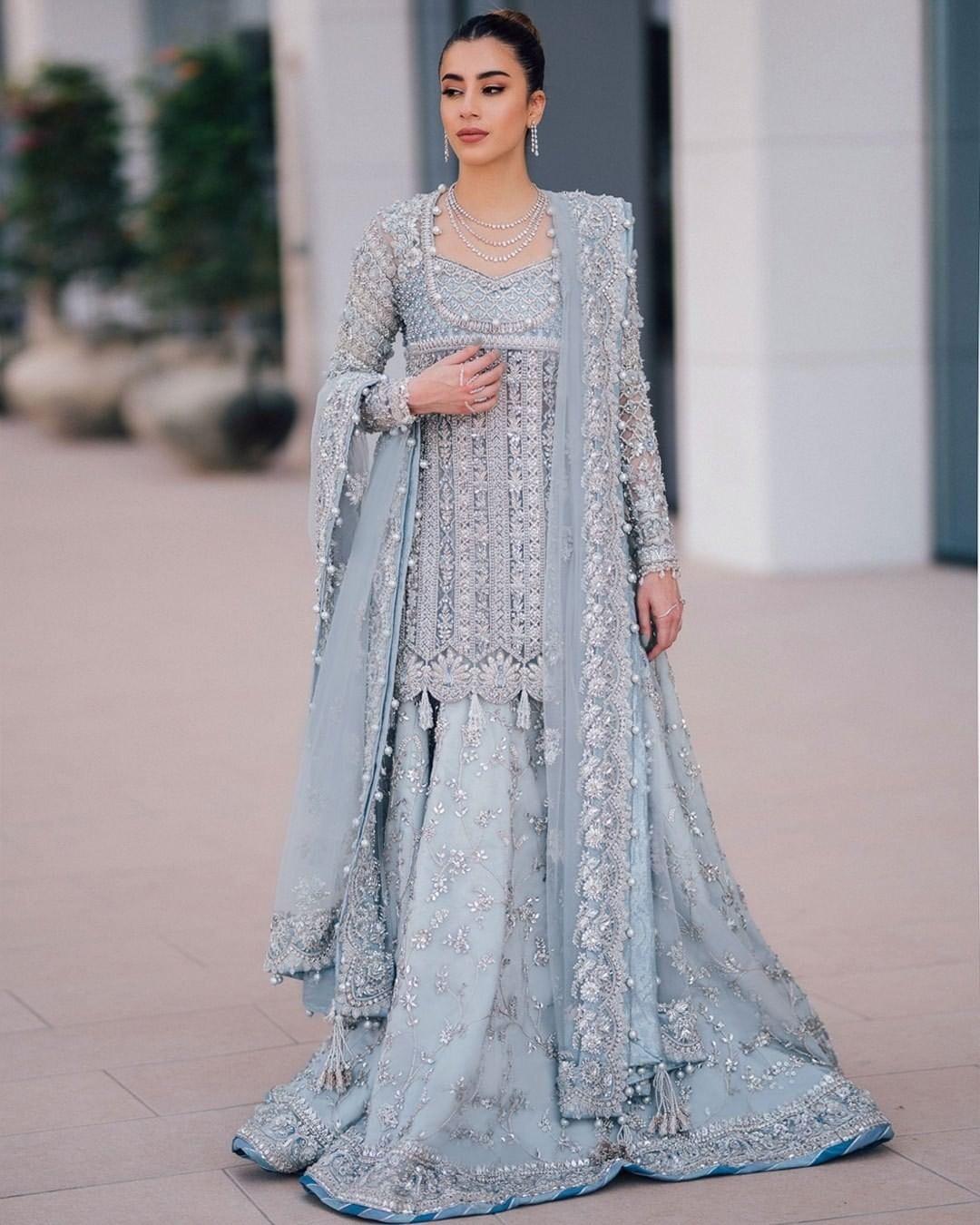 Image Courtesy: Elan Official
This icey blue lancha dress shouts regal! We cannot keep our eyes off this thermal and jaw-dropping dress design. This lancha dress for engagement is heavily embellished with silver work and complements well with the soothing colour. This ladies lancha dress is from the collection of Elan Official and looks effortlessly gorgeous.
Peplum Lancha Dress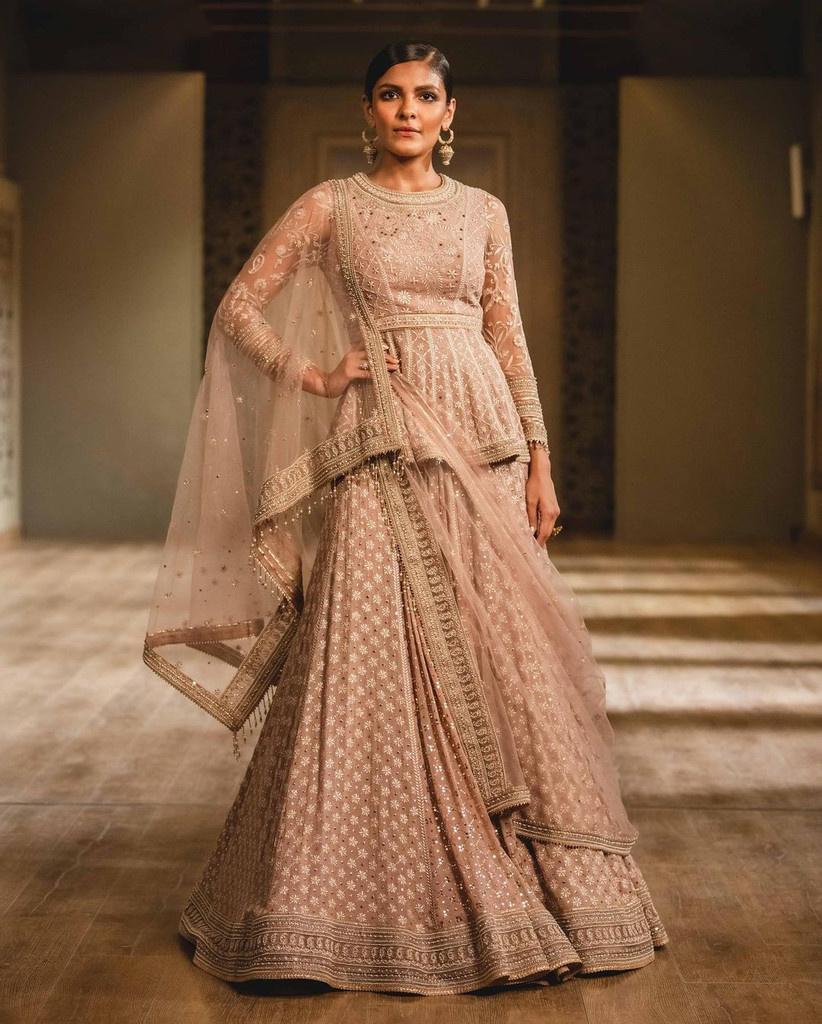 When we talk about class, peplum always ushers the way! Are you a big lover of peplum blouses and planning to wear a Lancha dress for an engagement ceremony? This breathtaking outfit from the collection of Tarun Tahiliani is definitely what you need. When Mukaish and Chikankari embroidery meet, the glow of the outfit heightens. The gold embellishments and neat embroideries are nothing short of stunning. This simple Lancha dress paired with a tulle dupatta is perfect to ace your wedding functions with liveliness.
Lancha Dress For Mehndi Ceremony
If you are a 2021 bride, we highly recommend you to add a pinch of glitz and glam to your mehndi dress. Looking for a perfect outfit to rock your mehndi function? A party wearing a lancha dress is all you need to begin the precious mehndi ceremony with comfort. Here are some alluring lancha dresses for ladies which will elevate the #GharKaFunction with ease.
Black Moscow Lancha Dress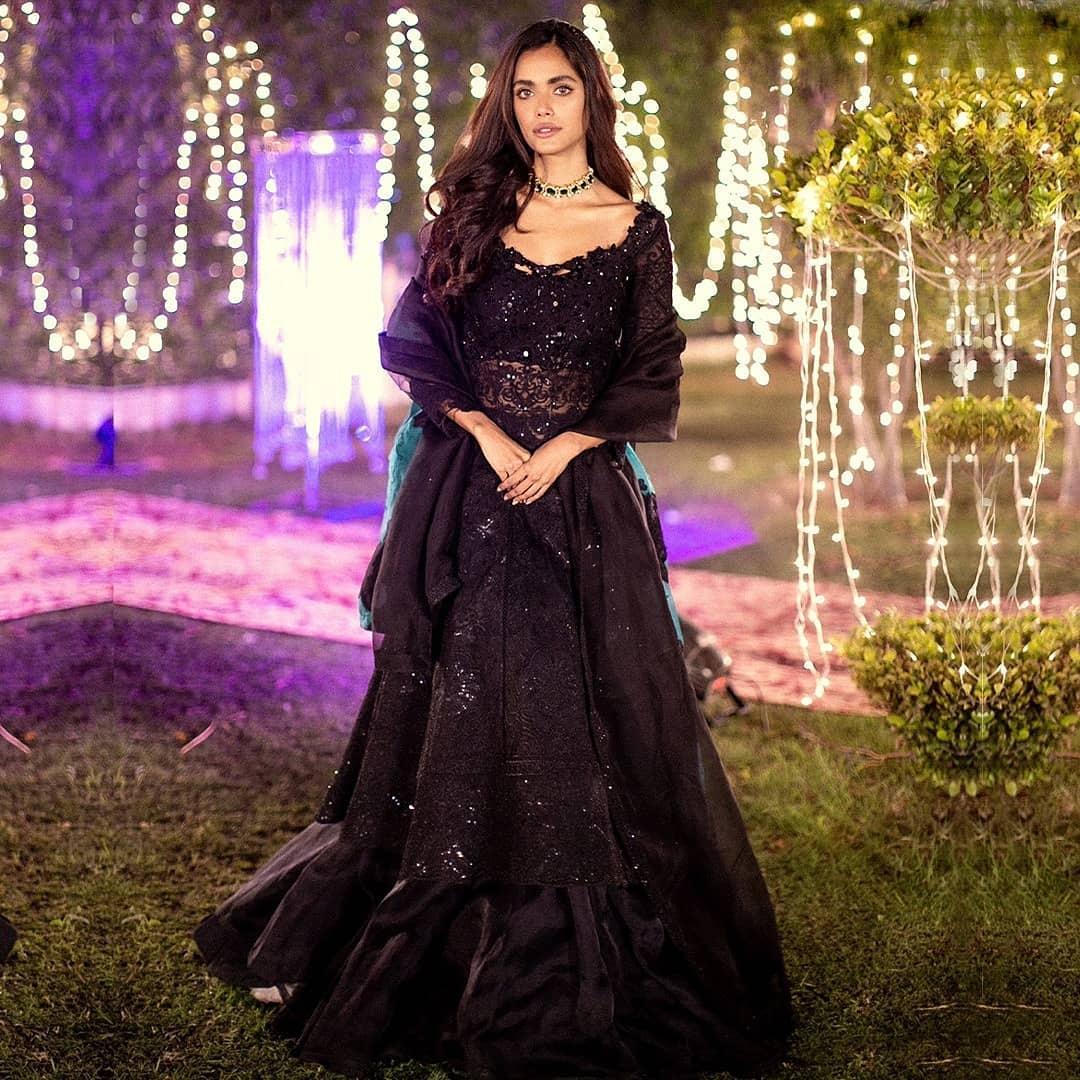 Image Courtesy: Zainab Salman
Wish to ace your #ShavaShava moment? This magnificent black lancha dress design is perfect for your mehndi ceremony. This stunning lancha dress is from the collection of Zainab Salman and screams beauty. The beautiful cotton blouse matches well with the gorgeous organza skirt. The well-embellished sleeves are all you need to pop the moment with an ace!
Lively Ivory Lancha Dress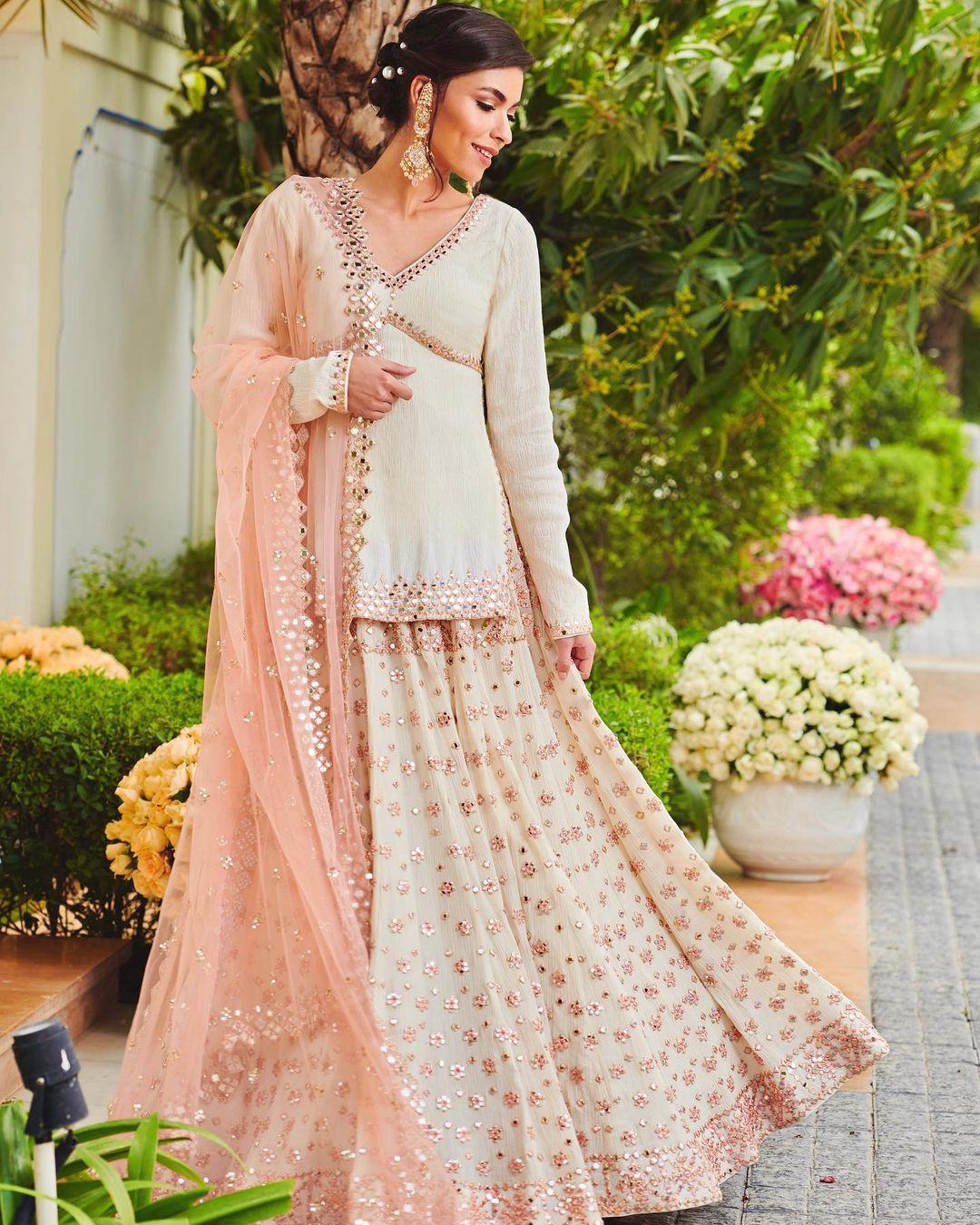 To all the brides-to-be planning to pretty-up their bridal wardrobe, this simple Lancha dress from the collection of Abhinav Mishra is an ideal pick for you. The combination of Zardozi work and mirror work uplifts the charm of the outfit to a greater level. The mesmerising chiffon Lancha dress for ladies is paired with a net dupatta is all you need to set the blushy aura with grace and glam.
Twirl Worthy Lancha Dress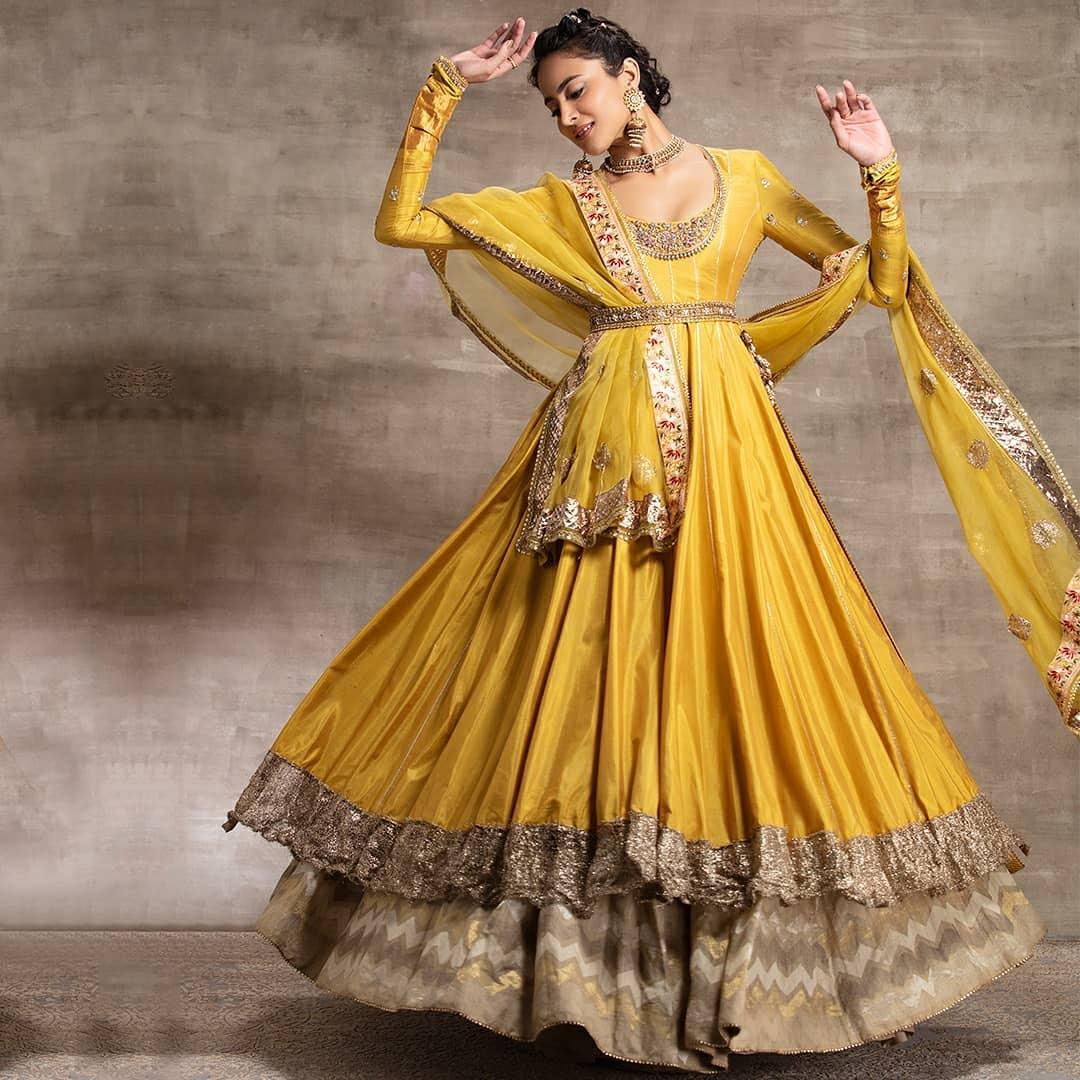 Image Courtesy: Anju Modi
Escalate your 'Maharani' feelings while you twirl in this regal Lancha dress design. When we talk about grace, Anju Modi's collection slays. The toosh skirt topped with 'Haldi' Anarkali and organza dupatta is an absolute pick for your pre-wedding functions. We are crushing over the sequin belt which is giving some major empress feels!
Red All The Way
If you are a bride-to-be who loves raw silk outfits and is looking for something elegant and red for your pre-wedding functions, this glimmering Lancha dress is all you need to add to your aura. The blend of raw silk fabric and minimal mirror work on the hem adds to the charm of the bride and is sure to leave you amazed! Abhinav Mishra's wardrobe never disappointments the brides and we just cannot take our eyes off this stellar long blouse dress. You can opt for this outfit for your intimate wedding ceremony too.
Imbibe The Subtly Vibe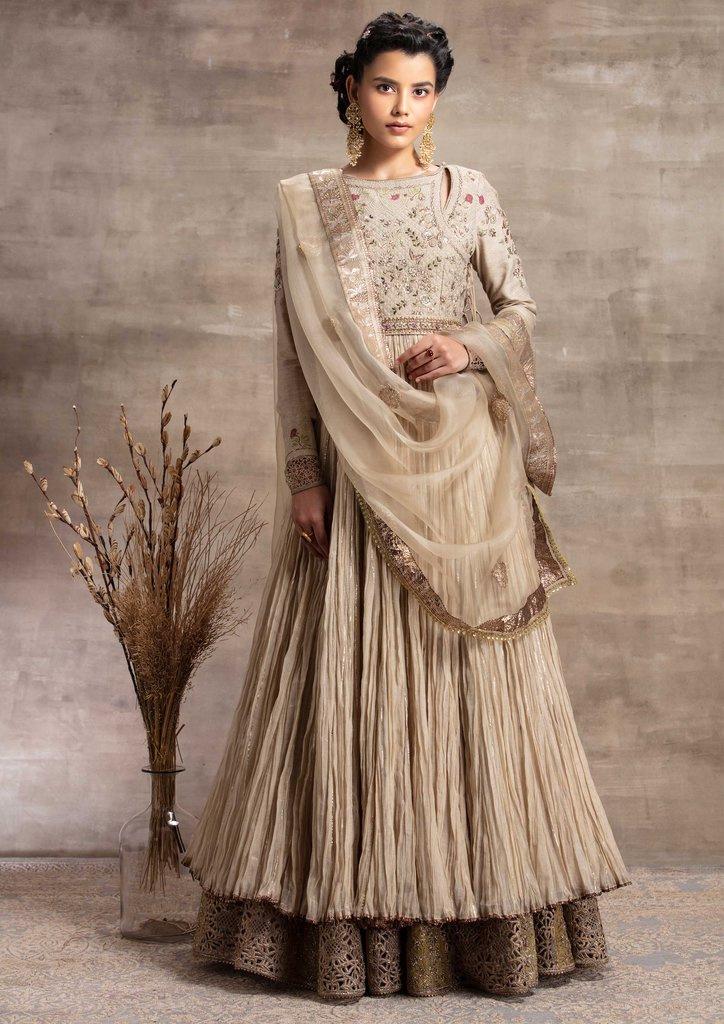 Image Courtesy: Anju Modi
What's better than showing off your thumkas in a comfortable yet beautiful outfit? This new Lancha dress from the collection of Anju Modi is all about charm and finesse. Raise your style quotient on your sangeet with intricate embellishments and embroideries of the dreamy outfit. The toosh Anarkali is surely going to make you look like 'Gulab Ki Kali' on your auspicious day.
Lancha Dress For Wedding
While lehengas are the typical flavour of the wedding season, a lancha dress makes way for bling! To all the brides-to-be planning to don comfort and throw a shade on 'Maharani' vibes, these lancha dress designs can not go wrong. Amp up your bridal beauty while you pick the best lancha dress from the given list!
A Dramatic Lancha Dress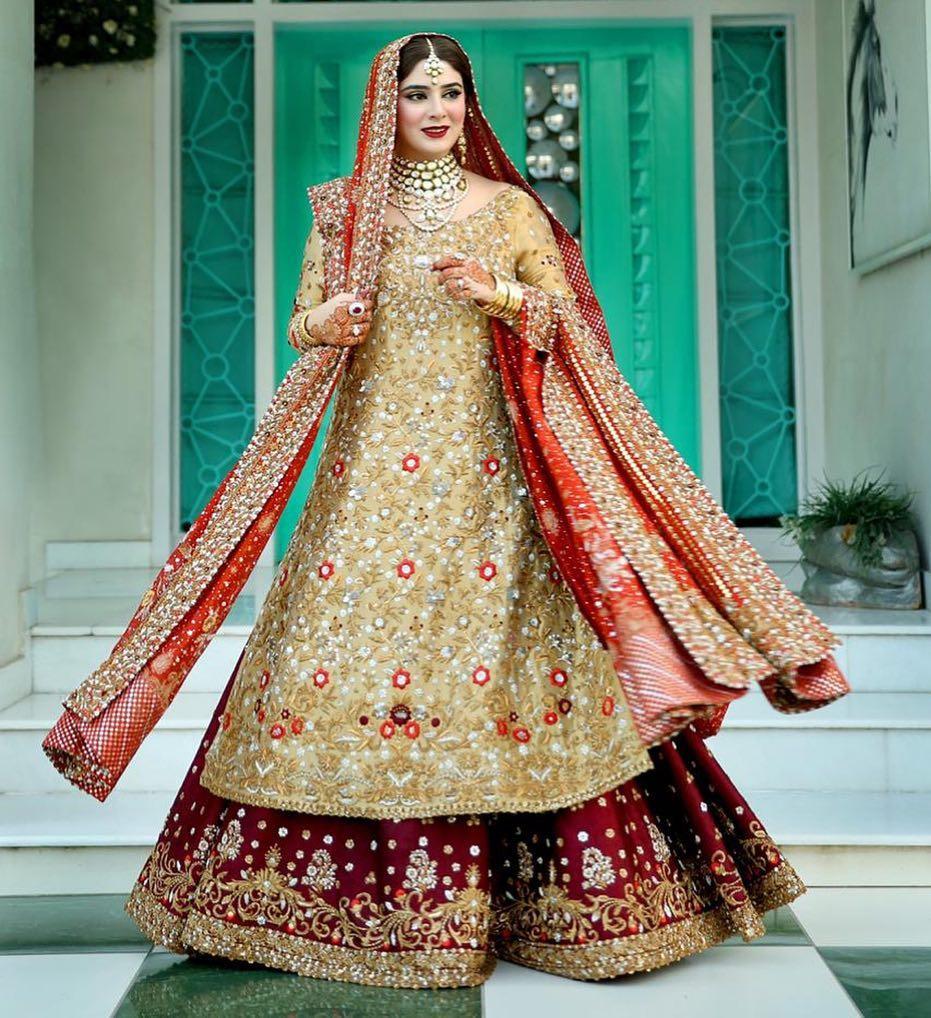 Image Courtesy: Bunto Kazmi Official
This lancha dress image is what makes a twirl-worthy moment perfect! What is a better colour combo than gold and red? Though heavily intricate, this mesmerising lancha dress has left us awestruck! This outfit from the collection of Bunto Kazmi Official is a perfect pick for your princess day. Add a heavy element to your D-day outfit while you hit the stage of new beginnings with glam.
Crimson Red Lancha Dress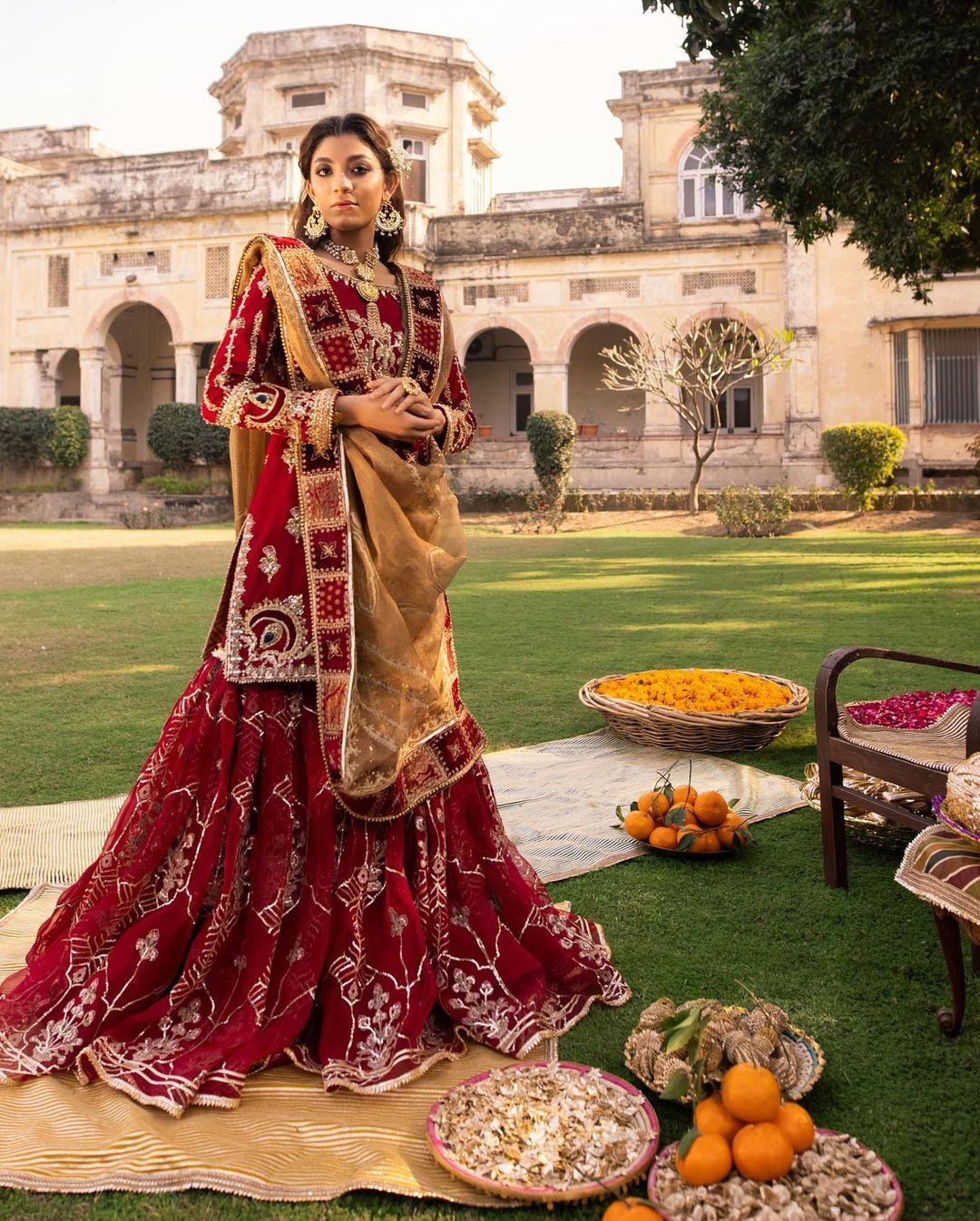 Image Courtesy: Mohsin Naveed Ranjha
Isn't that a gorgeous lancha dress? To all the brides-to-be planning to imbibe the 'Raani' feel at your wedding function, this is it! The crimson jali kameez is studded with the 'Chaand Bala' motif work and looks beautiful. The stunning block work dupatta set on zari net adds a cherry on the cake. We love the mix and match elements in this lovely dress. Mohsin Naveed Ranjha makes sure to make the outfits look regal and elegant.
The Regal Lancha Dress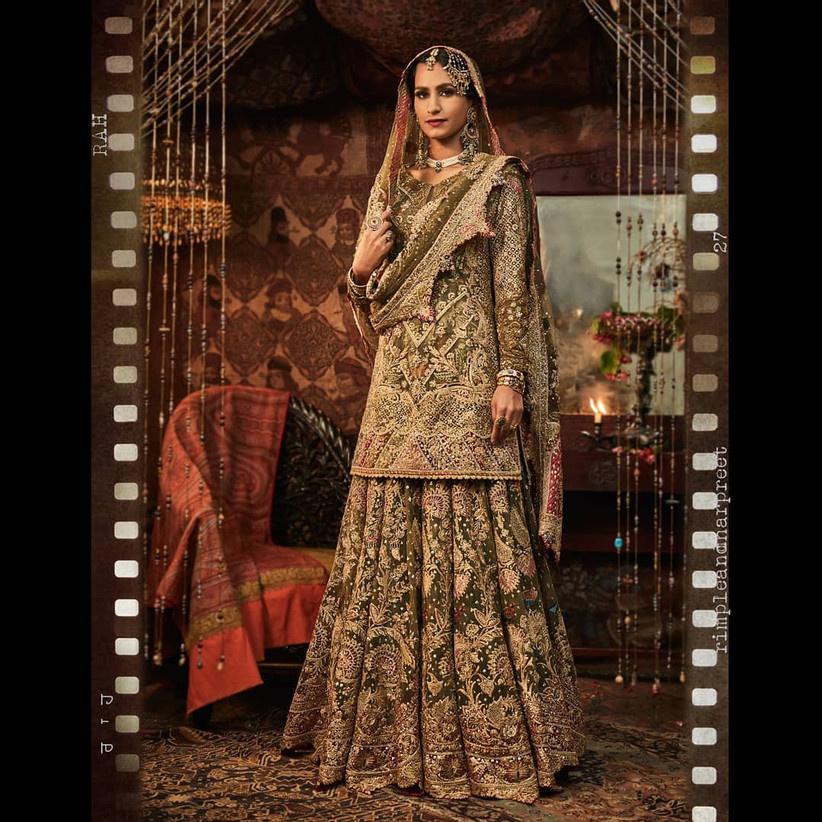 Level up your princely vibes by opting for this forest green ladies lancha dress and turn the tables of royalness with glam. This extremely unique design features flora and fauna motifs and is capped with geometric patterns. The tulle dupatta perfectly complemented the lancha dress to make your precious day memorable and priceless. If you want a blend of sharara and ladies lancha dress for your bridal outfit, then this is it!
Stellar Pink Lancha Dress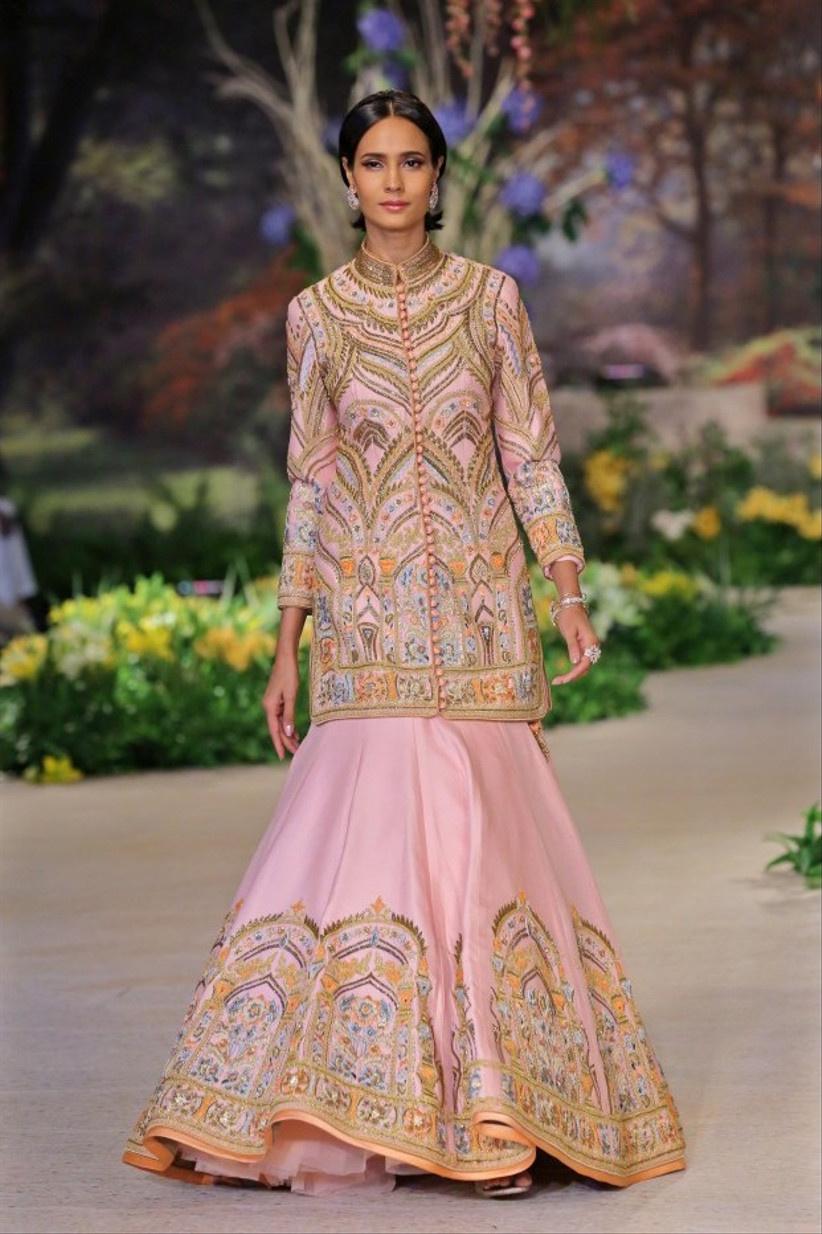 The essence of a striking long blouse and the flared skirt hits our traditional bones differently. This new Lancha dress is perfect for a sundowner wedding. The katdana and multi-coloured threadwork with hand embellished Chanderi silk jacket is giving us some major #bridaloutfit goals. Opt for this Lancha dress for those queenly feels!
A Lancha dress design is not only a great break from all of your other looks but also is a more comfy option to go for your wedding functions. Enchanted much? Fill up the traditional space with these ladies wear Lancha dresses and hit your big day with eminence and charm.
Which one is your favourite design? Let us know under the comment section below!