Anju Modi Brings to you 'Sindoori' - The Unforgettable Collection for FDCI India Couture Week 2020
Watch magic unfold with Anju Modi's ethereal collection 'Sindoori' at the FDCI India Couture Week 2020. Here are all the details of her designs!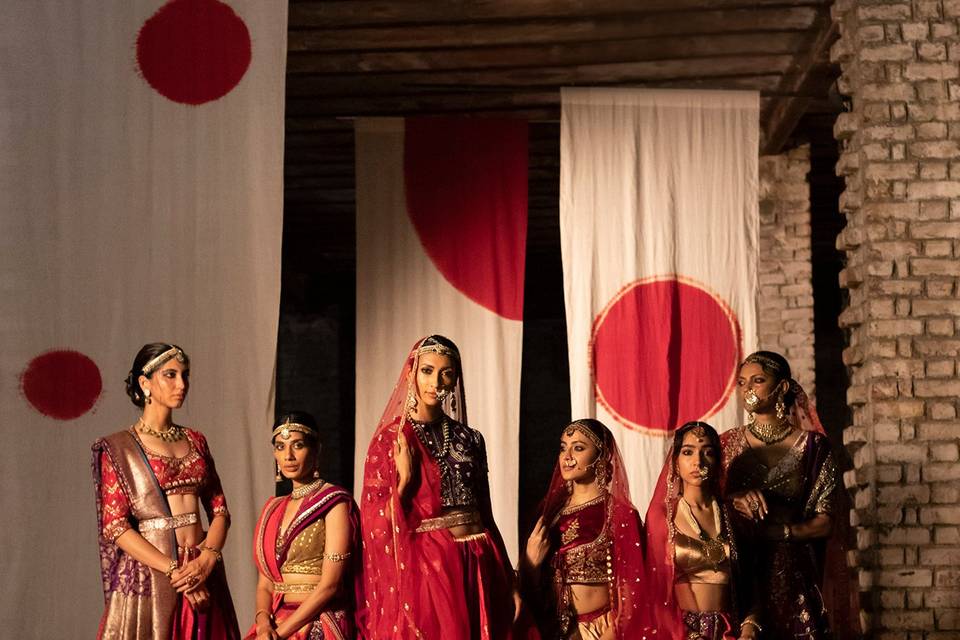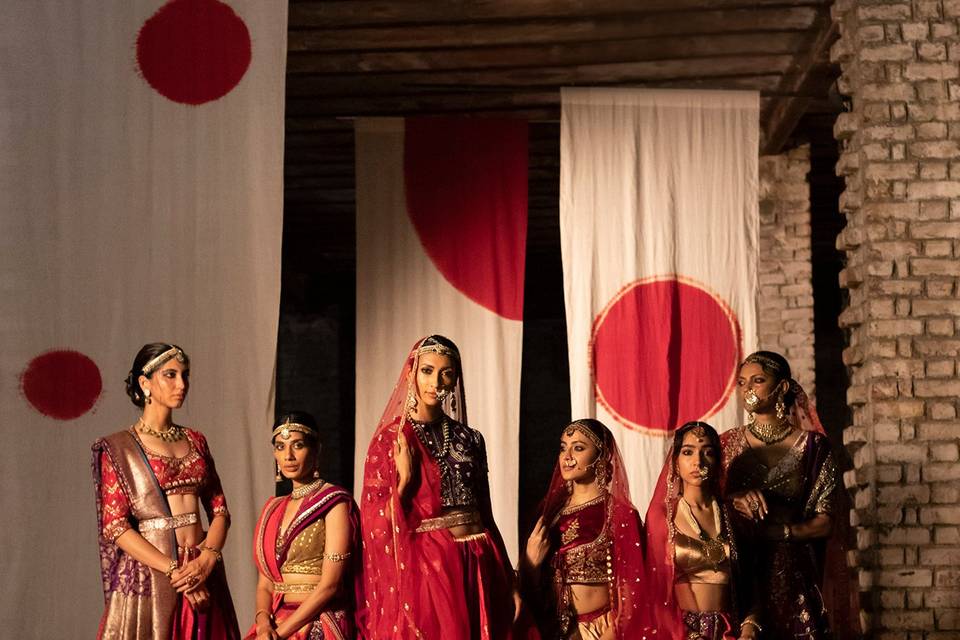 FDCI India Couture Week 2020 quickly and beautifully adapted to the wave of digitisation that has conquered the globe due to the pandemic. Bringing mind-blowing showcases to the individual screens and inspiring every person to dress up in India's traditional best, this year's couture week was one of its kind.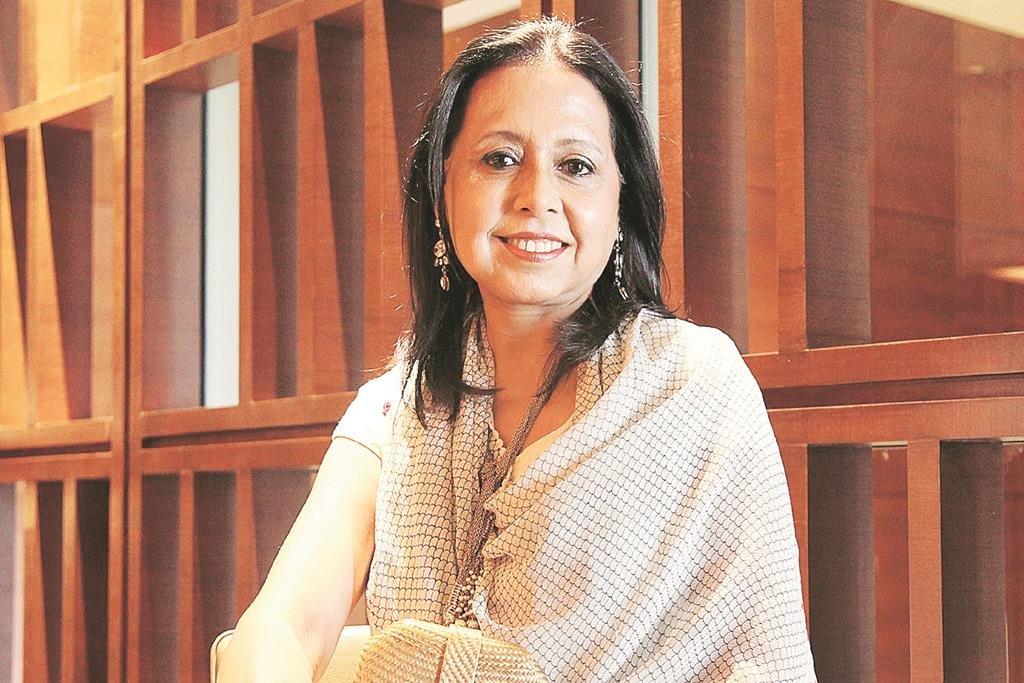 Image Courtesy: Anju Modi
As veteran designer Anju Modi's couture film unfurled on my screen, I could not help but recall all the mesmerising stories that celebrated Mirabai. Is it the magical mysticism of the sitar in the frame or is it the white flowy fabric oozing tranquillity? The designer's narrative of fashion, inspired by the bygone eras is leaving me spellbound.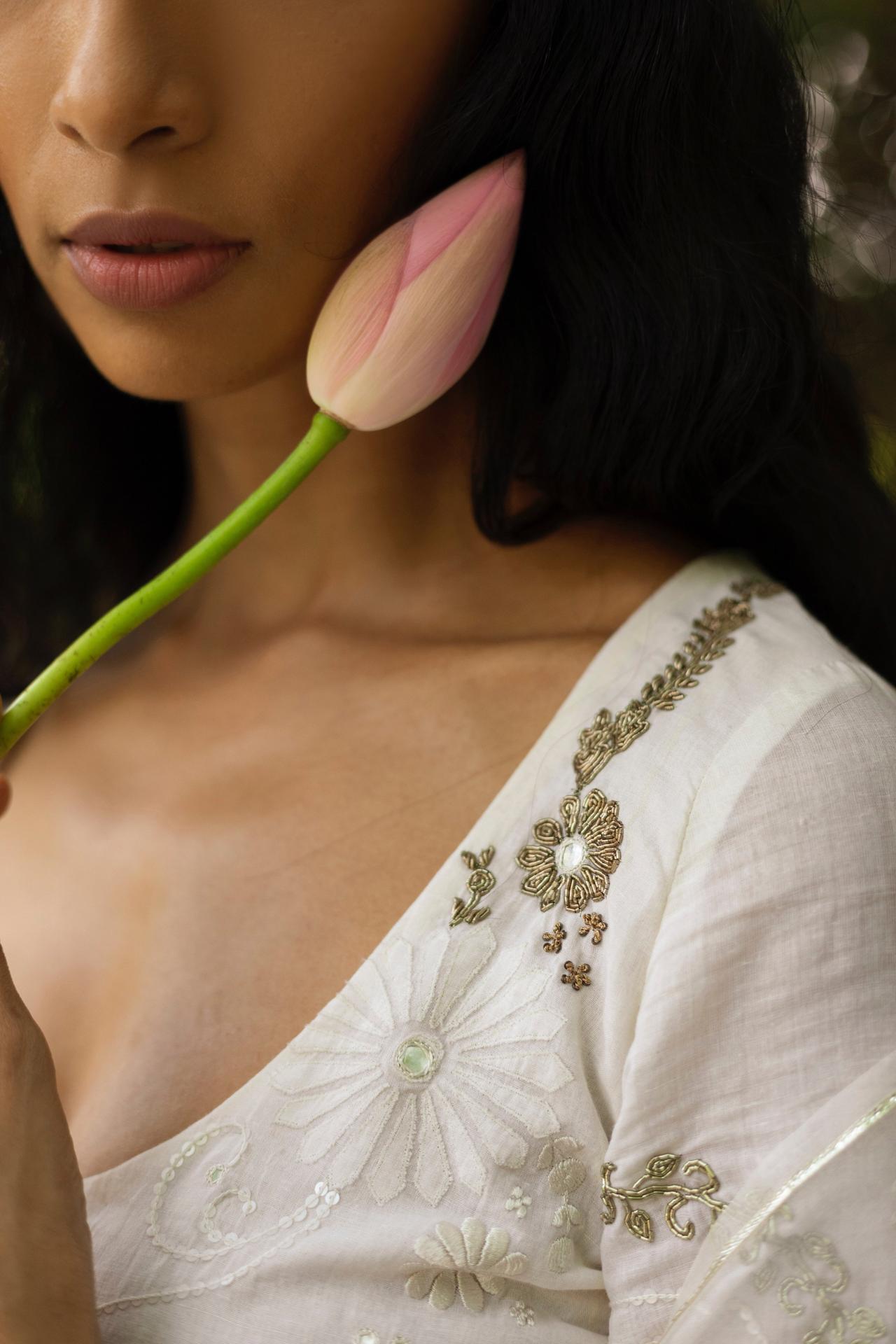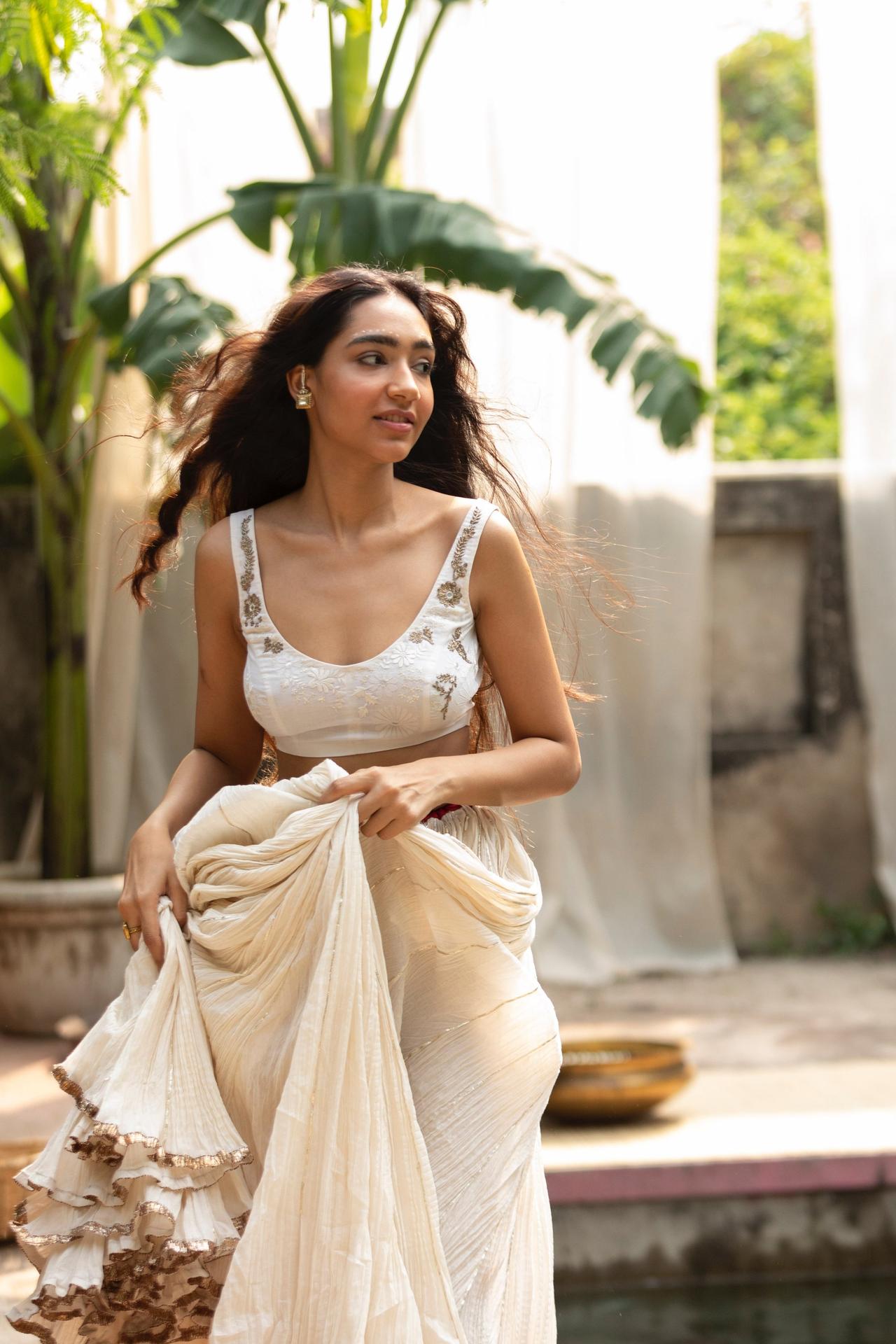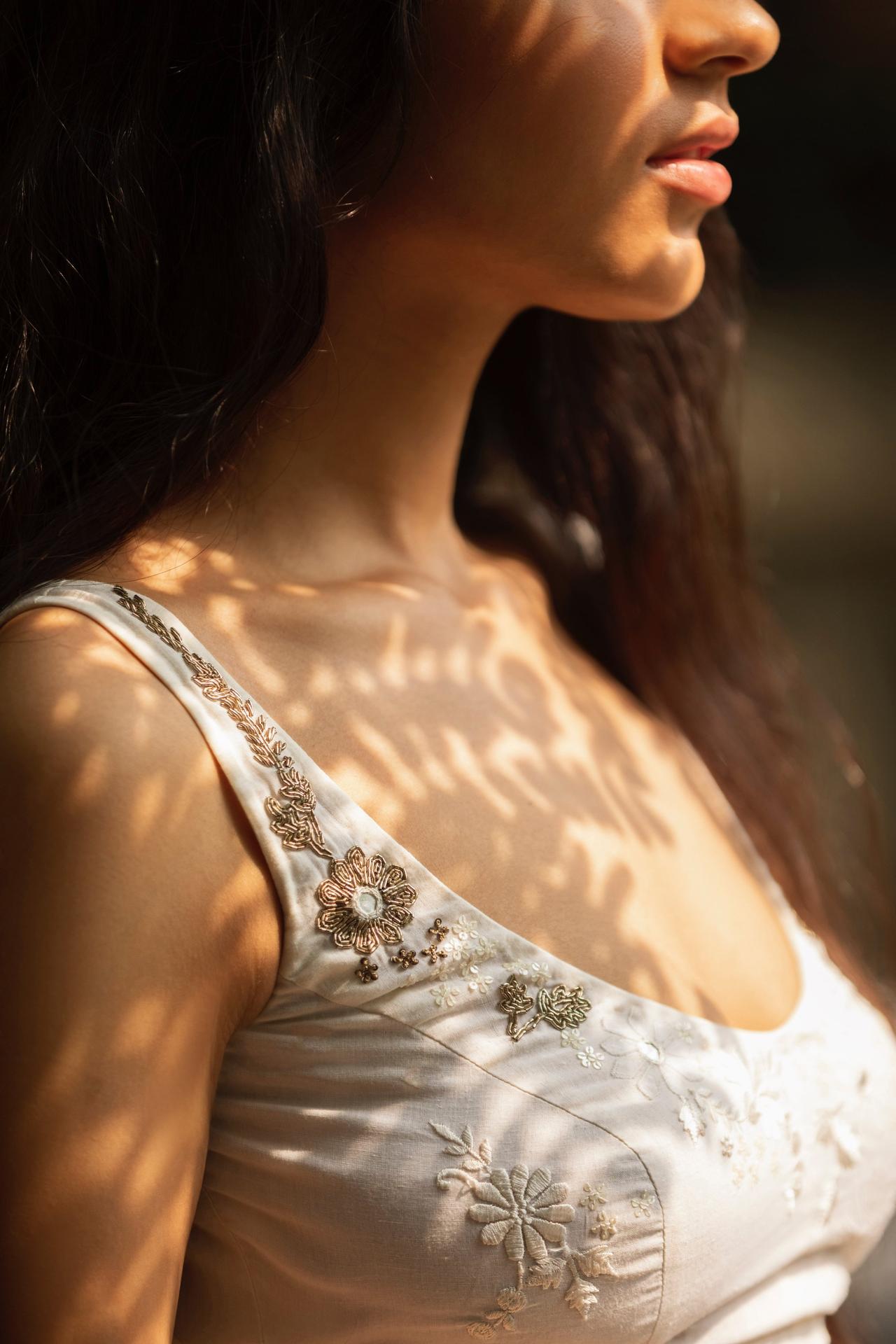 Speaking of her collection, Modi says, "I am bringing back all my old-world charm of the women and the girls with the Pokhar and rituals like Haldi-Mehndi celebrations. The unprecedented times which we are all enduring now have brought a lot of new perspectives and have inspired my collection which I am calling the Sindoori. With more and more intimate weddings happening around us, the brides are anxious about what will look good on them, what colour should be a safe pick and my suggestion to them would be to wear the good old reds - Sindoori red. Arriving at her D-day, the bride will be dressed in Sindoori red and that is how I am building this story."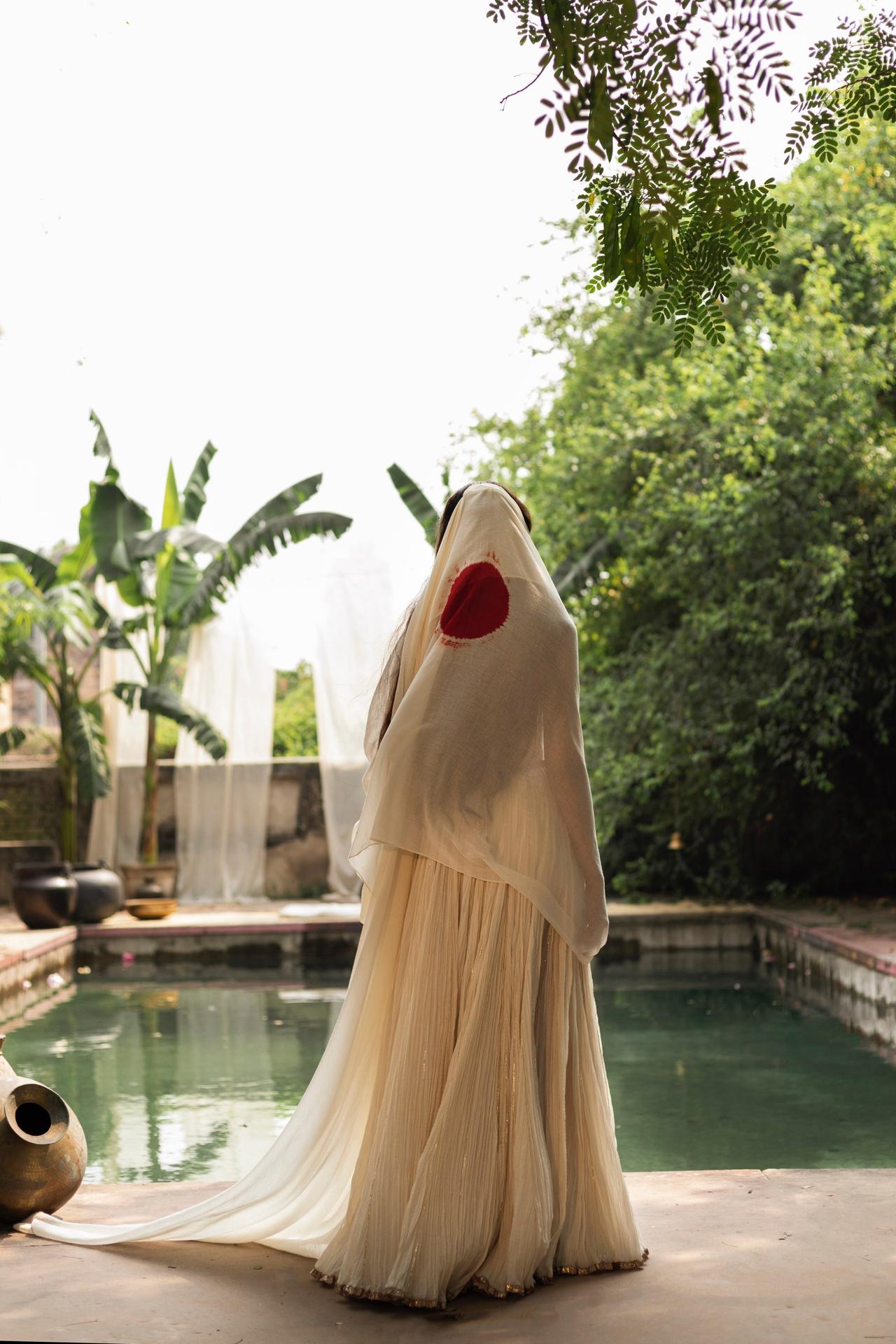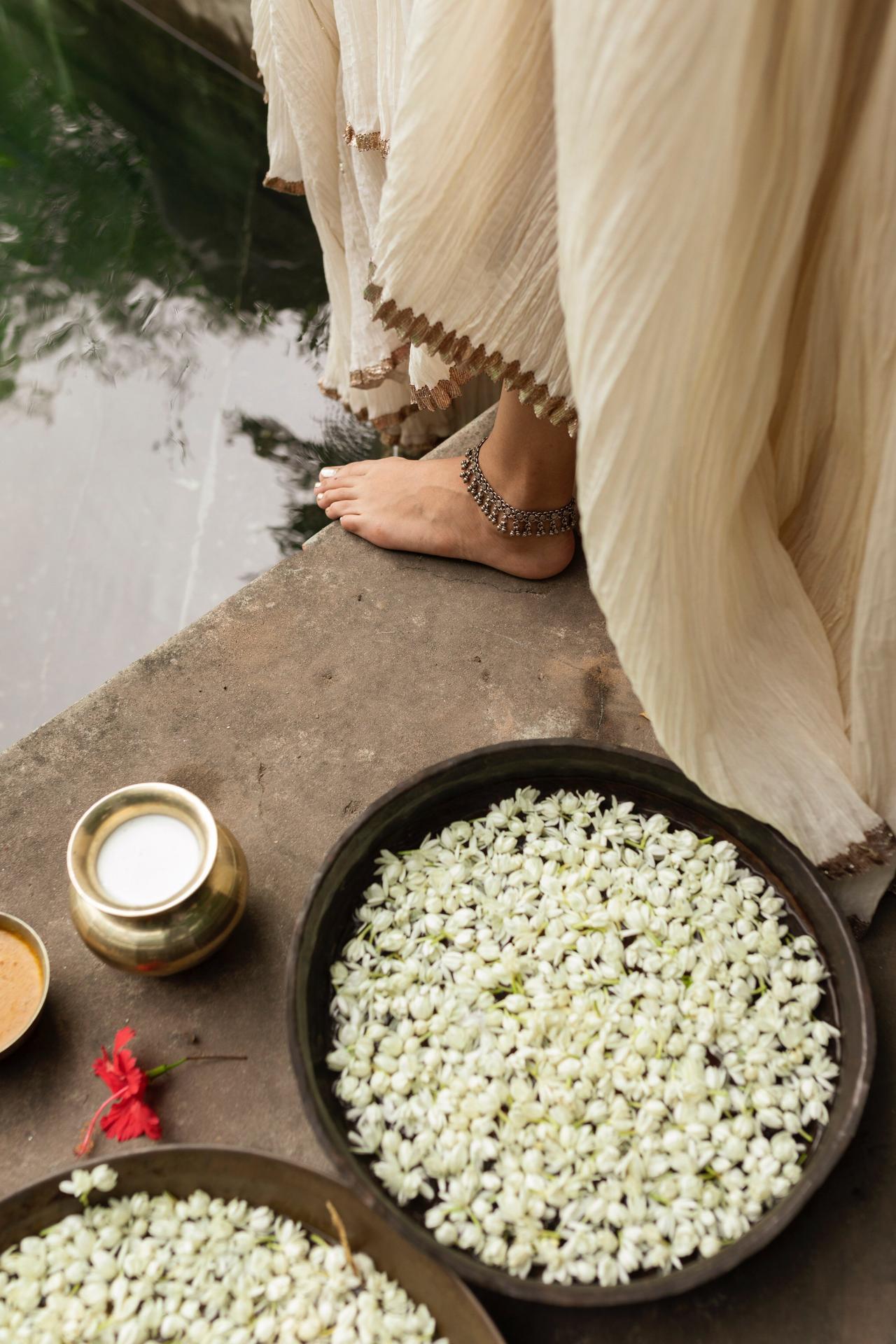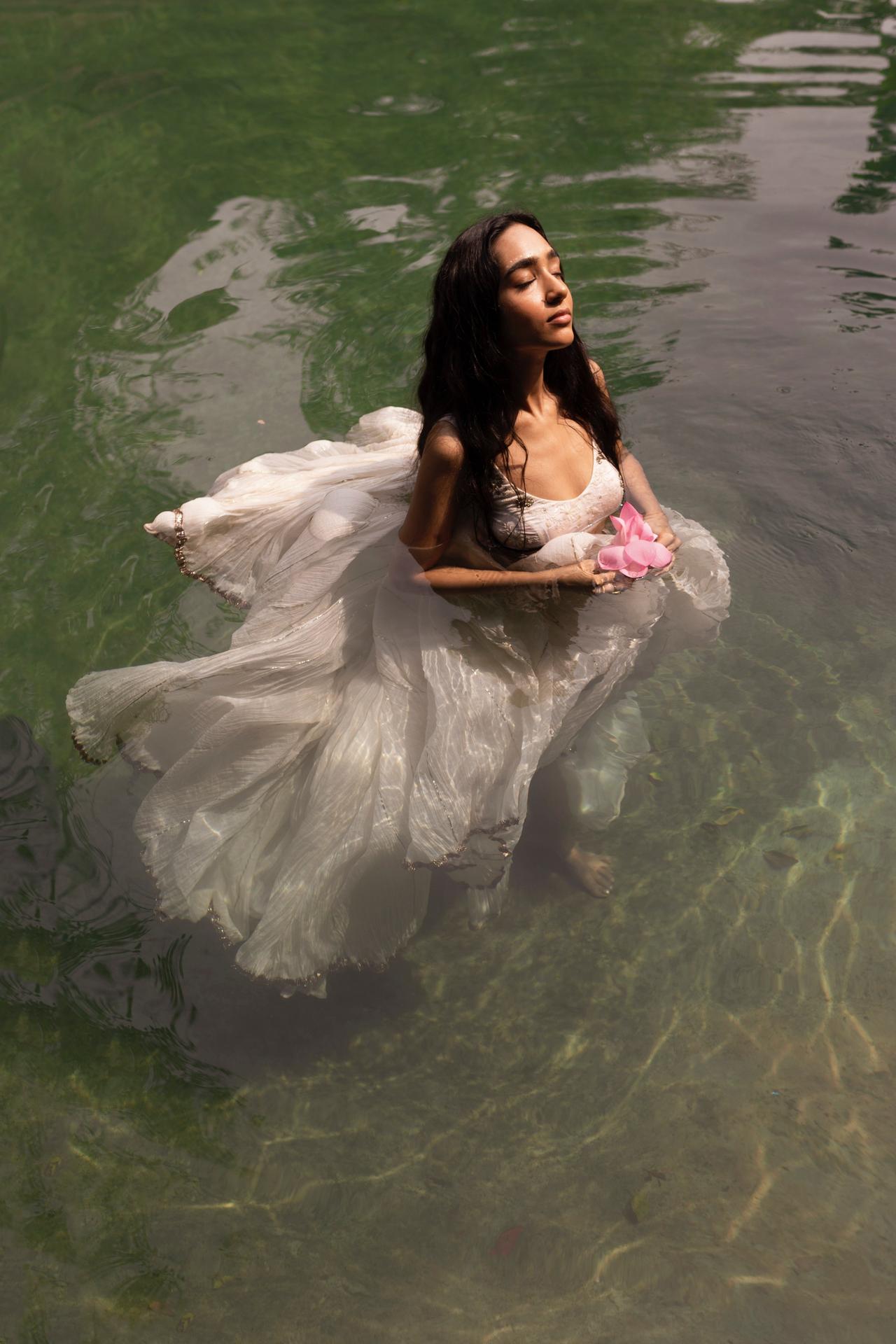 We see visual storytelling at its best in her couture film as the models dressed in white slowly descend into the pool. This entire setup brings back so many memories of Saheliyon Ki Bari in Udaipur and the stories of the 48 maidens who accompanied the queen to her Sasuraal. Just like the Rajputana royalty, Anju Modi's models stroll around this courtyard setup, hands in hand like the queen and her sahelis.
Anju Modi celebrates the Indian traditions by recreating the Haldi ceremony, where one of the ladies gently rubs some of the turmeric paste on the other while the serene music of Ustad Shujaat Hussain Khan enhances the aesthetic setup to carry us into an 'otherworldly pleasure'.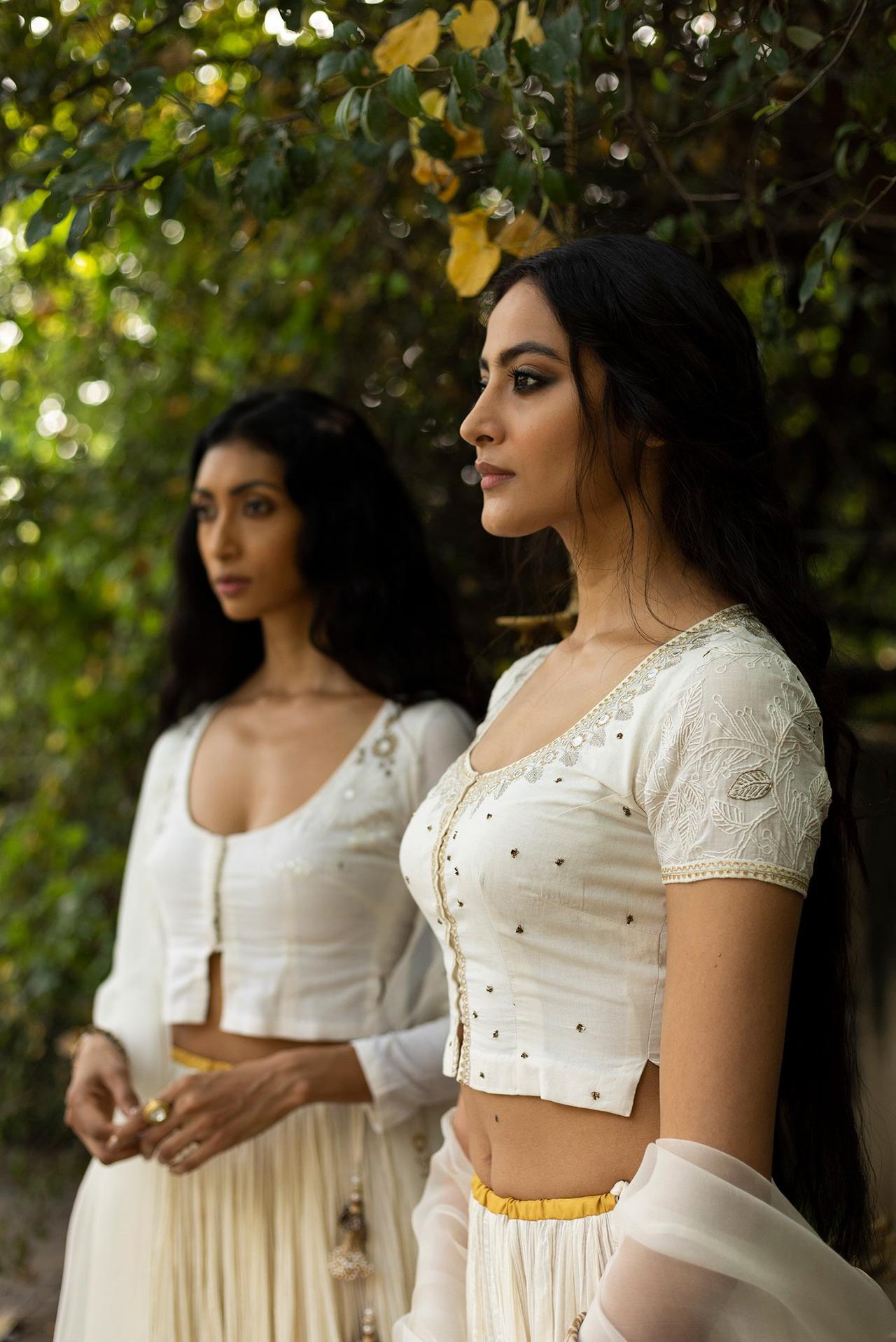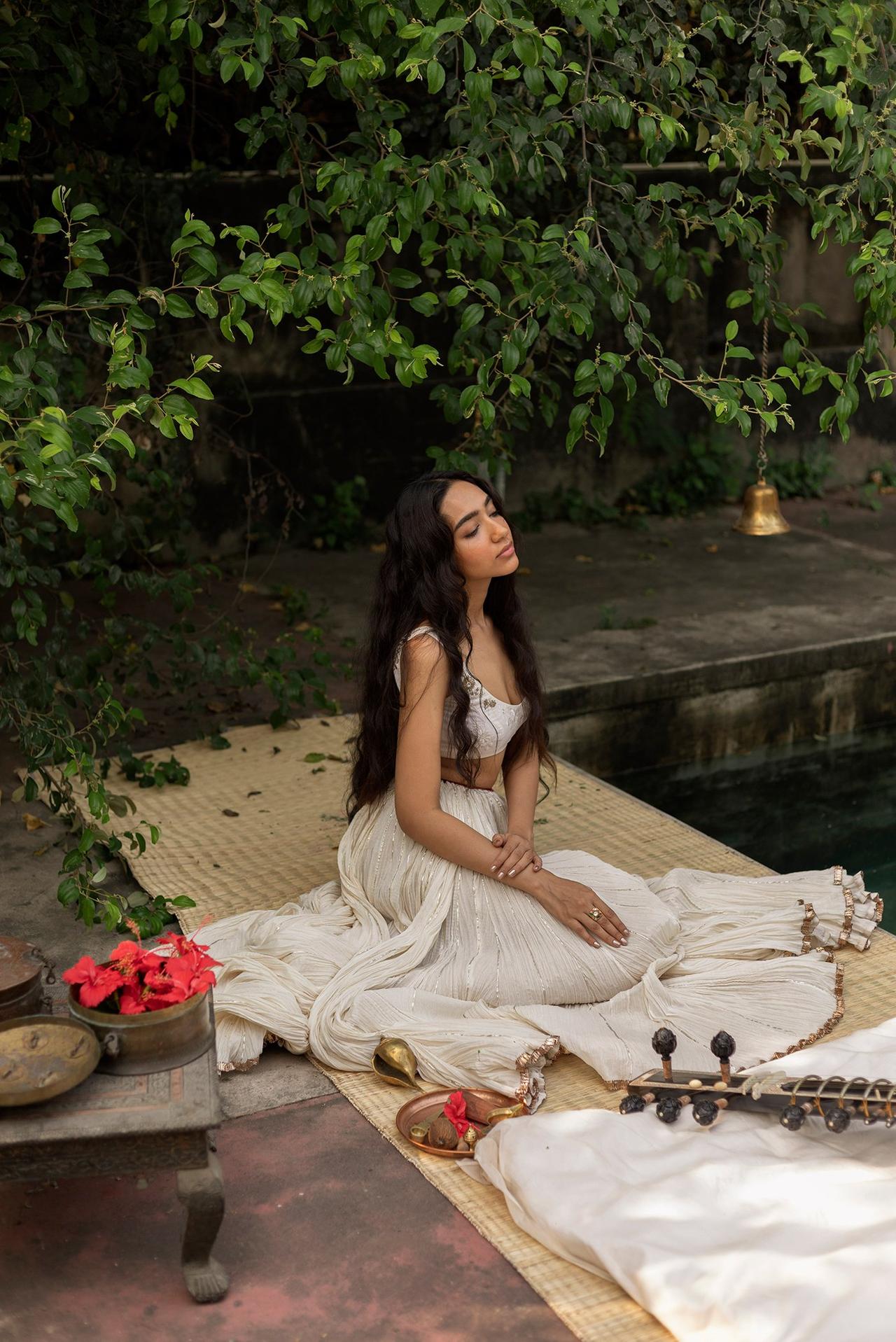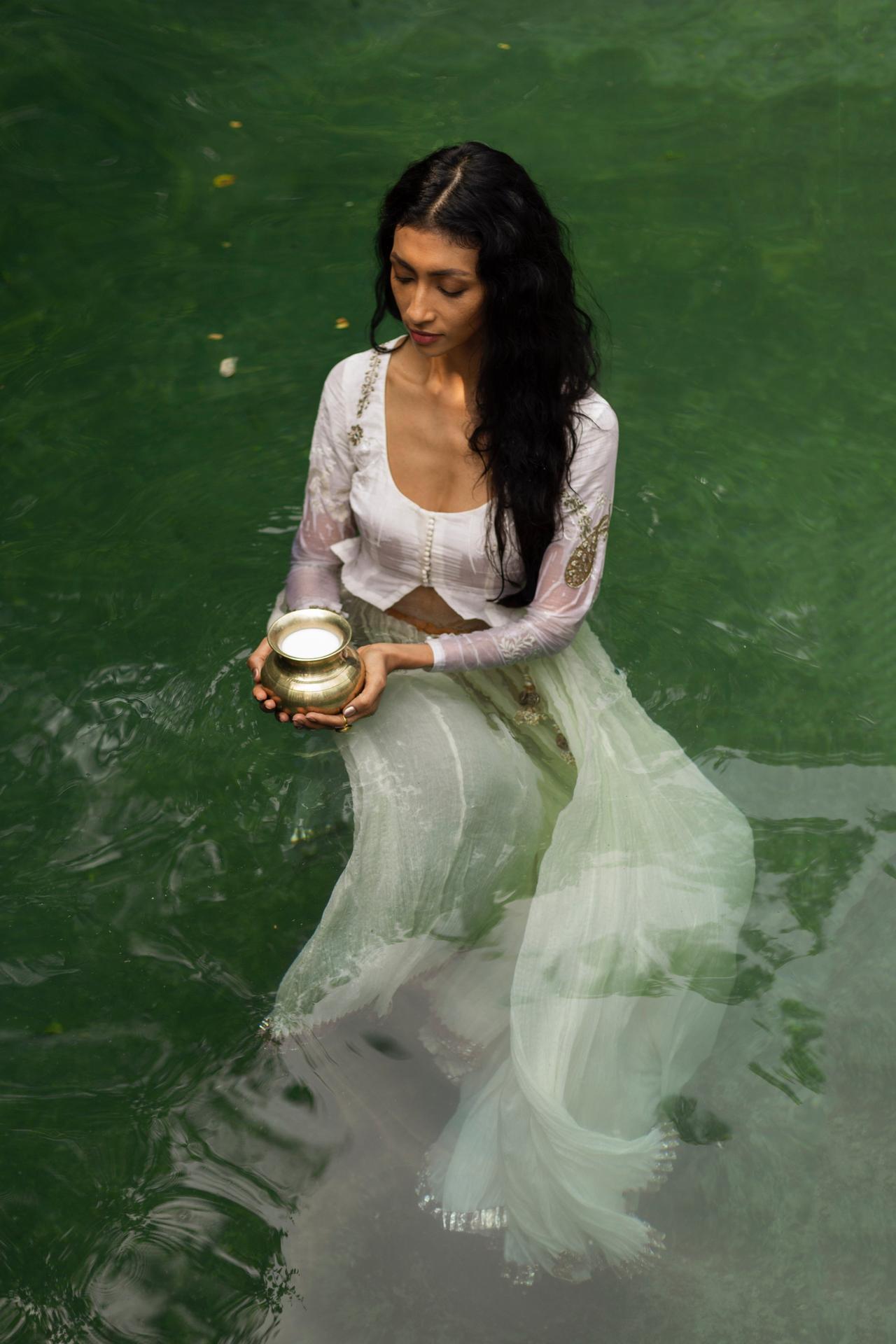 Anju Modi speaks of her designs and explains the concept in words as beautiful as her designs. She says, "She is Innocence. - Adorning herself for a sacred moment, readying herself for a divine ritual, a loving promise that will change her forever. Water and milk anoint her, purify her, prepare her. Turmeric and sandalwood paint her, perfume her, bless her. She is a dream in creamy ivories, a moving sculpture in delicate marble. She is all skin and shyness, with flashes of curiosity and wonder, awaiting her beloved."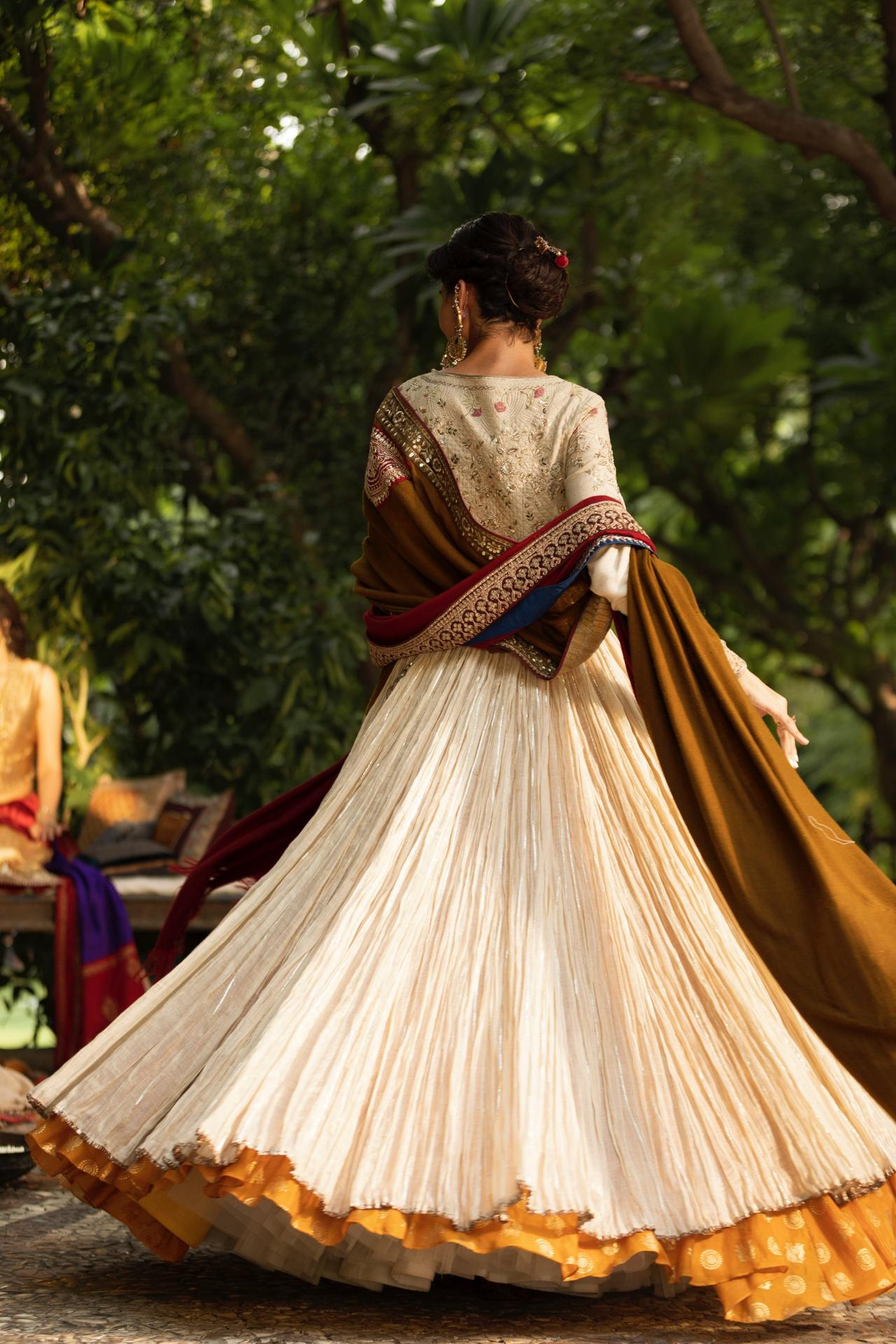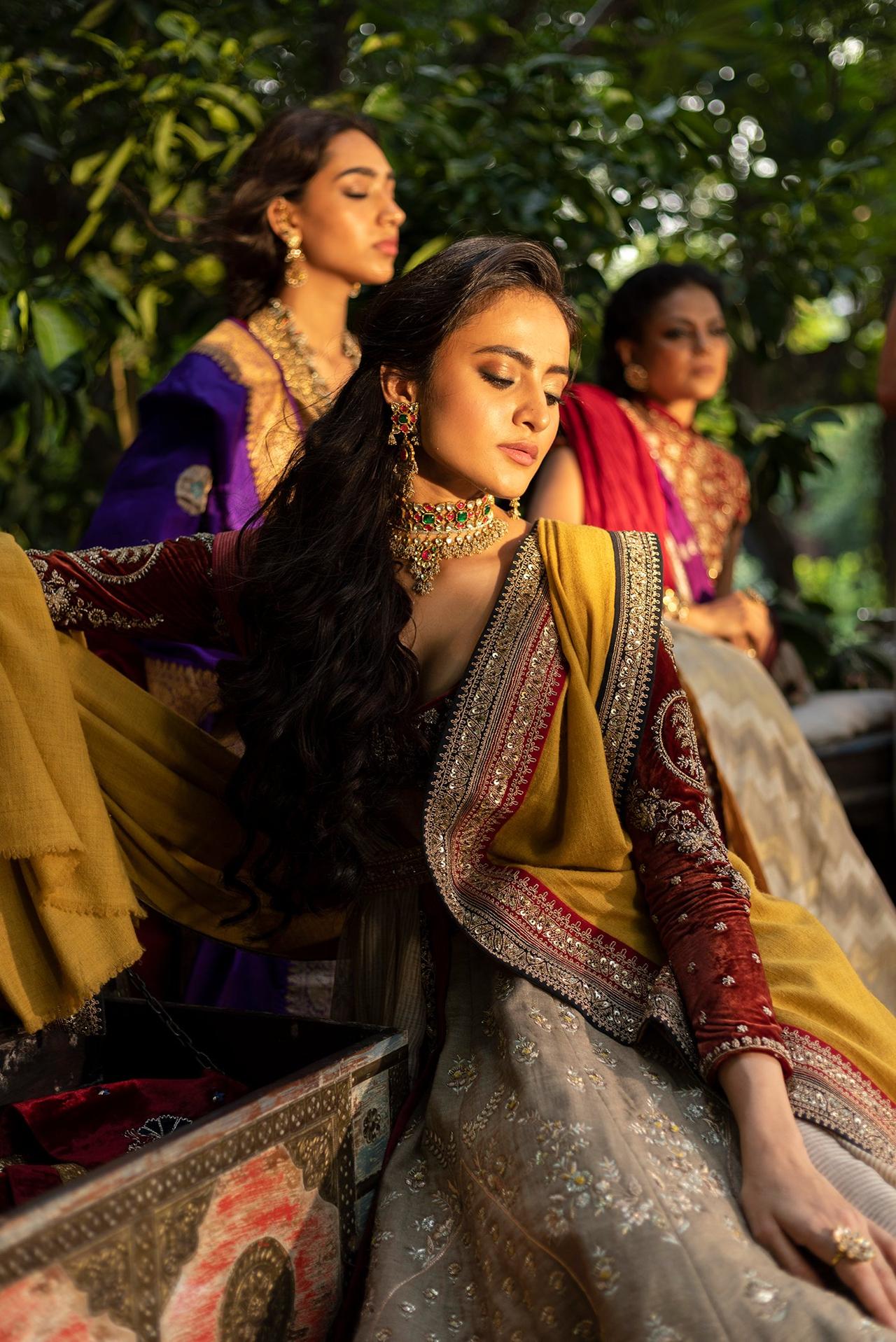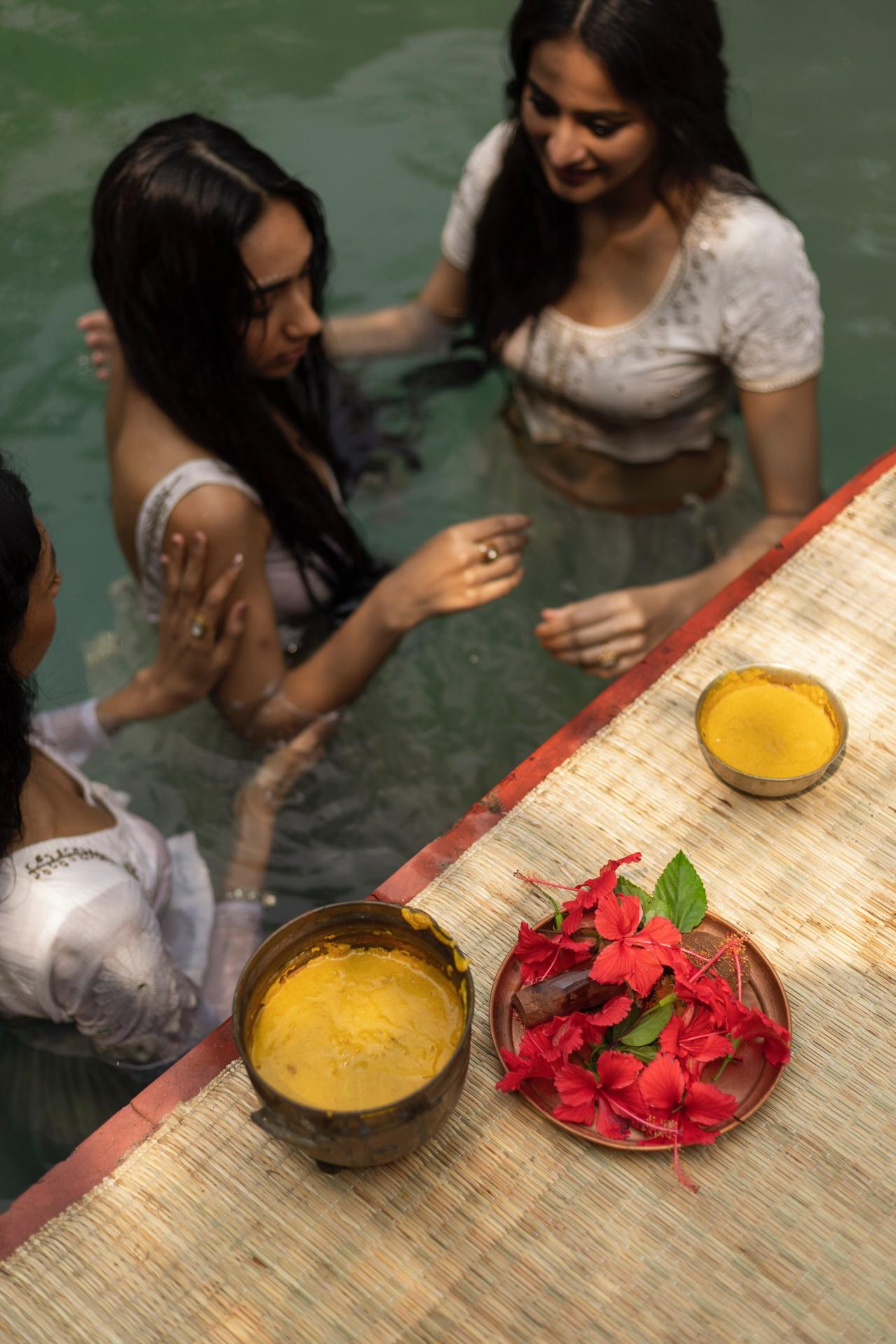 "She is Mischief. - Teasing and feisty, artful and whimsical, a free spirit tamed by her own joyful heart. She dives into forgotten memories, searching for stories woven in cloth, tales written in thread. She is a vision in radiant ochres and mossy greens, all laughter and play, with moments of sweet defiance. An arched brow, a quiet wink, a dimpled smile. She is as much chaos as calm, as much sweetness as spice."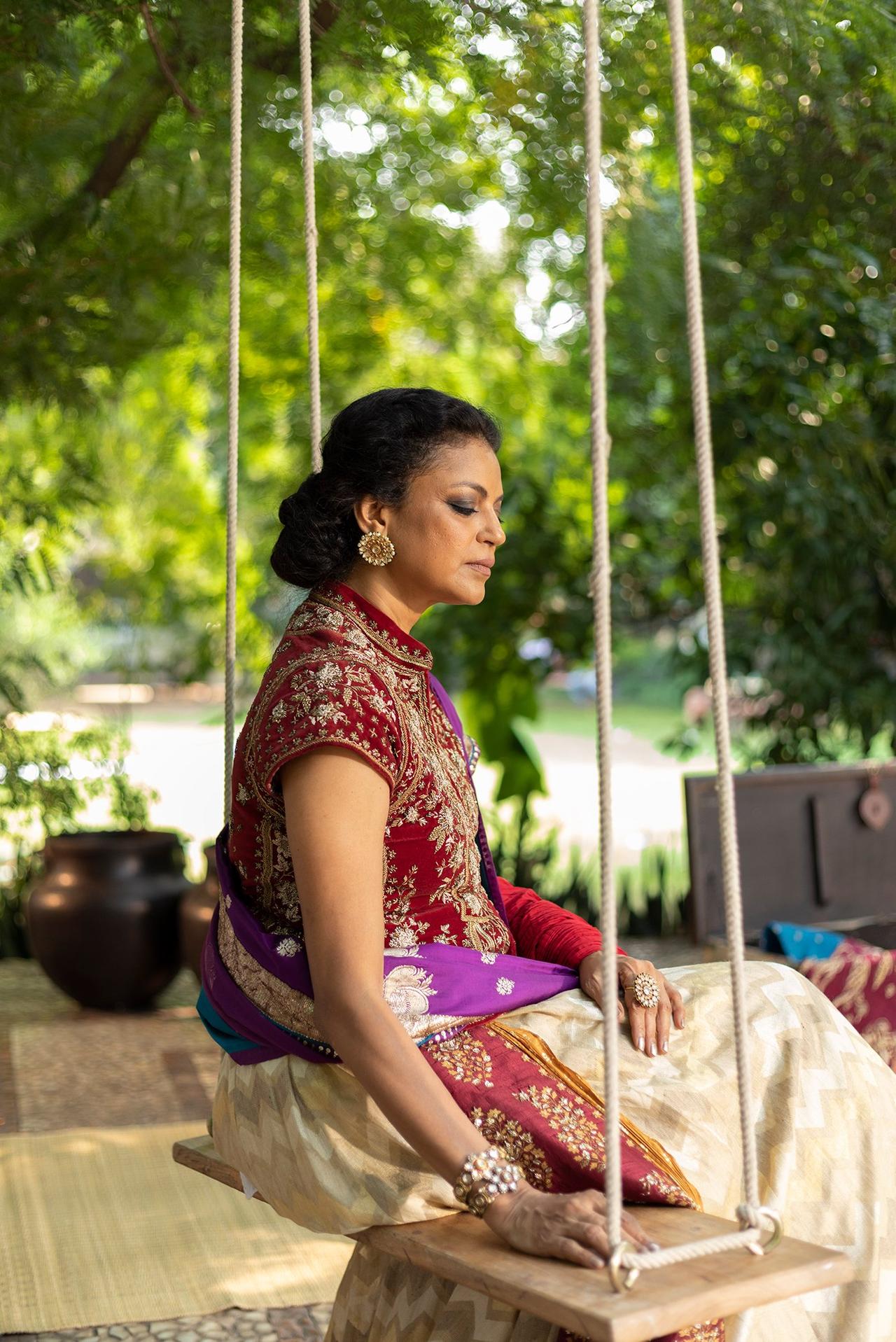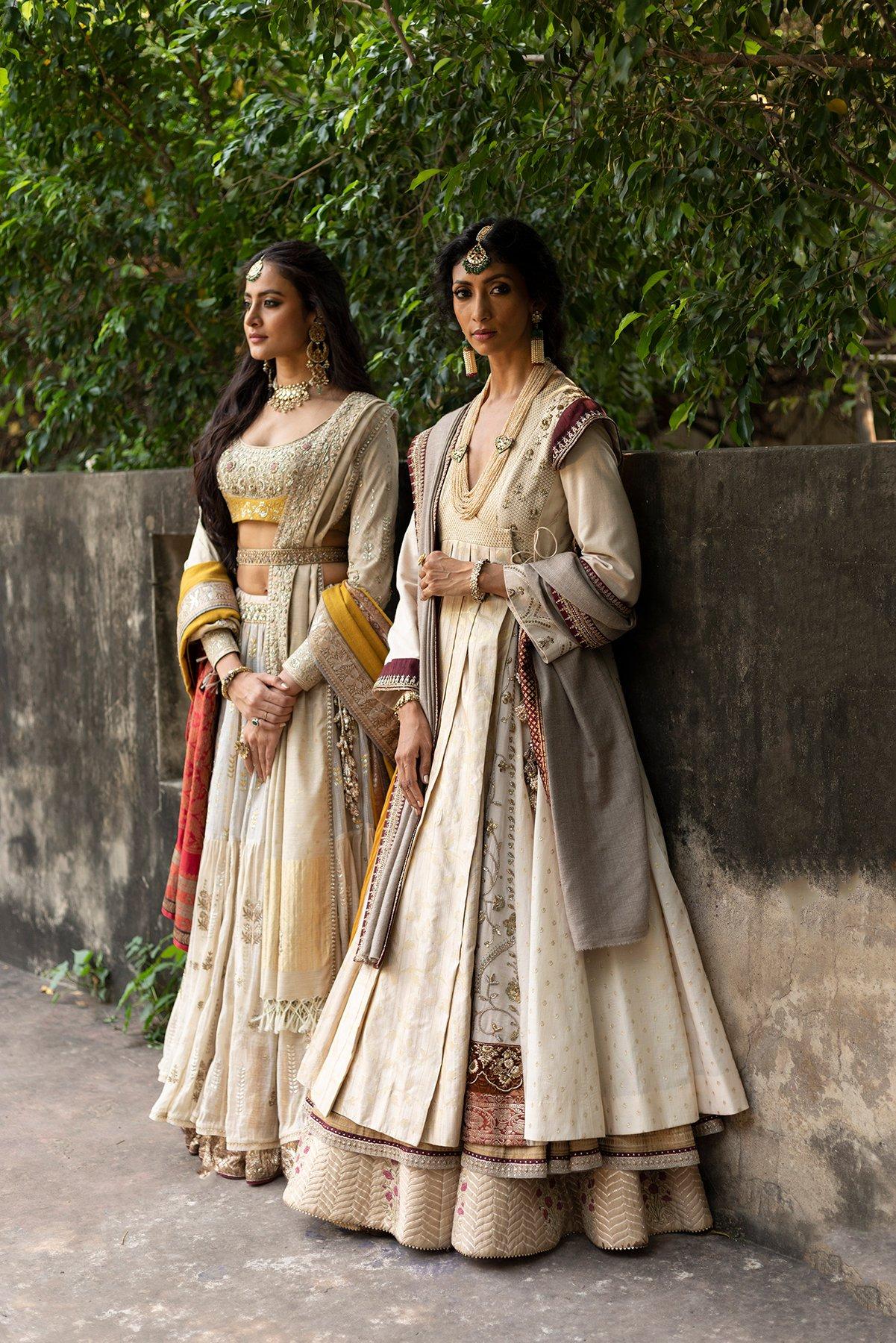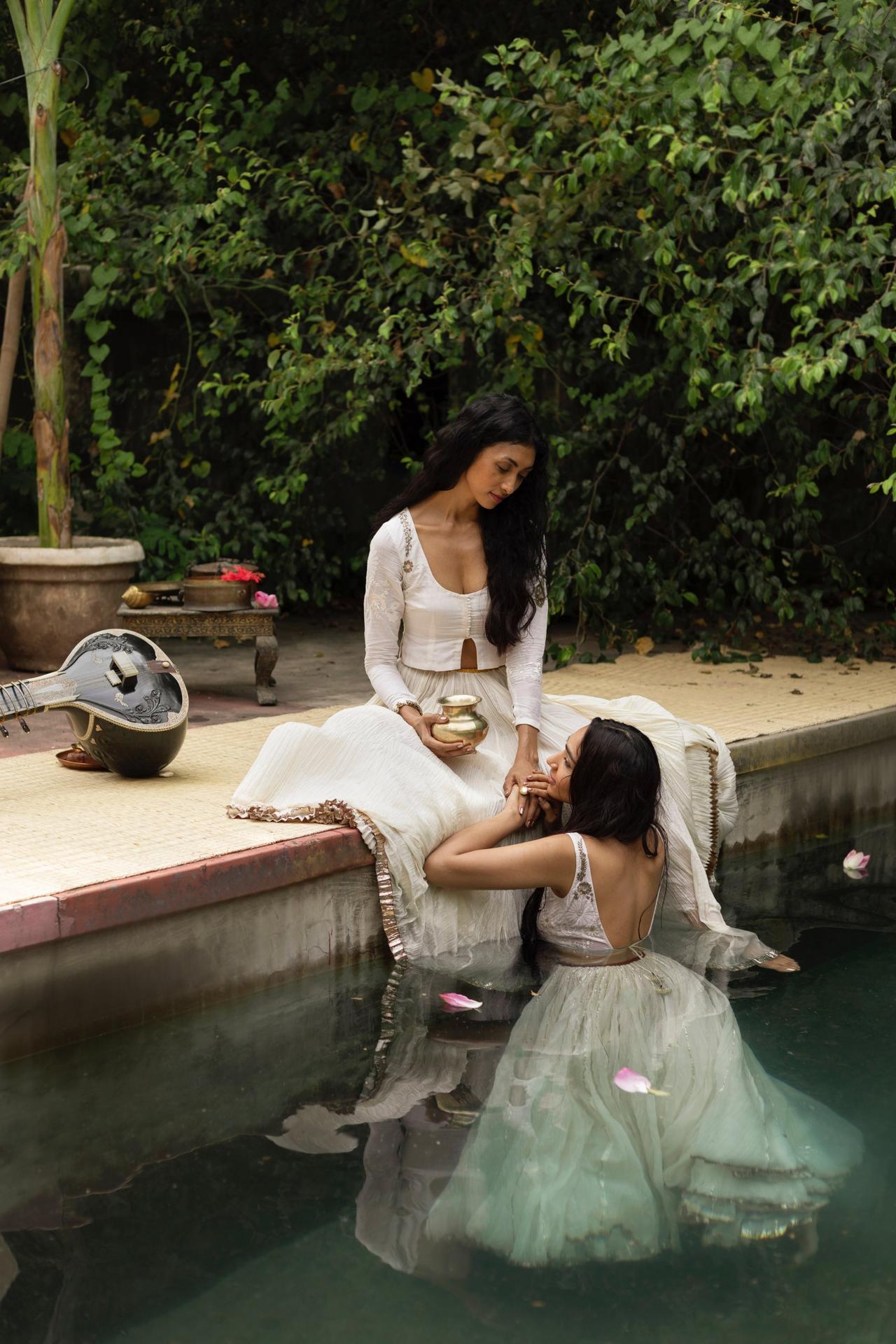 "She is Passion. - Savagely beautiful, fiercely feminine, a woman rapturously in love. She waits, brimming with tenderness and ardour, ready to embrace her new life. Chants reverberate deep into the earth, swelling through the corridors of her heart; the holy fire burns both outside and within. She is a rhapsody in deep, powerful crimsons, with blazes of fiery purple. She is both princess and queen, lover and beloved, disciple and goddess. She is Sindoori."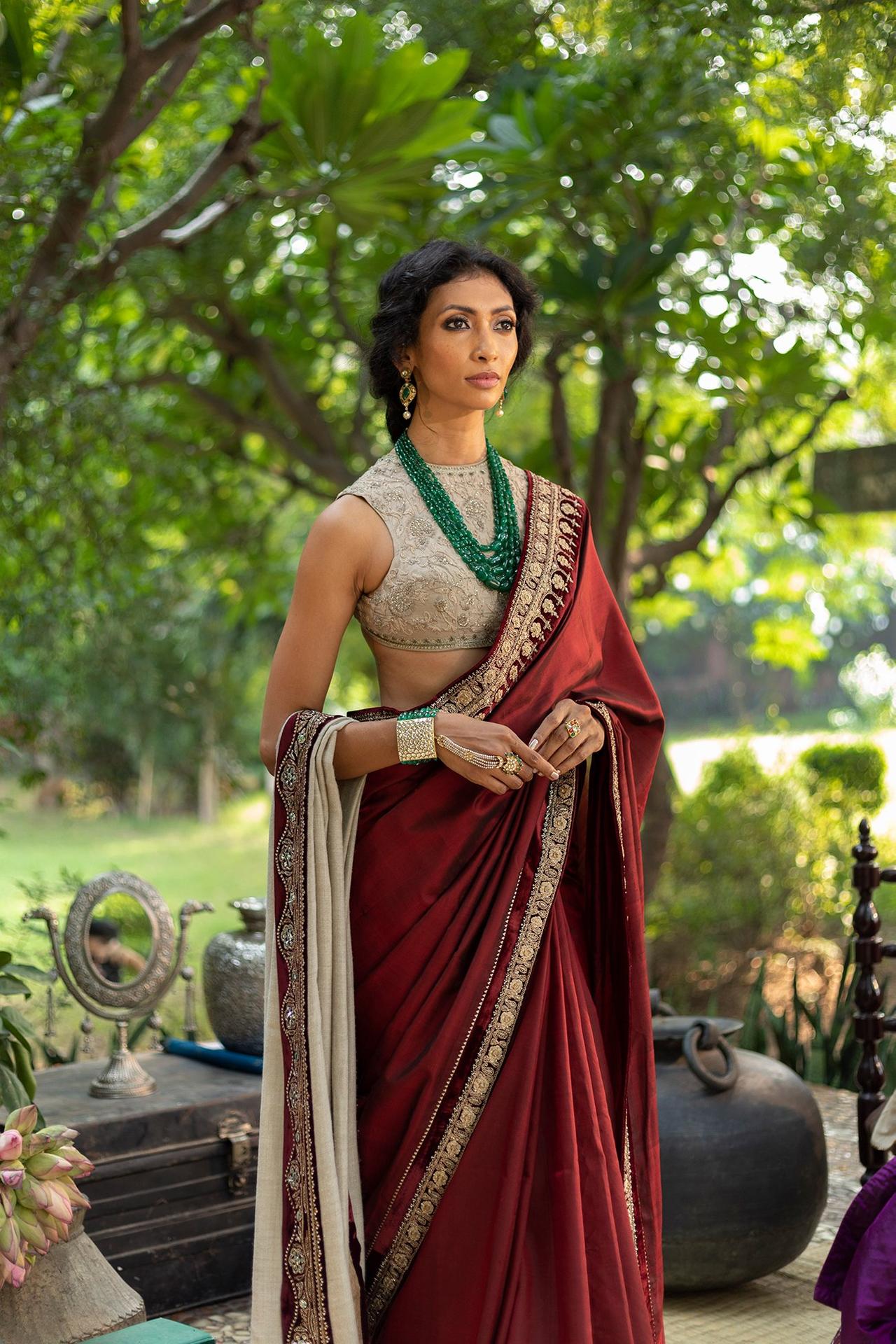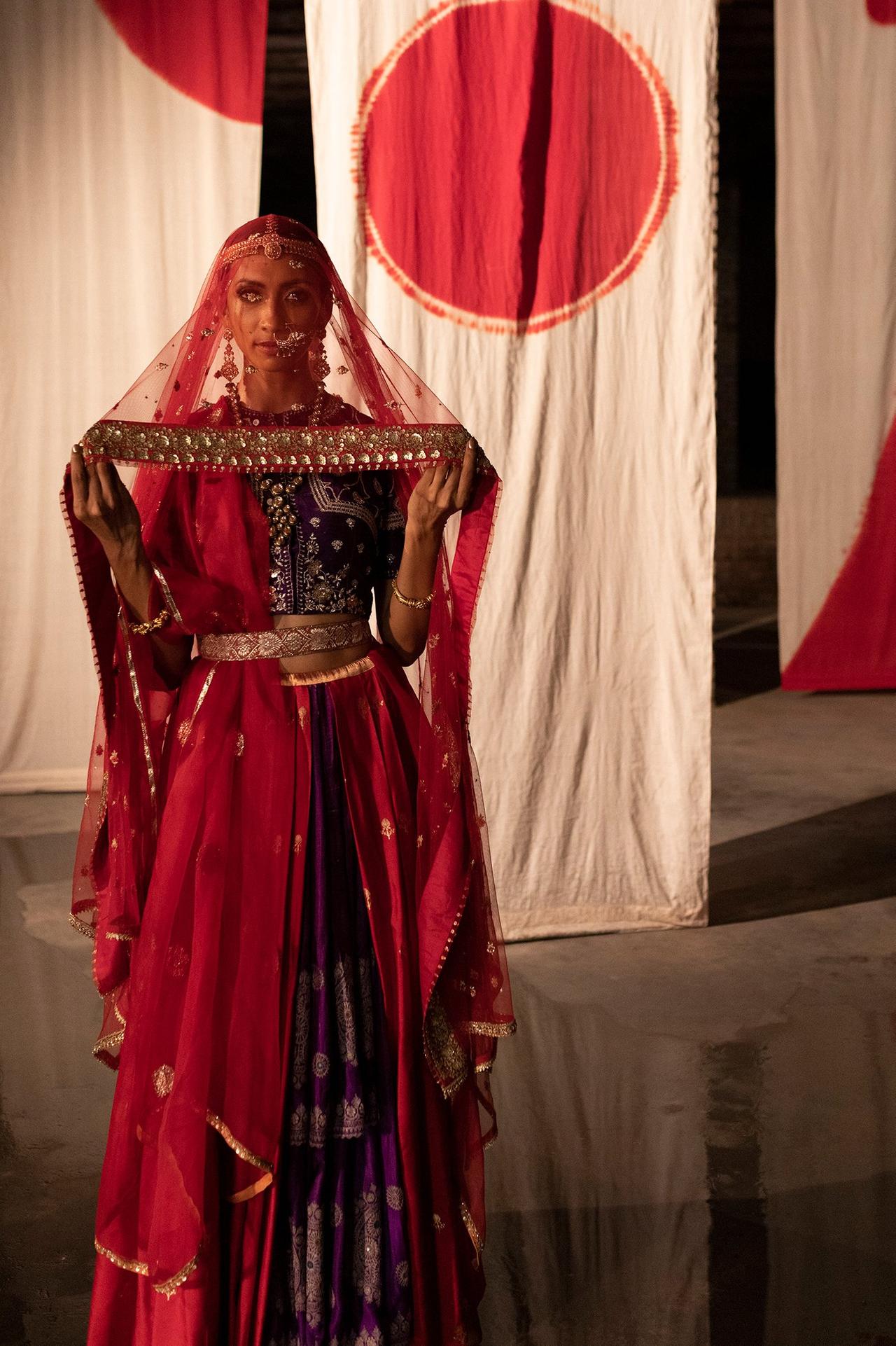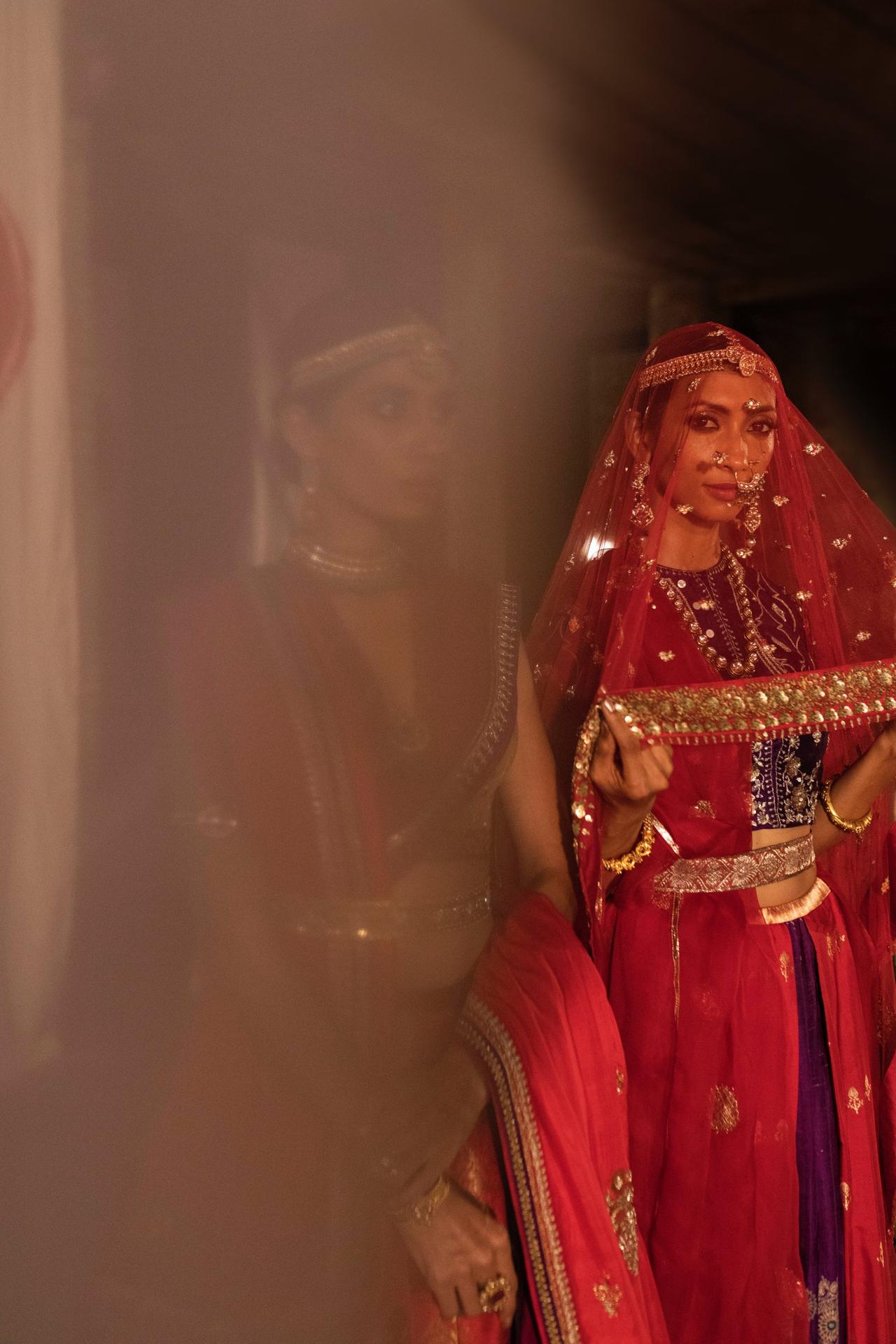 The quaint elements of the girls plucking petals of flowers while gracefully walking around bring back the old-world charm, some can even re-live the mythical elements in the designs. White is the colour of purity and to top it the flowy simple fabric has been draped in beautiful silhouettes.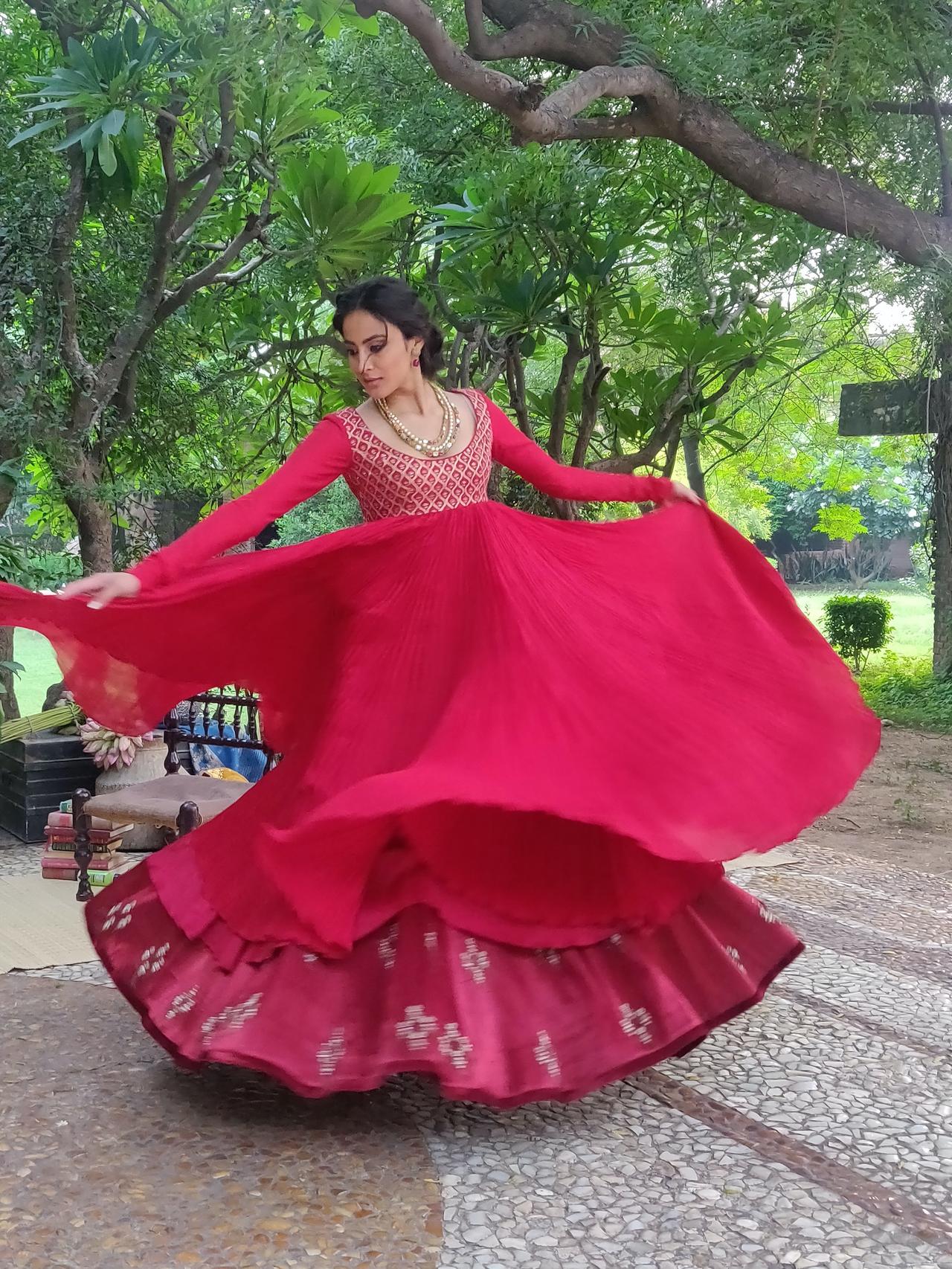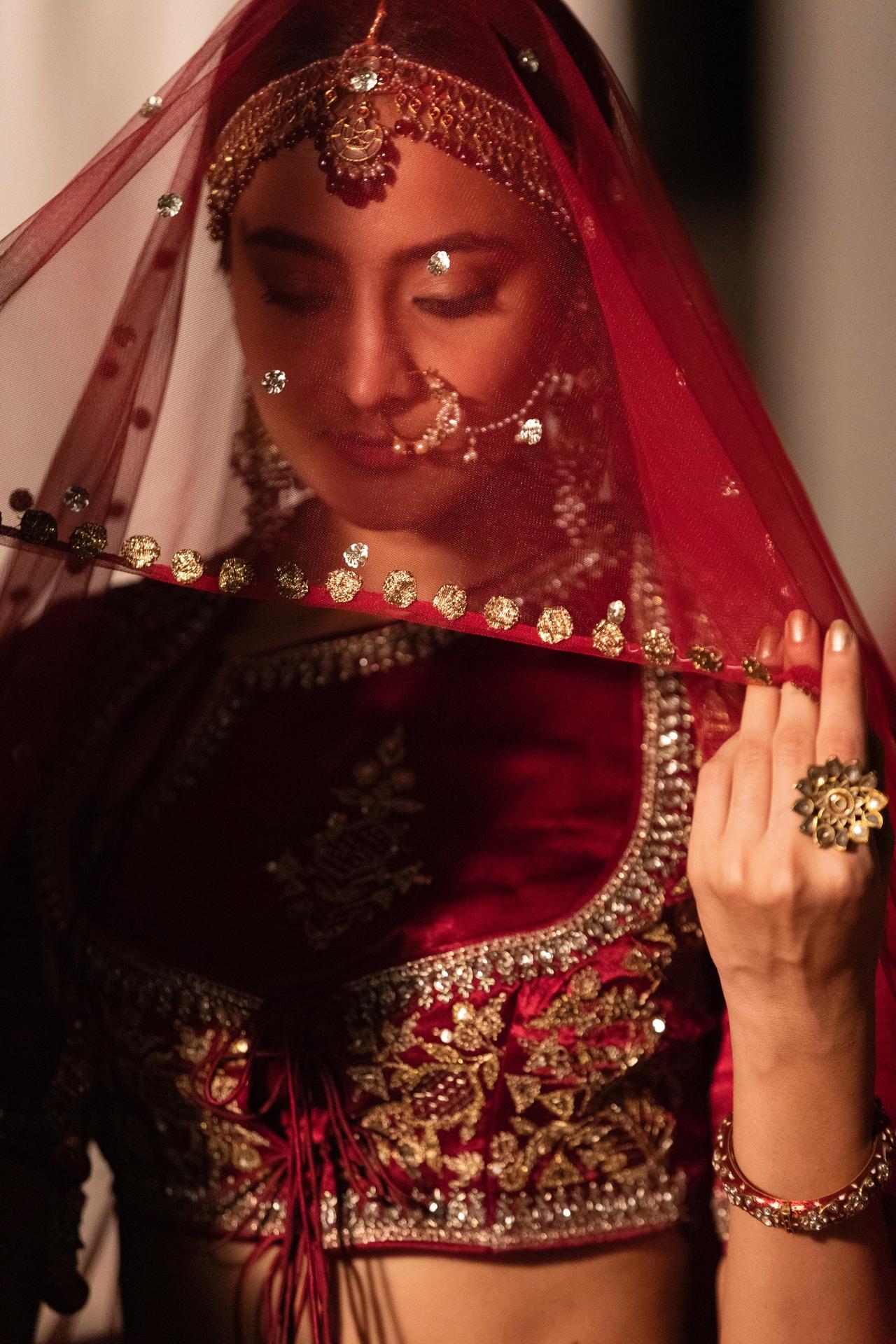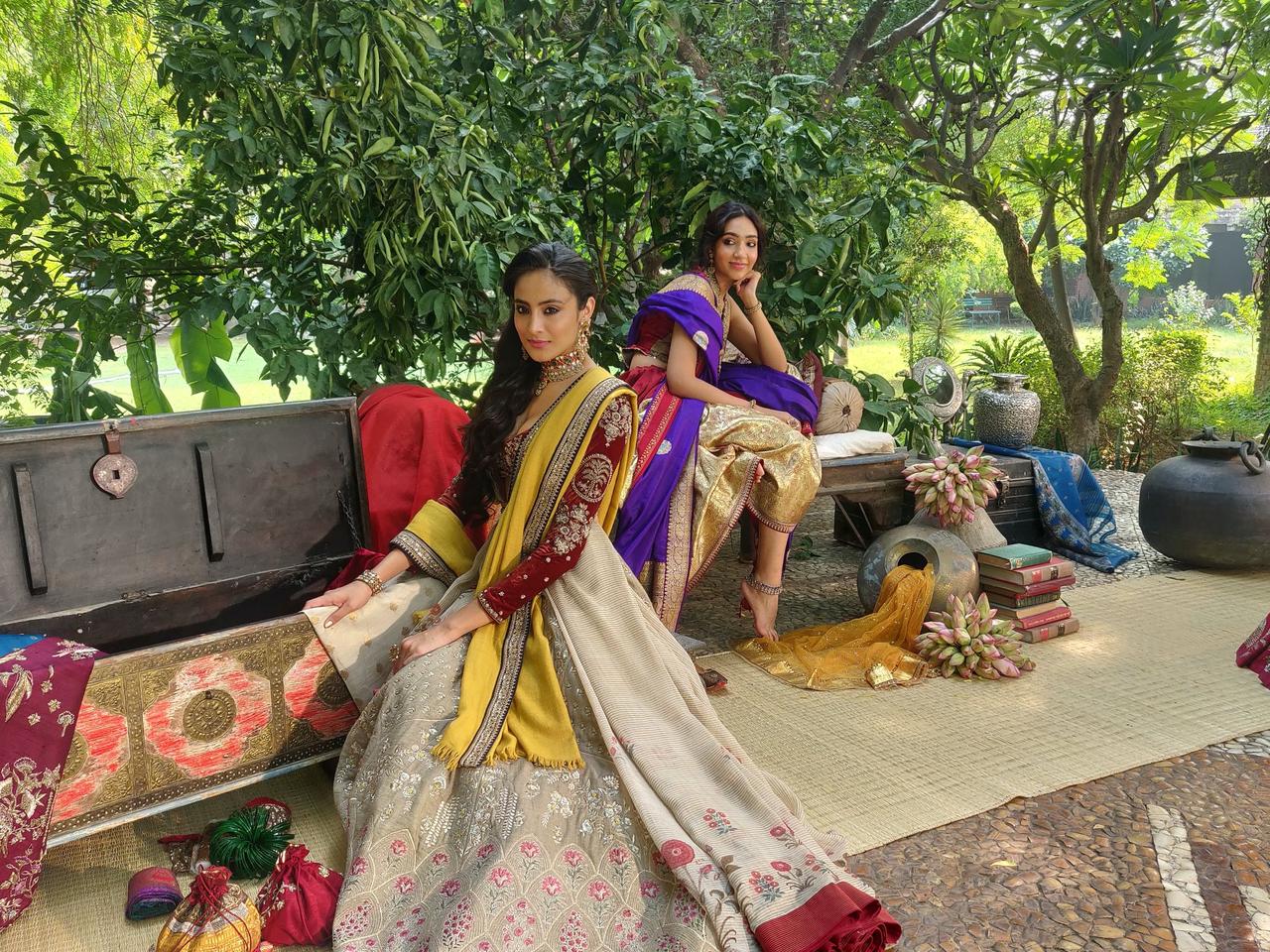 With the increasing number of intimate weddings that are happening now,, brides often find themselves in a dilemma of 'what to wear' on their wedding day. Is it too much? Is it too subtle? Well, Anju Modi's Sindoori is a blessing in disguise, answering all these brides with breathtaking designs.
The palette slowly shifts from dreamy ivories to subtle pastels and then covers the bright reds, purples and even yellows - thus bringing brides of every kind in one place.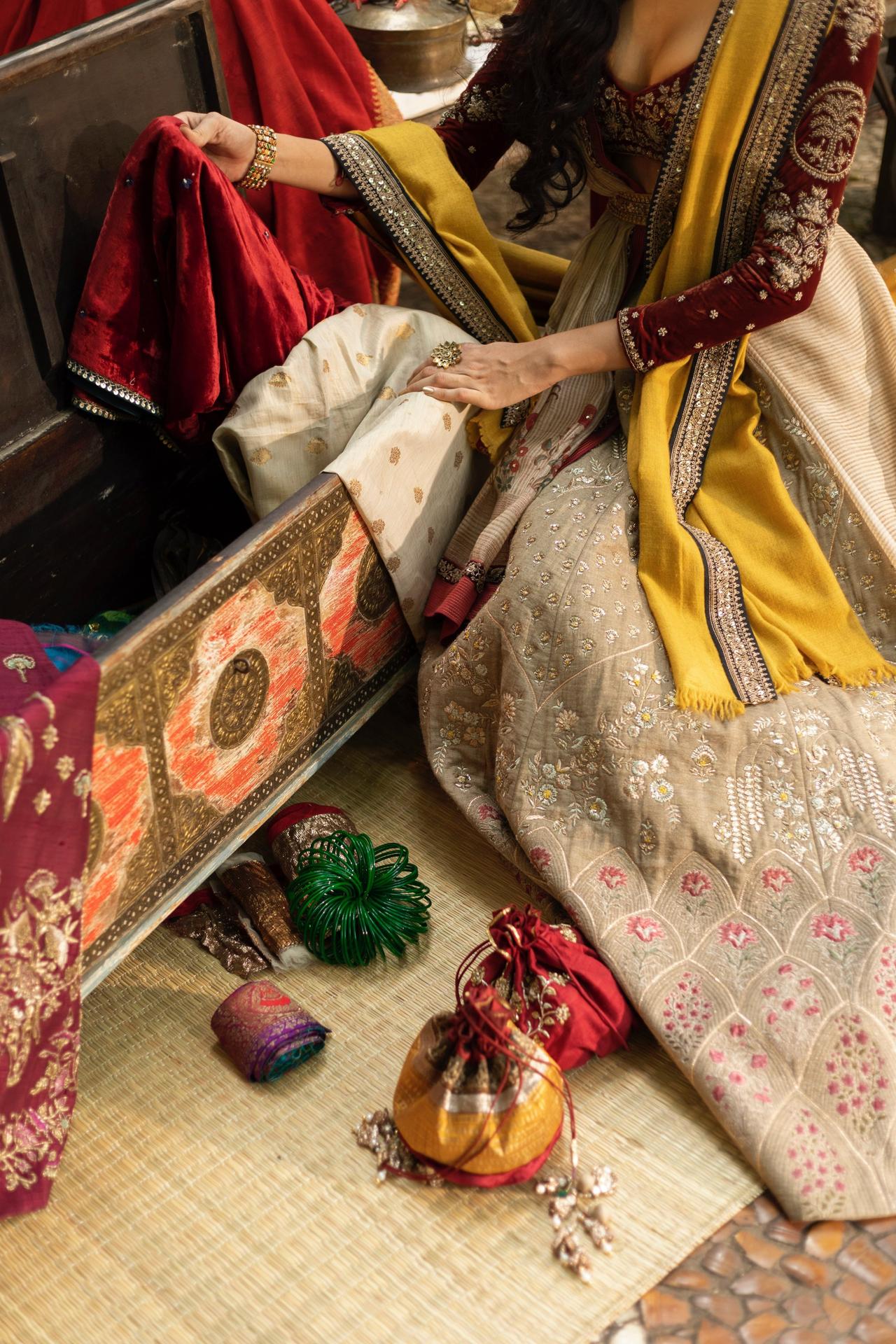 The white drapes that set up the backdrop of the showcase in the latter half with the bright crimson red circle in the centre, represents the beauty of the Sindoor or vermillion and its significance in our culture.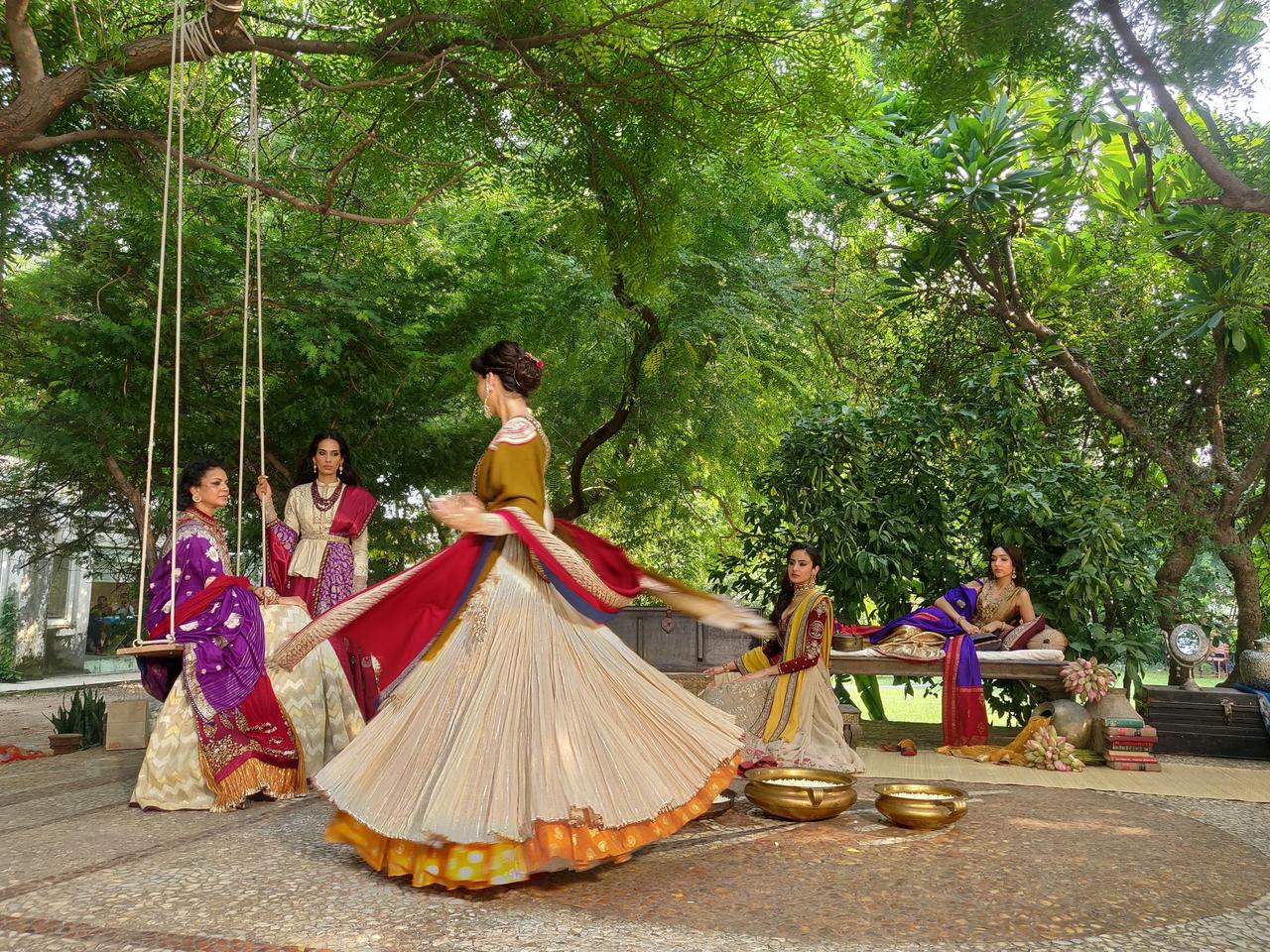 The intricate thread work is combined with zari work in this collection and it is not only a quintessential bridal wardrobe but it also has a lot to offer to the bridesmaids - the sahelis.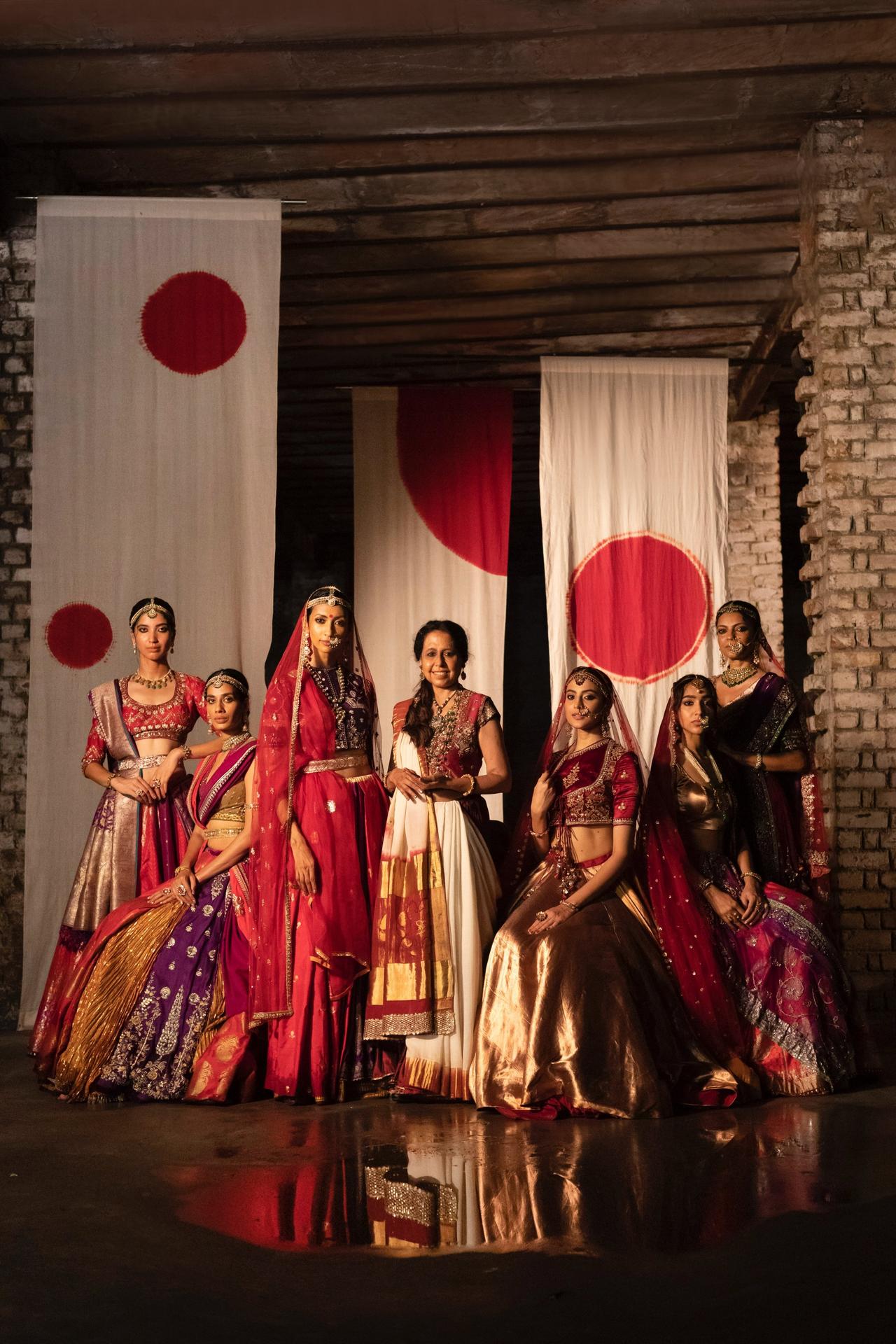 The couture film not only celebrates the grace of women, but it also upholds the innocence, mischief and passion in subtle yet sweet moments. Her collection celebrates the moods and complexities of a bride in the most elegant yet candid way ever.
Watch the couture film here:
Stay Tuned to our space and follow @weddingwireindia on Instagram for all the exclusive details of ICW show.
Note: All images are by FDCI X Anju Modi.