Abhinav Mishra Reveals Must-Haves for Every New Age Bridal Trousseau
We delve into a conversation with every millennial bride's favourite designer - Abhinav Mishra, about Trousseau Must-Haves for a 2020 wedding and the theme of his latest collection - The Royals.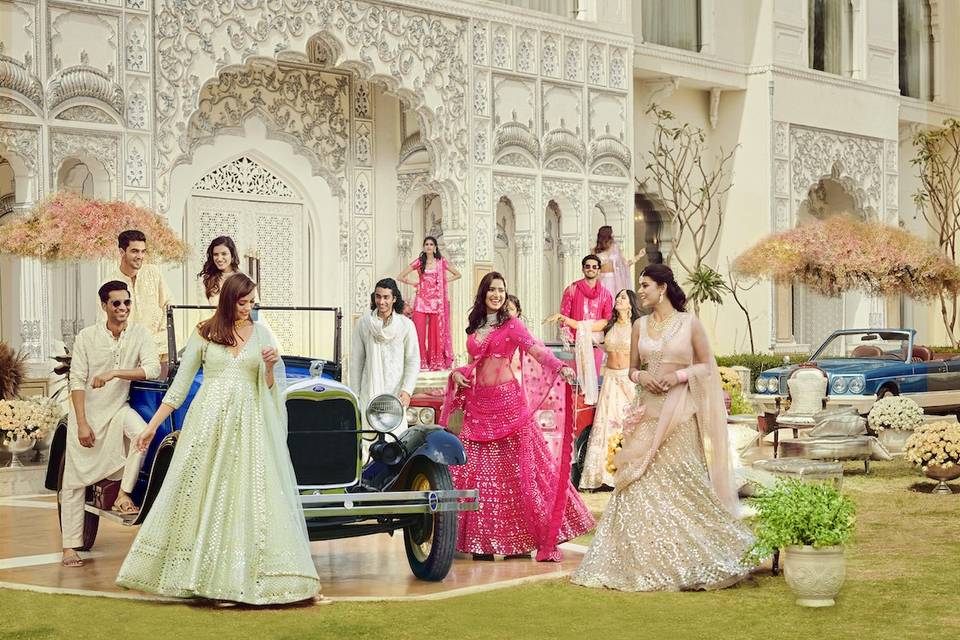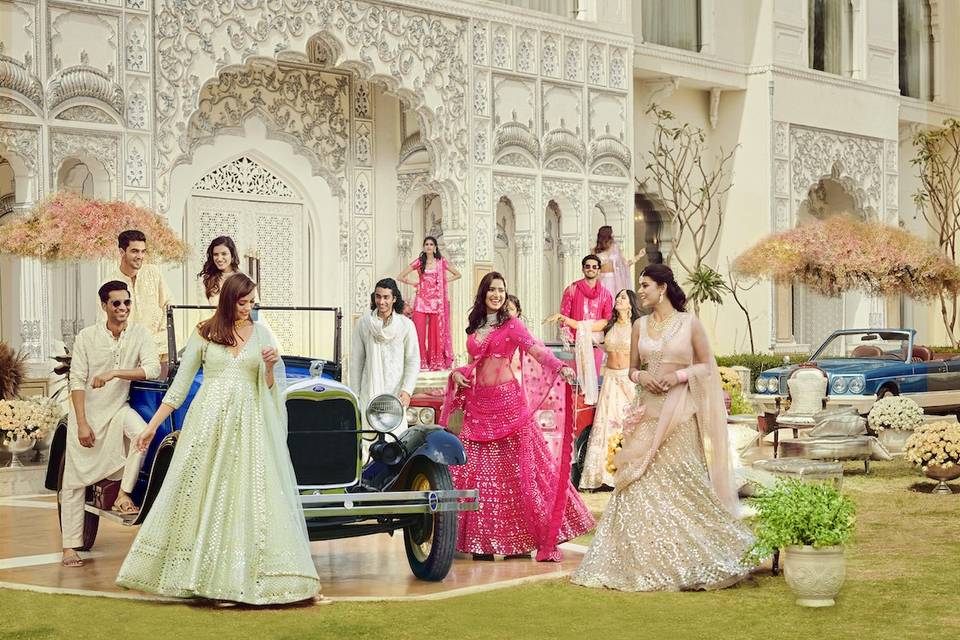 Abhinav Mishra's Spring Summer 2020 collection - The Royals, is a heartwarming narration of memories shared between friends AKA soul sisters AKA lifelines. Cue the aww-inspiring theme of a timeless purchase of a woman's life. Then cue the jaw drop as you browse through the entire 2020 collection. Weaved with the threads of unmatched joy, unperturbed laughter and tears of innocent affection, his collection is the kind of lux, millennial brides need. The designer adds a playful spin to the story telling of every bride's dream trousseau and unfolds the tale of his collection in 4 chapters - Sunflower, Mausam Mastana, Tarana and Retro Romance.
An Abhinav Mishra Bride -
"An Abhinav Mishra bride is a reflection of the budding new India - vivid, dynamic, lively but elegantly grounded to her history and traditions. She is fearless and confident, making a difference in the world with her humble and culturally rooted nature. The Abhinav Mishra woman is also someone who's fun and most likely the life of the party." His words breath life to the portrait of all the millennial Queen B's in our minds.
Sunflower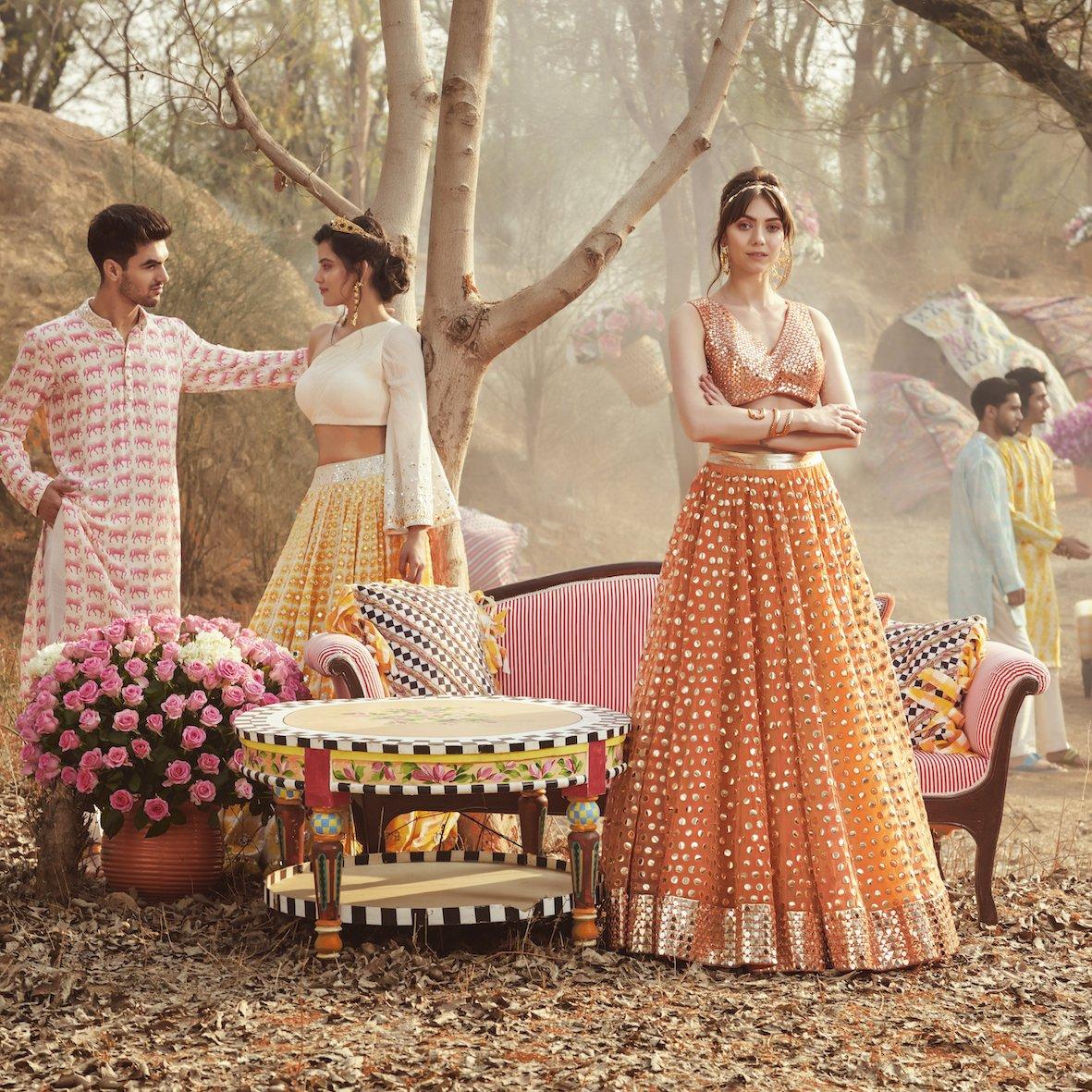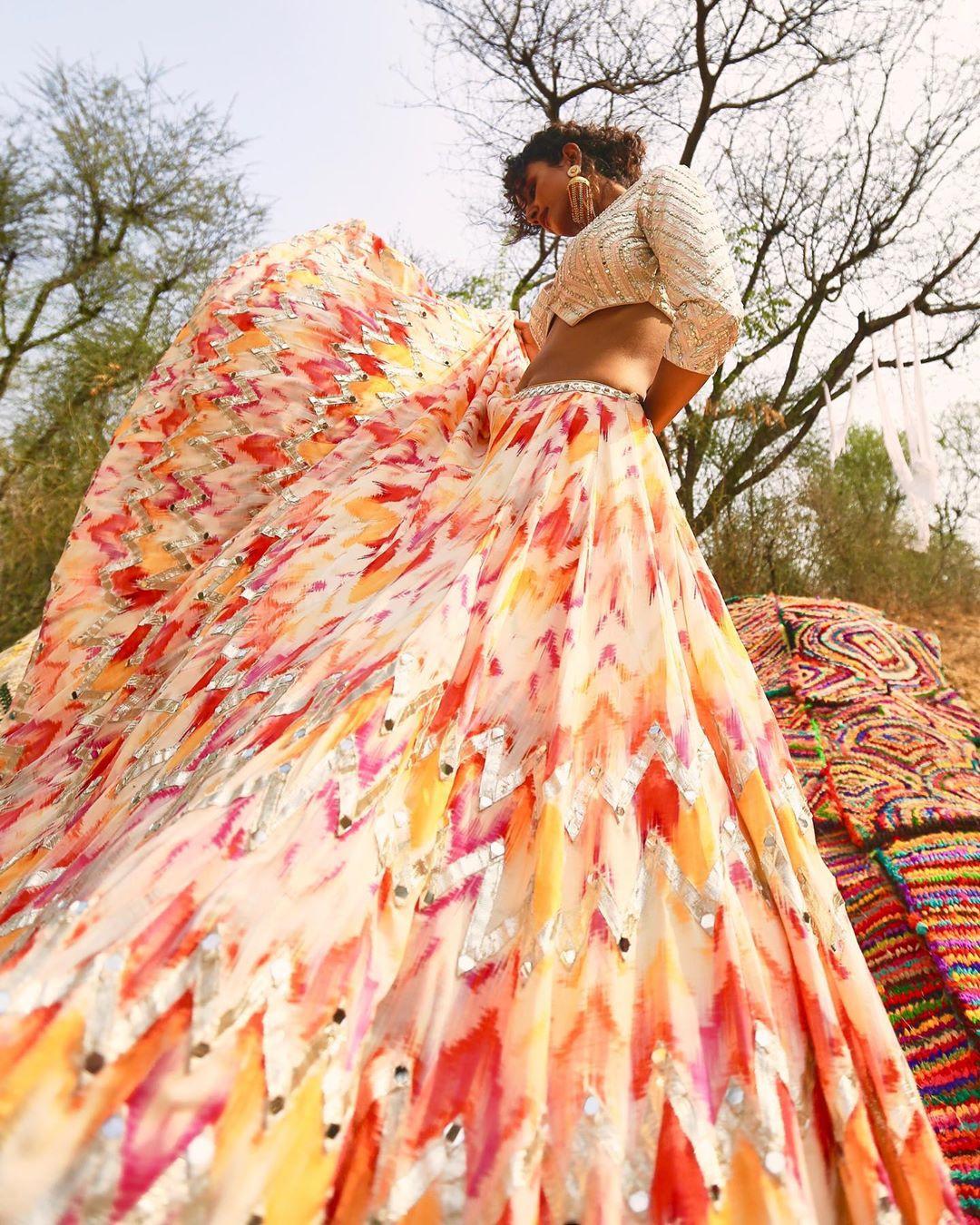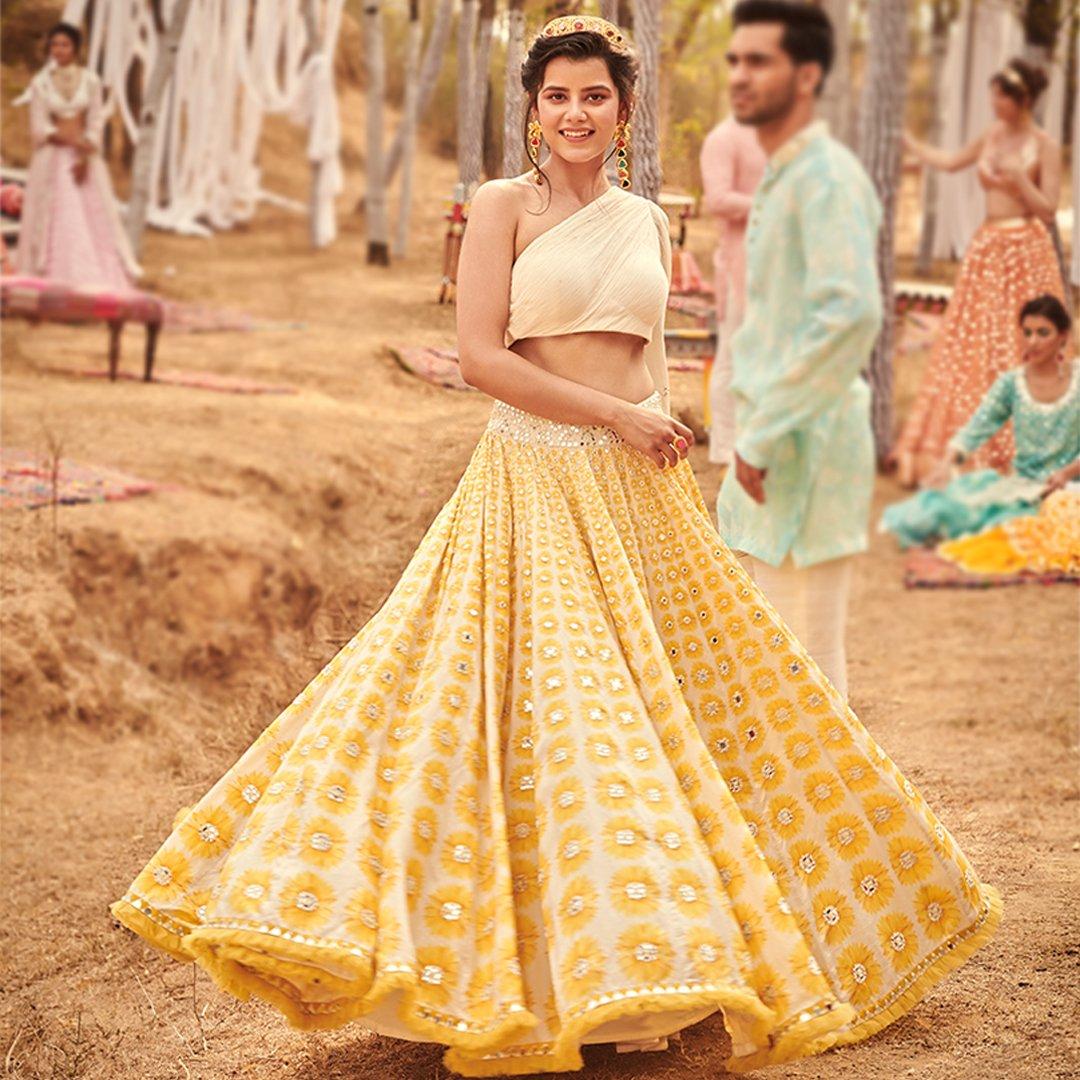 Sunflower - the first theme from his stunning collection, is a breezy, and colourful tale weaved for the free spirits. Dramatic prints painted in vibrant colours, amplified with the designer's signature mirror-work, ups the glamour quotient of the designs. Designs from the Sunflower theme are perfect picks for brides and bridesmaids who are bohemians at heart and desire to choose attires that can add the wind to their sails.
Mausam Mastana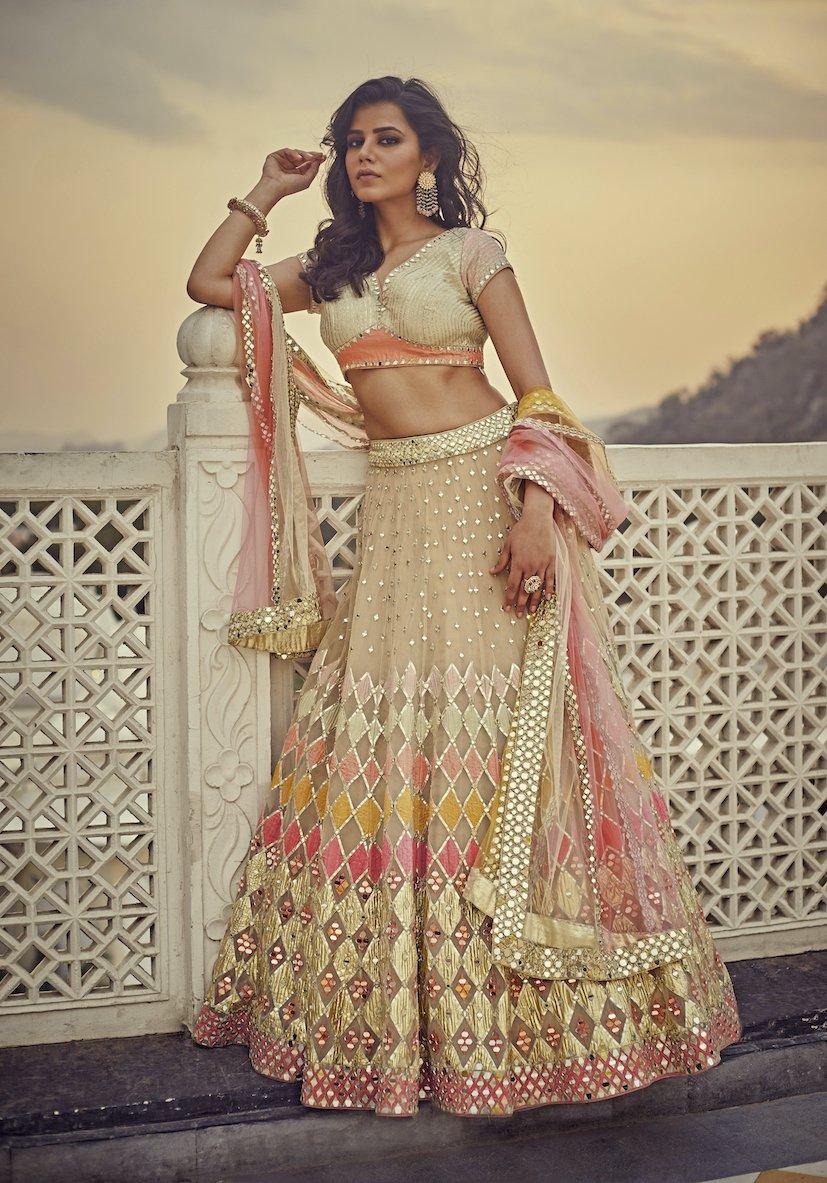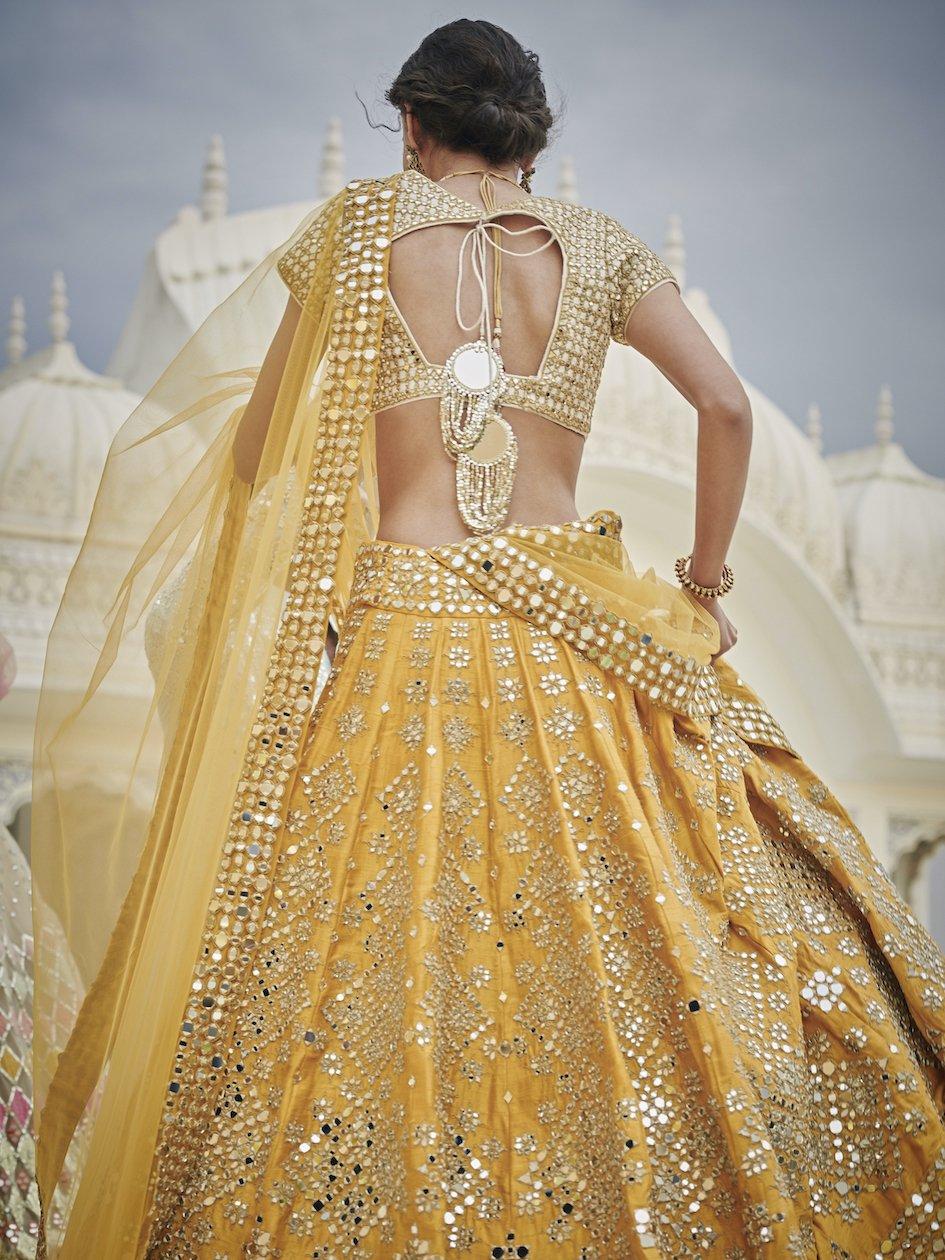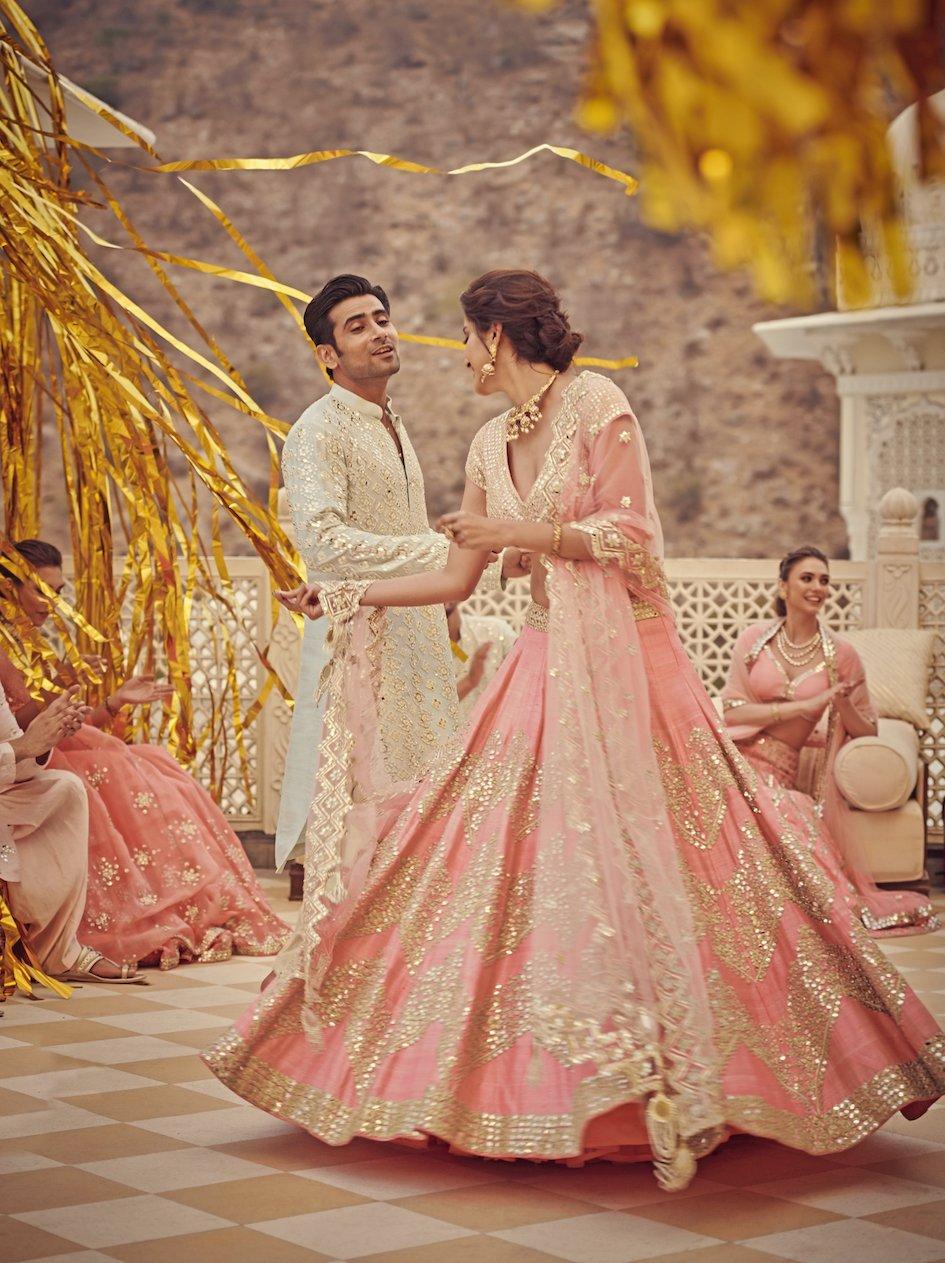 Brewing all the must-have ingredients of an idyllic mehendi, Abhinav Mishra's second theme Mausam Mastana stands true to its name. Set against the backdrop of a royal palace, 21st century women with their taste for timeless classics, dance up a celebration wearing bright colours and bold patterns. Attract eyeballs for your stunning choice of bridal wear with bridal lehengas to have and to hold with Abhinav Mishra designs and their timeless appeal.
Tarana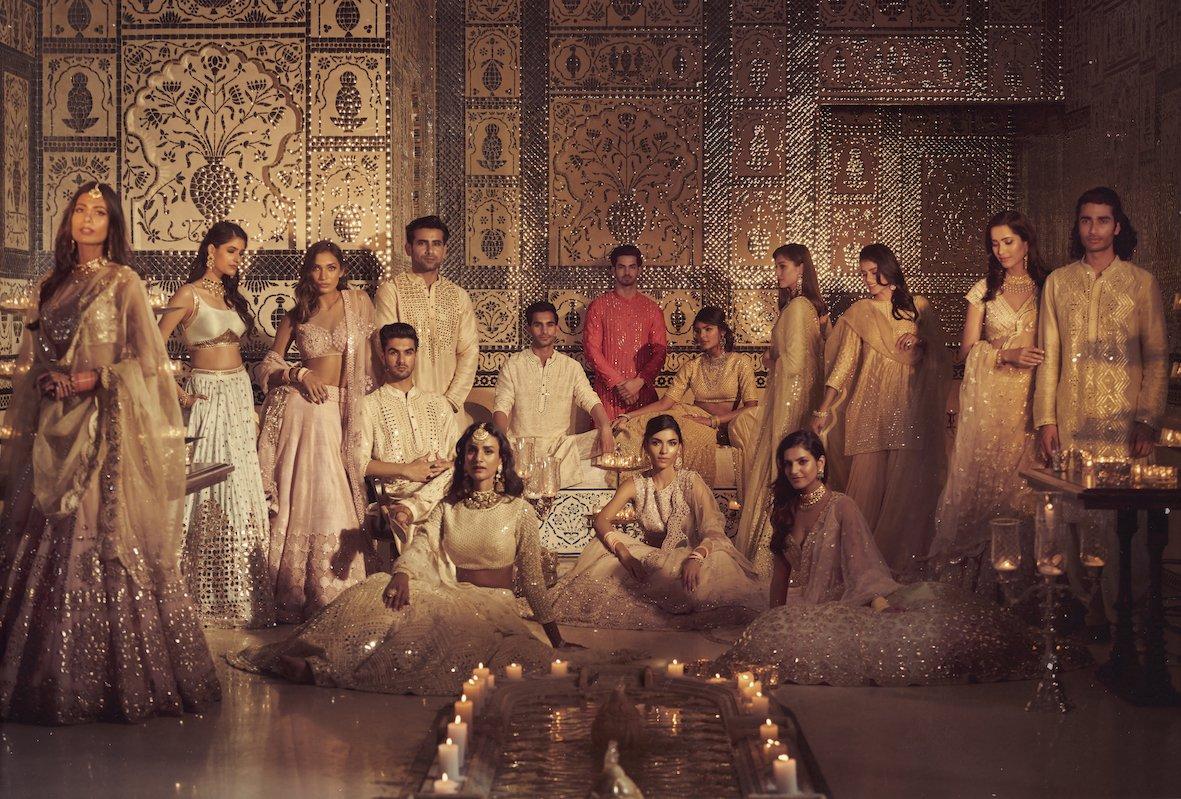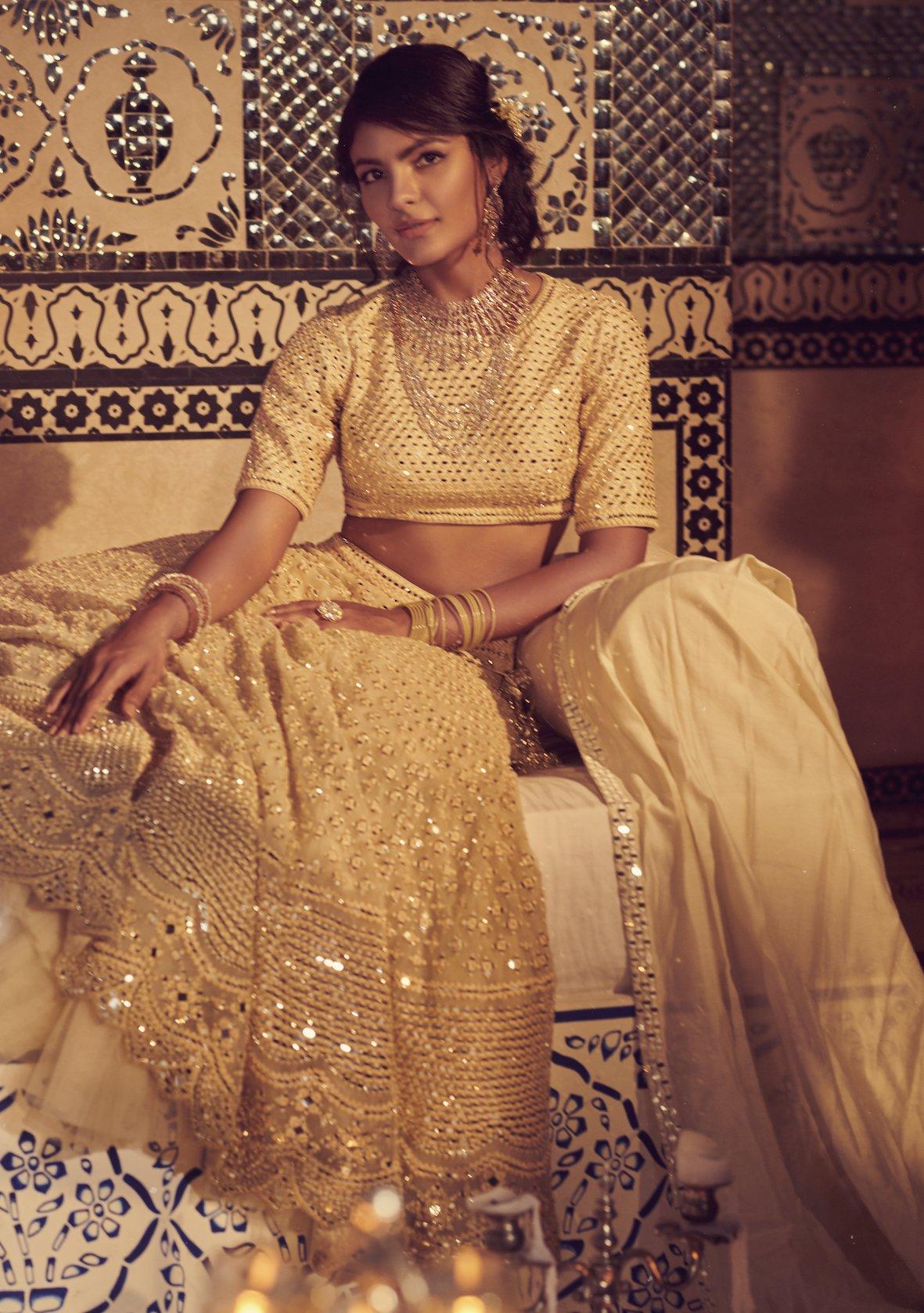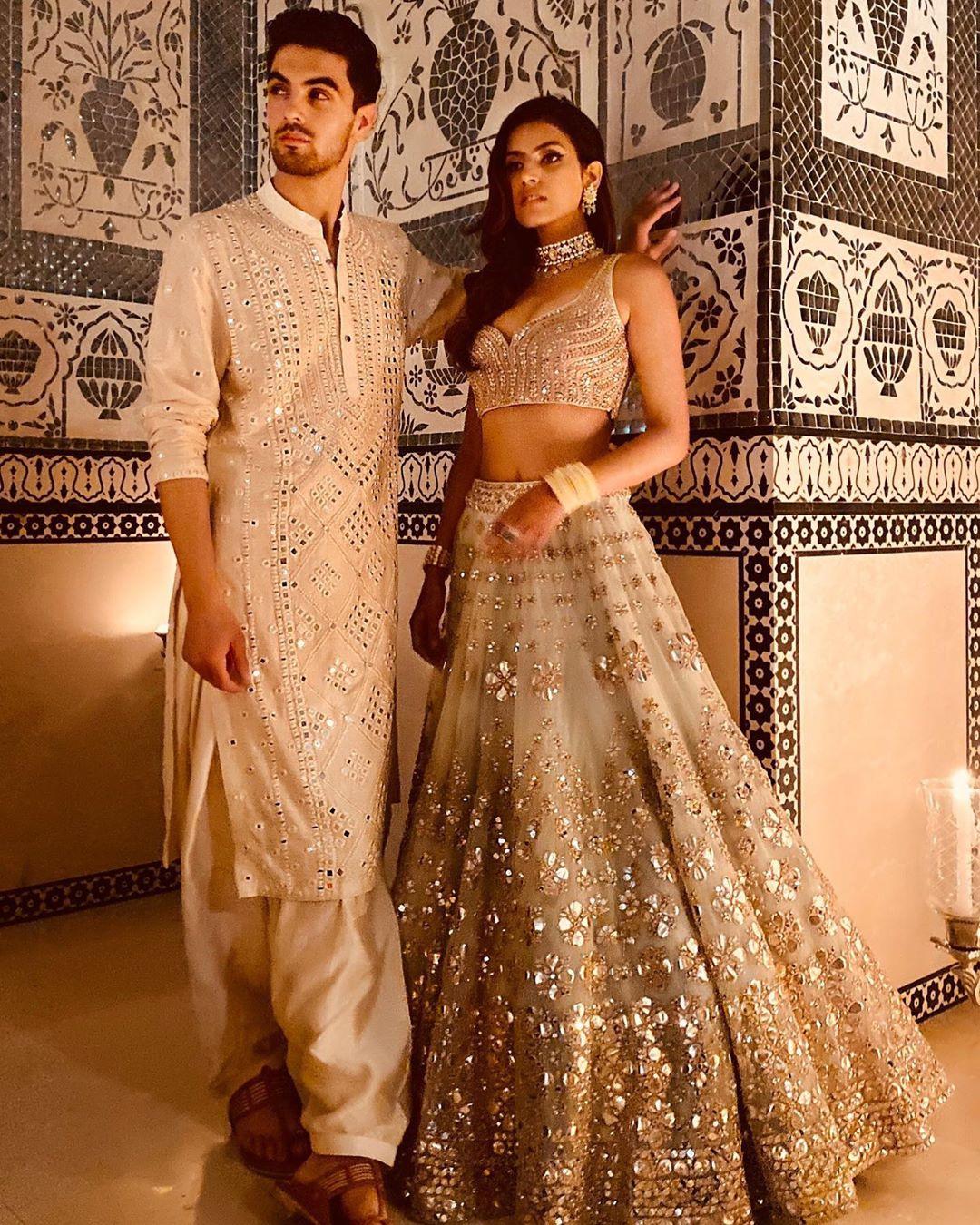 Tarana is a melodious daawat served in ivories and beiges, with the designer's signature mirror work juxtaposed in nawaabi designs. Abhinav Mishra designs a line inspired by a royalty dipped night that celebrates enchantment and wonder. What wins our vote of approval? All of this royalty comes wrapped in a lightness of being - reminding you to breathe and flow effortlessly during celebrations.
Retro Romance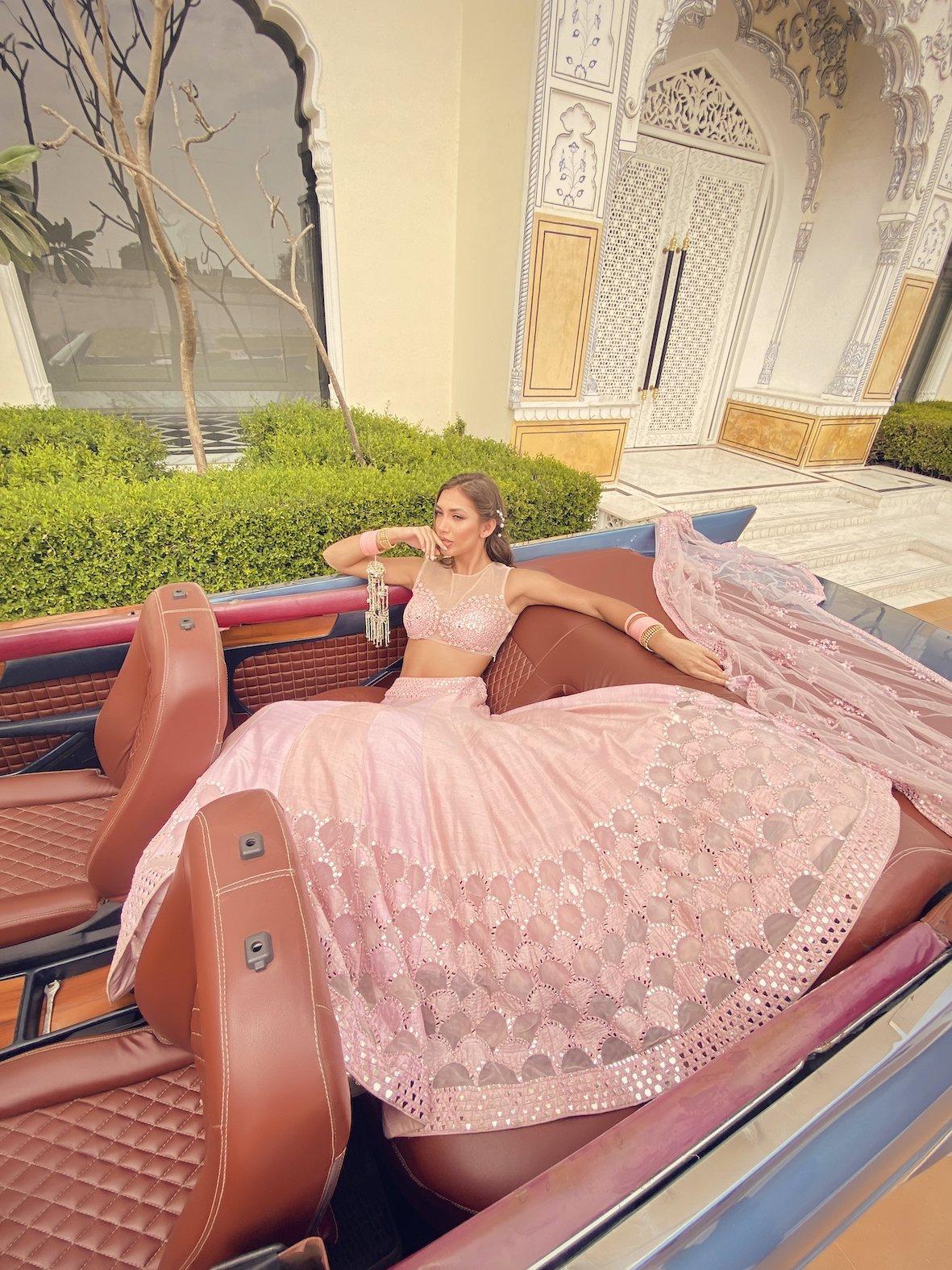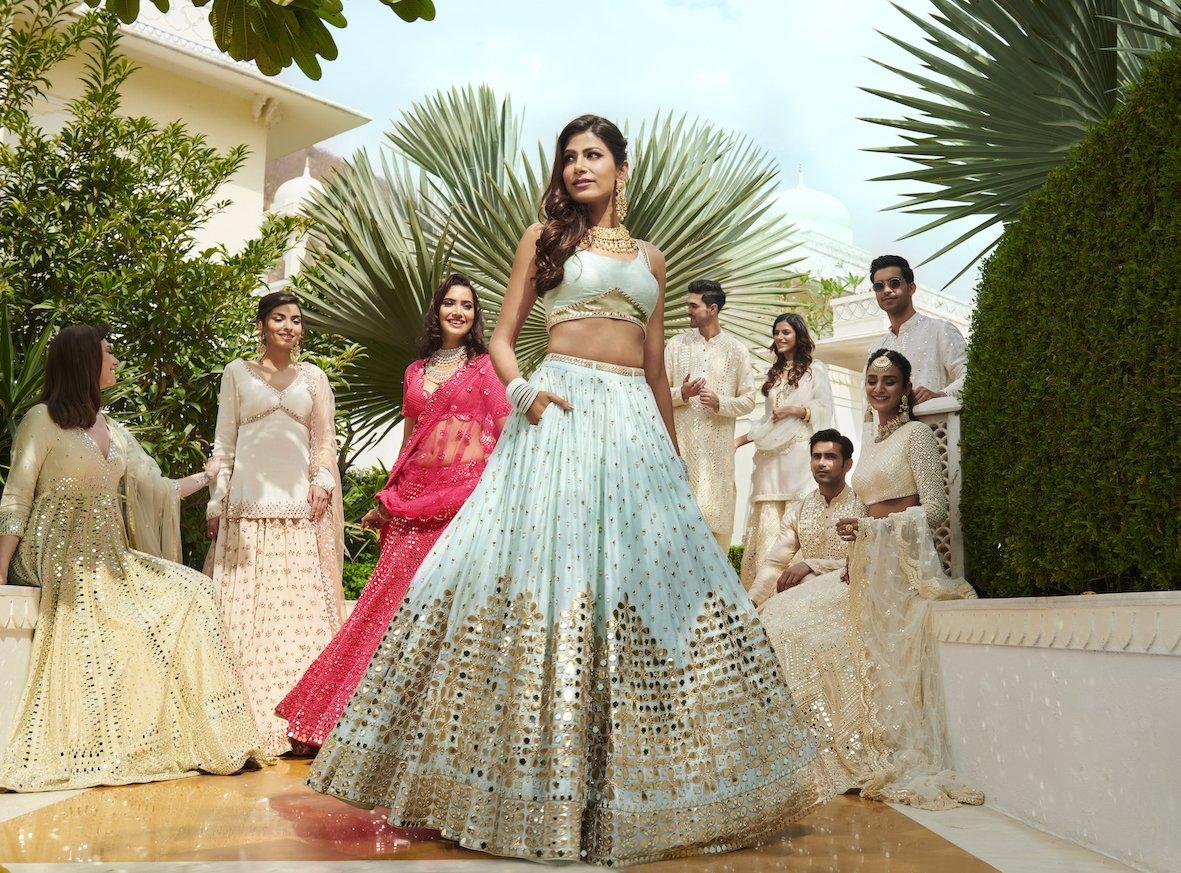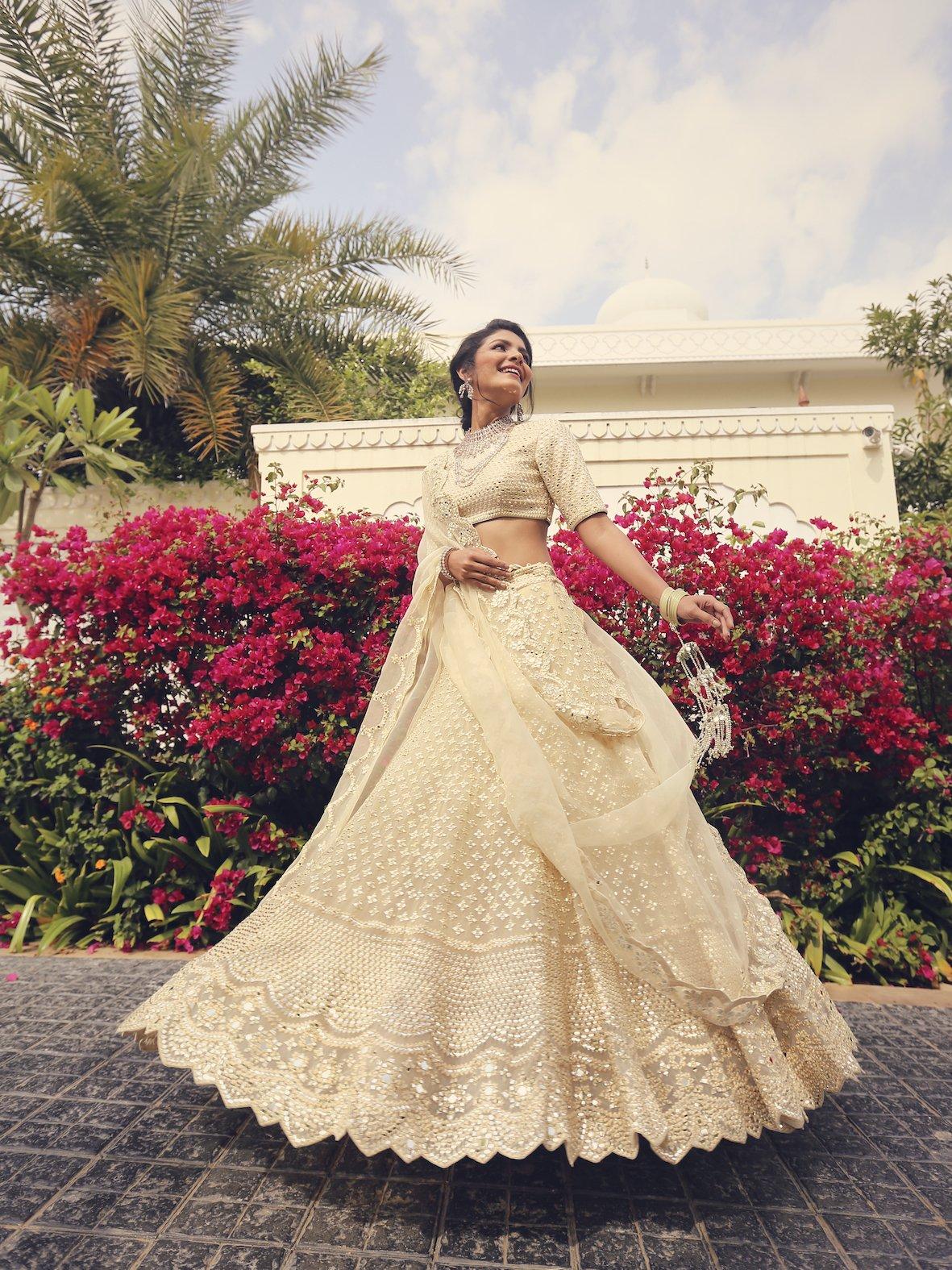 Most millennials are hit with a veritable nostalgia bomb during their wedding preparations - the power of heirloom. With the strings of traditions tied to their heartstrings, they opt for wedding looks that can strike a perfect balance between glamour and old world charm. Abhinav Mishra's retro romancing designs are soaked in an aura of retro glam, fusing the traditional with a contemporary edge.
Excerpts from an Exclusive Interview with Abhinav Mishra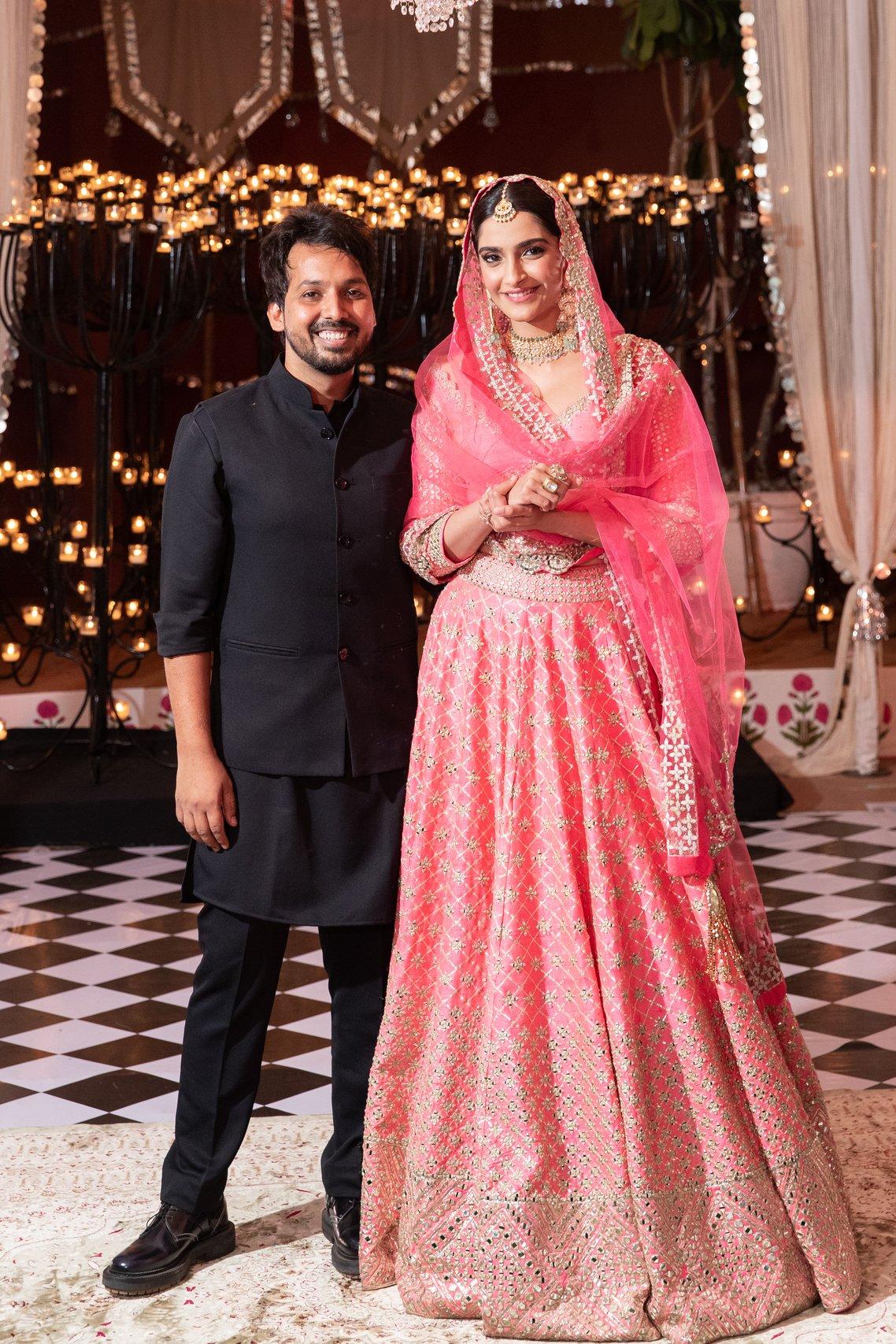 Image Courtesy - Abhinav Mishra
Q. What are the New Age Brides' Must Haves from this collection?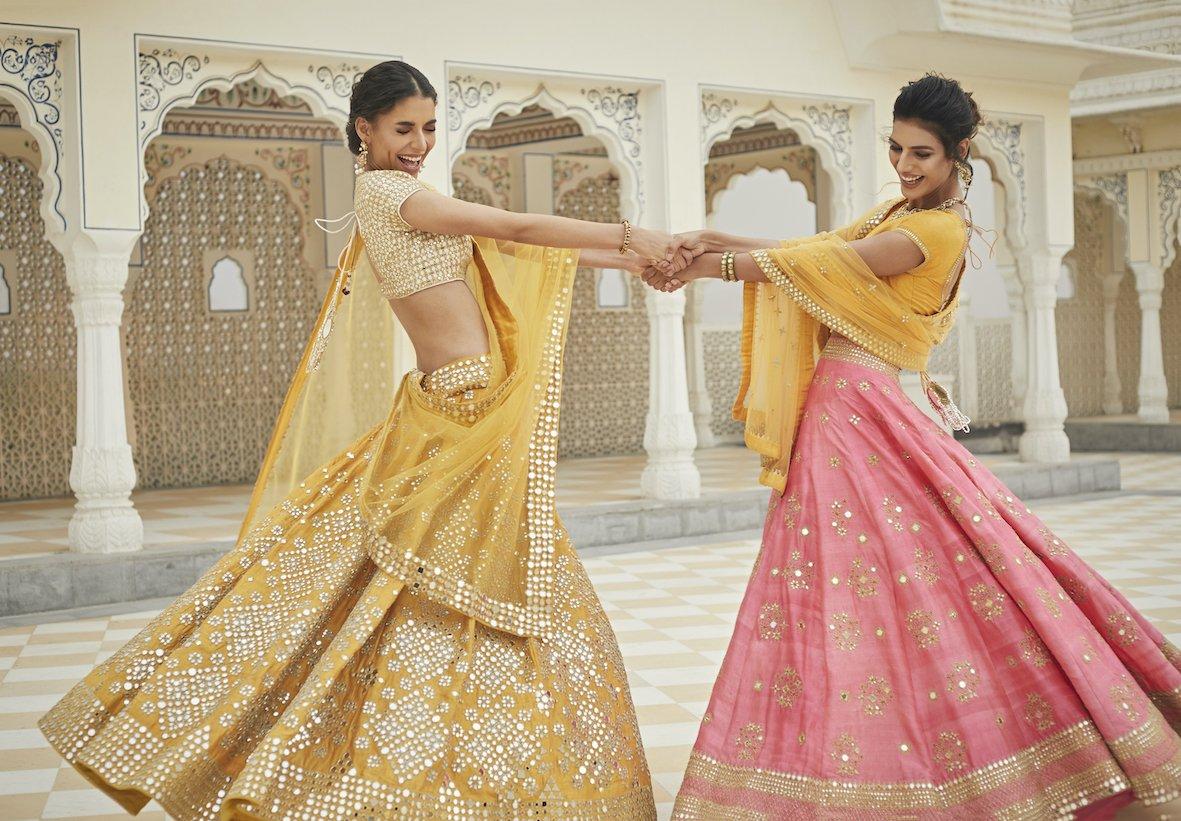 Image Courtesy - Abhinav Mishra, The Royals - Sunflower
Abhinav Mishra: I suggest getting hands on the summery colours as well as prints from the Sunflower collection. It's young and vibrant, perfect for mehendi functions. A lehenga will never go out of style so there's plenty of options in our new collection, across a pallette of striking colours. For the grooms, there's perfectly coordinated kurtas that compliment the collection beautifully!
Q. Many Millennial brides love traditional pieces, how have you kept traditions alive in your designs? What are the new age twists in this collection?
Abhinav Mishra: This collection is perfect for the 2020 bride because the 'millennial bride' is our core consumer and she is not afraid of experimenting and taking risks. The bride and her friends are suiting their own personal style and rarely adhere to age old traditions, however they are still grounded and celebrate their heritage. It is this sentiment of 'old meets new' that makes the collection ideal for the 2020 bride. My signature heritage craft of mirror work stays alive with the vibrancy of colours that go beyond red and maroon.
Q. How has the choice of colours changed every theme's mood?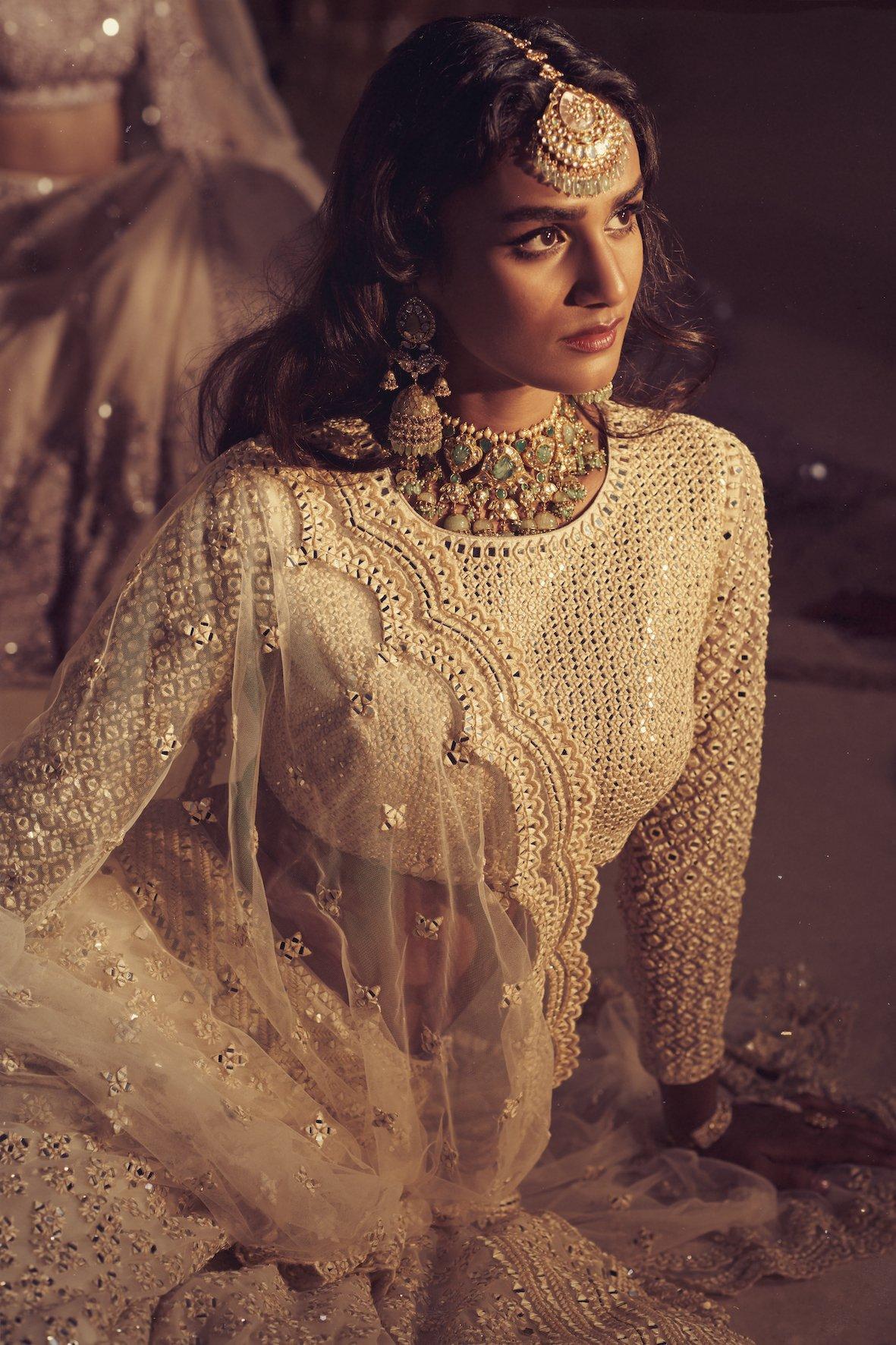 Image Courtesy - Abhinav Mishra, The Royals - Tarana
Abhinav Mishra: There is a splash of colours in the Sunflower collection, lots of prints and bright colours like yellow, orange, red, soft pink etc. The mood deepens with the collection, Mausam Mastana, with deep hues of yellow and pink which I call mango yellow and rani pink with a mix of ivory. Retro romance leads to Tarana with an all ivory theme which is timeless, elegant and pure. A nawabi daawat, an affair fit for the royals, with a sedate colour palette yet a glamorous feel. Ivories and beiges, juxtaposed with our signature mirror-work creates a night of Sufi enchantment and wonder.
Q. There are mirror work designs adorning lehengas of every theme, but they are strikingly different from one another. What are the different design elements used in different themes?
Abhinav Mishra: Sunflower is breezy, colourful and free, with spirits flying high. Vibrant splashes of colour, and dramatic prints teamed with our signature mirror-work, amps up the glamour and sets the mood for a mystical and bohemian day time affair. Mausam Mastana is the idyllic mehendi morning, against the royal palace, elevated by a titillating breeze featuring our Abhinav Mishra millennial bride. 
Bright colours and bold patterns with our signature mirror-work, creates a sparkling mood that balances her vibrant avatar with her vintage aura. Tarana is a nawabi daawat, an affair fit for the royals. Ivories and beiges adorned with our signature mirror-work creates a night of Sufi enchantment and wonder. Retro Romance is the day of the wedding. The mirror work reflects the morning sun and mirrors the twinkle in her eye.
Q. What are the 3 must-haves in every trousseau this year?
Abhinav Mishra: The right jewellery - chokers and big jhumkas, Colourful prints and lots of heirloom shawls. We have a special surprise for everyone this year, to be revealed soon :)
Q. The most trending colours of the year?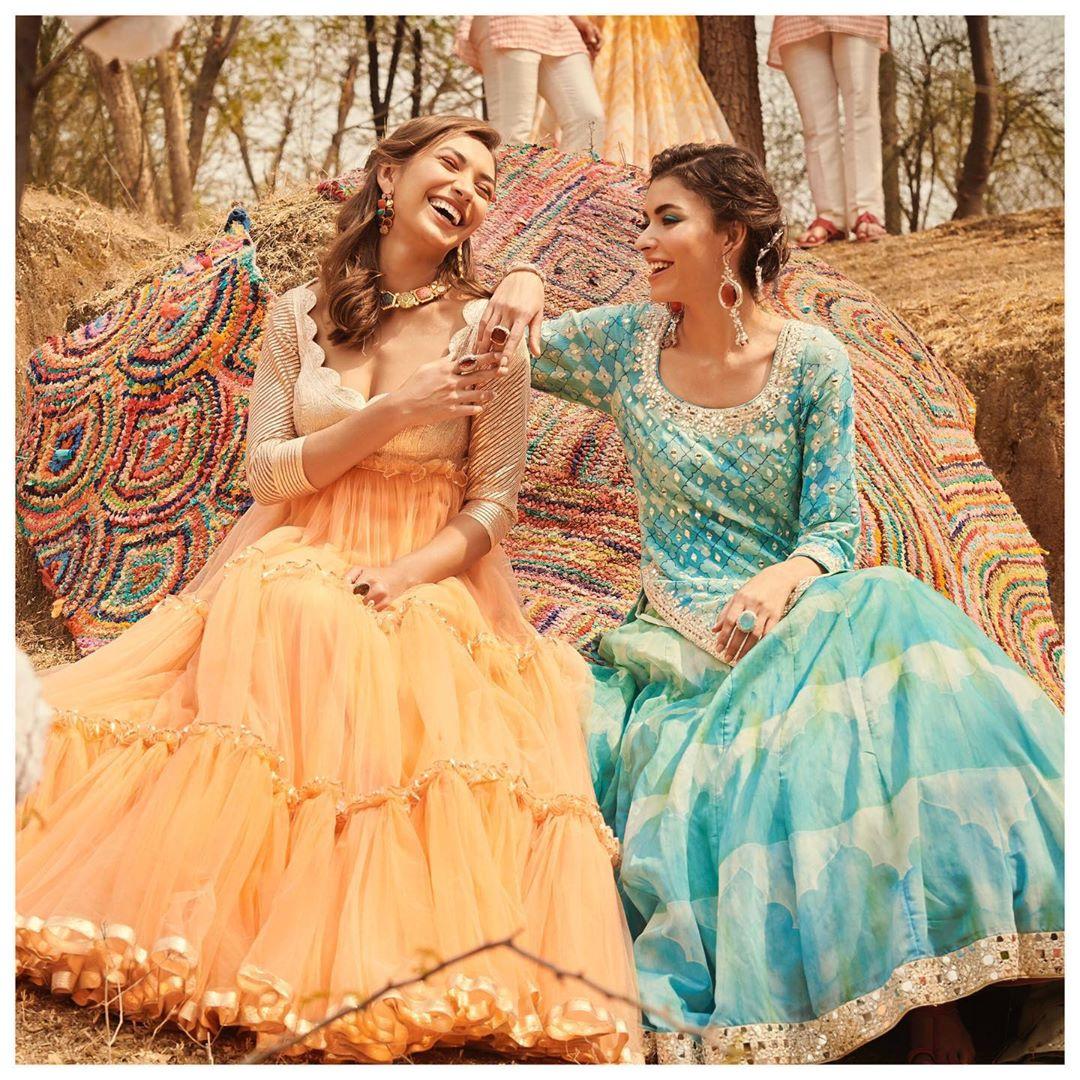 Image Courtesy - Abhinav Mishra, The Royals - Sunflower
Abhinav Mishra: Cool summery colours like mango yellow, orange, mint green, rani pink go perfectly with the season. Also, ivory is a timeless colour that looks beautiful throughout the year!
Q. The on-trend silhouette, fabric and blouse designs for 2020
Abhinav Mishra: Classic silhouettes will always be in style! Also long jackets with pants as well as crop tops and tops with long slits.
Q. A fabric to splurge on for a 2020 wedding.
Abhinav Mishra: Silks, georgette and chiffon!
Q. What are the apt outfit choices from this collection for different wedding occasions?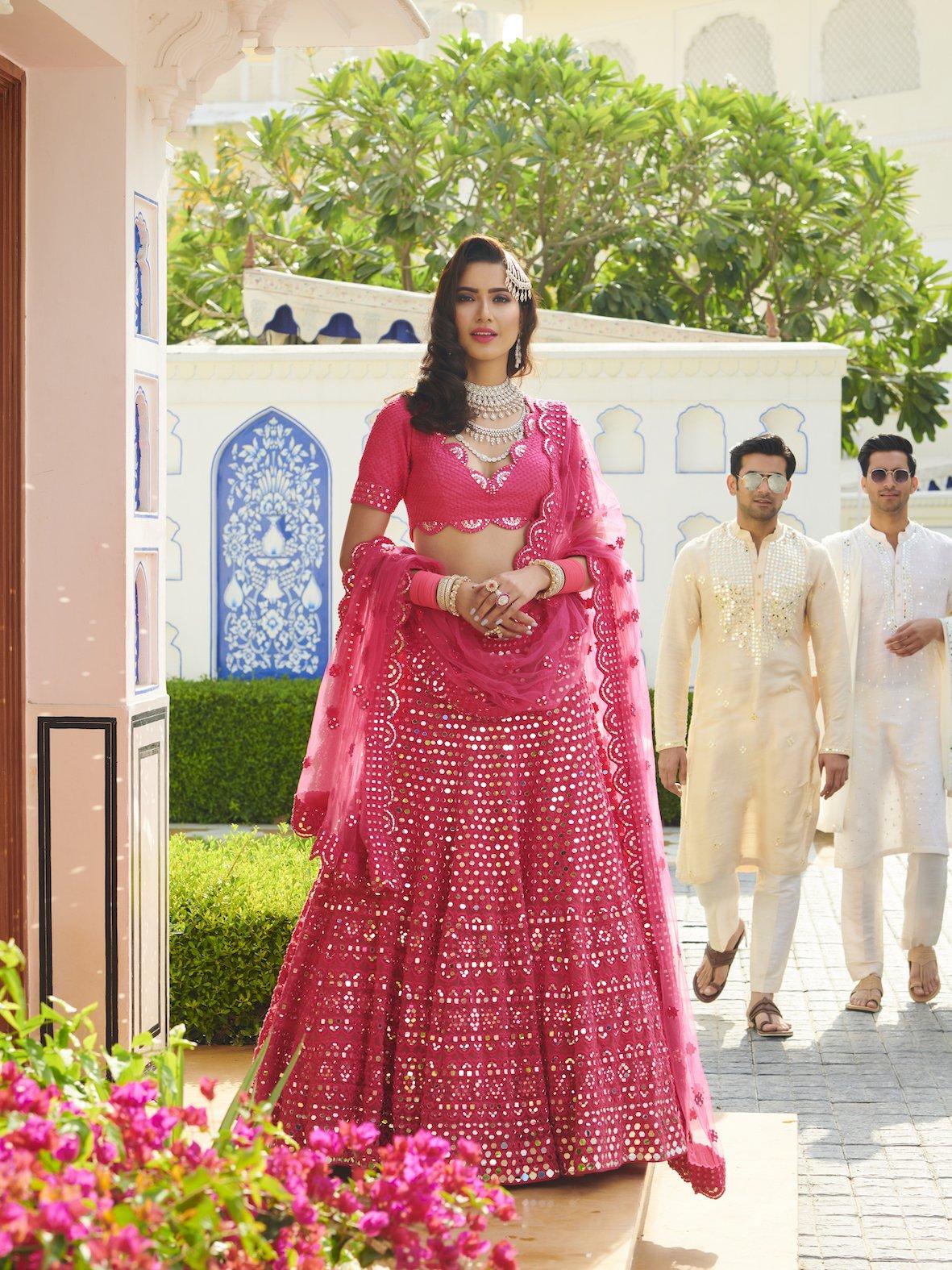 Image Courtesy - Abhinav Mishra, The Royals - Retro Romance
Abhinav Mishra: A colourful printed lehenga from Sunflower, the yellow and ivory lehenga in raw silk from Mausam Mastana, pick any ivory outfit for the sufi night from Tarana and a beautiful rani pink lehenga from Retro Romance for the wedding. There is something for every mood and an option for every bride and her bridesmaids.
Which of these Abhinav Mishra designs are your absolute favourites? Tell us in the comments section below.
Note: All images have been sourced from Abhinav Mishra.