12 Ideas to Host Intimate Weddings for a Close-knit Big Day
An intimate wedding means working on a limited guest list. Here are some fab ideas to make your intimate wedding a beautiful close-knit affair to remember!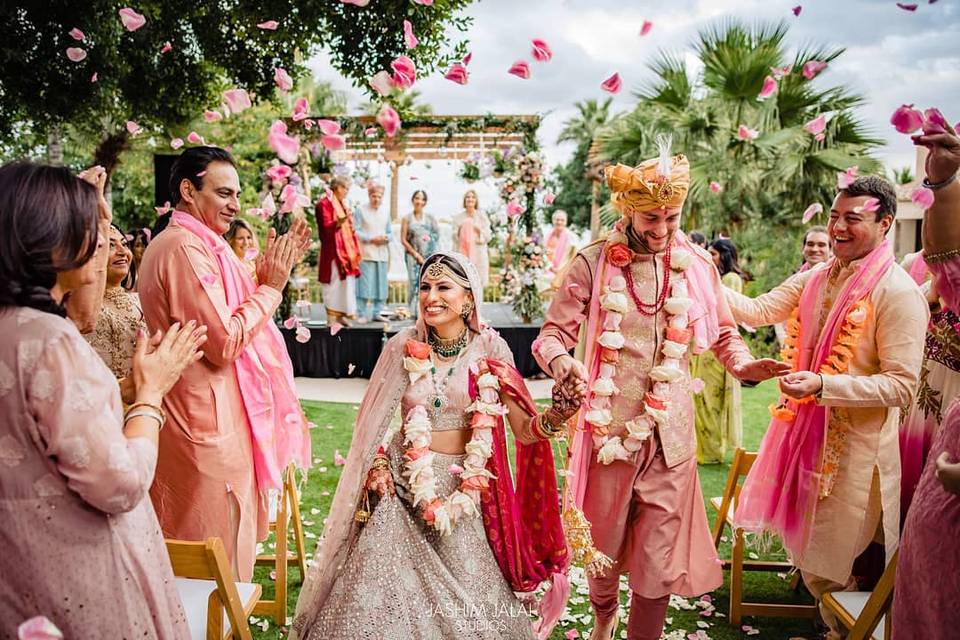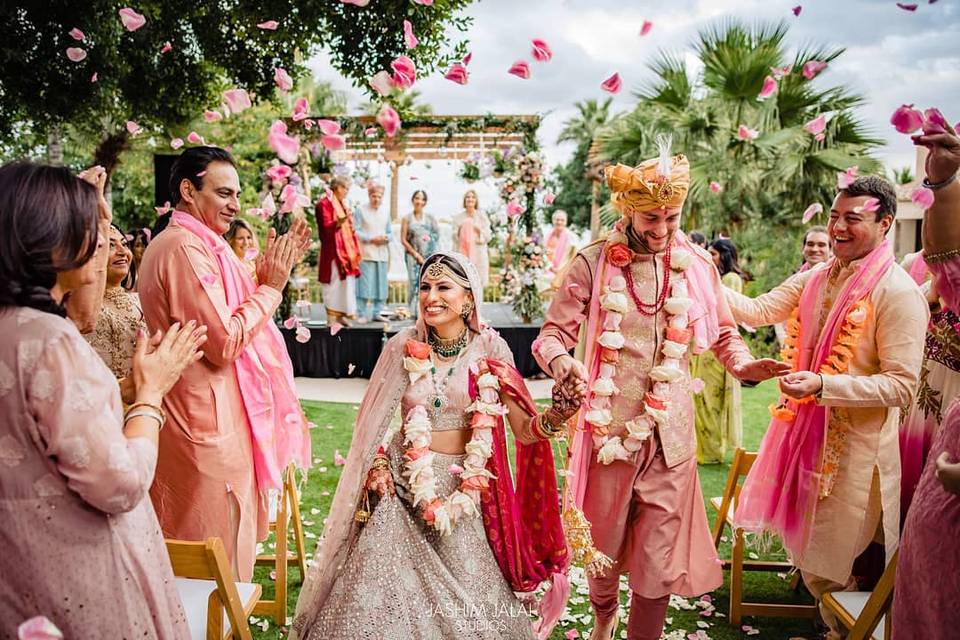 Image Courtesy: Jahim Jalal Studios
Hosting an intimate wedding is not always associated with a modest affair. Sometimes the privacy and exclusivity that an intimate wedding has to offer is an ideal way to celebrate a meaningful wedding with only the closes people present to bless the couple. Intimate weddings, in fact, open a whole new realm of possibilities for you to experiment with and plan your own luxe fairytale.
From personalisation at their best when it comes to planning to unique venues for intimate weddings and unconventional ways to add to the traditions, intimate weddings are a big hit among many millennial couples for a variety of reasons.
Here are some ideas for intimate weddings and how to host a flawless one to inspire you on planning an awesome wedding ceremony of your own.
Host a Destination Wedding
There is no doubt that a shorter guest list is easier to round up. If you have always wanted to celebrate a palatial wedding in Udaipur like Priyanka Chopra and Nick Jonas or at a beautiful intimate wedding in Tuscany like #Virushka, an intimate wedding is your best chance at it. Getting your near and dear ones on board for a micro-wedding, and coordinating the travel plans is easier. A bigger list of people need a lot more hectic planning and often plans turn into a game of Chinese Whisper when not handled with perfection and patience. You can host your intimating wedding abroad too.
Downsizing your guest list requires precision and might even ruffle up a few friendly feathers here and there, but you can always plan for a grand formal or informal reception later that includes everyone the both of you know. Keep the D-Day for close ones only.
Open doors to Unusual Venues
While a traditional big fat Indian wedding is nothing short of a gala that requires a large wedding space to accommodate the celebrations with ease, an intimate wedding is different. Intimate wedding venues also include unusual venues breaking away from the mainstream choices made by the to-be-weds these days. A stunning venue on the top of the hill, a heritage site or a beach you adore might not allow more than a certain number of people and an intimate wedding is the key to hosting the wedding of your dreams without any hassle.
Pick a place in the woods for a rustic wedding or a hilltop to have the sunset at your backdrop as you take your vows to make it an unforgettable event for all to be blown away by the aesthetic ambience.
Accommodation for All to Stay Together
Even OTT Indian weddings have relatives and other guests coming over form all around the world to attend the big day and might need accommodation in the city. But in an intimate wedding setting, you could make accommodation arrangements for all at one place including yourself and the groom. You could all spend more time staying together and not having to indulge in a lot of to and fro or driving around with a tight schedule to attend to everyone.
Depending on the size of your guest list you could accommodate all of them in one resort with adjoining rooms. This will be a great time for breaking the ice of awkwardness among the guests. With all of them in one place, it will be like one big family - feel happier and start the celebrations sooner for all.
Elaborate & Personalised Invitation
Printing out creative wedding cards and sending them out to a guest list of 300+ people is a tedious task at hand. It is not only time consuming but also this task is often handed over to professionals or done by another member in the family. In the case of intimate weddings, you can spend more time in designing elaborate cards and actually experiment with handwritten templates or handmade envelopes to personalise it for the guests to feel even more close and special.
Handwritten cards have their own charm. Impressive watercolour designs or plantable cards can be on your list. You can even send boxed invitations with personalised favours curated for the particular guest receiving it.
Personalised Surprise for Guests
Welcome gifts or Indian wedding favours are a great way to make your guests feel warmly welcomed at your big day. There are unique return gifts for bridesmaids and groomsmen that you can put together for each of them and for your other guests too. Doing so for 100+ guests could be difficult but for intimate weddings, you can actually put your heart in it and plan different gifts liked by your guests.
You and your wedding planner can get together and pack them in quirky and beautiful ways. It is a beautiful gesture and you can steer away from the traditional favours to pick your own welcome box and gift sets.
Extra Details to Decor
Even if a simple wedding is on the books, you can plan your wedding decor in a more detailed manner when it is an intimate wedding. Intimate weddings are your ground to experiment with DIY decor ideas. From bangle decoration to umbrella decor, even dream catcher decor and candle decor - you can have it all done for the venue to look picturesque. The decor in a more spread out wedding venue is not the same as that of an intimate wedding where more focus lies at one place.
It is easier to get everyone on board with the theme of the wedding when the guest list is smaller. You could have a theme for the outfits the guests can pick especially if it is a destination wedding like a beach wedding with flipflops and flowy floral dresses.
Upgrade the Menu
While an OTT wedding with a huge guest list might limit the items you include in your wedding catering services, with an intimate wedding you can go all out. Instead of planning a four-course meal, you can upgrade to an indulgent seven-course meal with a variety of appetisers and snacks doing their rounds on the table.
The meaning of intimate wedding does not always have to be on a smaller budget, it can also mean that there is just more budget for your per-head count. A personalised dessert counter and a fancy bar might just be perfect for your intimate wedding.
OTT Services
Keeping in mind that there are not too many people to cater to all at once, the services that you choose for your intimate wedding have more chances to be the best. The excellence of services while catering to a bigger crowd might get hectic. However, when you have only your closed ones to celebrate with, you can focus on making your wedding services flawless.
Be it the rounds of food or the live music that keeps your guests entertained at dinner, it can all have your personal touch. Your guests can also put in their specific food or song or cocktails on the list to be included and there will be no trouble in wiggling them into the timeline or list.
Dine as One Big Happy Fam
How we love family dinners! With the eldest sitting at the head of the table and the variety of dishes on the table to make it an appetising meal is something that makes any day special. On one of the biggest celebrations of your life, you and your partner can opt for a more wholesome seating arrangement that includes everybody on the same table.
Unlike a wedding that includes a lot of people, you actually get to sit together with your loved ones at one table and share your stories or clink glasses to some fun recalling by an aunt. You do not have to do the rounds of the dining spaces to look after the guests or worry about the food being served right. It will all be at one place for you to cherish forever!
Go All Out With Table Card Ideas
Table place card ideas are an upcoming trend for Indian weddings. To make your wedding seating a flawless one, table cards are a go-to option. However, instead of printing out the name cards, you can create unique stationery for your wedding name cards and table cards. Make your own cut-outs and maybe even add little personalised notes for each guest at their seats.
You could even use their nicknames instead of the formalities. You could leave different appetisers for your guests based on their choice and preferences if you know of any.
Open Mic
You could plan an open mic session in the timeline. Many guests at a bigger wedding celebration might not know everyone well to relate to the stories to toasts that your friends and family have in store for your big day speech. However intimate weddings that involve only your closest friends and family members are a perfect place for you to arrange for an open mic.
Pass the mic around the table at cocktail hour or after dinner maybe and hear your guests unfurl some fun stories about you or your partner at your wedding. These are after all the memories that one carries forever in their hearts. Avoid one too many drinks for the uncle/aunt who might get too emotional or say that extra line about you! 😝
Extended Festivities
While you and your guests stay together at one place even before the wedding ceremonies start, intimate weddings allow you to break away from the timeline and enjoy some extended festivities. Make sure to keep your guests involved at all times, be it through conversations or fun activities that you have in store for the days. You do not have to bid goodbye after the wedding.
Instead, you could plan for a beautiful formal brunch the day after or a spa session to get rid of the hangover.
WeddingWire, India suggests:
Even if it is an intimate wedding, get in touch with the professional wedding planners to make the wedding planning process stress-free and flawless. The wedding planner has responsibilities in their KRA that will make sure that your wedding is just as you wanted it to be and at the same time, you could work closely with them to supervise them to be on top of everything.
An intimate wedding is also the right occasion to pay heed to small details and include your heirlooms like the family-owned china, vintage dishes that you cannot include in a 100+ guest list wedding. You could also include hand-embroidered napkins for the guests as a token of appreciation.
Intimate weddings in India offer a rich guest experience where the bride and groom actually get time to spend with their loved ones who are present at the wedding. It does not have to be a sans band baja baraat kind of a wedding ceremony just because it is intimate. You can splurge all you can when it comes to the wedding budget and plan an OTT true blue Indian wedding at its best, but only with a handful of your dear ones to grace the day.
If you are planning on hosting an intimate wedding, get in touch with the best photographers on board with us to make sure no moment goes uncaptured for your wedding album with some kickass intimate wedding photography.