Check These Diy Wedding Place Card Ideas for an Intimate Ceremony
During tough times like these, intimate weddings are what couples are going for. So, here are some creative DIY Wedding Place card Ideas you could try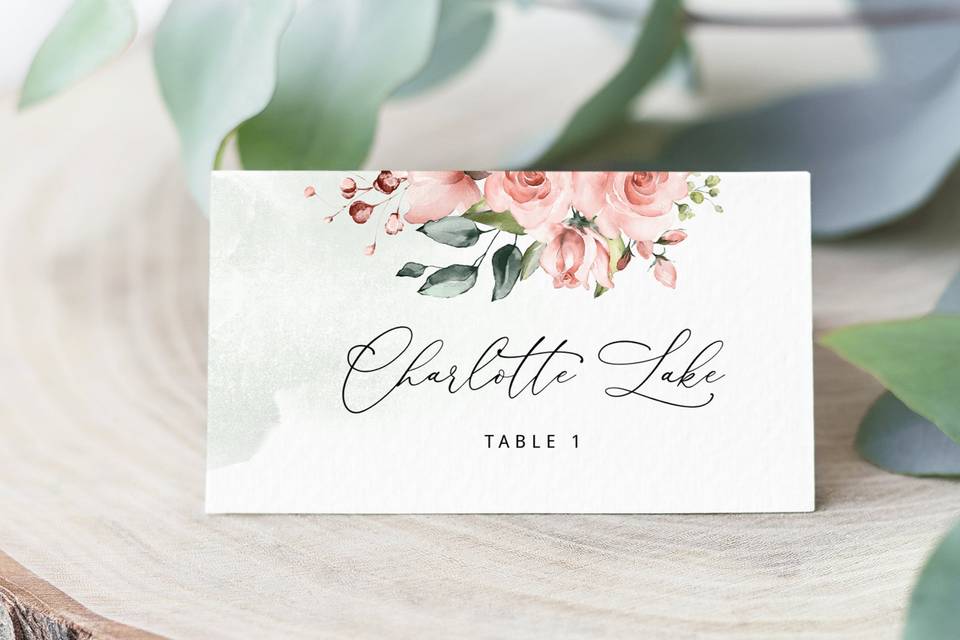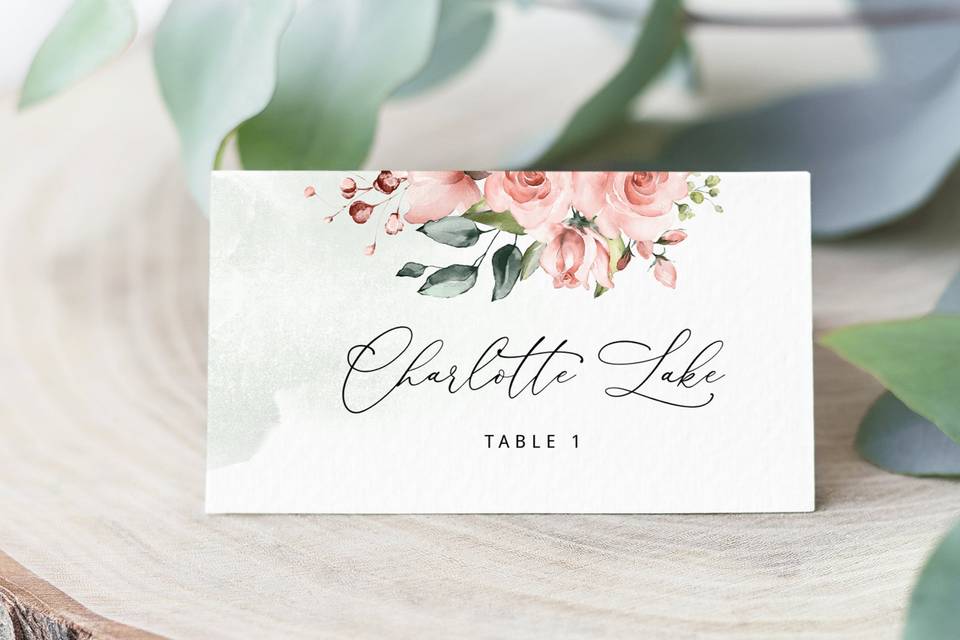 Image Courtesy: Etsy
Sure, times are tough. Weddings are getting postponed. Couples are finding ways to keep up with their wedding planning by maintaining social distancing. There are so many hurdles to be dealt with. But that shouldn't dampen the spirit of your wedding that you've been dreaming about for years! Intimate weddings have emerged as the "in thing" during this whole COVID-19 era. There is a bright side to everything. So how about we give you something to feel happy about during this difficult time!
Using wedding place card ideas is quite a trendy way to add a personal touch to your wedding table setting. And with a little creativity, you can get some really fancy table card holders too! So, check out some DIY ideas and add a dose of elegance to your table decor game!
Colourful leaf cutouts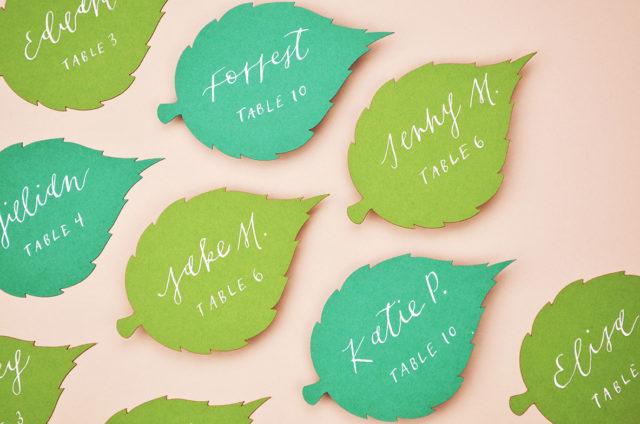 Image Courtesy: Cards & Pockets
Here's one of the simplest yet prettiest wedding place card ideas that you can make yourself. Add names of your guests to these colourful paper cards cut out in the shape of a leaf. Use hard paper or cardboard paper to make these placards. Bring some vibrancy to your table decor with these green leaves!
Paper tags with ferns or flowers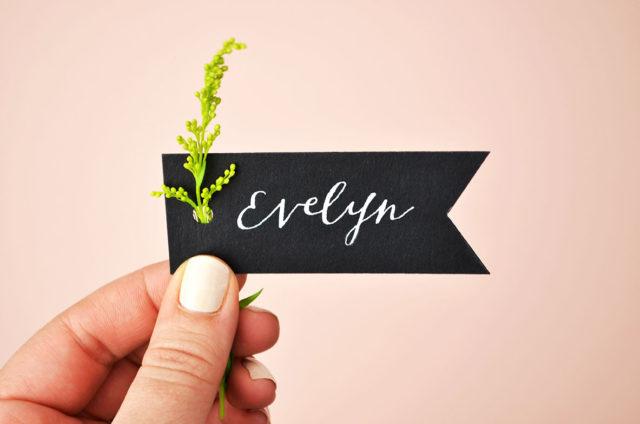 Image Courtesy: Ebony Black
If you're having a garden wedding, this would be one of the most ideal wedding table card ideas. And it's very simple to accomplish too! All you have to do is use paper name tags cut in arrow shapes and add a sleek fern branch to it. You could use a stem of the fresh or artificial flower with each tag too. Simple yet elegant!
Name card holder with vase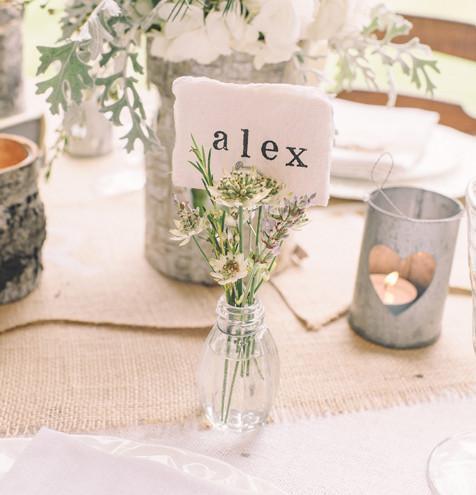 Image Courtesy: Shopify
Try this table card holder idea to glam up your DIY decor. Use a hard paper or cardboard to write the guest's name and fix it on one of the buds/flowers in a vase. Attaching the name card with a flower stem would add more elegance to the table. Accompany it with some candle decoration for extra chicness.
Chocolate holders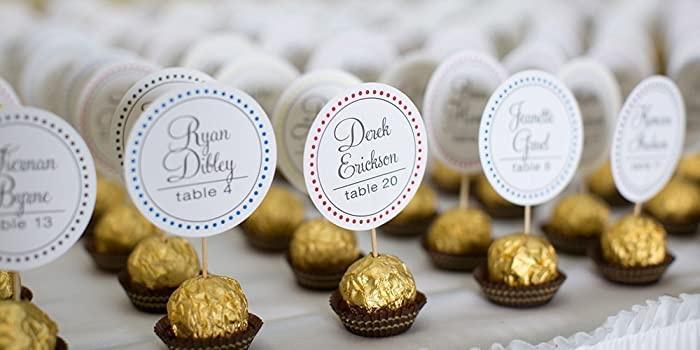 Image Courtesy: Amazon
Fixing the name tags with chocolates using toothpicks could be one of the simplest yet most genius wedding place card ideas! Sending love with every chocolate to your guests personally is a delicious way to make them feel special.
Jute or cloth pouches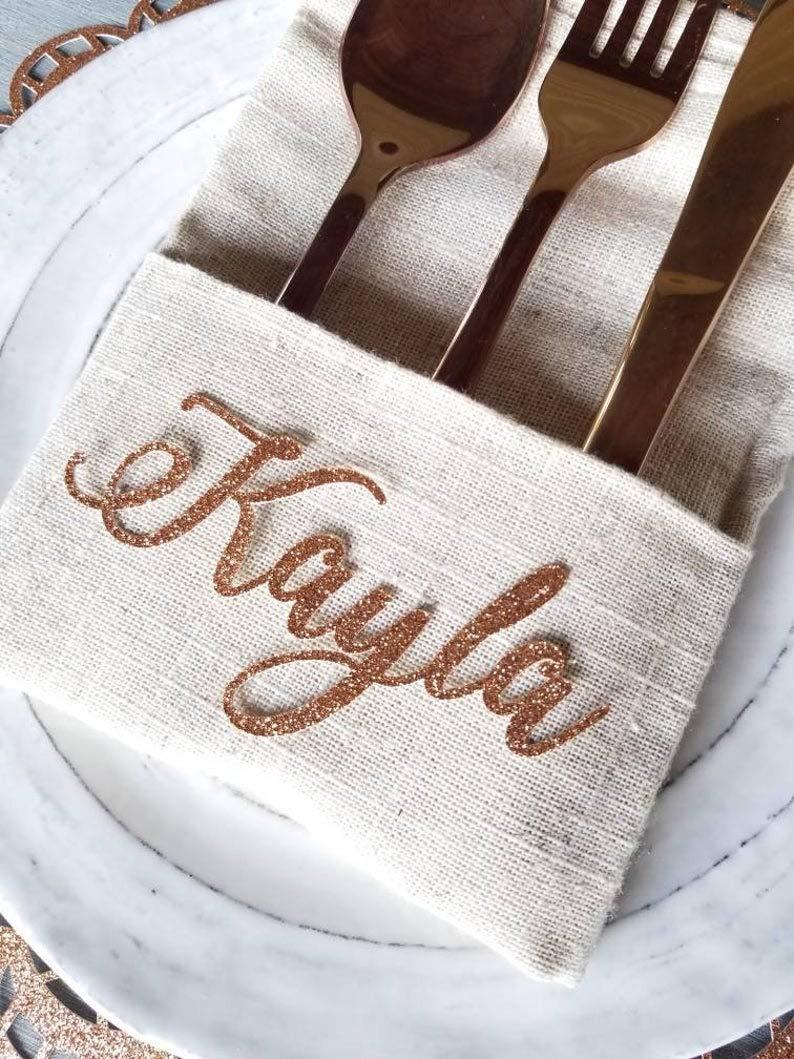 Image Courtesy: Amazon
If you can find an artist who has a knack for sewing, this could be one of the most graceful wedding place card ideas. Simply make cloth pouches using colourful dupatta, jute cloths, silk scarves or whatever piece of fabric you like. Stitch them up in the shape of pouches for cutlery. Finally, add the guest's name using thread embroidery. If that sounds like too much work, you can also use glitter pens or paper cutouts for the names.
Shell holders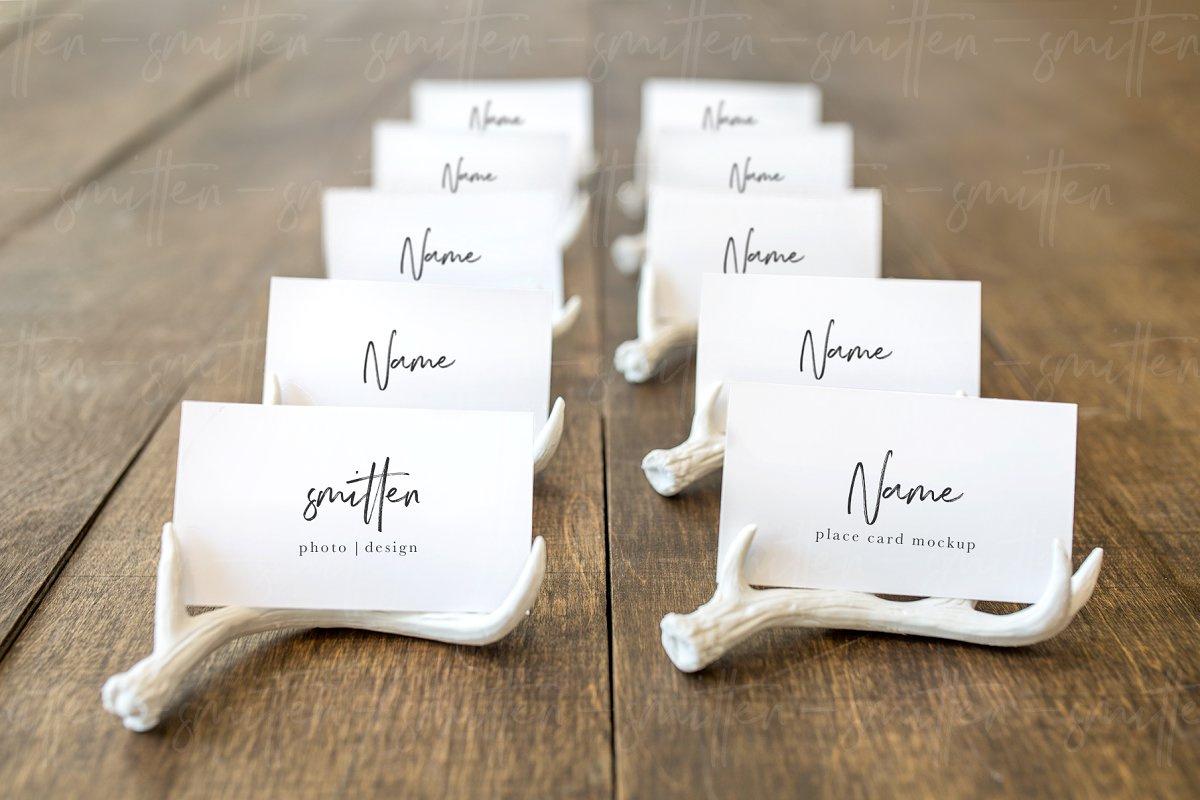 Image Courtesy: Creative Market
Here's a fun idea to take advantage of an intimate beach wedding. Use beautiful seashells and conchas for your wedding table cardholder. Make sure to fix the name cards on the shells using the gum. You can write the names using your own handwriting for a personal touch.
Little blackboards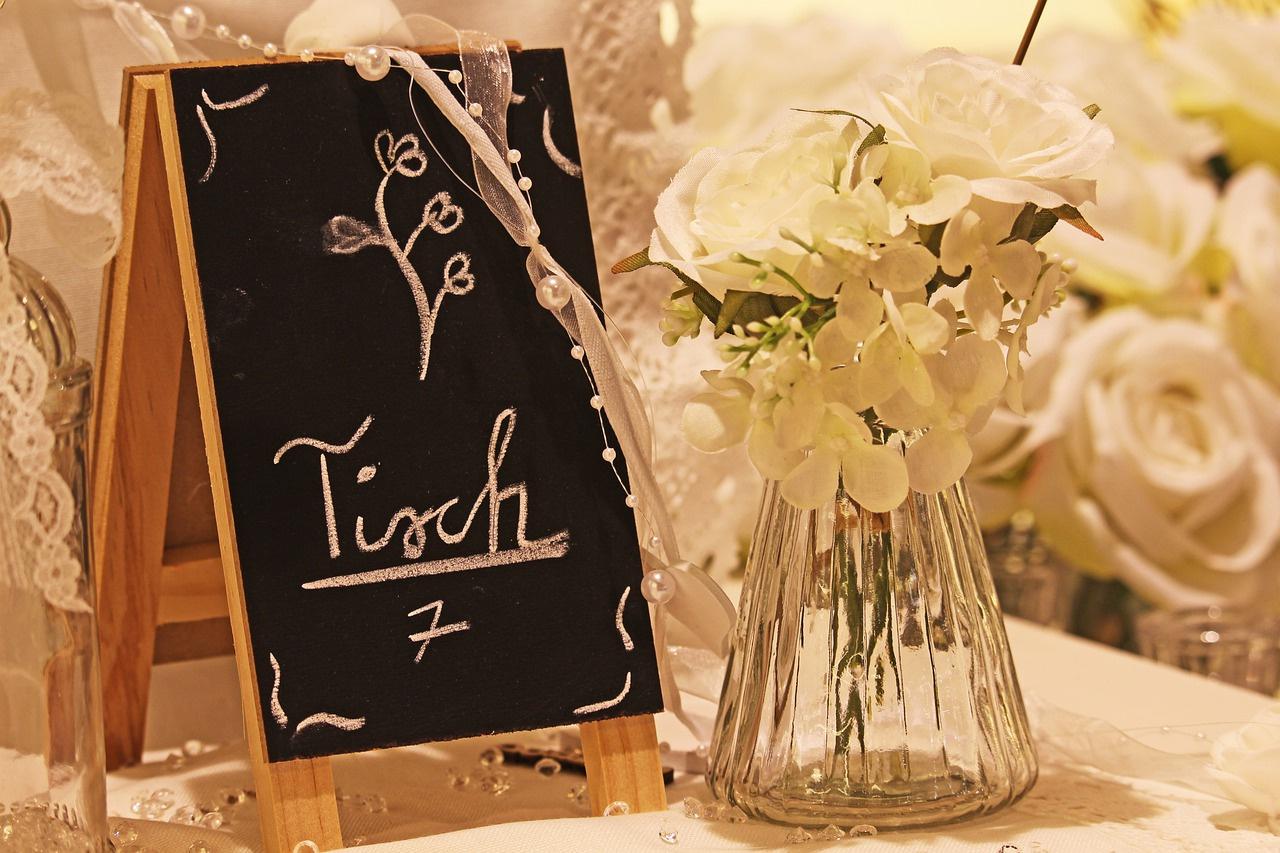 Image Courtesy: Pixabay
Use little blackboards to write your guests' names with chalk. Simple, stylish and fun. That's the kind of table place card idea that would go perfectly with a Boho theme wedding.
Shot glasses with lime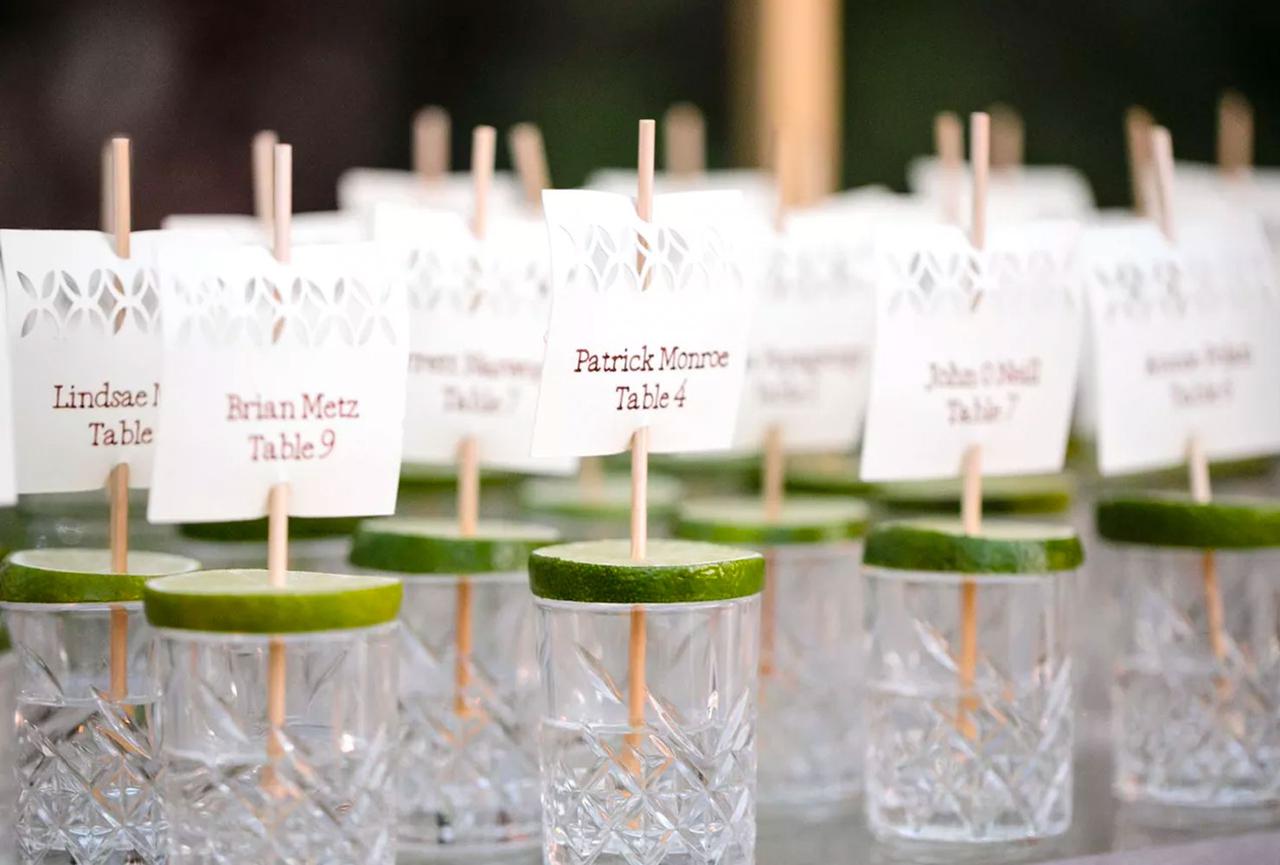 Image Courtesy: Shutterfly
Add some quirkiness to your table place cards. Attach the name cards on the straw inside shot glasses and cover the glass with lime slices. Who wouldn't love that kind of innovation! And it's totally easy to obtain too.
Name Cards on Sindoor boxes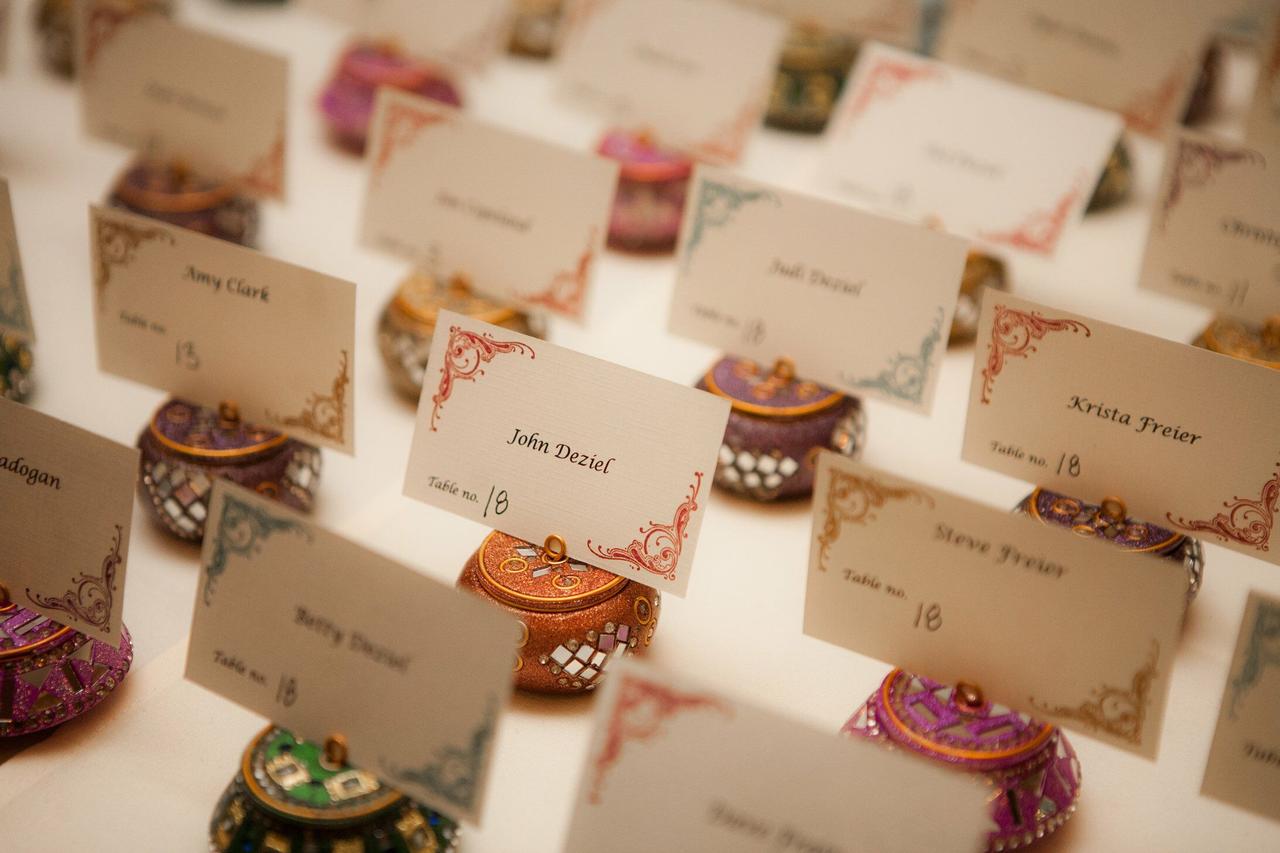 Image Courtesy: The Knot
If you're looking for some traditional wedding place card ideas, try using small Sindoor boxes to hold the name placards. The Kumkum or Sindoor box will add an ethnic touch to your table decor and would perfectly go with a royal theme wedding.
Sew the Names on the Napkins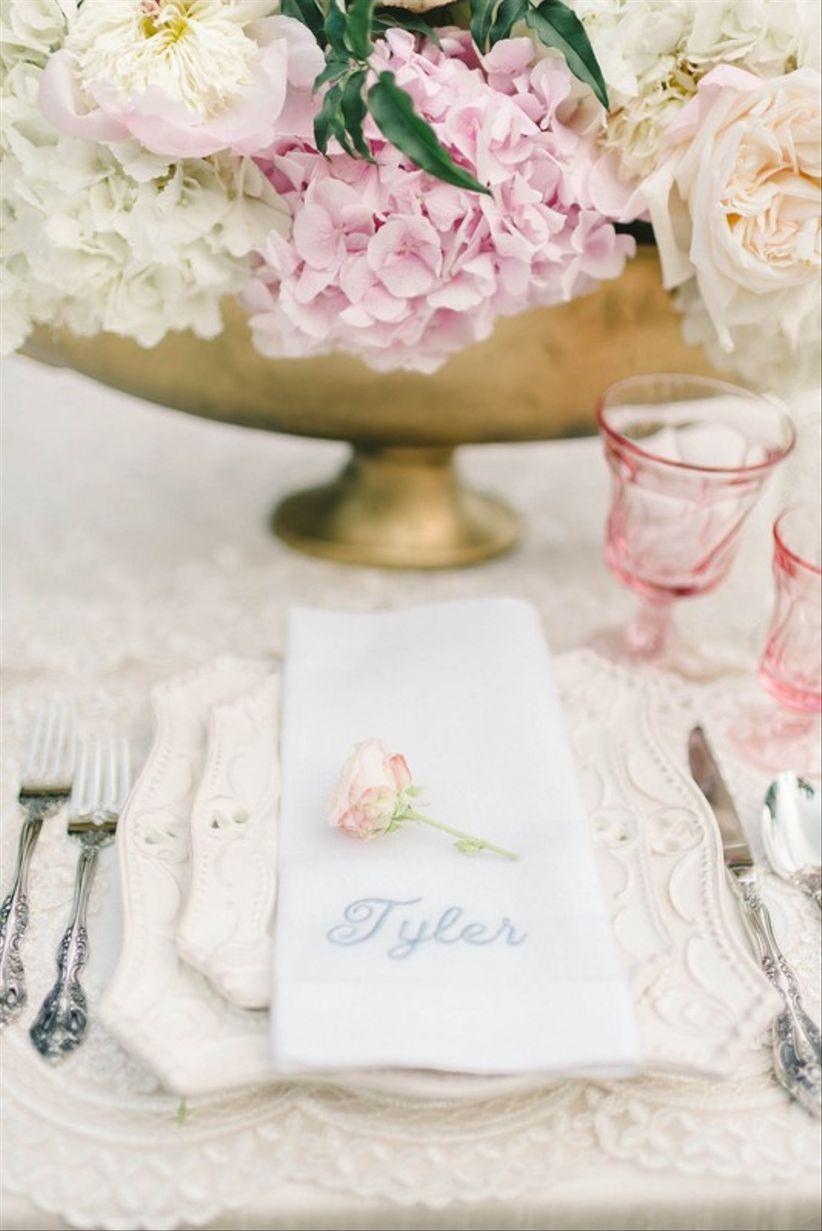 Image Courtesy: Elizabeth Fogarty
Given the lockdown and more scope of including DIY in your wedding planning, you can get your creative juices flowing with a needle and thread. Sew the name of your guests on the cloth napkins placed at the tables. A dainty embroidery on a napkin can be used as a name card for placing your wedding seating ideas. It is not only a warm and personal touch but also a favour that your guests can carry back home as a memoir.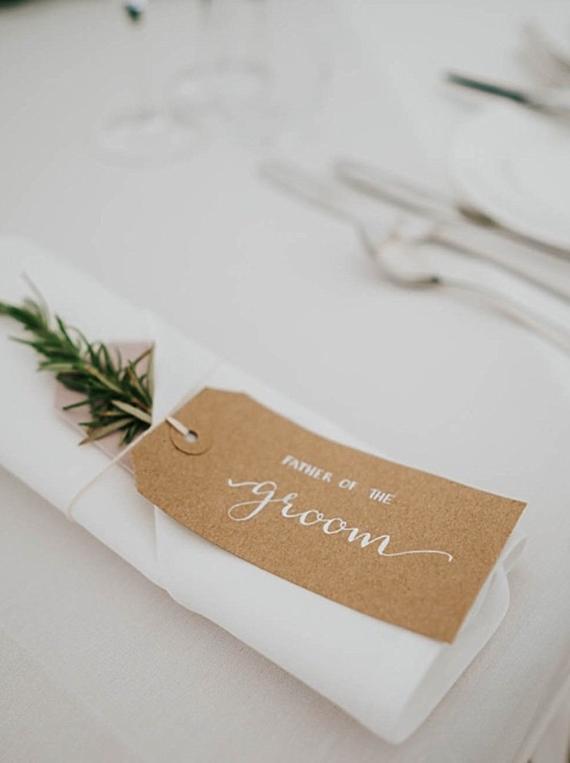 Image Courtesy: Etsy
The whole point of picking DIY wedding place card ideas is to do some fun wedding tasks together with family and friends. Of course, when you assign such jobs to the professionals, your life becomes easier. But, when you have a house full of cousins, aunts and siblings, there can't be anything more fun than DIY decor. Use old silk sarees, cardboard papers, colourful chart papers, glitters, paints and just let your creative juices flow. Once you get on with it, trust us, the amount of fun you're going to have is priceless. And don't forget to click some memorable selfies while making them.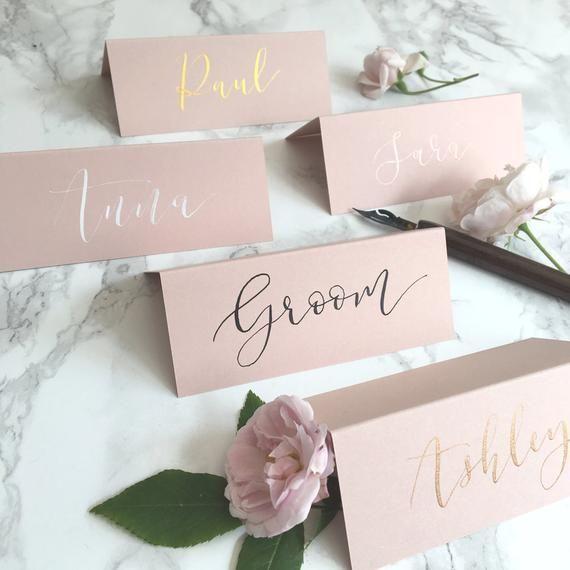 Image Courtesy: Etsy
Do you have any more handmade table place card ideas that can be used in an intimate wedding? Share your creative thoughts with us in the comment section below!