11 Easy to Pull Off Table Decoration Ideas That You Can Copy
While taking care of every small detail at the wedding, did you by chance miss out on table decoration ideas? Well, we hope not!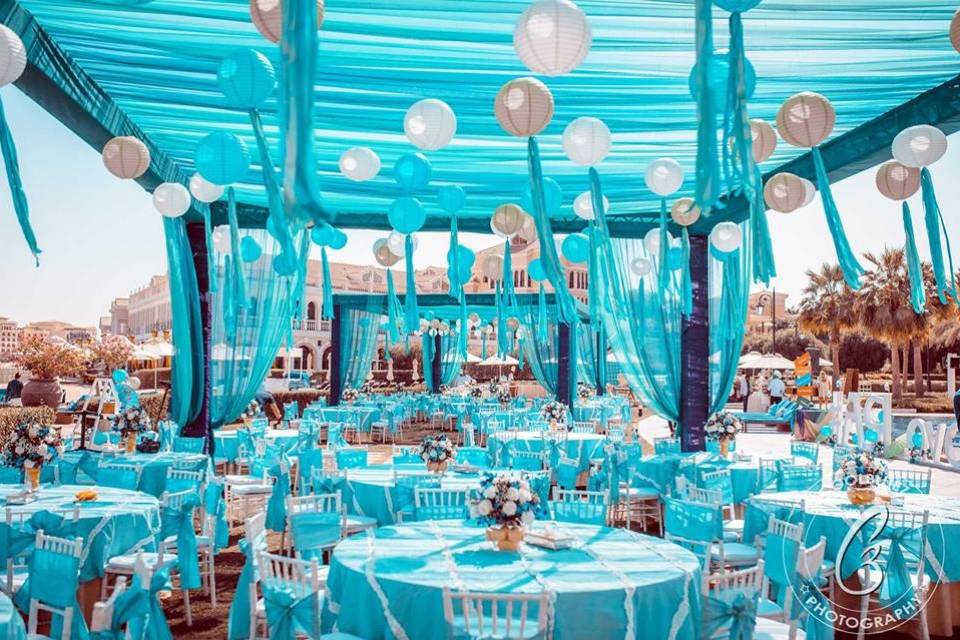 Table decoration is an essential part of wedding décor and theme. However, most often, table decoration ideas are forgotten about when we wedding theme is being discussed. Apart from decorating the wedding venue or the house following a theme, it is also the small details on the table that count. From the runner to the mats, there are gazillion ideas that can add to the décor and theme of any function, big or small. These ideas do not need to be very big, but can rather be extremely small and easy to pull off. Eventually, what matters is that everything is in line with the overall theme and is adding some grace and elegance to the experience that your guests have at your wedding.
Amidst gazillion table decoration ideas, what we define as an efficient idea is one that requires little effort and in turn does great value addition to the theme and décor. So here are some ideas that absolutely blew our minds because of how simple they were in creating an effect without much hassle. Go through them all and choose the one that perfectly fits your ideas of theme and wedding décor.
The Perfect Use of Wine Bottles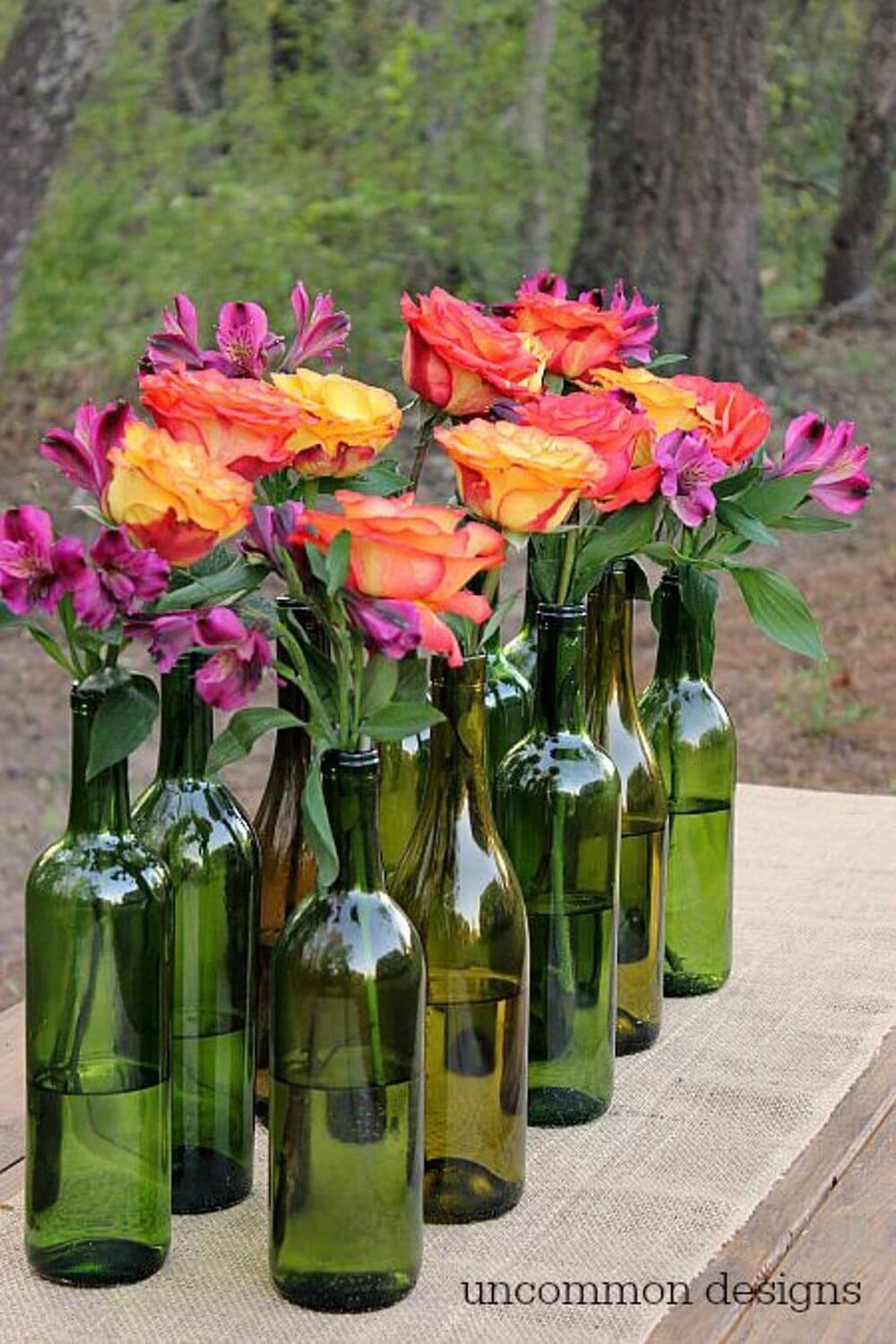 Image Courtesy: Uncommon Designs
Have you ever thought what an empty wine bottle can do for your wedding décor? Well, then you must take inspiration from this image and use empty wine bottles for table decoration ideas. Apart from making for a great flower vase, the coloured glass bottle also adds vibrancy to the ambience and décor. Put some of your favourite bright coloured flowers into them and place it on all the tables, to give it a very raw yet lively feel.
Summer Fruit For Your Vase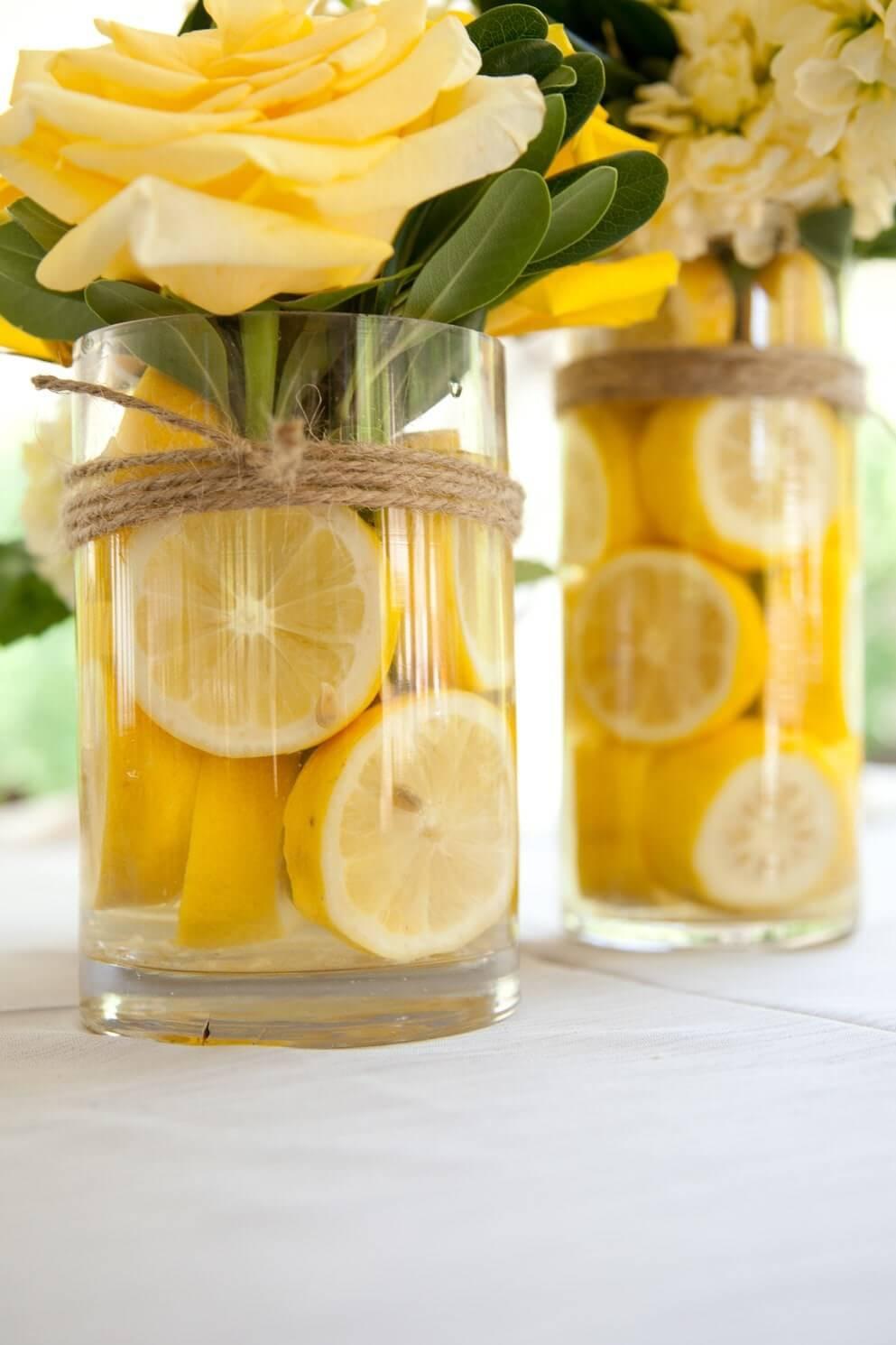 Image Courtesy: Home BNC
Now here's another unique idea for your flower vase. While the wine bottles are coloured and opaque, table decoration ideas like these makes more sense with transparent flower vases. Slice your citrus fruits and put them in your transparent flower vase to make it more summery and cool. For those of you following a colour scheme can go for fruits and flowers both that match the theme. Like lime in your vase and yellow roses would be perfect for a summer day time Haldi function.
Plants as a Table Runner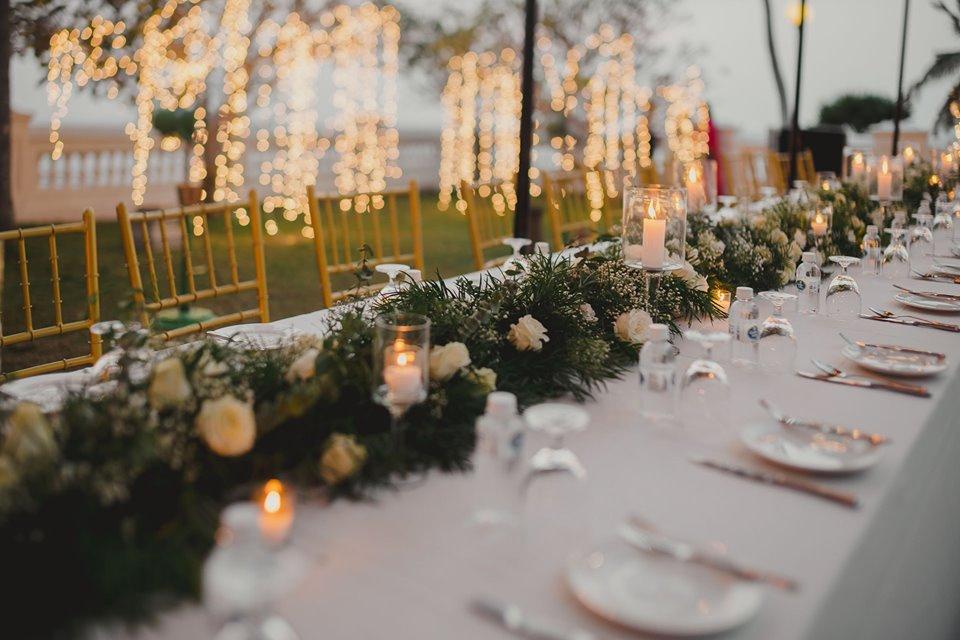 Table runners' work excellently to decorate rectangular tables that accommodate more number of people and plants and flowers are a great idea to be used for it too. Especially if you have an outdoor function with a theme that's more relevant, there is no better idea than using plants and flowers as table decoration ideas from nature. Apart from making the setup look less themed and more natural, it goes well with the rustic/vintage themed functions both in the day time as well as night. A pre-wedding sit-down dinner is probably where we'd use this idea to impress the guests while also keeping it simple and fun.
Wine Glass as Candle Stand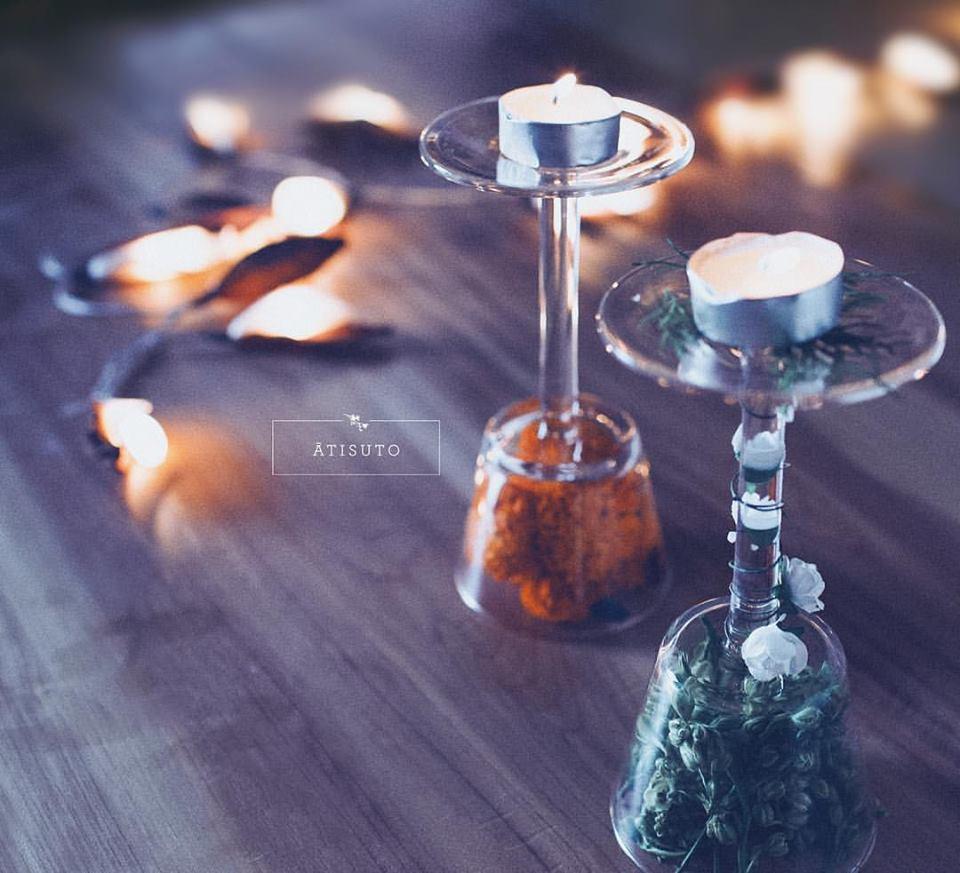 Now here's an idea that has many layers to it. Firstly, the idea of using wine glasses upside down with flowers inside makes for one of the unusual table decoration ideas. However, using the bottom of the wine glass put upside down as a candle stand just beats all the average table decoration ideas. This one is simple to execute and looks rather fancy to be used for any wedding function. The reception night could be perfect for this as lit candles add to the vibe and the ambience without much hassle.
Parrots and Pineapples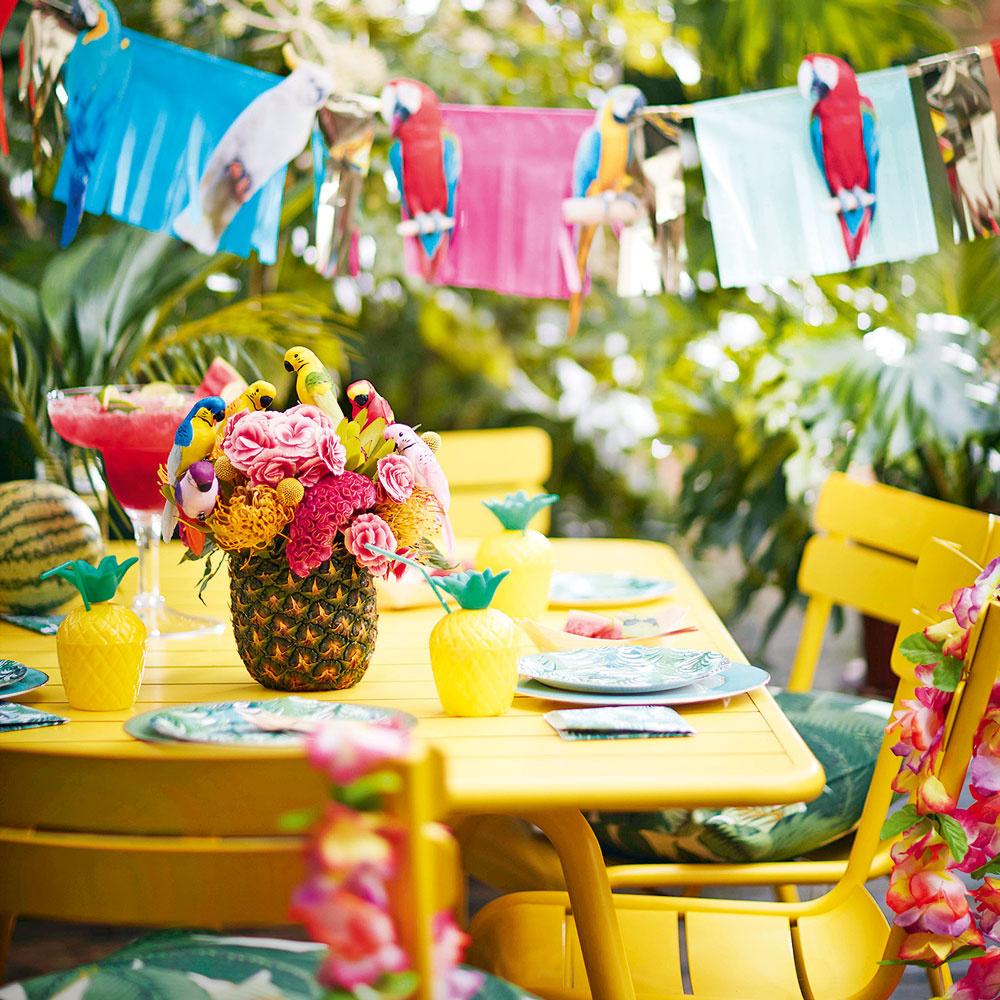 Image Courtesy: Talking Tables
Were you looking for quirky table decoration ideas? Well, we've found one that you'd love. If you want your wedding function to follow a theme that is unusual, colourful and funky, then this is the idea you're looking for. Form parrots to pineapple vase and even quirky paper flowers, nothing about table decoration ideas like these can be called usual. A poolside Mehndi function or a bachelor's party would be the perfect time to use this idea. Just make sure that the spunk of colours goes well with the outdoors of the venue.
Carnival Inspired Table Decoration Ideas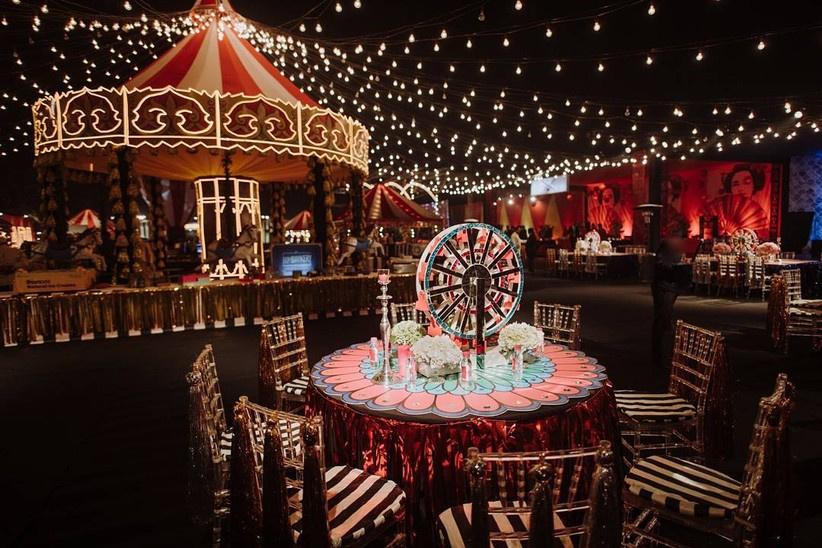 While carnival themes are legit fun when it comes to wedding décor, there is a lot that you can do within this theme. But to keep it simple, a few elements are more than enough to create the vibe that you want. A carnival-themed table mat, a small Ferris wheel on the table and a carnival canopy tent are enough to give your guests' the feel of a carnival. Just as unusual as the idea is, this one also makes for a great backdrop for pictures. So, surprise your guests with a theme they've never experienced before.
Waffles Cones for Table Decoration Ideas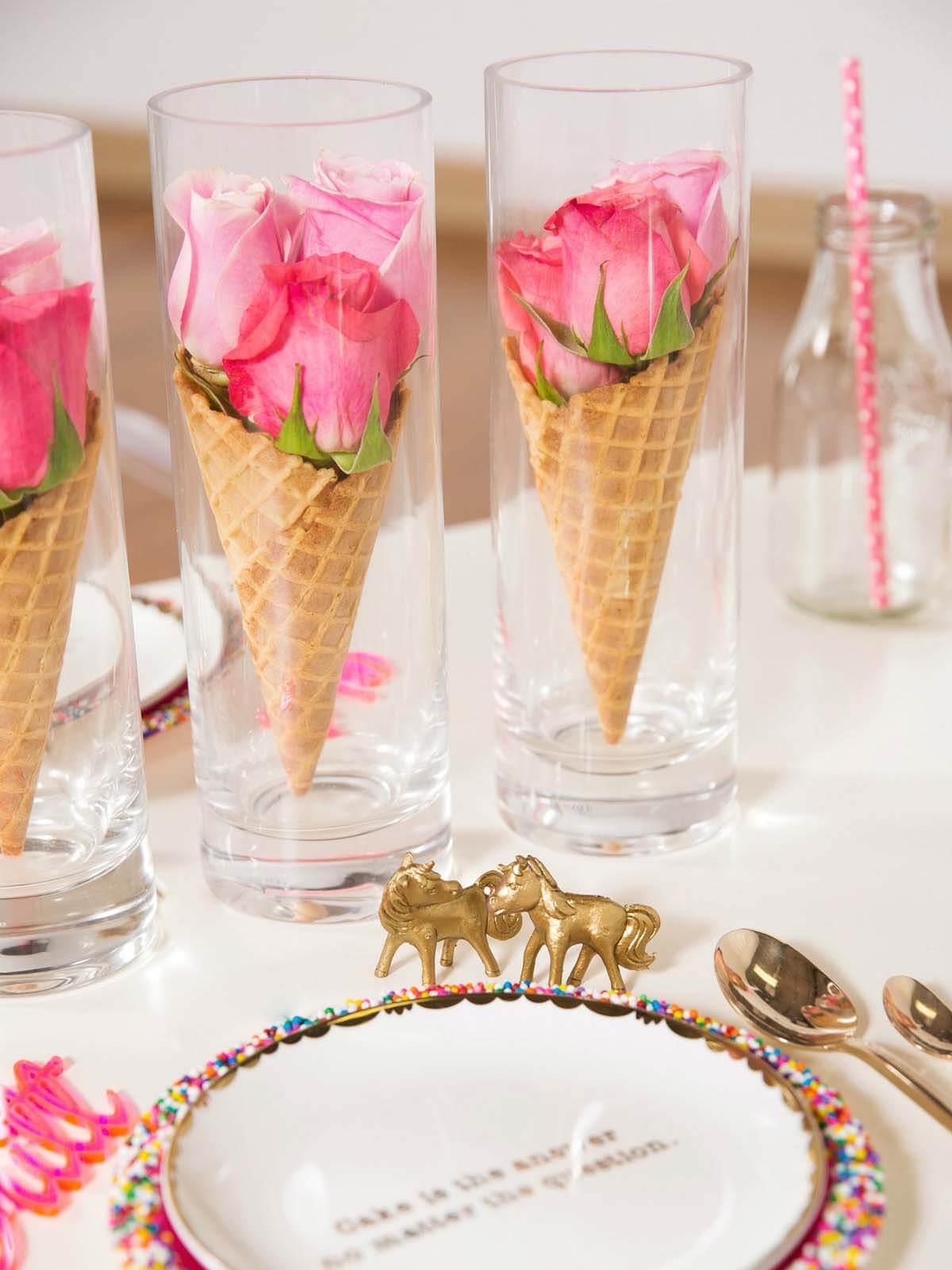 Image Courtesy: Home BNC
Just like the wine bottles, waffle cones make for a great table decoration idea. From flowers and fruits to anything that you wish to put on the table, the waffles cones can accommodate them all as the perfect vase. Apart from being one of a kind table decoration idea, this one can easily blend with any theme or décor. All you have to do is change what you decide to put into the waffle cones. While flowers work with many themes, you can always think out of the box to surprise your guests.
Tall Taper Candles with the Vintage Candle Stands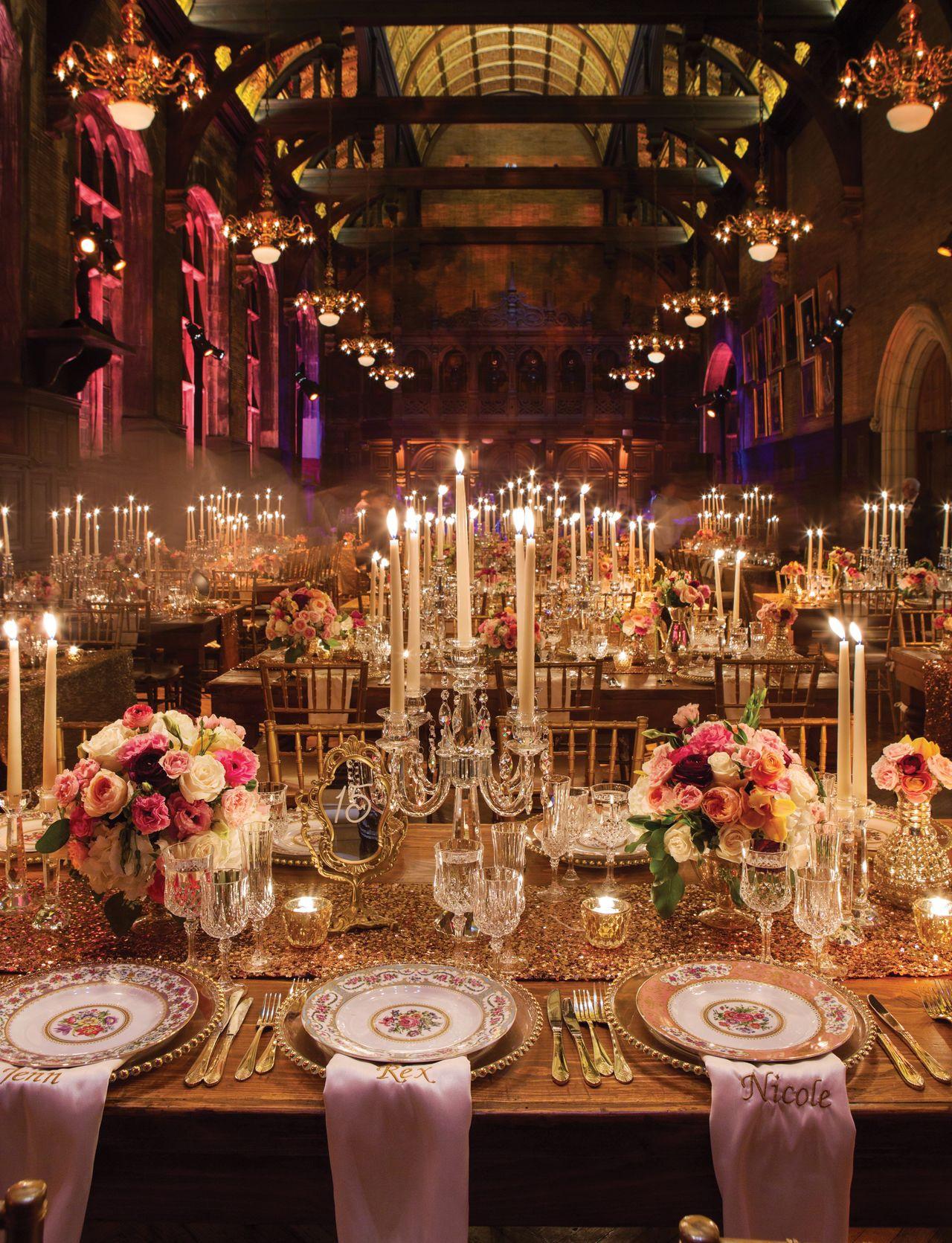 Image Courtesy: Christian oth Studio
Vintage themes are extremely common when it comes to wedding functions. But what is it that makes these vintage table decoration ideas everyone's favourite? We love the tall taper candles placed on the vintage candle stands and food served on vintage china and this isn't all that moves out heart. From flowers as the centrepiece to satin runners adding a touch of old-world charm, there is nothing that we do not like about this theme. Vintage table decoration ideas work best for sit down dinners. So if you plan on hosting your guests for a sit-down reception dinner then you know which theme to opt for.
Pompoms as Table Decoration Ideas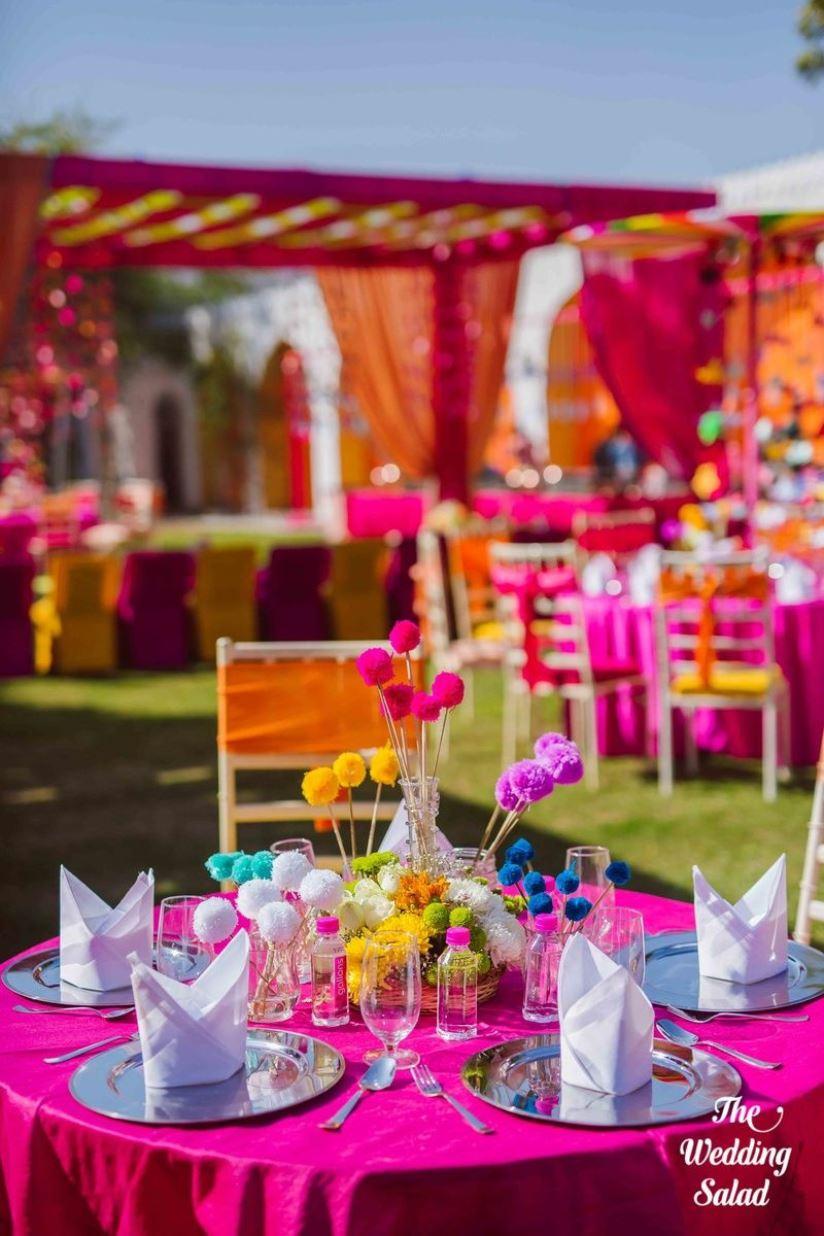 Paper pompoms are becoming increasingly famous when it comes to themes and decors. However, there are a million ways to incorporate them in your décor, but a handful to incorporate them in your table decoration. Pompoms on sticks as flowers is our favourite way to incorporate them while making them look good and also adding to the overall theme. Colourful pompom flowers on the table work well for daytime functions and add colour to the décor as well.
Chai Glasses with Stands as the Centrepiece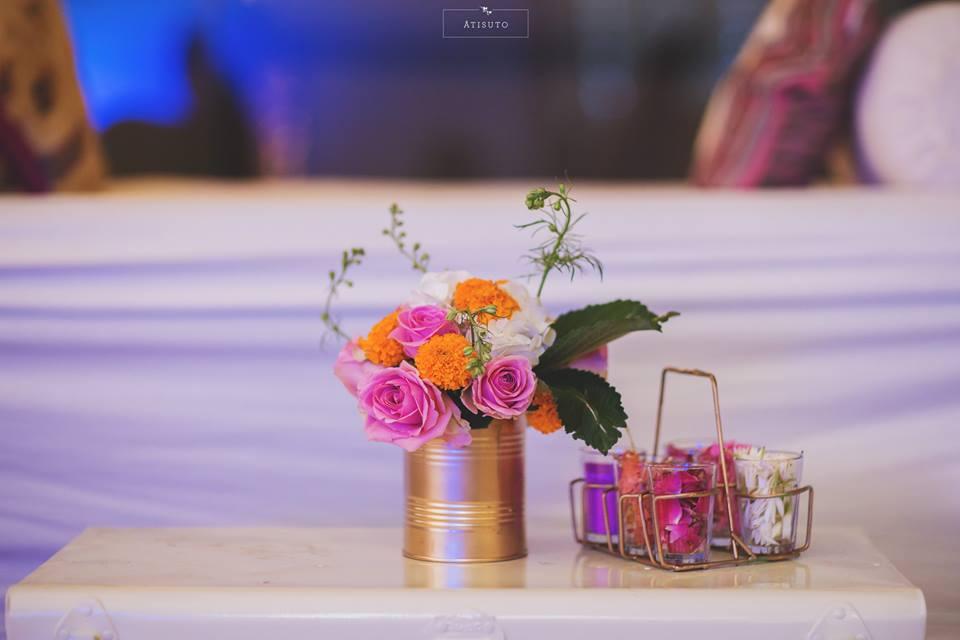 While wedding functions that follow a rustic theme opt for table decoration ideas including chai glasses and the chai glass stand, there is much more that you can do with them apart from just putting them on the table as a centrepiece. From filling them with the different spices or chutneys to using them for flowers or colours, the chai glasses and its stand makes for one of the most useful centrepieces. Table decoration ideas like these don't just add to the vibe but also make for great cutlery holder or spice container. So use it wisely and surprise your guests with an out of the box idea to use them for your function.
The Moroccan Themed Centre Piece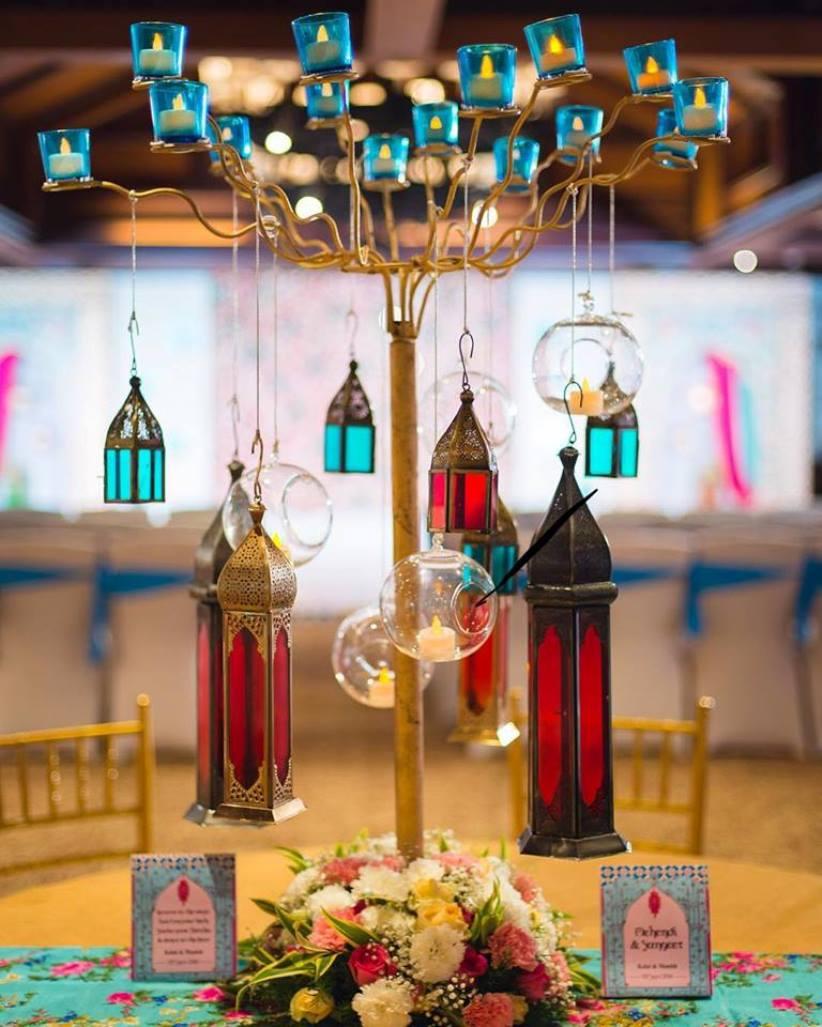 Image Courtesy: That A Cube Project
Planning on a Moroccan themed wedding function? Well, we've got your table decoration ideas sorted for this one. This Moroccan themed centrepiece is an eye-catching phenomenon with a beautiful colour palette that has turquoise, gold, blue, red and white. The texture of this Moroccan tree with hanging lanterns adds elegance to the theme and is sure to wow your guests too. Apart from being gorgeous to look at, this one is also a unique choice in terms of table decoration ideas. So think no further, as the Moroccan theme is what will get your guests gushing about your wedding décor and arrangements.
Each of the table decoration ideas have a charm of its own, but what matters is how well it blends with the overall theme and décor of your wedding function. While you must have realised it by now, the fact is that it is the simple table decoration ideas that lead to a greater impact. So, stop looking at the bigger picture and start focussing on the smaller ideas to make sure that your wedding functions have the best and most unique table decoration ideas.
Which of these table decoration ideas did you love the most? Tell us in comments about the one that you plan on using and how.