How to Make Paper Flowers for a Wedding? Here Are DIY Videos
If you have ever wondered how to make paper flowers for the wedding at your home and how you can use them in your wedding, you have to click here!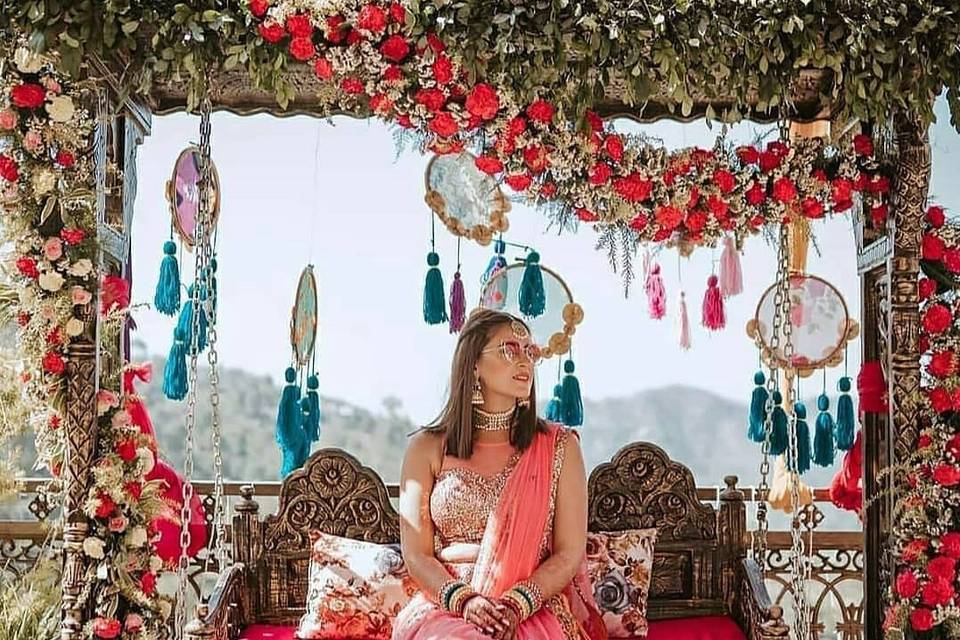 Have you always been good at arts and craft? Do people call you the DIY queen/king? Do you want to create something for your wedding with your own hands? If the answer to all these questions is yes, then you are in the right place.
Creating something from your own hands gives you a feeling of purpose. What better way to get your hands involved in your wedding décor by making paper flowers by yourself! If you are wondering why and how to make paper flowers for a wedding and how you can use them, we are here to answer all the questions you may have.
Let's start with why.
You can keep them forever
Reusing them will not be an issue
Endless colour choices
Cheaper than real flowers
They have no season
How can you use them?
As centrepieces for tables
As a part of your bridal bouquet
As a flower bow for gifts
You can also use recycled paper to make your paper flowers. Now for the most important question – how to make paper flowers for a wedding? To answer this question, we have added YouTube videos that will teach you to make different types of flowers and make a bouquet with them. Check them out!
Paper Roses
They are very easy to make. Click on this video and start making your own roses from scratch. Who does not love roses? If you are learning how to make paper flowers for a wedding, why not start with the flower that is everyone's favourite and easiest to make at the same time.
All you need to make beautiful roses with paper is a colourful paper (you can use newspaper and pages from old books as well), glue, scissors and a pencil.
Rolled Paper Roses
If you are not a fan of normal paper roses, you should check out this video. it has rolled paper roses that are super easy and inexpensive to make. You need the basic stationery to start your DIY project. Instead of squares, you need to cut circles and use scissors to make an inward spiral.
Follow the steps in the video to make hundreds of rolled paper roses and decorate them at your wedding. You can use them to decorate your home afterwards so that they are not wasted.
Round Paper Flower With Tissues
If dainty and chic flowers are your preference, you should try to make something different. Tissues are cheaper than paper so they are actually a good choice. Moreover, to make this round flower, you need a paper that is very thin and lightweight. You can also go for a crepe paper instead of tissue. The choice is yours.
We love the idea of a bride learning how to make paper flowers for a wedding at home. You can choose the colours according to your wedding décor theme. This flower is a little tougher than the previous ones. To make one round flower, you will have to make 4 flowers and attach them together. To learn how to do this, click on the video.
Easy to Make Flower Sticks
If you want to know how to make paper flowers for a wedding, we think you will be interested in knowing how to make flower sticks with paper that you can decorate in a vase as a centrepiece. You have to remember to be very careful while making these as there are many small steps and it is easy to miss something in between.
We would recommend watching this video again and again before you start making these flower sticks. You can also use them as decorations for the next flower bouquet.
Artificial Paper Flowers
This video will tell you how to make paper flowers for a wedding with a long stick. While the previous one has flowers from the top to bottom, these have a just a flower on top. You can easily make a flower bouquet with them using colours in sync with the theme of your wedding. It is up to you if you want to add the small details like leaves on them.
Bridal Bouquet With Paper Flowers
Not many brides wonder how to make paper flowers for a wedding that they can use as their bouquet. if you are one of the brides who are crazy for DIYs, we think it will be special if you make your own paper bouquet. Follow this video to make a beautiful rose bouquet. Try to pick light shades that will look like real flowers.
After watching these videos, we know that you are probably a master at making paper flowers. if you know someone who will be interested in learning how to make paper flowers for a wedding, keep sharing this article!
Speak to these wedding planners near you for awesome home-made DIY décor options for your wedding!