9 Gorgeous Paper Flower Decorations to Create a Beautiful & Unforgettable Wedding Decor!
Flowers have always been a huge part of the décor when it comes to weddings. However, the flowers may not help you that much if you want décor items of multiple colours. The cheaper and better option is to use the paper flower decorations for events!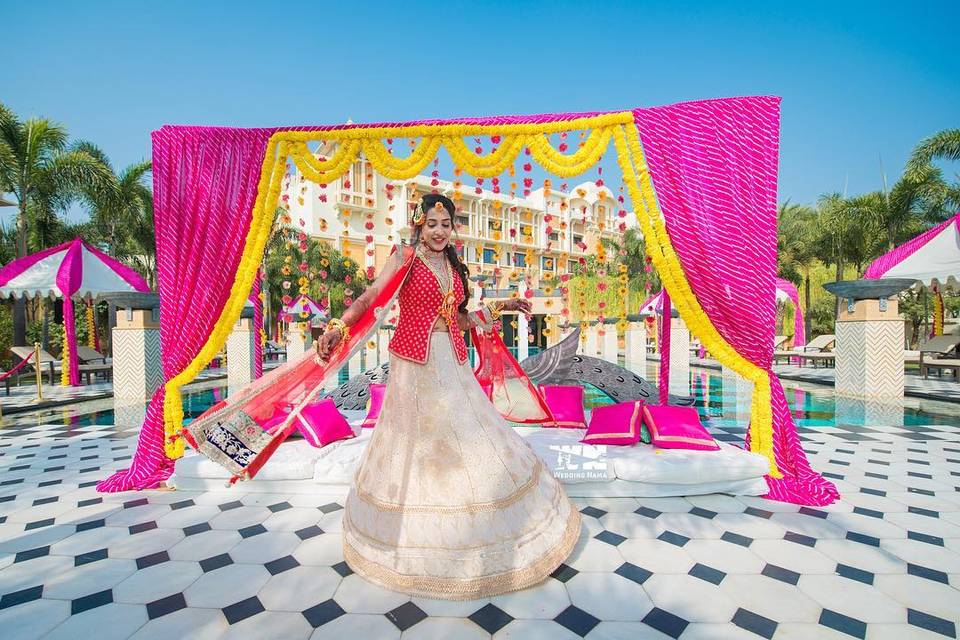 When you think of decorations for a wedding, the first thing that comes to mind is the use of flowers. Flowers are auspicious and offer great smells as well. Nevertheless, we cannot deny the fact that it is hard to find flowers of multiple colours to make the décor elements pop out in style. Moreover, some flowers can be really expensive. One way to get out of this situation is by using paper flower decorations.
Papers allow you to be as creative as you want and use any of the colours you want. Apart from the paper flower decorations, one can use paper to create various different designs and structures that fit the bill of wedding décor perfectly.
The following are a few design and décor ideas that can help you with your wedding decorations.
1. Flowers and branches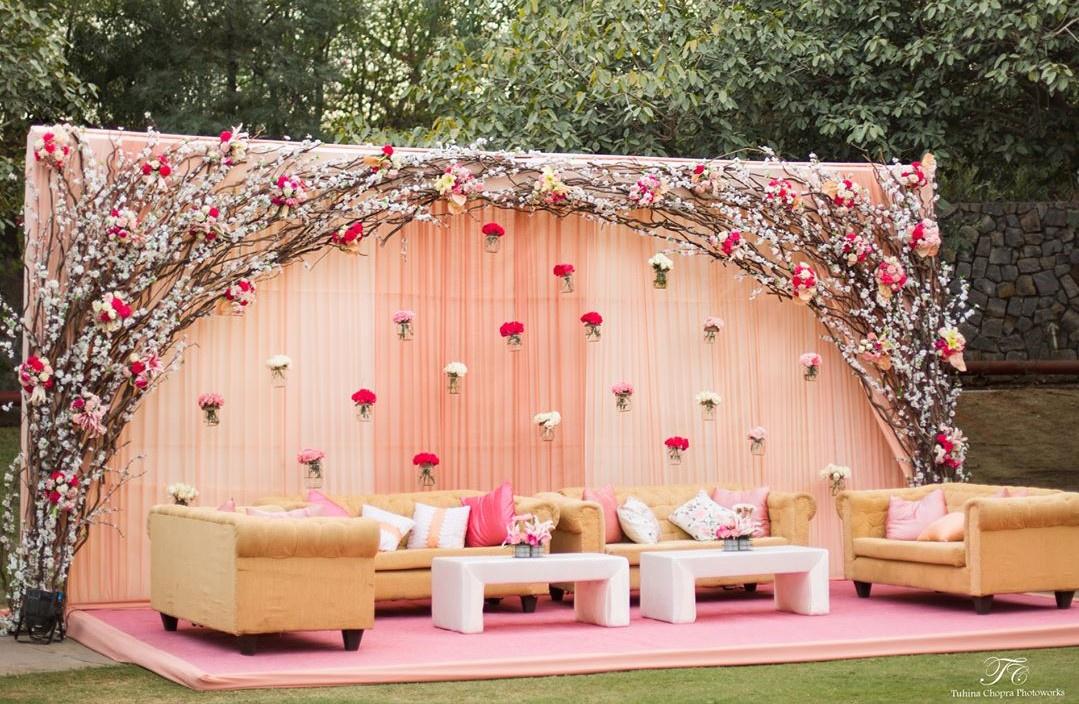 The use of paper flower decorations coming out of the branches adds a natural feel to the décor. This idea allows you to make paper flowers of different colours to make it look like some exotic flowers. Another idea is to hang glass jars from a rope and then add paper flowers in them. It makes the background look great. Another way to make it even better is through the use of bulbs to make it even more beautiful in the evening.
2. An opulent setting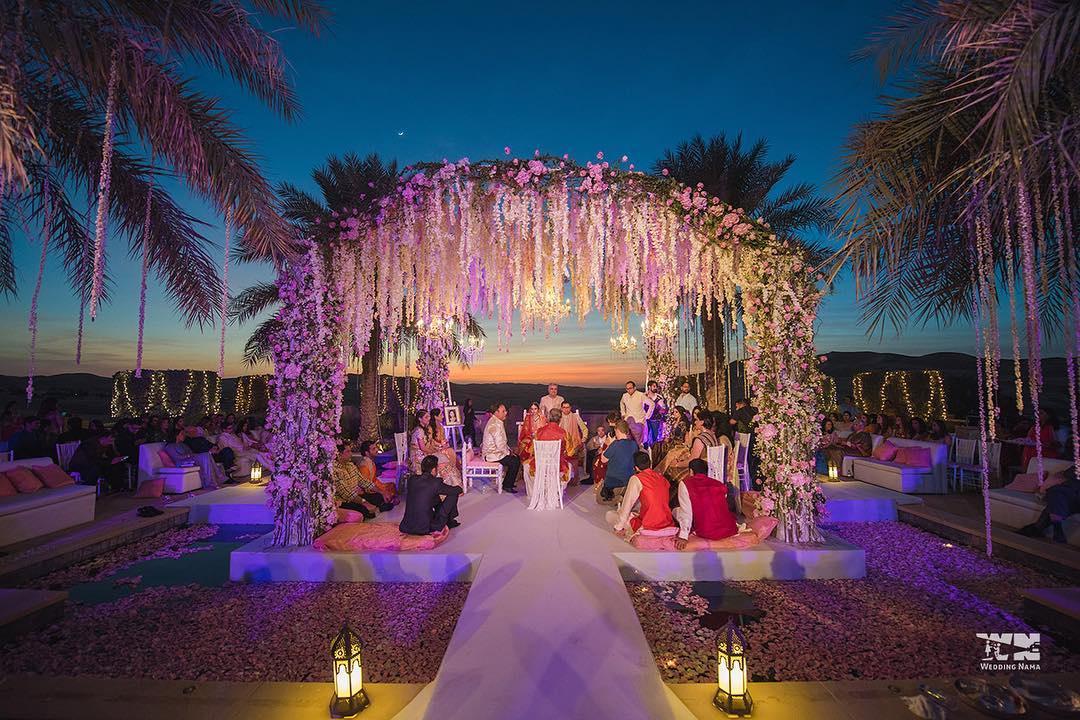 If you want to create opulence and yet maintain some elegance in the décor, paper flower decorations allow you to achieve that look. You can mix the flowers along with dried leaves to seamlessly blend with the night sky in the background. Use origami designs to create long hanging paper decorations and hang them from the arch, making the stage look absolutely great.
3. The white magnificence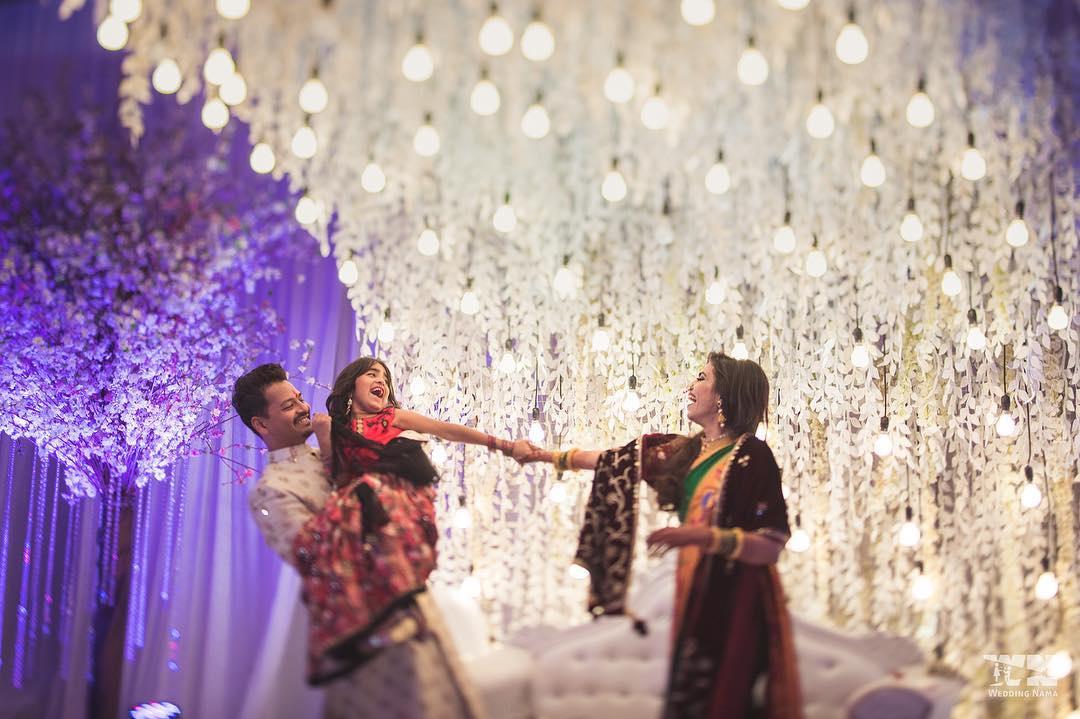 White can never look bad when it comes to décor. Use white origami flowers hanging from a roof to create a stunning entrance. Add hanging LED lights to it and the entrance looks nothing short of magical. This also becomes a great place to click some pictures for you and your guests as well.
4. A colourful Sangeet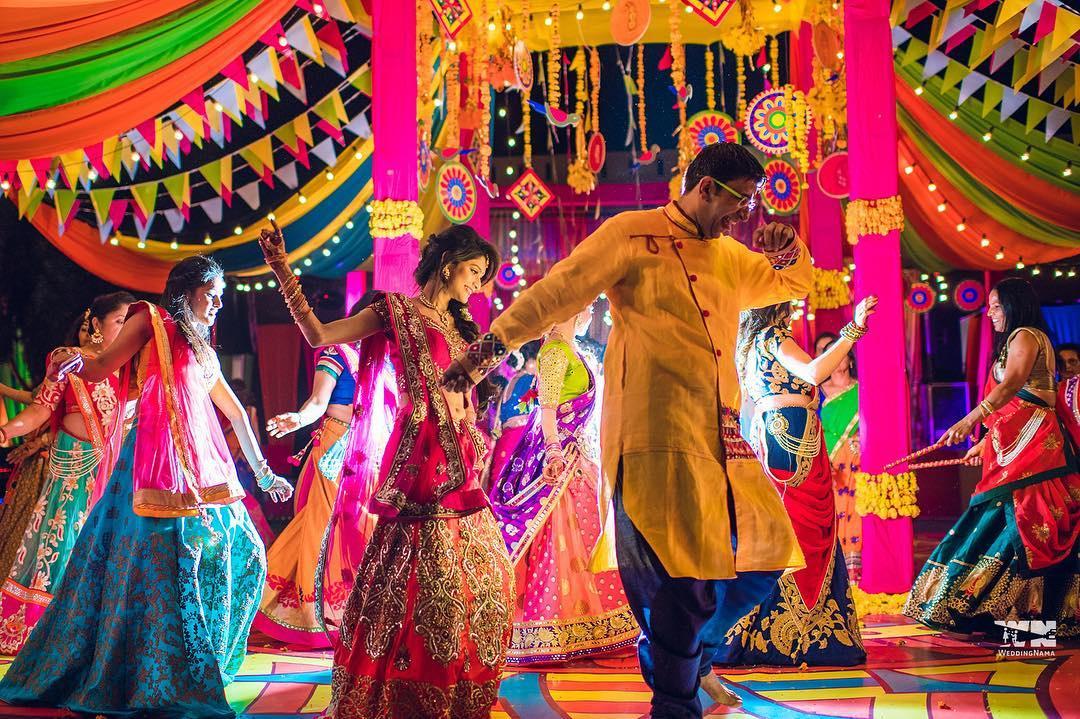 As mentioned before it does not have to be paper flower decorations all the time. You may use paper to create something different as well, like pinwheels, floral designs using papers and small flags in this case. It gives the vibe of a carnival, which is just the celebratory air one wants at a wedding.
5. The urban traditional look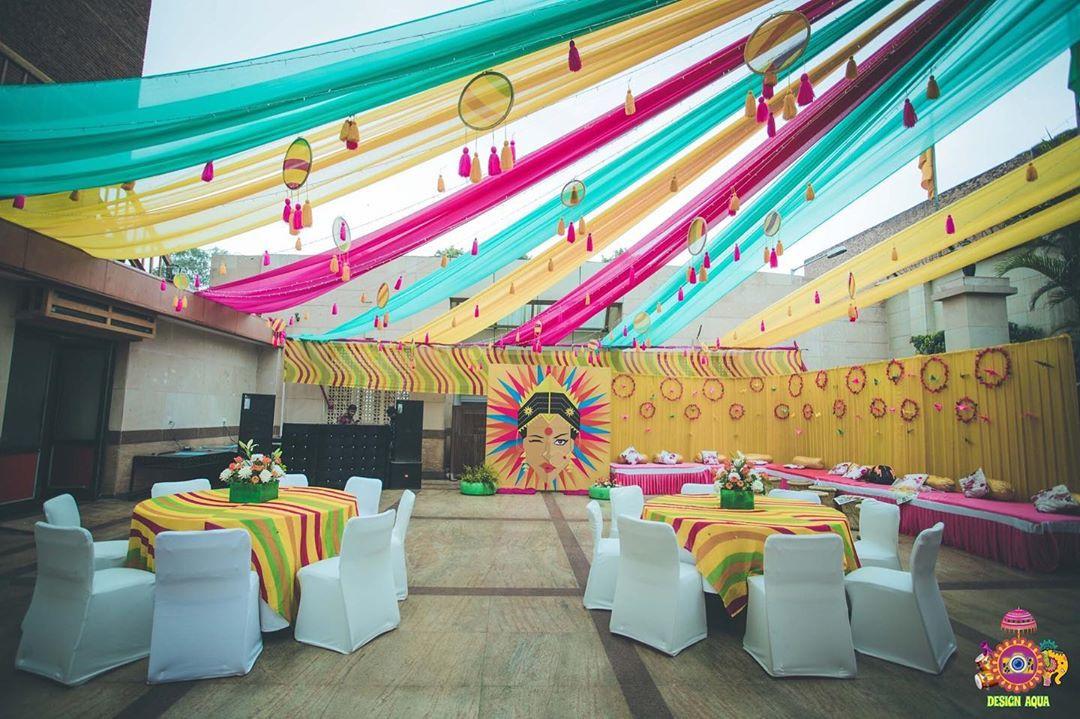 This image of an album cover by Nucleya went incredibly viral upon its release and now it has reached the wedding scene as well. You can use this a cool background for your stage or even in your photo booth. Apart from this design, you can think of other paper flower decorations to create a cool and traditional look to the place.
6. Origami birds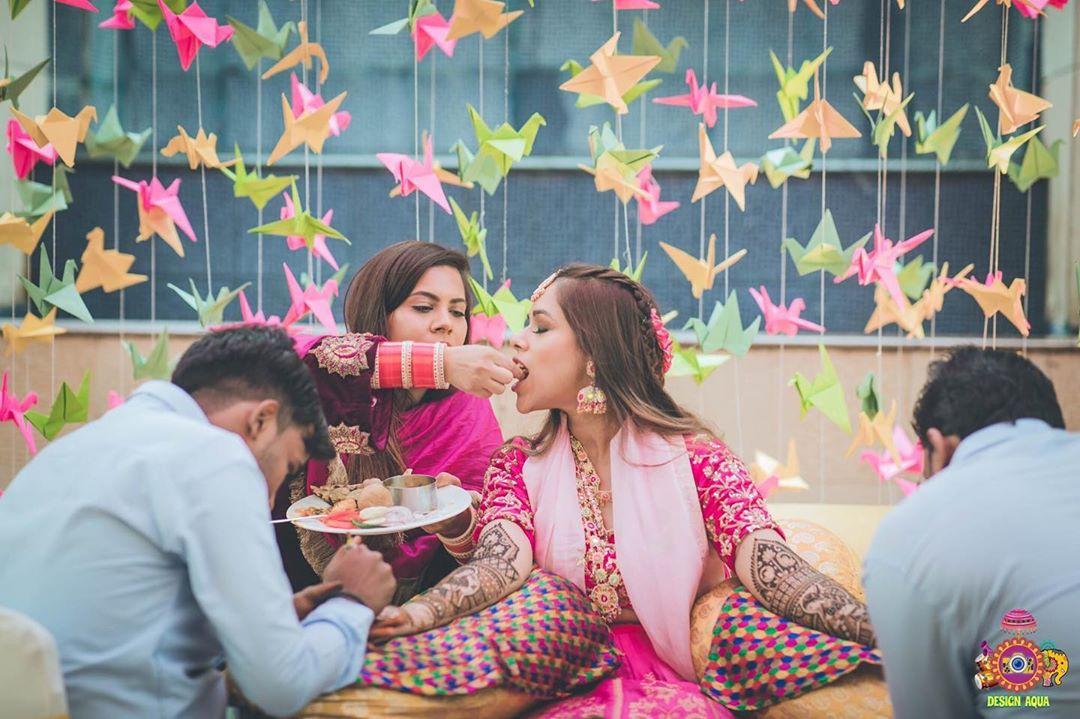 Using hanging origami flowers is a really cool idea to decorate the wedding space. It looks great, especially when you look from far. It provides a perfect setting for functions like Mehndi or Haldi where the brides mostly sit at one spot. Moreover, having a good background allows you to get good pictures.
7. Create a pretty photobooth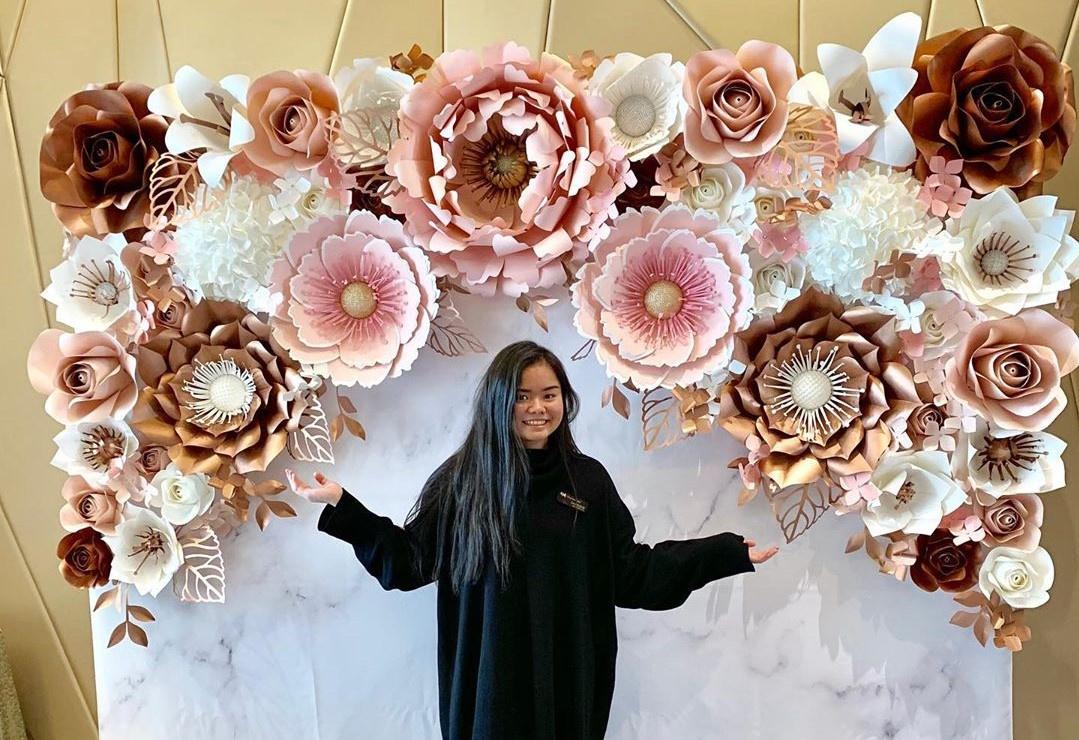 Image Courtesy: MG Goto
Create a pretty photobooth for weddings with paper flower decorations, using giant flowers made of colourful paper. These flowers can be of any colour you want, making it ideal for general decorations. You can choose the colours that suit the theme of your décor in general. It creates a perfect place for your guests to get their pictures clicked.
8. Décor at the serving station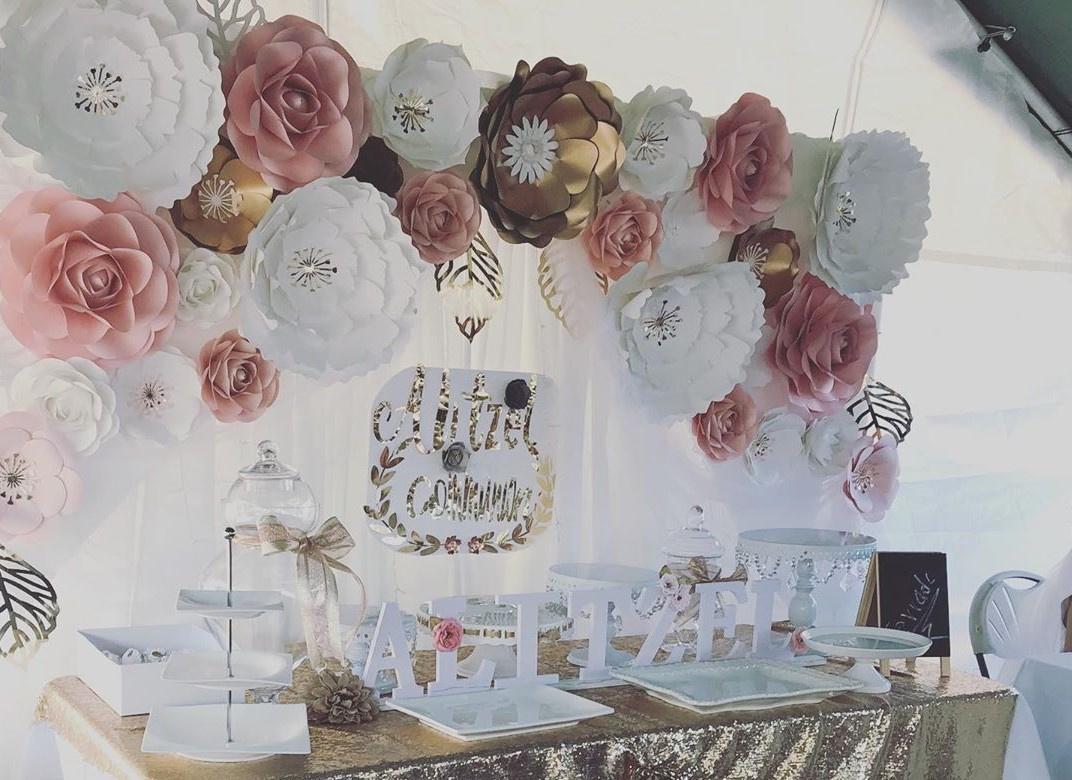 Image Courtesy: Creative Florists For Events
The paper flower decorations is not just an idea that's for the major spaces in an event. Creating beautiful counters at the serving stations is also a great idea that you must consider. You need to make sure that all the decorations are not concentrated at just one single location but spread out.
9. Gold and white background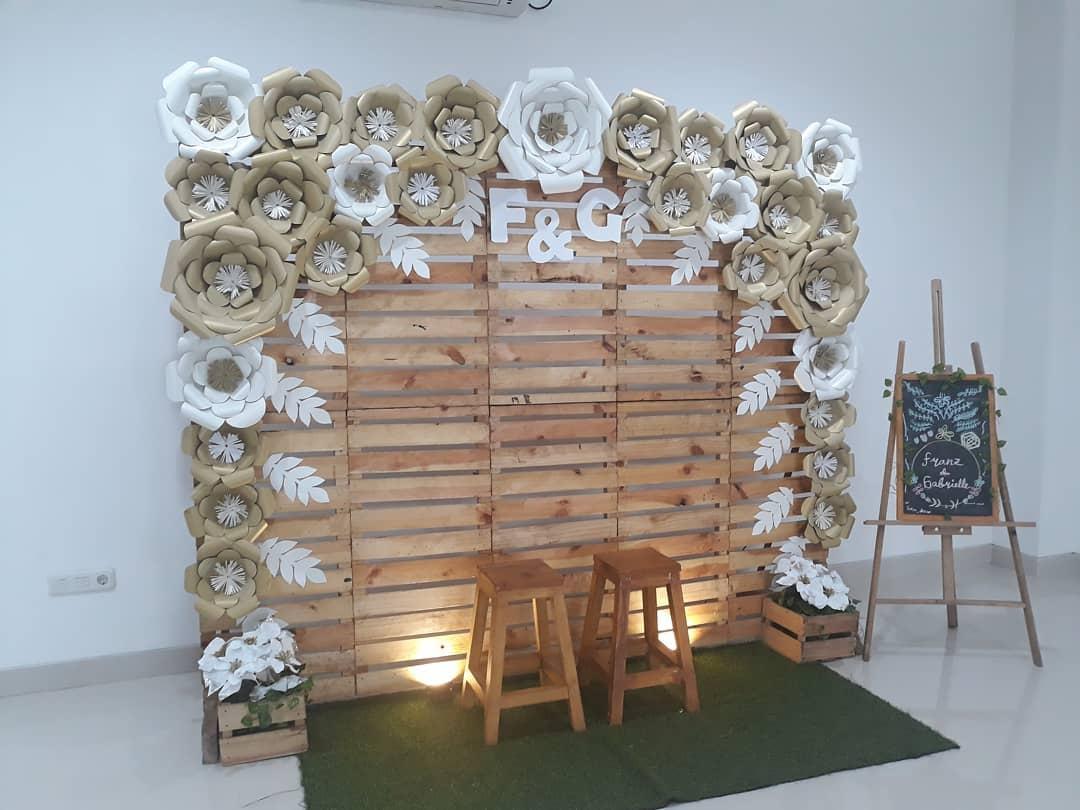 Image Courtesy: Salsa Decor
If you want simple paper flower decorations, this decoration using golden and white flowers is a perfect one for you. It has the right amount of colour that makes it elegant and catchy at the same time. This simple décor is ideal for a photo booth, which allows everyone to get some beautiful pictures.
Paper flower decorations allow you to be as creative as you want, helping you design some beautiful spaces at your wedding. Remember that not just the main stage or the main area, every corner of the space needs attention if you want a splendid event location. Using paper decorations makes the process much cheaper and easier!
Not sure if you can manage such feats all on your own? Get in touch with our expert wedding planners and let them create the décor!