8 Ways to Use Artificial Flowers for Decoration of Wedding Venues
Don't want to use real flowers for the decor of your wedding events? Here are some smart ways to use artificial flowers for decoration! Check out these ideas and get inspired!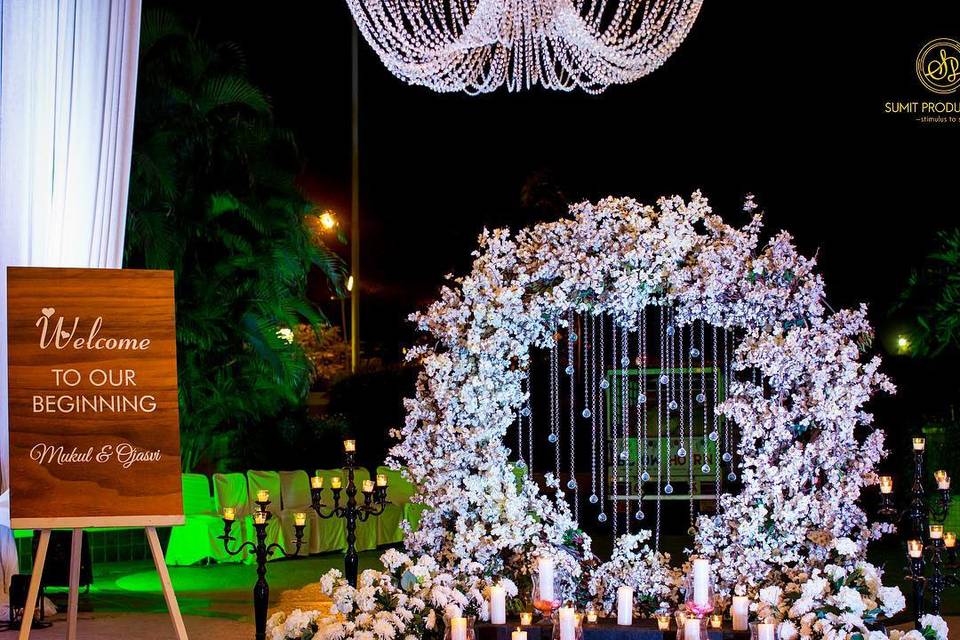 Image Courtesy: Tanvi & Co.
Sure, using fresh flowers for wedding decoration has its own charm and beauty. But if you're thinking not to waste flowers on your own wedding and still have gorgeous decor, let's give you some good news! It's absolutely possible! Using paper flowers, silk flowers and many other kinds of artificial flowers for decoration is a trend that's quite popular among millennial couples.
Especially in this recycling and green era. Because let's face it, a truckload (or maybe more) of flowers are wasted in a wedding. So, if you want to know how to use faux flowers in decor, read on, watch the photos and take notes!
Entrance gate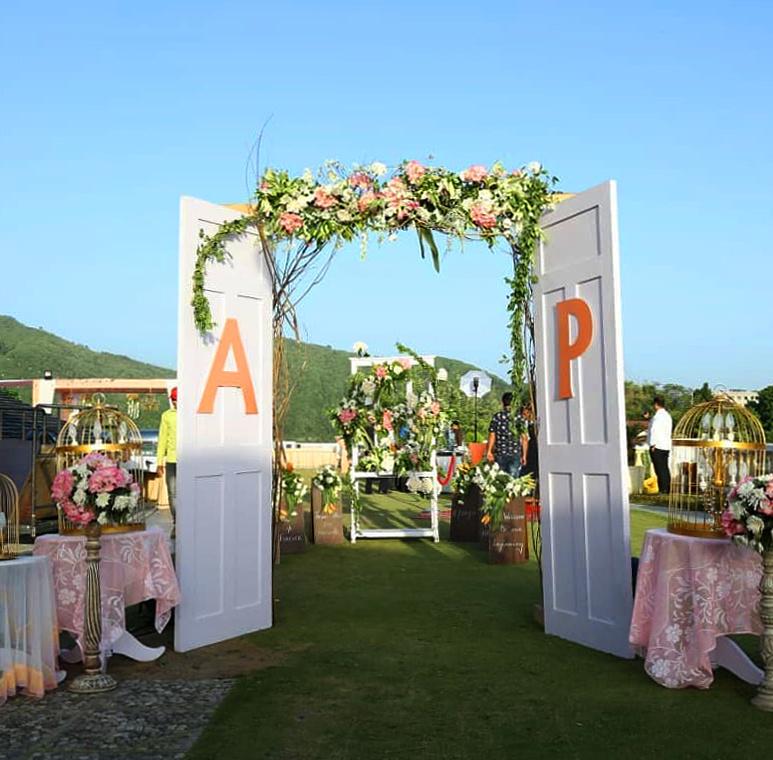 If you're opting for a minimalist or a green wedding reception, this could be helpful to you. Using artificial flowers for decoration around the entrance gate just above the arch would give your decor quite a classy touch. You can pick the flowers with coordinated colours with the gate. Like in this one, the combination of white, pink and green looks fabulous with the white gate. This is the kind of wedding decor that has panache written all over it!
Recommended vendors: Just Florist (Delhi), Shubham Decorators (Aurangabad), Seasons (Hyderabad).
Flowers on the candle stand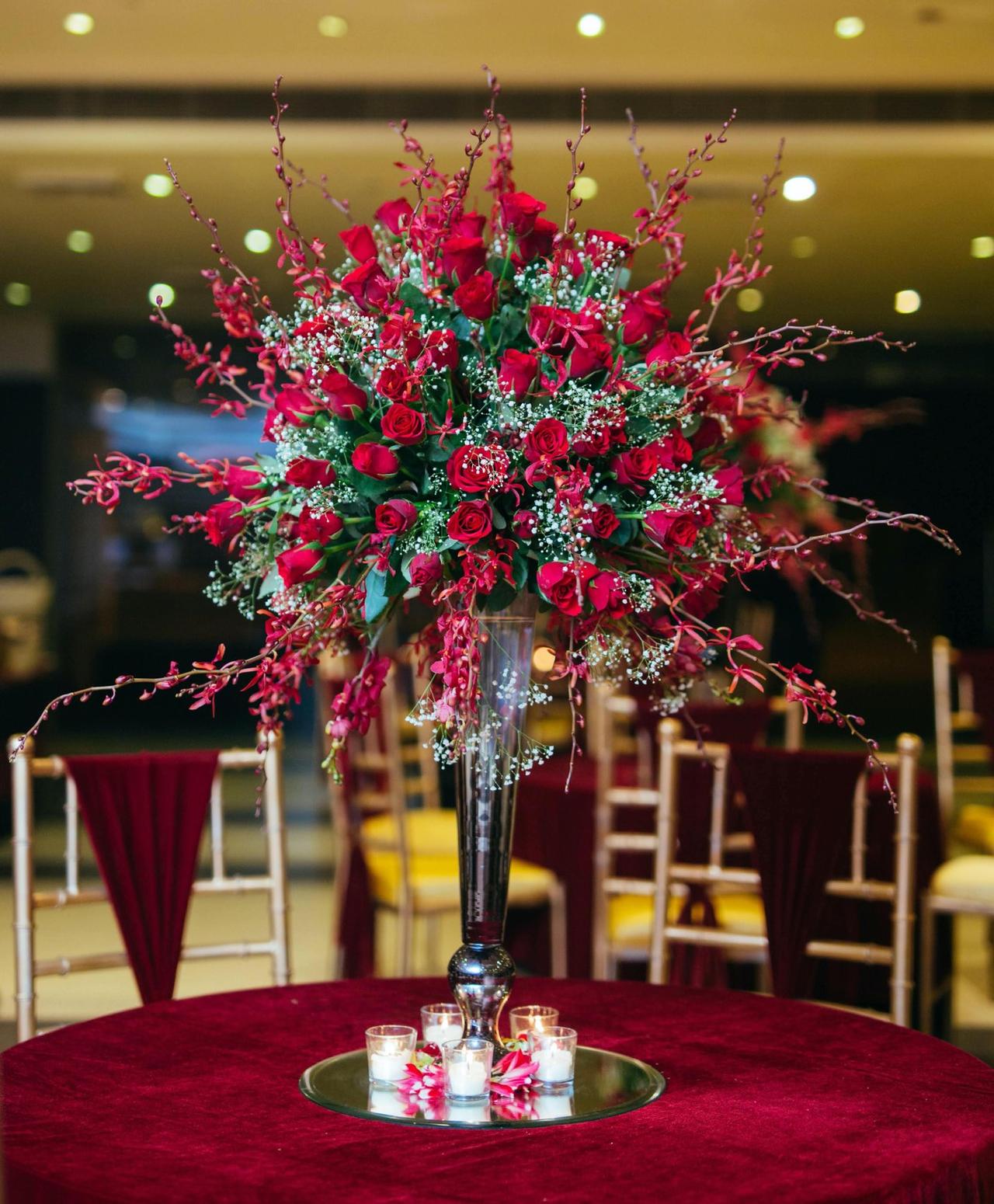 Try adding flowers to the elegant candle stands for your wedding or reception decor to heighten the glam factor. Using high-quality artificial flowers for decoration doesn't leave any scope to spot the difference with real flowers! The combination with hanging candles, crystal streamers and red flowers will totally add loads of drama and grandeur to the entire wedding venue. Especially, if you're having a royal theme wedding!
Recommended vendors: Elysian Wedding (South Delhi), Rustling Leaves (South Delhi), Jessica Decorators (Ahmedabad).
Flower wall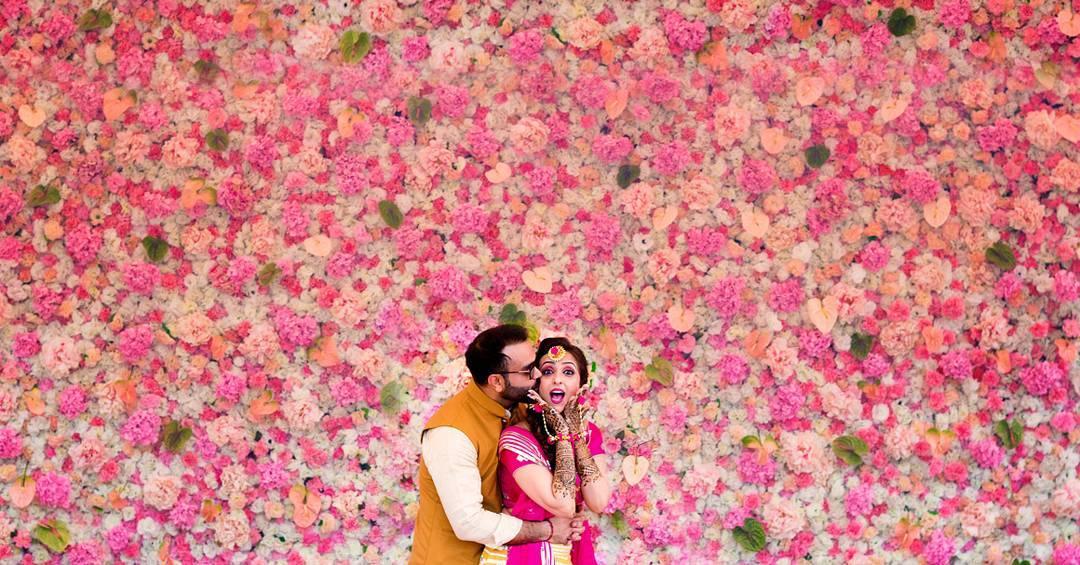 One of the areas where you can exhibit the art of using artificial flowers for decoration is the stage wall! Whether it's an indoor or outdoor wedding, there are a lot of brilliant wall decoration ideas where you can use the faux flowers. During a night event, use apt stage lighting to compliment the particular shade of wallflowers. Or if you're willing to go DIY, try using some paper flowers for your day events!
Recommended vendors: Shine Events Decorators (Mangalore), SPOC Events (Bangalore), Knockout Wedding Planners & Entertainers (Delhi).
Table flowers with pearls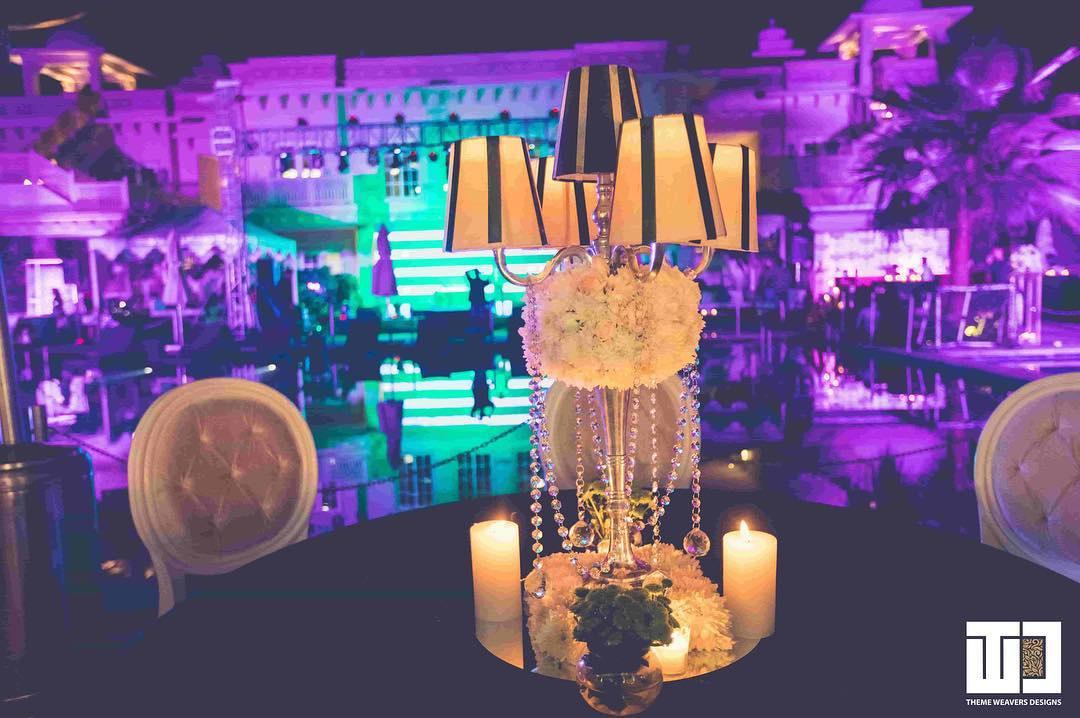 When you see pink, peach and white artificial flowers for decoration accompanied by pearl strands- you know it's a fairytale wedding! You can use paper or silk flowers for table decor and centrepieces and maybe, also sprinkle some glitter over the petals to keep up with the theme. Make sure to stick to the colour theme while choosing your decor flowers. If you want to accessorise the table flowers go with pearls, silver beads, dry ferns or matching handkerchief.
Recommended vendors: The Frontier Events (South Delhi), Blue Nile Net Craft (Mumbai), Incredible Events (Hyderabad).
Floral photo-booth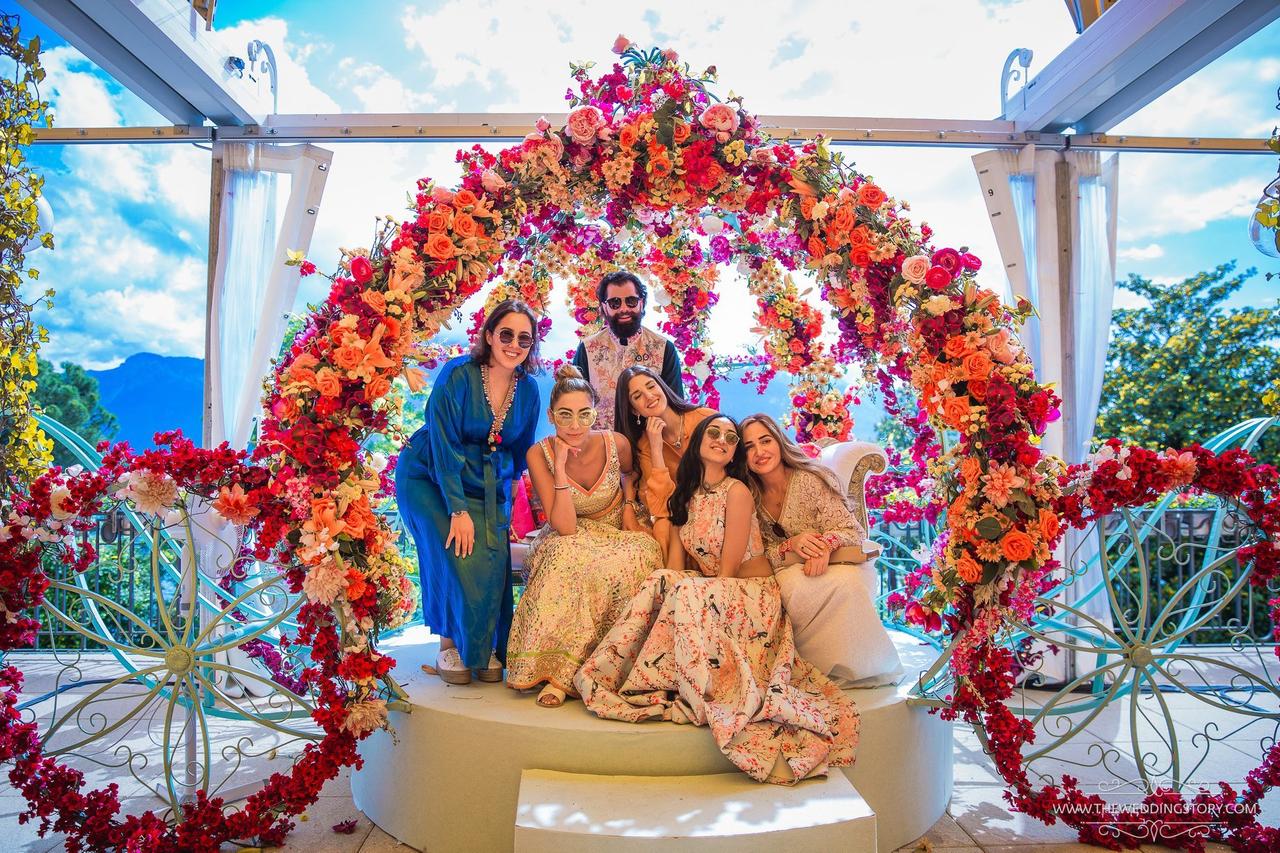 Here's an interesting idea you can try out! Use artificial flowers for decoration of the most popular spot in your wedding venue – the photo booth! Every guest loves to visit the photo-booth for a cute, quirky, romantic, stylish photoshoot. So decking up this area with some extra attention is totally justified. Adorn the seat, arch, railing with bright colour paper flowers and your selfies and wedding photos would look super cute!
Recommended vendors: Decor by Creations (Hyderabad), Vintage Nutters (Mumbai), Nuptials by Priyanka Pandey (NCR).
Floral bar

Let's put some extra effort on dolling up the "Madhushala"! Using artificial flowers for decoration of the bar area gives the space a perfect amount of depth and drama! The whole bar area is covered with a canopy of red roses which naturally sets the mood and ambience of the occasion.
Recommended vendors: Wedstory (South Delhi), R Eventz (Kolkata), Shanvi's Event (Jaipur), MPIRE Events (Mumbai).
Floral chandelier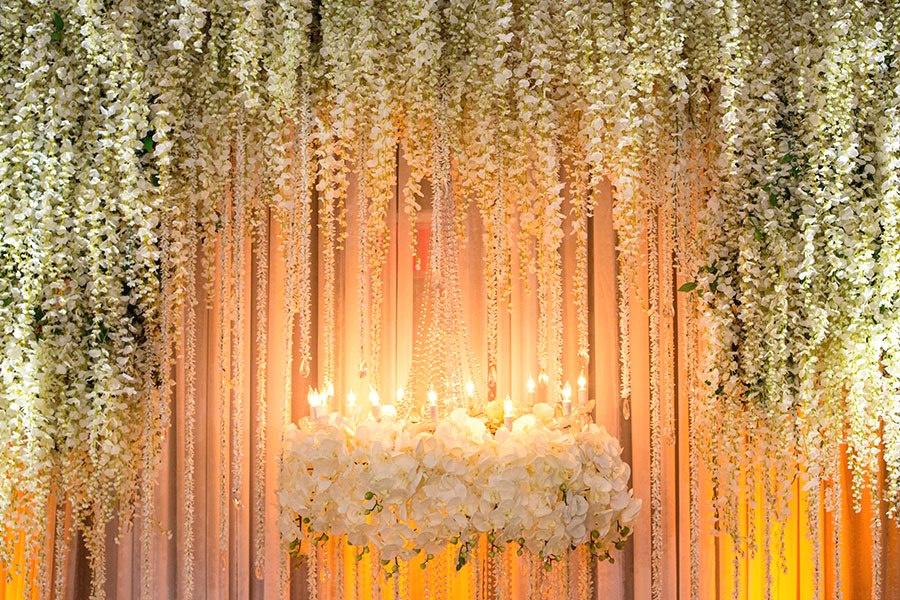 Image Courtesy: Salwa Photography
How would a huge chandelier look that's entirely made of flowers? Use purple, lilac and violet artificial flowers for decoration that looks exactly like a chandelier! You could accessorise the floral chandelier with pearl strands, beads, streamers etc. and place them right above the table settings. The flower chandeliers would also look great on the reception stage area.
Recommended vendors: Silhouette Events (South Delhi), Mindspinerz (Kolkata), P Square Wedding & Events (Udaipur).
When we say artificial flowers for decoration, that doesn't necessarily mean more expensive. You can find a million creative ways to decorate your wedding event areas without using real flowers. Take help of the pros or DIY by watching some videos, making faux flowers look just as beautiful as real flowers are totally possible these days. Pick the fabric and colour of the flowers keeping your wedding venue's colour theme in mind. You can also use artificial flowers to decorate your wedding trousseau or return gift packages. Think creative and sky is your limit!
Did you like any of the ideas using artificial flowers for decoration? Tell us about your favourite one in the comment section below!