Simple Decoration Ideas That Can Amp The Wedding Decor Beautifully
Every small detail in a wedding décor adds to make it ethereal and unforgettable. Here are some decoration ideas that never fail to create an impact!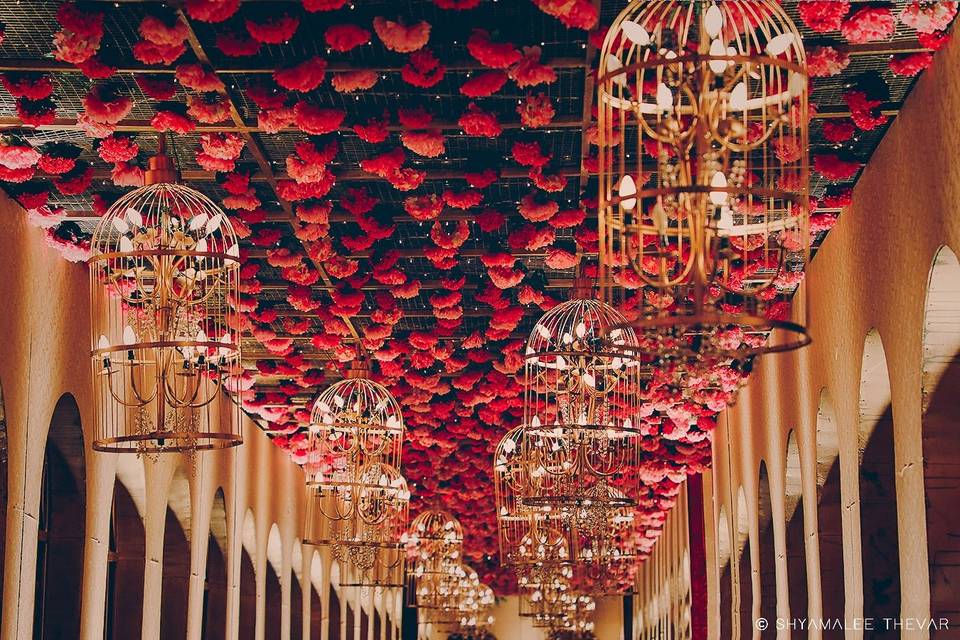 Over the years wedding décor has gained immense importance at Indian weddings. However, what we do not pay attention to is how even the simplest of decoration ideas can work wonders for the wedding backdrop. If you don't believe us then just rewind your memory a little and remember the wedding décor that you really liked off-lately and you'll see how a basic idea turns out to look so extraordinary when planned and designed well.
If you're getting married and want your wedding décor to be eye-catching but not very OTT, then you've reached the right place. We have simplified decoration ideas in order for you to pick one that is the most feasible and appropriate for your wedding functions. All you have to do is pick an idea that blends well with your location, theme, area and purpose. The key to making the simplest decoration ideas work like magic is to plan it well in advance. So here's a list of our favourite decoration ideas that is sure to turn your wedding functions more grander and aesthetically beautiful.
Pinwheels at the Entrance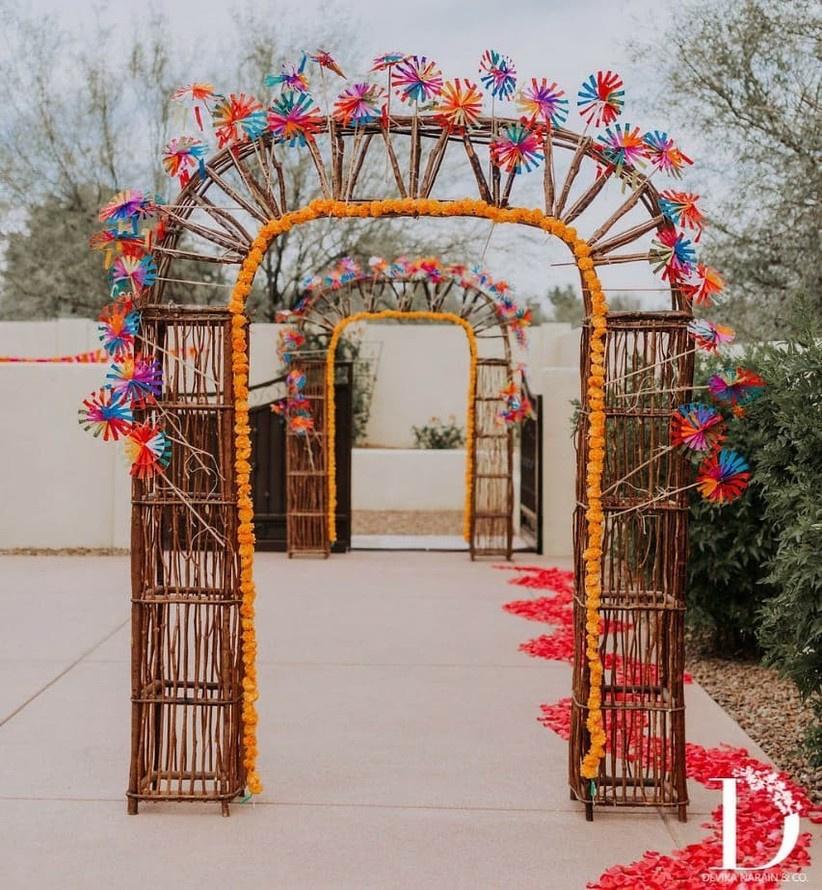 While pinwheels seem like a basic idea, when you use it with flowers on the entrance, it is sure to look like one of the quirkiest decoration ideas at weddings. What works with pinwheels is the colour palette that it adds to the décor while also keeping it rustic and raw. For flowers, we'd say gende ka Phool match the whole pinwheel vibe and is sure to go with the colour palette as well.
Pro Tip: The rustic vibe of pinwheels at the entrance goes well with carnival-themed functions like Mehndi or Haldi in the day time.
Huge Frames as Photo Booth Backdrop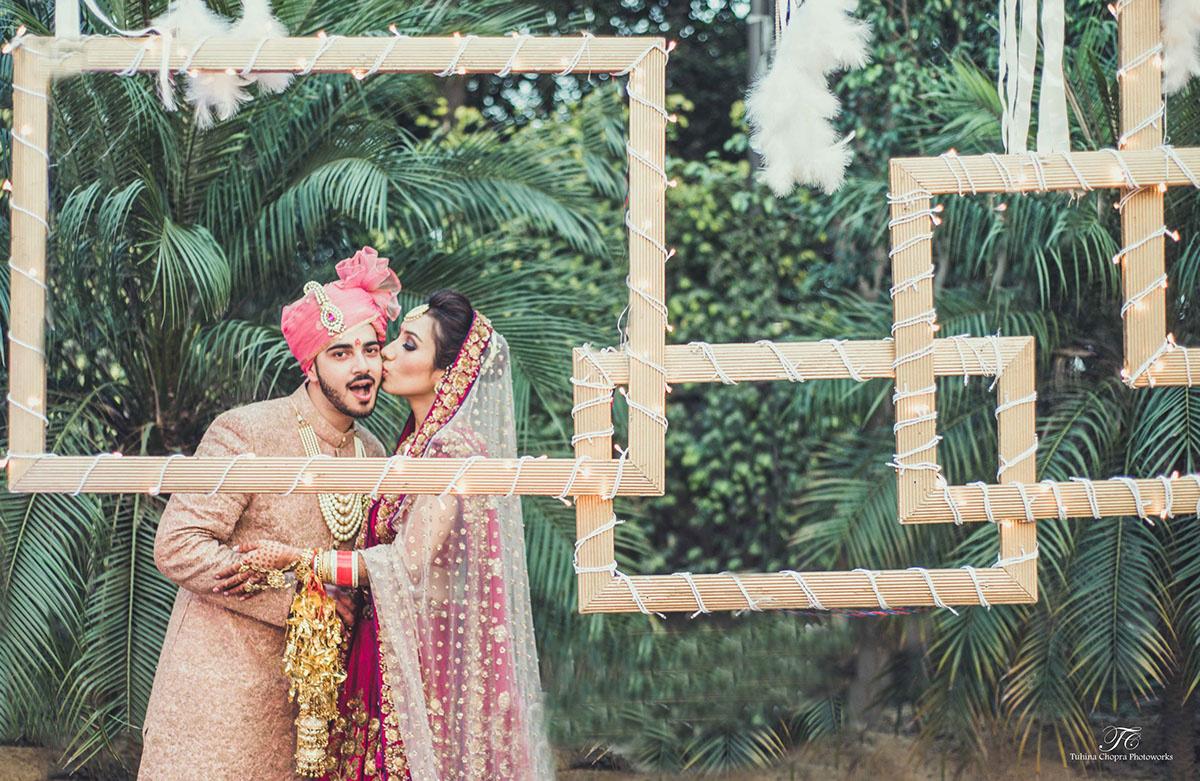 Photo booths are a current fad at weddings that also serve as an entertainment activity for the guests. Apart from being the perfect backdrop for the pictures, the addition of props etc. make it a fun element at any wedding. While the decoration ideas for photo booths are many, something as obvious as large wooden frames as the backdrop for photos can do the magic too.
Pro Tip: While wooden frames work best during the day functions, at night you must consider something more shiny and glittery, preferably gold plated or lit with lights.
Bamboo Sticks for a Canopy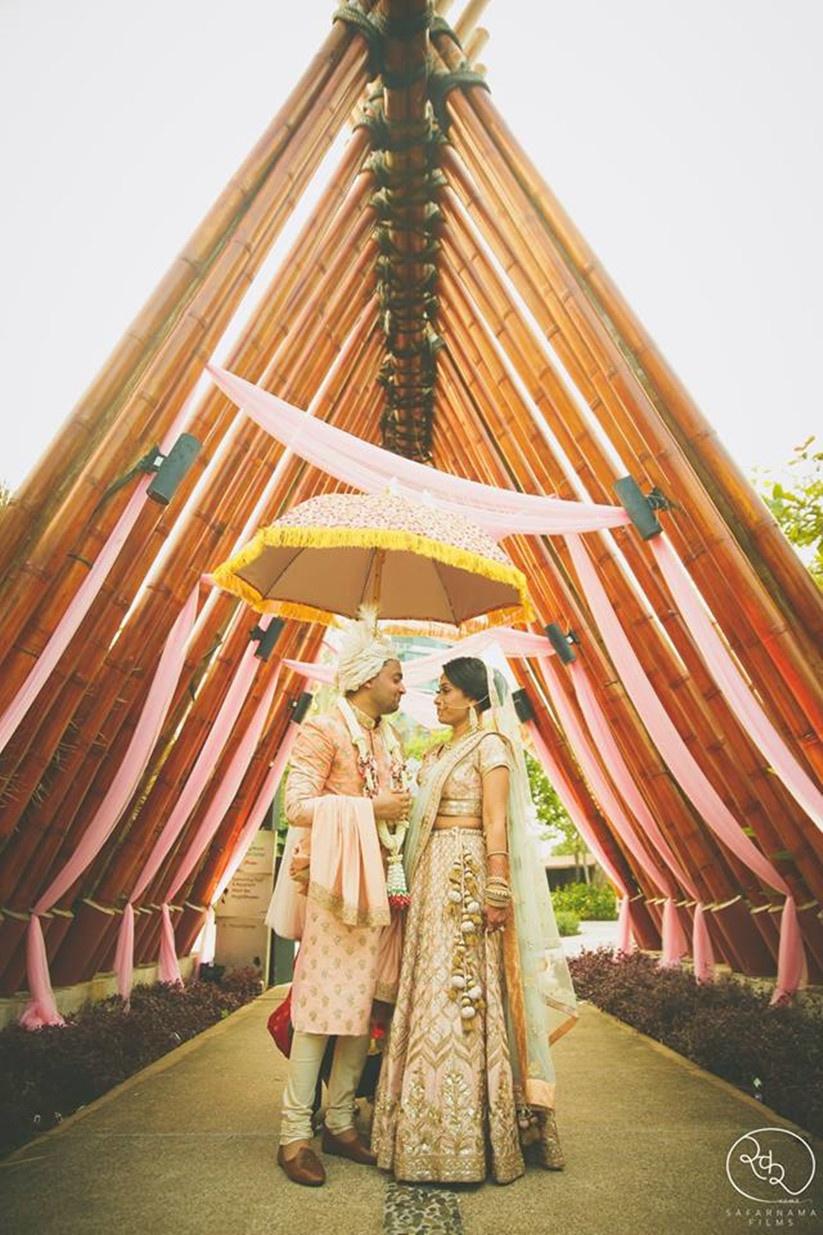 With unusual stage backdrops being another trend at Indian weddings, everyone wants to think out of the box and create something that is one of a kind. One of the decoration ideas that we really thought was simple and unique is the one that uses huge bamboo sticks to create a canopy. This bamboo canopy is the perfect backdrop for the couple and gives it an eco-friendly, primitive and picturesque vibe.
Pro Tip: While the stage backdrop of bamboo canopies sounds like a great idea, you can also use this idea to create a one-of-a-kind rustic entrance for your day functions.
Paper Lanterns To Add Some Light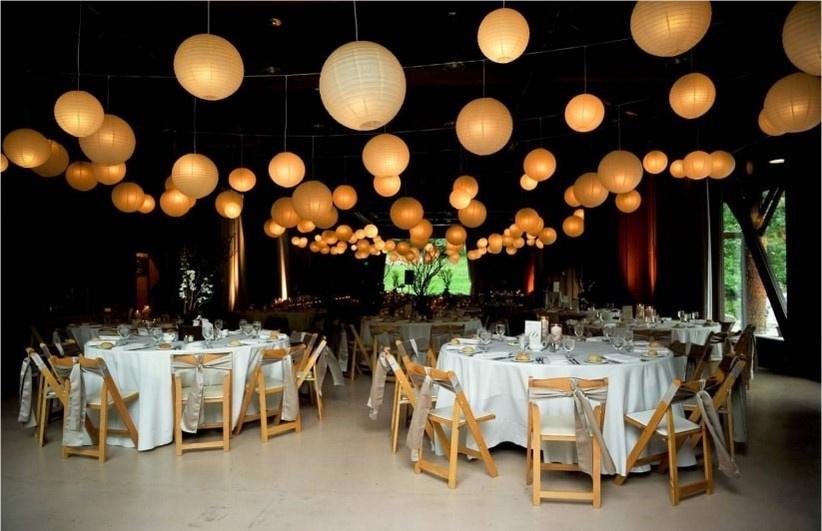 While we've discussed enough decoration ideas that work outdoors, here's a simple yet genius idea that works both outdoors as well as indoors. Paper lanterns are the easiest way to add light to any place while also making it look fancy and elaborate. You can also use different sizes of paper lanterns to create patterns of your own for the décor.
Pro Tip: If using the paper lanterns indoor at night, keep it lit and it's colour white. But if you're looking to use it outdoors in the day time, unlit colourful paper lanterns can add a lot of drama to the ambience.
Chandeliers on the Stage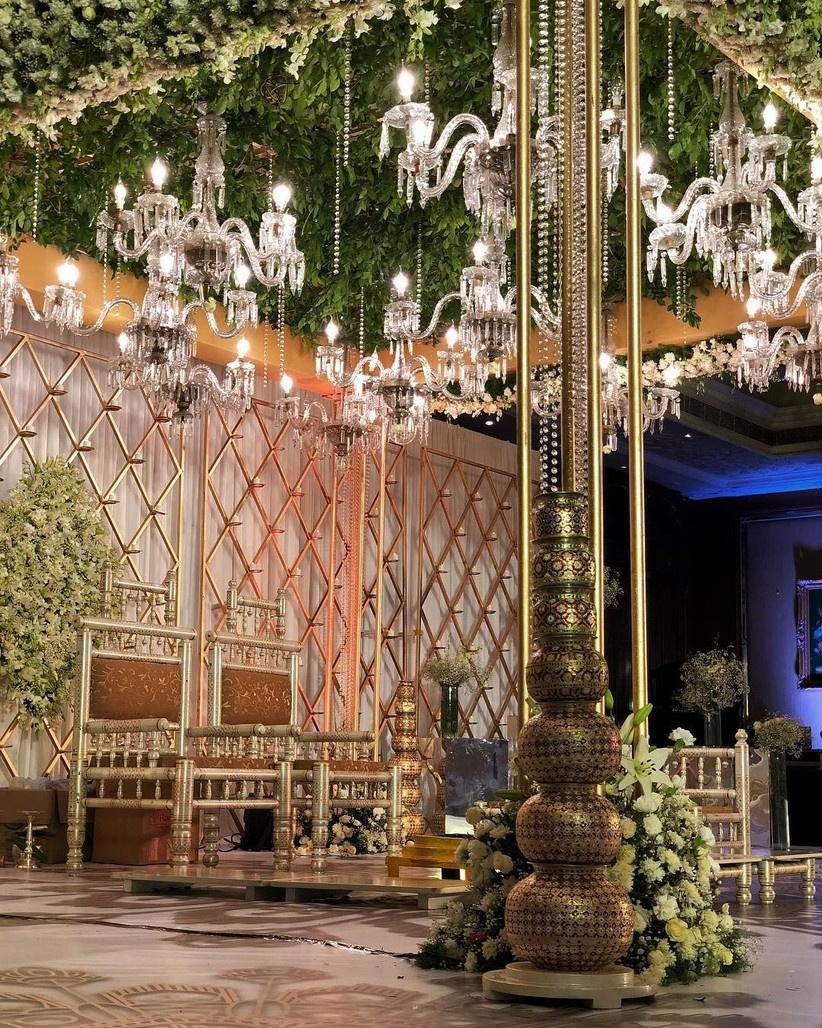 Everyone knows that chandeliers are one of the most elaborate décor items on the list, but how to use them to unlock its full potential really is the trick. So for those going for a more royal backdrop can use chandeliers on the stage to give it a palatial vibe. Match them with a regal golden theme and your wedding stage is sure to be one of the prettiest that your guests would have ever seen.
Pro Tip: A magnificent golden themed stage with chandeliers lit and swaying sounds like the perfect Reception night décor of a grand wedding.
Couple Names as Backdrop

Image Courtesy: Shades Photography India
As the wedding hashtags and initials are gaining popularity, almost every wedding has their décor planned around the same. However, something as simple as the name of the couple can do the trick when it comes to decoration ideas. It does not just make the décor more personalised but also proves to be a great backdrop for the bride and groom and their friends and families to get some beautiful pictures clicked.
Pro Tip: The Mehndi function or the Reception night is the perfect time to use decoration ideas like these for the backdrop of where the couple will be seated.
Tassels Made With Fabric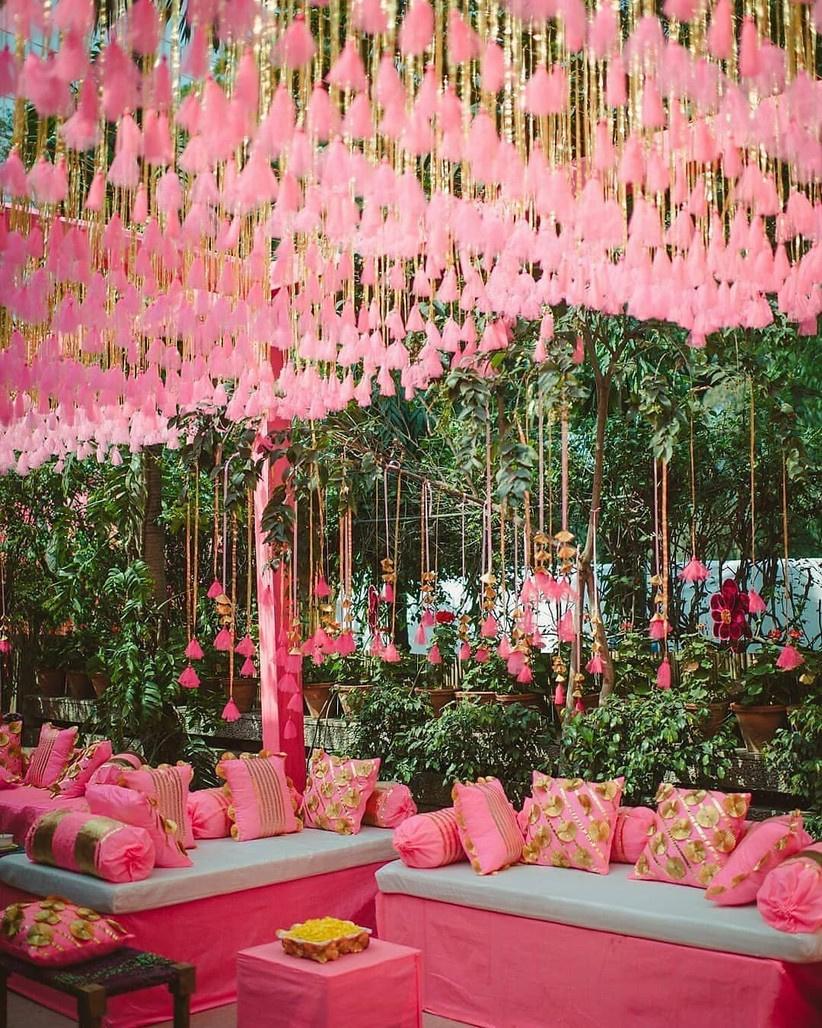 Most often when looking at decoration ideas, we forget the power of using fabrics to create something extraordinary. These tassels made with a piece of pink fabric and a golden border just remind us how beautiful a simple idea can turn out to be. Match it with the colour scheme of the décor and you might have a winner amongst the quirkiest decoration ideas.
Pro Tip: Choose the more flowy fabrics when planning to go for fabric tassels because they are the ones that are going to look fancier when hung from the ceiling. Daytime functions like Haldi or carnivals are a perfect time to use this idea.
Paper Flowers to Amp the Room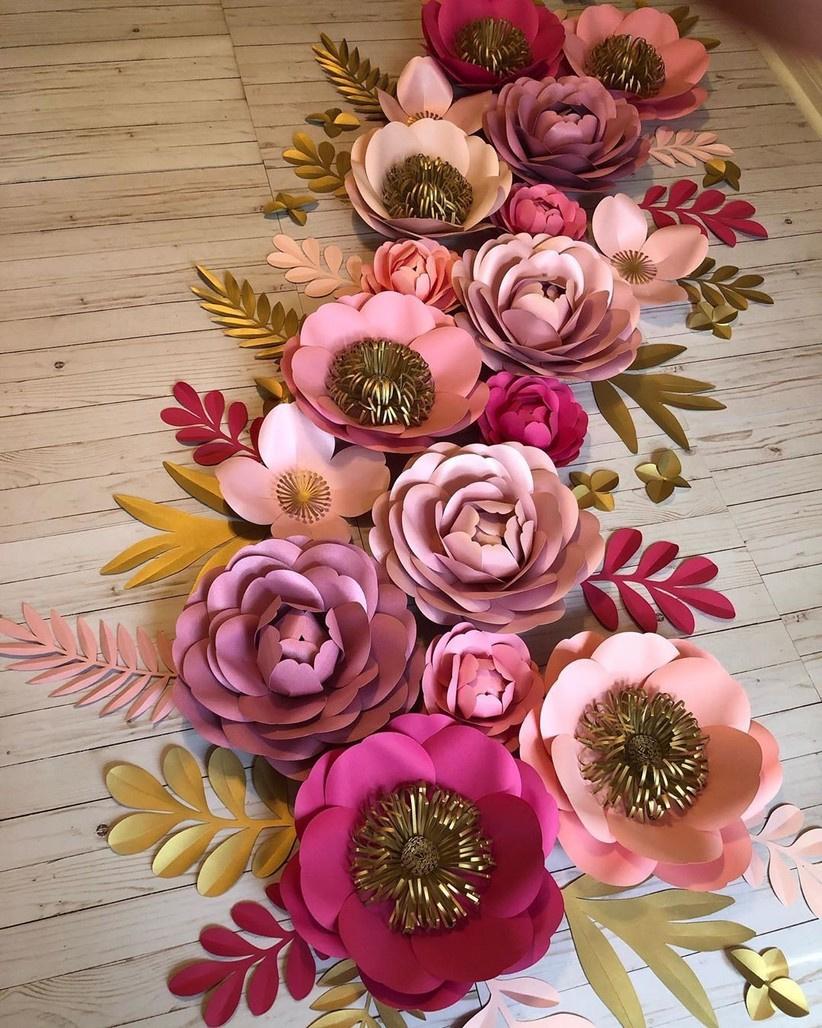 Image Courtesy: Blooms by Design
When it comes to indoor wedding functions or functions at home, you want to keep the decoration ideas minimal and simple. While the glitz and glamour seem too much indoors, decoration ideas like using paper flowers to amp up the décor always work. Be it the stage backdrop or just an overall decoration idea, well put together paper flowers can look extremely extravagant.
Pro Tip: Paper flowers as decoration idea is more appropriate to suit a daytime function preferably indoors and one that does not requires to be overly done in terms of the ambience. It is a simple idea for one of the simple functions.
Umbrellas are an All-Rounder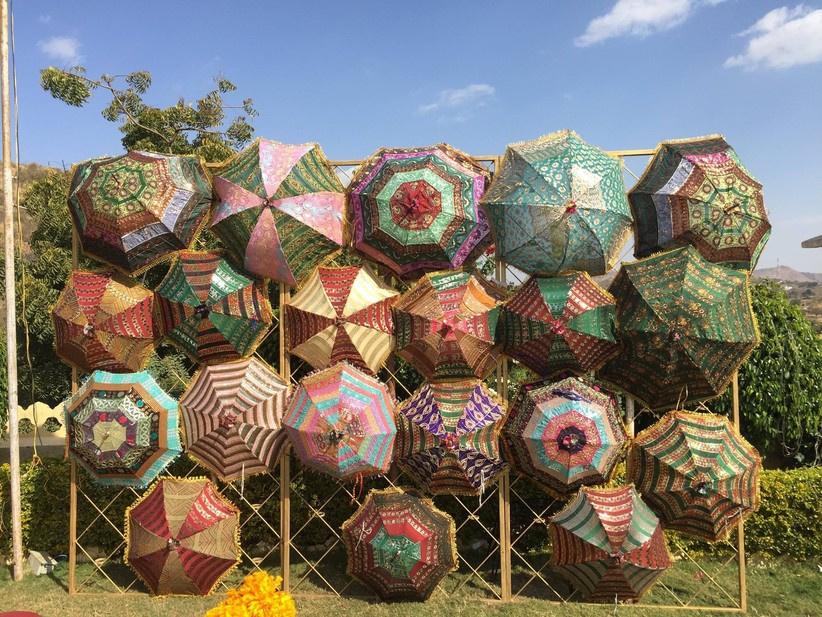 When it comes to decoration ideas, you can almost fit an umbrella anywhere you want. Be it the ceiling, the tables, the chairs, or even the photo booth backdrop, the umbrella is one of the décor items on our list that can never get too old or too common. With the number of ways you can use it being innumerable, there is always something new that you can come up with using umbrellas.
Pro Tip: While colourful umbrellas work as the best backdrop for a photo booth, they are also a great shed behind the chair at a beach wedding, so choose what you do with umbrellas wisely depending on the venue and the function.
Fairy Lights Make Everything Fancier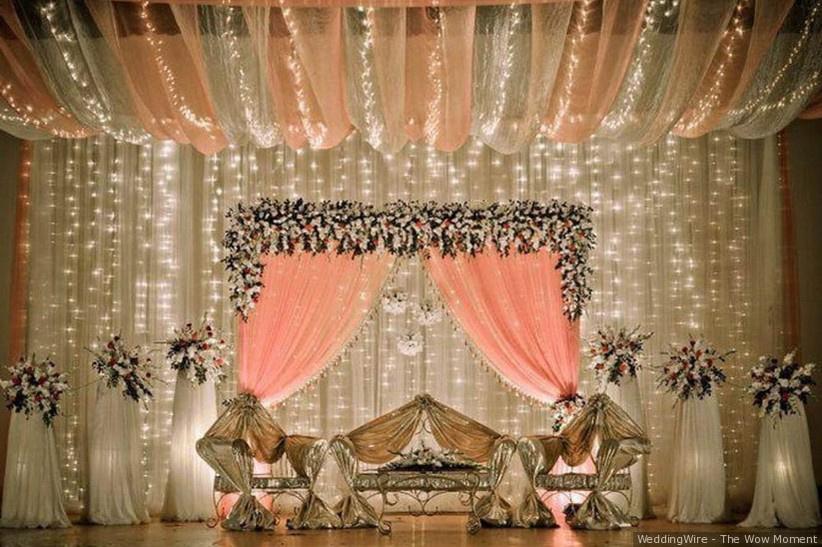 One of our favourite decoration ideas on this list are the fairy lights. Apart from being fancier than the regular lights, they are also mouldable according to the venue and the function. Apart from lighting up the entire décor, fairy lights also blend perfectly with any theme as well.
Pro Tip: From wrapping around windows and photo frames as a photo booth backdrop, to using it to light up the stage, there are many ways to use fairy lights as a part of your wedding décor. But remember to keep it funky and casual, as for the more formal themes you always have the LEDs and the candles.
Most of these decoration ideas are simple and straight forward, however decorating a space isn't always as easy as it sounds. So, whatever you choose, make sure that you keep the size of the venue in mind so that you don't get all hassled up trying to cover the entire place with a more complex decoration idea.
For example, a larger venue will require way too many fabric tassels and therefore need a lot of raw material and manpower, however, the frames for a photo booth can make your job relatively easy and save you from decorating the entire area. So choose your decoration ideas wisely and make sure that what you choose turns out completely well planned and executed, because a job half done is even worse than not being done at all.
Which of these decoration ideas is your favourite? Tell us in comments which one will you go for at your wedding function.