Nail Your Wedding Stage Design With These 15 Stunning Decoration Ideas
Wedding stage design ideas are no longer about scrunched up drapes and cliched floral arrangements. For your wedding day, don't settle for the ordinary. Take a look at everything from minimalistic stage decorations to the classic and opulent ones.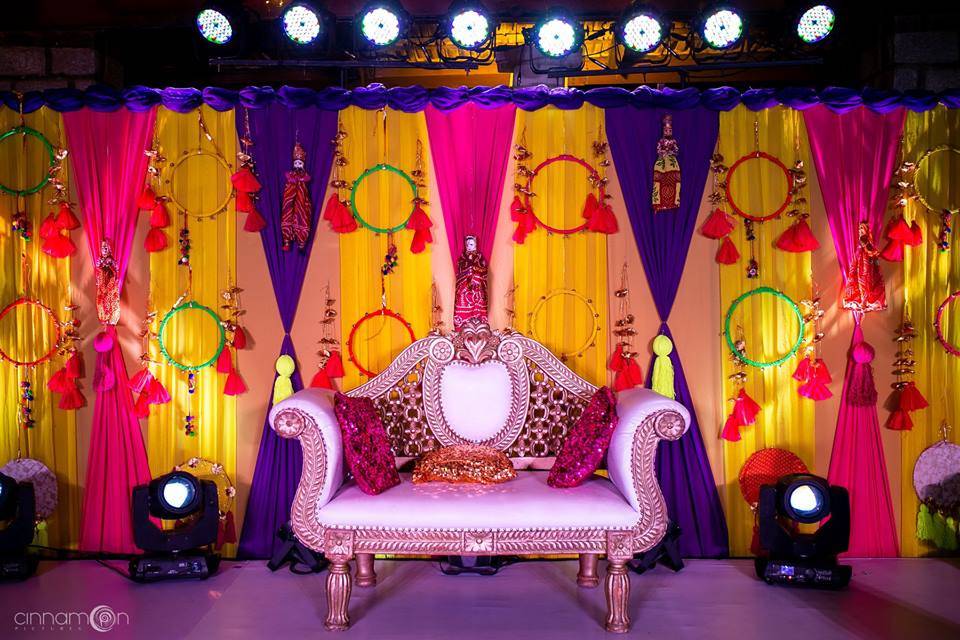 What is it about traditional Indian wedding that makes it unmatched in terms of grandeur, opulence and vibrancy? Yes, it's about wedding stage design that lends authenticity to Indian weddings. Probably, what started off with a concept of fancy sofa seat set against a floral backdrop has now evolved into one of the most creative and eye-catchy highlights of a wedding.
From minimal wedding stage design ideas to the enormously grand ones exuding opulence, the vast spectrum of wedding stage decoration has a lot to offer.
The wedding stage is a prime area that needs additional attention so, before you zero in on a wedding stage design for your D-day, take cues from our curated list of 15 most stunning wedding stage design ideas. Right from the classic rose theme wedding stage design to some of the most mesmerising designs - we've got it all covered.
15 Wedding Stage Decoration Ideas That Work Spectacularly And Why
1. Simplicity at its best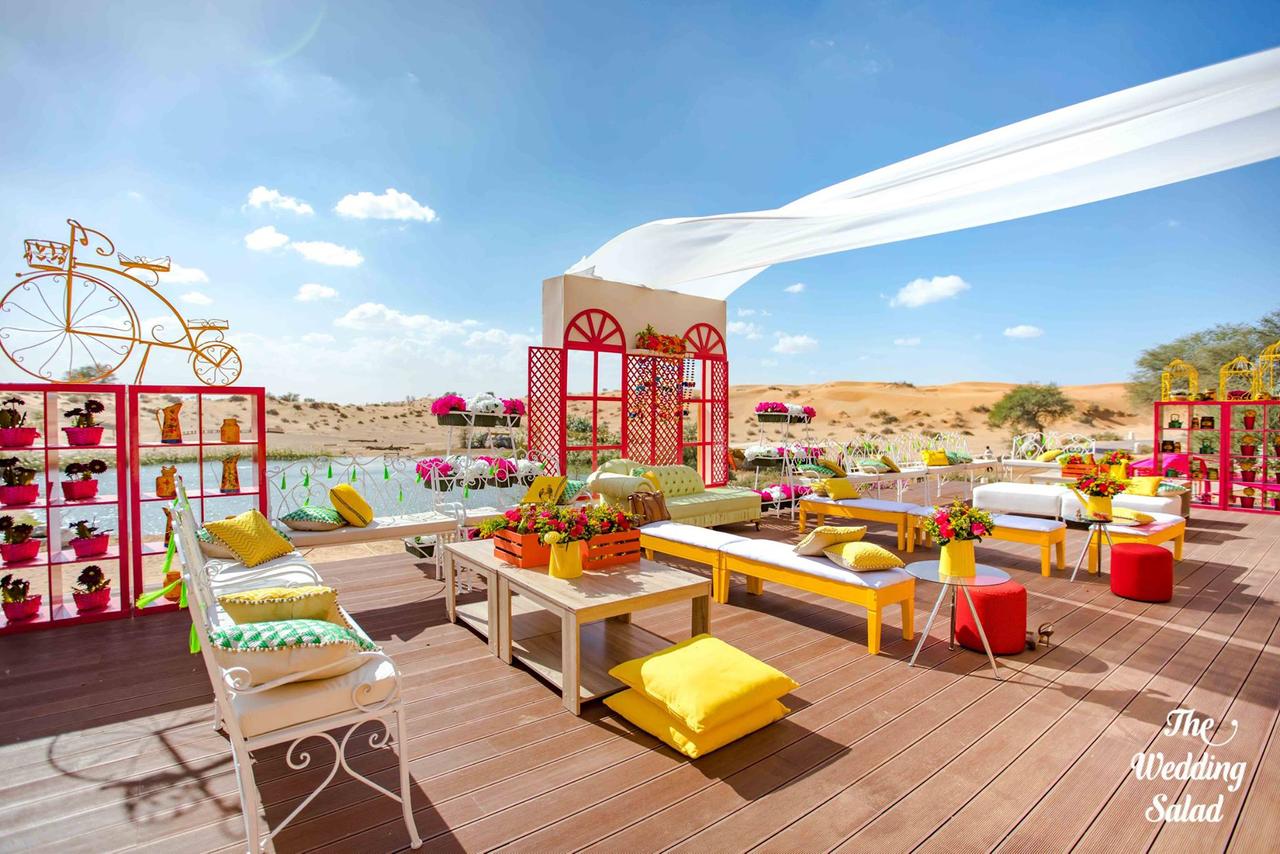 Here's a wedding stage design idea to keep things minimalistic yet classy. This decor idea is apt if you plan to have an outdoor gathering and that too with limited people.
The whole set up gives a very European feel and especially, the drape in white is adding a dramatic touch. With matching hues and some seasonal flowers, this simple stage idea looks perfect - neither too loud nor too busy.
2. Lotus-shaped stage-cum-mandap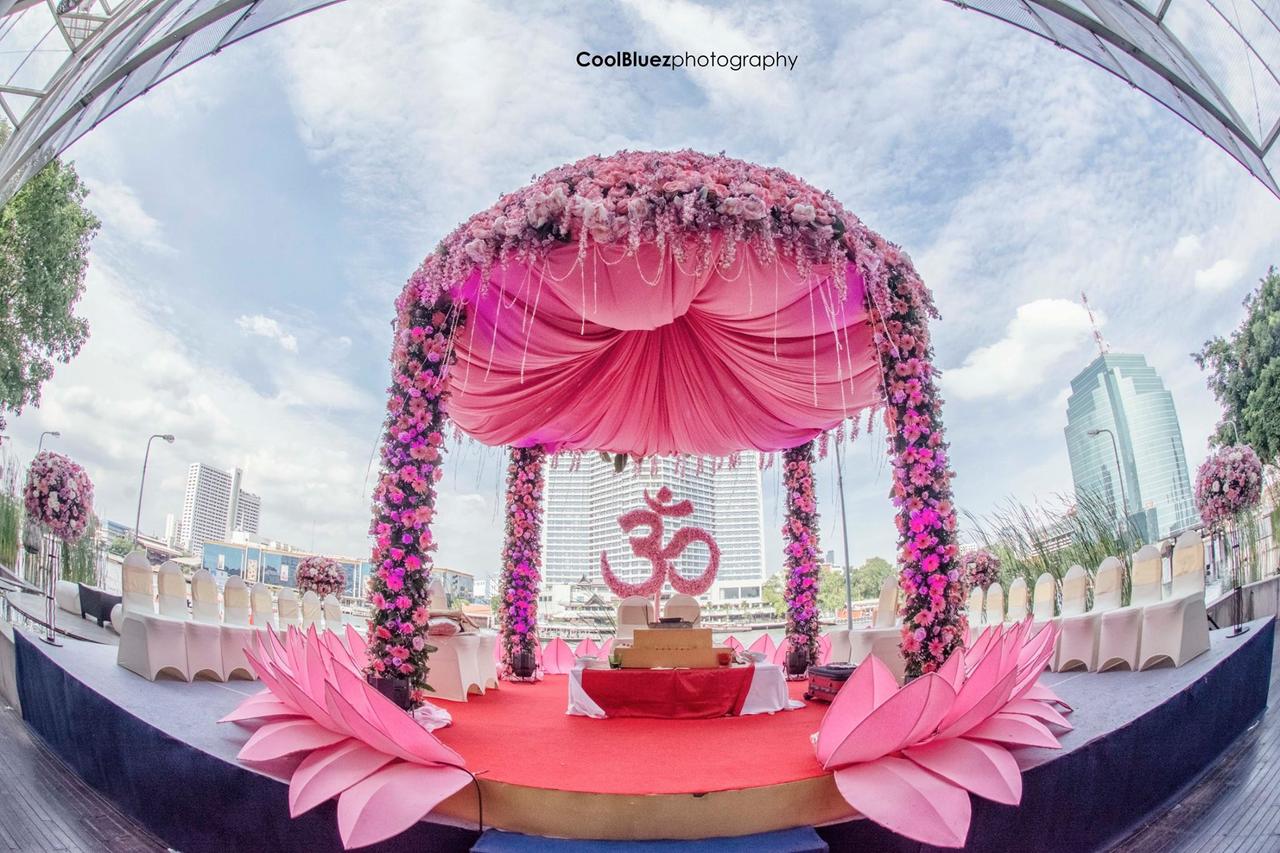 Just imagine how magical it would be to walk down the aisle up to a lotus-shaped stage, beautifully decorated with flowers and drapes, as you both take a plunge to spend rest of your lives together. With 'Aum' symbol at the backdrop, it can't get more auspicious than this for sure!
3. Dreamy pink and white stage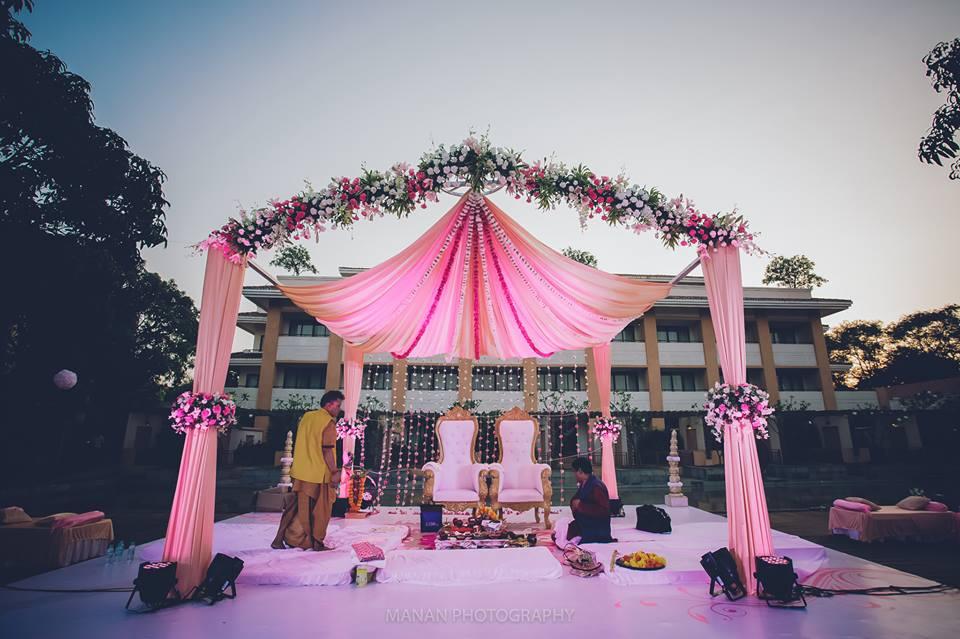 If you plan to have an outdoor wedding function with a dreamy setup, then check out this romantic theme wedding stage decoration idea. With soft pink dominating the decor theme - be it flowers, chairs or drapes, this stage is soothing to the senses.
4. Cool and quirky stage design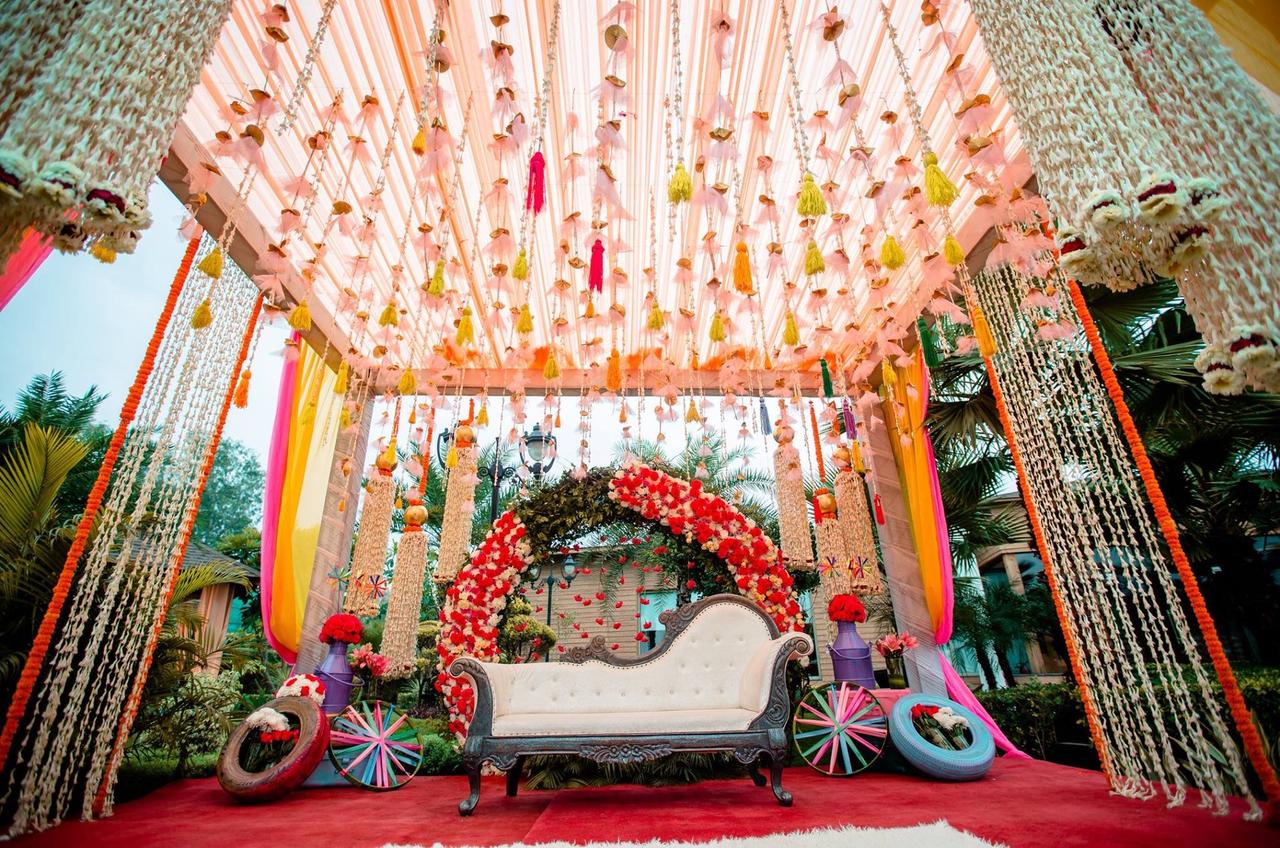 We are floored at this artistically rich stage decor idea. With hanging mogra garlands, a white sofa seating set against a heavy floral wreath - decked up with foliage and hanging red and white flowers is so overwhelming.
We love the way recycled tyres have been used to quirk up the decoration theme. This stage design is perfect for your Sangeet or Mehndi function.
5. Dome-shaped floral stage-cum-mandap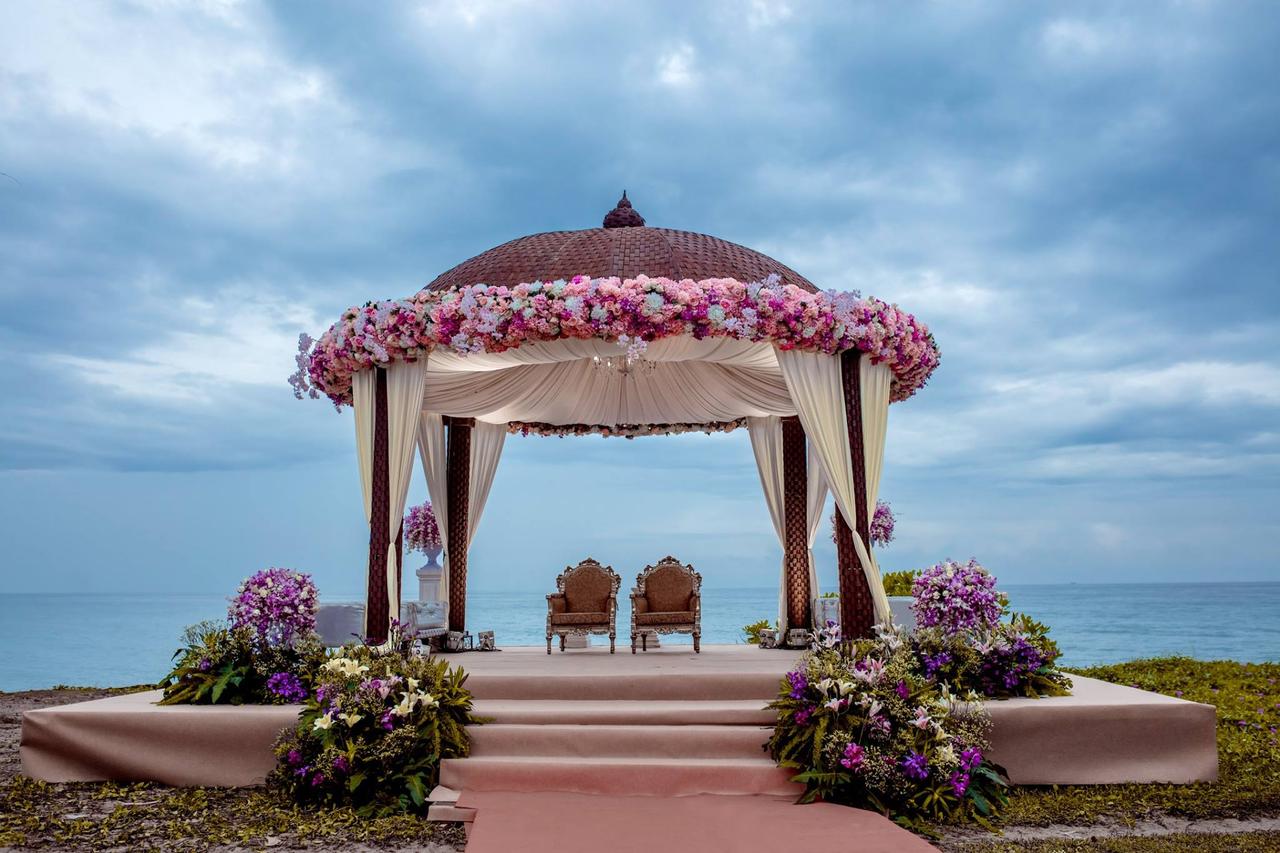 If you plan to have a beach wedding, perhaps you should consider this romantic stage-cum-mandap design idea. A huge dome stage laden with white, purple and pink flowers, white drape, and endless blue sea at the backdrop makes for a dreamy decor idea to die for.
6. Regal red decor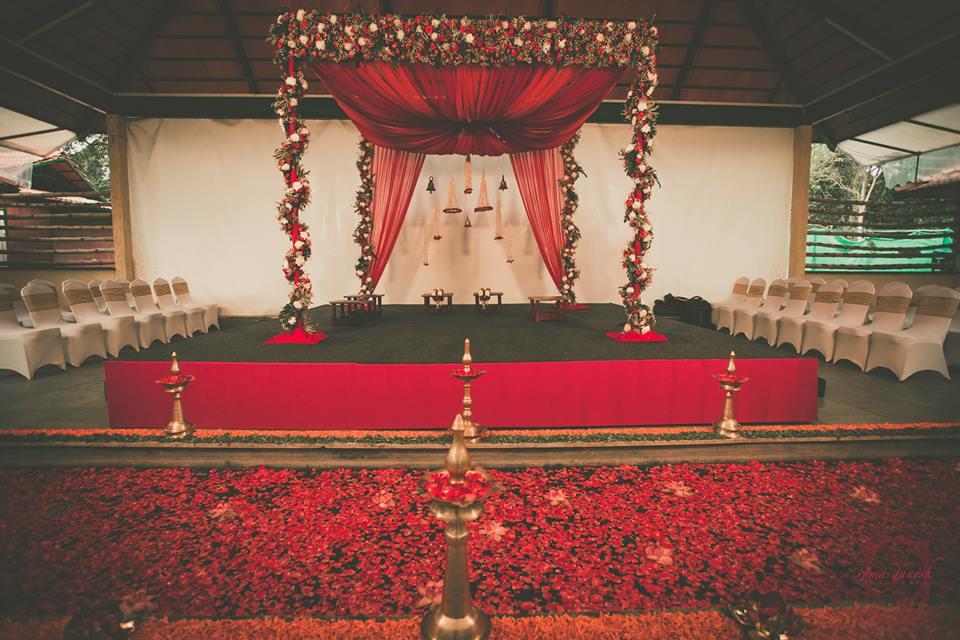 The classic combination of white and red flowers with a hint of green leaves is the best way to make your wedding stage design look regal. With ethnic brass Deepam stands, red drapes against a white backdrop and white chairs with a touch of gold, this stage looks so luxurious.
In fact, red is making the wedding decor look so complete and heavenly.
7. The quintessentially magical stage setting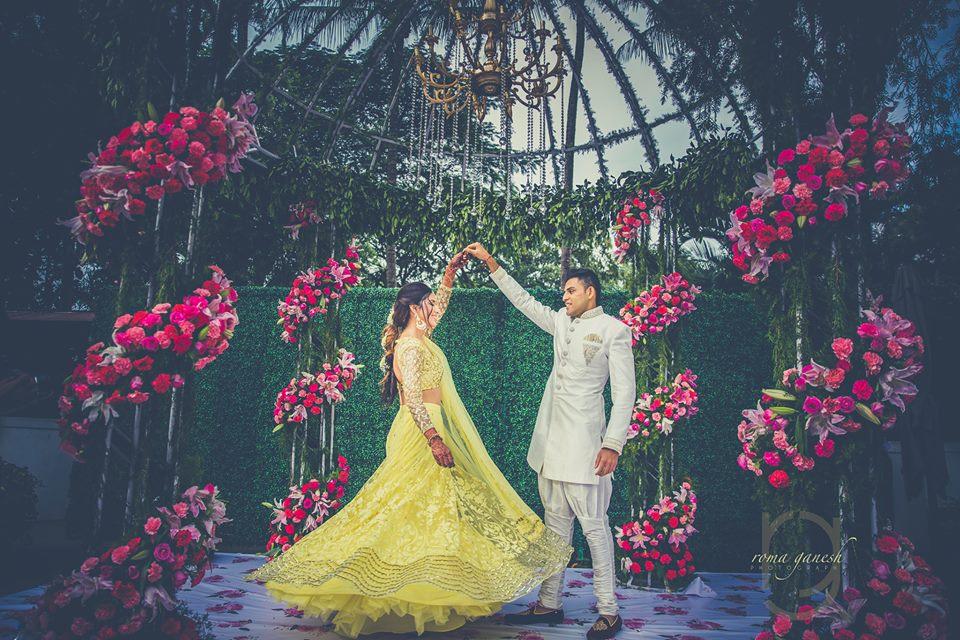 This stage is so impeccably adorned and ornamented with colourful flowers and lots of greens. This stage decoration is perfect for your engagement or reception party.
8. Lit up backdrop stage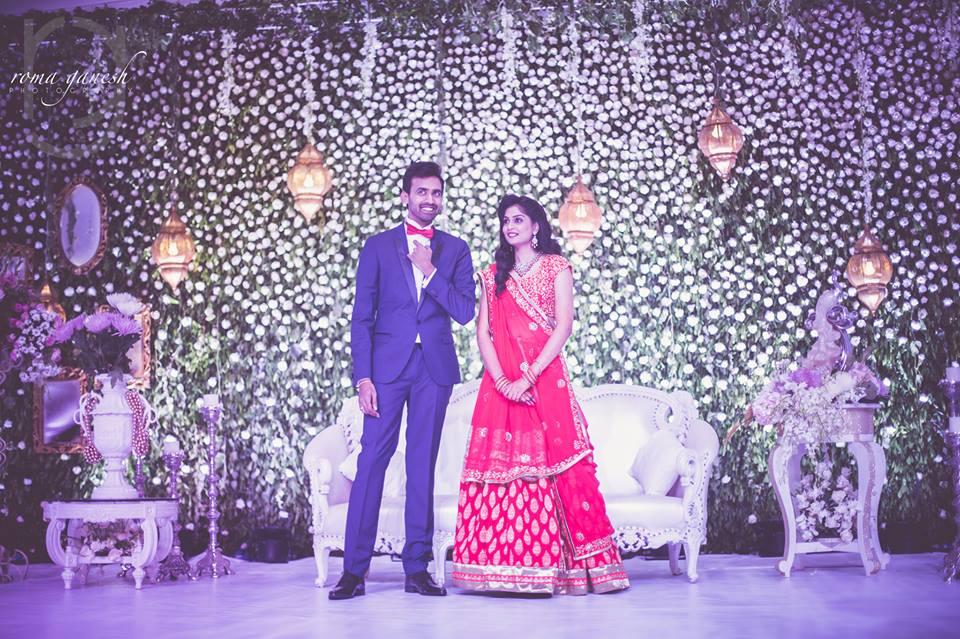 With a half floral and half foliage wall, light chandeliers, white vases and simplistic seating, the stage looks minimal yet dreamy for a reception party. So, if you like a romantic combination of flowers and candles, you must take inspiration from this wedding stage design.
9. An exquisite stage decor
This stage set is no less than that of a B-town award function night. We love the huge peacock figurine seating on a lavish fur carpet. With cascading shimmery adornments and lavish use of flowers, this wedding stage design exudes sheer opulence.
10. Uber unique drape and floral stage setting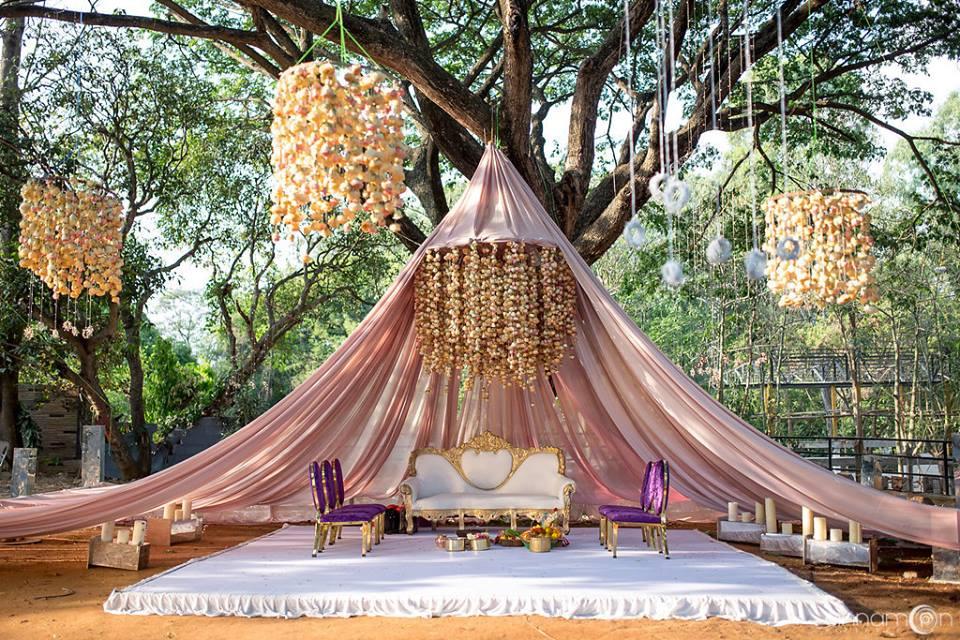 The beauty and elegance of this stage decor are unbeatable and worth every penny. With cute little sofas and matching drapery with massive floral chandeliers, this stage is a sight to behold. We really wonder how dreamy it would have looked in reality.
11. Beautiful swing decor stage for Mehndi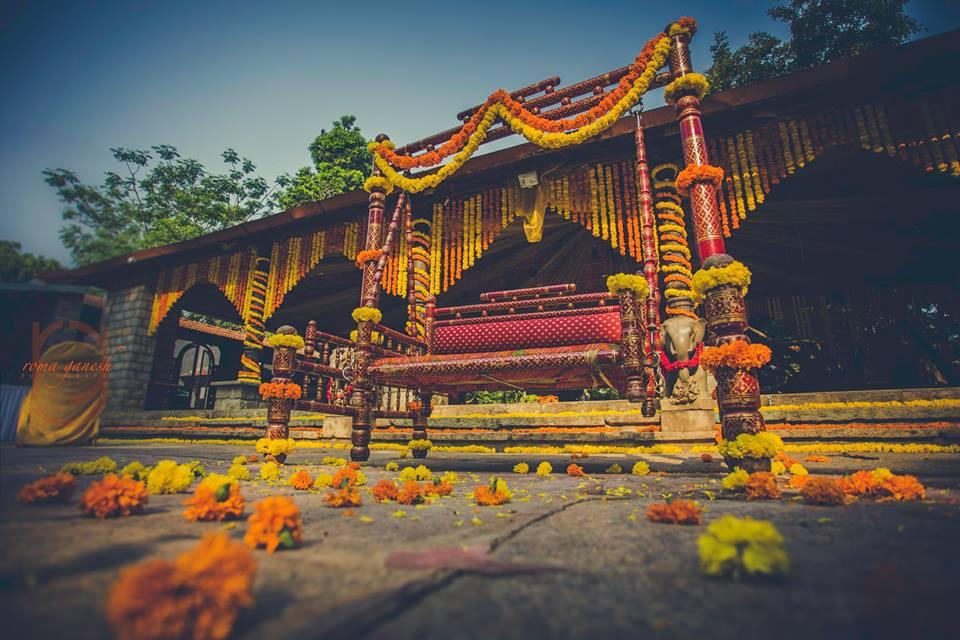 How about trying this decor idea with a swing that's heavily decked with multi-hued flowers and perfectly goes in sync with its colourful surrounding! This stage decoration idea is definitely bookmark-worthy for its vibrant appeal.
12. Pristine white gold and red setting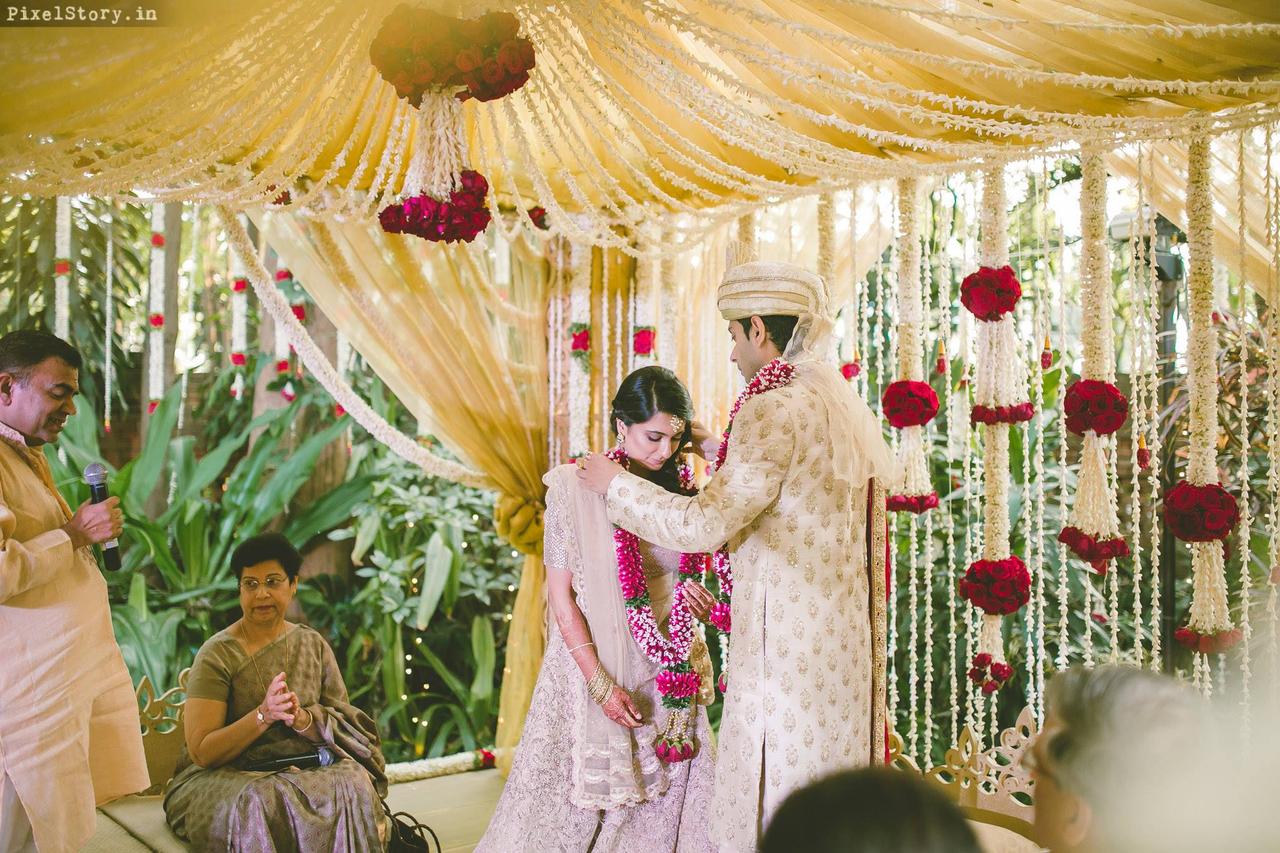 What can be better than this mind-blowing setting to exchange Jaimala with the one you love. The fully covered canopy of flowers in hues of white and red with golden drapery looks remarkable. If you are a big admirer of floral decorations then this is something worth trying.
13. Mindblowing floral stage decor
The extravagance of this heavily done floral stage in hues of white, red and peach with a hint of green foliage along with white drapes and a minimalistic golden sofa seating is par excellence. With a plethora of flowers set all over the stage, this decor idea is definitely worth trying.
14. Small but sweet stage for Mehndi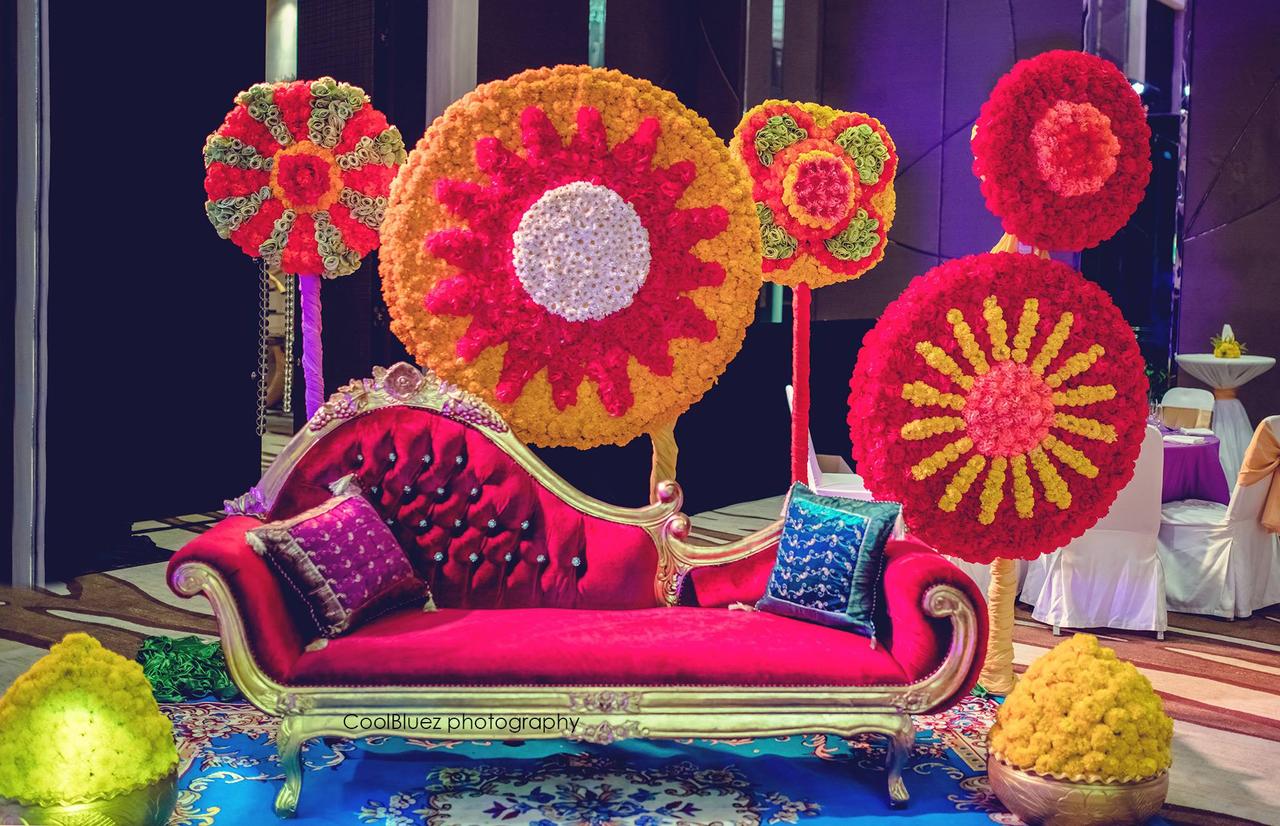 If you are worried about the limited stage area, then this quirky and colourful décor will make your stage look beautiful and unique. The choice of vibrant colours and proper placing of flower stands make it an apt option for your mehndi function.
15. Quaint simplistic stage setting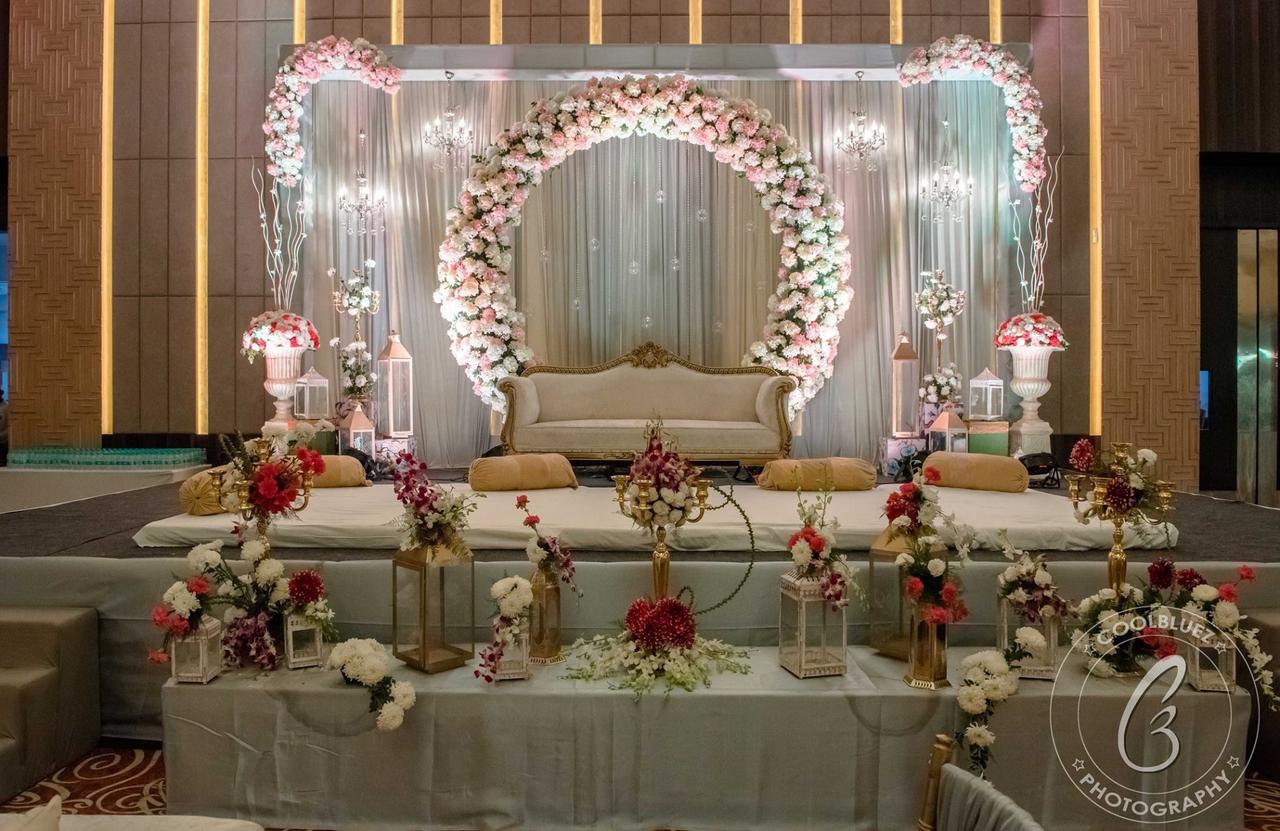 This stage decoration in white and peach is one of the classic romantic theme wedding stage design decoration ideas. This stage setup is perfect for the couple who loves all things simple and subtle.
Weddings are one of the most special occasions for every couple, therefore choose your decor and especially, the wedding stage design that defines your style and matches your D-day theme.
Which of these wedding stage decoration ideas did you find worth trying? Share with us in the comments section below.