7 Stunning Indian Wedding Stage Decoration Photos for Every Type of Couple out There
Do you want your wedding stage decoration to look out-of-the-world beautiful but your decorator is suggesting ideas you've already seen at other weddings? Here is a gallery of Indian wedding stage decoration photos for you to take inspiration from.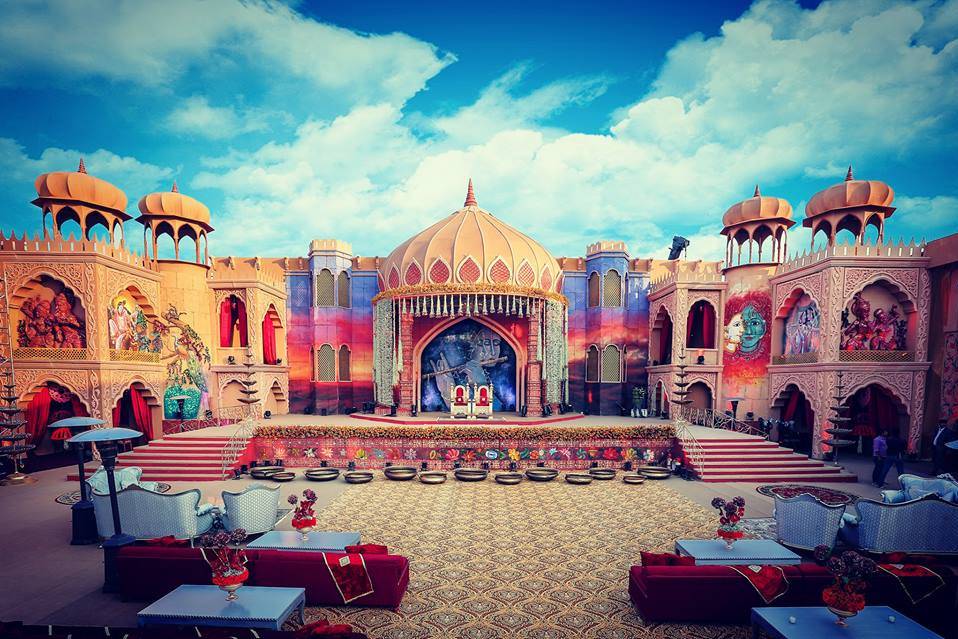 A bulk of your wedding pictures are going to be clicked against the main wedding stage. That is why this particular section of your wedding venue requires your attention slightly more than the others. Imagine a beautiful flower wall in pastel shades as the backdrop of your stage. Seems pretty, doesn't it? But not when you yourself are wearing a pastel shade lehenga because then you would blend in with it making you look like a part of the décor. That's one disaster that no bride wants. But every couple wants something new and unique for their stage. To make that happen for you, we have curated a gallery of Indian wedding stage decoration photos. Take a look:
1. Lotus style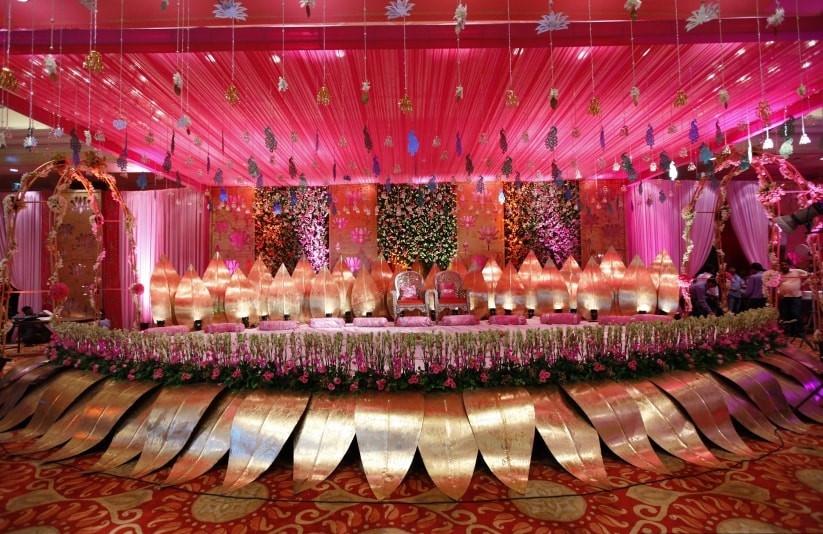 This breathtakingly gorgeous lotus themed stage is the first in our collection of Indian wedding stage decoration photos and rightly so. If your wedding theme colours have golden in the selection, you can easily make a statement with this lavish-looking stage decoration. Combine that with a pretty ceiling and there you have it, an awe-inspiring masterpiece. Even your wedding photographer will have an amazing time capturing pictures against this stage.
2. Jungle themed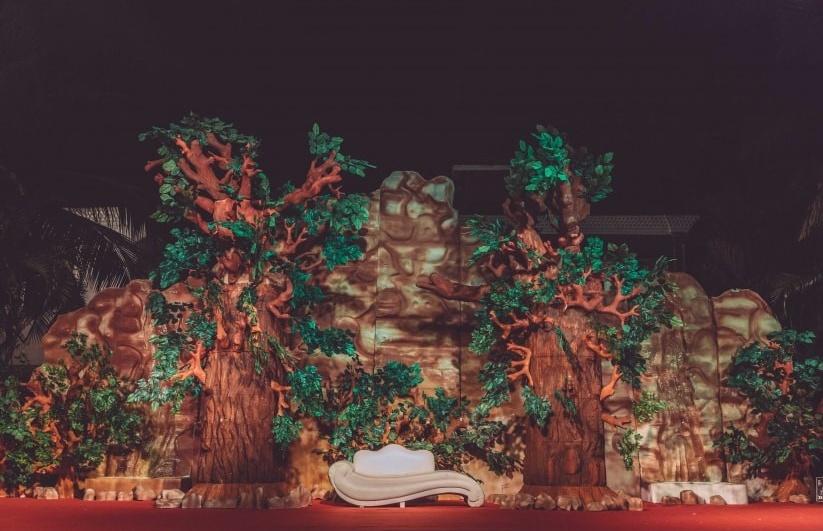 Looking for a quirky wedding set where all your friends will be awestruck just by the stage itself? Then this jungle-themed stage is the perfect option for you. With all the props and décor added just to make sure that it brings the perfect jungle vibe to your wedding. Such Indian wedding stage decoration photos will make your wedding album look the grandest of the whole season.
3. Lantern-lit stage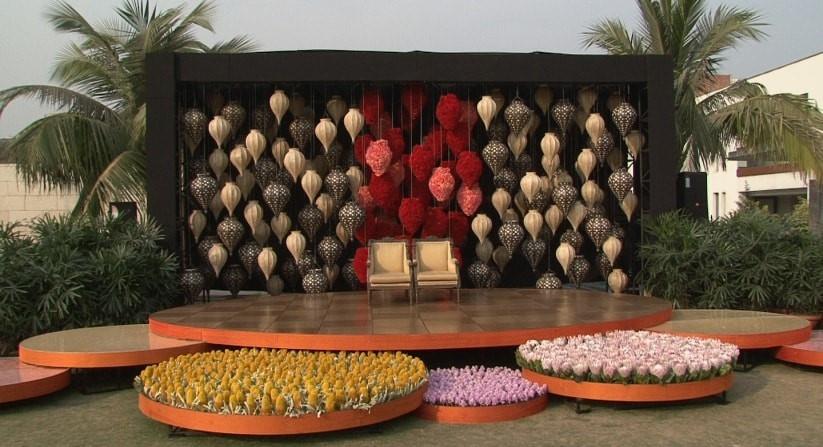 Have you ever seen lanterns to be the main stage decoration item? Well, Indian wedding stage decoration photos like this one here are the proof. The grandiose of this stage comes from the colour pattern used for the arrangement of lanterns and the creative floor paired with it. The flowerbed at the front of the stage will birth an even stunning effect in your Indian wedding stage decoration photos.
4. Floral paradise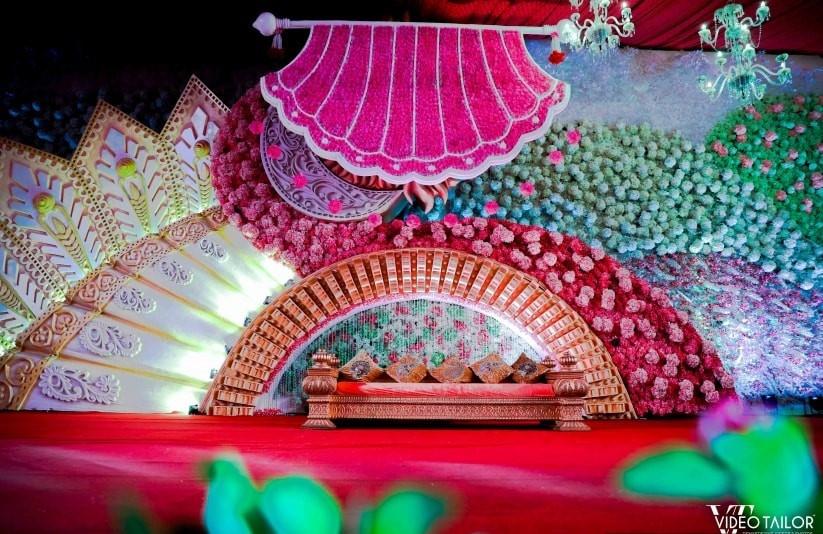 The riot of colours happening in the background of this stage is like a painting at its completion. Do you want to show your family and friends what a joyful ride it has been since the two of you have come together? We think this stage decoration with all its layers of a utopic paradise, the floral fan, moon, clouds, can do that for you perfectly. Imagine the chirp and new-found energy it can emanate in the environment of your venue. Indian wedding stage decoration photos like these reflect exactly why weddings are such a fun-filled affair.
5. Palace themed
If you want to flaunt your palace wedding theme in an unprecedented manner, then right here is the idea you need. Inspired by such Indian wedding stage decoration photos, you can try a palace themed stage if you're looking for a wedding that all your friends and family remember for years to come. You will be the queen of the whole affair and would feel rightly so sitting at this stage. Your wedding pictures will drip in exuberant regality. What more would you need to fulfil your dream of having a larger-than-life wedding?
6. Open Jaimala stage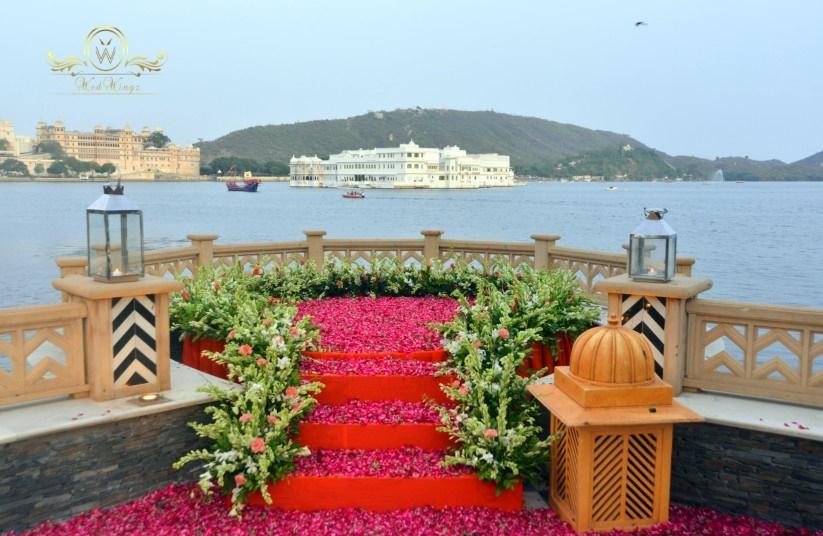 How about a not-so-elaborate stage decoration that is minimalistic and is the best spot for clicking your pictures? This open venue overlooking a lake gives the couples an ideal stage for Jaimala exchange. The floral décor makes it look pretty and appealing. And the Jaimala pictures clicked here will be so personalised in nature that you wouldn't be able to help but admire your decision of choosing that venue. When you're planning to do things the minimalistic way, take a cue from such Indian wedding stage decoration photos.
7. Ombre stage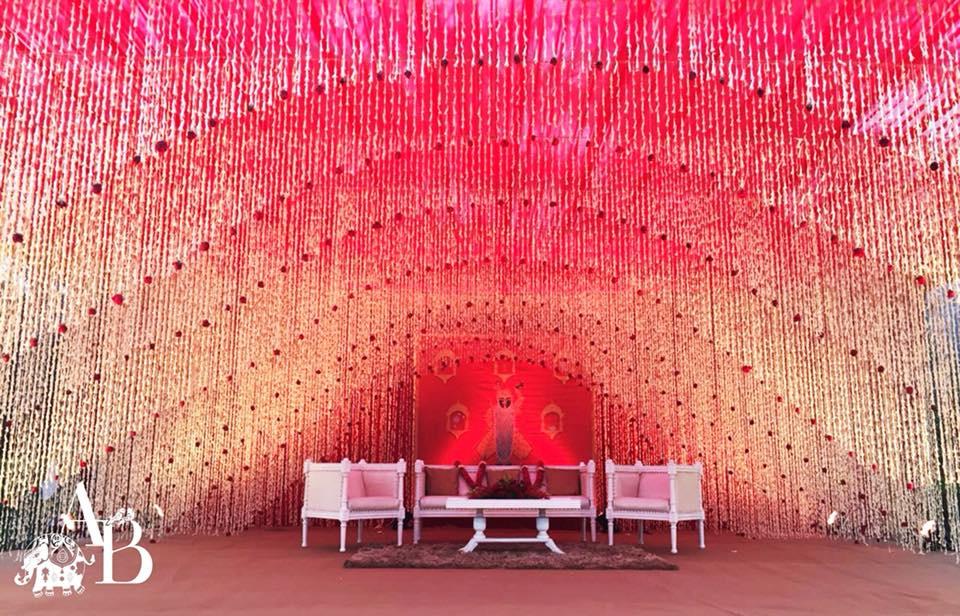 When you plan to stun your guests with simplicity, this is the route you should be taking. Indian wedding stage decoration photos inspired by the mantra of 'less is more' show you how elegance can be created with only a few elements in hand. The hanging floral strings form a chandelier effect while the ceiling fabric gives them the colour and ombre effect. Now that calls for a day wedding! With such a knockout stage, you wouldn't need ornate seating. A simple one will do just fine and still give you the most sensational effect.
While you're planning on a really artistic and out-of-the-box approach for your wedding stage, do think about the people who will be executing it. Talk to your wedding decorator or planner for the logistics and other realistic details you should be aware of for implementing your ideas. It might just impact your wedding budget or it won't. It would be better to be informed about such things than having to deal with a shocker at a later stage. Also, they might be able to help you improve the idea with their experience and expertise.
Were these Indian wedding stage decoration photos enough to send you on a trip to dreamland weddings or are you still looking for more? Check out our Instagram for more inspiration.