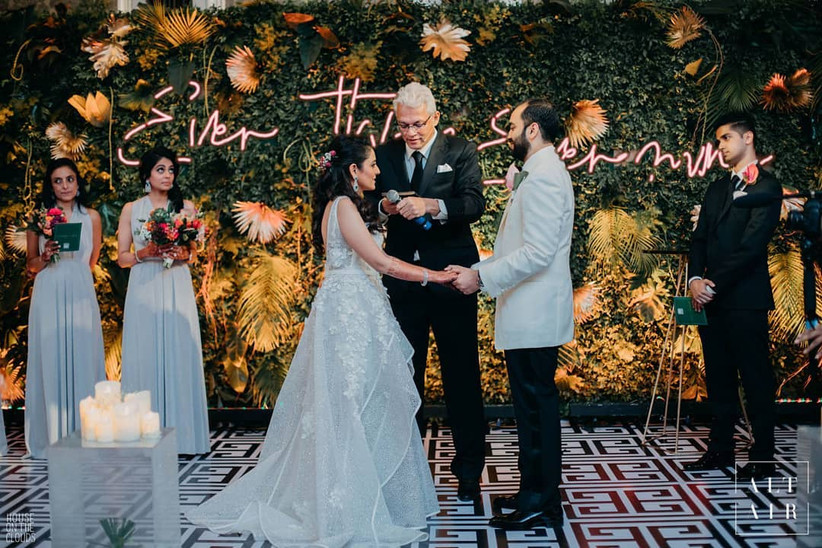 Image Courtesy: Altair
The wedding decor concepts have come a long way from being all about flowers to foliage decor and very swiftly. Flowers are no doubt all things wedding, but with newer colour themes and the adoption of more eco-conscious weddings, the foliage decor has become a trend followed by many wedding decor companies.
The green foliage adds to the lush look of the wedding and adds the beautiful element of nature to the wedding themes. Bringing the joys of the woods to your weddings, here are some green and leafy foliage wedding decor that you can opt for!
Foliage Photobooths & Props
The cluster of leaves that are used for the wedding decor need not necessarily be plucked out of the plants and trees. Instead, a wall full of vines and a backdrop that flaunts other potted plants can be used as the background to mount the props. From myrtles, snake plants and other succulents, the touch of a leaf can also transform a space into a beautiful photo booth. With the wedding hashtags and lights used to deck up the venue, the foliage decor makes for the perfect backdrop.
Foliage Decor on the Rocks
Image Courtesy: Tanvi & Co.
When the sky is the limit, then why limit foliage decor to stage backdrops only? Foliage can also deck up the backdrop of the bar! Make use of some quirky signs and texts on the foliage and there will be more reasons than just alcohol to attract the guests!
Foliage for Saath Phere
Foliage decor is a great way to deck up the mandaps. Flowers might be all dainty and luxurious, but the rustic look that foliage decor adds to the wedding is not only aesthetic to look at, but also comes in pocket-friendly packages. A simple wedding mandap frame can be covered with ferns and turned into a fairytale where you can exchange your vows.
Upholding the royalty of flowers and at the same time using only a few of them intertwined with the greens and fabric drapes is one way to transform your wedding decor. Without having to pluck them all, you can also find a natural tree and deck it up with paper decorations and add colour to the natural beauty for your big day.
Dining with Foliage Decor
Non-floral centrepieces have been the talk of the town for quite some time now and adding aesthetic value to your wedding seating here is the foliage seating decor. From foliage above your heads with dreamy lights that amp it up to a foliage runner on the table with candles, foliage decor makes minimal decor looks tranquil and just perfect for you and your guests to enjoy a nice dinner after the ceremonies.
Walk Through a Foliage Arch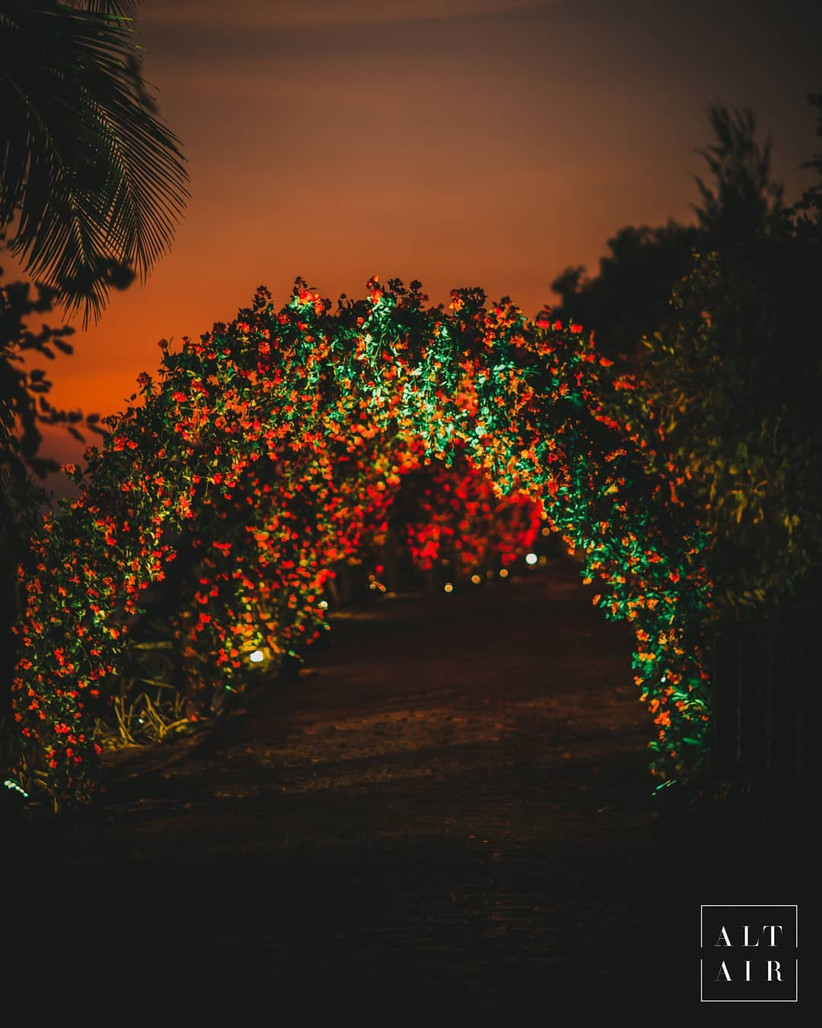 Image Courtesy: Altair
The bridal entry and groom's entry are some things that we look forward to at a wedding. Instead of huge floral installations at the entrances, you can opt for elegant foliage entrance decor. Breaking away from the regular decor that looks refined and complex, you can make your wedding decor more sophisticated and simple with arched foliages and mood lights that will turn it into a romantic fantasy.
Foliage for Pre-wedding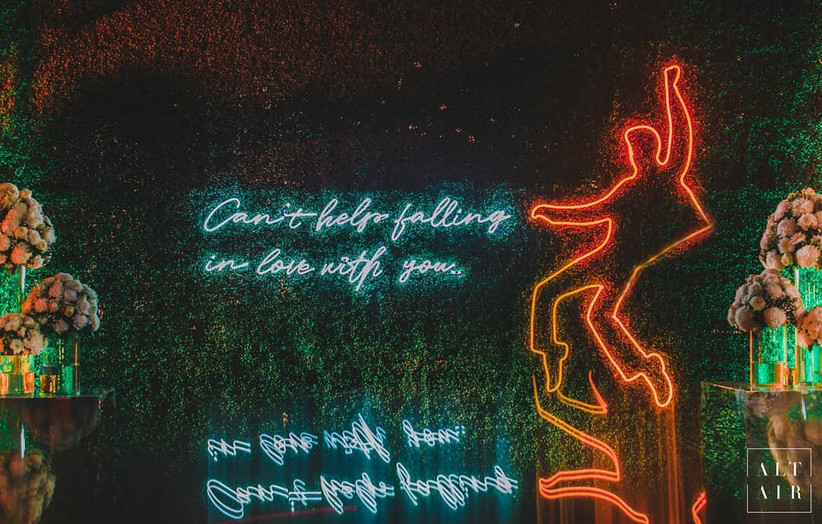 Image Courtesy: Altair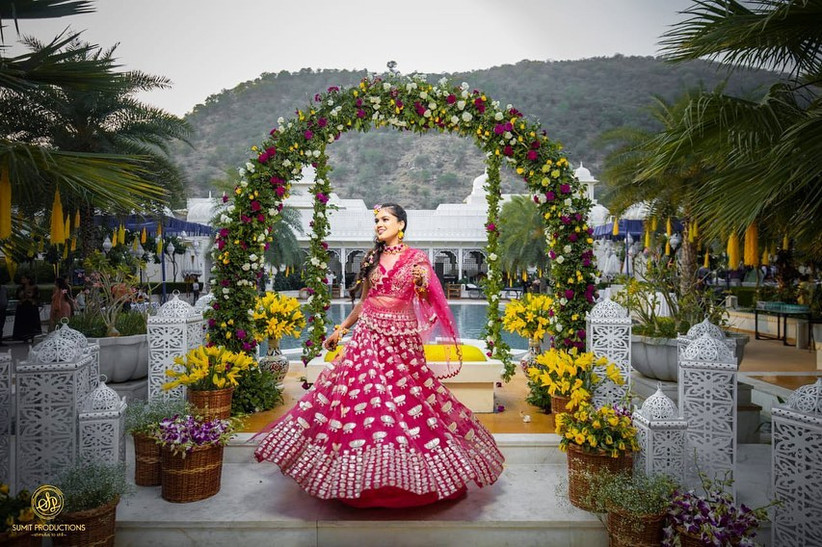 Image Courtesy: Tanvi & Co.
Mehndi Jhula is one of those elements at a wedding that uses a lot of flowers. Moving on from the Jhula decoration that includes marigolds and sunflowers or even gerberas and daisies, the Mehndi ceremony now flaunts foliage Jhulas. Ferns intertwined with flowers or even sage leaves made in the shape of a hammock is a quirky addition to the ceremony and we love the simple yet beautiful turnout. It can be used for the Haldi ceremony too.
For the Sangeet ceremony, you can use some sassy light decors and silhouettes with the LED lights to make it rock n' roll!
Foliage is the new floral and there is no downplaying the fact that foliage decor has become a hot favourite for many millennial couples these days for its utter simplicity and the touch of nature that makes the wedding all the more beautiful.
Bringing the beauty of nature to your wedding venue - from different themes to different colours, foliage decor is a go-to concept that is not only a sustainable decor trend but it also upholds the rustic element of wedding decor that is so much in trend for millennial couples.
If you liked any of these leafy green foliage decor ideas, then get in touch with the ace wedding planners on board who will help you bring your dream wedding into reality so that your wedding album turns beautiful!