8 Paper Flower Wall Décor Ideas to Deck the D-day Venue Up for You
From dahlias to lilies and roses, paper flower wall décor is the perfect way to create incorporate a variety of blooms in your wedding.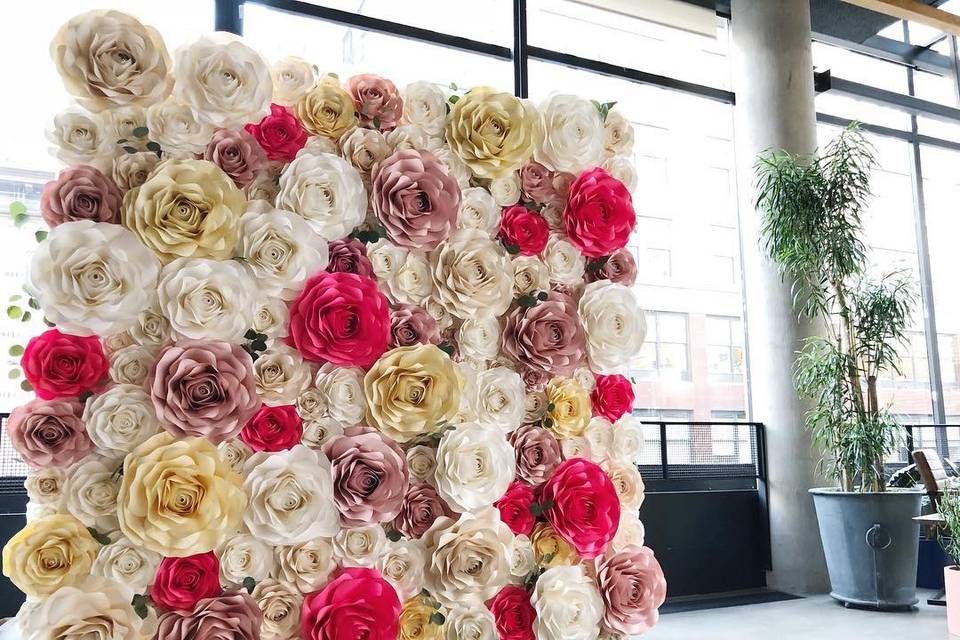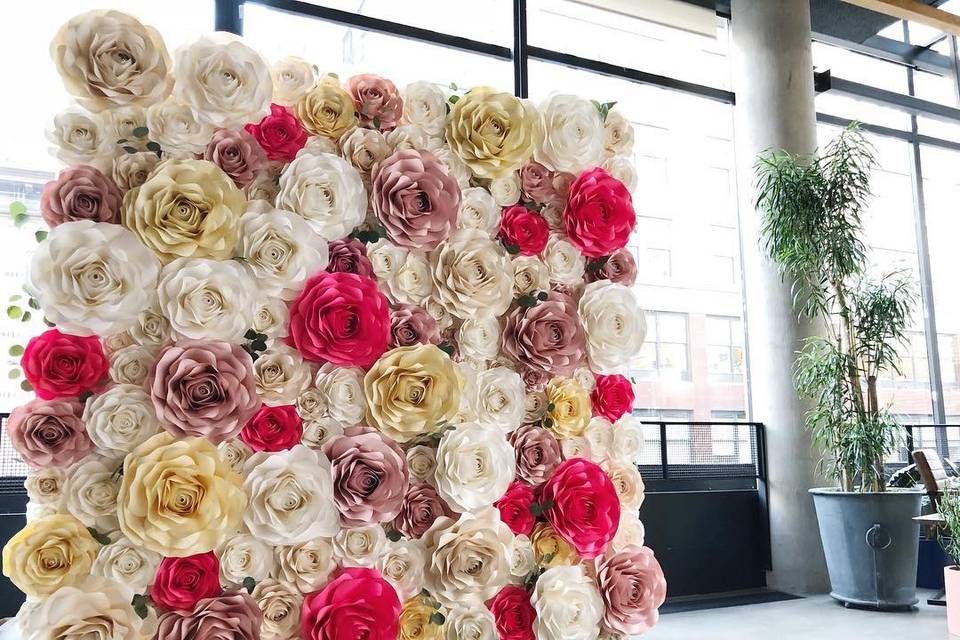 Image Courtesy: New York Paper Flower
For brides that don't want to play by the rules, one of the biggest trends this season is paper flower wall décor. These flowers come in various types and colours to suit your personal style aesthetic. While these flowers don't have the smell and appeal as real flowers, they're very customisable and look just as good as the real ones.
Given that most paper flower wall décor is DIY, they can be mixed and matched according to the theme of your wedding. In addition to wall décor, these paper flowers are also great for centre-pieces, bouquets and jewellery.
If you're on the fence on whether to include paper flower wall décor at your Mehndi ceremony, we hope these paper flower tutorials inspire you to get on board with this trend!
Hollyhock Stem
Hollyhocks are tall flowers and are a great addition to your wedding décor. Although, these flowers are not available in all parts of the world you can still have a paper replica of Hollyhocks at your wedding.
You can even choose different colours to go with the theme of your wedding. This video shows you how to make these stunning flowers. All you need to do to create these one-of-a-kind handmade paper flower wall décor is cut out crepe paper into small petals and stick them together on green stems.
Tulips
If you prefer to have an arrangement of paper flowers as a backdrop, you can make tulip crepe paper flower wall décor to add some colour. They also provide the added advantage of preserving these flowers long after the big day.
This video shows you how to make these tulips. All you need to do is take petal-shaped crepe paper and roll them inwards to create a flower and attach them to a stem. Add leaves to your tulips to make them look more realistic.
Peonies
One of the most popular floral arrangement at summer weddings is peonies. These flowers are a bridal favourite because they come in various pastel shades and are a perfect addition to any function. However, peonies are seasonal so a great way to have them at your wedding any time of the year is to make them with paper.
This video tutorial shows you to create peonies for paper flower wall décor. You need to use a total of 35 petals to create each flower and shape the petals so that they curve inward. When placing the petals on the stem, the inner petals need to be lower than the outer ones. Once this is done curl the petals inwards to make them look realistic.
Roses
One of the most romantic flowers are roses and a must-have at any wedding. These flowers are incredibly easy to recreate and you can use them as paper flower wall décor, a bouquet or even a table arrangement. To create paper roses, you need seven petals and a stem.
The petals need to be pointed on one side with a curved edge on the other. Curl the pointed edge around the step and attach each petal higher than the previous one. You can overlap the petals in multiple layers. They're the perfect addition to a wedding of any season!
Carnation
Carnations are without a doubt, one of the most famous types of flowers for weddings. These incredibly versatile florals are available all year round and come in vibrant shades. Moreover, they work for all types of décor including a backdrop or a table arrangement.
If you are looking to include these ruffled flowers as paper flower wall décor, check out this video to learn how to recreate these pretty blooms. You need to use strips of paper that are pleated around the edges while wrapping it around the step. Make sure the petals open outward.
Dahlia
There a few flowers that can beat the beauty of a Dahlia. This stunning flower is the focal point of numerous bouquet arrangements for its unique shape and bright colour. However, they are only available during the summer months like June and September so fall and winter brides may find it challenging to incorporate Dahlias into their floral arrangements.
Thankfully, paper flowers give you the liberty to recreate these seasonal blooms at any time of the year. This video gives you a step-by-step process on how to make the flower for paper flower wall décor. Like a carnation, this flower uses strips of petals with a crease at the tip.
Daisies
If you are going for a rustic-chic vibe, daisies are the perfect addition to your floral bouquet. This flower symbolises purity, love and innocence which is why many brides incorporate this flower at the wedding.
The plain cream colour means that they can complement different shades. You can include this bloom in your paper flower wall décor with the help of this tutorial video. The flower requires longer petals that are pleated from the bottom of the stem all the way to the top.
Lily
If you want to take a less traditional root with your flowers, consider adding a lily to your paper flower wall décor. Lilies come in various forms and colours and can add a pop of colour to your wedding décor without looking too tacky. Moreover, if your wedding theme includes a lot of pastels and sober tones, a lily can give you that creative edge.
Paper flower lilies are super easy to make as shown in this video. You need to cut out long petals and fold them in half to give it a crease. When attaching the petals to a stem, make sure they are evenly spaced out.
DIY paper flowers are the perfect addition to every wedding thanks to the versatility they provide. Instead of opting for the blooms of the season, paper flowers give you the chance to get creative with all types of flowers.
They can be used for a multitude of things like paper flower wall décor, a table arrangement or guests can even make their own paper flowers as an activity at the Mehndi. The best part about these flowers is that you can keep them as a memento long after the big day!
Have any more ideas for paper flower wall décor? Let us know in the comments below!