Wedding Car Decoration: 36+ Marriage Car Flower Decor Images
From a simple flower bouquet to elaborate decors, we share with you some stunning car flower decoration ideas for your wedding.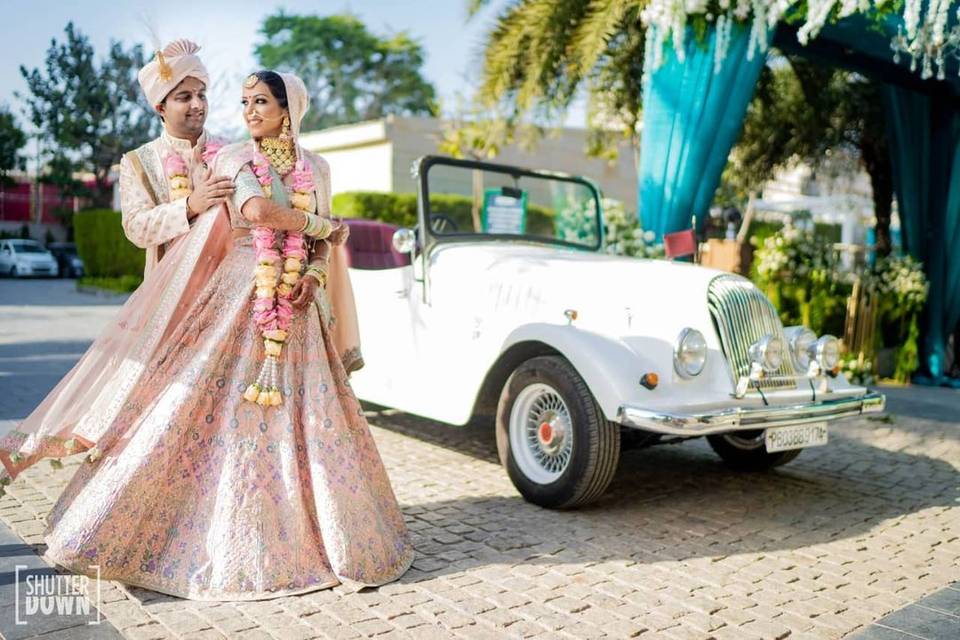 Indian traditions are full of vivaciousness and splendor. The populace here love to decorate their weddings with the most colourful decor items and accessories. Apart from wedding halls, wedding gifts, wedding mandaps, wedding halls, Sagan cards, they leave no stones unturned while decorating their cars too. Though the concept of wedding car decoration is now more mellow than before, earlier people decorated in a flamboyant way. Now they make sure that that the wedding car decoration for the groom to enter the wedding hall with enough panache and bride to have a beautiful vidaai ceremony.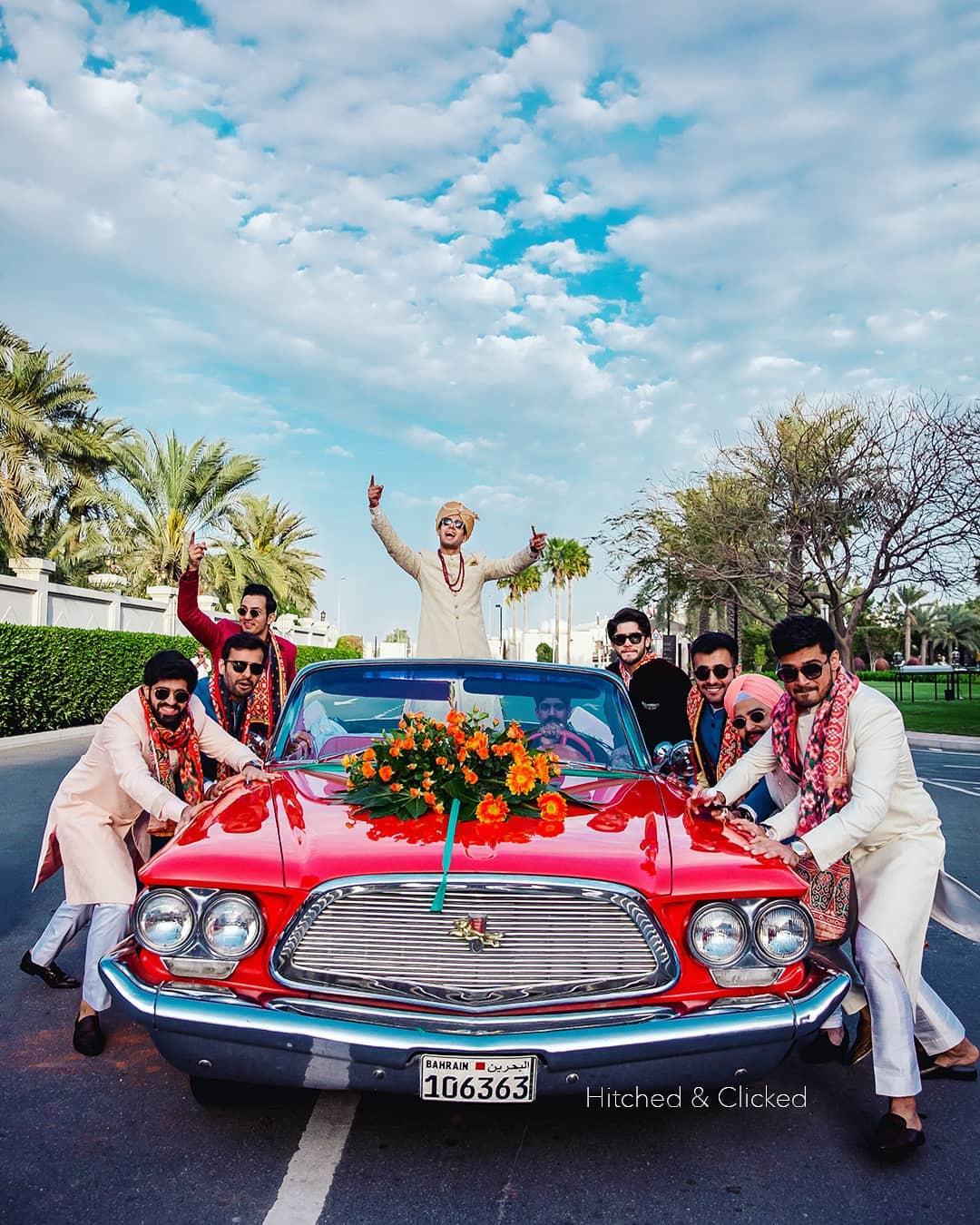 Have you decided on your wedding car decoration with flowers yet? Or do you want to go for car decoration for weddings with ribbon. Earlier wedding car decoration was an often neglected aspect of wedding preparation. But, now it is given paramount importance as it is the mode by which a bride makes a stylish exit from her home. The grooms can enter with all the trailblazing swag.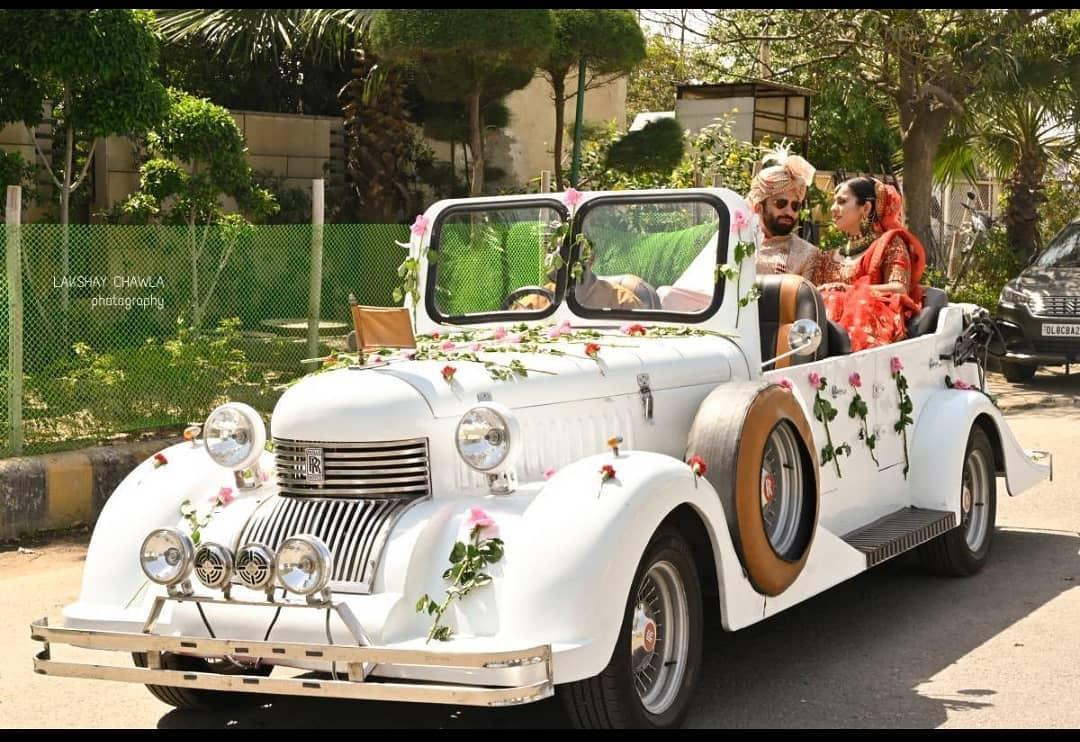 Also, the millennial couple enter the wedding hall together in a vintage car while giving some trailblazing goals. After all, the car is a crucial aspect of Vidaai ritual associated with most weddings, and hence, must be adorned in the most exquisite way as possible. Look below to get some gorgeous ideas on wedding car flower decoration.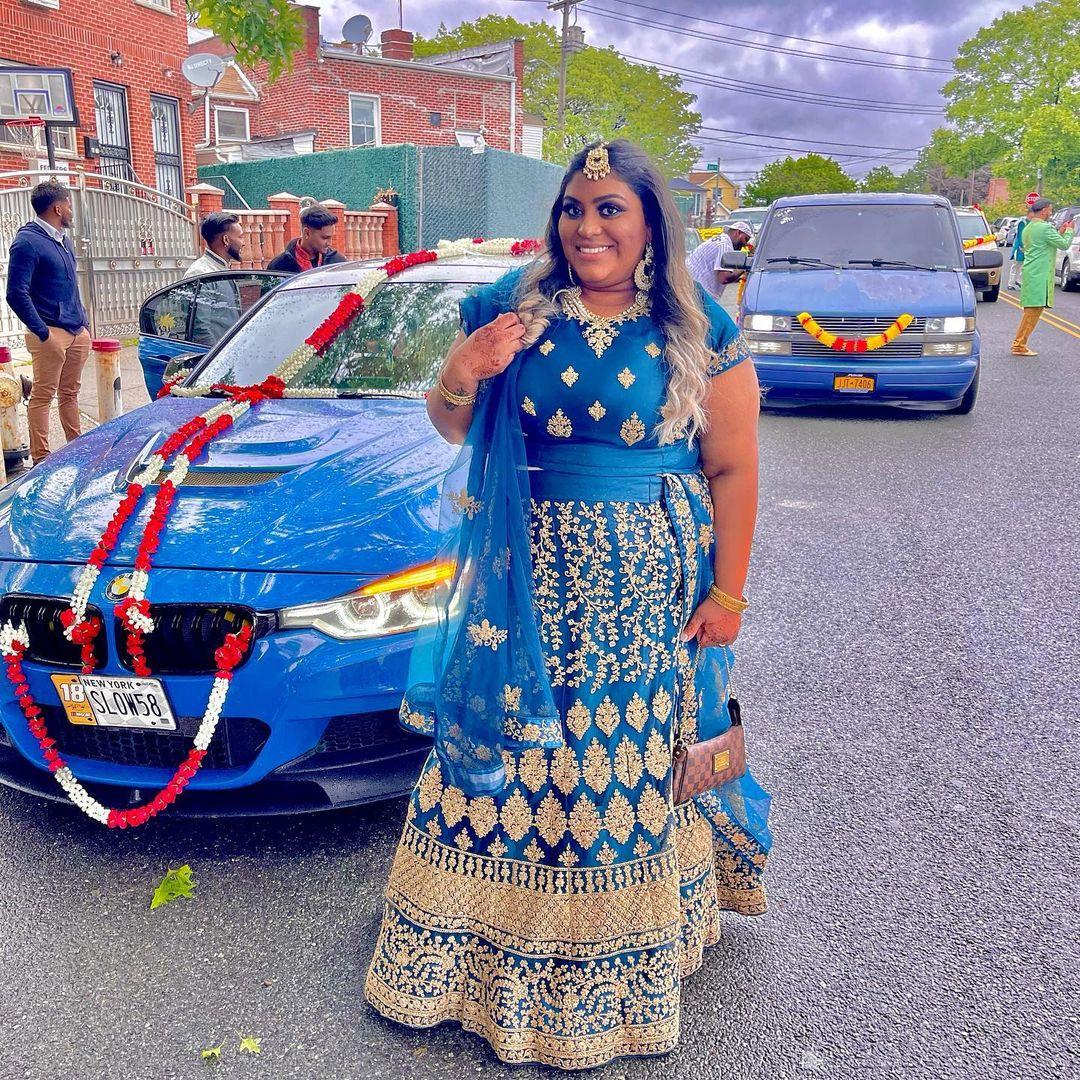 Image Credits - Pinterest

Simple Car Decoration for Wedding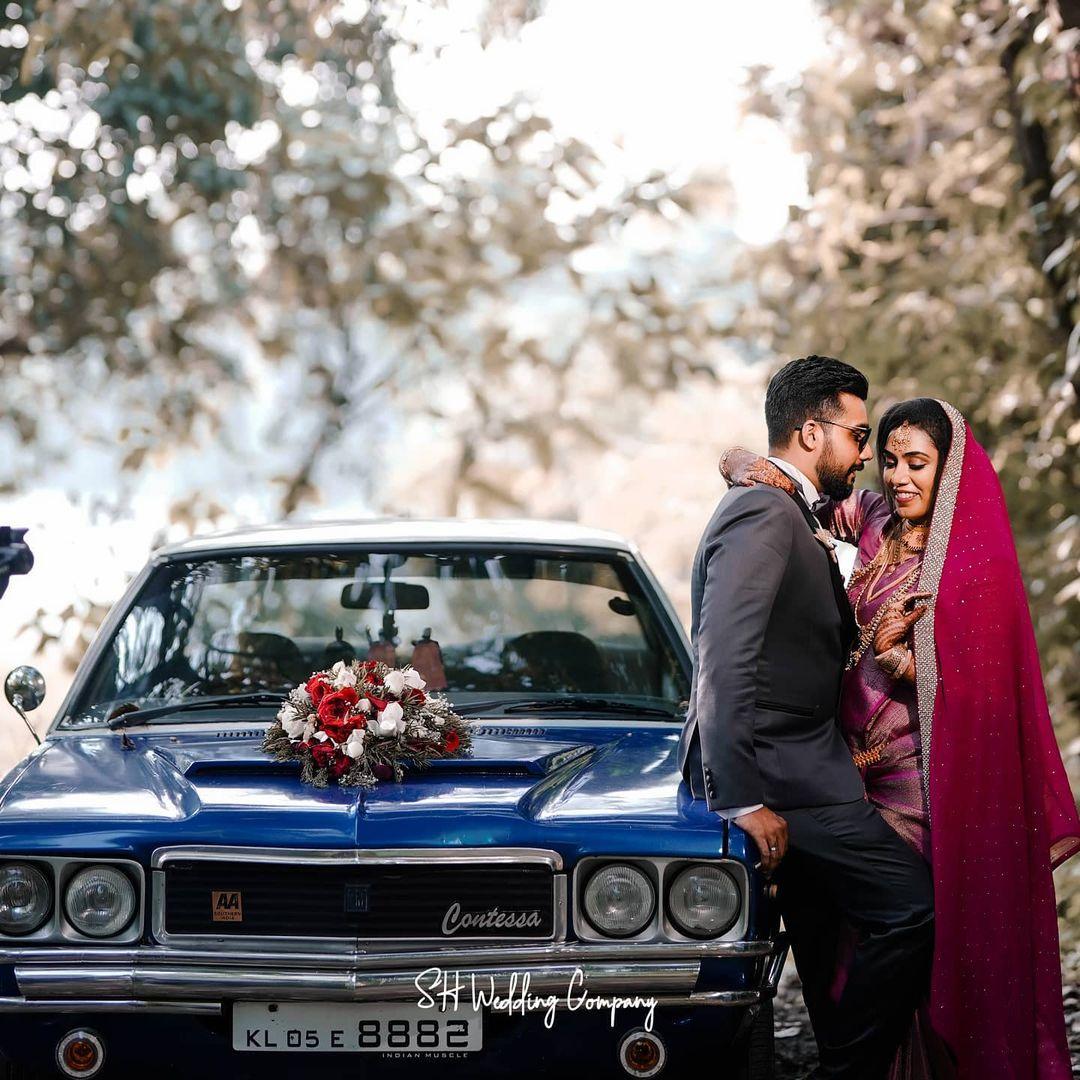 Image Credits - SH Wedding Company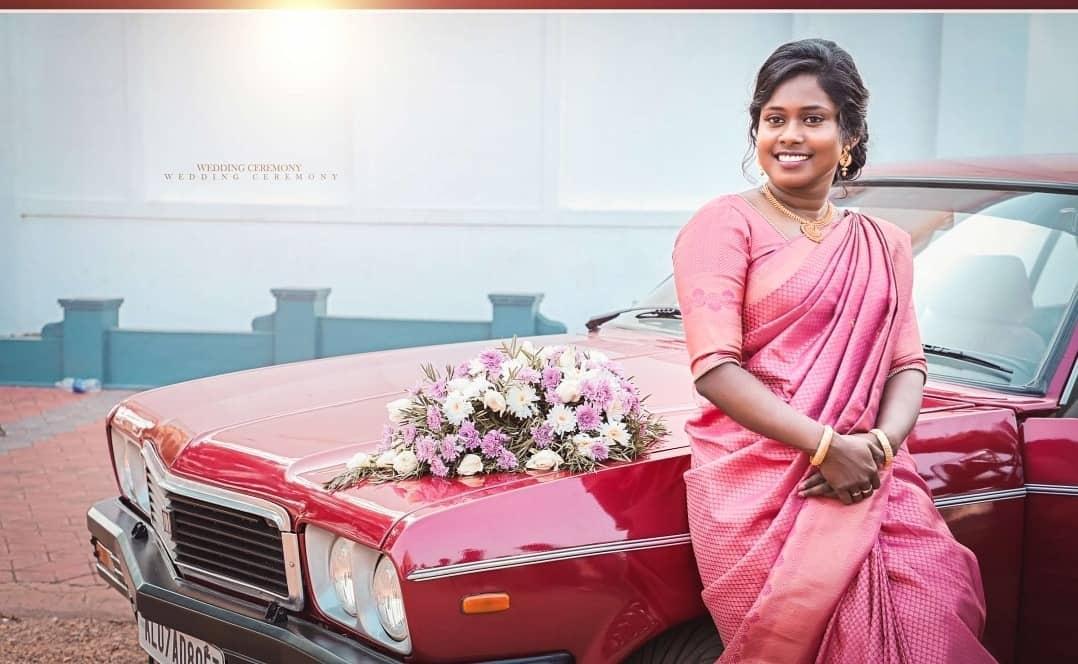 Image Credits - Pinterest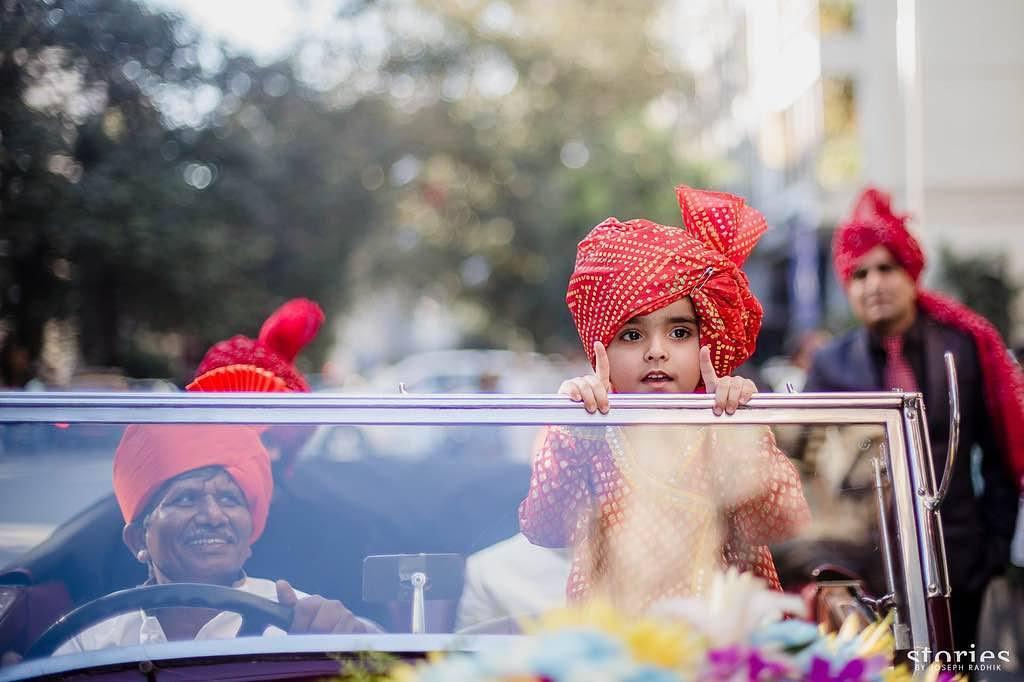 Image Credits - Stories by Joseph Radhik
Simple car decoration for a wedding is trending nowday. Simple wedding car design is for those couple who don't like loud decoration. They like simple suave and elegant car decoration for their wedding. Watch here for some serious car flower decoration or marriage car design for the wedding.
Read More - 8 Indian Marriage Car Decoration Inspiration for You to Style Your Own Ride for the D-Day
Car Decoration with Rose
Image Credits -Pinterest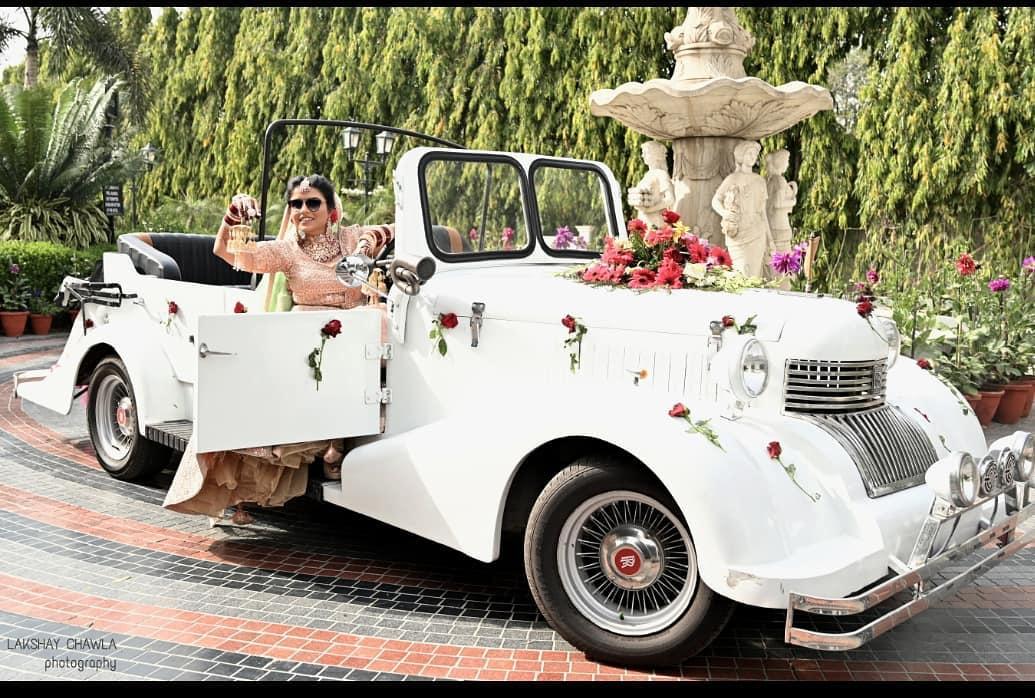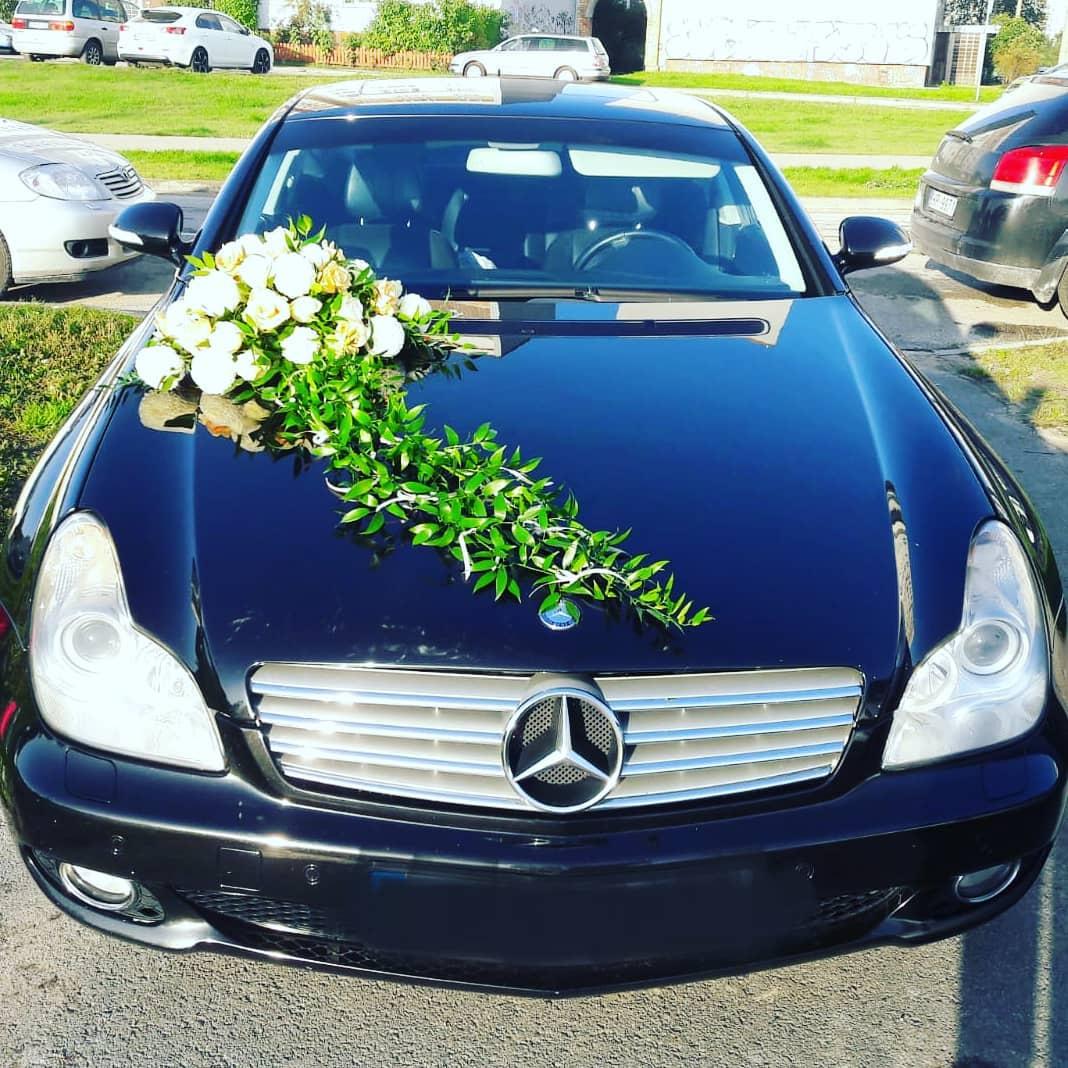 Image Credits - Pinterest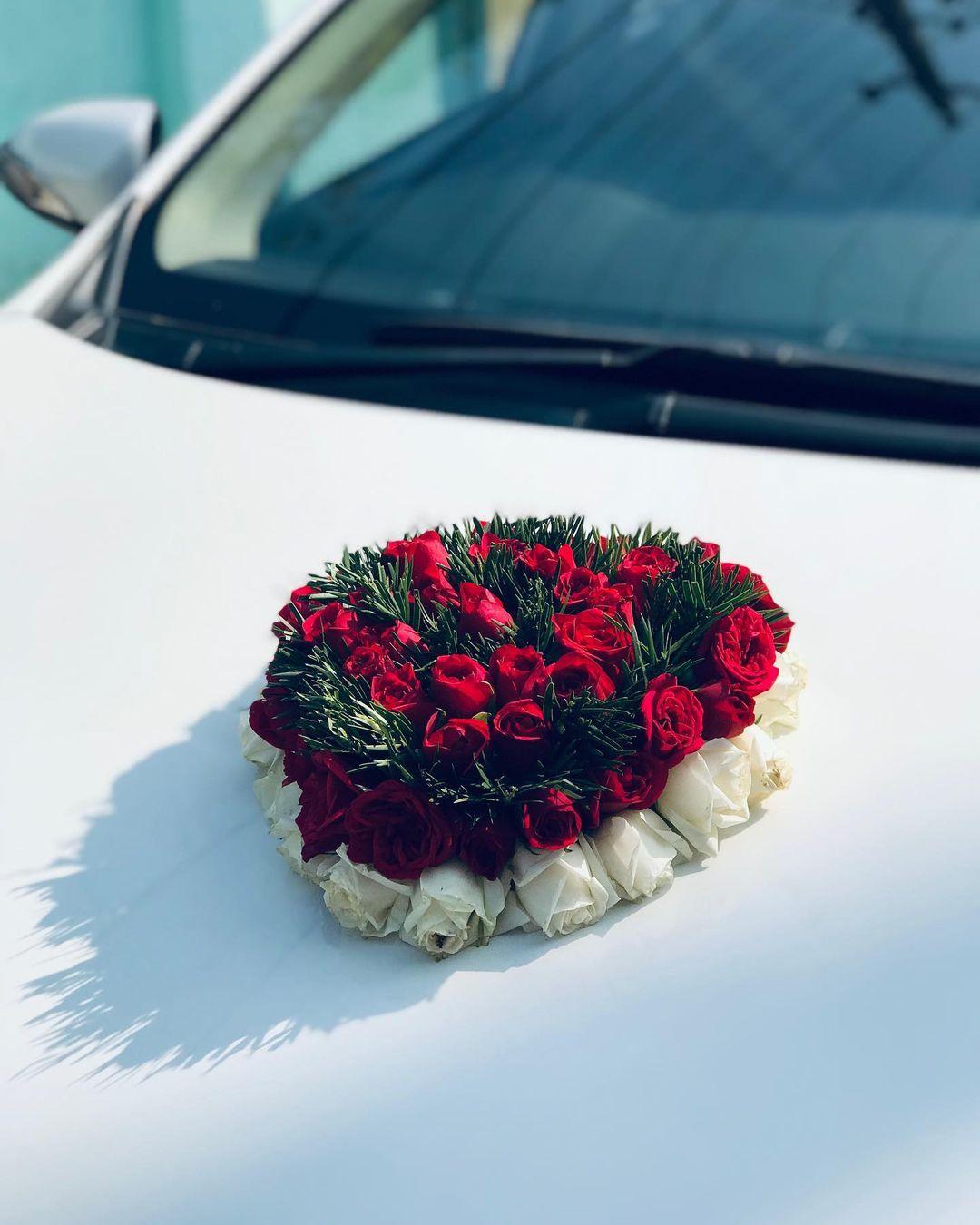 Image Credits - Pinterest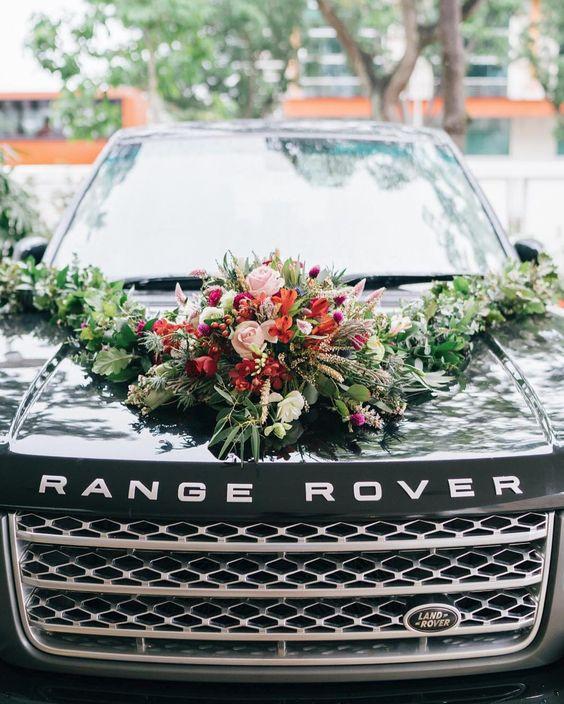 Image Credits - Pinterest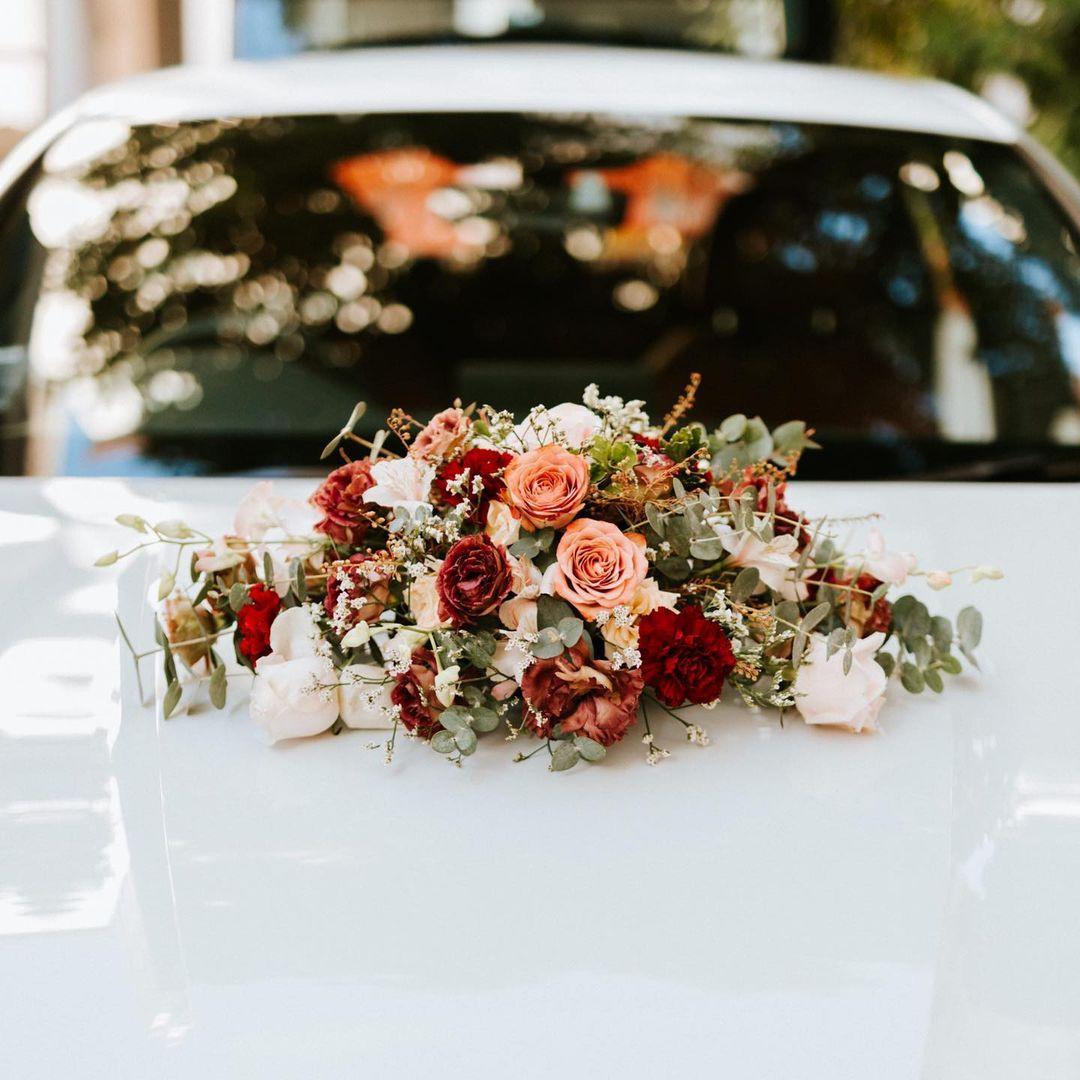 Image Credits - Pinterest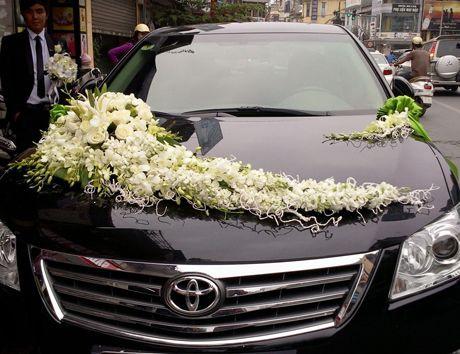 Image Credits - Pinterest
Single bouquet decoration or car decoration with roses is perfect for such people those who love simplicity and do not like an extravagance. A single bouquet lends a very classy and sophisticated look to your wedding car. These can be hung either on the car's bonnet or the trunk. If having a single bouquet sounds too minimalist, deck the other parts of the car with single flowers. Don't overdo the flower wedding car decor by using ribbons and beads. With these beautiful car flower decoration ideas, you are bound to depart from your Maika in style. Pick whichever idea that you feel is correct and apt for your tastes, but make sure that you do not cover the windshield. Earn applauses by cherry picking the above car design as these decorations are considered as the best car decoration for wedding
Red Car Decoration for Marriage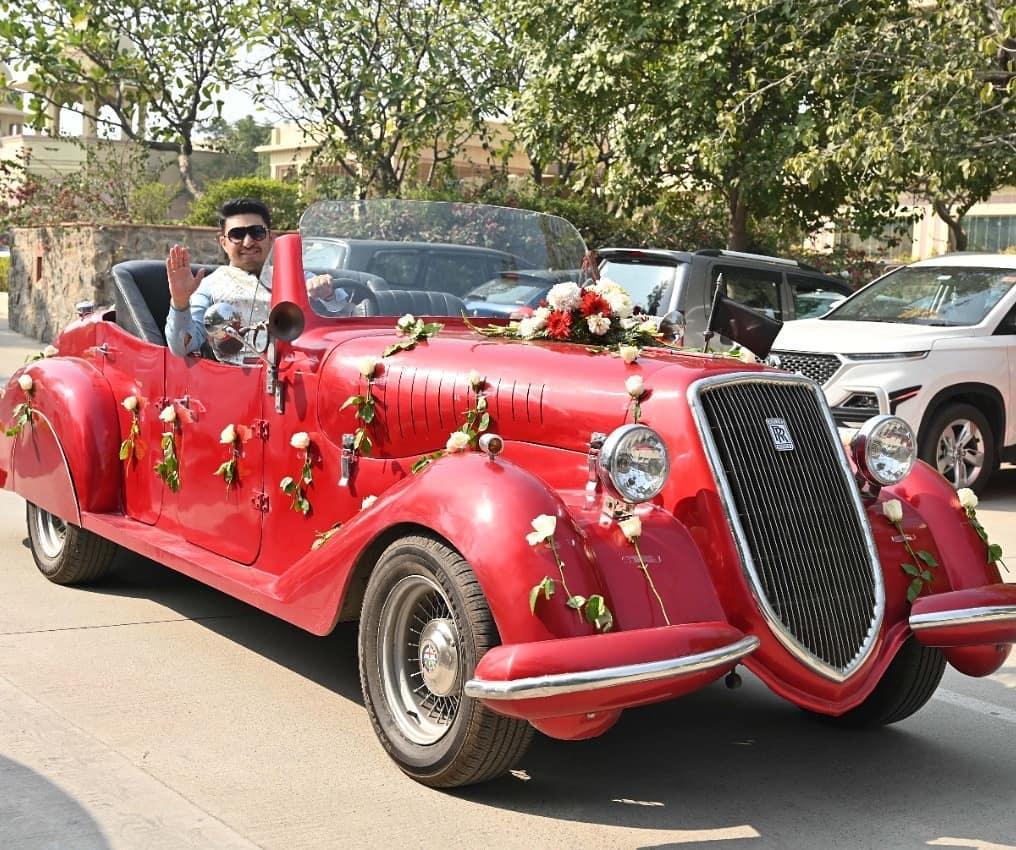 Image Credits - Pinterest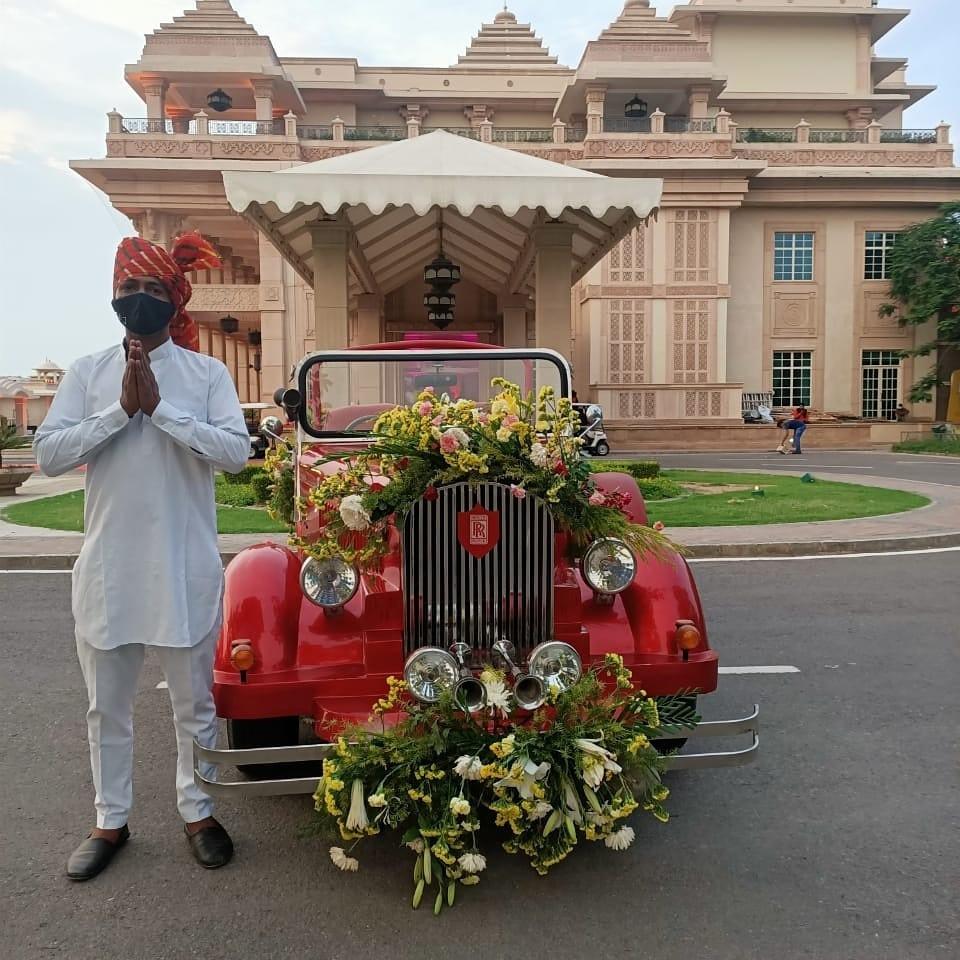 Image Credits - Vintage Cars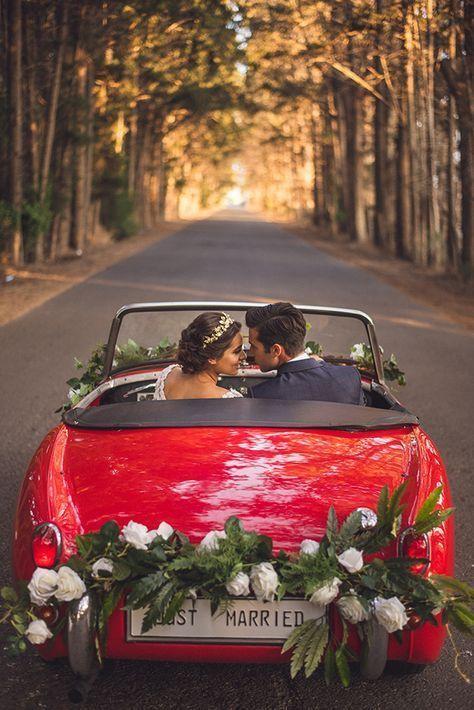 Image Credits - Pinterest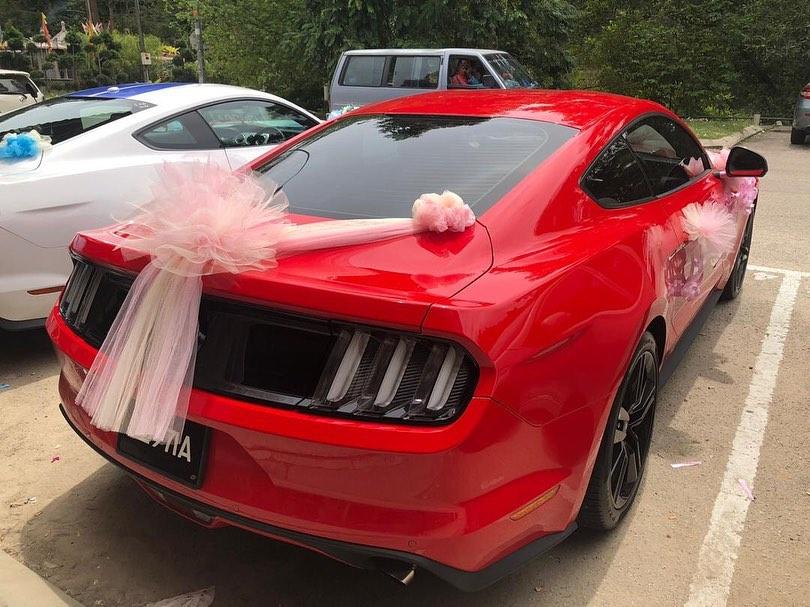 Image Credits - Pinterest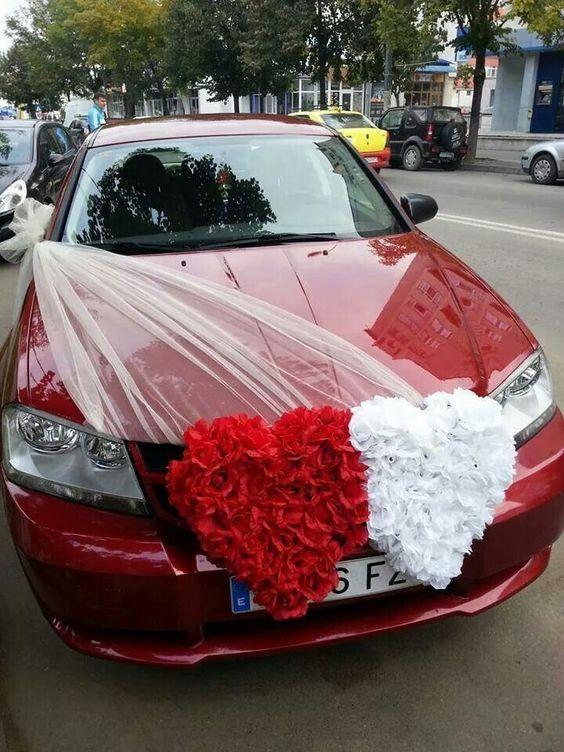 Image Credits - Pinterest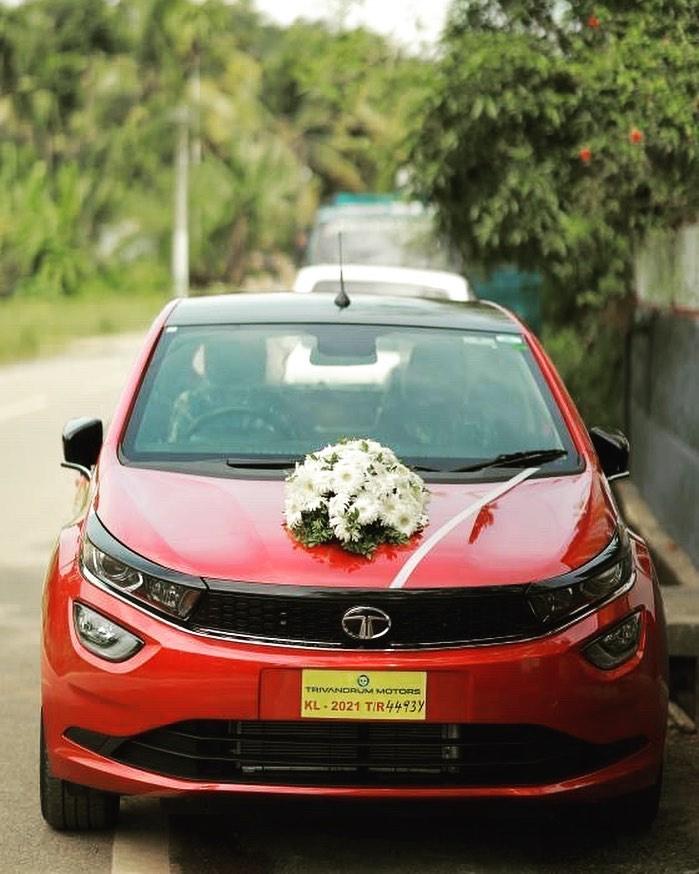 Image Credits - Pinterest
Red cars are trending amid millennials cause this colour looks good in the pictures and it elevates the entire ambience of the wedding area. Red colour denotes auspiciousness as per Indian mythology and is symbolic of a brand new beginnings. So here we bring forth car decorations for red cars. Be it a trendy vintage car or a regular car- decoration on a red car looks spectacular. Here are some pin-worthy inspiration for red car decoration for marriage.
Read More - 5 Spectacular Car Decoration Ideas to Make Your Groom Entry LIT
Car Decoration Flower Images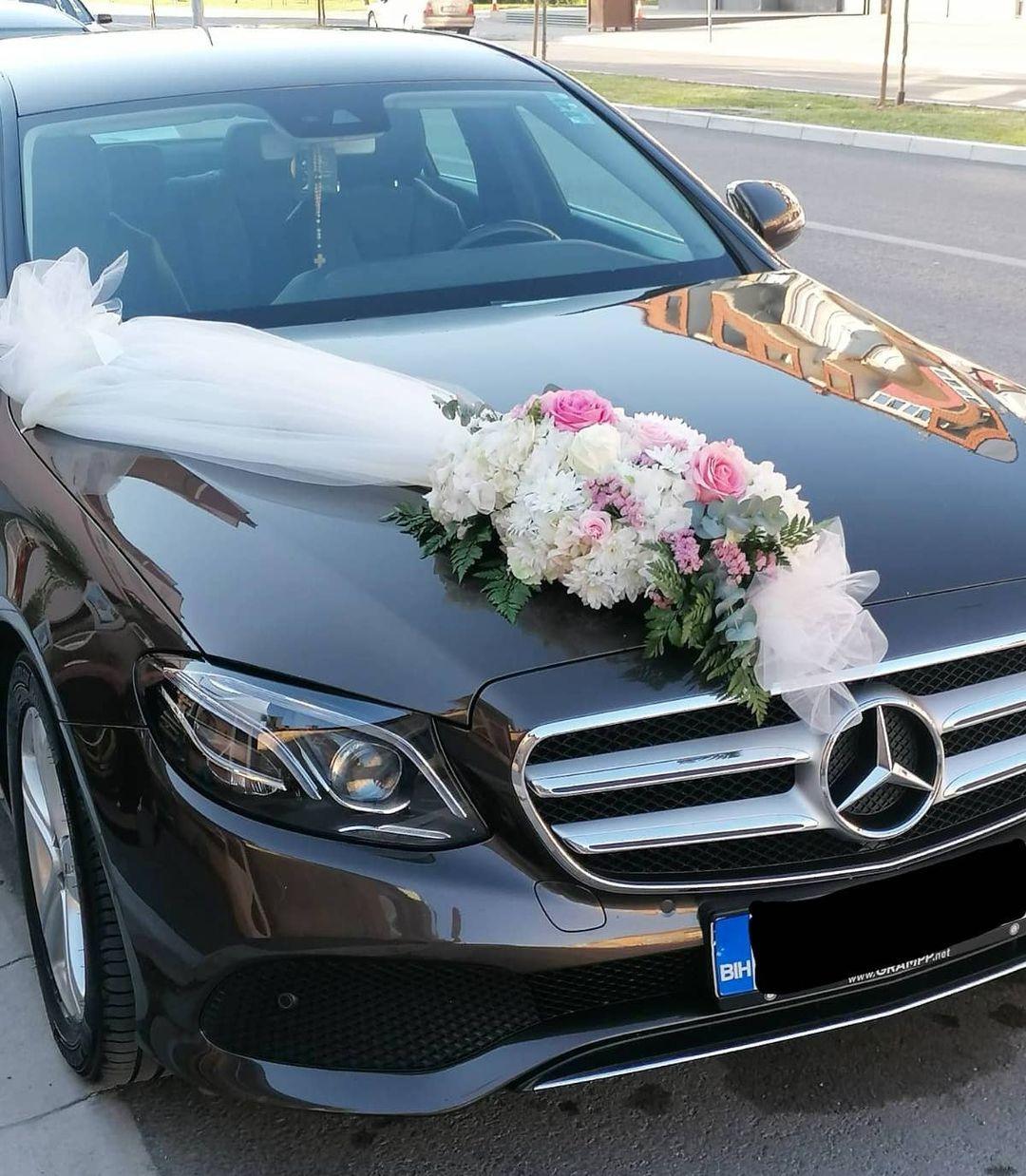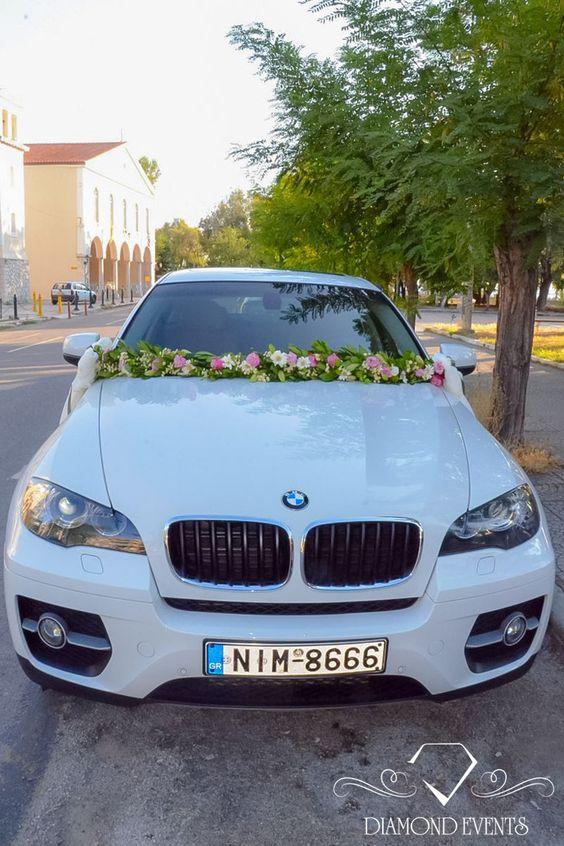 Image Credits - Diamond Events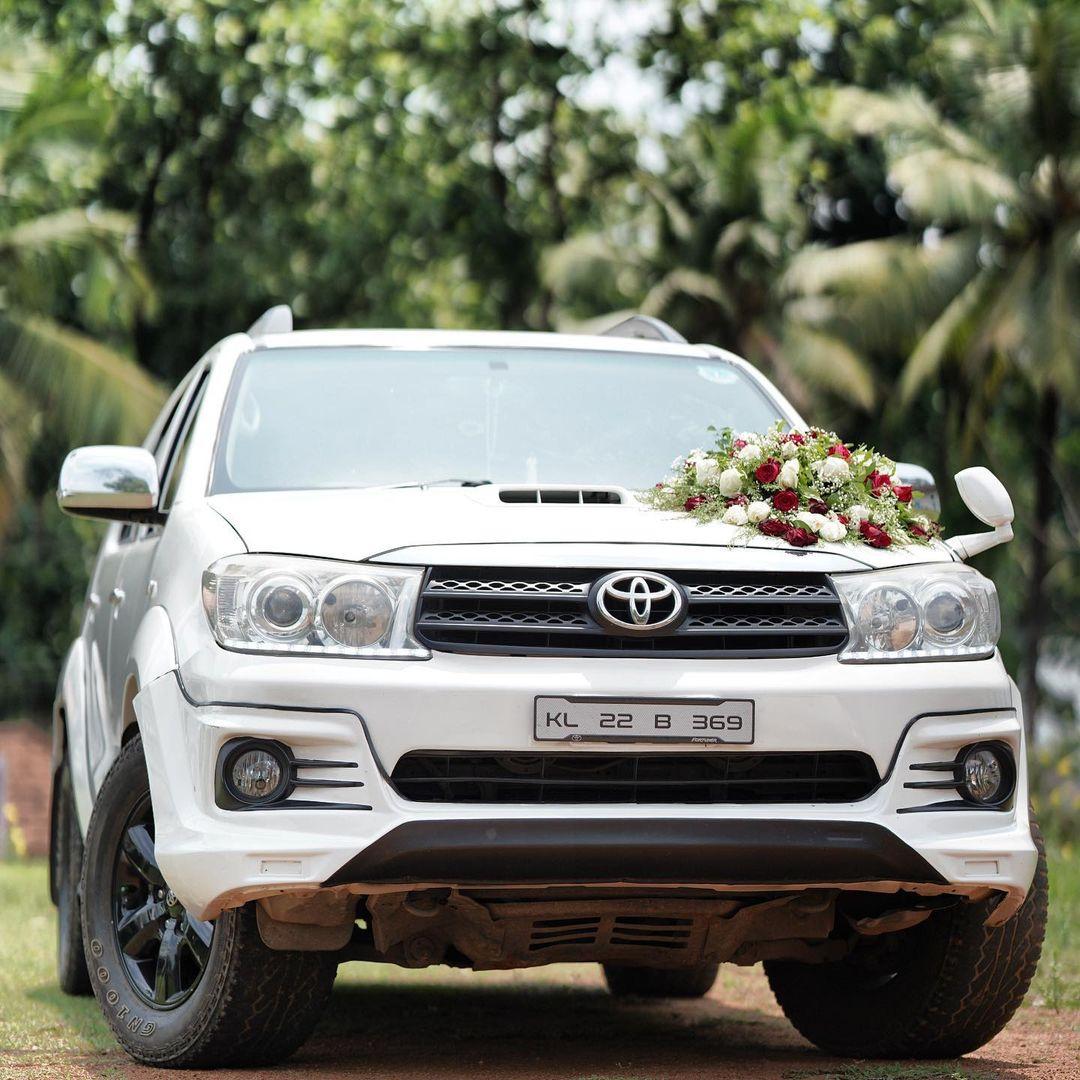 Image Credits - Pinterest
Are you a bride that does not like an extravagant show of flowers? If so, choose wreaths instead. For a subdued look, try decorating your car with a classy garland wreath or a cluster of small wreaths spread all over. You can add a hint of floral touch to the greens by using less bright flowers. You can place a garland wreath on the trunk along with a just married board or banner or on the bonnet along with ribbons.
Wedding Board Design for Car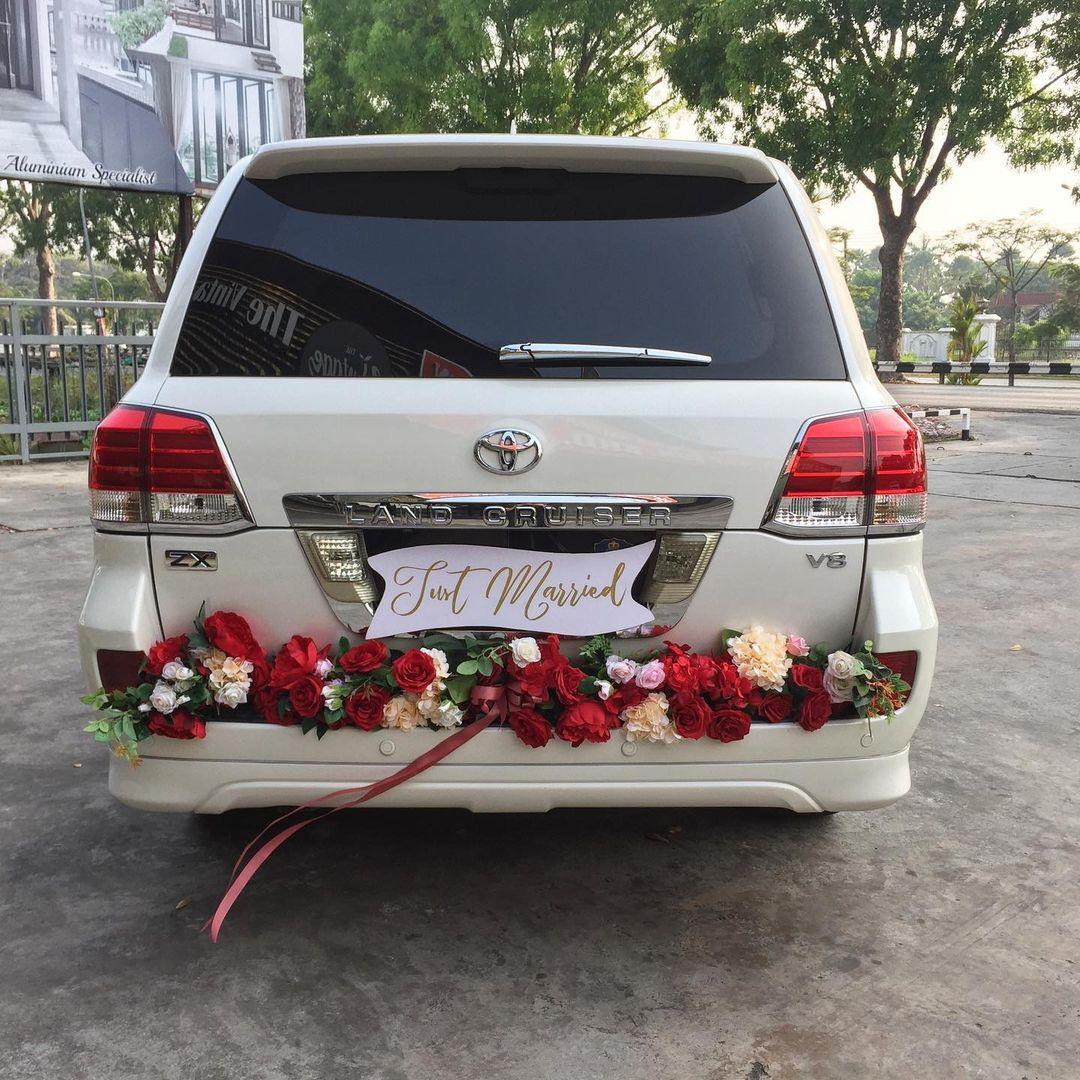 Image Credits - Pinterest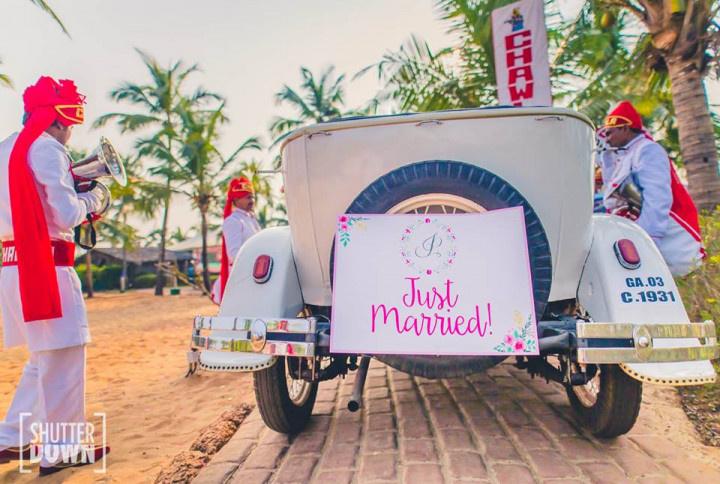 \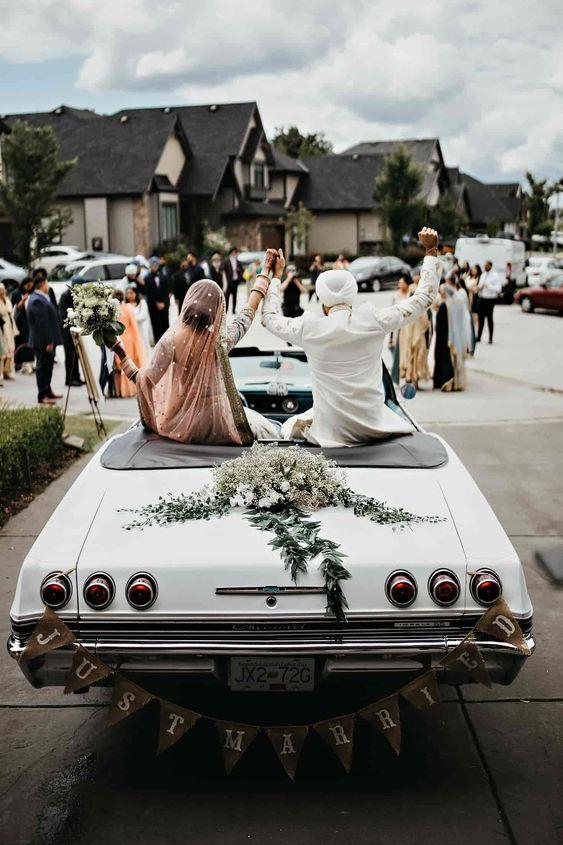 If you are someone that is not looking for the mundane and done to death floral arrangements on their wedding car, then this car flower decoration idea is the best one for you. Deck the bonnet or the top of your car with attractive and cute figurines along with flowers and bouquets. Some ideas that you can try are:
Decorate the bonnet with a pair of couple doll. Dress the dolls as per the wedding theme, and then team these up with matching flowers.
Place two white dove figurines holding wedding rings along with a heart-shaped floral bouquet on the bonnet of your car.
Do you want a simple yet cute car flower decoration idea? Well, deck the trunk of your car with a simple just married board along with flowers of your choice. This idea is pretty easy to incorporate and does not require you to spend big bucks. All you need to do is paint a wooden board with just married sign, and add a charming touch to it by placing a floral bouquet on the top. You can also team it up with cans and streamers.
Read More - 7 Stunning yet Simple Car Decoration for Marriage for a Blissful Bidaai
Car Decoration for Wedding with Ribbon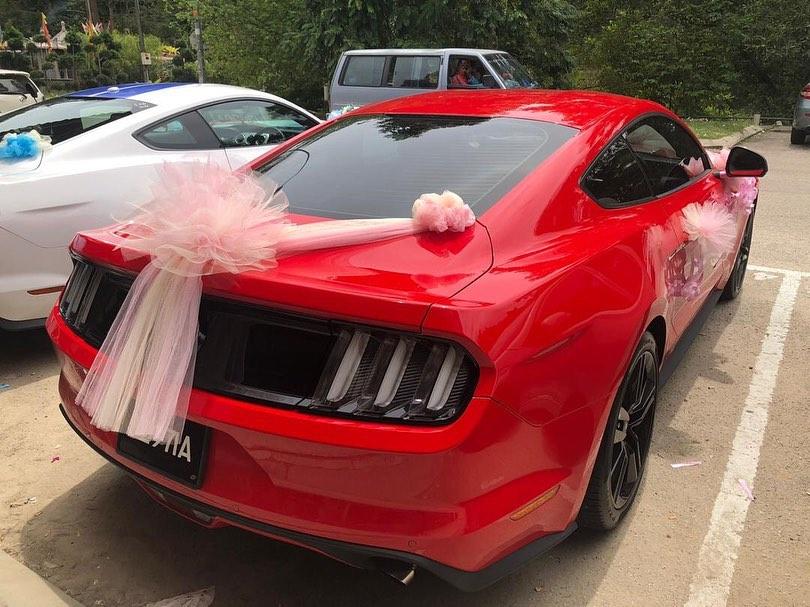 Image Credits - Pinterest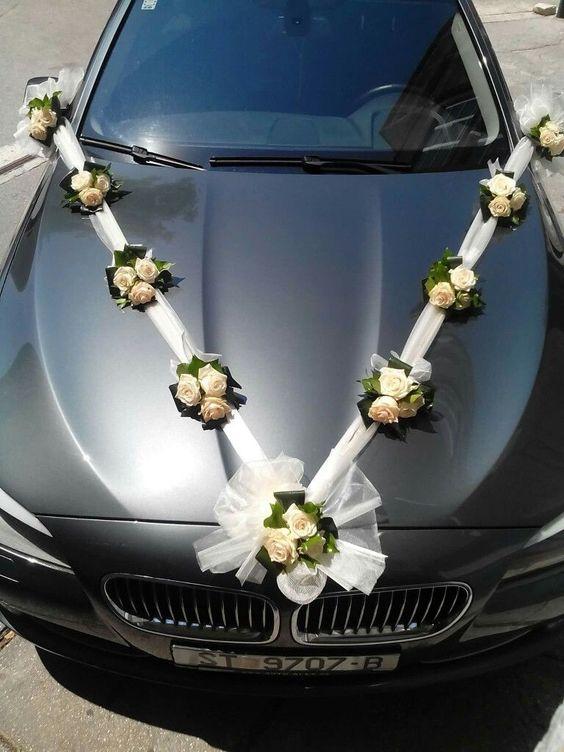 Image Credits - Pinterest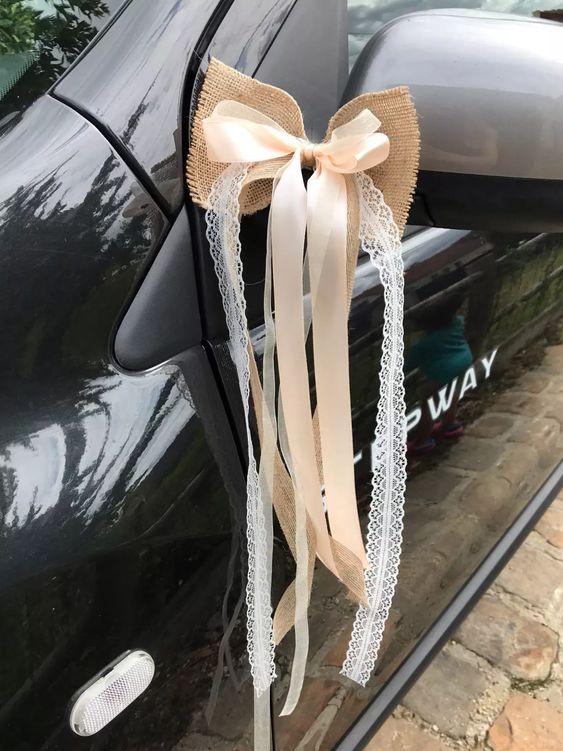 Image Credits - Pinterest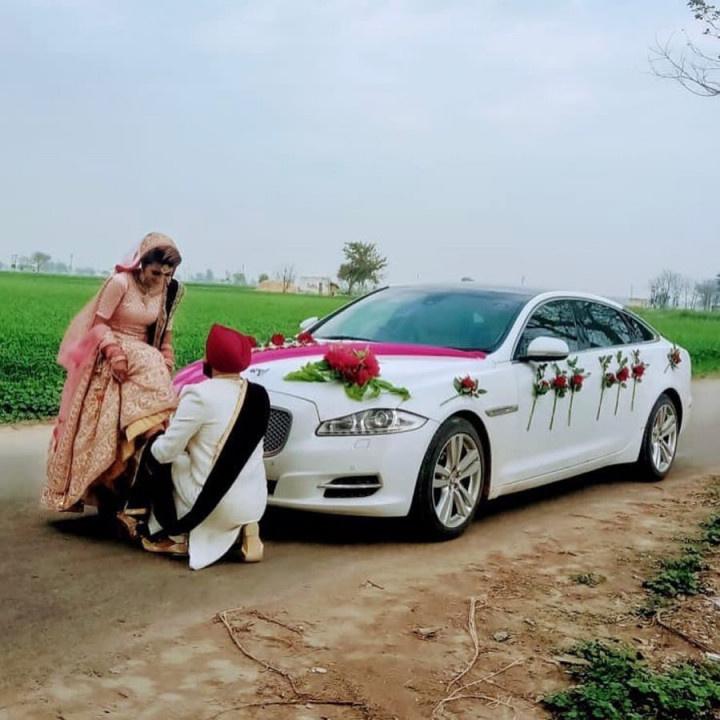 Image Courtesy: Punjab Wedding Cars
A car can look glamorous with just a simple net bow with a floral bouquet. You don't need to deck up your car with plushy accessories to stylise it, as these simple net decoration ideas will help you for a perfect wedding car design. A simple and big net bow along with a matching floral bouquet at the centre of the car's trunk will look tasteful and elegant. This type of car flower decoration suits folks that do like to keep everything simple.
Decorate Each Door Handle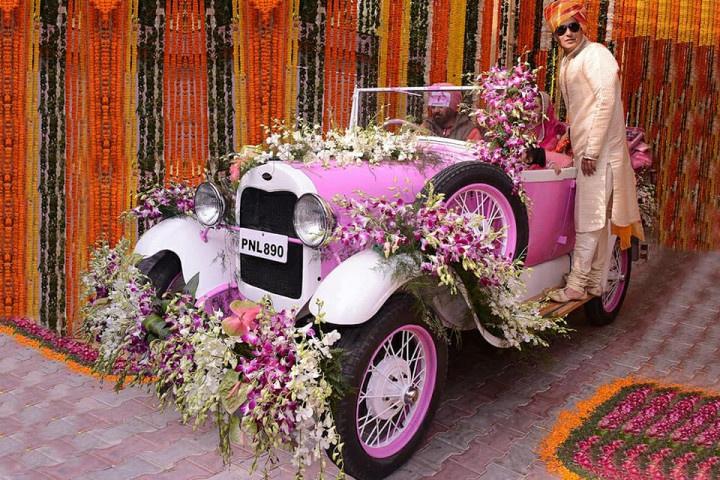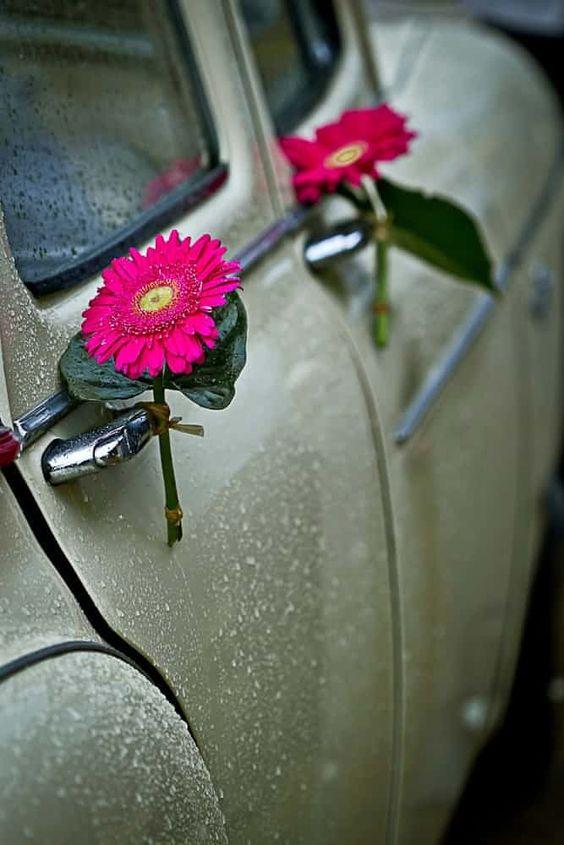 Image Credits - Pinterest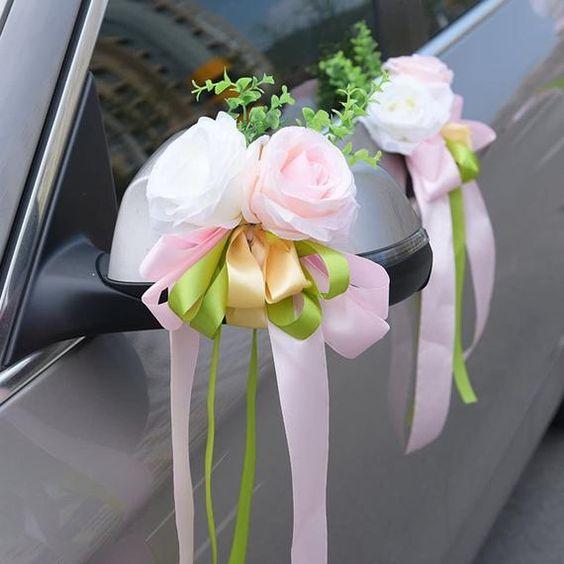 Image Credits - Pinterest
Another charming car flower decoration idea is to decorate the handles of the doors of a car. Doors can be decorated with a myriad of things like:
Beads: If you are getting married traditionally, then your car door handle can be adorned with bead strings or malas.
Flowers: Adorn with a cluster of flower bouquets.
Ribbons: Deck the handles with ribbons matching the colour palette of the car decor.
Bow: Pick a simple net bow and floral bouquet for your car door handle.
Elaborate Flower Decor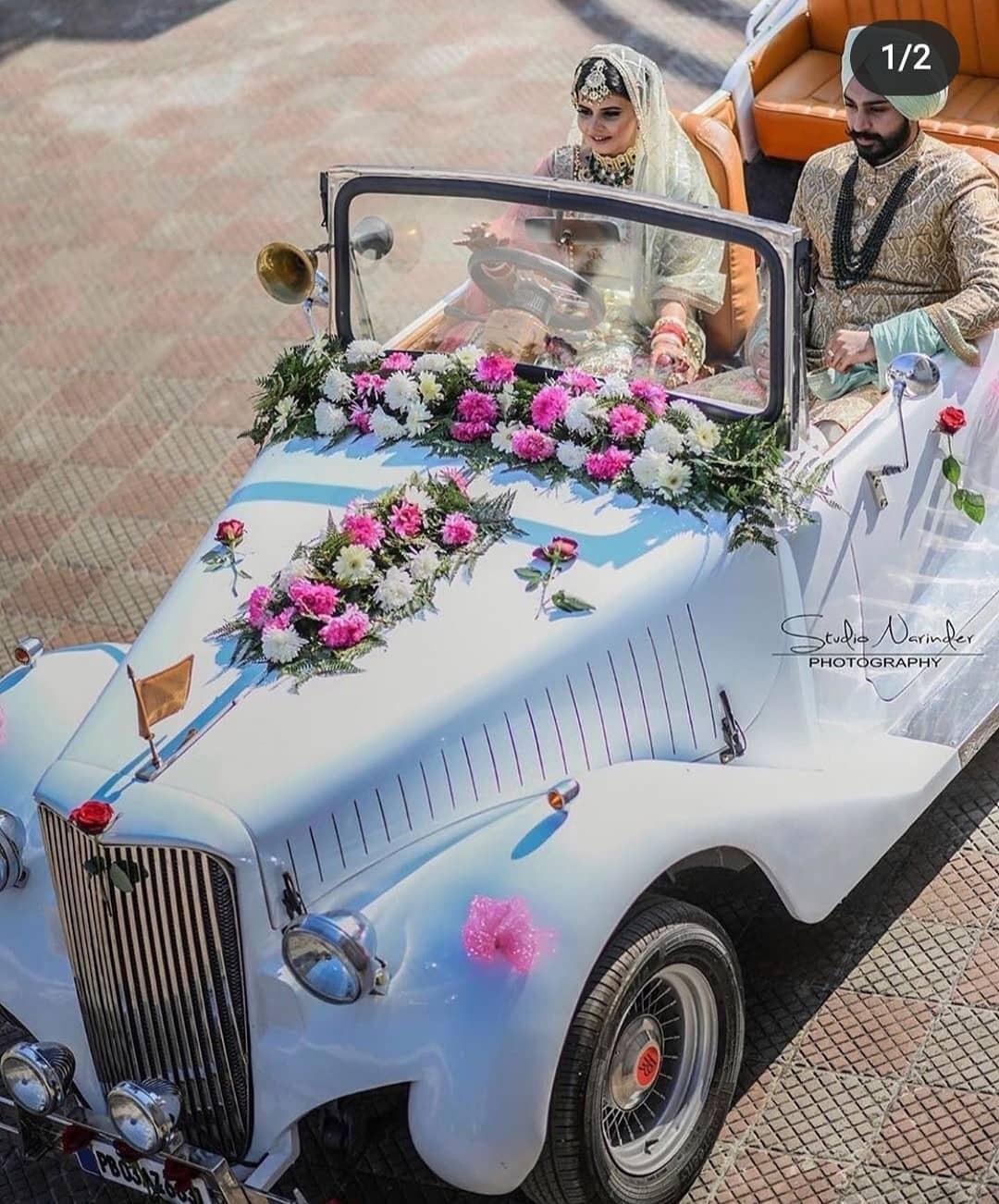 Image Credits- Studio Narender
An elaborate car flower decoration involves using lots of flowers in unique ways. This type of floral decor suits such people that simply love flowers and nothing else! Become a bit of a show master with these following elaborate floral decor ideas:
Decorate your entire car with a net of marigold flowers. You can also pick red and white roses.
Arrange multiple strings of flowers, covering the bonnet, top and the trunk of your car. Choose a combination of big and small flowers to make an impression.
Quirky and Trendy Flower Decoration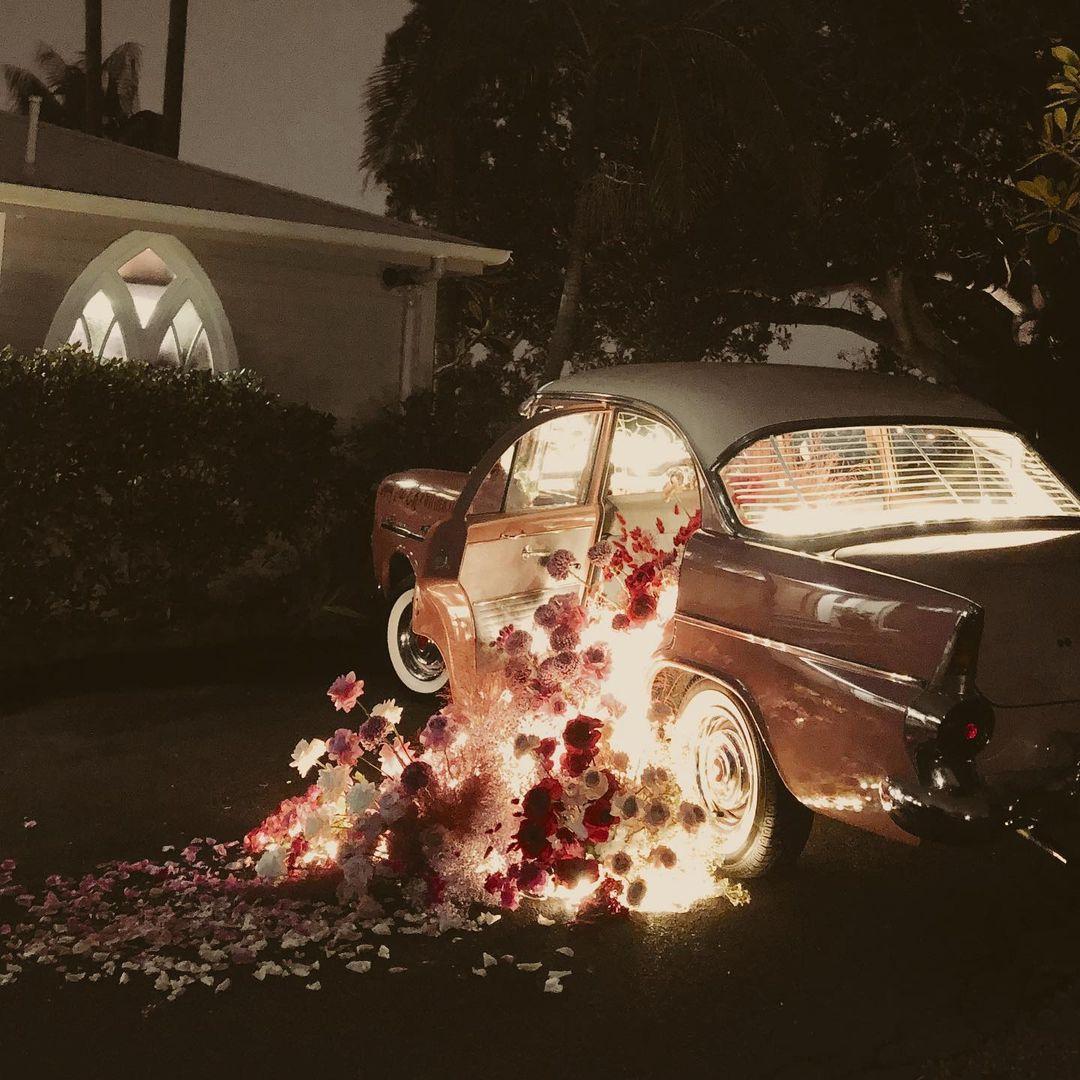 Image Credits - Pinterest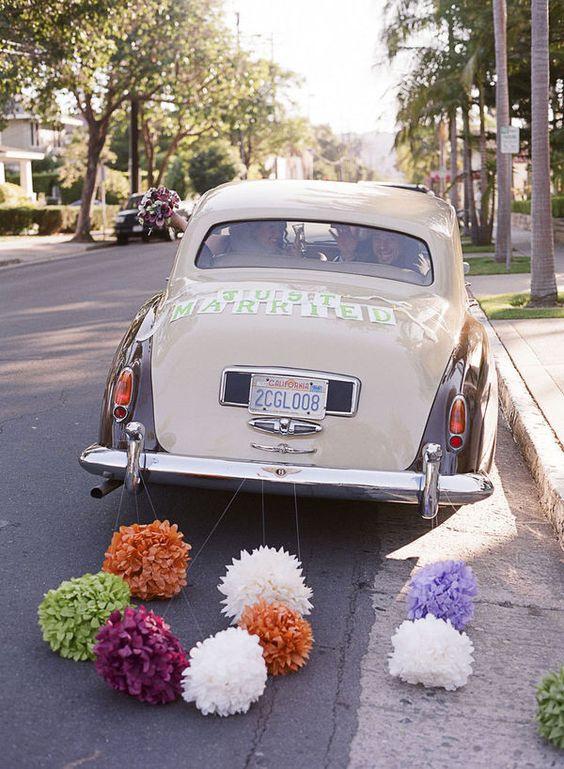 Image Credits - Pinterest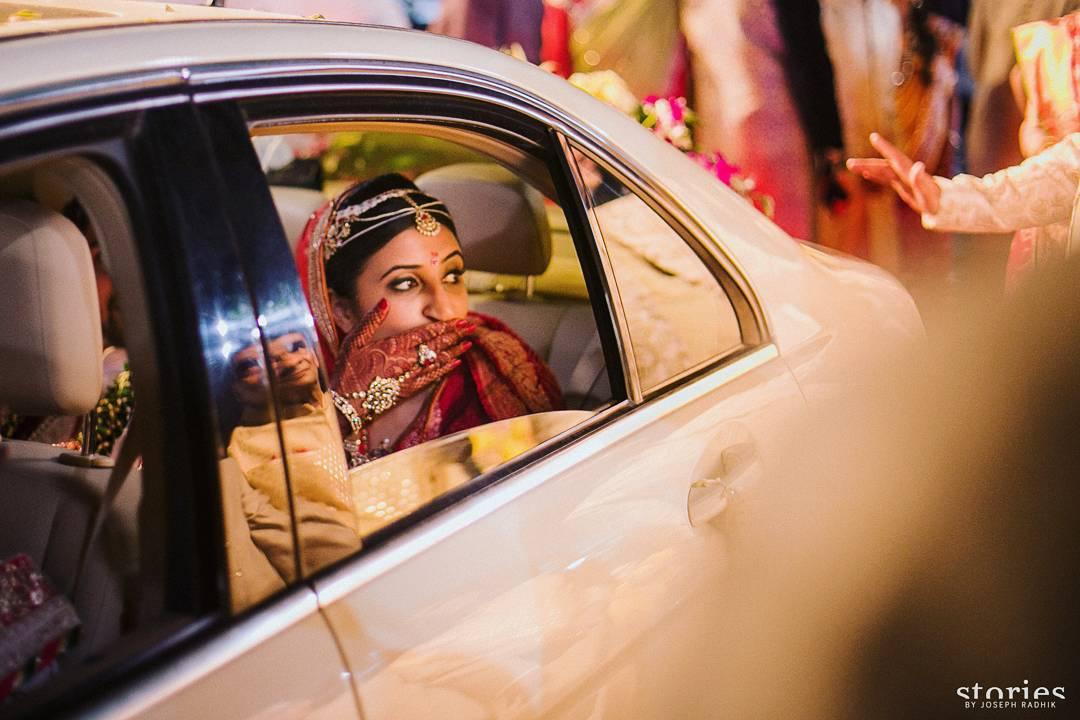 Image Credits - Stories by Joseph Radhik
Choose a car flower decoration idea that celebrates the very essence of marriage. Yes, having a happily-ever-after board or a banner on your car is the perfect way to announce that you are in bliss and are ready to begin a new life. Banners look very trendy and are in vogue these days. Simply, team the banner or the board with a garland wreath or a floral bouquet. Now we hope you know how to decorate a wedding car. We know that you must have picked your favoutire car flower decoration inspirational idea from here
So be it bridal car decoration, net decoration ideas for a car decoration or a marriage car decoration for a groom, you can implement these car flower decoration ideas with the best of flower decorators in town. We hope you likes these wedding flower car designs here.
With Words by Aanchal Bhatia