5 Spectacular Car Decoration Ideas to Make Your Groom Entry LIT
Use our simple ideas to personalise your wedding day ride because every cool groom needs a cool wedding car! USe these car decoration ideas now!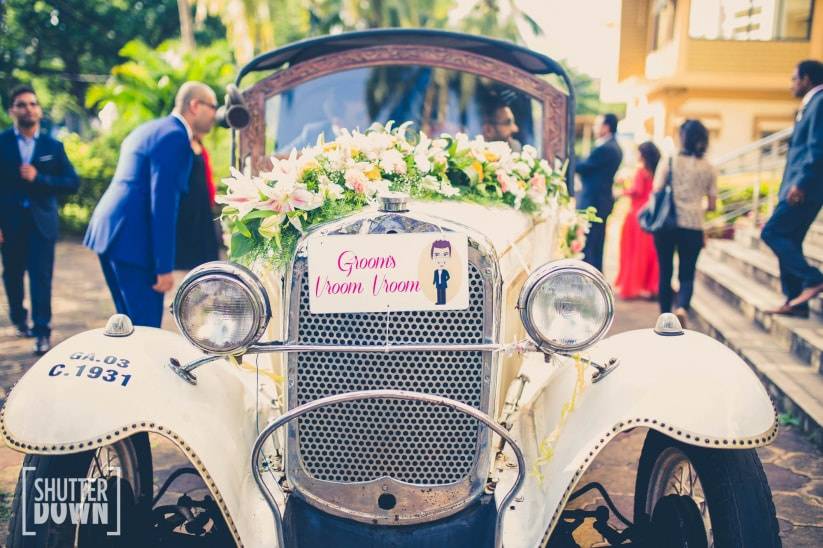 Every stylish groom comes with an equally stylish wedding procession, the highlight of which is the wedding car and the various car decoration ideas. It doesn't matter whether this car is a fancy vintage machine or a regular hatchback, they all find an important spot in wedding photography for being the groom's ride on the biggest day of his life. In the last few years, Indian wedding decorators have come a long way from the time of traditional flower decoration. Lets these car decoration ideas work their magic and give you the ride you totally deserve - royal and charming.
You will find ingenious car decoration ideas on the internet. Read through our list of wedding car decoration ideas to have not just a stylish wedding entry but also add a vintage charm to your overall wedding decor. So, check out these unique car decoration ideas to arrive in style!
1. Label the groom's ride with a quirky banner
Like the wedding car above, add a funky banner to your ride and create a picture-worthy Baraat. You can even add your wedding hashtag here, your name and that of your bride or a funny caricature that suits both your personalities. Remember to make sure you play some really funky wedding songs for the entry and create a cool Instagram story out of it.
2. Customised vintage suitcases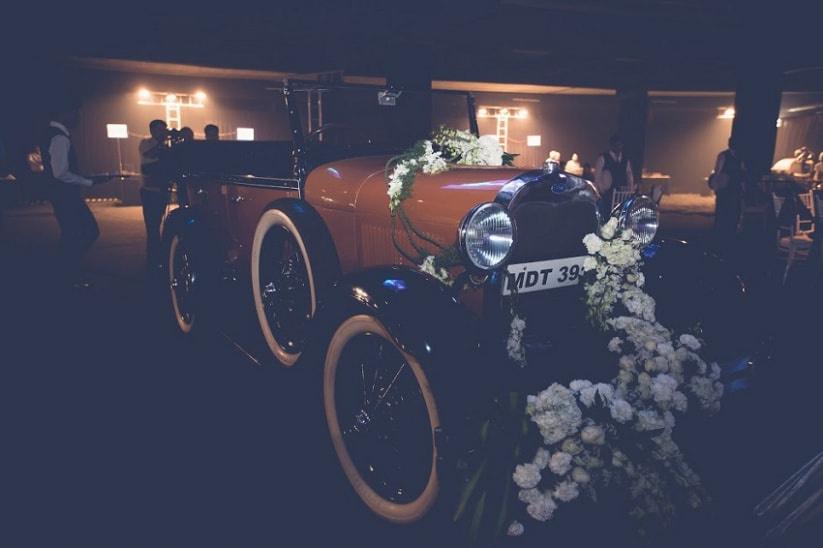 For a travel enthusiast couple, we recommend adding a couple of vintage suitcases to the back of your wedding car. This goes well with a vintage wedding, while also bringing focus to your honeymoon trip. You could personalise it further by getting your names and honeymoon destination painted on the trunks, which can later be used as decor elements in your new home or for the honeymoon itself. Get them custom made and enhance the vintage factor.
3. Flowers that match your wedding theme & car decoration ideas
Step one here is to not restrict yourself to designs created by your neighbourhood florists. Times and styles have changed, which is why it's better to look up some flower decoration references online before having the final conversation with the decorator. If flowers are out of your budget, don't completely remove them from the design.
Add a bunch to the front and back of your car or simply around the 'Just Married' sign. Just remember, choose flowers that go with the overall wedding decoration theme you've selected for your wedding. Instead of the conventional decoration, use small flower bouquets for decoration for the classy element. And, if your wedding car happens to have a sunroof, then perhaps keep it open and arrange a veil of flowers on top of it. It will smell good against the brushing air and also add some regal charm to your wedding car decoration.
4. Add colour with balloons and accessories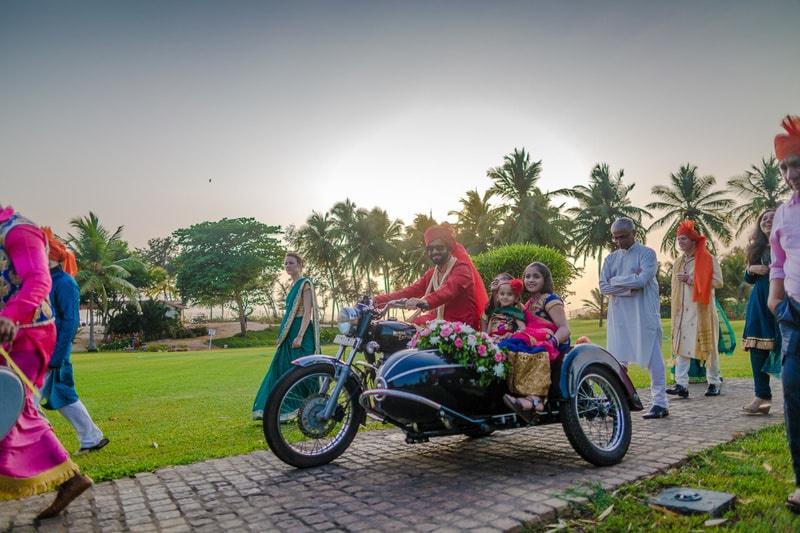 If flowers are not your thing or if you're having an off-season wedding, turn to accessories like ribbons, bows, balloons and tin cans to add personality to your wedding car. These accessories never go out of fashion and will help you create a wedding car like the ones you've seen in Hollywood movies. Classic, superb yet fun! Creating an unconventional car décor will make you an inspiration for other people surfing the internet for ideas.
5. Step up with a statement vehicle
This wedding season, we've seen many grooms moving away from traditional wedding cars. Take inspiration from actor Karan Singh Grover who stood out with his Segway entry! We've also seen grooms entering on ATVs, hoverboards, sports bikes and even tractors! Talk to your wedding planner and see if you can arrange something similar to make an entry worth remembering. Go all out, take risks, after all, it'll happen only once in your lifetime.
We Will Now Help You Find Some Cool Ideas Car Decoration Ideas That You Can Put to Use for Your Wedding Car Decoration!
Use these cool ideas to enhance your wedding car decoration and arrive in style to take the girl of your dreams by the storm! Read on and get inspired!
1. Why just use flowers to add glitz and glamour to your wedding car? It is time you adopt some new ways for your wedding car decoration. One cool thing would be to use your wedding and couple hashtag to make your car more personalised. And, we can assure you one thing, you wide won't be able to contain her happiness when she sees it
2. How about you use some fairy lights instead? Or tea lights? anything that glows, quite literally! Ride in style, why don't you with this uber cool idea for your wedding car decoration
3. You can also use lace to create some cool designs to enhance your wedding car decoration. Some cool graffiti or something. Interesting, isn't it?
Follow some of these cool tips and car decoration ideas to amp up your wedding car decoration goals and create a statement that makes you a show-stopper groom of the century!
4. You can always personalise the number plate of the wedding car too. A little on the lines of just got hitched or better yet, your couple hashtag
5. Banners too look cool if designed in the right way. Think on the lines of your personalised wedding hashtag or both of your names, beautifully flinging at the hachback of your car - proclaiming to the world that now you are a married man/woman
6. Bows look cute, don't they? Think colours or just plain white - nonetheless, bows are cute and we would be glad to see you use one when thinking of your wedding car decoration ideas
7. Flag away your no longer being single status as you drive away to your new home! Even though it won't add much to your wedding car decoration but it definitely is a cool gimmick to try out!
In the end, what matters most is that you should enjoy your wedding day completely. Pick a funky wedding song for your entry and a design style that suits your designer sherwani and you're good to go! Make that entry in style. So, start curating the various things that you'll need to decorate your Shaadi Ki Gaddi!
Which of these wedding car decoration ideas did you love best? Tell us through the comments!